Sims 4 Maxis Match Wall Art & Décor CC (All Free)
This post may contain affiliate links. If you buy something we may get a small commission at no extra cost to you. (Learn more).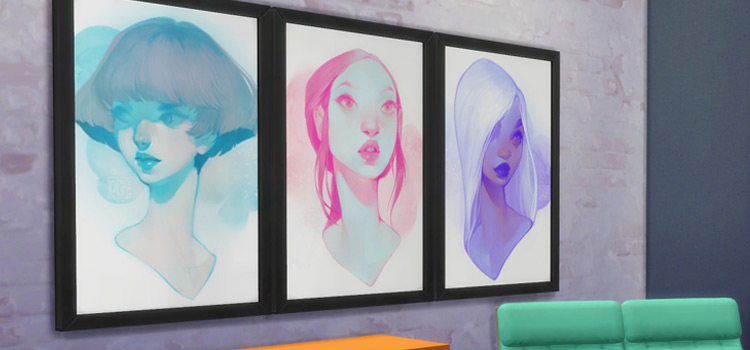 I'm going to keep this intro short because, hoo boy.
I've got dozens of CC sets for you to browse through here.
If your Sim's walls are needing a bit of a refresh (which I totally get – I change my wall hangings every three months or so), these awesome Maxis match-y wall décor pieces should tide you over for a while.
1.

College Wall Art Sets by strenee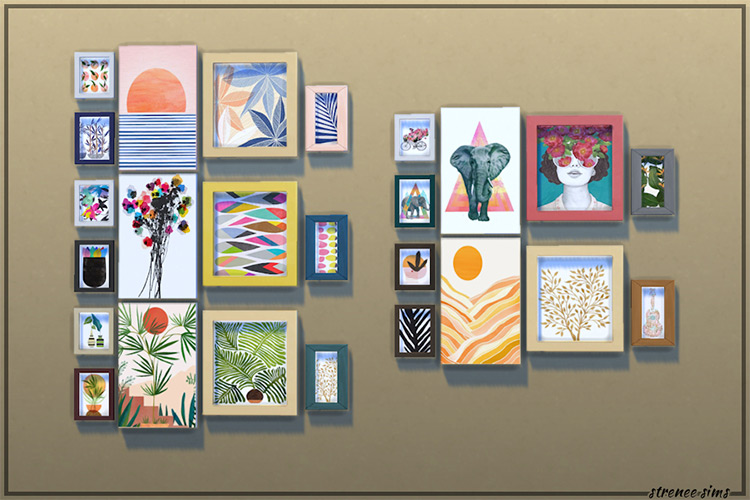 These bright, vivid, colorful – and often abstract – prints are more than enough to brighten any wall!
They definitely emanate copious amounts of artsy, creative-type college student energy.
Whether the college student in question made these prints or bought them cheap off Etsy is totally up to you.
2.

Modern Watercolor Snowy Escape Recolor by ImSuanne
Made to "evoke the wintery vibe of Mt. Komorebi," these watercolor wall prints are a real visual treat! Whereas the previous College Wall Art prints were explosions of color and energy, these paintings are calm, serene, and meditative.
Each frame has three swatches for a total of 25 new variations.
3.

Newspaper Wall Decal by okruee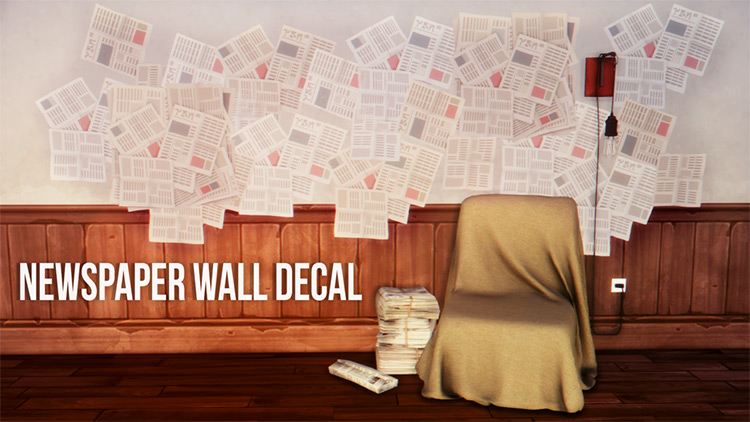 Is your Sim an investigative journalist? Private investigator? Junior detective wannabe?
Certified StrangerVille weirdo?
Whatever the case may be, these custom newspapers add just the right amount of crazy clutter to turn an apartment from bland to interesting.
4.

Major Inspo Corkboard Add On by Ravasheen
If your corkboard doesn't have a picture of a cute puppy on it, you're doing everything wrong.
Jokes aside, how quirky are these corkboards? Forget boring squares and basic rectangles.
How about a rainbow-shaped idea board? Or a geometrical Scandinavian-type pin board to really get the creative juices flowing?
This CC offers a full wall décor set with eight creations total.
So feel free to check out the other inclusions individually!
5.

Headline Posters by pleyita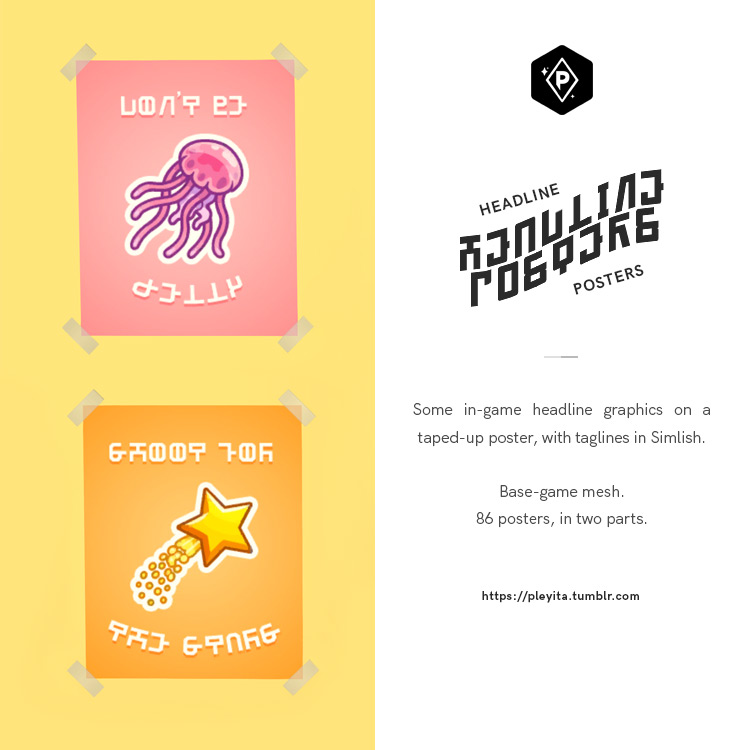 Cute, quirky, and oh-so-simple, these fun li'l posters come in – wait for it – 86 variations. Yup!
The creator got just a little carried away, but who's complaining?
These Headline Posters are great to look at and work in a pinch for generic, all-inclusive, super-friendly decorating. I'm confident you'll find at least one swatch to love.
6.

Teenage Dirt Bag Wall Decals by ColeyFaceCreations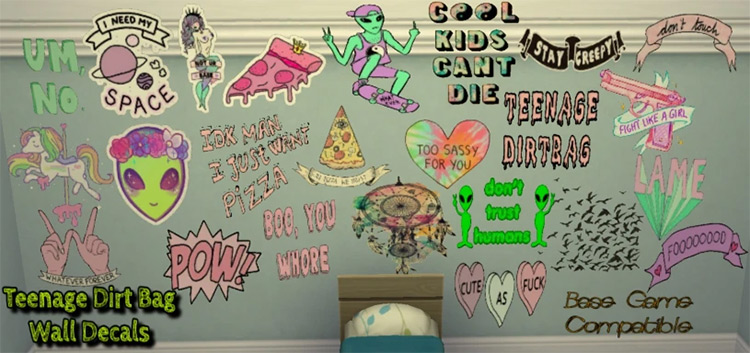 "I'm just a teenage dirtbag, baby."
Don't lie; you totally sang that line in your head.
These wall decals live up to the visual painted by the song title. For Teen Sims in their high-strung attitude phase (you know, where they're giving their parents a lot of lip?), let their walls reflect their current messy personality?
Don't worry; there are 24 swatches—which mean plenty of options.
If you prefer aliens with flower crowns over a "Stay Creepy" banner, this decal pack's got you covered.
7.

Starq Towel Rack Patterned Recolors by Peach And Her Pan
Even as someone who prefers solid colors, I recognize the need for fun, colorful patterns.
Want a towel in your bathroom or kitchen that's not charcoal gray or off-white? Pick from any of the custom pretty floral-slash-semi-Scandinavian patterns!
I personally love the flailing pastel kittens.
8.

Honey Bee Embroidery by hamburgercakes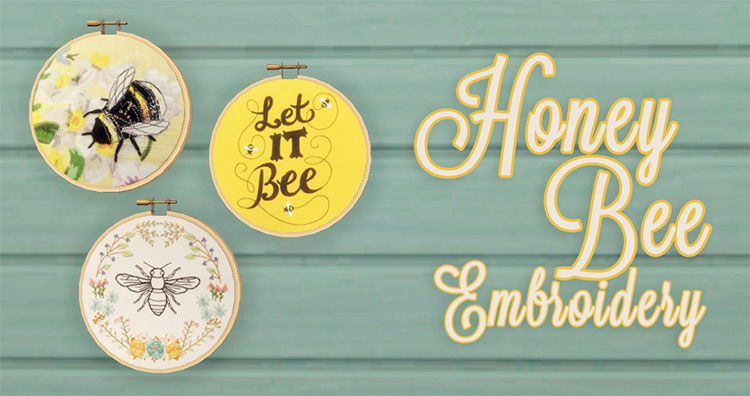 So, Cottage Living introduced the Cross-Stitch skill.
Now your Sim – even at a low level – can mount their cross-stitch creations on the wall.
These adorably sweet honey-bee-themed embroidery hoops follow the same concept. Only difference?
Your Sim doesn't need to spend hours making them in-game.
9.

Matisse But Maxis-Match by honeycuts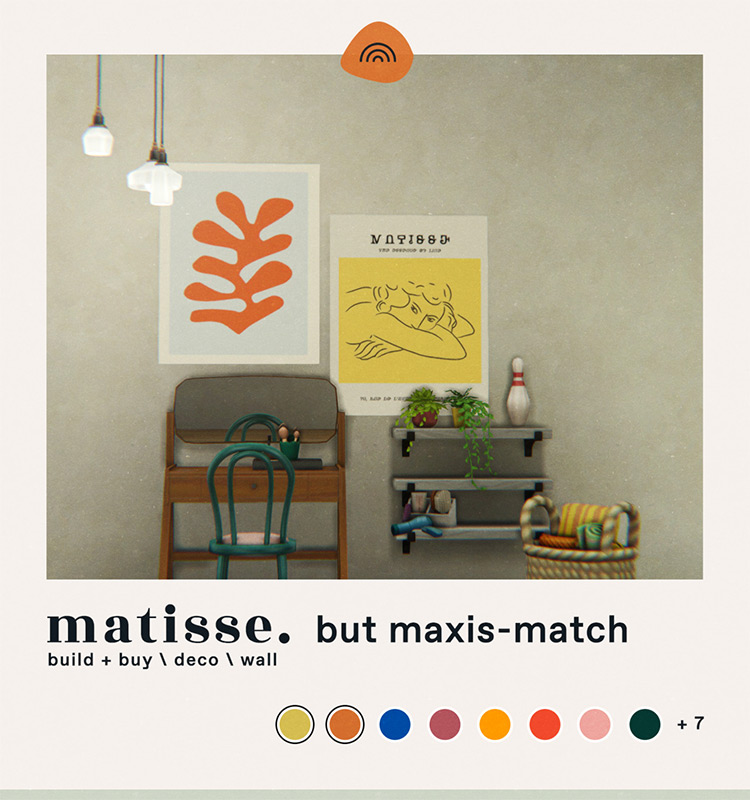 I'm ashamed to admit that I had to Google "matisse." I thought it was a TS4 style or furniture name that I just couldn't remember.
Matisse is a famous French artist known for his "use of color" and his "fluid and original draughtsmanship."
If (as this creator says) there's a distinct lack of wall-mounted curves in your game, these wall décor pieces should fill that gap nicely.
10.

One Billion Pixels Recolor by mayusimsie
Don't get me wrong; the original custom polaroids by One Billion Pixels are beautiful.
I just unfortunately cannot add them to this list because they're Alpha CC.
But, hey, you need to download them as the mesh to make this recolor work, so you might as well keep them.
Thankfully, mayusimsie's recolor (aside from adding eight pop-art-like swatches) makes the polaroids Maxis match – and therefore, totally eligible for this list.
11.

Silly Polaroids! by Butterscotch Sims
More polaroids!
If you're sensing a pattern here, it's because I personally own stacks of polaroids.
And a good chunk of them end up as wall decoration too.
These Silly Polaroids feature cute, brightly-colored illustrations that range from simple to artsy to just plain adorable. Artwork credits go to Jaco Haasbroek.
12.

Wall Art Painting Plants on Beige Background by Sims House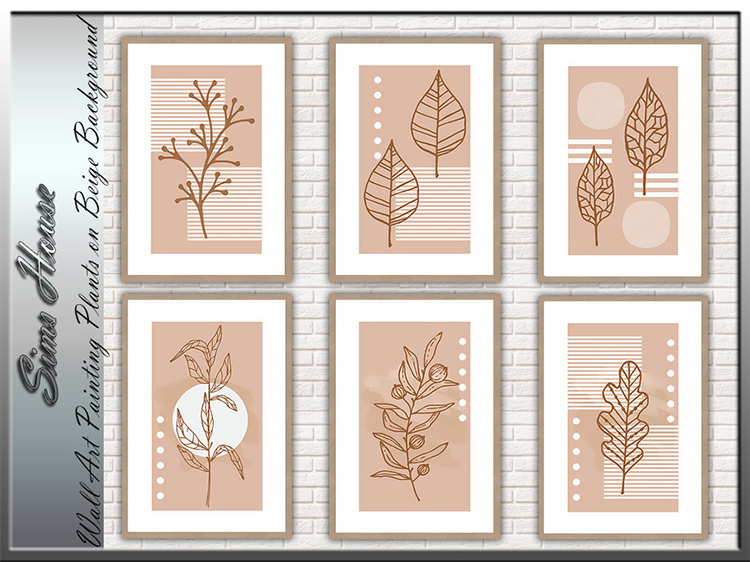 The name of this CC pack is very descriptive.
Heck, I don't think I need to elaborate further.
You get six beautiful, minimalist lineart paintings of various plants on a beige background.
I personally love the clean, solid look of these types of paintings, so I have to highly recommend.
13.

Spooky Cross Stitch Pack by ButternutSims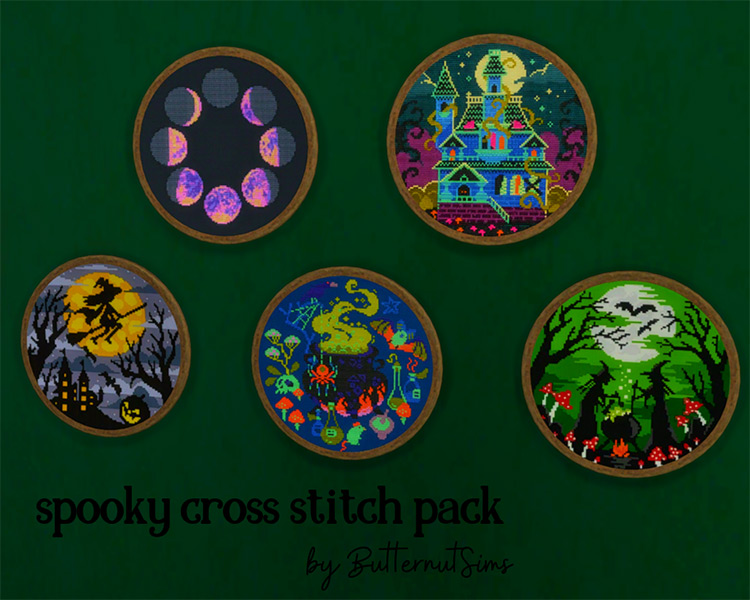 Sweet honeybee's not fitting your vibe? It's okay.
How about some Halloween-themed cross-stitch patterns instead?
This seasonal grab-bag includes a bunch of cross-stitch hoops that depict some distinctly spooky scenes. A witch, a cauldron, and the phases of the moon — just to name a few.
No need to stitch these up in game, either; just hang 'em up wherever you want!
14.

Living Room Odin Pictures by kardofe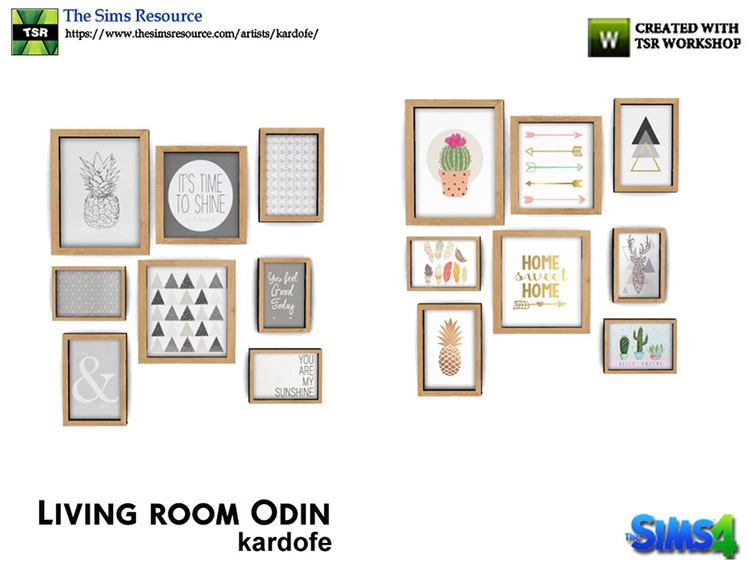 These light wooden picture frames are part of kardofe's Living Room Odin set; a stylish furniture pack that follows a Nordic style.
It's all clean lines, sharp edges, and geometric patterns in soft watercolor.
Do note that the item itself is all eight frames grouped together, by the way! You don't need to hang the pics up one by one.
15.

Whimsical Animal Portraits by hamburgercakes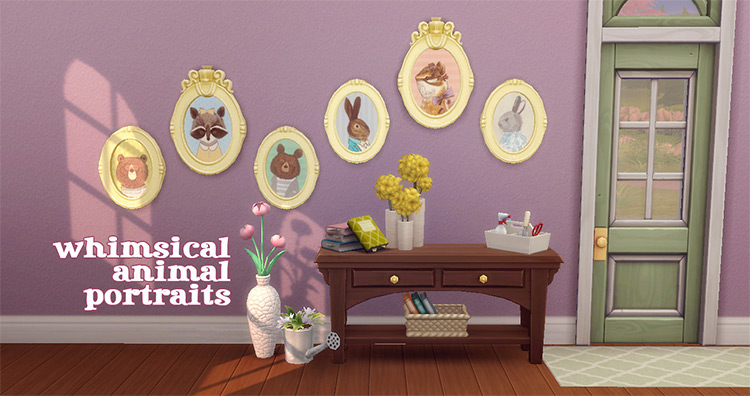 These are exactly what it says on the tin:
Cute, whimsical animal portraits to hang up on your wall, modern-Medieval-style.
The frames themselves feel like antique oval paintings from the 1920s. Only instead of stern-looking Victorian women, you're treated to cute animals done by Liz Mytinger.
16.

Mix n Match Art Series by dk-sims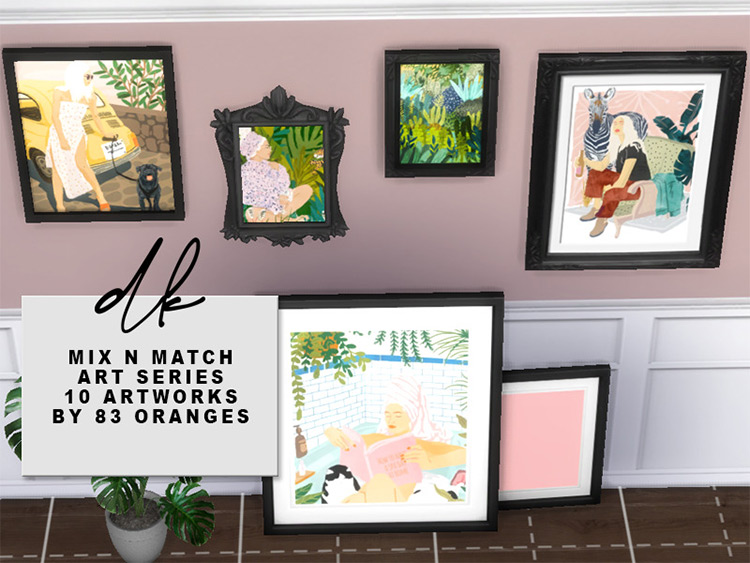 The numbers confused me at first, but I finally got the caption after installing and testing these babies in-game.
The download itself gives you five different picture frames.
Each picture frame has ten swatches.
Those ten swatches are ten different artworks from the artist, 83 Oranges.
Contrary to my initial understanding, this download does not contain 83 different art pieces. Hope that all made sense!
17.

Waning Moon CC Pack by Nocturne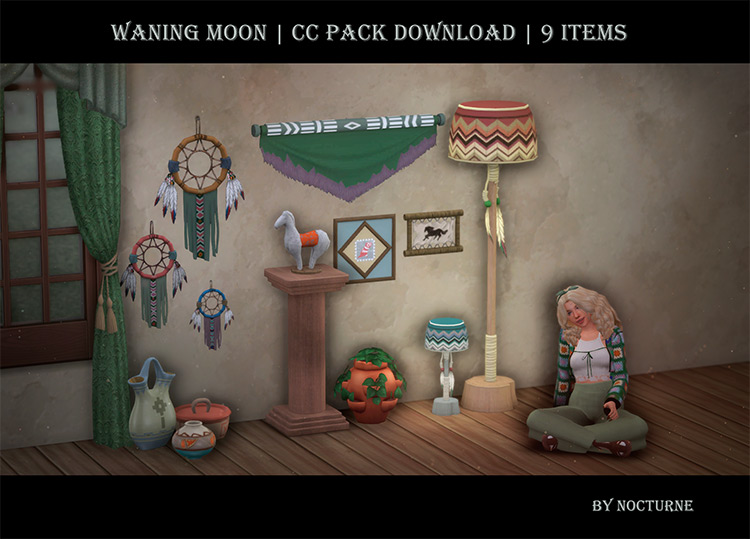 Give your Sims the gift of sweet slumber with a beautiful, handcrafted dreamcatcher.
Even if your Sim doesn't believe that they work, no one can deny that they're lovely to look at.
Their natural handmade charm is visually so soothing.
18.

Voidcritters Calendar by Veranka S4CC
Voidcritters are basically like the Freezer Bunny.
They're part and parcel of Sims canon, and their popularity as an entertainment series is heavily implied.
I guess that makes these custom calendars novelty items.
If your Child or Teen Sim has a mind to collect the set, there are 20 possible variations.
19.

Eclectic Wire Shelf (Décor) by ArwenKaboom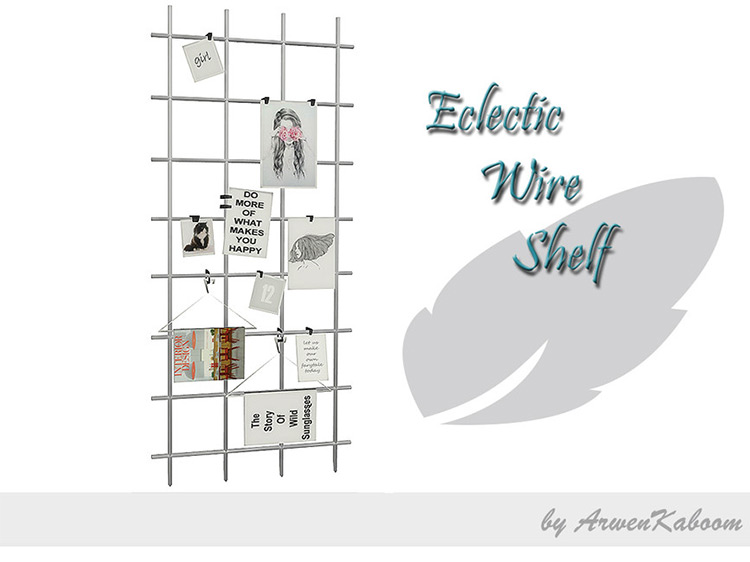 This wire shelf is part of the creator's Eclectic Study furniture set; a simple, stylish office/living space full of light wooden frames and a hint of Scandinavian charm.
The wall shelf itself is a functional item that the creator describes as a "simple wire" that doubles as wall décor.
The clean edges & basic bare-bones design makes it look expensive and high-end, too.
20.

Combine Your Ghibli by TitusLinde
I'm recommending this download purely based on personal preference.
Yes, this is a biased review. As a big Studio Ghibli fan, I would indeed spend a hefty sum to have prints like this on my wall.
Especially the ones with Faceless in them.
21.

Thinner Uni Notes Landing by simadream
This replacement apparently came about because Maxis likes to oversize objects.
Can't say I disagree. It's why the ability resize objects in-game is a literal godsend.
But I digress. Here's a thinner, slimmer whiteboard for space-conscious Sims.
22.

"Art in a Box" Recolors by SaudadeSims
A cute and charmingly aesthetic bunch of six picture frames (varying sizes), all grouped together to decorate your wall.
There are three flavors of wooden frame (light, grey, and dark) and three design variations for the actual pictures.
23.

A Very Mixed Pack of Cross Stitch THREE by faded-springs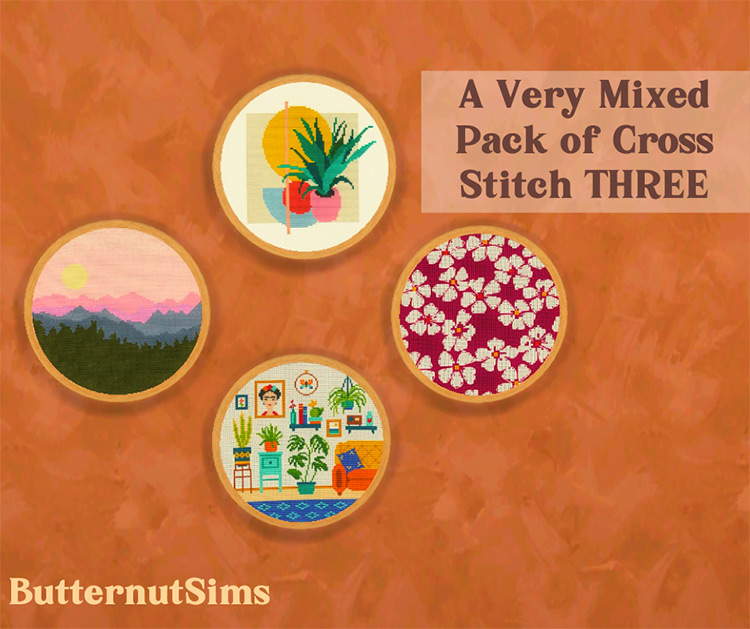 Mixed indeed, but we do love variety here.
These cross stitch hoops come in 62 different designs, and there's no particular theme.
It's incredibly random but hey. That just means there's bound to be a design for everyone!
24.

Jules Wall Pictures by SIMcredible!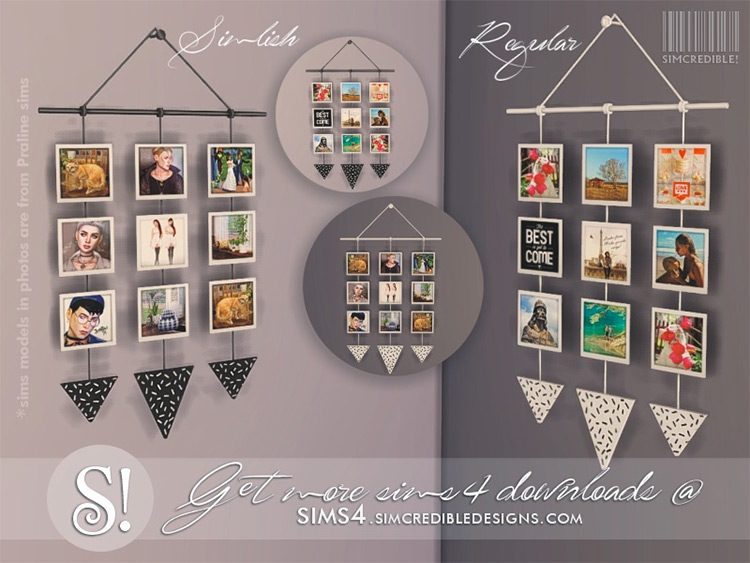 This is such a clever way to display your favorite photos.
It's also an incredibly unique wall hanging; I don't think I've seen anything quite like it.
I've seen polaroids, polaroids strung up with lights, and photo frames mishmashed together, but I don't think I've seen photos hanging banner-like just yet.
25.

Calendar Pack BGC by MadameRia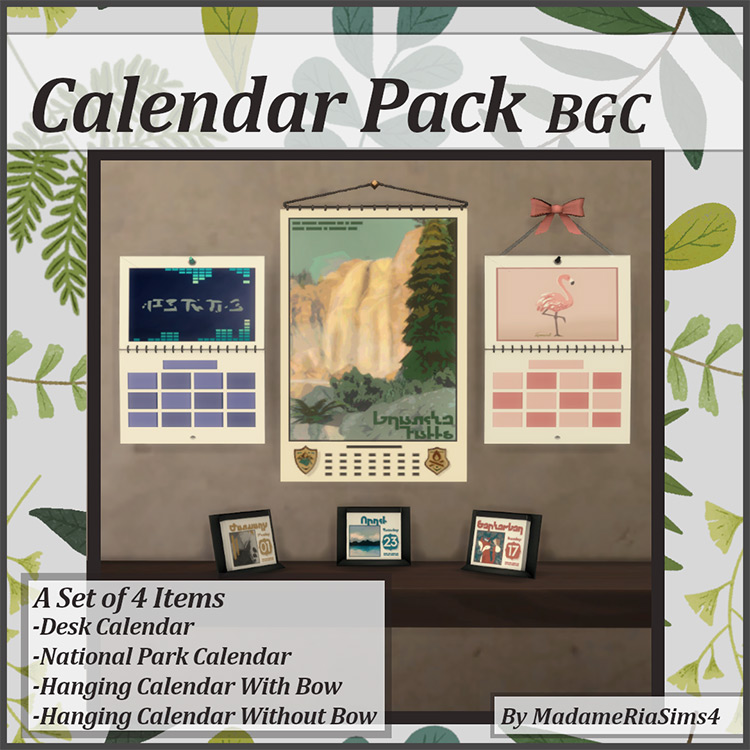 This variety pack of custom calendars offers four different designs, and each design has a unique number of swatches.
Of those four, three qualify for this article.
The big National Park calendar comes in 17 styles: one photo for each world in the Sims!
(Pretty neat, huh?)
The other hanging calendars – with bow and without – come with 20 swatches each.
26.

Intellectual Illusion Wall Shelf by IgnorantBliss
This wall-mounted bookshelf may be categorized as Storage or Display, but I think its design (a clean, open-ended, asymmetric style) makes it double as interesting wall décor.
With or without clutter on it, it would still look like some sort of modern art piece hanging in an uber-contemporary uptown apartment.
27.

That 60's House Wall Frame Planters by daer0n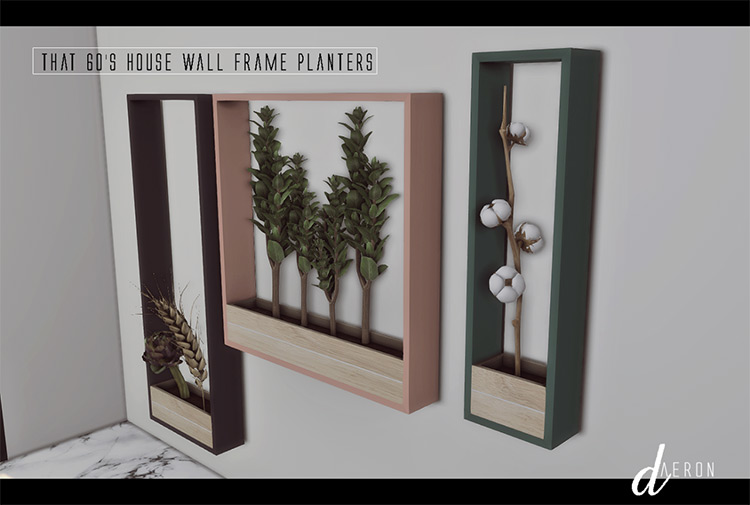 Now these are some interesting looking planters.
I don't think they're usable since I didn't have the option to click on them, but it's nothing a little bb.moveobjects on can't fix.
Love the concept of wall-mounted planters. And using plants plus frames as decorations? Always a winning combination.
The link in the preview leads to a missing page, but I was able to find the SFS link. Download the wall frame planters here!
28.

Bloom by Winner9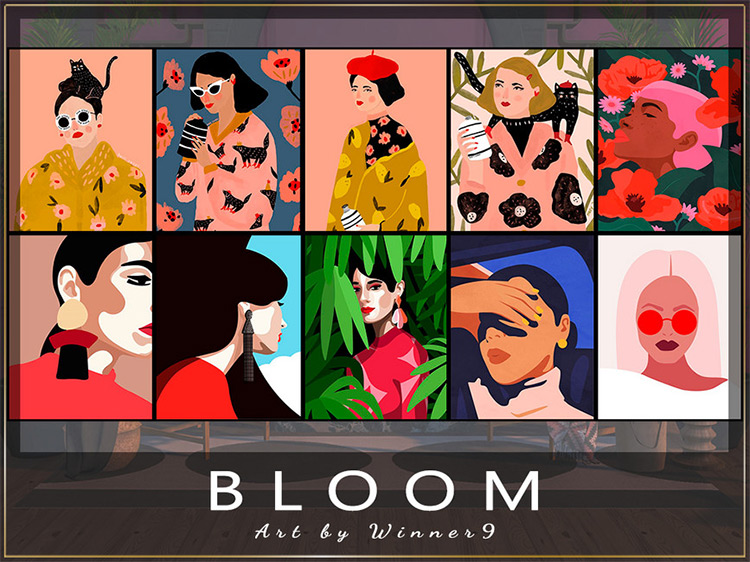 The simplicity of the set's name suits the artwork's aesthetic.
It's fresh, flowery, and subtly charming. I could basically say the same of the paintings!
Plus it seems like the creator of this CC set is also the artist behind the artworks. I can't verify this but if it's true? That is so awesome.
29.

Framed Vinyl Covers by ratboysims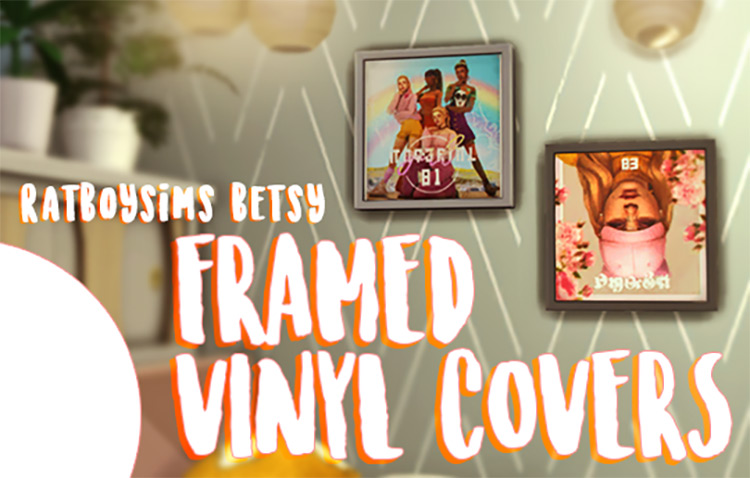 Maybe your Adult Sim wants to preserve the very first record they ever bought.
Or maybe your newlywed Sims are music lovers who want to brighten up the new apartment they moved into.
Whatever the case may be, these Framed Vinyl Covers can add just the right pop of color to otherwise bare walls.
30.

I Like CATS! Poster Set by javabeandreams/hamburgercakes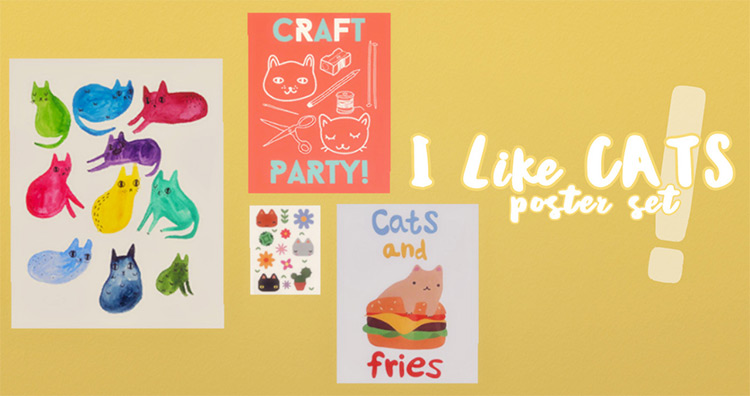 Even if your Sim isn't a diehard cat lover or crazy cat lady, I'm certain they'd put these posters up somewhere.
Charmingly quirky illustrations of cute cats and kittens? Plus cat food illustrations that don't make sense but are still adorable?
(Who knew a cat wearing a donut would be so distracting?)
This set's for keeps, I tell you.
31.

We Just Click Photo Collage Set by Ravasheen
So when I first saw the preview photos, I thought that the pictures came with the frames.
I thought you could only change the image via preset swatches.
Lo and behold; you can place your Sim's own photos in the frames!
This level of customization is why I love the CC community.
There are eight frame styles in the whole set, and plenty of color variations to choose from.
32.

Athena Wall Wire Grid Panel by SIMcredible!
Kind of like the Eclectic Wire Shelf, this wall-mounted shelf wasn't meant to be a display piece.
However, the little items and pictures on it pretty much turn it into a beautiful wall decoration.
You can't change the illustrations and images, sadly. But you can change the color of the shelf!
33.

Wall Décor Pantone by Raventons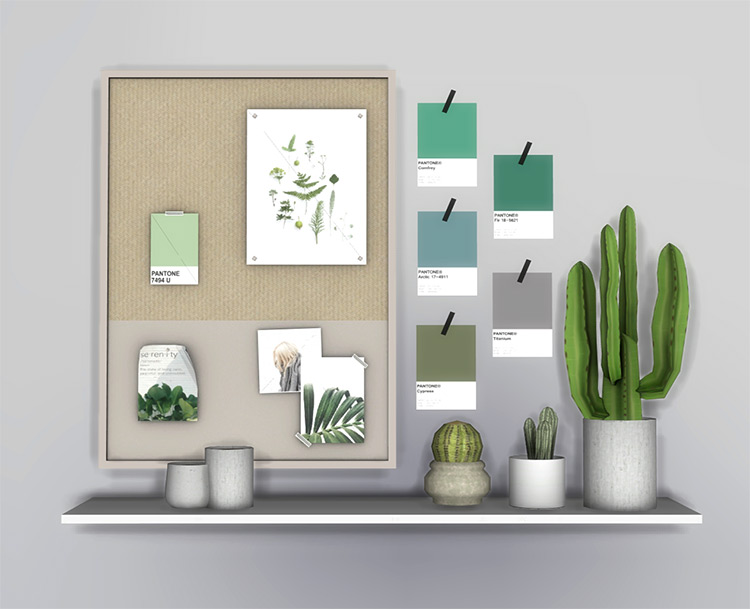 Bear with this set a bit — there's a lot going on.
However, I absolutely had to recommend it because let me just say, the setup? So visually satisfying.
Are these not some of the most aesthetic looking walls you've ever seen?
The pantone swatches (available in 50+ colors, by the way) look so good paired with the photo strings and the wall grid.
The mix of clean lines and soft color combinations is so incredibly soothing. It's crazy how much I want this for my own IRL office.
34.

Major Inspo Corkboard & Art Prints by Ravasheen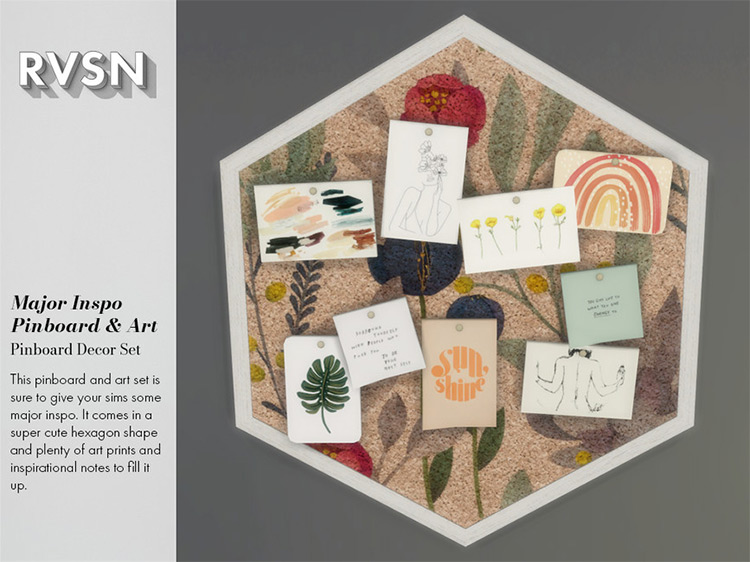 "This pinboard and art set is sure to give your Sims some major inspo. It comes in a super cute hexagon shape and plenty of art prints and inspirational notes to fill it up."
Who am I, a sappy creative soul, to say no to that?
Aside from the fact that each board is extremely customizable (with a little help from bb.moveobjects on), the geometric, asymmetrical, and sunflower-yellow designs on the corkboard itself?
Pretty darn unique.
35.

Music Poster Add-Ons by bottsbotts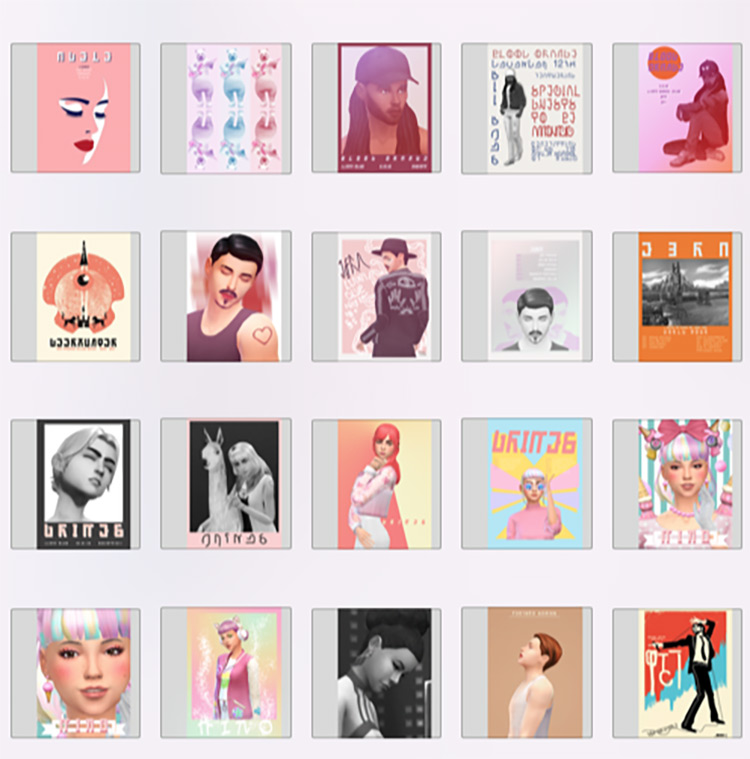 Need more poster design options?
Bottsbotts has got you covered.
What's cool is that the models in the posters are Sims as well (rather than edited photos of real people). Really helps keep your game canon and Sims-lore-friendly?
36.

Kitchen Collection by Miguel Creations TS4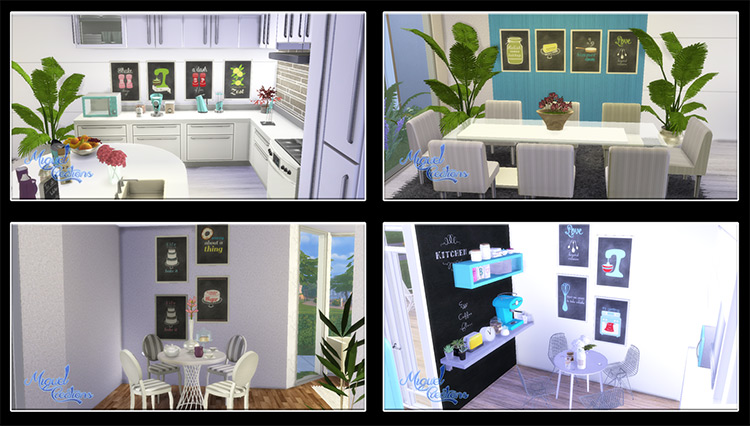 If your Sim likes cooking and loves puns, these kitchen-themed posters are absolute gems.
Featuring groan-worthy illustrated zingers like "be grateful" (with a cheese grater), "simmer down" (with a simmering pan), and "don't be afraid to take whisks." And that's with – you guessed it – a whisk.
All pretense aside, some of these did make me chuckle.
With 30 options, I'm sure one or two of them can get a smile out of you, too.
37.

Wall Mounted Coat Rack with Shelf (Recolors) by lina-cherie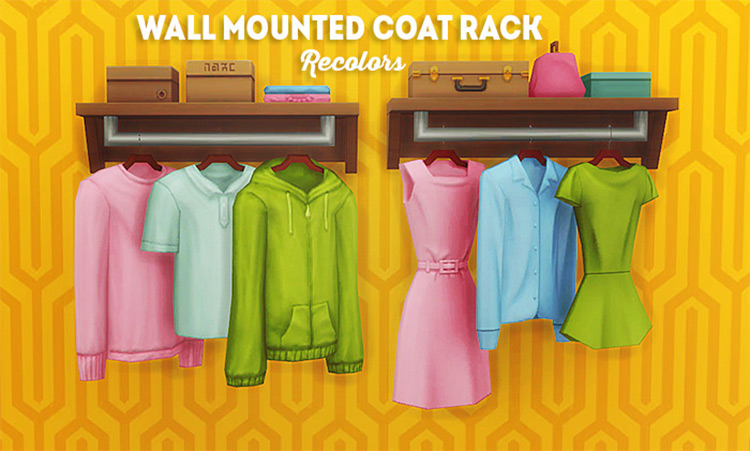 Hanging clothes, suitcases, and colorful mystery boxes can be considered wall décor, too!
If they're pleasing to look at and can be stuck to a wall, then why not?
This coat rack comes in two brightly-colored swatches.
38.

Dried Herbs & Plants by hula-zombie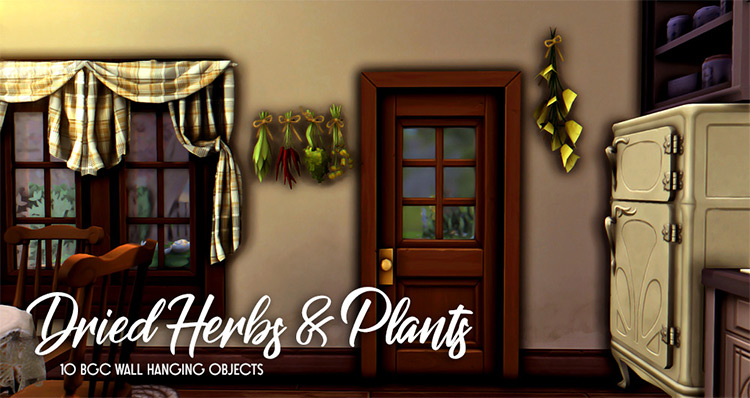 Contrary to popular belief, witches and wizards and practicing voodoo masters aren't the only ones who need to hang up sage, wormwood, and mandrake. It's like you've never met a cook who likes to grow their own herbs!
But, you know; this wall décor does add a bit of a witchy vibe to my Occult Sim's house, so. Just do you!
39.

Peg to Differ – Entryway Set by Ravasheen
I take no responsibility for this pun other than recommending the pegboard it's attached to. Because it's beautiful and functional.
Your Sim can actually hang up random, wall-mountable items on this pegboard like you would in real life.
Ravasheen even includes some extra custom clutter to get you started!
40.

Delilah by soloriya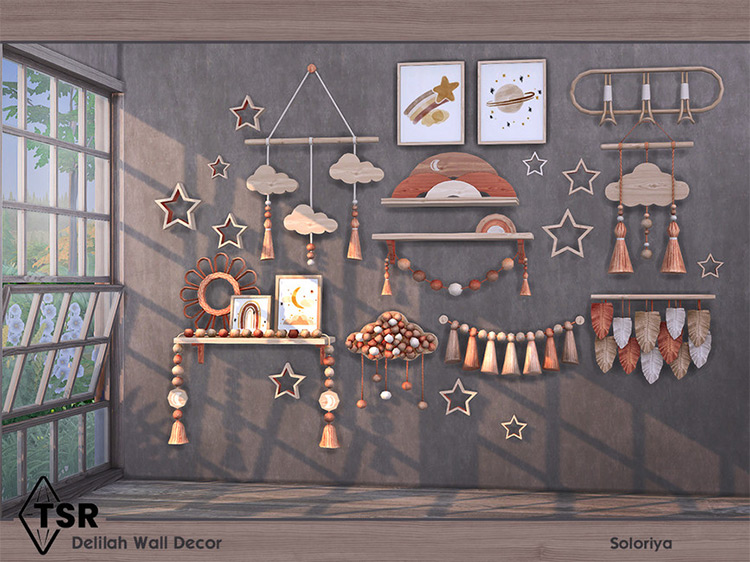 I'm not sure what each item is, exactly…
But there are ten of them in this set. And they all fit a pleasing aesthetic.
And I can confirm that the autumn-colored leaves, the giant tassels, and the functional floating shelves decorated with arches all look beautiful in-game.
Browse:
Lists
Maxis Match
The Sims 4
Video Games