Sims 4 Maxis Match Windows CC: The Ultimate Collection
This post may contain affiliate links. If you buy something we may get a small commission at no extra cost to you. (Learn more).
I remember reading somewhere that windows are the eyes of the house. Sort of like how the eyes are the windows to the soul, I guess. I could be getting the two mixed up.
Either way, windows are important.
Whether you're building a cute suburban, a quaint country cottage, an uptown apartment, or a large, sprawling Victorian manor, you need the right windows to really sell the build.
That's where CC comes in.
1.

Whiter Windows: Before & After by SimPlistic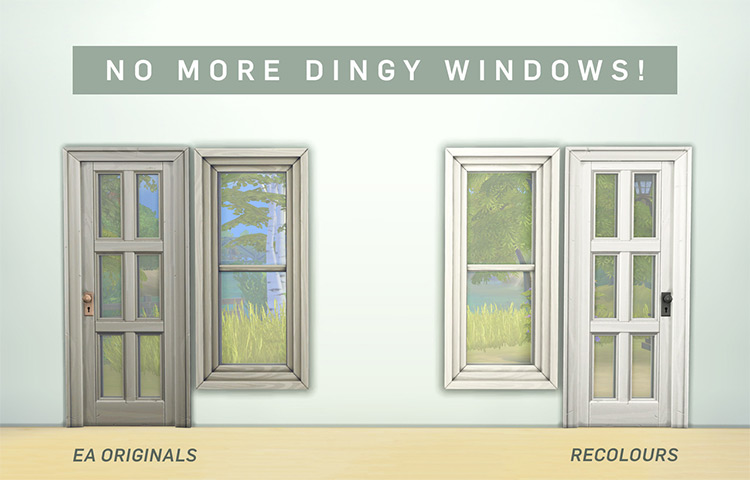 Who knew EA's "white" swatch wasn't white at all?
I mean, thought they were at least light cream.
Thanks to SimPlistic's Whiter Windows recolor, we can now have actual white windows rather than the default dingy ash grey.
2.

AP_Modern Windows by AdonisPluto
A set of 2×1 modern windows, with three main colors and lots of horizontal slats. There are ten versions of this simple, unassuming window, and they're all defined by the placement of the blinds.
A little unusual but, hey; contemporary modern is rarely normal.
3.

I Shutter at the Thought by Kitkat's Simporium
I'm recommending these windows purely because of the pun.
Their great quality and cute design is just a bonus.
There are seven new meshes that have between 28 and 57 color options, and they're all defined by – you guessed it – shutters. Perfect for quaint country builds!
4.

Alma Window Privat Open 1×1 by mutske
A simple 1×1 wooden (or vinyl—not too sure) window with a standard frame and a bordered glass panel. What makes it stand out?
The fact that it's slightly open.
It's enough to add a bit of personality to any build!
5.

Screened In Porch Series by Peacemaker-IC (Recolor by Momtrait)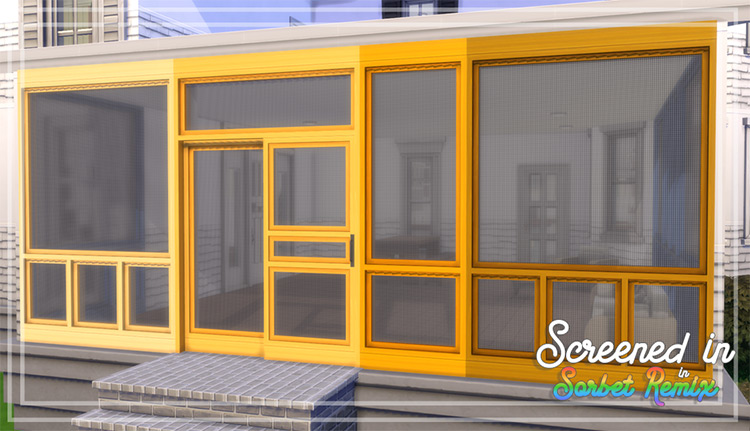 These wonderfully wide windows come from peacemaker-ic's Screened in Series, which is a mini Build set containing twelve new windows.
They do, indeed, look perfect for pairing with porches.
Momtrait's recolor adds 76 new colors to the original mesh's 20-swatch palette.
6.

Octopane Privacy Window + Tag Fixes by plasticbox
For Sims who value their privacy, here's a bordered take on Maxis's Octopane window, only with glass panes that are far more opaque.
The mesh may not be new, but the tag fixes, color swatches, and cleaner borders certainly are!
7.

Double Hung Window Add-Ons by plasticbox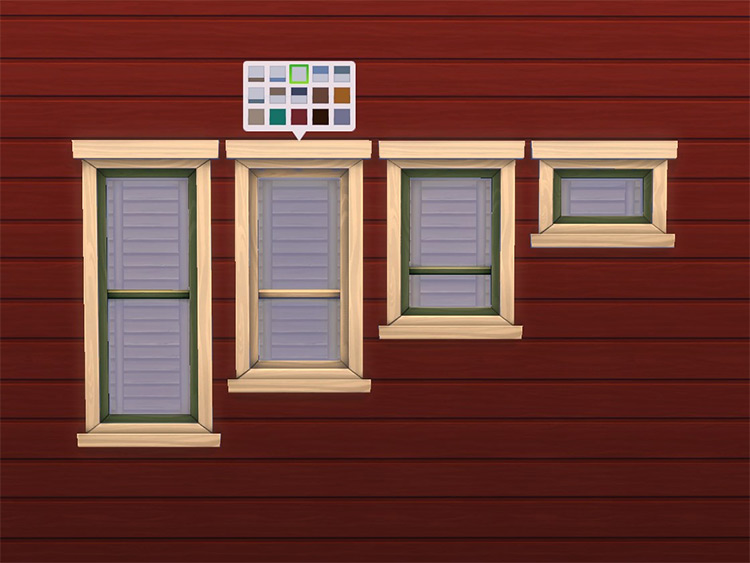 EA's Double Hung windows are great and all. But the fact that this download gives us three versions that fit perfectly over desks, end tables, and counters?
That's pretty cool.
There's a smaller 1×1 privacy window; perfect for bathrooms or as a wall accent.
Make sure to check the creator's notes for a more detailed explanation on the mesh.
You can also check out their Rolled Glass version of this window in the next item!
8.

Rolled Glass Windows by plasticbox
This custom window uses EA's Double Hung window mesh—with a couple obvious tweaks.
The main one is, as we can all see, the glass pane texture. Rather than the semi-opaque glass render we're used to, plasticbox introduces an interesting "rolled glass" look to all the Double Hung variations.
9.

Quaint Cottage Expanded by Simsational Designs
This Quaint Cottage build set is meant to have country craftsman vibes, and I think the creator nailed it (no pun intended).
All the new windows – from the tri-panel windows to the single-sash style – have this sturdy, unassuming presence to them that would make them fit quite perfectly in a countryside manor or a house in a forest clearing.
10.

Bae Windows and Door Set by Things By Dean
There's no way your Sim's neighbors can ignore their boundaries now.
Not with how obvious the borders on these doors and windows are.
Things By Dean's Bae Windows are bright, bold, and beautiful. Even alone, they'd make for an interesting (if not modern and slightly Avant-garde) build for sure!
11.

'Monstera' – Build Set by akalukery/grimcookies
This massive build set by akalukery/grimcookies contains new meshes for archways, doors, and – of course – windows. Eight of 'em, in fact.
All of them have the same design in terms of glass panel sizing and exterior borders. Biggest difference is, of course, the sizes and number of panels based on the sizes.
Feel free to play around with the set, as you can surprisingly do a lot with eight options!
12.

Infinity Windows by waekey
These windows can go on for as long as you need them to.
Two tiles? Sure.
Four tiles? Yup!
Twelve tiles? Not even a problem.
On that note, I have to give mad kudos to the creator.
The borderless middle piece lines up cleanly and flawlessly with all the other pieces in this pack. The "endless" illusion wouldn't have worked otherwise!
13.

Base Game Compatible Moschino Arched Windows by Sims Work Style
Industrial lofts just hit different when they use arched glass-and-steel windows. Not sure why.
There's just something so ultra-urban about them that fits the theme of such a build perfectly.
This creator seems to agree, as they made these six beautiful windows just to suit a custom loft build set (Lofte Living) by peacemaker-ic.
14.

London Set Full by Felixandre
For building cozy town houses in the middle of a bustling city, Felixandre's London build set has a lot of great options. The windows are particularly beautiful.
Nicely defined arches coupled with thick marble borders and clean panel linings make for a visually pleasing design.
15.

Eco Lifestyle Windows in Sorbets Remix by Momtrait
The Sims 4: Eco Lifestyle windows are pretty interesting as they are—especially since Eco Lifestyle has a particularly distinct build style.
Makes sense, given the sort of theme/lore of its main world.
This recolor by Momtrait uses noodlescc's Sorbets Remix palette, adding 76 new berry color options to nineteen of the pack's windows.
16.

Darma Part #2 – Windows by Mincsims
These windows are dramatic AF. They're tall, wide, and sufficiently intimidating.
Oh! And did I mention they're arched, too?
Yeah, there's just something about arched windows that brings to mind terms like "grandeur," "luxe," and "sprawling." And I think it's clear to see that these windows would work perfectly for large, luxury builds.
17.

Mega (Double Budget Grand Deluxe Delite) Window Add-Ons by plasticbox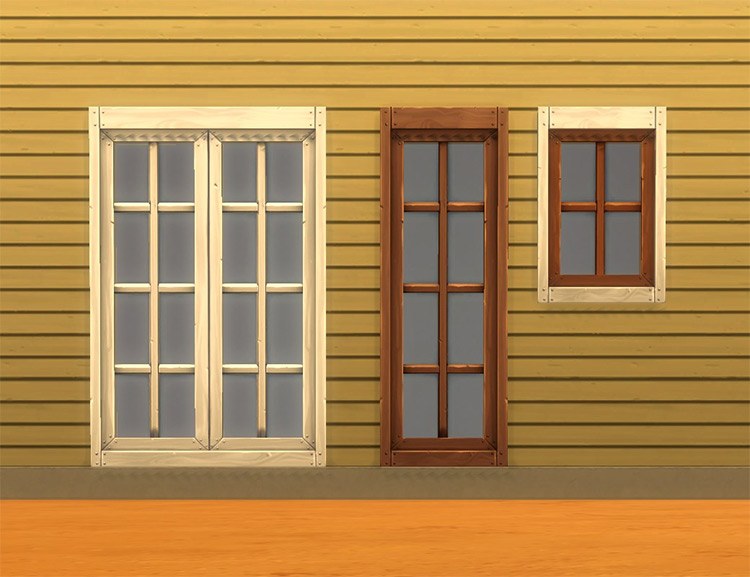 These add-ons are for an existing EA Build item called the "Mega (Double Budget Grand Deluxe Delite)" window. All necessary meshes are contained in the download, so you don't need to grab and install any extra files.
If you need more than these three size and wall-placement variations (for practical builds), you can get the creator's other two add-ons (tall and medium versions of the Full-Width Single Tile Window) from version 2 of this window set.
18.

Curved Windows by Sim Sinatra
These window designs are cool.
Don't tell me you wouldn't install a curved window for your bay or porch area, because I totally would.
It's unique, interesting, and – with certain builds – can look very romantic.
I also love that the creator included versions of short walls and medium walls. That's the kind of inclusivity we like to see!
19.

Gothic Revival Build Set by Clover Collector
Clover Collector's Gothic Revival Build Set eight windows, and all eight of them have these interesting storybook-like designs on them.
Sort of like stained glass, only less mosaic and more illustrative.
The arched ones are especially reminiscent of fairy tale cathedrals!
20.

Sevilla Square Window Middle 1×1 by mutske
You can't get any more basic than this Sevilla Square Window by mutske.
It's literally the textbook definition of a typical window; taller than it is wide, with a full glass pane sectioned out into square panels, and a thick exterior border for where it fits snugly into the wall.
Sometimes, you just need a simple, standard, solid-colored window to complement your build.
21.

Windows + Deco Slots – Overrides by BakieGaming
Before downloading and installing this window, I highly recommend you watch the creator's YouTube video first (on the CC page's description).
They explain everything you need to know about this brilliant CC (plus, the download link is in the video description).
But, to summarize, BakieGaming has made it so that you can place objects on the Eco Lifestyle windows that have extended window sills.
Which, honestly? It's so creative and make so much sense, I don't get why that isn't a feature of the base item. The concept is so cute!
22.

Three Trailer Windows by ditZn
Whether your Sim lives in some fancy, high-tech camping vans or in a rusted, beat-up trailer, these simple, no-nonsense trailer windows will suit your design.
There are three window styles with seven swatches each, for a total of 21 new windows.
Yes, you can mix and match swatches. But, you know. Maybe don't combine the dingy, rusty windows with the nicely-painted new-ish ones?
23.

In-Brick Hole Window by The Plumbob Tea Society
This, for me, is another stroke of genius from the Sims CC community.
Not all Sims can afford to live in fancy penthouse apartments and cozy cottages.
Sometimes, some Sims have no choice but to take to the streets. And the streets can be unforgiving.
This literal hole in the wall is both a functional window (you can see outside of it, can't you?) and a wall décor. Because if there's anything that indicates how rundown a house is, a gaping hole in the wall (can't emphasize that enough) will do it!
24.

Horizontal Pane Windows by orangemittens
Cute, quaint, and very picturesque, these Horizontal Pane windows are exactly as described.
It's apparently an edit of EA's Octopane window, which is definitely a base game favorite.
It's simple, clean, and comes with sixteen color options.
25.

Thorpe Windows by mutske (Recolor by lina-cherie)
These Thorpe windows by mutske are tall, sleek, and look excellent on suburban builds.
Something about the paneled sashes, the clean lines, and the extended window sills just does it for me.
You can also get these windows in fun, festive swatches thanks to lina-cherie's recolor (which you can download here)!
26.

Moschino Loft Windows by melly20x-sims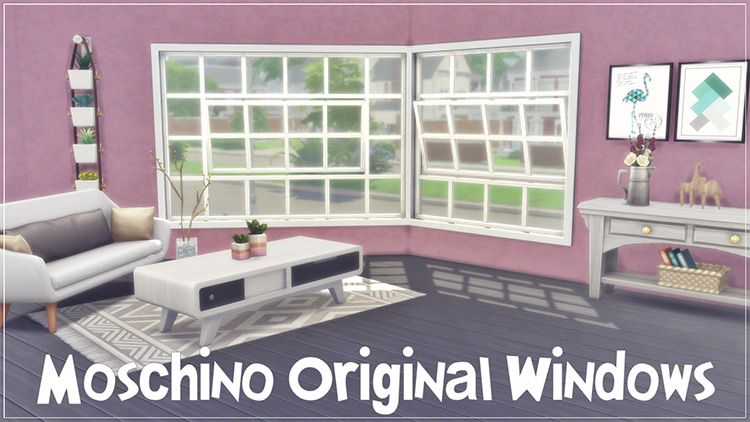 The creator took the large loft window from The Sims 4: Moschino Stuff pack – you know, the one that's slightly open? – and removed the sections. The result is a surprisingly attractive single-pane window that looks brighter, lighter, and airier. It looks like it'd light up a room so well!
They also did the same to the quarter-circle window, which you can download here.
27.

Pulltab Windows and Doors 3T4 by MXIMS
While we're on the topic, these windows sort of look like the Moschino ones in the sense that they're big, contemporary, floor-to-ceiling pieces.
I like that the custom door and window in this set look exactly like each other, with the only difference being – you guessed it – the pulltab on the door.
It's a great choice for uptown condominium units or penthouse suite builds.
28.

Yule & New Year's Gift: Bay Window by KuroinKuro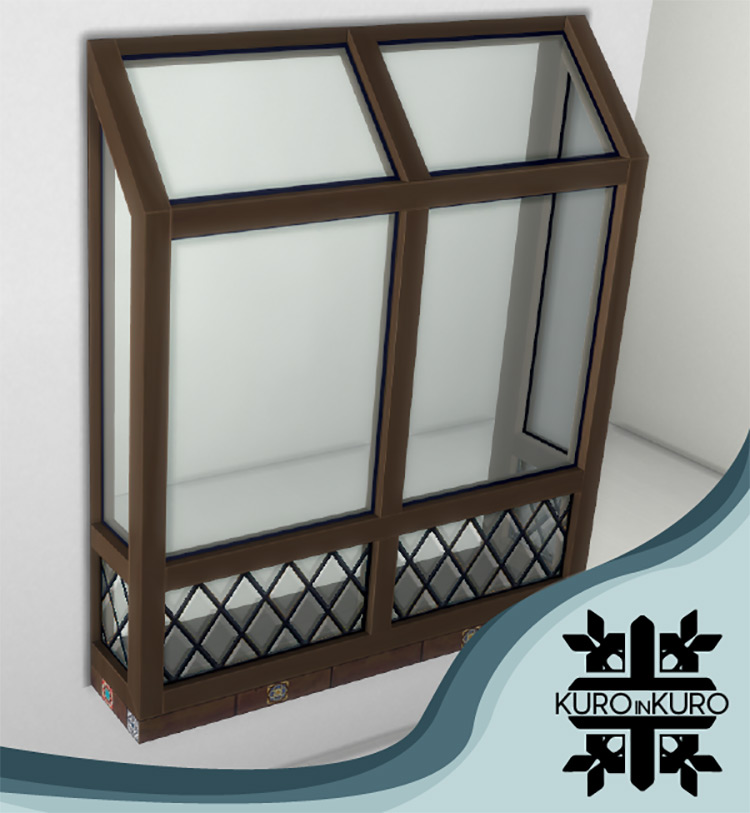 I am a sucker for bay windows.
I've always wanted one, because the concept of sitting on the windowsill and staring out at nothing in particular has always appealed to me.
So of course I'm going to jump at every custom bay window I can find.
This one by KuroinKuro is particularly gorgeous. Especially the latticework small, colorful emblems on the bottom.
29.

Industrial Arched Window by illogicalsims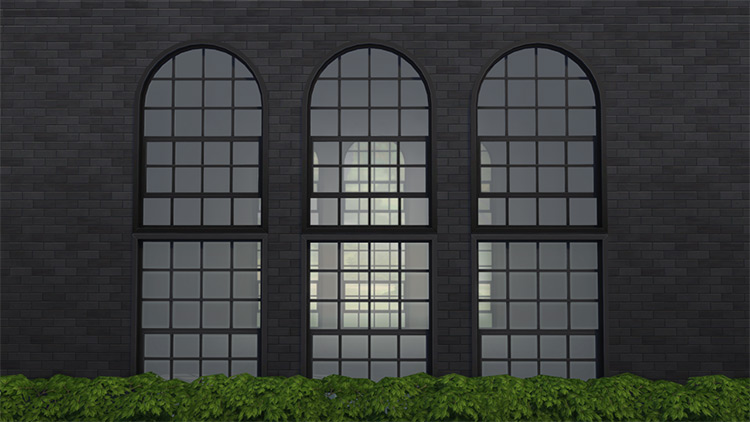 Arched windows are to industrial loft builds like icing is to cake. It's not a requirement per se, but one without the other feels sort of lacking.
I mean, you can definitely build a loft with just regular, rectangular windows, and I'm sure it'd still look nice.
But there's no denying that large, arched windows with steel sectioning add a nice bit of oomph! to an industrial build.
See the preview photos as proof.
30.

Lanham Slanting Windows by mutske
How beautiful is the build in the preview photo?
I mean, seriously; how absolutely stunning?
People would pay good money in real life to get windows like these installed.
I can't explain why the tilt makes these windows ten times better, but it does. And I feel like they can transform any build from bland and boring to bold and beautiful.
Simply put, these windows are an absolute must-have if you enjoy creating interesting builds!
Browse:
Lists
Maxis Match
The Sims 4
Video Games