Sims 4 McDonald's CC, Mods & Lots (All Free)
This post may contain affiliate links. If you buy something we may get a small commission at no extra cost to you. (Learn more).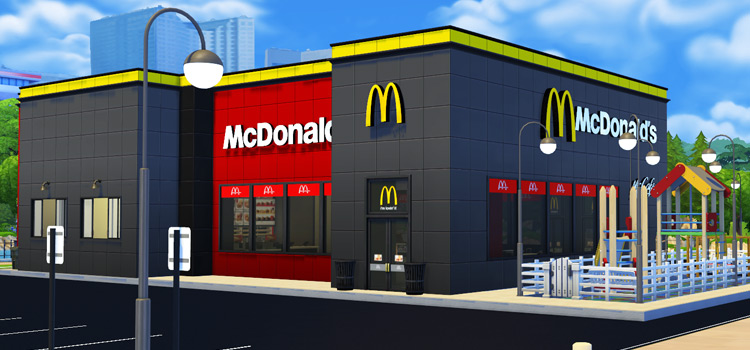 The honor of being a household name isn't what it used to be. But you know what'll never have that problem?
McDonald's.
There aren't many things that are as universally known as this place and its menu. As far as the food chain goes, McDonald's is at the top.
Get it, 'cause they're a chain restaurant? Well I better just leave the clever one-liners to whoever does the descriptions for build/buy objects in this game… My powers just aren't that honed.
The point is, statistically speaking, most of the world at least knows about McDonald's.
And it's high time such a legendary thing comes to a life simulator.
Because really, what's life without Big Macs and those delicious fries that can't be found anywhere else?
Sad.
And a Sim's life is already sad enough.
But this list is here to help! Now you'll be able to incorporate McDonald's into your game with this custom fan-made content.
1.

McDonald's Custom Food & Drinks
Warning: the sight of everything in this set may spark joy and make you hungry.
Everyone has their preferred order and all of the staples are here. Delicious fries, killer nuggets, and the burgers that made McDonald's famous.
It's all here and more – right down to drinks and ice cream.
But as cool as the décor food is, all of the furniture you'll need to build or furnish a McDonald's restaurant of your very own is included here, too.
From tables and chairs to trash cans and counters, every part of this beloved establishment has come to The Sims 4 in perfect form.
This stuff is all great as far as color and texture goes as well.
You'll have a lot of room to use these items as you please, since there are even trays and Happy Meal boxes available.
2.

McDonald's Restaurant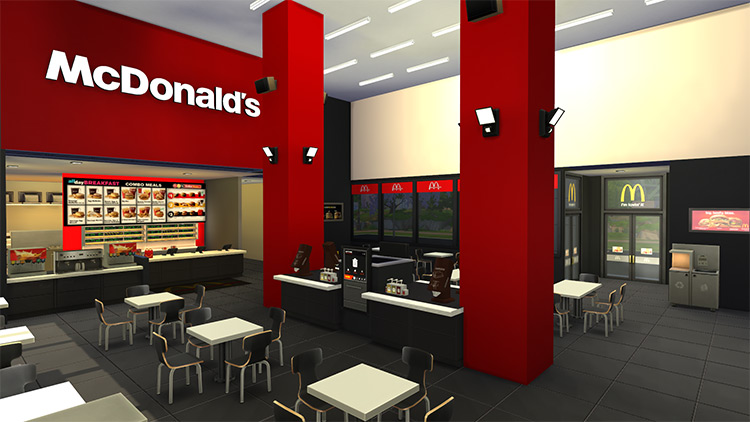 Here's a great example of just how far the fanfare for McDonald's goes.
This restaurant lot is a perfect recreation of the real thing, both inside and out.
It's such a familiar sight that it won't look one bit out of place despite the English writing, no matter what world you place it in.
There's quite a lengthy list of required CC to make it look exactly as you see it, but all of that helps this look so realistic.
Some of that includes drive thru items, menus, windows, lights, and much more.
It's extremely accurate right down to the color schemes.
As soon as you place this and take a look inside, you'll feel just like you've been transported into your own local restaurant.
3.

Magnolia Promenade McDonald's Bonus Lot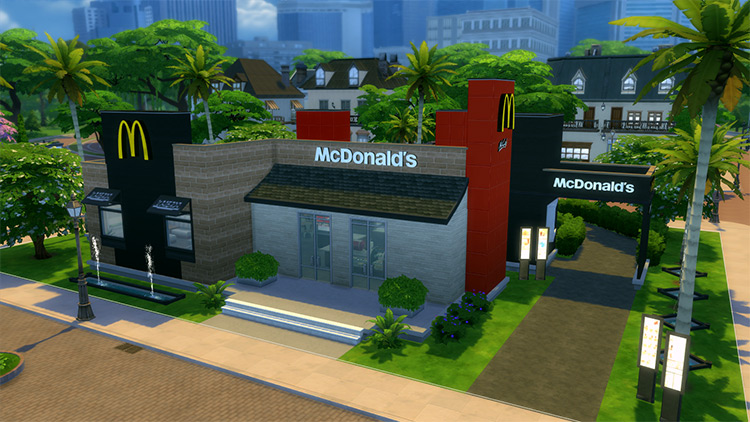 Magnolia Promenade has a very distinct aesthetic.
Every world in The Sims 4 does, actually.
But you definitely know this one when you see it, since it's heavily focused on the working world, which is exactly why it came with the Get To Work expansion pack.
Well, a McDonald's restaurant fits right into that theme, right?
This simple lot is perfect for the small, cozy community.
The exterior is very accurate to the real thing, and the decorative McDonald's lights, décor, and furniture inside really brings the whole look together.
Oh, and there's a drive thru!
Just because Sims still don't have cars doesn't mean they can't utilize the convenience of not having to actually step foot inside an establishment.
4.

Functional McDonald's Custom Stall
A lot of stuff in this game is just about looks, and that's okay.
It's fun to push the limits of build mode all while knowing some aspects of the end result won't actually be usable.
Some of the best things to come out of this community are strictly decorative, and they're awesome.
But every now and again, creators really go the extra mile and come out with functional objects you'd never expect – like this McDonald's Stall.
Not only does it look the part, but your Sims can actually go up to it and order food.
All of the menu staples are here – from Big Macs and fries to a variety of beverages.
The City Living Expansion Pack is required for this to work, but it's all around amazing and does feel a little "city" so it's totally understandable.
Out in the sticks, you don't get a stall, you get one restaurant in a 50 mile radius where you can get your beloved nuggets.
This is just one more reason to envy Sims, since now they can get their McD's anywhere.
5.

McDonald's Restaurant '80s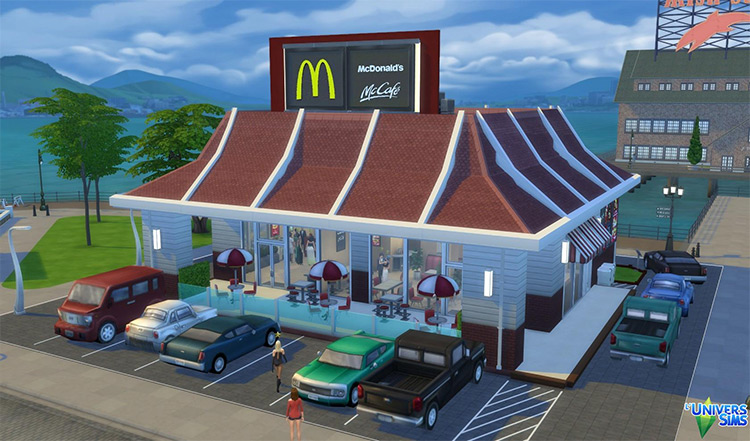 No decade has experienced quite a resurgence like the '80s.
Kids and young adults today eat up just about everything from the era, including the trends of clothes and hair, as well as the general aesthetics.
1980s stuff is generally quite recognizable too.
The color schemes and décor are a lot different than what you see today, but in a rather muted way.
Things were either very bright and bold back then, or neutral, and most public establishments opted for the latter.
As you'd expect, a building from back then should look dated to the modern eye, and this creator accomplished that beautifully here.
They've illustrated the simplicity of old school McDonald's, with a small restaurant, no drive thru, and a generally laidback interior.
You'll need several packs in order for this to work: including Dine Out, Get To Work, City Living, and a few stuff packs (check the description for full install details).
Sometimes in The Sims 4, official objects will do the best when you want functionality. But that doesn't mean they can't be reworked through a player's eyes!
6.

McDonald's CC Set
McDonald's items aren't exactly subtle.
They want to make sure you know where you are and what you're looking at, understandably.
Those Golden Arches are known worldwide – and there's no mistaking them.
Plus the yellow and red color theme is closely linked as well.
That's really all the company has needed to be immediately recognizable, and anything along those lines will stand out in your game.
Well this CC set includes several items with those ideas in mind, including furniture.
All of the chairs have a red back and cushion with the logo and there are several items you can use in any McDonald's build.
7.

McCafe To Go!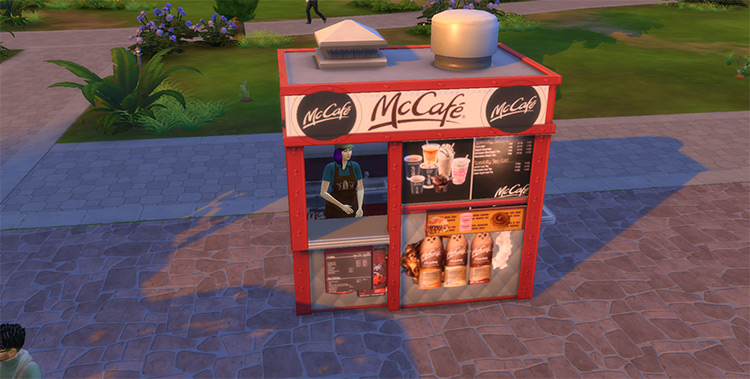 The products offered under the McCafe title are just as treasured by the public as the rest of their menu.
Gourmet coffees and delicious smoothies all fall under that umbrella term, but are still offered at fast food prices.
That's a pretty good arrangement for the company and customers alike.
Everyone loves Starbucks, and for good reason, but there's no question that indulging in their menu can break the bank.
At McDonald's, you can get yourself a well-deserved treat without the guilt or mentally calculating the costs versus your budget.
Besides, they have so many great things that you can mix and match for tasty, convenient meals. Iced coffee goes with everything, but cold mornings are always better with a McDonald's hot chocolate, too.
And I do mean HOT chocolate.
The fun thing about getting one of those on a road trip is that by the time it's a reasonable temperature to go in your mouth, you're probably at your destination. But it sure is tasty.
Well now your Sims can know all of the intricate joys of McCafe products, too. Kind of.
This object requires University Life and is a simple recolor of the included coffee stand.
But ArLi1211 did a fantastic job because this looks exactly how I imagine a real McCafe stand would be. It's complete with the iconic logo, font, and menus.
8.

DalaiLama McDonald's Set
As cool as it is to have entire lots and functional McDonald's stuff in your game, a few smaller deco pieces may come in handy as well.
If you're someone who likes to use clutter to make your Sim's home look more realistic, or if you use poses and strive for a natural vibe, then food is a great tool.
Instead of going through all the effort of actually having a Sim cook or hiring a caterer, why not just use some CC for some of the most widely consumed meals ever?
Just in America, 9 in 10 people eat it at least once a year.
So even if you're a player from elsewhere, setting out some fries and cheeseburgers will give your game an authentic edge.
This particular CC set includes the boxes the food comes in, as well as trays, and they'll blend into any scene you set.
Browse:
Lists
The Sims 4
Video Games