Sims 4 Mini Dresses & Short Dresses (Free CC + Mods)
This post may contain affiliate links. If you buy something we may get a small commission at no extra cost to you. (Learn more).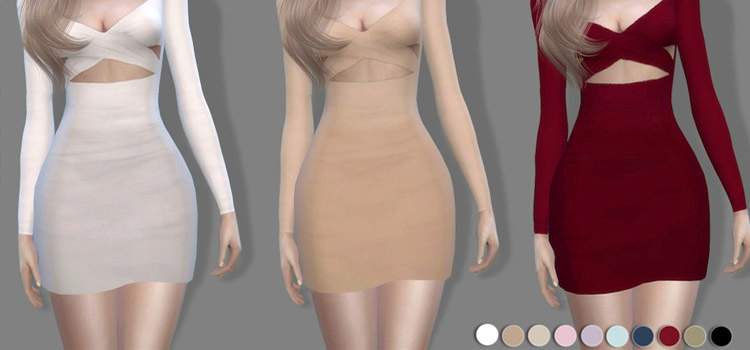 Women's fashion has evolved pretty dramatically through the years, and much of the focus has always been on dresses.
Not only are they just a good fallback for any occasion, but they're the most diverse type of clothing out there.
There are dresses that nearly reach the floor, some that expose your whole back, or some that are available in many different cuts and styles.
Nowadays, one of the most popular options are shorter dresses. You can look cool and keep cool at the same time.
The Sims 4 even has its own category in CAS dedicated to short dresses. And you can expand it quite a bit with the great creations in this list.
1.

Strap Mini Dress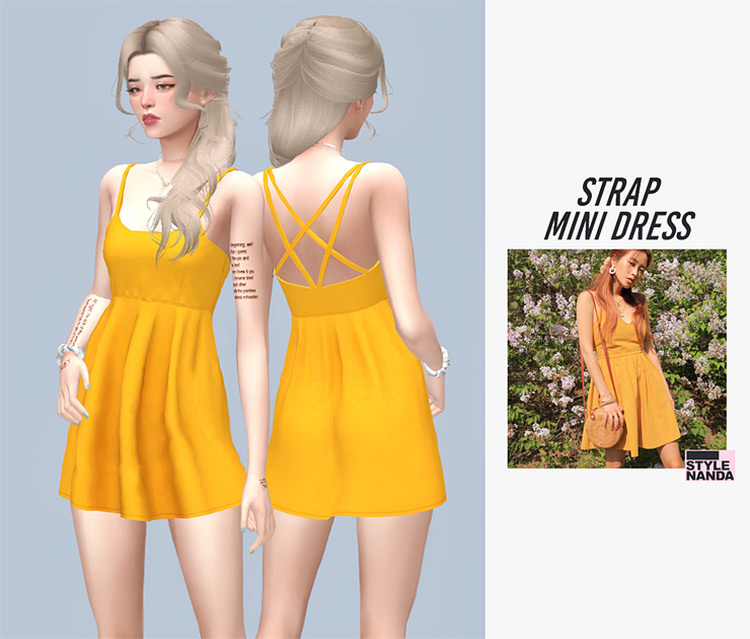 This dress has three main components: the cut, the straps, and the colors.
The result is a beautiful warm-weather dress that'll be perfect for summer barbecues or spring strolls.
Well, being honest, how much do our Sims really leave the house?
In reality, it'll be the perfect dress for them to sit at the computer grinding skills.
But that's okay. A Sim deserves to look good, even if they haven't seen the light of day in a week.
And if you do actually let your Sim go out on the town, this is a significantly more stylish option than a lot of the base game dresses, in my opinion.
I think a lot of them are fairly vague, so they can be used for all ages. But make no mistake – this dress is very useful.
No grannies allowed.
I'm only kidding, of course. Put Granny in it if you want.
2.

Short Dress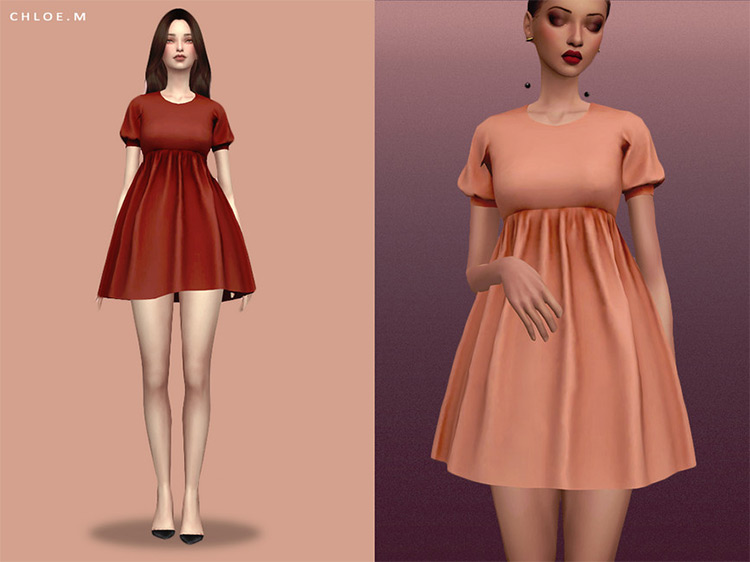 We all know the design of a dress is just as important as the cut.
Luckily, ChloeMMM nailed both features with this CC.
The puff sleeves give it a t-shirt like appearance, and the skirt is a slightly different texture to stand out.
It also starts quite high, which is a nice change from the really low ones in the game.
Best of all, there are sixteen swatches to choose from!
And who can resist a coral dress? Not me.
3.

Mini Dress Set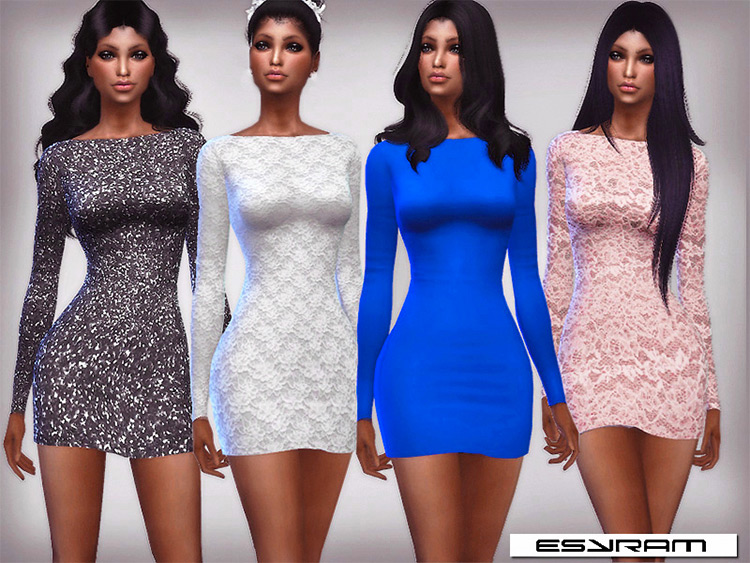 Long-sleeved short dresses are always a good choice.
They just always look so chic. Especially when they're also body conforming, like these dresses from EsyraM.
Everyone loves to show off their curves now and again. And you'll never look better than in these dresses!
All of the different colors and designs on these are amazing. There are solid colors, as well as sparkles and more lacy ones too.
I know there's a lot of discourse amongst Simmers on whether Alpha or Maxis Match CC is better. But I've never really picked a side.
I simply choose what looks best.
And these are some of my favorite clothing textures ever.
Your Sim will be the hottest one at the party, nightclub, or heck, even just on the street!
4.

Mini Dresses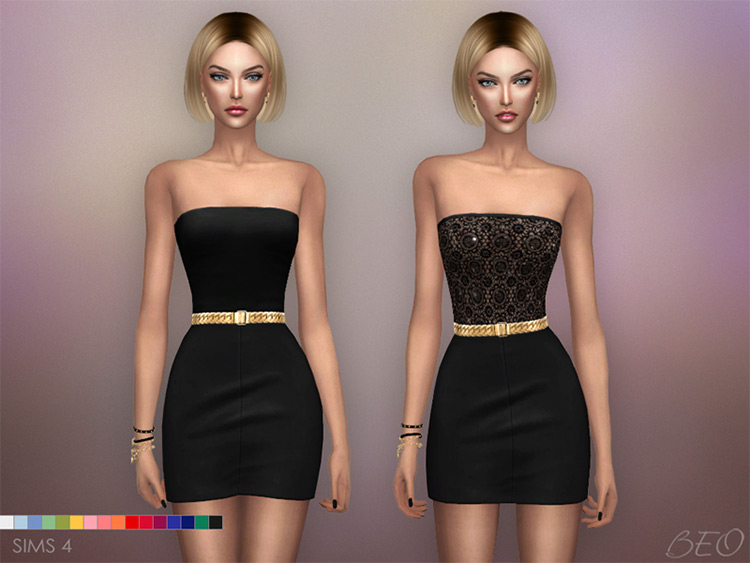 This dress really puts the "mini" in mini dress.
It's strapless and stops mid-thigh. So this is probably not a dress you want to wear to Winterfest dinner.
No, this is a dress for summer fun in the sun and nights out.
There are two variations: a simple one that's all one design with a belt, and then there's one that's half lace, also with a belt.
Simple or lacy, it's quite the choice.
You can have both, of course, just not to wear at the same time. Clothes are restrictive like that.
5.

Foxglove Dress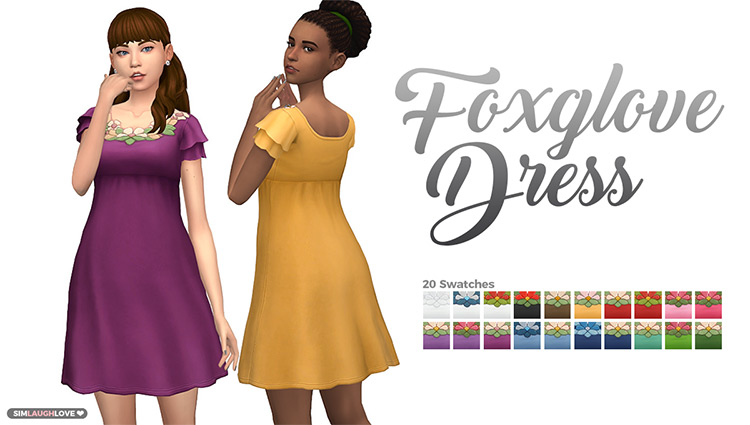 I couldn't figure out why the name of this seemed so familiar at first… then I remembered that Foxglove is a highly poisonous plant.
Not sure what that implies for the Sims who wear this dress.
Just kidding, of course. The only physical affect this dress will have on your Sims is that they'll look stunning.
The floral embellishments at the top provide small pops of color. And I can never pass up flowers.
The sleeves have a slight ruffle, contrasting nicely against the smoothness of the rest of the dress.
It's always the little things that matter, you know?
6.

All Ruffled Up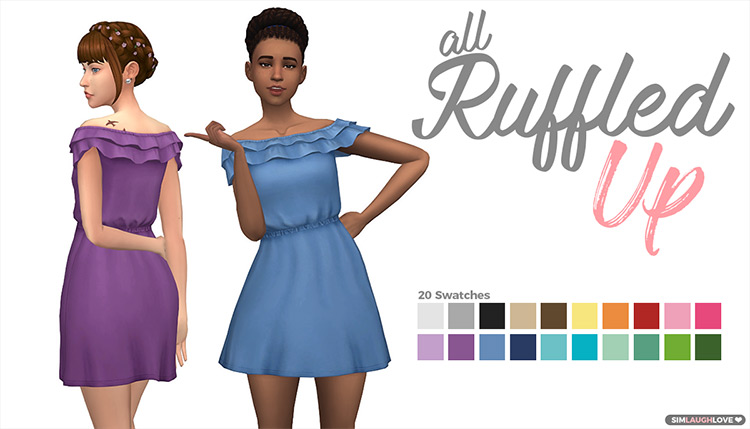 Now if it's ruffles you really want, this is the dress for you.
Ruffles are a subtle way to change the whole appearance of a dress and switch things up from a typical plain design.
They circle the top here, delicately framing your Sim's shoulders.
There are twenty swatches for this CC, giving you so many choices for spring and summer-y outfits.
And with a dress like this, basically any shoe, necklace, or bracelet will go with it!
7.

Izzie Dress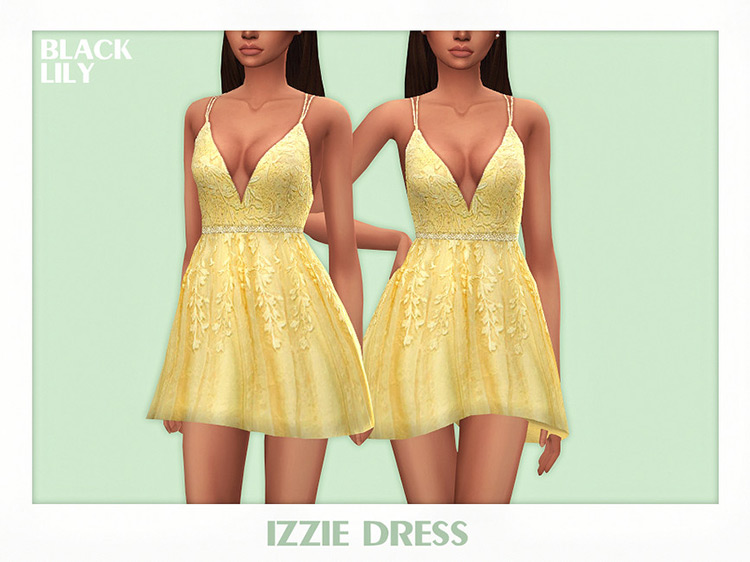 Can you say fabulous?
I can. I just don't very often.
It's a word I like to reserve for only the most fitting things, and this dress has definitely made the cut.
There's a single swatch of this vibrant gold, and in this case, it's more than enough.
All eyes will be on your Sim after they throw this on.
I love the belt-like part around the middle as well. It adds a slight sparkly touch that just really ties everything together.
8.

Cardigan Short Dress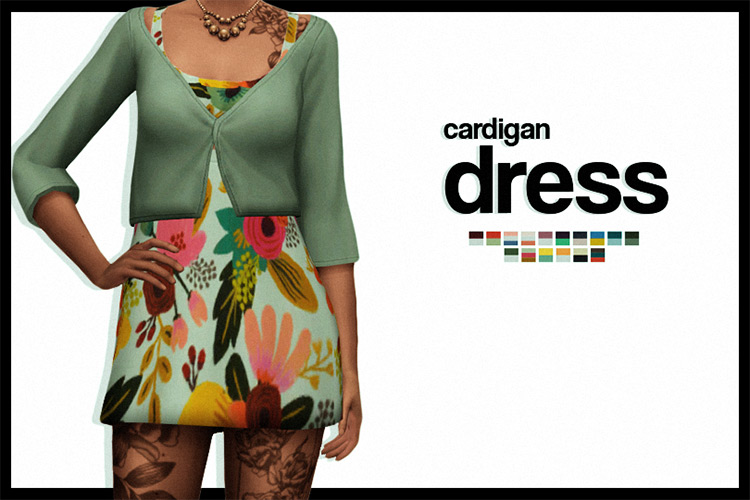 Just because you're wearing a short dress doesn't necessarily mean your shoulders have to be bare.
Thanks to Moontrait, your Sims can have the freedom of a mini-dress with the slight preppiness (and warmth) of a cardigan.
They go together like peas and carrots, like Bob and Eliza Pancakes.
Basically, it's just a very lovely look, if you couldn't get that from my weird phrases.
You can choose from sixteen fun patterns for the dress, and the cardigan will be paired along nicely in a solid color.
9.

Make Me Go Dress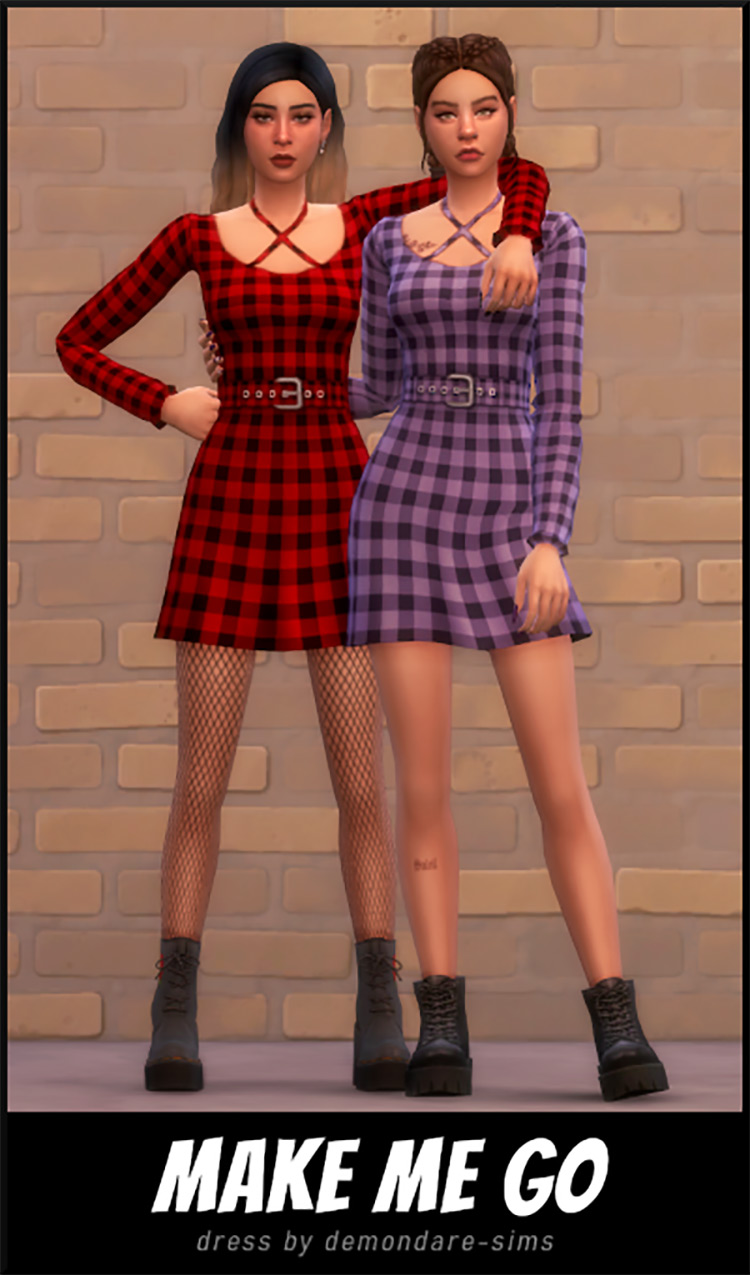 Here we have another long-sleeved dress, but this one has some extra flair.
The belt around the middle matches the rest of the dress's plaid design.
I think belts are rather underrated with dresses.
A good belt creates a slight cinched affect around the waist, as well as just making the outfit look more polished.
Rather than having a bare chest due to the scoop neck cut, the criss-crossing straps around the neck are a nice touch here.
10.

Mesh Dress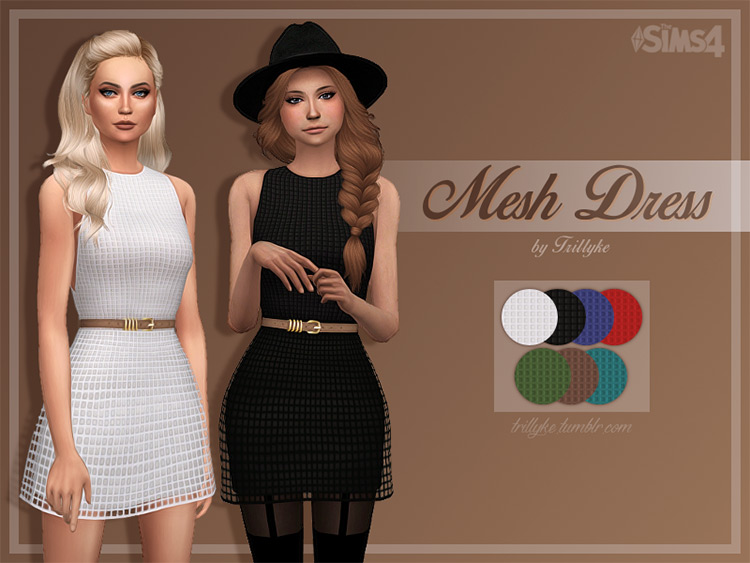 Further proving there are millions of ways you can do new things, Trillyke has created this mesh dress for The Sims 4.
And yes, it's actually as it sounds – a dress with a mesh overlay.
While it may sound slightly odd, the result is pretty awesome.
The top is tanktop-like in that somewhat vintage way, like the classy dresses of the '60s.
You know what they say, if it ain't broke, don't fix it. And this cut has stood the test of time as something that will always look good.
In case black and white isn't your thing, there are also five other colors here as well.
Browse:
Lists
The Sims 4
Video Games