Best Sims 4 Minimalist Furniture CC: The Ultimate Collection
This post may contain affiliate links. If you buy something we may get a small commission at no extra cost to you. (Learn more).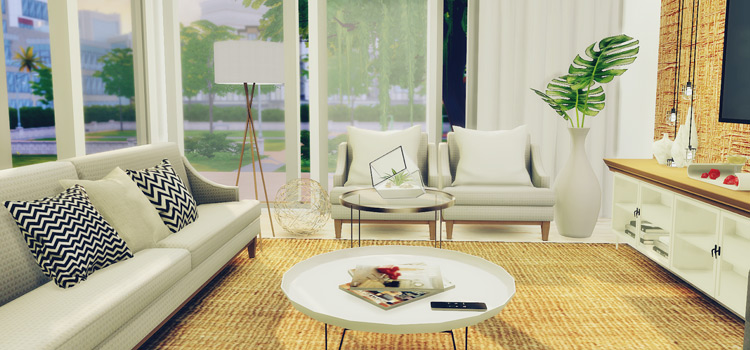 The minimalist style has been all the rage for years now.
And it makes sense if you think about it. We're all trying to be more eco-friendly.
We use less plastic.
We tidy up because Marie Kondo told us to do so.
Generally, we tend to hoard way less. Decluttering is the new shopping.
Because we buy less, we have less. So it follows that our spaces look a bit emptier and simpler.
'Keep it simple' is the new 'accessories make everything better'.
And we can bring that motto into our Sims with all of this great CC that'll have your Sims following this trend too.
1.

Kitchen Minimalist Set by ShinoKCR
Kitchens are famously the most cluttered rooms.
With all the different knives, pans, blenders, coffee makers and whatnot, there's always a lot happening in that room.
If you're going down the minimalist route, it might be easier to start with the design and deal with the clutter later.
This kitchen set might be the perfect one for your Sims' new home.
It takes inspiration from the Poggenpohl Porsche Kitchen and comes in two colors – black and light gray.
And one part of this set is a massive fridge, which makes this kitchen perfect for a big family. You'll have enough space to store all the veggies, as well as the late-night pizza leftovers.
2.

Living Minimalist by ShinoKCR
From the same creator of the kitchen CC set above, this living room would do well in the same house.
It's in a similar modern & minimalist style, but it still has its own unique features.
The water jar makes for an interesting decorative piece that looks just great on the coffee table.
And the whole set utilizes straight lines and square and rectangle shapes, which look super cool, like something from a magazine.
Plus this comes with 12 items total, and in 2 colors – red and black.
3.

Minimalist Desk by sunkissedlilacs
Here's a super simple desk that just had be included – because it is just peak minimalism.
There isn't too much going on, yet it still captures the eye.
The white color really pops in a darker office, and it feels like a classic minimalist choice.
Sure, your Sim might have to clean this thing every now and then because of the coffee stains will be so visible, but it's so worth it.
The thin drawers are adorable and perfect to keep important files in. And there's even enough space in between for a keyboard.
All you need now is a comfortable office chair and you're set.
4.

Minimalist Kitchen Set by simplistic
Note: this CC requires Spa Day.
And at a glance, this kitchen set might seem a bit familiar if you have the Spa Day game pack already. That's because this is a recolor set of the kitchen items that come in the pack.
The creator, simplistic, said that they always liked the minimalist style of that kitchen set – but the color choices aren't exactly their favorite.
And I couldn't agree more!
This recolor set comes with 5 new swatches, including some neutrals, some pastels, and a gorgeous bright yellow – which is by far my favorite.
5.

Pauline Bedroom by syboulette
Here's a minimalist bedroom set offering 14 items in 4 color schemes.
Whether you prefer your bedroom to be in neutral colors, all black, or with a bit of blue and green, this set has you covered.
The low bed frame is what really makes this bedroom stand out.
Plus, how cute is it to have little planks of wood instead of a bedside table?
There are some lovely decorative touches, too. The magazine, the alarm clock, the bonjour sign…
I just know your Sims would have the best night's sleep with this furniture set.
6.

Minimalist Bedroom by Mini Simmer
If there's one downside to minimalist designs, it's that sometimes they don't look the most comfortable.
This goes for chairs, sofas, and beds. They look cool, just not always very inviting.
But this isn't an issue with this minimalist bedroom CC set.
Looking at the bed, in particular, makes me think that spending a night in it would be like sleeping on a cloud.
A beautifully-designed, modern cloud, of course.
And the surrounding furniture complements the bed very well.
The whole room gives off this calming, light atmosphere. Which is just what your Sims need when they're trying to relax after a hard day's work.
7.

Scandi Collection by sunkissedlilacs
If there's someone who knows how to do minimalism, it's the Scandinavians.
That's where this collection takes inspiration from: Scandinavian interior design.
There are 4 pieces of furniture in total, and they all come in three swatches.
The bedside tables and the closet would look great in a bedroom, while the sideboard might be the perfect addition to your Sims' living room.
8.

Sophie Set by Syboulette
I'll admit it: this lounge looks almost too good to be true.
With four sizes of the beautiful floor sofa, your Sims' living room could look like something from all those interior design TV shows that we all love watching.
The whole set is finished off with some fashionable cushions, and some graphic design wall art.
You'll find a few very different swatches available here, and they change the look of the room drastically.
You can pick between a dark and moody color scheme, or something a bit more light and bright.
Or go somewhere in the middle with the neutrals! No wrong answers.
9.

Living Room Minimalist by Lily Sims
Here's a pretty cool minimalist living room set that manages to pull off being all modern and geometrical – while also being warm and welcoming.
There are many items available here too:
Cute coffee tables, comfy-looking sofas, and some ottomans, plus a bit more. So you'll be getting plenty of furniture with just one click.
And there are also a couple of extras for an "open room" feeling – notably the dining room and chairs.
So technically, you're getting 2 rooms' worth of furniture with this set.
10.

Ryan Minimalist Kids Bedroom by Rissy Rawr
Minimalism doesn't have to be adults-only. Kids can be into it, too.
And I'd say this bedroom set would be perfect for a teenager.
It still has that youthfulness to it, while also being a bit more mature and stylish.
If you have a young Sim that isn't all that into posters and likes to appear more "adult" and put-together, this is the CC set for their needs.
11.

Minimalist Living Room by soloriya
This minimalist living room C is certainly not scared of being a bit playful.
It still has all the very distinct minimalist features. The lines, the geometry. It's all there.
But it's also a bit whimsical.
It plays with color and shape more, but manages to stay tasteful.
That wall art and clock are both quirky and charming, and bring so much character to the whole set.
12.

Odysseus Bathroom Set by hephaestionims
So this one takes minimalism to the next level.
It's almost bare.
But it's still so cool.
This is the type of bathroom you'd see in one of those massive mansions that have so many rooms that the interior designer just went full-on creative mode.
So if you have a disgustingly rich Sim and you're tired of all the same-y looking bathrooms, why not try something more out there and download this set?
Not much to lose.
13.

Modern Study Table by mountainsplitter
This study table is one of the coolest CCs out there to fit with this aesthetic.
It's both minimalist and packed with so many features I can't keep up. There's a little drawer, different size shelves, book and magazine slots…
And the best thing is that the desk isn't too big, either. It has a lot of storage space – while not taking up too much actual space.
You know what that means, right?
You need to get it for your student Sims!
Students have a lot of papers and projects they need to keep organized. They also have very little space in their tiny dorm rooms.
That can be a bit of a pickle.
But with this desk?
Problem solved.
14.

Living Chester Furniture Set by Joy
The Chester Living CC Set is yet another must-have for all you minimalism lovers.
It comes with 9 new items, all of which are available in multiple swatches.
The white and green combo is my personal favorite. It goes with the floor plants so well!
And the fact that you can store some small items in one of the sofa's armrests… isn't that every bookworm's dream?
15.

Zone Patio Loveseat by NynaeveDesign
Patio furniture is something we all need, but not something that's always the nicest to look at.
I mean, whoever came up with plastic chairs does not deserve any chocolate in their life.
Luckily, this patio loveseat is not made of plastic. It has a wood base and a very inviting cushion seat.
It's perfect for your two lovebirds Sims to spend some quality time outside.
They can sit together, chat, and perhaps even have a little smooch or two.
It's called a loveseat, after all!
Browse:
Lists
The Sims 4
Video Games