Sims 4 Custom Mirror CC (Wall & Floor Mirrors)
This post may contain affiliate links. If you buy something we may get a small commission at no extra cost to you. (Learn more).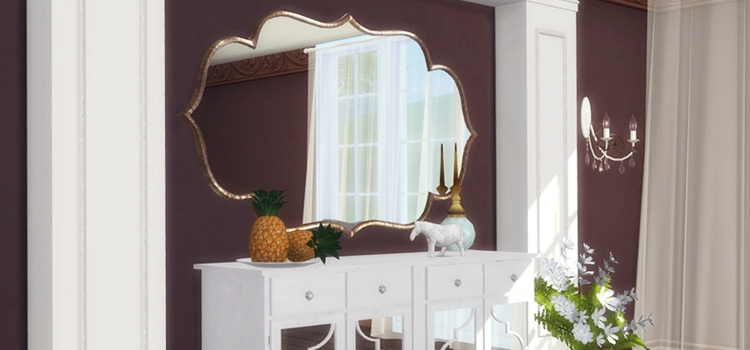 Humans will always find a way to look at themselves.
That makes us sound really vain, but we aren't. The truth is, it's just really handy to have something around so we can check our hair, make sure there's nothing in our teeth, and of course, check our outfits.
Mirrors take many forms. But no matter what form they take, there are still endless ways to turn a slab of glass into something pleasant to look at.
And once you're through with this CC list, you might end up with a new mirror in every room of your Sim's home.
1.

Large Ornate Mirror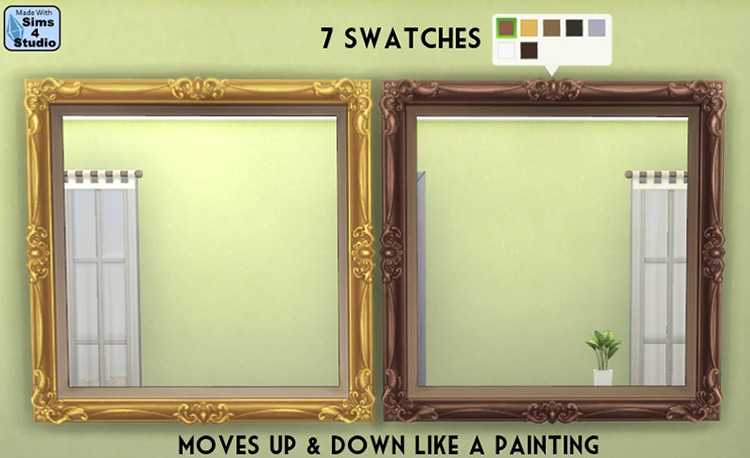 In some households, the rule of thumb is "the bigger, the better".
Well this Large Ornate Mirror CC from Orangemittens certainly lives up to its name.
The frame consists of ornate embellishments and swirls. And there are seven colors, from regal silvers and golds to darker metallic shades.
If you're ever looking for a mirror to place in your Sim's living room, this will be the perfect one.
I know we all want to take up a little more wall space sometimes, and what better way to do just that than with a gorgeous, functional object?
2.

Set of Mirrors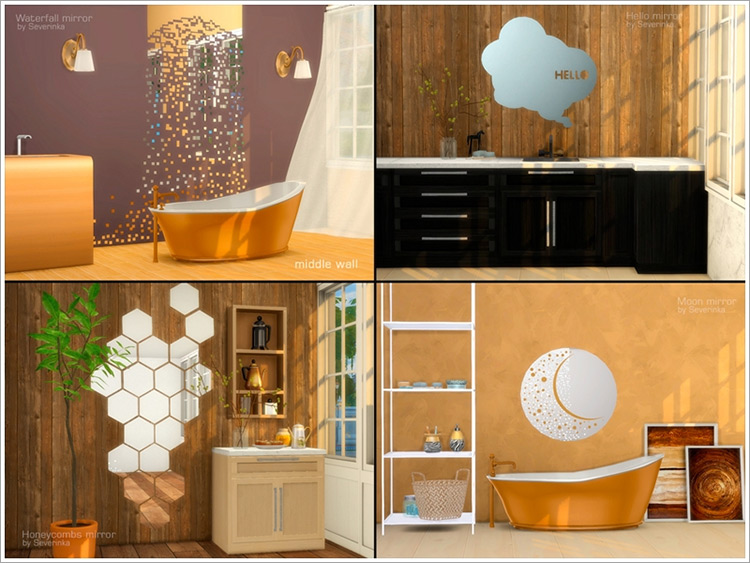 There are only so many ways you can frame a hunk of glass. Eventually, you'll have to think outside of the box.
And that's exactly what creator Severinka_ did with this set of mirrors.
These are some of the coolest designs you'll find for The Sims 4.
The honeycomb mirror is very trendy and will work anywhere, as will the more circular & geometric mirrors.
But in my opinion, the animal mirrors are the star here.
One includes a few fish in varying sizes, and there is a beautiful deer one as well.
So whether your Sim is the type to go for style or simply something cute, this Simmer has got you covered.
3.

Kika Mirror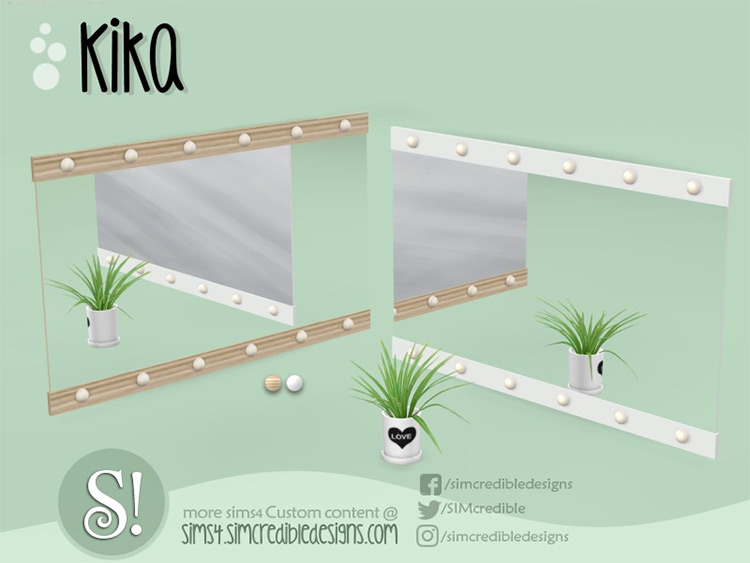 Sometimes, you don't want fancy designs.
You just want something with a little style that'll get the job done.
This Kika Mirror from SIMcredible! is a great choice.
It's reminiscent of dressing room mirrors, which obviously is a classic design that's never going away.
There are swatches of both wood and plastic here. At least I think that's what it is – it's smoother and whiter than wood, anyway.
4.

Nouveaulicious Floor Mirror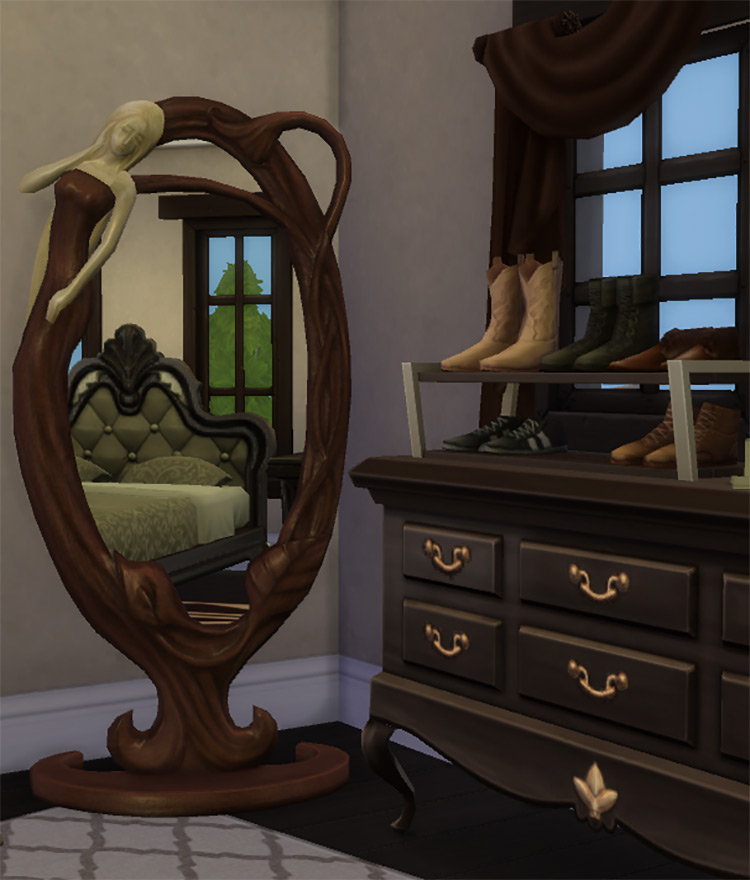 Well, we've looked ornate and cute mirrors, so it's time we had something a little… different, to say the least.
This CC is a conversion from The Sims 2, but that still doesn't explain much.
This mirror's "frame" has a large tree-like texture with a woman's form coming out of it. Okay, then.
It has a nice ethereal, earthly vibe, especially with the leafy parts.
Perfect for those witchy Sims, or just those with a unique taste.
5.

Moon Phases Mirrors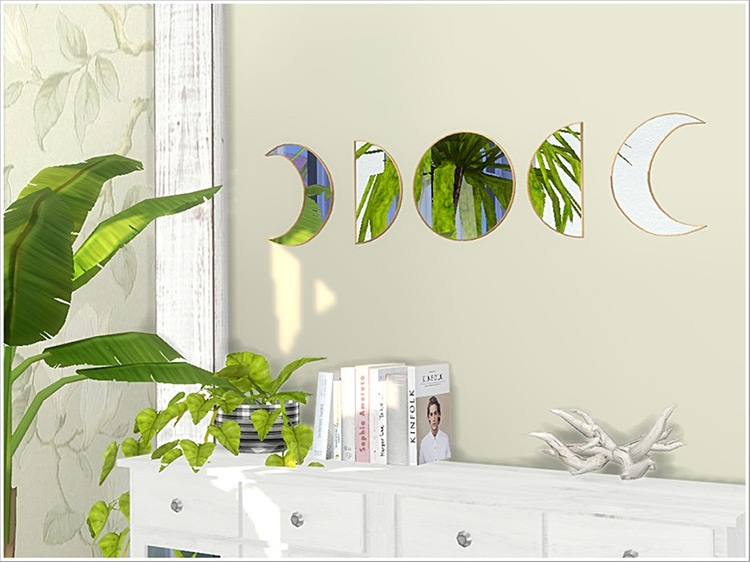 There's just something about the phases of the moon that makes them perfect for designing anything.
T-shirts, computer backgrounds, and now mirrors.
Us earthlings love the moon. It's the one thing in our solar system we can look at almost every day (without going blind) and get a good glimpse of what's out there beyond us.
It speaks to a love of all things natural, too.
And that's exactly the boho vibe these mirrors will bring to any room.
6.

Sunset Mirrors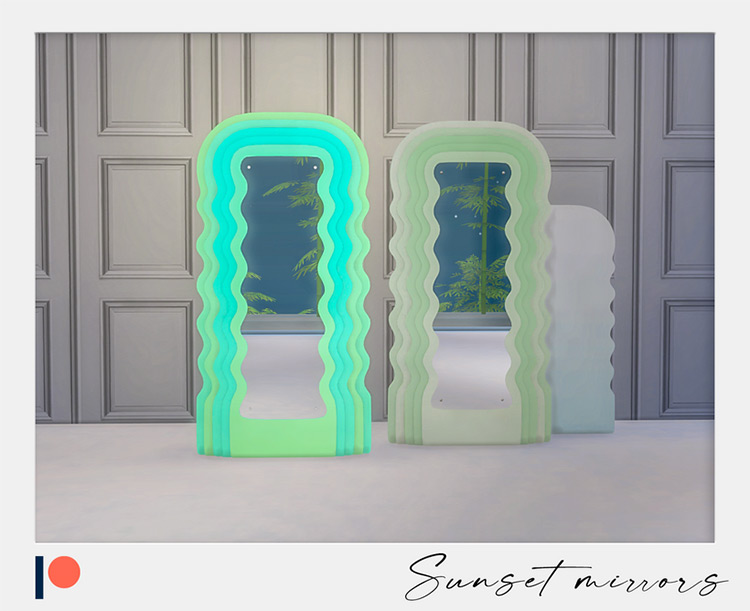 Here we have another unique mirror, though less creepy than the last.
This one is all about vibrant colors, which I personally can't get enough of. The reflective part is surrounded by a thick wavy design that comes in several bright swatches.
Perhaps the coolest part here is that your mirror can even glow!
That's right, it'll act as both a functional mirror and a light source. Plus you can choose the color and intensity, like any lamp.
CC creators just never stop innovating!
7.

Industrial Mirror Set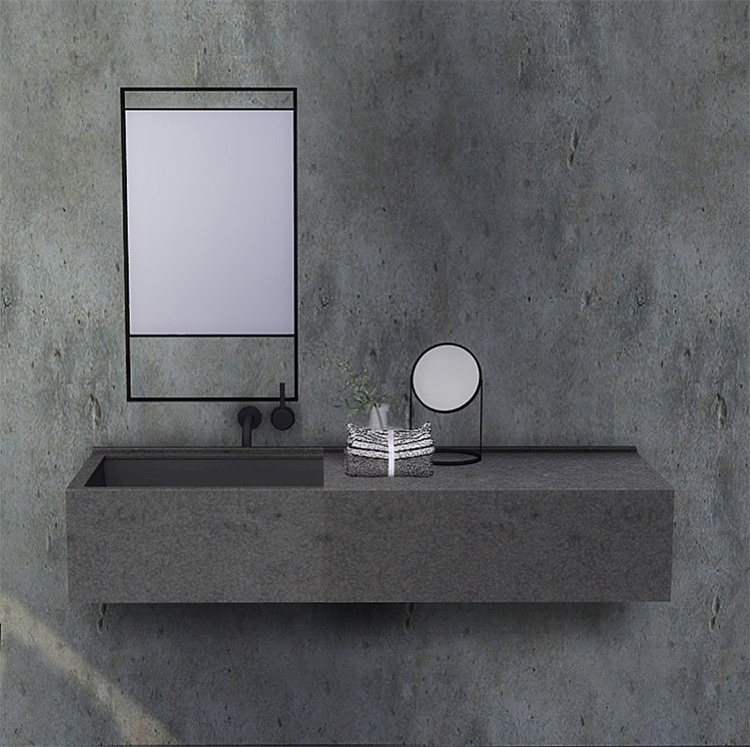 Not every Sim will be intro pretty colors or animal mirrors.
Some folks will always just want to stick to the basics.
This CC set of industrial mirrors from Heurrs will be the perfect addition for any space where you want to add a mirror, but don't want it to stand out too much.
There are three to choose from here:
A wall mirror, a floor mirror, and even a small circular tabletop option.
That pretty much covers all the bases, right?
No matter what type of design theme you might be going for, a simple black mirror is guaranteed to be inoffensive.
8.

Wide Floor Mirror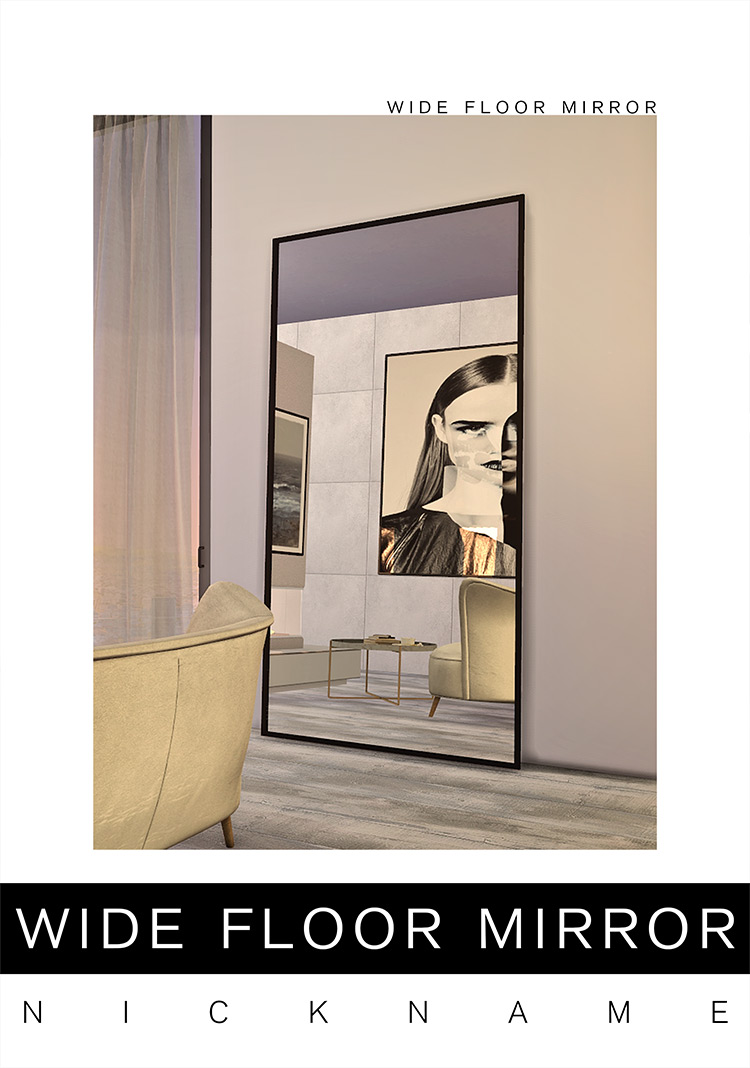 Although in real life I think floor mirrors may take up too much space in many bedrooms, I have come to love using them in The Sims 4.
Our Sim's homes tend to have way more free space than real houses.
It's completely possible I'm just terrible at decorating, but my Sim's bedrooms rarely have anything more than a bed, dresser, and nightstand.
A floor mirror is a great way to provide a little more of a "lived in" appearance. And this one from nickname is a great choice.
It's large and has a simple, thin rim, making it very neutral and chic.
9.

Slodie Makeup Wall Mirror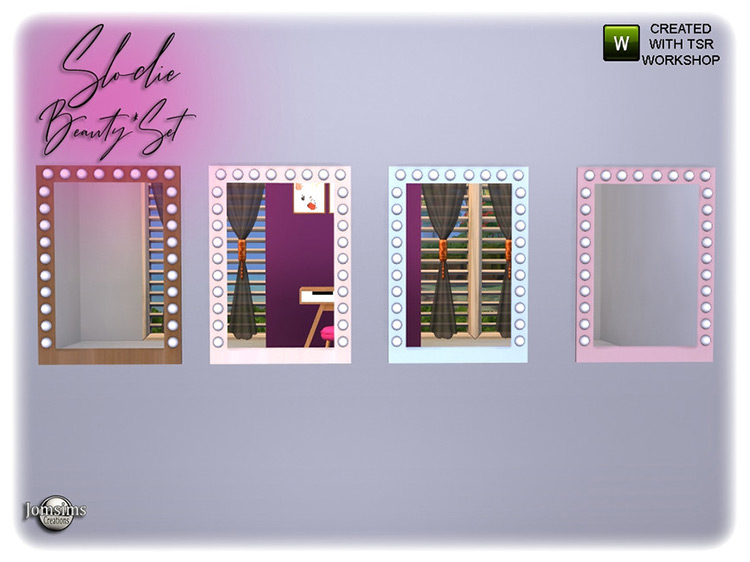 I was so excited to find one of these mirrors. It's styled to match a fancy-schmancy dressing room mirror like the stars use.
Or at least, the ones they use in movies.
This CC from Jomsims will be a lovely addition to any bedroom or bathroom, whether your Sim is a star or not.
They'll feel like one going to give themselves pep talks or plan their outfits with this.
Like many others on this list, you have several swatches to choose here, from dark woods to bright and smooth textures.
10.

Suddenly Classic Mirror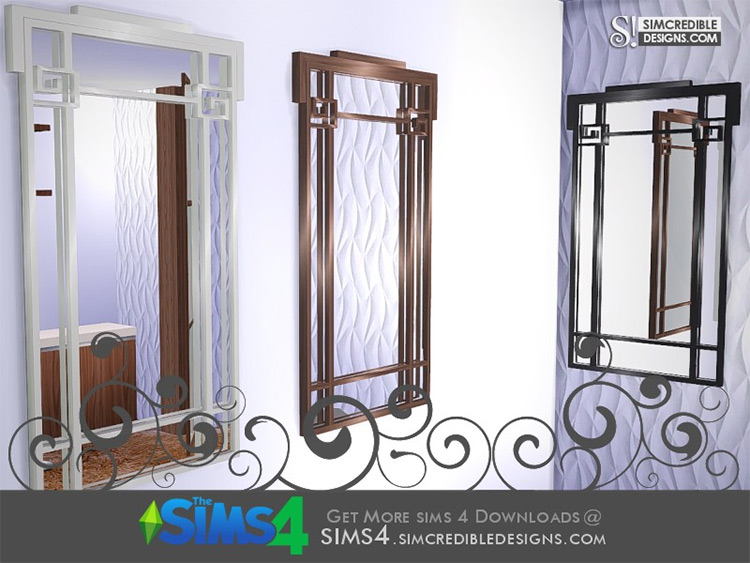 Here we have another great creation from SIMcredible, this time an ornate wall mirror.
This truly is a classic look, with various geometric shapes and smooth lines encasing the mirror's long form.
It's long enough that you probably won't be able to put it in the bathroom, unless you forfeit counters – which is totally an option, right?
Less clutter, less surfaces to clean, more time to look at yourself in your beautiful new mirror.
Browse:
Lists
The Sims 4
Video Games