Best Sims 4 Mohawk Hair CC (All Free)
This post may contain affiliate links. If you buy something we may get a small commission at no extra cost to you. (Learn more).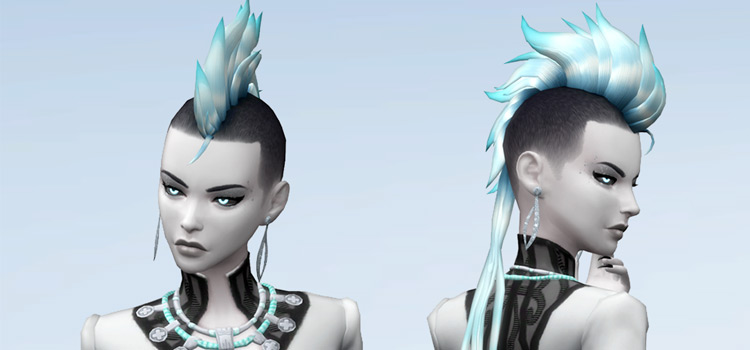 Let's start off with the immortal adage…
Punk's not dead!
Every kid who's going through their punk phase will scream this phrase at one point in their lives, just like their punk forefathers. What was once a subculture has spread around the world. So believe me when I say punk is not a phase, mom! It's a way of life!
Mohawks, aside from spiked belts, band shirts, and a pair of Doc Martens, is like having a huge sign that says "HERE COMES PUNK" resting on top of your head. Nothing screams punk like a good ole spiky mohawk. The higher and pointier the spikes, the better.
Indoctrinate your Sim into the world of punk by snagging one of these sleek mohawk hairdos, created by the generous TS4 community.
Leather jackets are optional but highly encouraged.
10.

Hawks for Everyone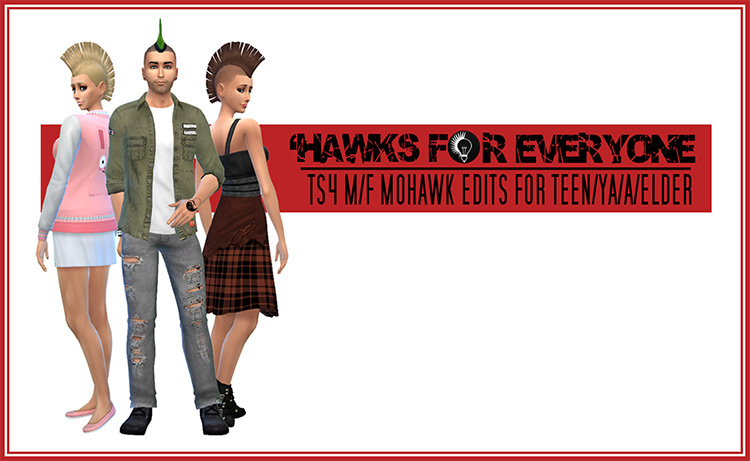 Let's start off by saying mohawks knows no gender.
Whether male or female, we believe everyone can join in a mohawk party.
Jorgha Haq's Hawks for Everyone also gives female Sims a chance to rock out with their… um, frock out. This is the base game's mohawk with a much-needed makeover, featuring shaved sides for a more modern look. It comes in 21 colors, available for teens to elders.
You get a mohawk, you get a mohawk, and you get a mohawk!
9.

Hellchild Hair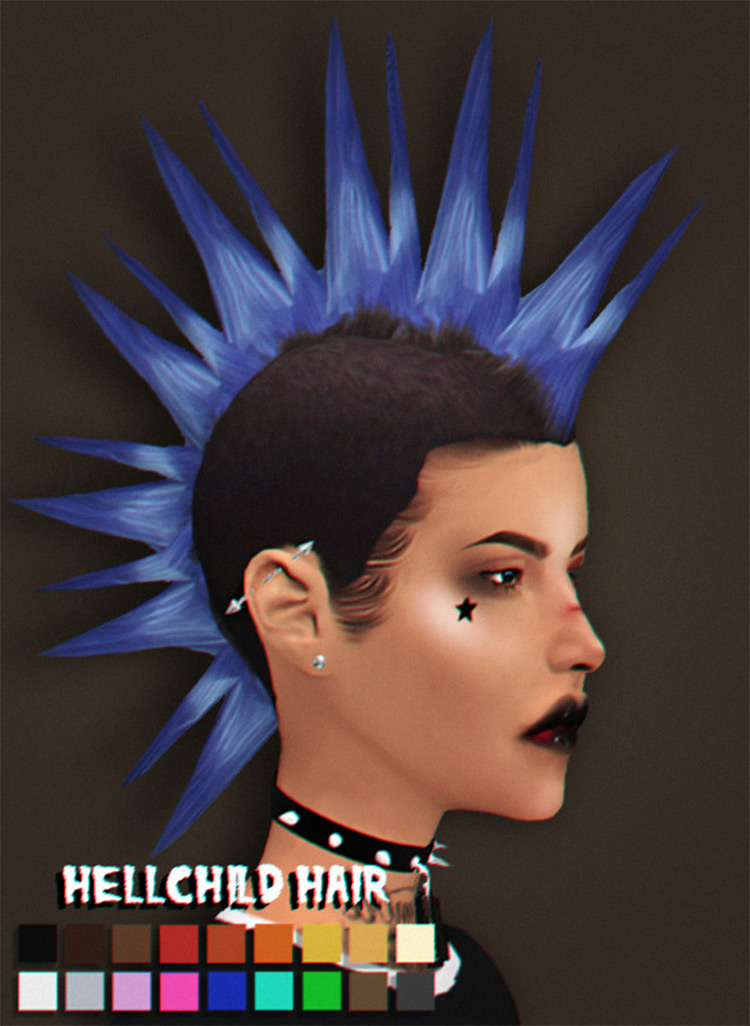 No one will question your allegiance to the punk ethos with this Hellchild hair from Bella Gothes (not to be confused with Mortimer's wife).
You shall be spiked for the gods, with 18 color swatches to choose from. Teens to elders can use this, so you can give people hell from high school to the nursing home.
Pair these extreme hair spikes with equally spiky accessories and you will be untouchable… literally. Those spikes are pretty pointy!
8.

Strong Hair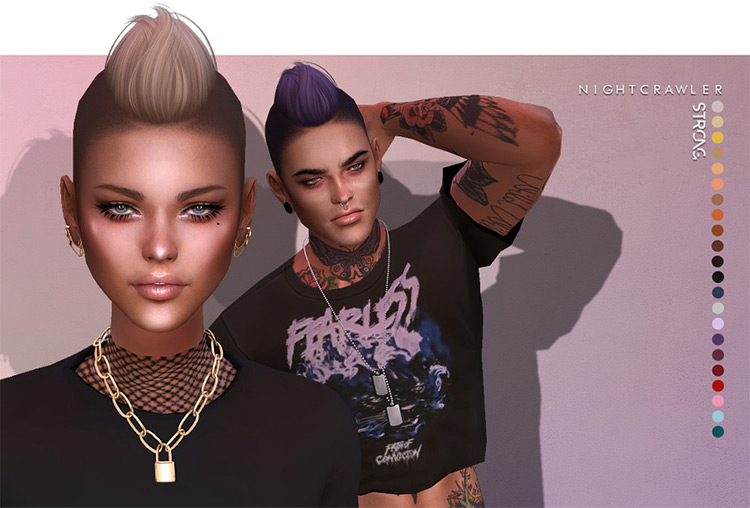 Let's take it down a notch with a more subdued mohawk for those who think they're punk, but not "punk-punk", you know?
This CC by Nightcrawler features a short mohawk tuft which we suspect is part of a punk starter pack.
It features 22 colors which have a mix of natural and fun shades, available for both male and female Sims, from teens to elders.
Best styled with grunge shirts, fishnets, and a sneer.
7.

Wings-OS114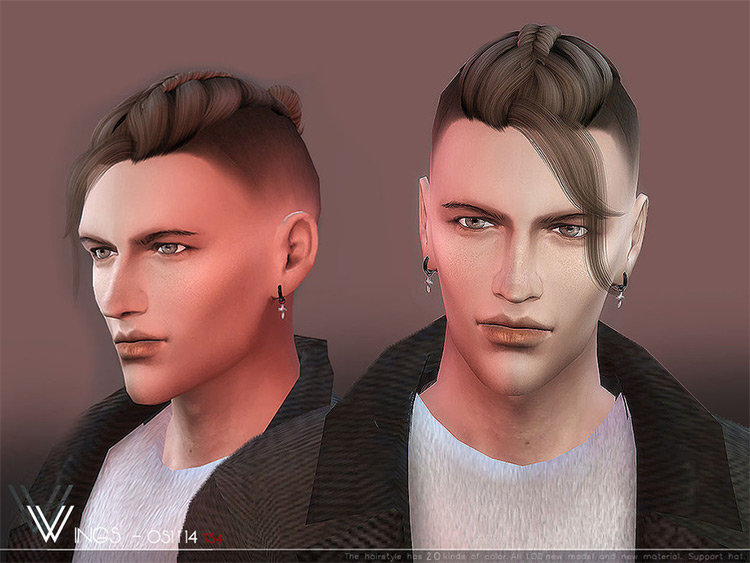 The hard-punk life giving you the blues? Just between us, maybe slow down for a while.
Channel your inner softboi with the Wings-OS114 mohawk for men created by Wings Sims for men. Not only does it show off your Sim's excellent braiding skills (as a woman, I can confirm that those things are hard to do).
It's a modern look with 20 colors that can take your look from punk to metro. Nobody can say you aren't versatile.
You can pair it with a cozy sweater and have your Sim sip some pumpkin spice by your fireplace while you take a break from being a badass. We won't tell anyone, we promise.
6.

Undercut Mohawk for Toddlers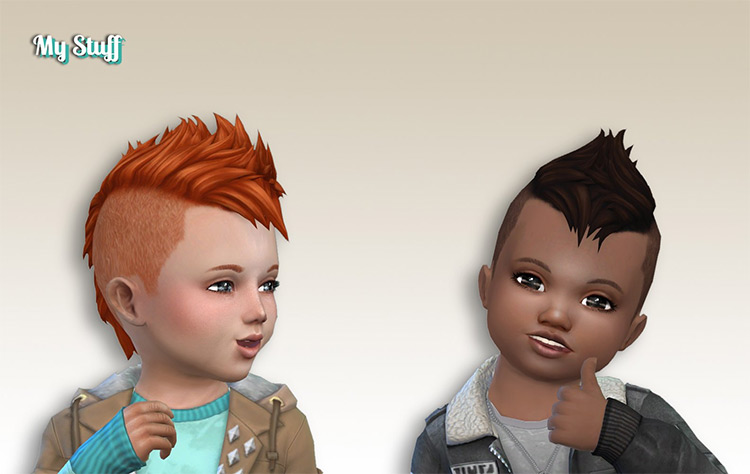 Undercut Mohawk for Toddlers was converted by CmarNYC and looks awesome. And it'll allow you to proudly say "Why yes, teacher. My child is a little punk".
Dip your little Sim's toes into the movement while keeping him too cool for school with this Mohawk CC specifically converted for little boys. No need to be fancy here, as it's available in default textures for the base game with 18 colors to choose from.
Now, where can we find a punk version of Baby Shark…
5.

Jack Pony Hawk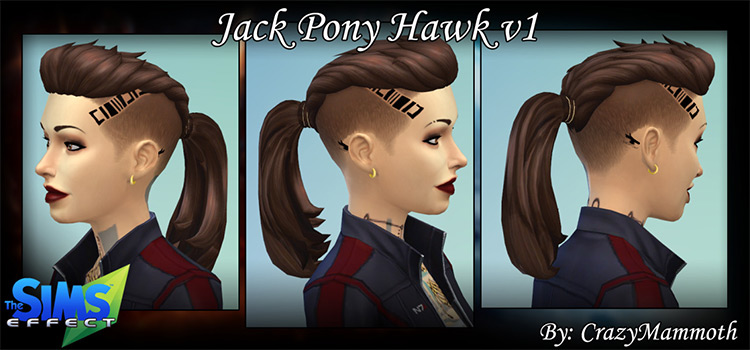 Every woman, at some point, has had their hair up in a ponytail. Whether for style or practical purposes.
It truly is a timeless look that some people may deem as kinda boring!
Shake the ole ponytail up with a little punk flair that's perfect for hot summer days, when a plain Jane ponytail just won't cut it!
This CC by Crazy Mammoth is a short, swept mohawk with shaved sides and a long ponytail. It's business in the back and party in the front.
4.

Sulani Undercut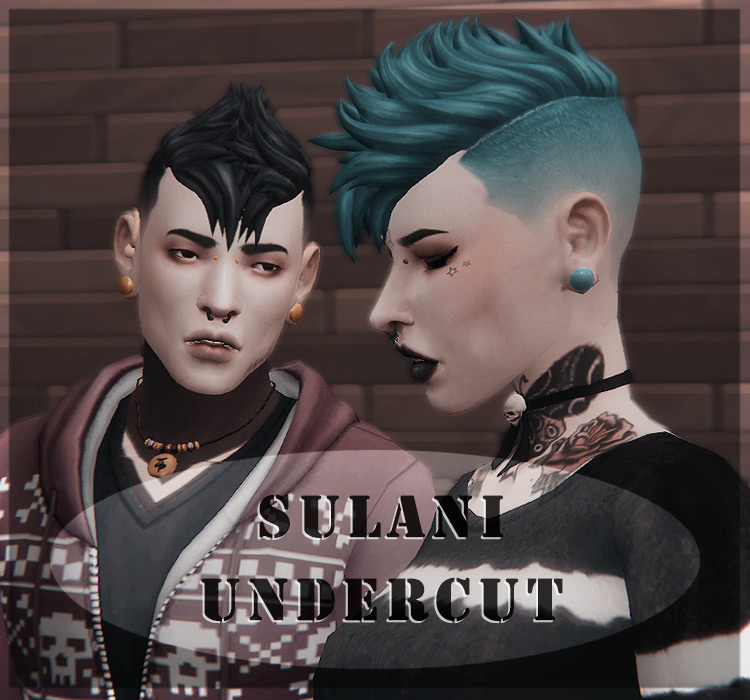 If you're the little punk with the toddler mohawk listed earlier, then you'll love the Sulani Undercut by S4Simomo.
This won't make you look like a nursery punk head though. Just pair this with angsty tattoos and a dose of anarchism – you'll be all set to do some damage!
This mohawk is a rehash of the toddler mohawk compatible with teens to elders. Best of all, it can be used by both genders and looks fantastic for anyone!
It also comes in a whopping 51 shades with no bleaching of hair required.
3.

Sulani Mohawk Dip Dye Colors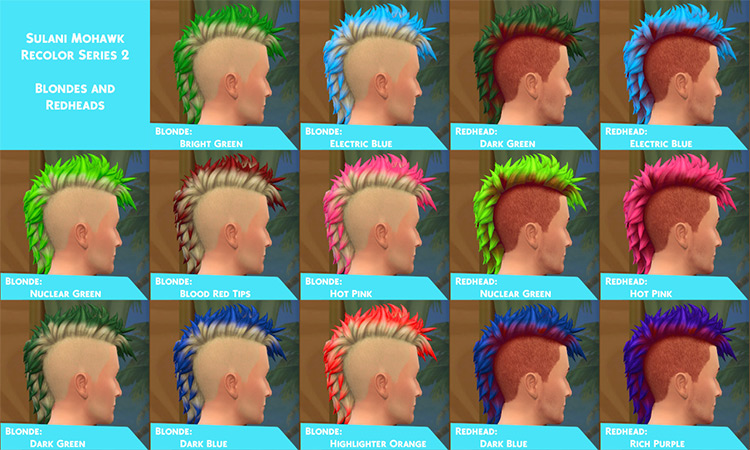 Push your look even more to the limit with this Sulani Mohawk Dip Dye CC
Say goodbye to boring one-shade hair, reserved for background Sims. Along with the blonde and redhead bases, striking colors for the tips include varying shades of green, blood red, hot pink, highlighter orange, and much more.
This is a Maxis recolor of the Island Living mohawk, so it already exists in-game. Just new styles.
The dip dye ombre style will surely make you drip with coolness while also saying you can sit still for long hours at the salon.
2.

Bad Boy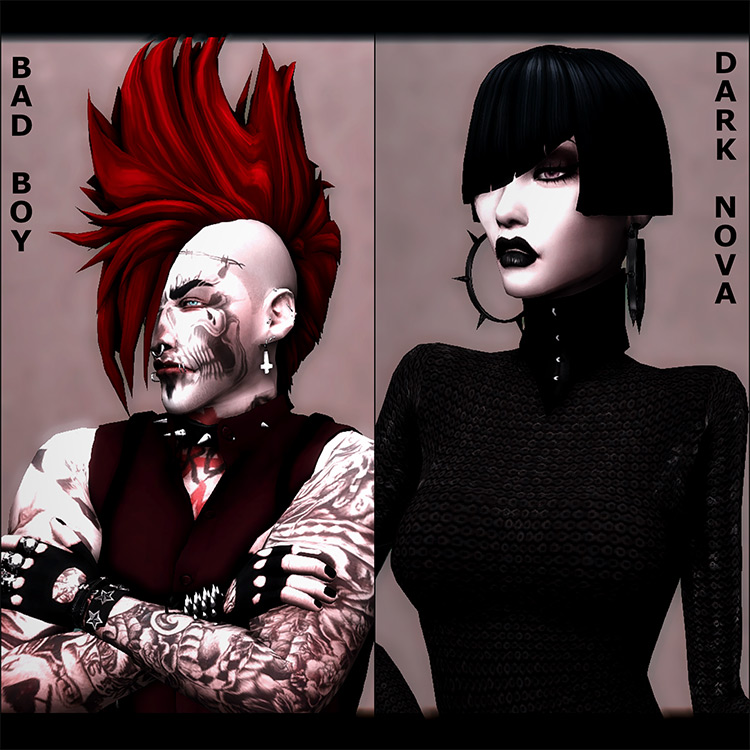 One look at this mohawk and you'll know we're not messing around.
We're really talking with this Bad Boy mohawk hairdo by Aniraklova.
Imagine walking around Newcrest with this aptly-named bad boy, leaving the commoners in awe of your punk regality. This moody hawk, that's about an inch lower to the high heavens, has 18 Maxis match colors.
But it's not hat-compatible, because seriously why use one?
Also, hair gel sold separately. Cause you're gonna need it. Trust.
1.

Mohawk/Mullet Hairdo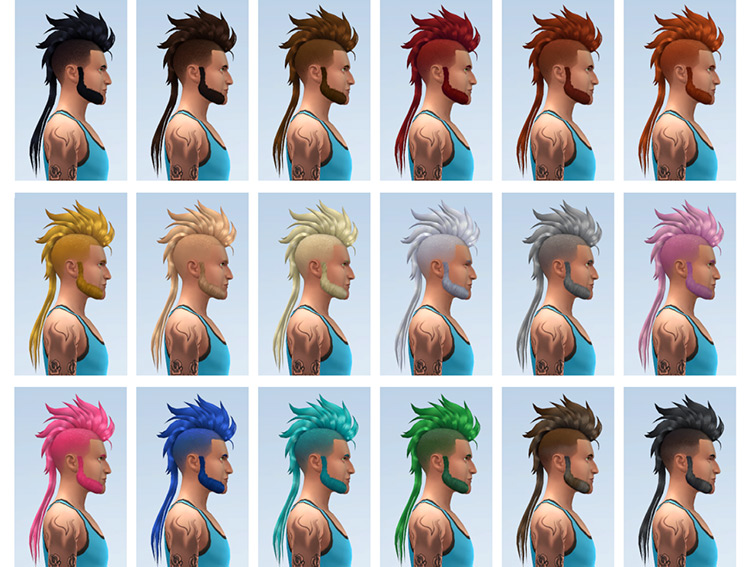 Is it a mullet or a mohawk? Who cares?!
You'll be stunned with how cool you look with Red Ear Cat's Mohawk Hair.
This CC will make you look like you just stepped out of an RPG after a whole day of slaying trolls while listening to punk tunes. Aside from being compatible with 18 EA colors, Red Ear Cat also made 18 special swatches with a black base, upping the mohawk's cool factor at a maximum.
No one would even dare make fun of you, even if it's part mullet!
Browse:
Lists
The Sims 4
Video Games