Sims 4 Moon-Themed CC: Earrings, Tattoos & More
This post may contain affiliate links. If you buy something we may get a small commission at no extra cost to you. (Learn more).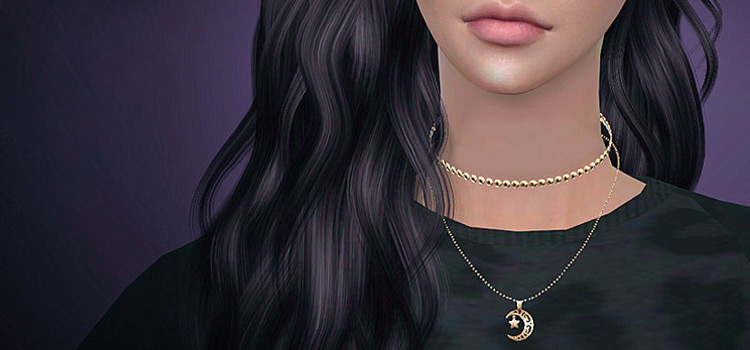 If there's one symbol that's universally loved, it's the moon. Sure, it's an astronomical entity that gives the world light through the dark (no big deal).
But more importantly, it has given birth to several symbolisms that are used mostly by yogis or starry-eyed teenagers everywhere. Or by that one really awesome anime (you know the one).
The good news is you don't have to be a spellcaster from Glimmerbrook or turn into furry Animorphs (yo Maxis, where the werewolves at?) to use these awesome moon-themed custom content add-ons.
So boot up your save file and let's get installing!
10.

Moon Phases Tattoo
Just like the whole of humankind, the moon passes through cycles of growth and decline.
The only difference is when the moon has a phase, it doesn't cry uncontrollably while watching puppy videos or think everyone is out to get them. Which, by the way, is totally not from personal experience.
This Moon Phases Tattoo from Christmas Fear, a creator with the most relatable name ever, features 7 phases of moon lined vertically.
It's a no-nonsense tattoo with one swatch, compatible with both genders.
Show this tattoo off with hair pulled up, a sports bra, and yoga pants. We won't care even if your Sim can't do the splits.
9.

Moons Top
Show your love to our satellite with this Moons Top by Dissia.
This long-sleeved top is adorned with a crescent moon pattern because one simply isn't enough!
Up your Sim's cool-girl points by pairing this with a skater skirt or high waisted jeans and some funky boots. With 25 swatches to choose from, you won't run out of options.
We can't be held accountable for the hordes of admirers who will be caught under your spell.
8.

Moon Hoop Earrings for Kids
Deviate from the boring old diamond studs for your little Sim's first earrings!
Trust Giulietta Sims to create the most stunning accessories for The Sims 4.
These Moon Hoop earrings for kids are available in gold, rose gold, white gold, and silver.
The CC is cute enough for a little girl to wear, but mature enough to make your Sim look wiser beyond her years.
Your Sim doesn't even have to be human to don these. These are available to use for vampires, mermaids, and aliens too! Talk about universal!
Get it? Universal? Ok, next.
7.

Star Moon Earrings
Some things are just better together.
Bacon and eggs. Peanut butter and jelly. Tea and biscuits.
The moon and the stars in the sky (I'll be there). You totally sang that too.
S-Club, not the 90s pop group, created these ethereal earrings featuring our favorite celestial pair. The two separate stud drop earrings are not identical, as one features solely a star and the other a crescent moon with a little star.
However, they make total sense when worn.
These come in both gold and silver. Best paired with dreamy and forlorn looks of wonder.
6.

Moon Dust Hat
We might just have found the total moon enthusiast in creator Blahberry Pancake.
And we'll be featuring a few of our favorite moon-themed CC items created by her!
Trade the boring old pointy witches' hat with this cooler Moon Dust hat.
The wide Trilby hat has the moon front and center, with circle accents around it. It comes in 40 swatches, with various color combinations so you can mix and match.
As Mark Twain said: clothes make the man. In this case, the hat makes the witch!
5.

Crystal Moon Choker
Chokers are making a comeback, and I love to see it.
First popularized during the 90s, chokers have been visible again in the new era.
Despite the intimidating name and some… um, questionable uses, the choker is ever popular. So why not pass this fashion sense over to your Sim?
This choker CC, another one from Blahberry Pancake, is a play on the traditional lace chokers.
It has a drop chain featuring a diamond stud at the top and ends with a crescent moon. With 15 swatches to choose from, it pairs well with all of our moon-related items so far!
4.

Moon Nose Studs
Nose studs are my favorite nose jewelry.
It's small enough to be nondescript, but you can't stop looking at it when noticed.
Last from our Blahberry Pancake showcase are these Moon Nose Studs, best if you find it really cheesy to wear moon-related items that are too obvious.
Unless you zoom in your Sim's face really close, these won't stand out. But they are perfect if you want to keep your moon worship to a down-low.
3.

CORA Witch Jacket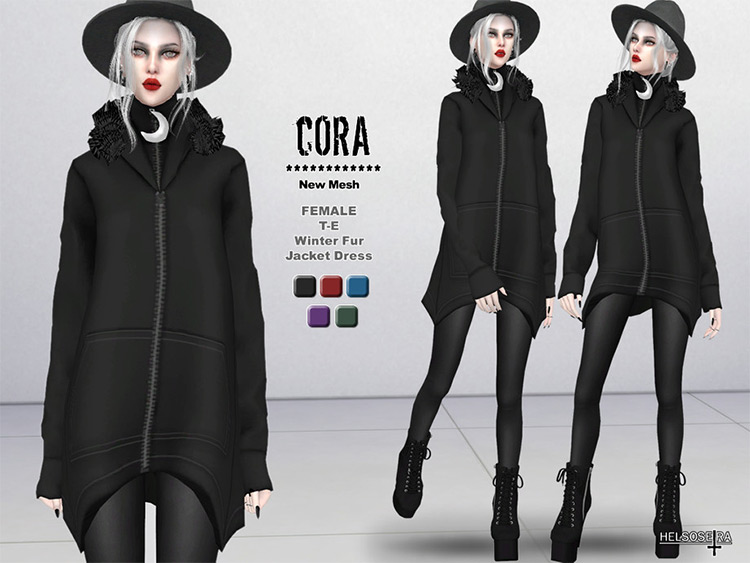 Unless you're from that famous magic school that you need to ride a train to get to, you'll agree that witch robes are so passé.
Style doesn't have to be conjured!
Helsoseira comes to the rescue of drab witches with the CORA Witch Jacket. This long hoodie resembles a robe when you can't simply let go of that look, but amps it up with a tinge of fur and a waxing crescent moon as a zipper.
It comes in 5 colors: black, red, blue, purple, and green.
Teens to elders can wear this CC, and it is exclusively for women. Sorry warlocks, go find your own cool outfit.
2.

Silver Crystal Hair
Ok, so this one doesn't really feature the moon anywhere… but is associated with one of the most famous moon pop culture references!
Cop this Usagi Tsukino(Sailor Moon) fantastic-but-unrealistic hair for your Sim with the Silver Crystal Hair by NewSea.
The iconic locks have been perfected by NewSea, with the unmistakable flowy space buns that are immediately recognizable with the anime heroine.
Blonde not your thing? You get 14 colors to live your Pretty Guardian fantasy. You don't even need a 2-minute Moon Prism Power make-up to transform.
1.

The Moon Tattoos
Really want a sprawling back tattoo, but too chicken to do it in real life? Your Sim volunteers!
This Moon Tattoos CC pack from creator Sugar Owl might be a good and classy design to start.
Get a beautiful design without the excruciating pain that you can remove in a snap. These cover almost the whole back and show various states and symbols of the moon, with the ever-popular crescent moon as the star of the show.
The tattoo is compatible with all skin tones and overlays, with generous 17 swatches to choose from. It's even compatible with all genders from teens to elders, and is 100% tantalizing.
Browse:
Lists
The Sims 4
Video Games