Sims 4 Mother's Day CC, Mods & Poses: The Ultimate List
This post may contain affiliate links. If you buy something we may get a small commission at no extra cost to you. (Learn more).
Where would humanity be without mothers? Well… quite literally nowhere.
Moms do a lot more than just keep the human race going, though. They're there for their kids unconditionally, and sacrifice so much for them. You may never find an adequate way to show gratitude to a good mom who has always done her very best – but moms tend to enjoy any effort anyway.
Perhaps that's why Mother's Day celebrations are, for the most part, simple.
A nice meal, some flowers, a card… to a mom, anything their kids do is fantastic!
Mothers are as vital to The Sims as well. But if you want their kids to show some appreciation, it's all on you to get the ball rolling.
Fortunately, it's pretty straightforward to dedicate a day for Sim moms – especially with custom content.
If you have Seasons then it's a cinch: just make a custom holiday, complete with special traditions for your Sim's family. And then grab some of this CC and create the best Mother's Day your Sim mom could ask for.
1.

Mother's Day Pose Set
A tender moment between a mother and her child is always precious, but never quite as intensely as when they spend some time together on Mother's Day.
Younger kids especially tend to put their whole heart into showering their mom with love. They adore their mommy, and they aren't afraid to show it!
This sweet pose set is for one adult Sim and one child.
It will show them seated, the kiddo on mom's lap, gifting her a rose.
There are lots of smiles here, and you'll really be able to see the love and joy in your Sim's eyes.
2.

Mommy & Me Outfits
Even though the kids may cringe about it when they get older, nothing is as wholesome as matching mom and daughter outfits.
This was something I had never even considered doing in The Sims, but I'm glad this creator thought of it.
You'll have something for all the gals in your Sim's family here, including toddlers and children as well as Mom herself.
Most of the time, more kids = more stress.
I'm talking about in the game, but this applies to real families too, I'm sure. But I don't know that matching outfits would make it all worth it quite like they do in this game.
Whenever I find my Sim with toddler and child-aged daughters, I find myself running to CAS to get them set up with their matching Mommy & Me Outfits from Strenee.
These dresses are flawlessly color-coordinated while remaining age appropriate for all involved. Mom will look beautiful white the child can rock a romper, and the toddler will have an adorable, ruffled little dress.
3.

Melanin Mother's Day Set
Here's a décor set made with Sims of color in mind.
It features one of the biggest pillars of Mother's Day: cards.
Even the most forgetful kids usually have the presence of mind to buy or make their mom a card! It's a heartfelt, sentimental, or sometimes funny reminder to a mother that they're loved, and it's something they can look at again and again.
The gift that keeps on giving, basically.
In fifteen years when she cleans out her sock drawer, the woman can be transported back to that time her dear child gave her a Mother's Day card, and she knew they cared.
There are some lovely decorative cards you can set around your Sim's home for the same effect.
Some designs have a more humorous look, while others feature imagery of empowerment and affection.
As great as those cards are, this CC set also includes some amazing wall art too.
They all feature themes of motherhood through beautiful paintings, and you'll have 18 swatches to choose from.
4.

Breakfast In Bed Poses
Treating moms to breakfast in bed is a classic Mother's Day thing.
Presumably because there's nothing a mom wants more than food she didn't have to prepare herself, and more time in bed.
This is something fun to get the whole family involved in – and one of the few pose packs that you can actually work up to.
Your Sim's partner and the kids can actually get up early and cook together, with some careful planning!
Then once the meal is prepared and hopefully edible, the family can head into the bedroom to wake up dear old Mom in the best way.
And there's more:
Because this set not only comes with poses, but also some accessories that will really bring them to life in whole new ways.
That includes the breakfast tray complete with a card and flowers.
An adult Sim will be able to present the tray while the kids stand there looking happy, as they should. A teen or older Sim will even be able to hold the flowers, which can be found in CAS under the hat category.
The poses for when everyone's at the bed are just heart melting.
Momma Sim will look delighted, as the kids sit gathered around her on her special day.
5.

Crazy About Mom Tees For Kids
There's nothing that can't be said, no sentiment that can't be expressed, by simply wearing a t-shirt.
This is a really fun idea for children to participate in the holiday.
You'll have 12 shirts here to choose from, for both boys and girls. They feature phrases that are bound to make any mother smile, like "mom is the bomb" or "mama is my bestie."
Simlish may usually be your preference in the game but with as heartfelt and meaningful as these, English is more fitting!
You don't have to use these tees just for Mother's Day, but any time your Sim child wants to show their love after as well.
6.

Happy Mother's Day! Pose Pack
This may always be a special holiday, but the early years will always be particularly precious memories.
The bond a child feels towards their mom may grow and evolve – but it'll never be quite as pure or intense as when they're little.
First-time mothers are especially in for a treat when their darling son or daughter is finally old enough to acknowledge the holiday.
That's the sort of scenario playing out with this pose pack.
It's for a toddler and adult, with mom down on the child's level in some, or looking at them lovingly in another.
They'll make great moments to snap a picture of, that's for sure!
7.

Mother/Daughter Shirts
This set is just the sort of thing tons of moms would love to have.
Their child can already be wearing their shirt when they present their mother with the matching one!
Of course, the best you can do for your Sims is slap these on them in CAS, the rest will require a little imagination. But all the best things do, right?
The phrases here are in Simlish, which always look nice and in-line with the game's style, but the creator listed the English translations.
Each one has cool sayings respective to being a mom or being a daughter.
My personal favorites are the mama bear and baby bear shirts! That's such a tried and true comparison, showing that mother's love and protection will always be fierce and primal.
8.

Brunch With Mom Pose Pack
Doing the breakfast in bed thing for your mom can be a little weird, if not impossible, once you're an adult.
But it's still just as important to celebrate Mother's Day and treat the maternal figures in your life.
Here we have one of the few pose packs dedicated to an older mom.
With these poses, you'll get to see her out to brunch with adult children and even a couple of grandkids.
Where the brunch takes place is, of course, up to you.
There are no hard and fast rules on the matter.
You could do a backyard brunch, or if you have Dine Out, then the kiddos can take mom out.
No matter where you set this up, you'll need to place a medium sized table with adequate seating and a high chair. Once you've got that all settled, you'll have some great moments to cherish.
This pose pack was intended for a mom, her three adult sons, and grandchildren including a toddler, child, and teen.
9.

Flower Set
I can't even imagine what Mother's Day would look like if it didn't take place in spring.
The season is so connected to the day, it pops up in nearly all celebratory gestures and decorations.
Beautiful metaphorical imagery of new life just beginning with budding plants and baby birds hatching from eggs, emerging from the cold of winter into the fresh warmth of spring…. it's all rather poetic, right?
And as such, flowers are naturally one of the most popular go-to gifts.
Each option available here looks just like the best stuff you could find at floral shops.
They're vibrant and colorful, including beloved types like roses, tulips, orchids, and more.
There are a few different arrangements and vases as well, so you'll have plenty to choose from for Sim years to come.
10.

Mom & Toddlers Mother's Day Poses
A lot of players may feel differently, but I love toddlers in this game.
They're adorable, and it's so fun to watch them grow.
Yes, I just described toddlers like they're Sea-Monkeys, but this stage of life is rather simplified in The Sims. They have needs that are easily managed on a routine and five skills you want to build up.
Outside of that, they're just tiny Sims who have their ups and downs like everyone else – but they bring a certain sense of happiness to the home.
So I say the more toddlers the merrier. But holidays can become rather difficult if you have twins, or tots at slightly different ages.
Many poses are designed for just one toddler – but these poses are made for two little ones, giving Mom kisses and flowers.
You'll get three poses here, and each one is a gem in its own right.
11.

Mother's Day Event
You can have plenty of fun orchestrating a Mother's Day for your Sims step by step. But things are much simpler with a mod.
This one will turn it into a true event, complete with goals and fun interactions.
You will need Season and Movie Night Stuff to enjoy this mod in its full glory, though. But it's easy to see what a well thought-out creation this is all around.
It mirrors the real thing quite a bit, with the main goal being for your Sim to give a gift to their mother.
There are a whopping 10 other additional goals to make it quality time spent between your Sims, like cooking a meal and dessert for Mom, giving her a toast and watching a movie with her, hug her, and much more.
It doesn't even have to be limited to just the mom Sim in your household – you can invite any mother in your save, like aunts, grandmothers, or even friends.
12.

Mommy & Me Beach Dresses
The beach will be there for you no matter the occasion.
That sandy little slice of Heaven makes the perfect getaway destination, whether it's for an afternoon or a week.
Taking mom on a trip to the beach is a fantastic way to spend the day – so having coordinated outfits for her and the kids will really make it lovely.
And these beach dresses are just gorgeous.
Mother and child will have their own matching versions, full of elaborate patterns and stunning colors.
There are pineapples, tropical leaves, and bright florals to really drive the #BeachDay vibes home.
13.

Mother's Day Pose Pack
Natural photo ops don't come about often in this game, unless it's in the form of a humorous glitch.
If you want to see your Sims in some sweet moments fit for the photo album, you'll have to force it.
Luckily, the poses other Simmers create are as perfect as you could ever want.
These ones from Lexiica are based on adorable real-life photoshoots of moms and their kids.
You can have a mom, toddler, and two children in various poses that include kisses, hugs, and natural positions.
As the years fly by, they'll be great to look back on. But in the moment they'll be just as sentimental as you'd expect from a Mother's Day photoshoot.
14.

Madison Bath Set
All moms cherish the time they spend with their kids.
They're the apple of her eye, the source of her strength, you know how it goes.
But any mom will also admit, even if only to herself, that sometimes she could just use an hour to herself.
Plenty of Mother's Day gift ideas cater to that very concept. And now you can allow your poor, overworked mom Sim to have some self-care time too. This set includes both decorative items as well as things in CAS that will make the "gift" complete.
Your Sim can have her hair in a towel and wear another, or choose from luscious, long or short robes.
They're totally from her spouse and kids, those thoughtful buggers.
She can even wear a sheet mask, and there are several swatches for the packages that you can set out as clutter!
Lastly, the matching wall towels and floor mats provide everything a gal would need for a good soak in the tub.
15.

Mommy Dearest Pose Pack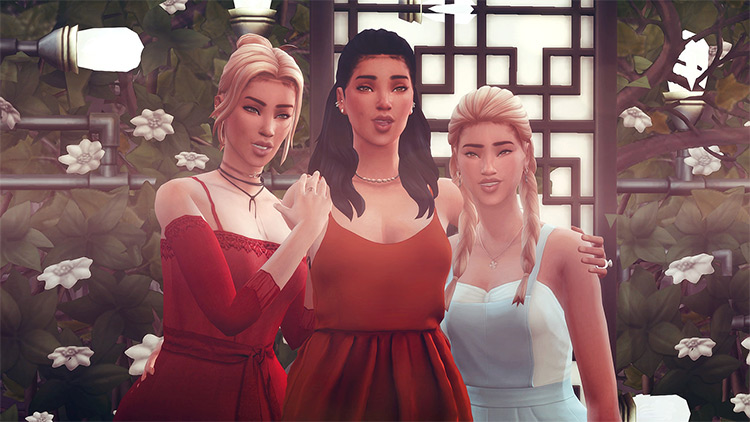 Pictures aren't something most kids enjoy.
Many loathe the camera, some are indifferent, but very few actually like it.
As one becomes an adult, however, they tend to see things differently.
Photographs become vessels to the past and treasured belongings as life goes on.
Your adult Sims can snap some great pics with their mom in these natural poses. Sons and daughters alike can get in on the moment, with a simple kiss on the cheek or hug.
For added realism, the creator even made it so each Sim's height will be slightly different, since families rarely are all the same exact stature.
Browse:
Lists
The Sims 4
Video Games