Best Sims 4 Motorcycle CC, Mods & Poses
This post may contain affiliate links. If you buy something we may get a small commission at no extra cost to you. (Learn more).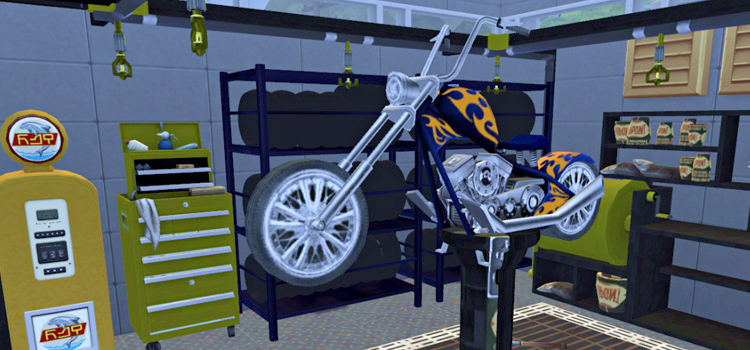 As many players want to see cars in The Sims 4, an equal amount would prefer their two-wheeled, cooler cousins.
Well, as we all know, just about anything is a step up from our Sim's current status.
Which is no motorized vehicles at all.
It's tragic. But as with most things, this can be easily amended with mods and CC.
1.

Sittable Motorcycle (TS3 Conversion)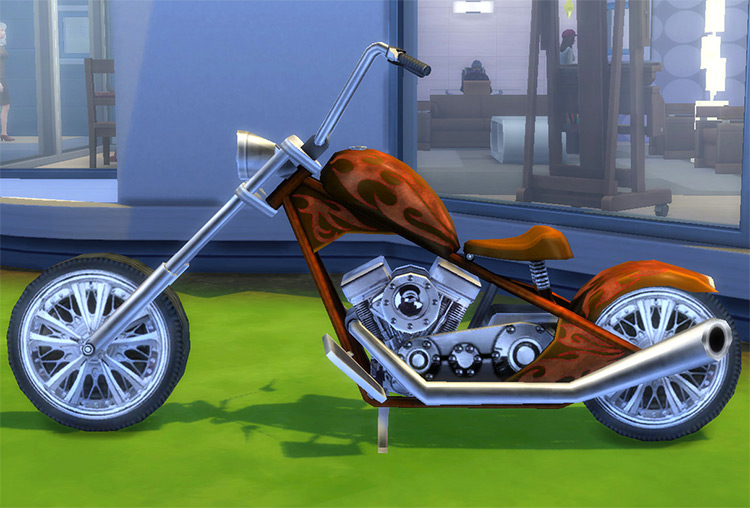 Most motorcycle content for The Sims 4 will require this mod from Esmeralda.
Your Sims will be able to sit on the motorcycle, making it perfect for any type of biker Sim, or players who like to use poses.
2.

Rideable Motorcycle (Discover University Required)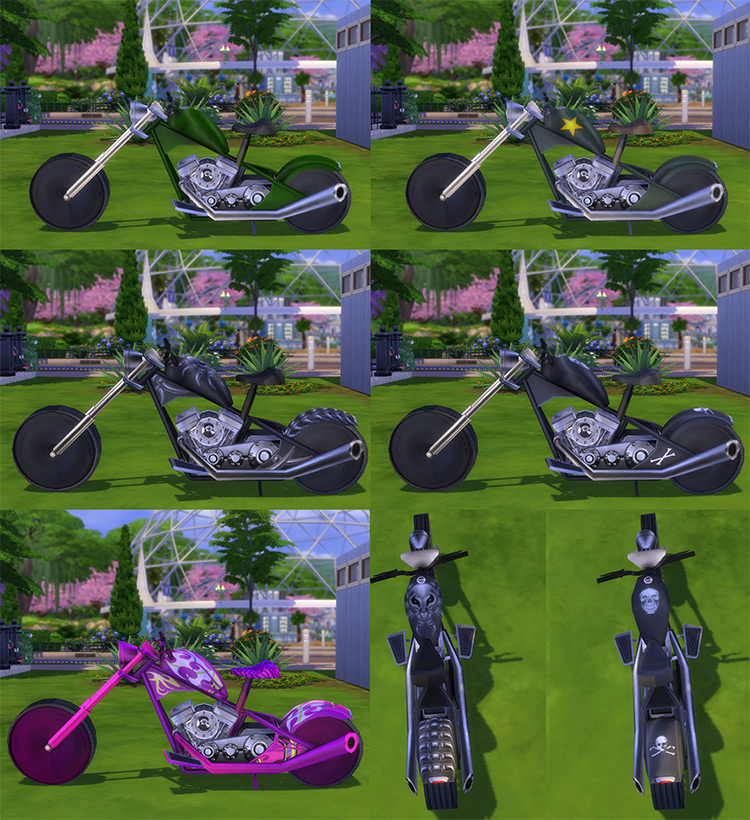 Esmeralda is back at it, and this time it's functional… with a few caveats.
You won't get that roaring engine so many bikers live for, and the wheels won't turn.
But hey, your Sims can actually hop on and move!
And since this is the exact same converted motorcycle already listed above, the same swatches are available and the only big difference is the wheels.
3.

SKC Motorcycle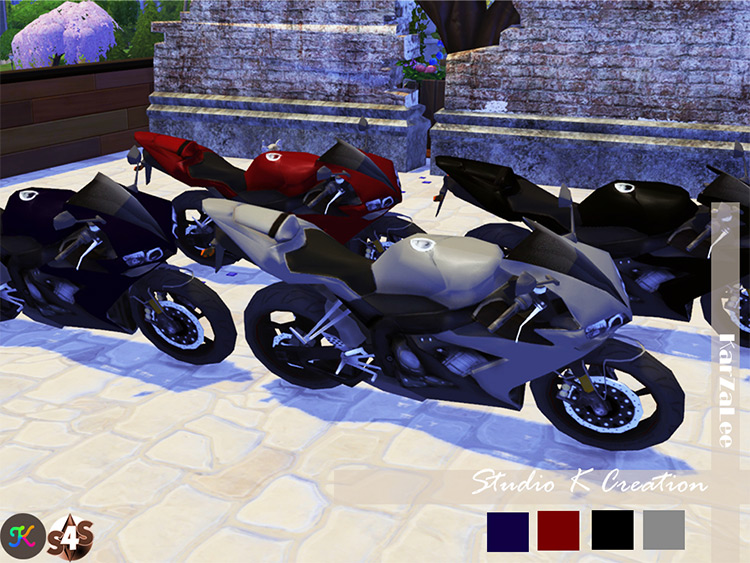 A lot of old school guys and gals prefer the classic look and sound of a Harley Davidson, like the bikes listed above.
But plenty of riders prefer the sleek, modern design of motorbikes like this one from Karzalee.
These are all about speed, or at least they would be if Sims could ride them.
4.

Love on Wheels Pose Pack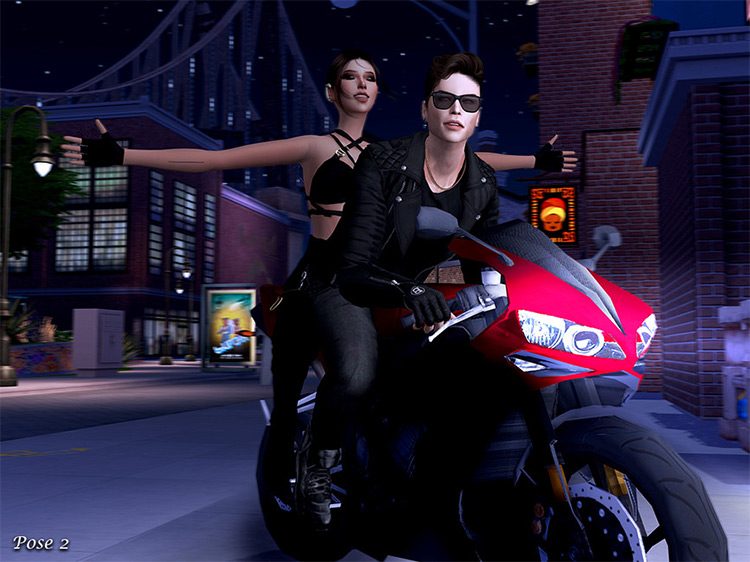 No love is stronger than what a biker couple has. They take "ride or die" to the next level, and make it literal.
Now your Sims can have such a passionate romance, too.
This pose set uses the SKC Motorcycle and includes many fun poses for the lovebirds in your game.
5.

Couquett's Racer Pose Pack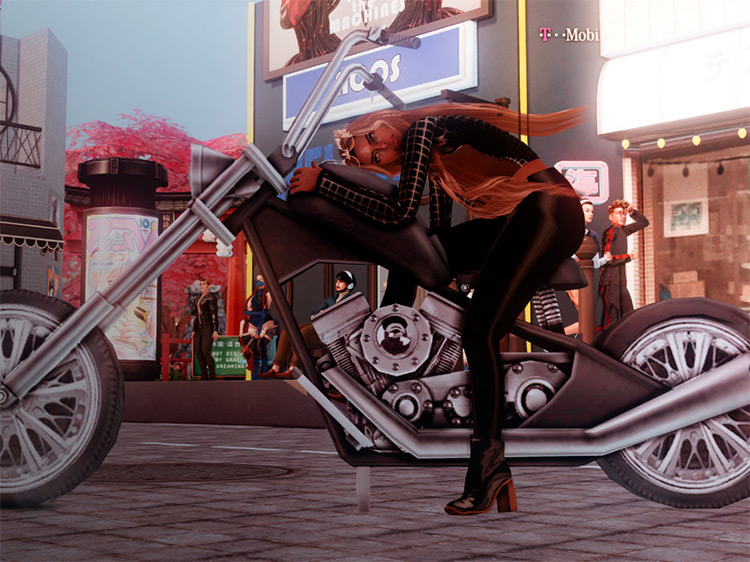 Another pose pack here, and this one offers some more poses just for the ladies.
The creator, Couquett, took a really innovative approach with these.
Some incorporate two Sims, but most are solo.
6.

Easy Rider Motorcycle Shop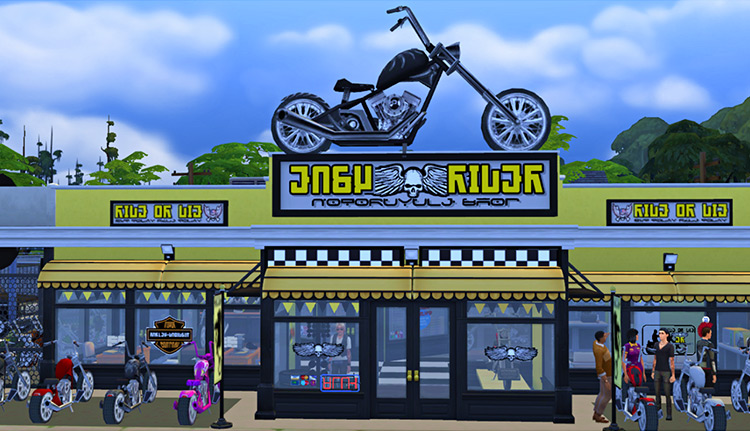 Emeralda's motorcycle conversion is a key piece to this amazing build, which is a functioning bike shop!
All the CC you'll need can be found in the original post.
Then you'll just need to fire up your game and head to the gallery, where you download the lot from SimDoughnut.
7.

Ducati Desmosedici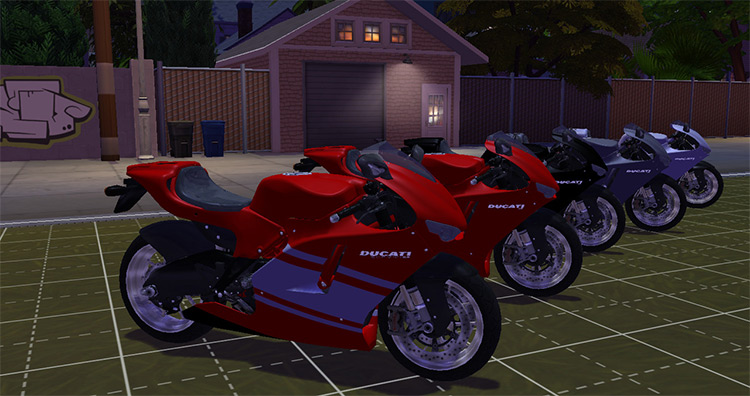 Like pretty much all other Italian products, Ducati motorcycles are as luxurious as it gets.
These speedy bikes are another quality decorative option, complete with multiple versions to choose from.
8.

Chopper Pose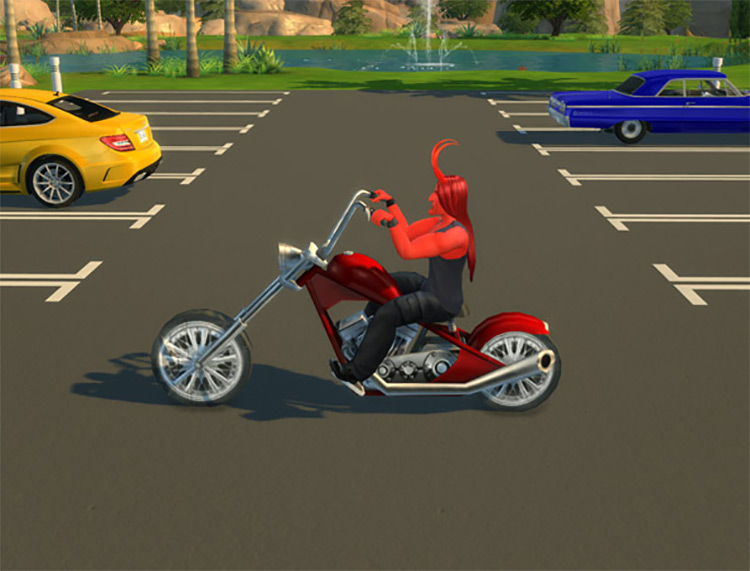 These simple poses will convince anyone that your Sim is actually riding.
There are four in total, which are pretty straightforward.
Your Sim will have the perfect posture of any rider in each one, and they'll have a natural look as their head is turned straight, left, or right.
9.

Dexter Helmet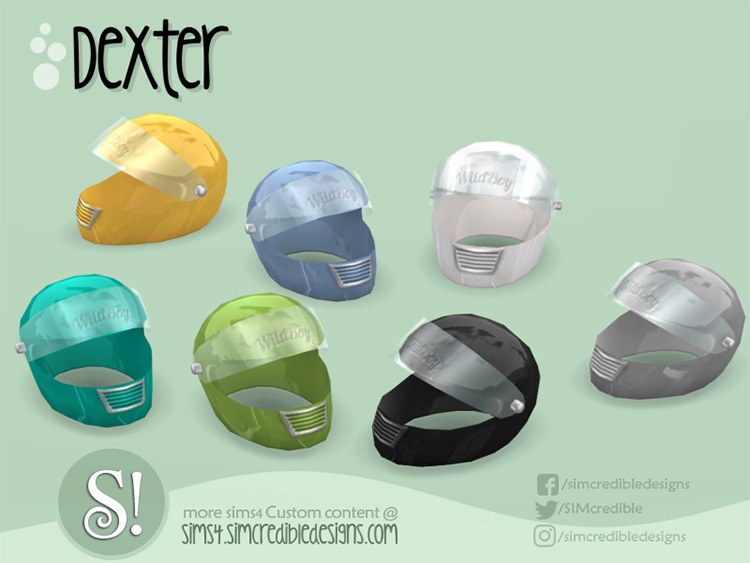 Safety first!
At least in theory.
This decorative helmet will be a perfect addition to your game, perhaps right beside the motorcycle itself or in your Sim's home.
10.

Female & Couple Motorcycle Poses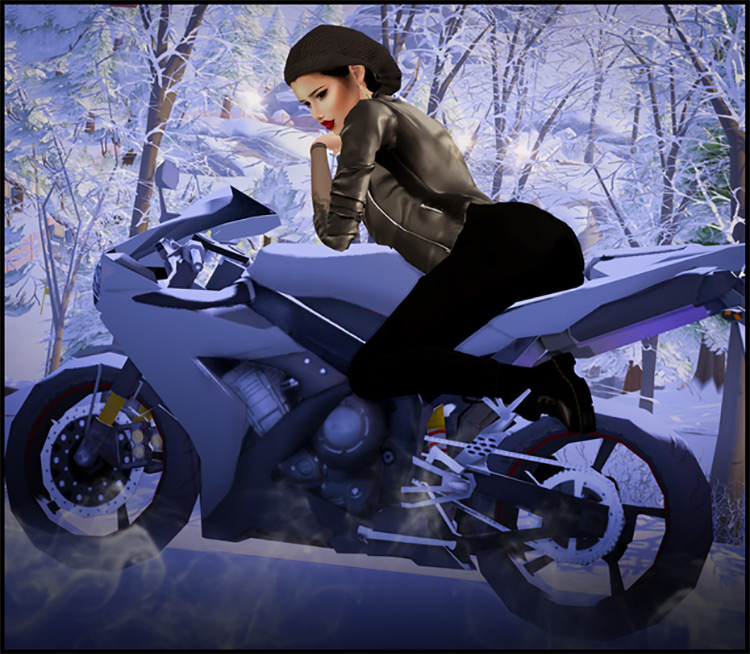 This pose pack is primarily for a female Sim and uses the SKC Motorcycle.
Each one of these poses looks so natural, you won't think twice about cycling through them all.
Some are flirty, some are more serious, but all are guaranteed to look awesome!
11.

Moto Pose Pack + Shoei Helmet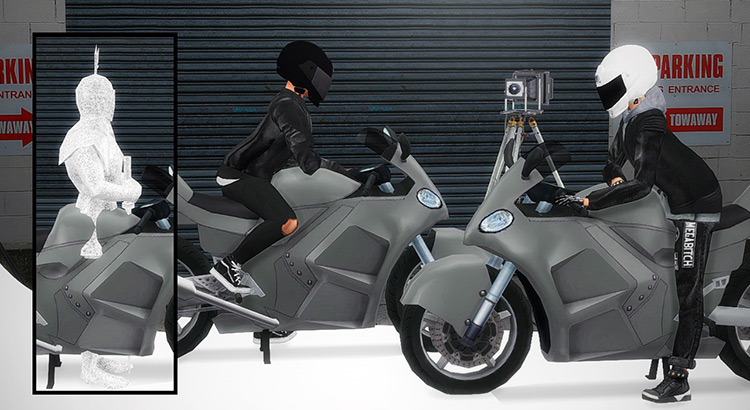 The sleek helmets included here make a great prop, giving the poses a more realistic feel. Your Sims can hold them or wear them, and they'll work as decor when sat off to the side, too.
Most of these are for couples.
They'll give you some really cute photo ops!
12.

Decorative Motorcycles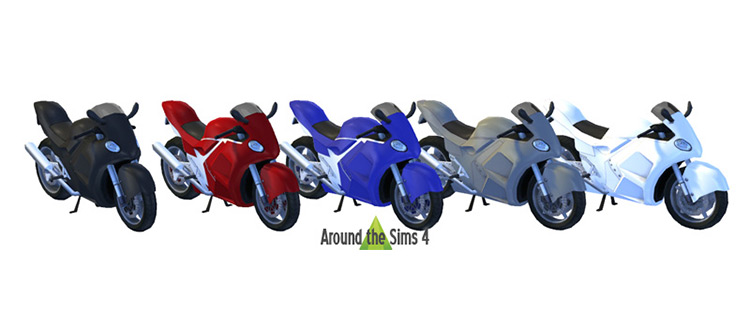 This is another perfect conversion that'll be great decor for your Sims.
A parking place sticker is also included, for them to "park" their bike wherever you place it down.
13.

Katverse's Motorcycle Poses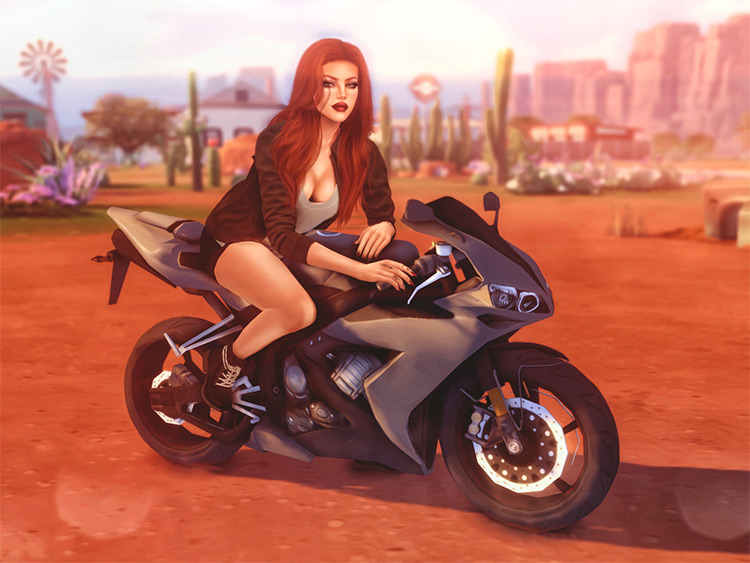 Here are 5 more feminine poses, this time from Katverse.
Karzalee's SKC motorcycle is the foundation of these, which take full advantage of its versatile options.
14.

No Speed Limit Motorcycle Poses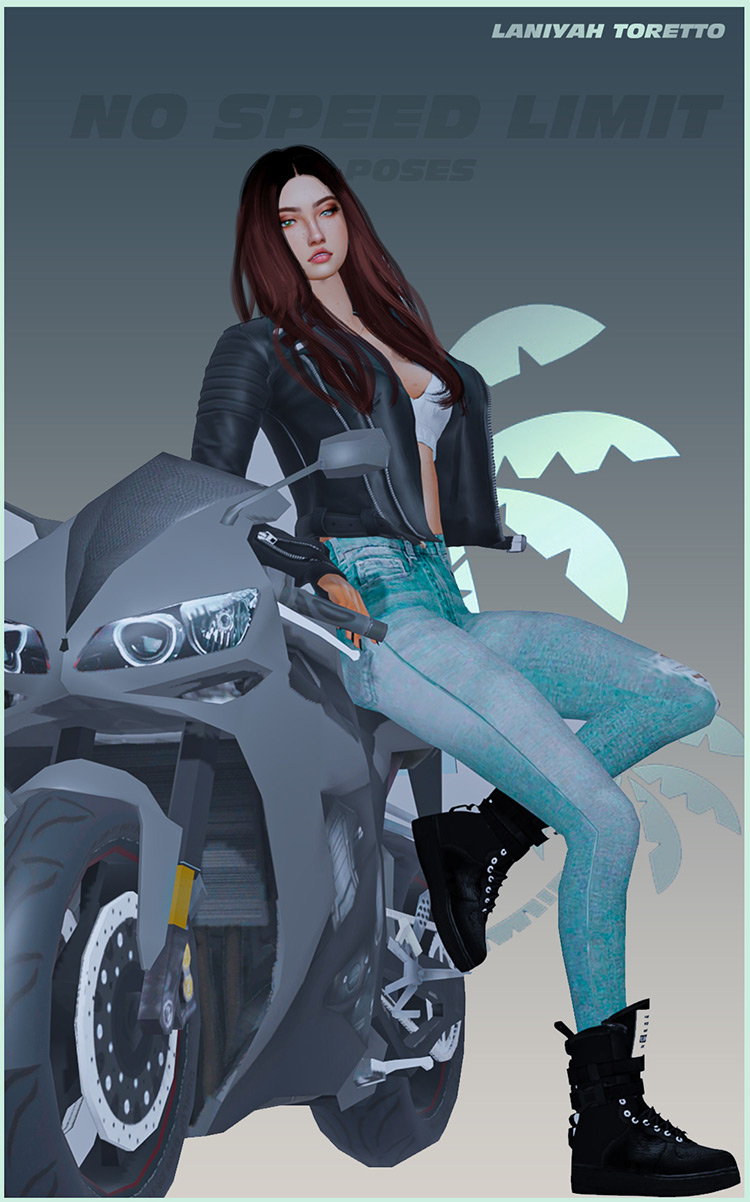 Since there seems to be no law and order in The Sims 4 in general, we can assume there's also no speed limit.
That's how a motorcycle can really do what it's meant to do, and your Sim can really strut her stuff with these poses.
They're casual and simple, just what any laidback biker needs!
15.

Moto Helmet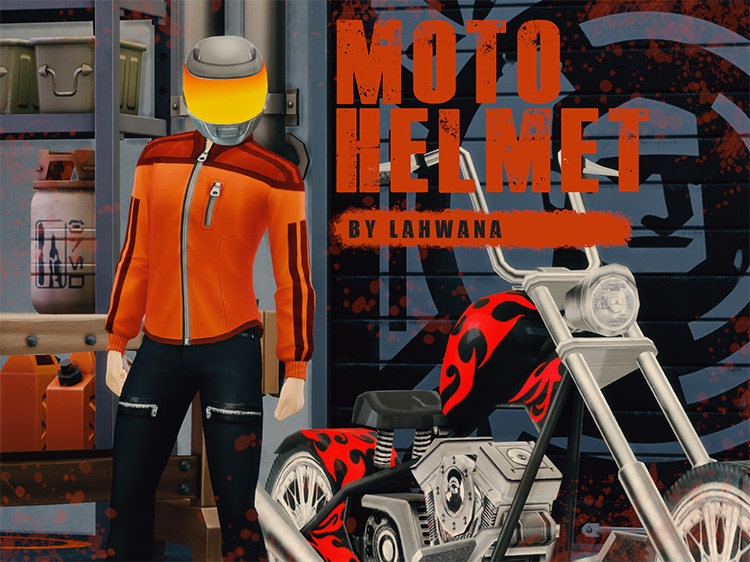 When you want your Sim to really look the part, a helmet can be very helpful.
Lahawana converted this from TS3 and it looks just as awesome as ever.
That colorful, slightly transparent visor is a brilliant way to transform helmets (which are usually rather boring) into something fun.
Browse:
Lists
The Sims 4
Video Games