Sims 4 Mulan CC: The Ultimate Collection
This post may contain affiliate links. If you buy something we may get a small commission at no extra cost to you. (Learn more).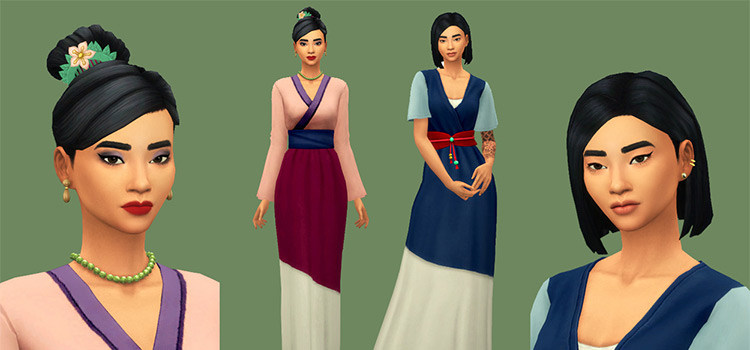 There is no one more honorable, strong, and responsibly irresponsible as our girl Mulan.
Who else would leave in the middle of the night with their fathers sword to protect their family? Not me, that's for sure. Sorry, Dad, gonna need you to go fight for China.
Mulan is also part of the Sims 4 Disney Princess Challenge.
Our warrior Mulan is the eighth generation of the challenge. Her story begins once she becomes a young adult and her rules are that she must have the active trait, join the astronaut career, fall in love with a coworker once she reaches the top of either branch, and she has to marry and have children.
Tip: if you have the Get Famous episode pack, you must make sure that Mulan rakes in those celebrity points as those represent her honor and glory.
So why not give it a try? Especially with all this CC to make your Mulan sim the most authentic she can be.
1.

Mulan Dresses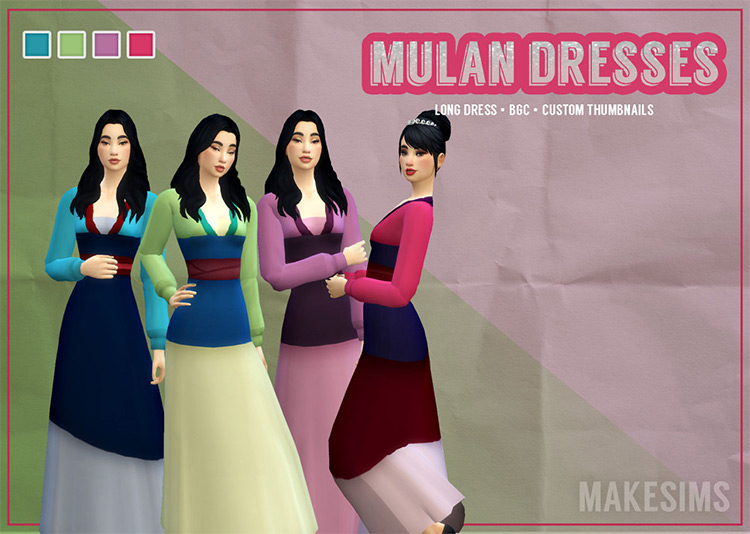 If you didn't know about the second Mulan movie, here is your wakeup call.
There is a second movie, and it is fabulous and the songs are just as catchy. These dresses are based on both the original movie and the sequel.
They come in four different colors and styles, so if you sim is feeling a little bored of her wardrobe, she will have plenty of options.
2.

Orchid Hair Versions 1 & 2, plus Overlay Accessory
This hairstyle is perfect for Mulan to wear to get rejected by the matchmaker. Just don't forget your lucky cricket.
The orchids you see on this hairdo are an accessory, so you can leave them off or change their color to suit your preference, or your sim's outfit.
There are also two versions of this updo available, one with a visible hairband and one without, as well as 18 different color swatches.
3.

Matchmaker/Young Mulan Costume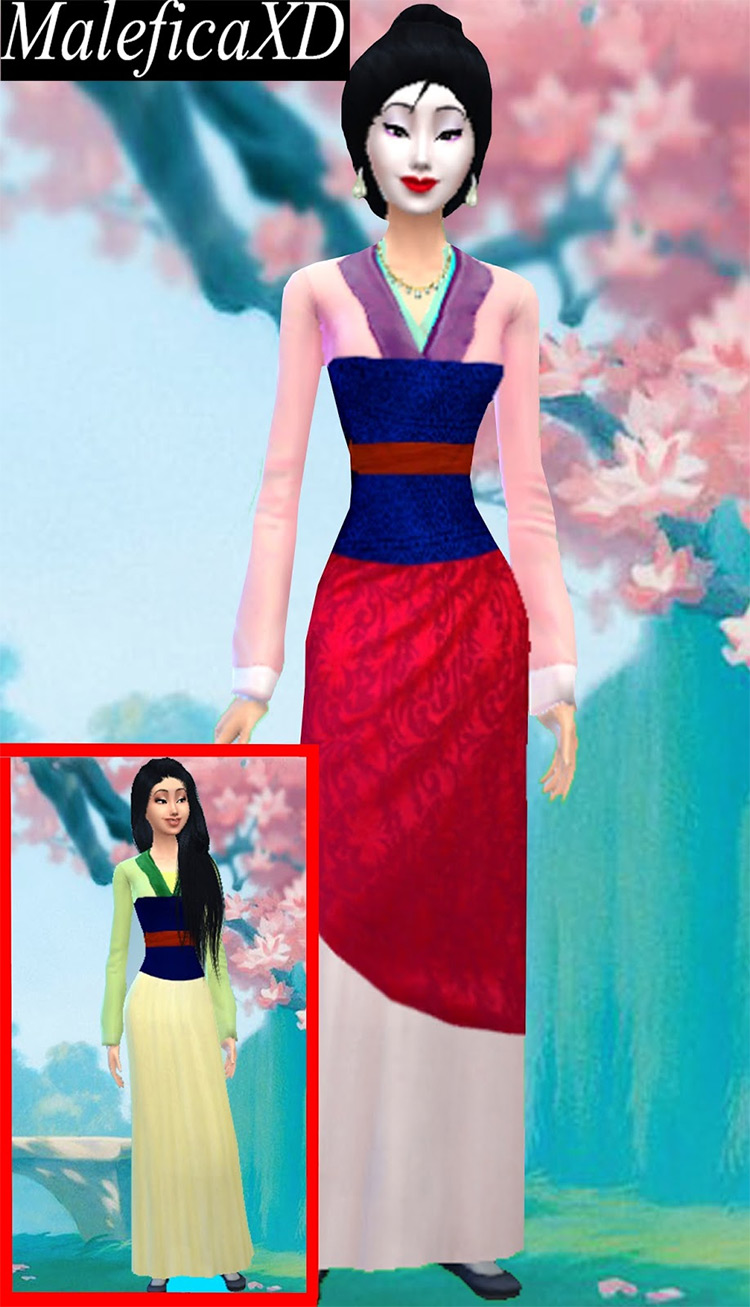 Now that you have the perfect hair to visit the matchmaker, it's time to get the dress to match.
Here we have Mulan's traditional dress and the one she wears to see the matchmaker.
I especially love the printed design on the skirt of the matchmaker dress. It's always nice when details like that fit seamlessly into a more 'maxis match' style outfit.
4.

Mulan Casual Set
This beautifully designed set has a more free-flowing style for Mulan's casual dress and also includes the outfit she begins the day, and the movie, in.
Get yourself a tiny dog if you have the Cats and Dogs expansion pack, and some chickens if you have Cottage Living, and… I think you know how the rest of that story goes.
These outfits only come in the colors you see here, and it's worth mentioning that Mulan's sleepwear set is two separate pieces.
5.

Atlanta Traditional Chinese Tea Setting
It would honestly be rude of me not to include a traditional Chinese tea set here.
Who could forget the 'cricket in the tea' scene? It's a crucial part of the story!
Okay, maybe not, but it is one of my favorites.
Pour tea, go to war for your country, and then pour tea for the Emperor and your new hubby Li Shang. See? Crucial.
This tea set comes in four different colors, including two beautiful porcelain styles.
6.

Dress Dragon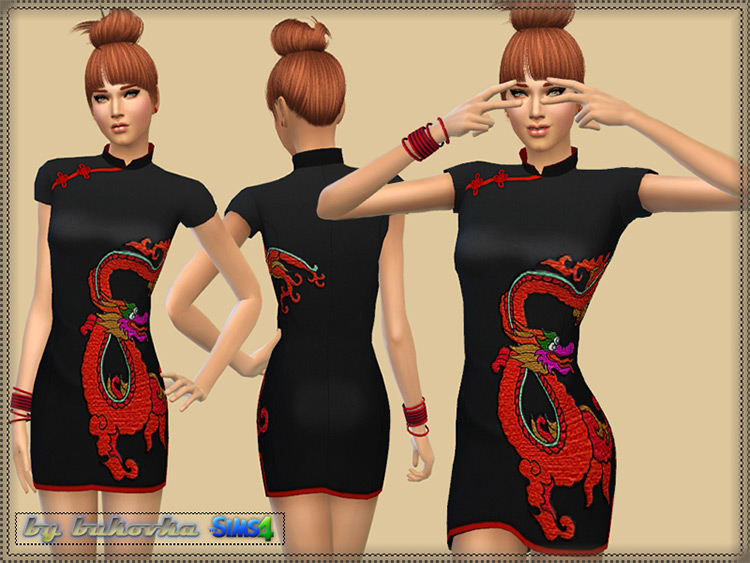 "Dishonor on your whole family!"
If you have the Realm of Magic expansion pack, you can get your own Mushu. He won't be red and he may not be funny, but he will certainly be a dragon and follow you around.
If you don't have that pack, and even if you do, you can always represent your favorite funny dragon with this awesome dragon dress.
7.

Asian Lake Village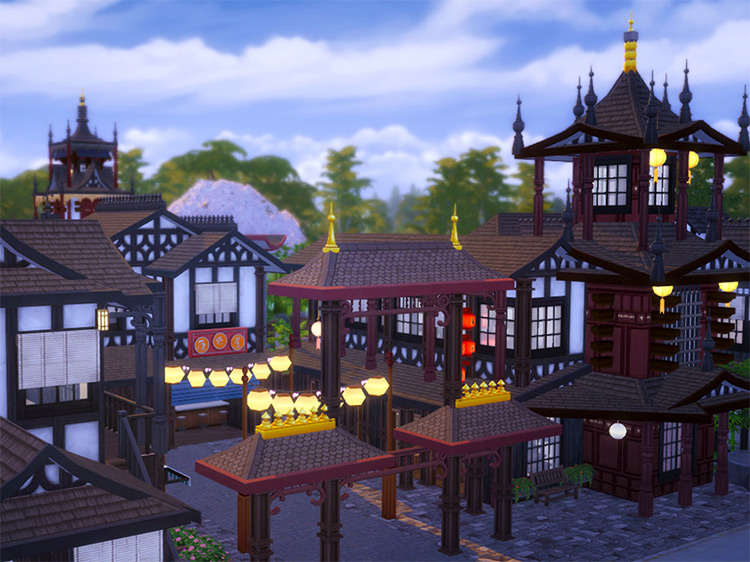 This little village is the most perfect, serene place to watch your father be called to war or check out the cherry blossoms. Whichever you're in the mood for.
Joking aside, this peaceful little village is too charming to pass up.
It includes a ramen shop (yes, please), a tea shop, a school, a restaurant, a candy shop, a firework shop, two houses, and two temples. The perfect place to honor your ancestors and pick up a dragon.
8.

Mulan Collection
In the mood for a more modern Mulan?
This CC collection has everything you could want to design your current day warrior – and also includes the traditional outfits, just in case.
This comes with a staggering amount of twenty-four items, including earrings, clothing, accessories, hairstyles, and tattoos.
I love the idea to make a jacket an accessory item.
9.

Modern Day Mulan
Now that you have the outfits for your modern day Mulan sim, all you need is, well, the sim.
If designing sims is not your idea of a good time, you can download this perfectly designed Mulan to add to your game.
If you are doing the Princess Challenge, there are ways to add a sim to a family and also add them to a family tree using Master Controller easily. I won't tell anyone if you don't.
10.

Shuang Lot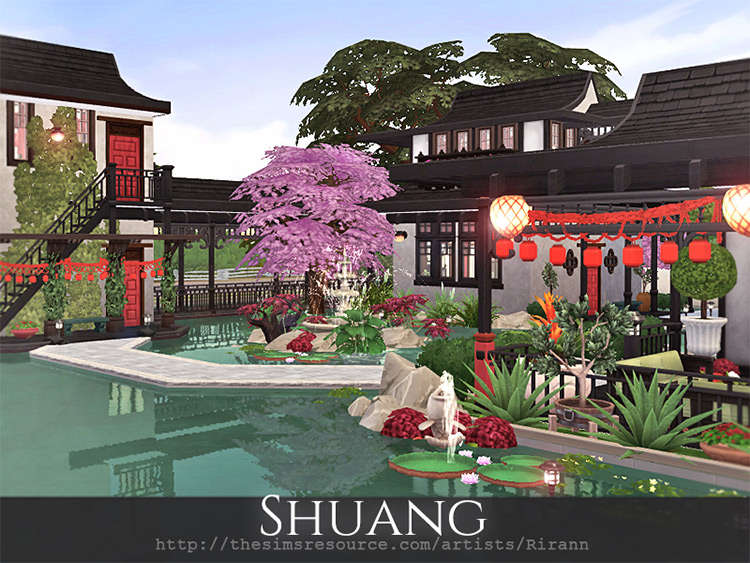 This is a great option for Li Shang's home, and your sim's future marital house.
I love the pathways through the lake and the landscaping. Absolutely breathtaking. I don't know how these content creators build such masterpieces!
This lot is fully decorated and has a living room, a kitchen, a library, one bathroom, two bedrooms, and a dining room.
11.

Mulan's Jacket
Comfy Princess Couture at its finest.
This jacket is a recreation of what Mulan wears in Wreck It Ralph 2: Ralph Breaks the Internet, and it fits her style and personality perfectly.
And I can say this jacket is without a doubt the perfect addition to a more modern Mulan look in TS4.
Browse:
Disney
Lists
The Sims 4
Video Games