Sims 4 Alpha CC Must-Haves: The Ultimate Collection
This post may contain affiliate links. If you buy something we may get a small commission at no extra cost to you. (Learn more).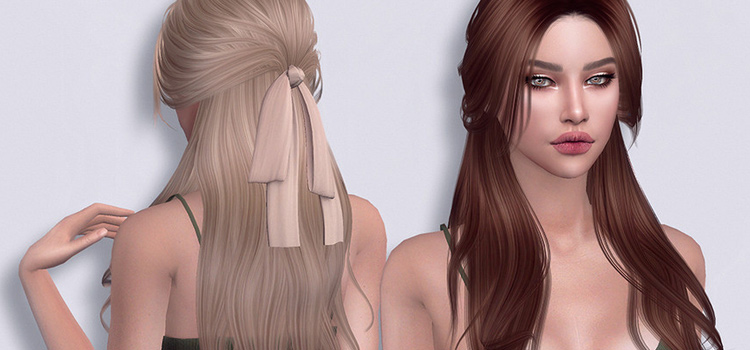 Diving into Alpha CC textures for the first time is an experience, lemme tell you. I personally prefer Maxis Match textures just because I feel like it's easier to create Sims with clayified CAS items.
I'm perfectly happy leaving photoskinned textures to the more talented Sim creators.
However, in an effort to branch out, I decided to try converting some of my purely MM Sims into Alpha CC versions of themselves. After a lot of CAS videos and a lot of lookbook deep-dives, I've found this solid collection of Alpha must-haves that I can confidently recommend.
For reference, I've included my Sims' MM and Alpha CC versions. I also note in certain items which swatches/designs I used for their features.
Alpha CAS Packs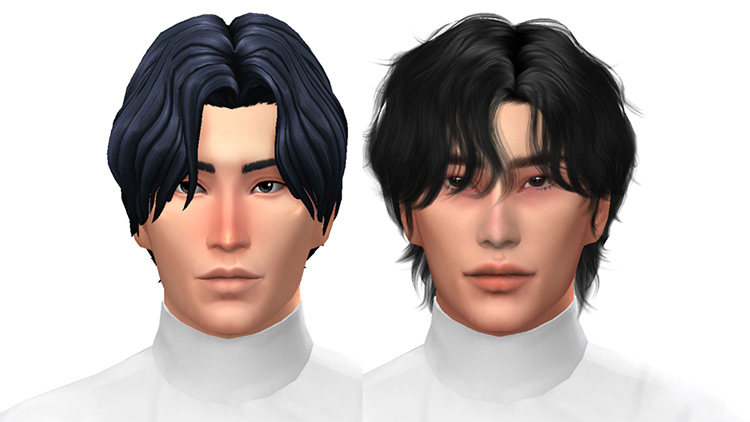 1.

Genetics Set for Males! by DDARKSTONEE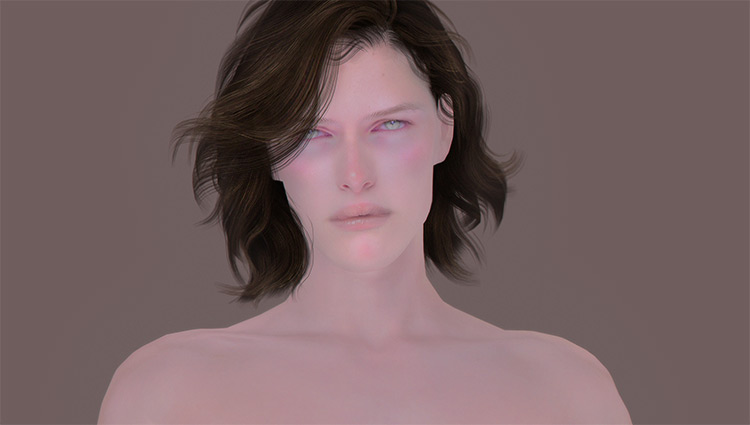 CAS packs like this are a godsend for Simmers who want to delve into Alpha CC but don't know a lot of creators yet. They contain multiple overlays or replacements for different features like eyes, eyebrows, lips, skin, skin details, and the like.
And since they're from the same creator, they usually mesh well together!
In this Genetics Set for Males, I used the Nosemask N8, Eyelids N26, and Lips N32 for my Male Sim's Alpha CC transformation. They added subtle details around the lips, nose, and eye areas that I probably couldn't achieve by myself.
By the way, the custom eyelids overlays in this pack work with the CAS sliders!
2.

Spring Came! by northern siberia winds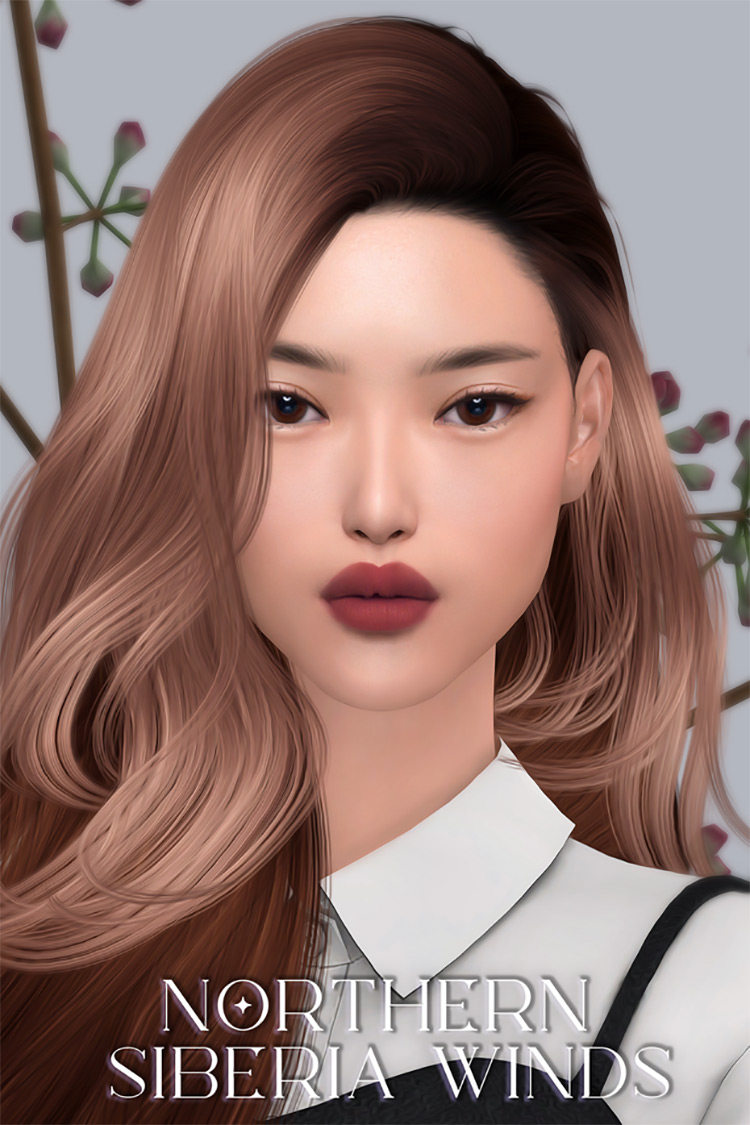 If you're trying to achieve a soft East Asian look for your Sims, northern siberia winds has a lot of great CAS items.
Their Spring Came! CAS pack contains a skin overlay, three custom eyes, and two custom lips.
I used Eyes N11 from this pack (the dark cyan swatch) for my Female Sim's Alpha CC transformation!
3.

Gloss Collection by northern siberia winds
This CAS set is one of my personal favorites.
Even though I didn't use any of the items here, I've played around with them enough to confidently say this pack would be my go-to should I ever switch over to Alpha CC.
I just prefer darker skin and softer features for my Sim, and the items in this pack cater to those specifications beautifully.
4.

Makeup Set by obscurus-sims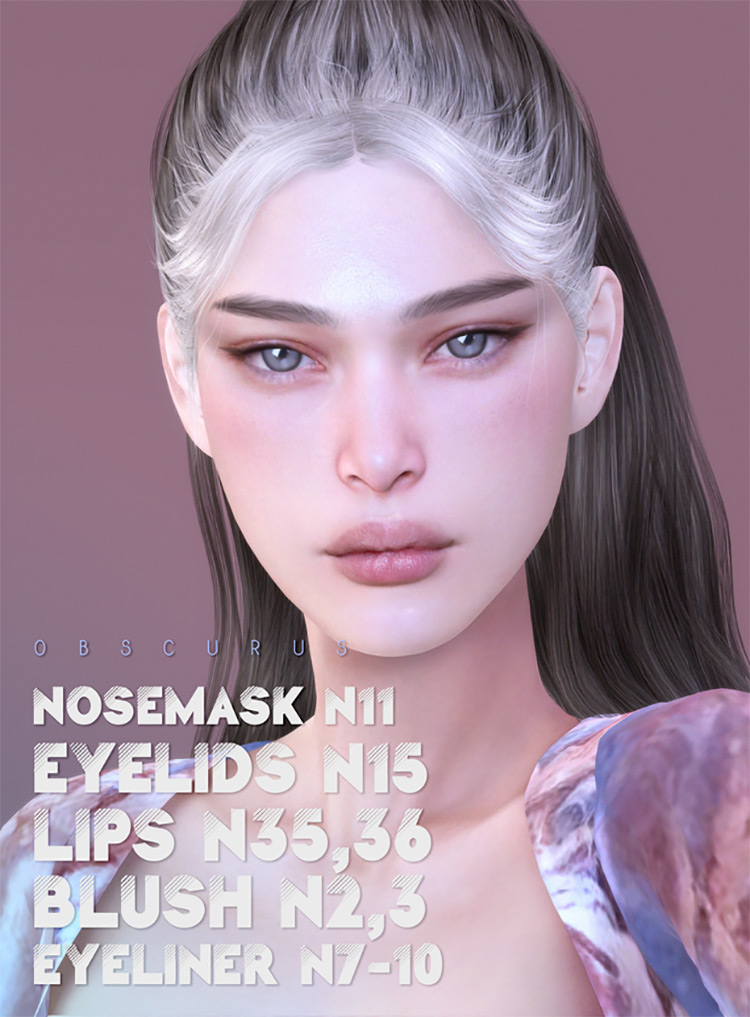 This may be marketed as a makeup set, but there are more items in here – read; nosemask, lips, and eyelids – that can be categorized as custom facial features.
The nosemask included in this set is particularly impressive seeing as it comes in 80 skin colors.
You'd be hard-pressed to not find a matching swatch for your Sim's skintone!
5.

Male CC Set! by obscurus-sims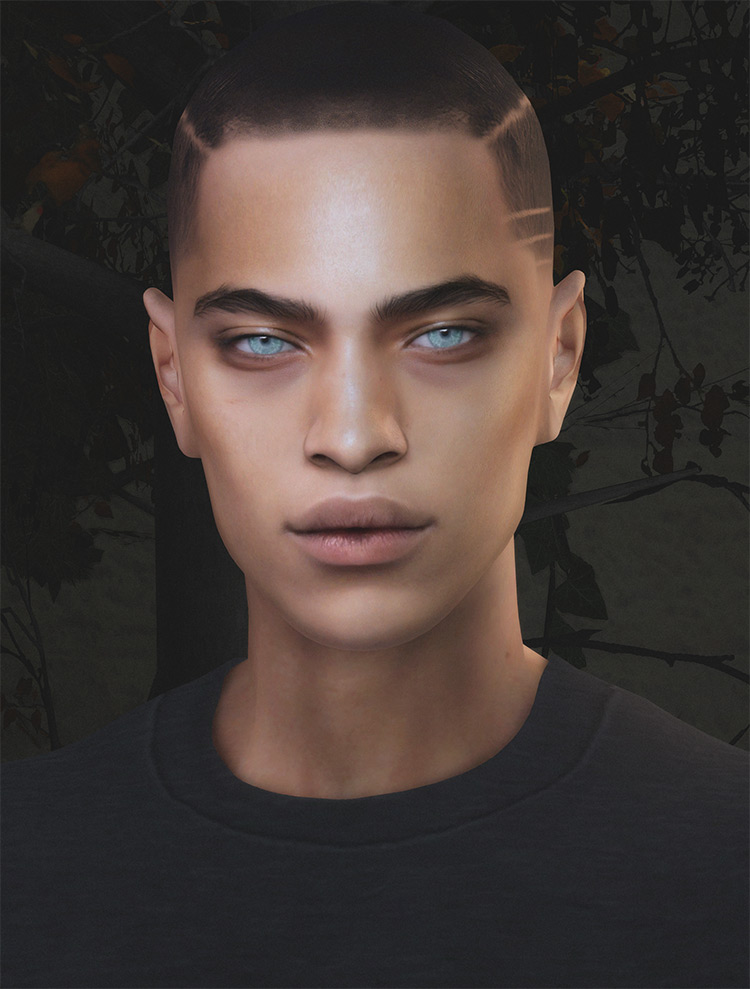 For Simmers who want their Male Sims to have a little more depth and texture to their look, obscurus-sims' Male CC Set offers a lot of detail options for eyes, lips, and cheeks.
It contains two options for eyebags, four variations of photoskinned lips, and one contour option with 18 swatches.
A definite must-have if you want to achieve a sharp chiseled Male Sim face.
Alpha Skin Blends/Overlays
6.

Sabina Skin by thisisthem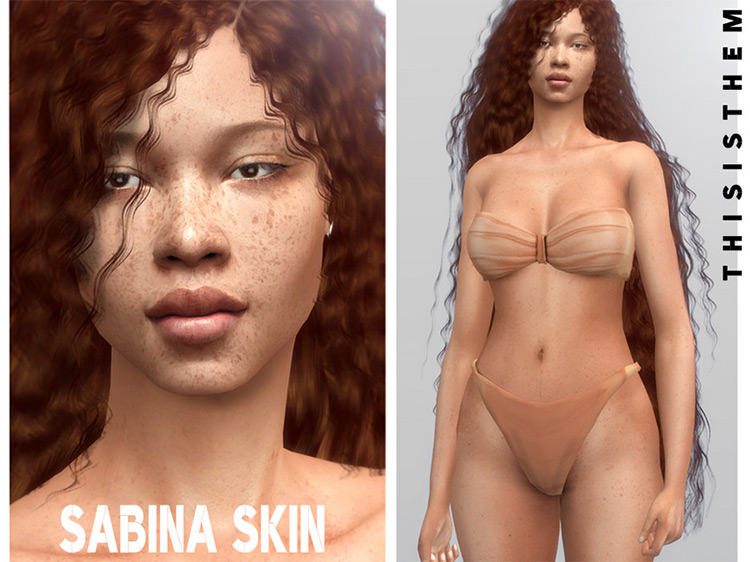 This beautiful custom piece by thisisthem is a non-default Skin option that you can access via the Skin Details category.
It works sort of like an overlay in the sense that you can still have your chosen default skin beneath it — it just won't blend or peek through like an overlay would.
The painted shadows plus cute smattering of freckles all over makes this skin a keeper!
7.

Crème Skin + Overlay Version by CrownSims
CrownSims' Crème Skin gives Male Sims a flawless, airbrushed look.
All the little skin details are softened and blurred to the point that it almost feels like a photo filter.
The color options it comes in makes it a great choice for Male Sims with deeper skintones.
If the blur's too intense, you can opt for the Overlay version that allows for 75% opacity.
8.

Male Skin II – Overlay by RemusSirion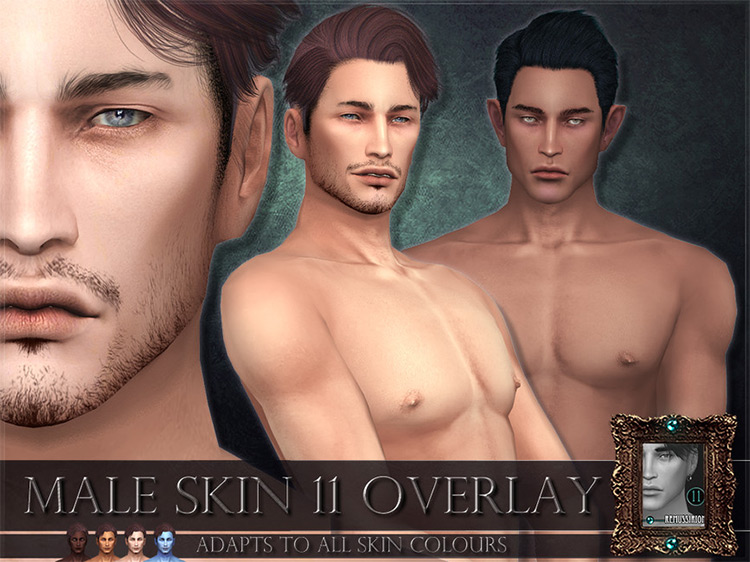 As beautifully airbrushed as CrownSims' Crème Skin is, I actually decided on RemusSirion's Male Skin II for my Male Sim.
It subtly defined his cheekbones, eyebags, and eye area in a way that gave my Sim a deeper, detailed look that I personally found appealing.
And as an overlay, it blended quite well with the skintone beneath it!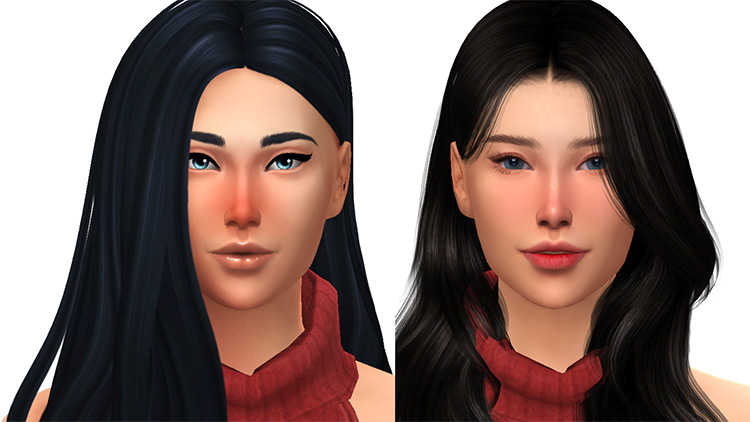 9.

Tender Skin Overlay (Female) by Pralinesims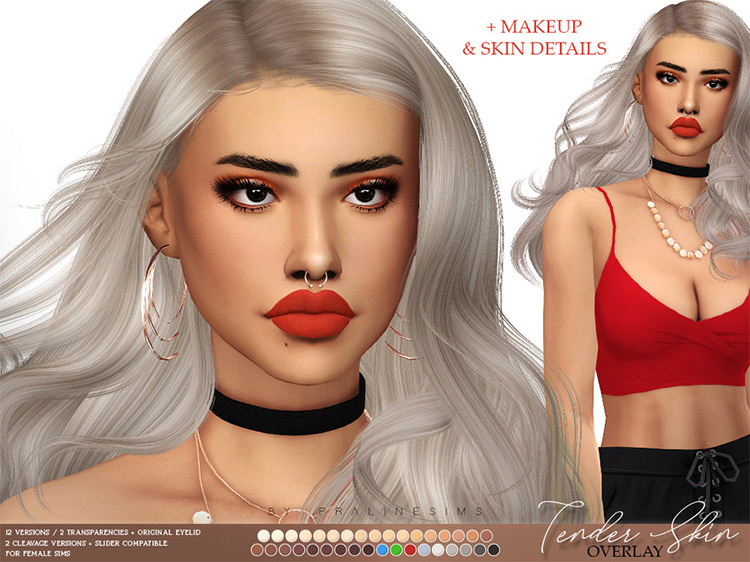 This is the skin I used for my Female Sim's Alpha CC transformation!
It's a lovely custom skin that's equal parts soft, silky, and textured.
It's a good blend of detailed with a faint photo filter effect. There's even a depth to it that isn't too much.
It also has different opacity options, which greatly improves its versatility.
10.

Overlay Elder Female Skin N1 by Valuka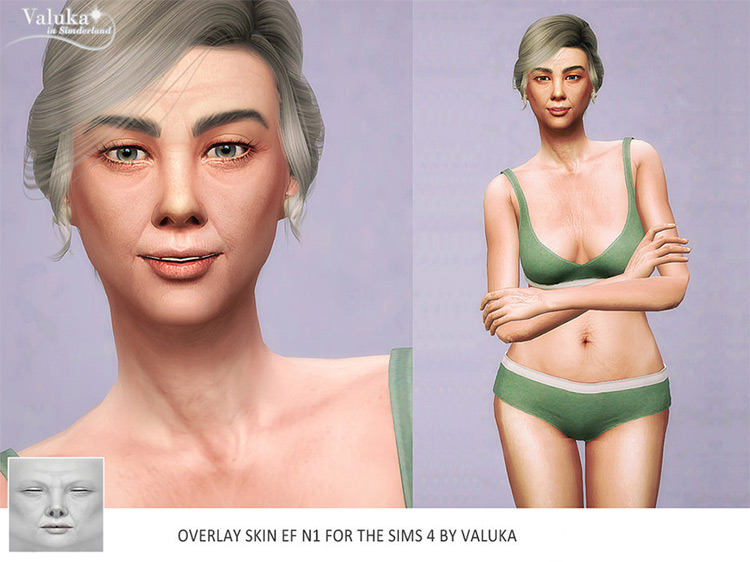 I love that someone thought to do this!
TS4's default Elder skin only has extreme wrinkling in the face, and the wrinkles look oddly uniform in a way that's a little off-putting.
It looks better with other custom overlays, sure. But how about a CC skin that's specifically designed to mimic realistic elderly skin?
This skin, without question, is a must-have.
11.

PS Alpha Skin Overlay by Pralinesims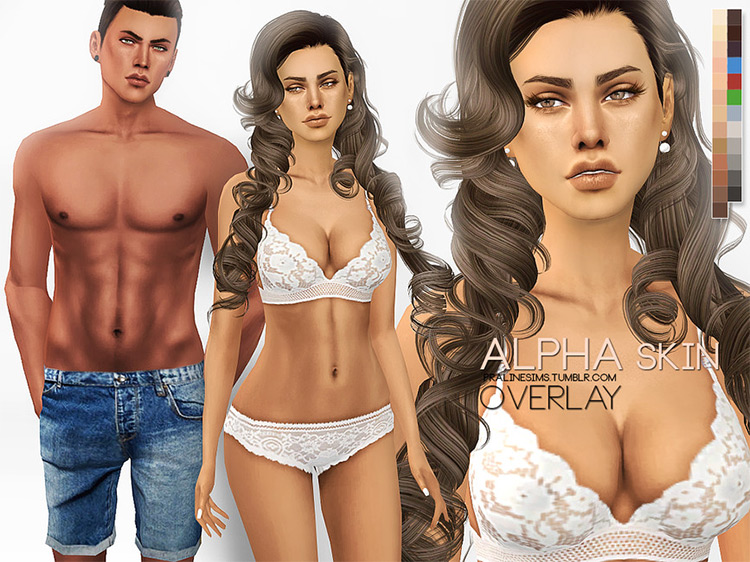 Pralinesims' PS Alpha Skin defines the dips, edges, and shadows of your Sim's skin, but not in an overly harsh way.
In fact, some shadows have a very blurred and hand-painted feel to them.
It adds a softness that works well with Alpha CC's photoskinned texture. And it's unisex, which is always a plus!
12.

Johanna Skin by sims3melancholic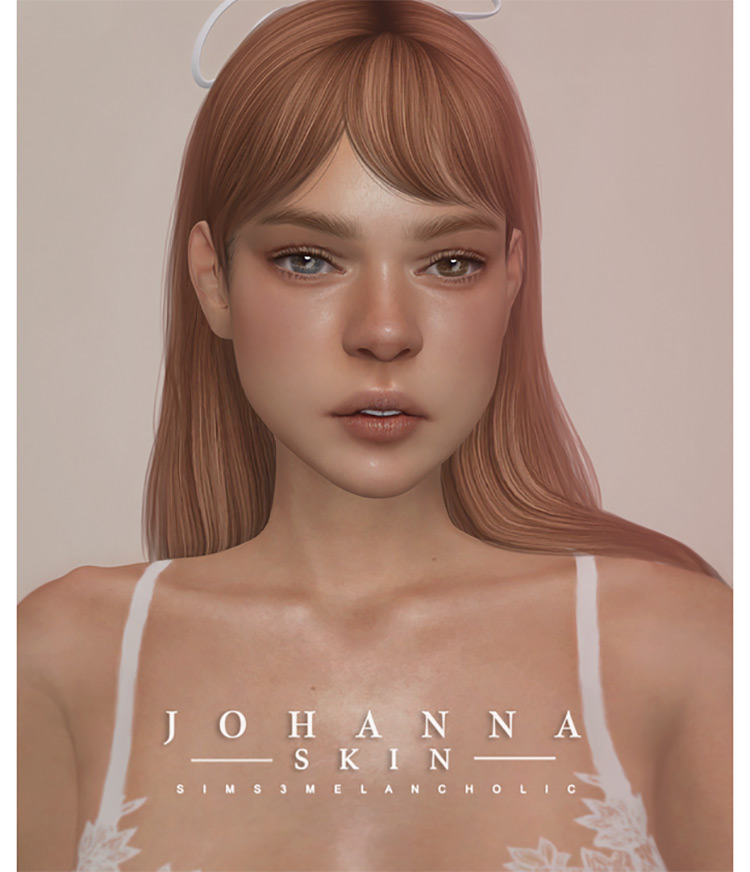 For skin that looks more painted than photoskinned, I highly recommend this Johanna skin.
If you've got Laptop Mode turned off, this skin subtly emphasizes little details that add dimension to your Sim's features.
It's only Female frames, and – bonus! – it's CAS-slider compatible!!
Alpha Skin Details
13.

Freckles #01 by LutessaSims
There are a lot – and I mean, a lot! – of custom freckles out there.
But these Freckles 01 by LutessaSims appeal to me the most.
I like how the smattering reaches all the way to the forehead — it's cute!
There are 6 opacity options, so you can easily control how subtle or visible the freckles are.
14.

Freckles N1 by SayaSims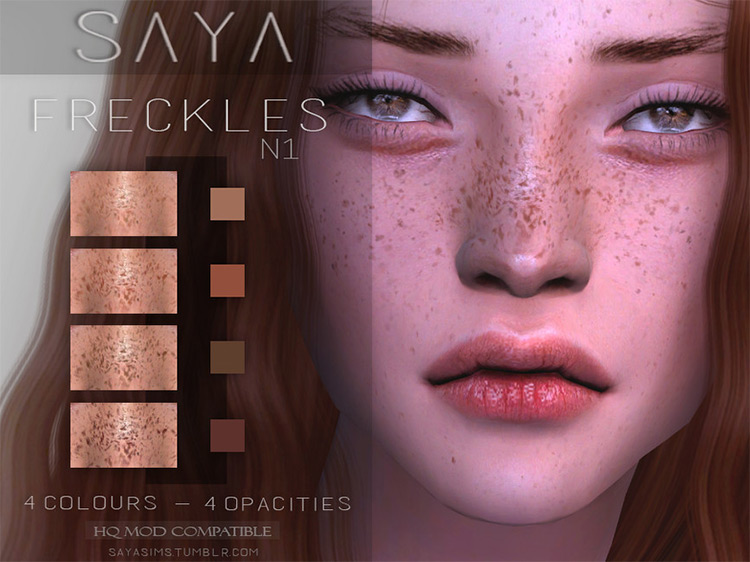 If you're looking for a more contained or concentrated smattering of freckles, SayaSims' Freckles N1 fall on just the inner cheek and nose bridge area.
I like the size and intensity of it, and its four color (plus opacity!) options make it easier to blend with a wider range of skin tones and textures.
Alpha Eyes CC
15.

Eyes: Ultimate Collection by Pralinesims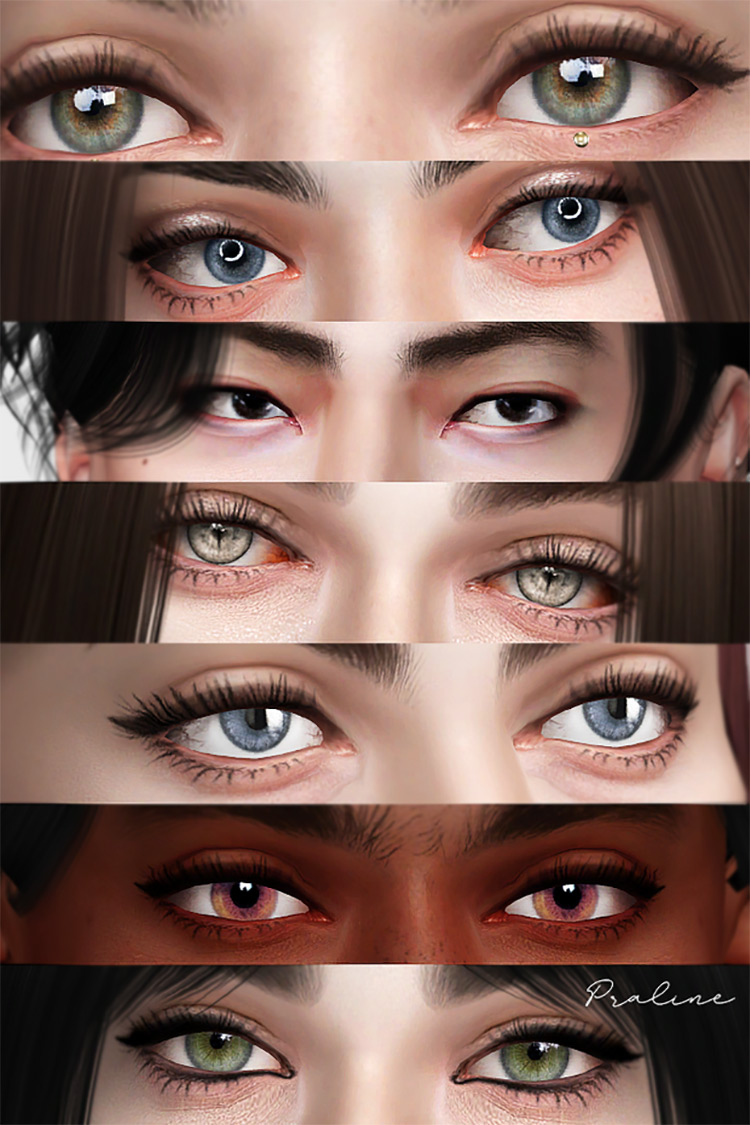 When they said "ultimate," Pralinesims was not kidding.
It's impossible to summarize exactly what you get in this pack, so I'll just say this: 232 files in total.
And that's just the different eye types and designs. It doesn't include the color or variation swatches for each eye.
To say "it's a lot" would be a gross understatement.
If you're starting out with custom Alpha CC eyes, I recommend you start here!
16.

Lenses 017 by LutessaSims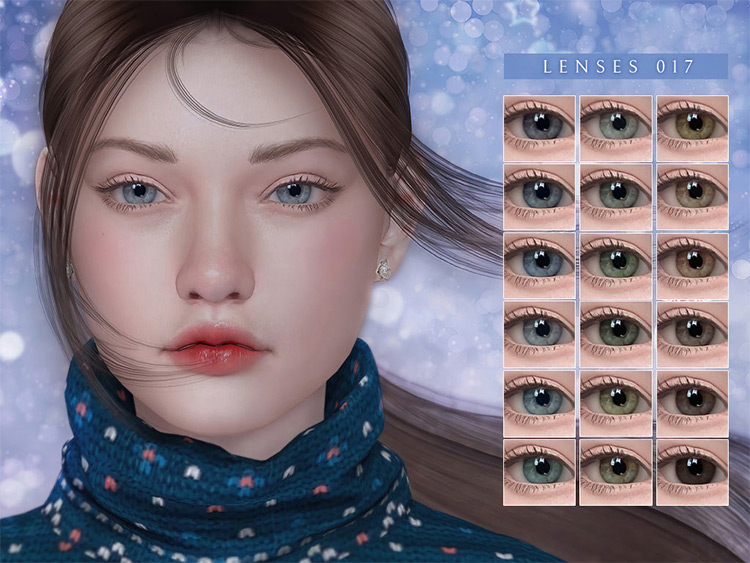 These eyes are my favorite for light, icy irises.
They have a very clear, glassy look to them that accentuates cooler toned eye colors. Paired with some thick custom lashes to really enhance the color. If your Sim has light blue, green, or hazel eyes, this would be my top recommendation.
17.

Selena Lenses by LutessaSims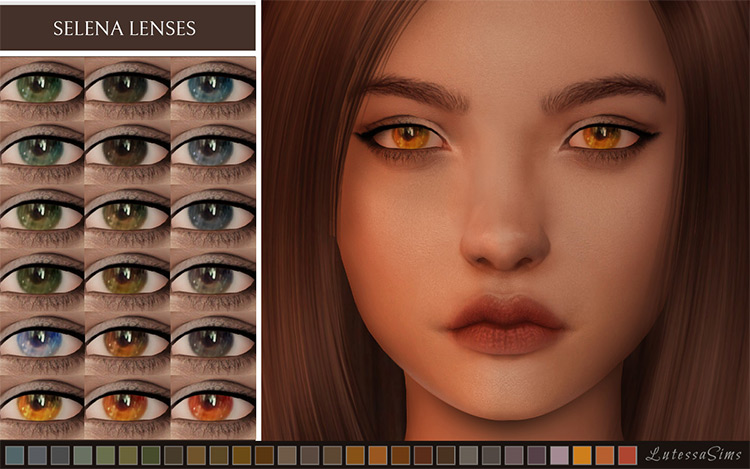 Whereas LutessaSims' Lenses 017 are great for icy, cool-toned eye colors, I highly recommend their Selena Lenses for warmer hues.
Think browns, hazels, dark blues, and deep greens.
They're also designed to look incredibly reflective, which I found appealing.
18.

Omega Eyes V2 by RemusSirion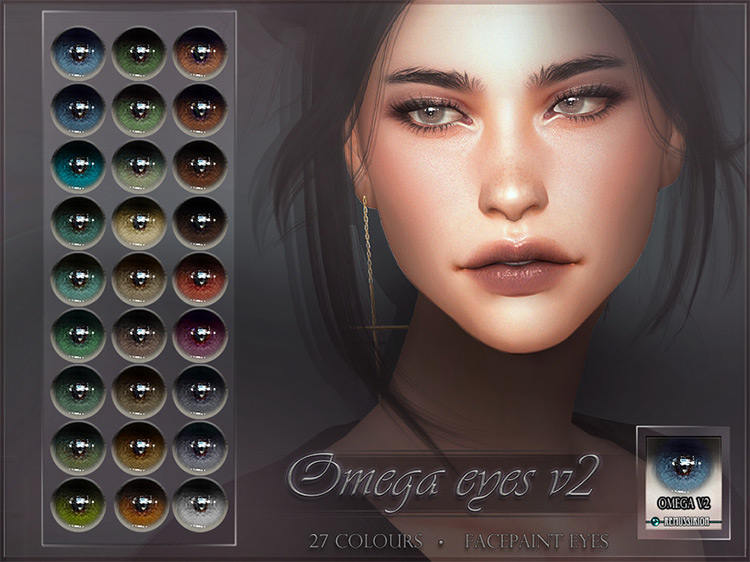 These are the eyes I finally landed on for my Male Sim's Alpha CC transformation.
There's a sheen to them that makes them look almost watery, but in a delicate, realistic way. The distinction between the iris and the sclera is also super smudged and blended, creating a softer look that I really like.
19.

Eyes G21 by Goppols Me
Goppols Me's custom Eyes G21 are sharp, stunning, and vivid.
They also have some of the most interesting colors that I've seen. Lavender, amber, stormy-green… there are even a couple swatches that look like they have slight heterochromia happening near the pupil!
Alpha Eyebrows CC
20.

Eyebrows G18 by Goppols Me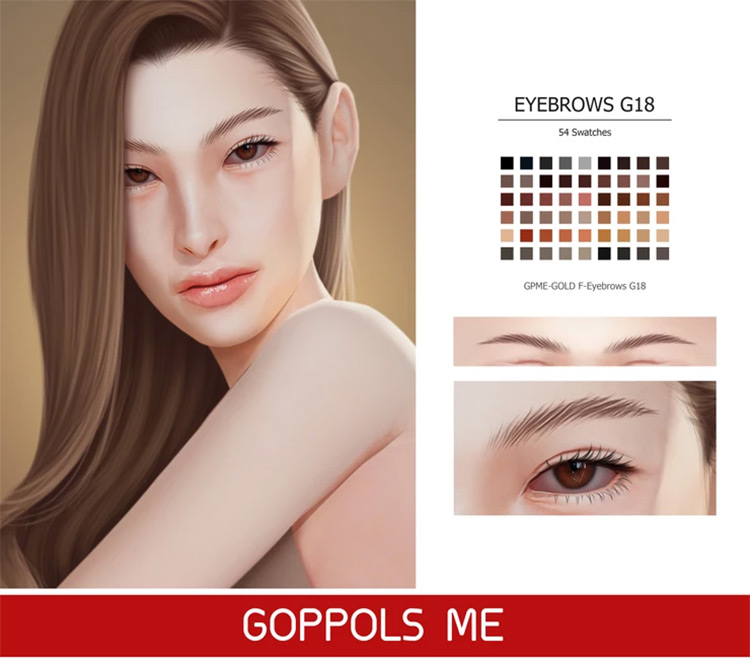 I do love me a soft brow.
Goppols Me's Eyebrows G18 have that straight, feathery look that makes me think of soap brows — just not as defined!
I used these brows for my Female Sim's Alpha CC conversion, and I think they translated pretty well to her features. You can still move, tilt, and adjust them in CAS as needed.
21.

BTS V: Eyebrows (n1) by poyopoyo
These custom eyebrows are a bit thicker and bushier than Goppols Me's Eyebrows G18, but they have a similar soft arch and feathery, imprecise feel to them that I really like.
They're also based off of 'V', a member of global pop group BTS, which does explain the thickness.
These are the ones I used for my Male Sim, and I think they worked well with the custom skin and eyelids mask that I used.
(If the download link on the creator's page doesn't work, try using this direct Simfileshare link!)
22.

Eyebrows: Ultimate Collection by Pralinesims
If you prefer cleaner, more defined eyebrows, then one of the many options in Pralinesims' set should suit your taste.
There are 160 Alpha CC eyebrows (plus 21 Maxis Match ones!) in this set, and they all have their own specific color swatches.
Not great for those who easily get hit with decision fatigue!
But for Simmers who are enamored with options, this is an absolute gem.
Alpha Eyelashes CC
23.

3D Lashes Version 2 by kijiko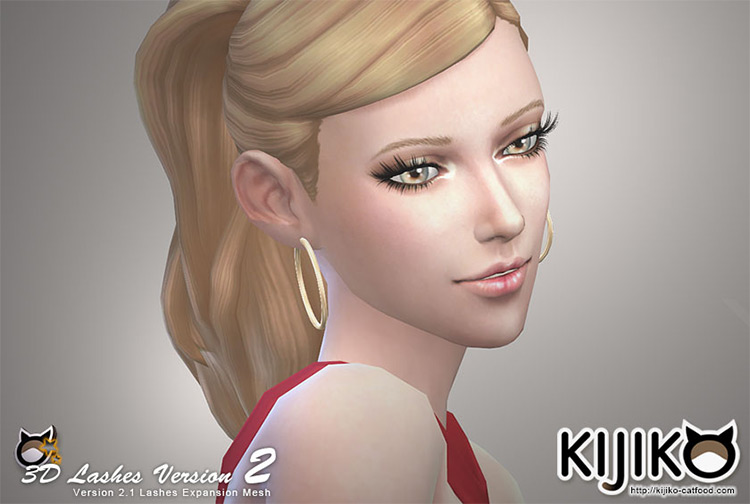 Trust me on this; 85% of "WCIF these lashes" posts for TS4 all lead to one creator; kijiko.
Their 3D lashes basically set the standard for custom Sims 4 eyelashes in both Maxis Match and Alpha CC textures.
Kijiko's 3D Lashes work for both genders, come in a variety of lengths and thicknesses, and can frame almost any eye shape like you wouldn't believe.
A lot of custom eyelashes also use these lashes as the mesh, which is pretty telling of how iconic they are.
24.

S-Club TS4 3D Eyelashes I M V1 by S-Club
I used these eyelashes for my Male Sim (either of the B1-2 Mid-Length swatches, methinks) because longer lower lashes suited his eyes better.
If that effect appeals to you, these lashes are an excellent choice.
The subtle variety in length and separation gives you a surprising number of options to play around with!
25.

Eyelash V3 by MMSIMS
For Simmers who want a more subtle, natural look to their Sims' lashes, MMSIMS' Eyelash V3 is one of the best I've found for achieving that effect.
Options range between long, thick, luscious, feathery, straight, and defined—all of which suit a variety of eye shapes.
I used them for my Female Sim's Alpha CC version because kijiko's lashes – while stunning – were quite long. These lashes have a more natural look to them that I personally prefer.
Alpha Nose Masks
26.

Nose Mask II by RemusSirion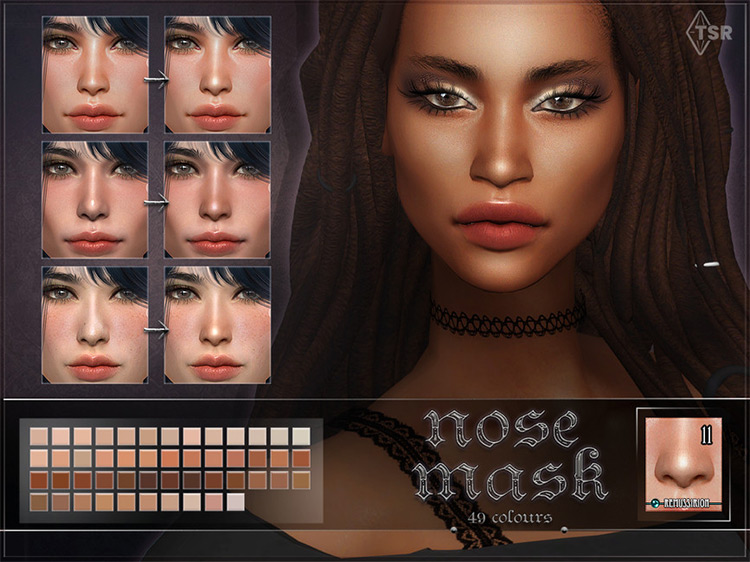 Nose masks are a great way to modify how your Sim's nose blends with custom skins and makeup sets.
They provide an overlay that lets you control your Sim's nose definition without having to alter the length and shape using CAS sliders.
RemusSirion's Nose Mask II lets you play around with the shadows and highlights around your Sim's nose area — without risking your Sim's actual appearance!
27.

Nose Mask 04 Update for Sim Creators by RemusSirion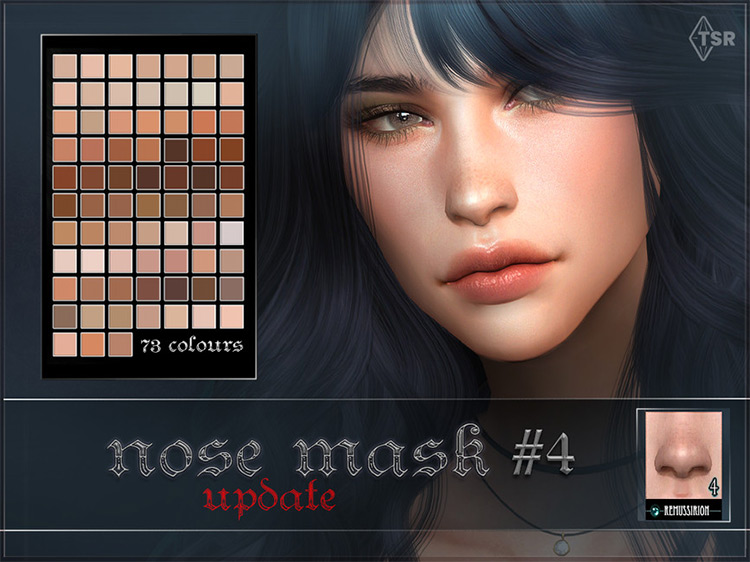 This nose mask (still be RemusSirion) focuses more on the nose tip and nostril definition rather than the nose bridge.
It's ideal for giving your Sim a button nose or emphasizing their existing one.
Alpha Lips CC
28.

Natural Lips CC17 + CC18 by Goppols Me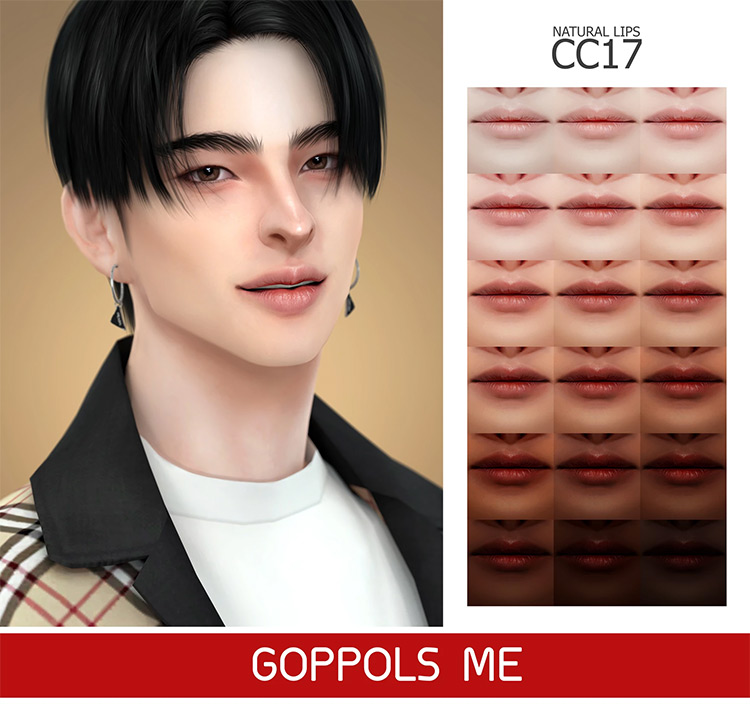 I couldn't really decide between these two custom lip sets.
But since they're part of the same series – and they're both for Male Sim frames – I decided to lump them together.
Both the CC17 and CC18 lips are great for achieving a natural, softened look. The effect is kind of like lip balm applied to dry-ish lips. There's definite texture, but there's also a visible shine — especially with the CC18 lips.
29.

Summer Equinox by northern siberia winds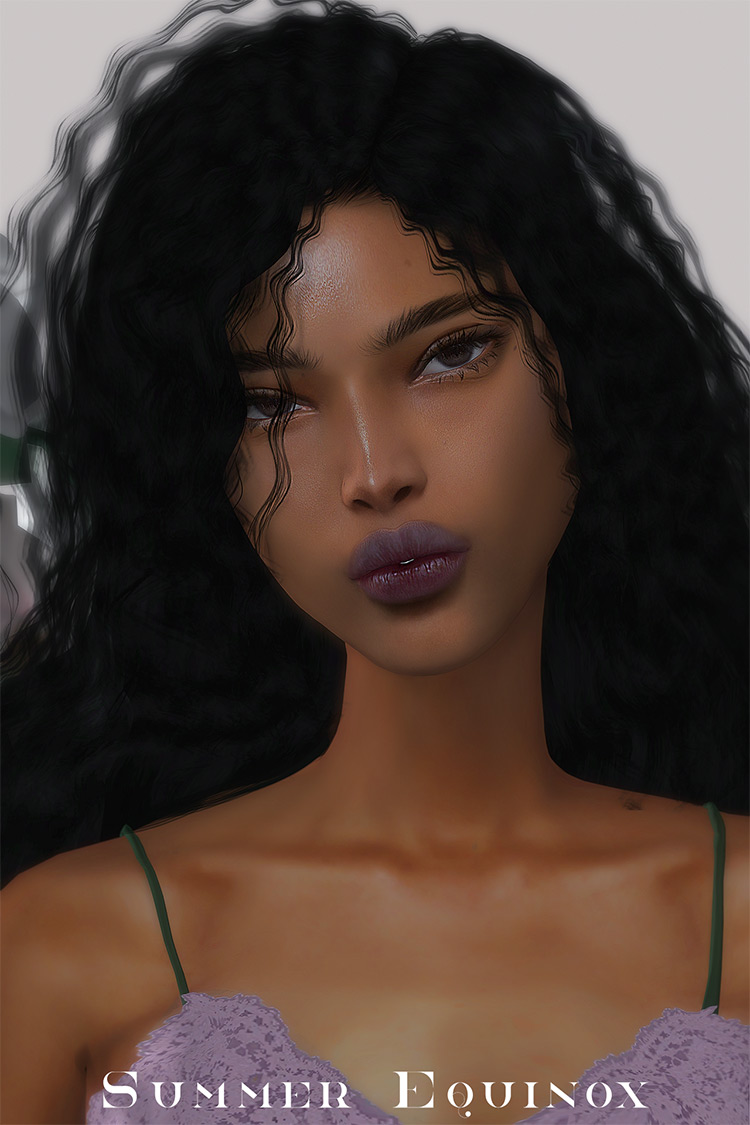 This pack contains three custom lip masks and nine lip presets.
The overlays are named Poplar Fluff, Tenderness, and Withered Rose, respectively.
And they are exactly as their name describes.
N3 has a very pouty, plump, fluffy look to it, N4 has a softer, smoother appeal, and withered rose is perhaps the poutiest of the three.
30.

Lips CC05 by Goppols Me
For Simmers who prefer their lips fully lined and glossy as heck, Goppols Me's Lips CC05 set may be just what you need.
They're thick, luscious, and beautifully shaped.
They can also be layered with custom lip presets and lip masks if you want a more unique, specific look!
Alpha Makeup CC
31.

Makeup Set CC36 by Goppols Me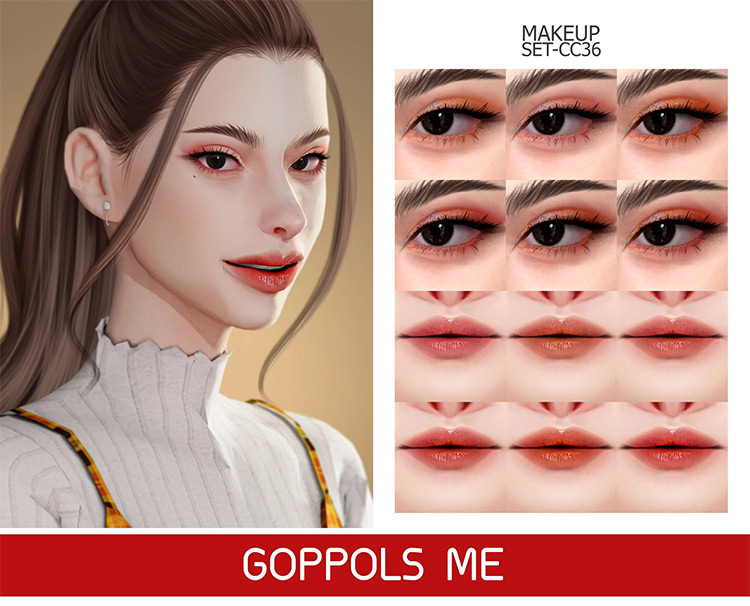 I will admit, I'm pretty partial to Goppols Me's makeup sets than I am to other Alpha CC creators.
Their eyeshadows, blushes, and lipsticks just have that nice well-blended softness to them that is characteristic of East Asian makeup.
Take this makeup set; subtle, shimmery shades of rose, gold, and champagne for eyeshadow topped with faded, bitten swatches of dark rose and peach. The preview photos alone are stunning!
32.

Crystal Clear Lipgloss Pack N01 by Pralinesims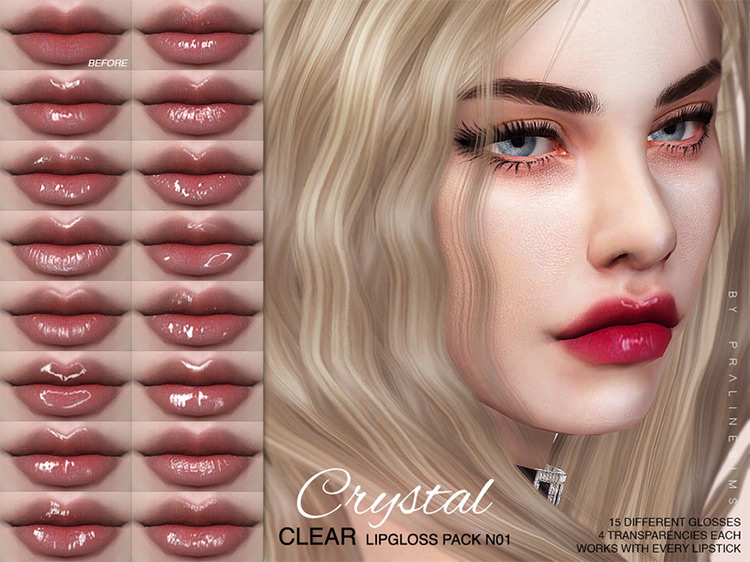 Pralinesims is an insanely talented CC creator that always gives us so. many. options.
This custom lipgloss pack contains 60 glosses to choose from.
Think about that in an actual, real-life setting: that's sixty tubes of lip gloss. Where would you even put them all?!
If you prefer glossy lips over matte or bitten, I am confident you'll find a style you like in this pack!
33.

Makeup Set CC30 by Goppols Me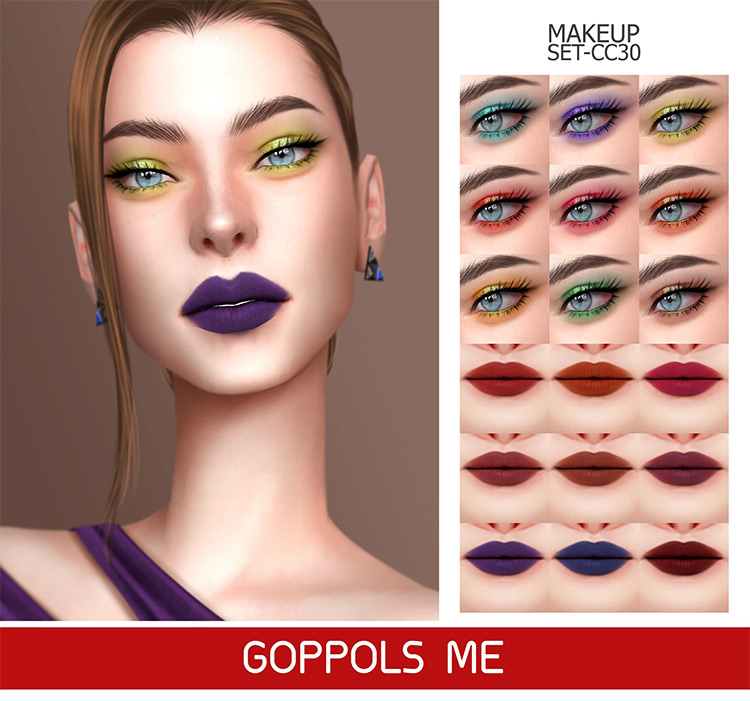 If you prefer bolder, more colorful makeup looks, this set has enough colors and vibrant hues to be a solid go-to palette.
Green, yellow, purple, and aqua? Your Sim can rock a different color every day of the week if they so wish.
Plus, bold colors always look so good on a matte lip.
34.

Indra Eyeshadow N70 by Pralinesims
Smokey eyes and falsies — name a more iconic duo for a night out!
I've listed a lot of tame, wearable, everyday makeup options so far. But when your Sim wants to party, you'll need stronger, bolder shadows in your arsenal.
Pralinesims' Indra Eyeshadow N70 is a basic, colorfully smudged-out smokey eye that you can build a more complex, full-coverage makeup look around.
35.

Lipstick N10 by Anonimux Simmer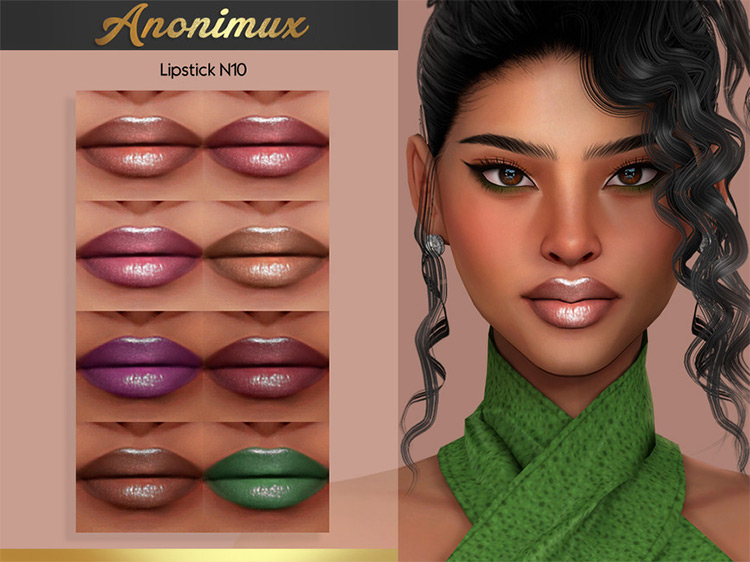 This lipstick, for me, is a good compromise between subtly colored and super glossy.
It's not as shiny as Pralinesims' lipglosses, but it's also not as soft and 'barely there' as Goppols Me's lipsticks.
It has the right blend of pigment and shine. I also love how all eight shades in this pack work wonderfully with deeper, darker skintones.
36.

Lipstick & Blush by LutessaSims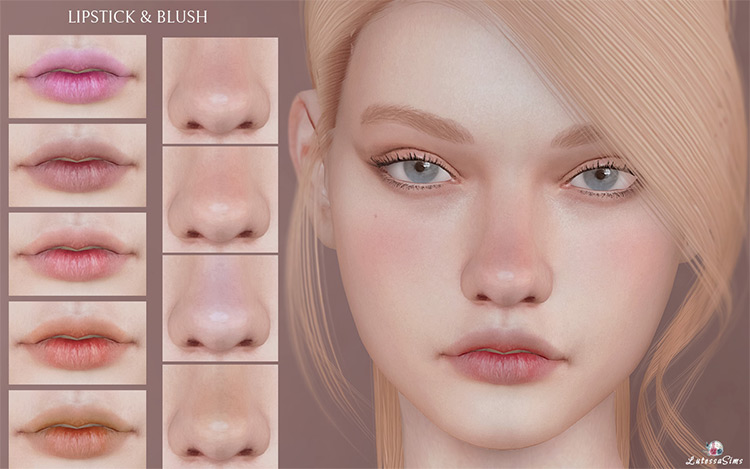 This lipstick and blush set caters to a very specific aesthetic.
On the off chance that you find the subtle, soft, barely-there makeup application appealing, I can highly recommend this pack. The blush is a bit too light for me, but the lips are a personal favorite.
I like that they add a hint of teeth to give your Sim a more relaxed look. In fact, I used the lipstick (third swatch, if I recall correctly) for my Female Sim!
37.

Norah Eyeliner + Lashes N81 by Pralinesims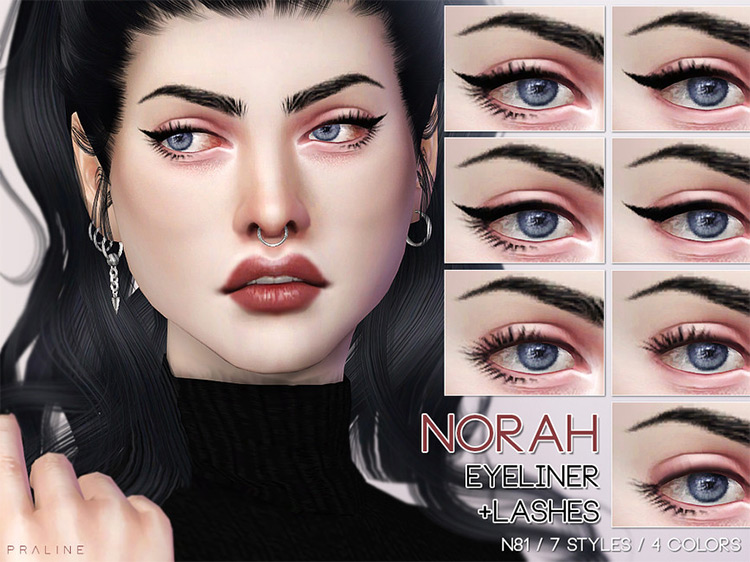 You may be wondering where the eyeliner is.
I've gotta admit, I'm personally biased towards this one by Pralinesims.
I always talk about how I prefer Maxis Match textures, but this Norah Eyeliner is my actual go-to, texture be damned. It's sharp, it's clean, and it gives my Sims the best wings like nothing else can.
38.

Igari Blush by Screaming Mustard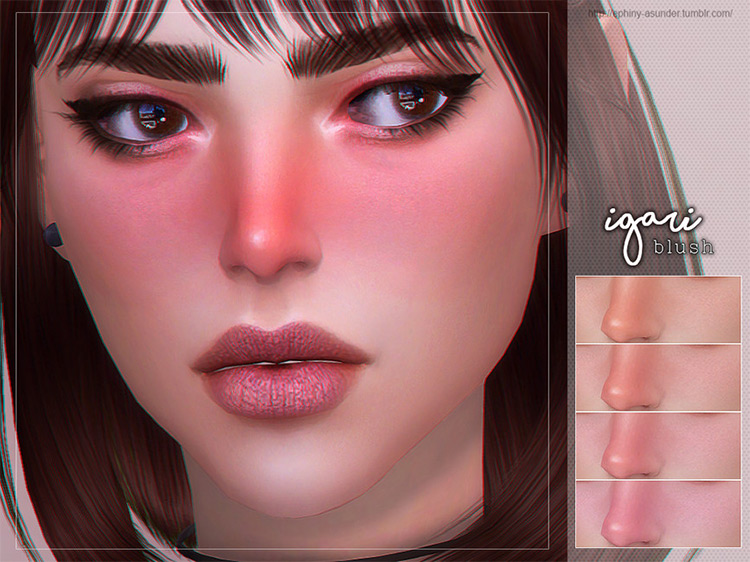 This Igari blush by Screaming Mustard isn't as light and opaque as LutessaSims', but it's still pretty subtle.
If you're looking for darker, more vibrant blushes, this isn't the CC for that. But if you're a fan of the "hangover" makeup look (like I am), this blush is literally made to mimic that effect.
Alpha Male Hair & Beard CC
39.

Beard: Ultimate Collection by Pralinesims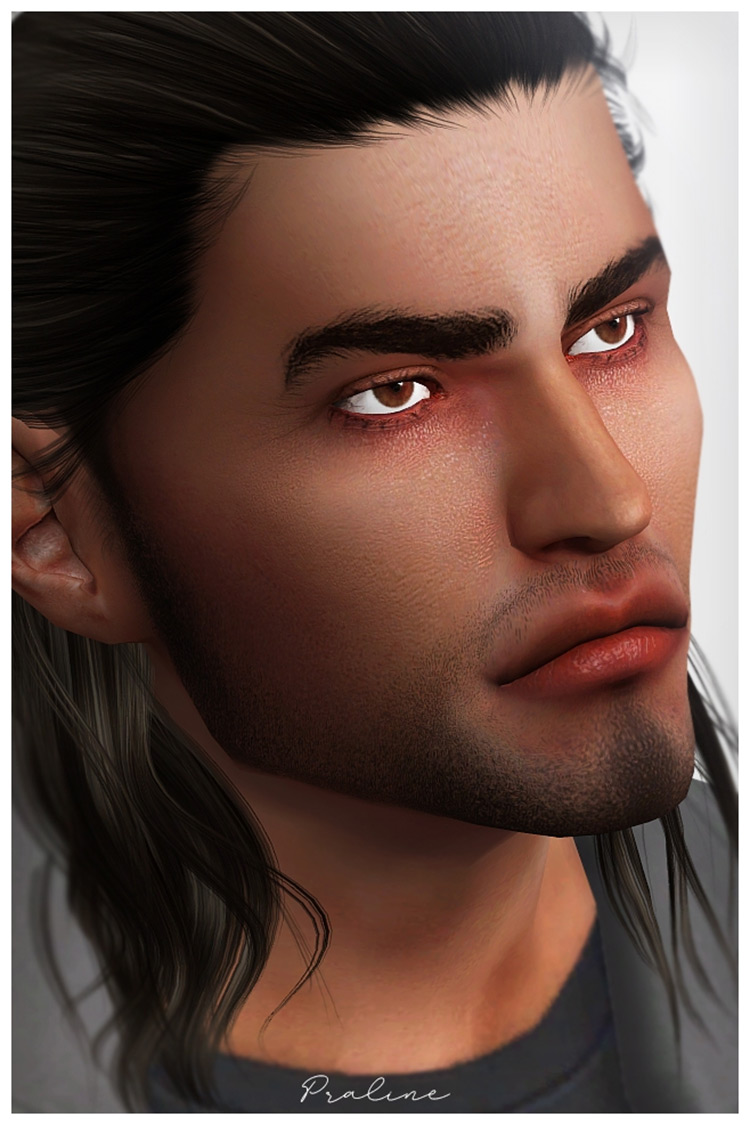 I don't use facial hair for my Sims at all – all my Male Sims are cleanshaven – so I didn't get a chance to test these custom beards out.
But based on the comments (and Pralinesims just being an amazing creator in general) I'd say this is a solid pack if you need more facial hair options.
40.

Ismael Hair by Anto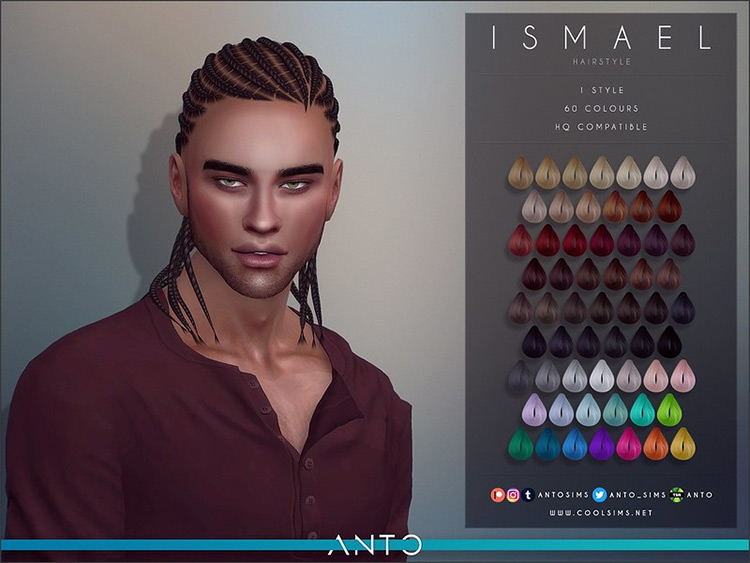 Cornrows will always look effortlessly cool.
This Anto hairstyle just amps up the coolness factor by ten.
It comes in 60 colors and looks fantastic even with Laptop Mode on!
41.

Greezy Dreads by EbonixSims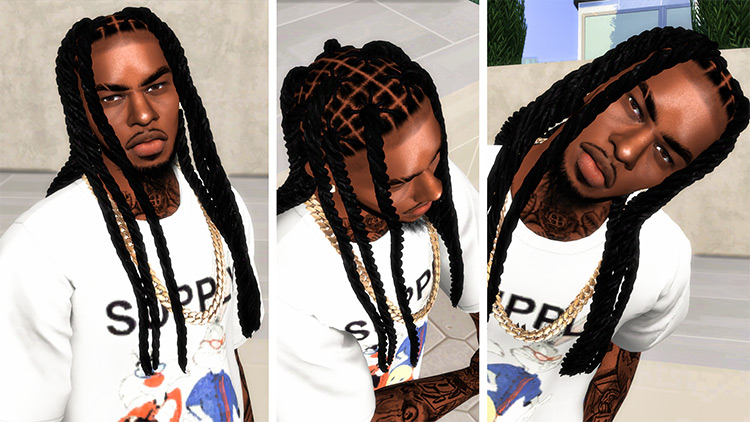 These are gorgeous box-style dreads for chill, no-nonsense Sims that nobody messes with.
The visual appeal of this 'do – both in CAS and in-game – is pretty high, so try not to go overboard and give it to all your Sims.
42.

Hair -30- Low Perm by MoooD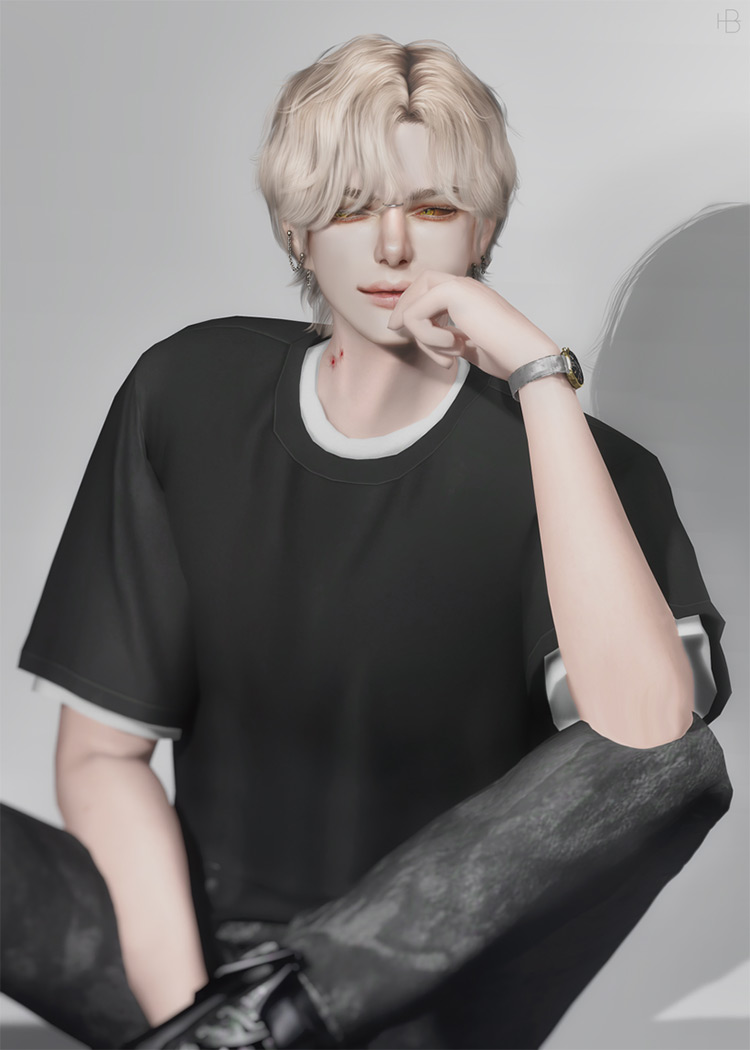 This hair is fluffy, wavy, and artfully messy. It looks like a cloud!
I used the NonHQ version of the hair for my Male Sim's Alpha CC transformation, and I'm happy to report that it looked fine both in CAS and in-game. But if you're downloading it solely to take photos, I recommend sticking to the original HQ .package file.
43.

Hair -32- Still Cut by MoooD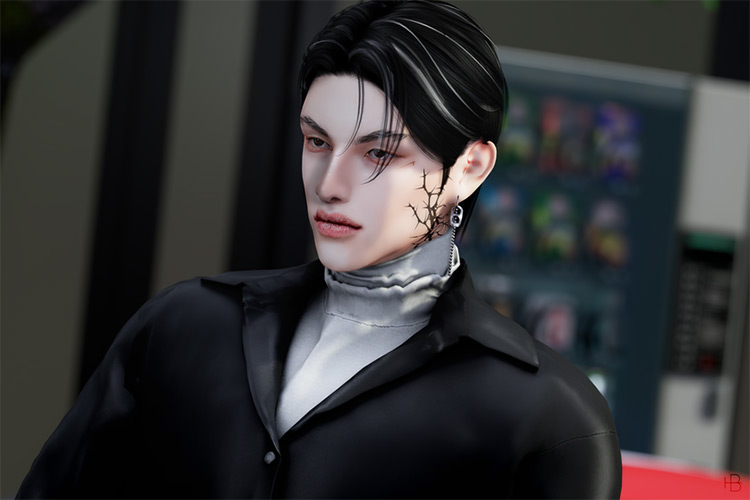 Short, slicked back, immaculately styled — this hair feels like it belongs on the head of some young upstart CEO living in the fast lane.
It's the hairstyle of someone so collected and so precise, you know those stray bangs were pulled out on purpose.
44.

Men's Short Hair (Dylan) by S-Club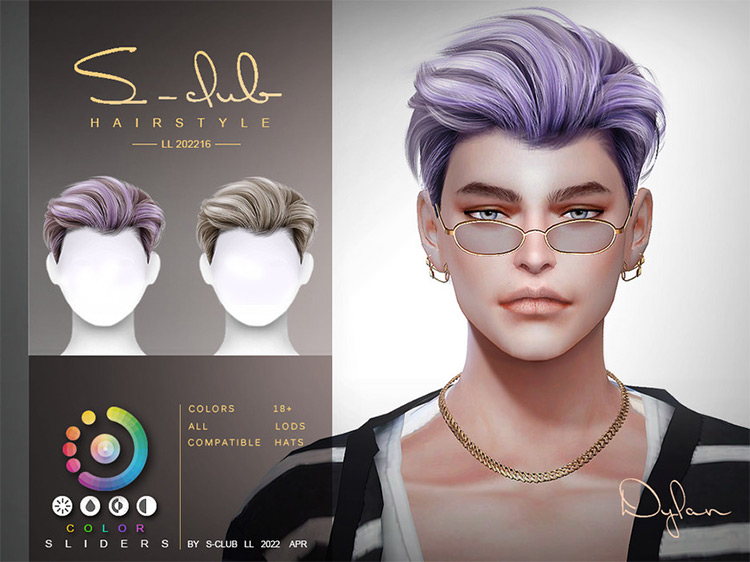 As a big fan of loose, fluffy hairstyles, this short coif by S-Club feels like something I could comfortably reuse on different Sims.
It's casual but not sloppy, styled but not strict, and it looks like it'd work with a number of different face shapes.
45.

Wings-TZ0628 Hair by wingssims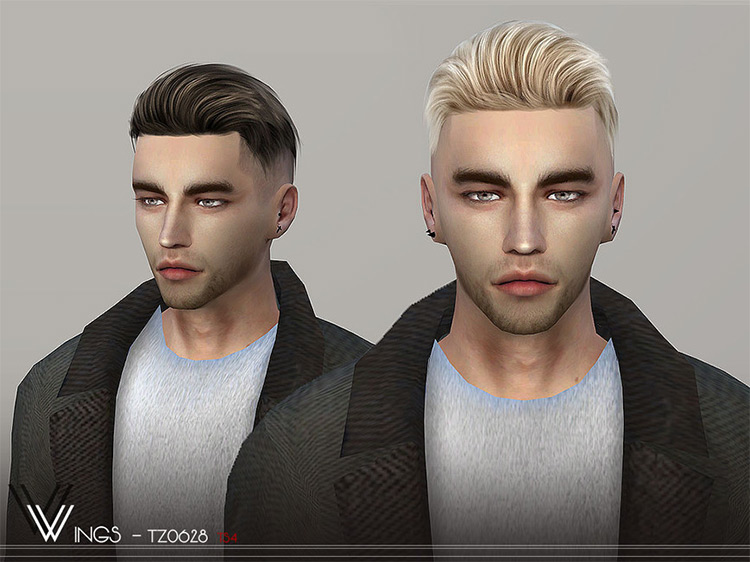 People who get fades or undercuts have my respect — I hear the maintenance and constant touch-ups can get pretty tiring.
Nonetheless, if your Sim is up to the task, I like this style by wingssims. It's neat, comes in 20 colors, and is hat-compatible.
Alpha Female Hair & Hairline CC
46.

Hairline G7 by Goppols Me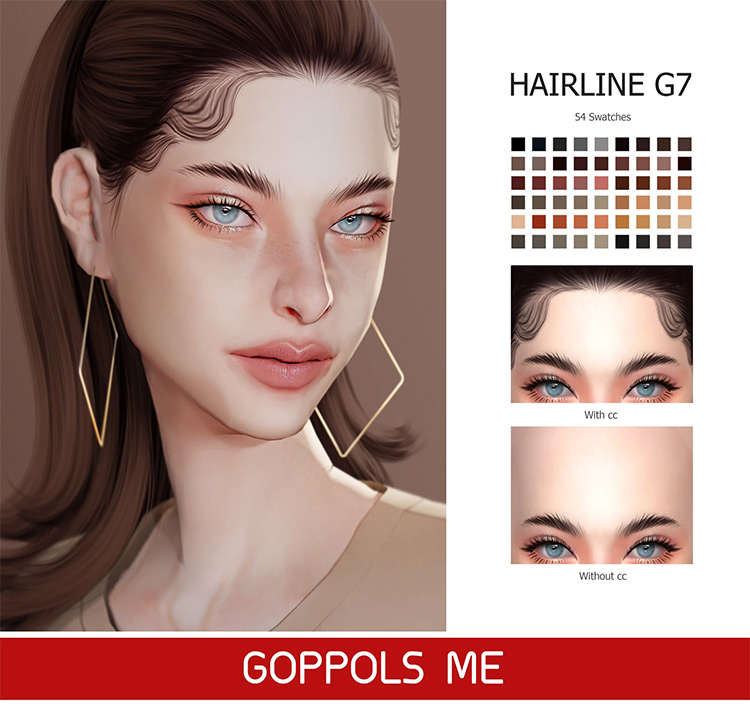 Add some texture to any of your Sims' hairstyles (within reason!) with Goppols Me Hairline G7.
These cute wavy baby hairs neatly styled around the upper temples create a more youthful look.
They work best when paired with pulled back or brushed up 'dos.
47.

Wings-ER0115-Fluffy Long Curly Hair by wingssims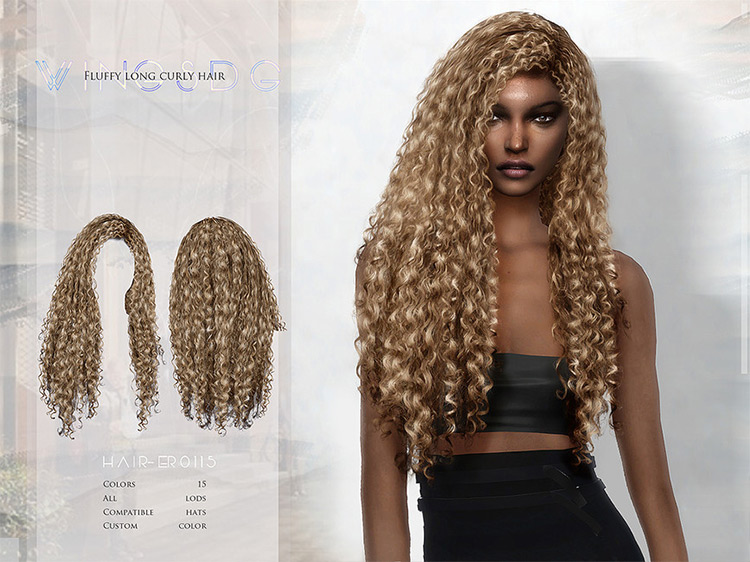 This hair isn't just long, fluffy, and curly — it's gorgeous.
Seriously, look at that texture! I think the side part works really well with the volume and length of the hair. It gives it an asymmetrical look that makes the silhouette look far more interesting.
48.

Short Wavy Hair (Lisa) by S-Club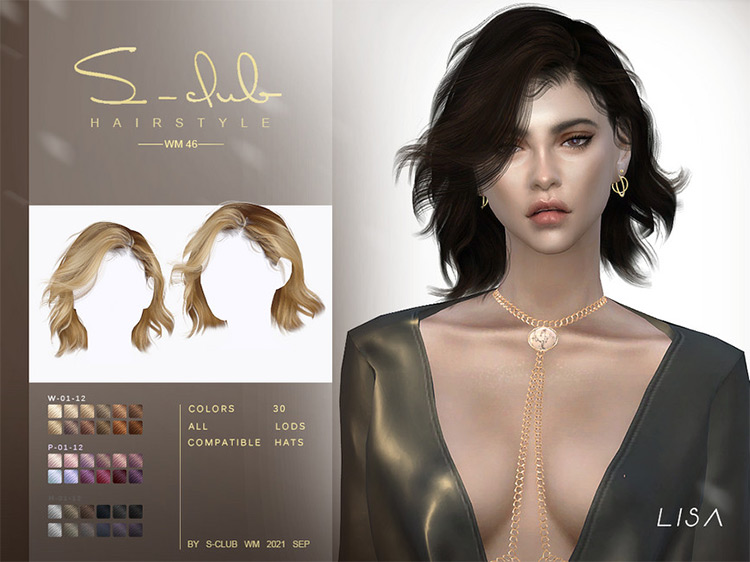 I love cuts like this!
I think short, tousled styles with a lot of volume and a lot of messy, stray hairs framing the face are incredibly attractive.
S-Club's Lisa hair is a strong example of a 'do that effortlessly hot Sims can pull off.
49.

Quilla Side Halo Braid by EbonixSims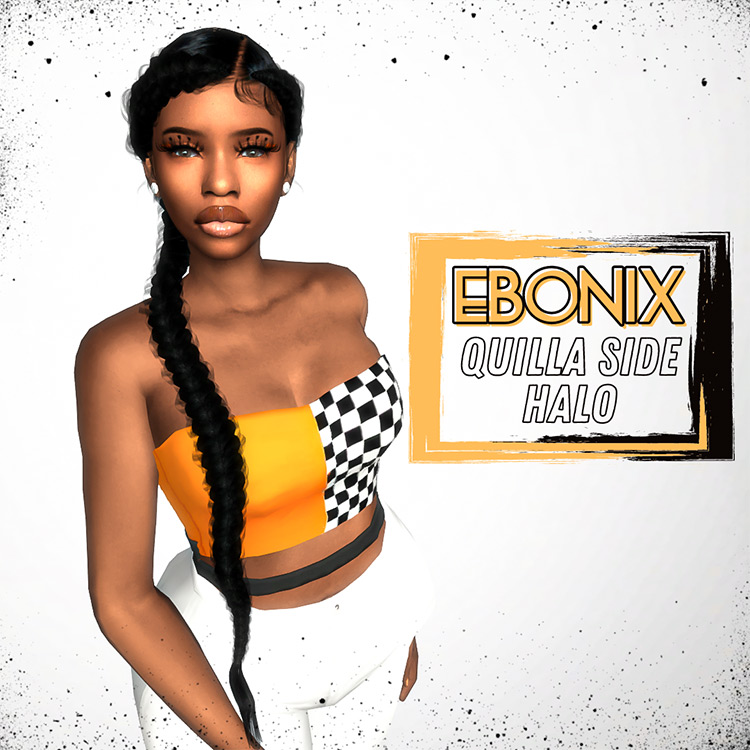 EbonixSims releases a lot of great CC for Sims of color.
This Quilla Side Halo Braid is a stunning example of their work.
The braid is long, oddly fluffy (due to the stray hair poking out), and drapes casually over your Sim's shoulder. The side part plus slightly messy edges just add to the stunning intricacies of this style.
50.

Curly Long Hairstyle 2022LL09 (Krystal) by S-Club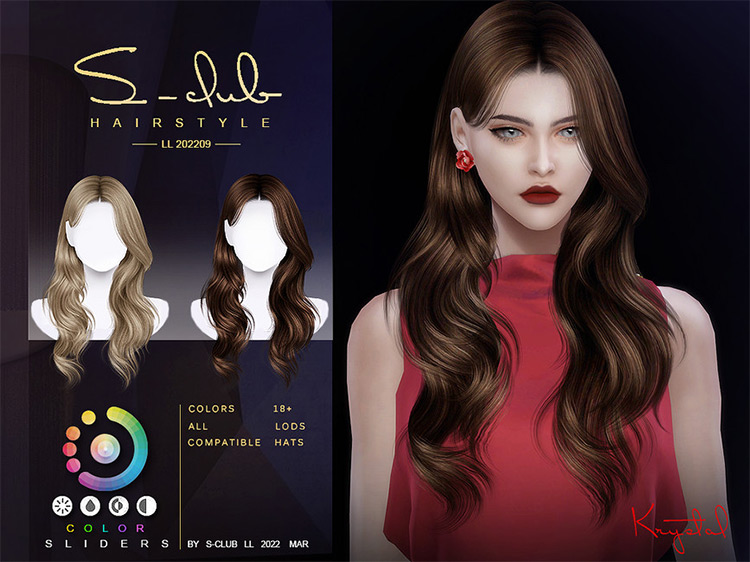 OK, I really love this hair.
This is one of my two personal favorites in the Female Hair category.
I've always preferred loose waves and long hair, which is why S-Club's Krystal checked literally all my boxes. It only comes in 18 custom colors so the options might feel a bit limited – but I promise, every swatch is stunning.
Browse:
Lists
The Sims 4
Video Games