Sims 4 Naruto CC & Mods: The Ultimate List
This post may contain affiliate links. If you buy something we may get a small commission at no extra cost to you. (Learn more).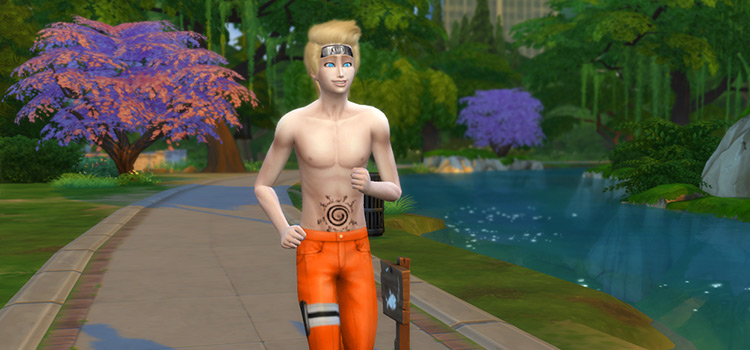 The Sims and Naruto might have almost nothing in common. Yet I couldn't help but wonder if there were any good Naruto mods to download for a fresh Sims character.
My search had me spiraling through Blogspot, Tumblr, and The Sims Resource, encountering dozens of Naruto outfits and CC along the way.
As you can imagine, I'm very pleased with what I found. What surprised me the most, however, was the fact that none of the content that I listed here feels low-quality.
All of this CC really hits home with that Naruto vibe. And I love it.
Most anime mods for TS4 tend to be all over the place. But if you're a hardcore Naruto fan looking for some Sims crossover fun, well enjoy!
15.

Naruto Eyes, Whiskers, and Seal
I'm starting off the list with a basic mod that adds a few "make-up" Naruto pieces of content.
So you can have his eyes in the game, as well as the cursed seal and his whiskers.
Note: the Kyubi is not included with the cursed mark here. But it might be elsewhere online!
14.

Itachi & Kisame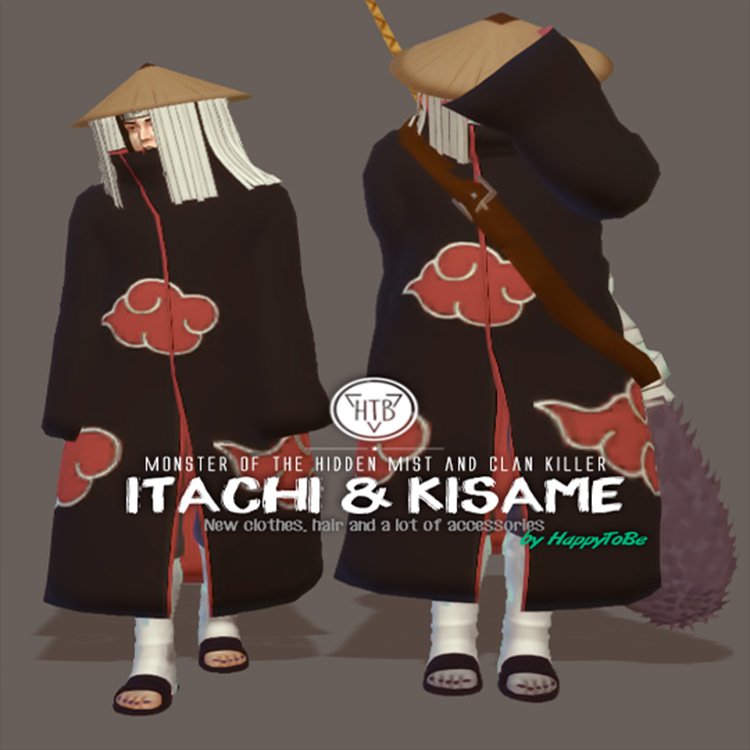 I remember seeing the name of this mod pop up on my Pinterest, and dismissing it at first.
"Surely, there's no way that someone actually made Kisame in this game, let alone his Samehada". Boy, was I wrong.
The creator of this mod managed to perfectly introduce both Itachi and Kisame into the game. And it seems like it took this CC maker a lot of work. But it definitely paid off!
13.

Naruto Toys Pack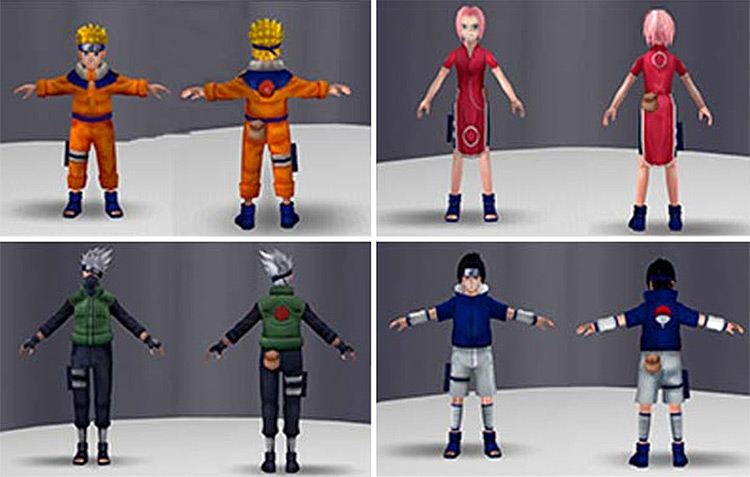 Maybe not the most elaborate CC out there, but this one actually fits The Sims to perfection.
It adds toy figures of Naruto characters so your Sim child can play with Kakashi and Naruto, and create their own adventures using their imagination. How fun!
12.

Naruto Uzumaki's Clothes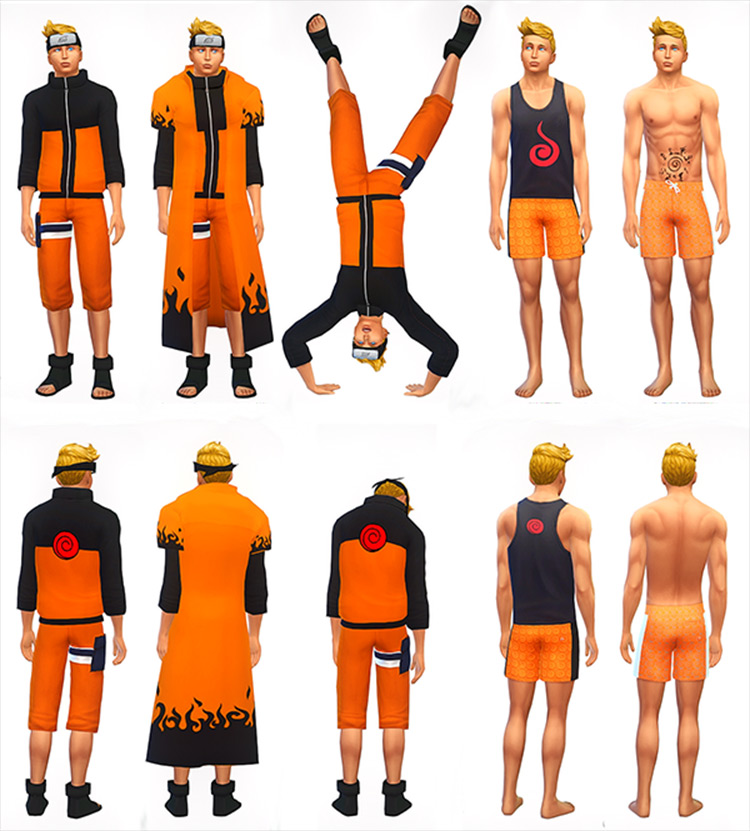 Lets add the clothes that Naruto wore as a child (for children) into the Sims. Sounds fun, right?
Then let's add the clothes he wore as a grown-up in Shippuden (for adults). Now we're talking.
All meshes and clothes are fantastically well done, and they'll make your Sim feel as close to a Naruto character as physically possible.
11.

Nara Shikamaru Clothes and Hair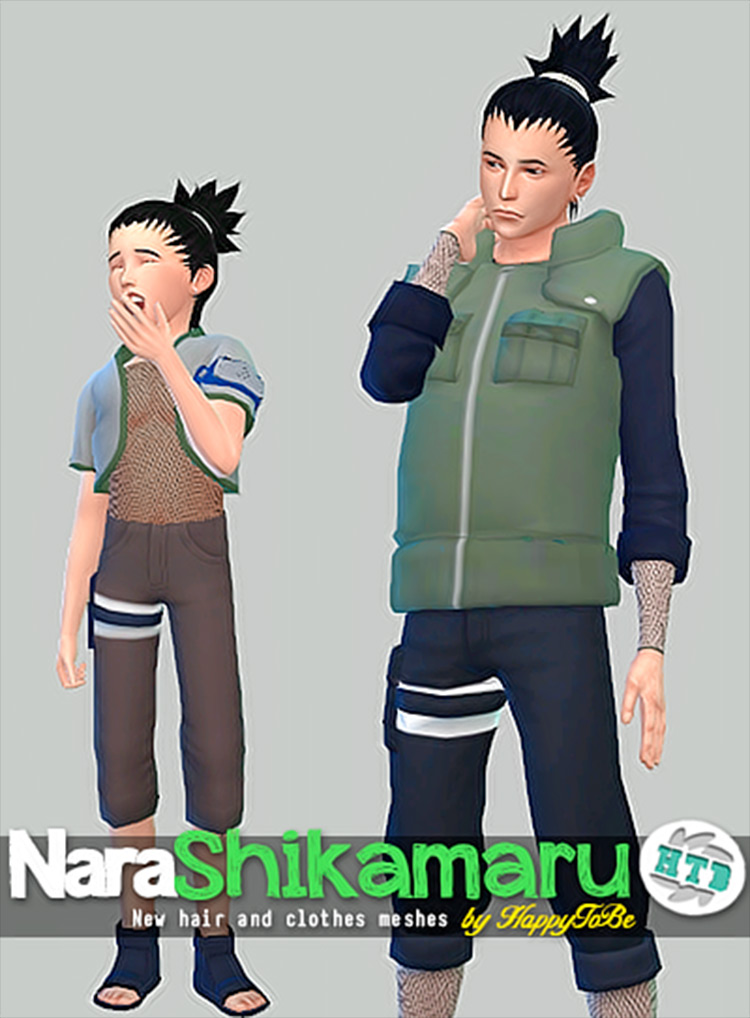 I know that not many people dug too much into the Shikamaru character until Shippuden.
But man did I love him during the early days of the series, back when Ultimate Ninja Storm came out.
This mod gets a spot on my list for two reasons: first is that I absolutely love Shikamaru, and second? The mod is actually really well done.
The hair is spot-on and the clothes look fantastic.
One truly has the chance to dress like Shikamaru himself, and enjoy every second of it.
10.

Five Naruto Outfits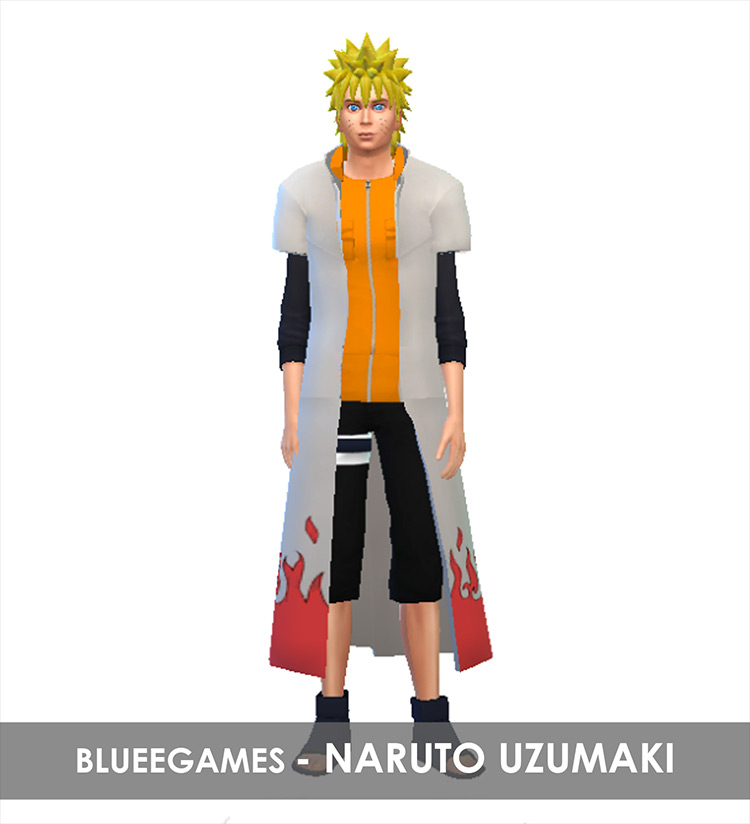 If you want to make a Naruto-looking sim, or if you want your sim to dress like the man himself, you're going to want to download this mod.
It comes with 5 different outfits that Naruto wears in the series, with each outfit representing a different type of in-game seasonal outfit to suit your Sim regardless of the weather.
Dress like Naruto when you go to bed. Or do it when you leave for work – this mod allows you to become a walking image of everyone's favorite Konoha shinobi.
9.

Naruto Ninja Career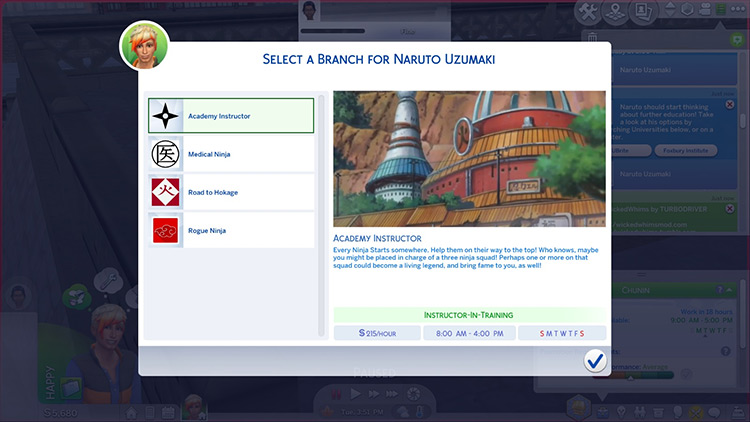 Probably the most complete Naruto career mod out there. But it doesn't get a better spot on this list because I'm a sucker for ANBU, and I found another mod about it that I like more than this one (keep reading to find it!)
In any case, this Naruto Ninja Career mod allows you to choose any career path that a shinobi would follow in the world of Naruto.
You'll be able to become an academy instructor, take on the life of a rogue ninja, or follow the footsteps of Tsunade to become the most prominent medical ninja that the world has ever seen.
Your choice, your crossover adventure!
8.

Naruto Male Tattoos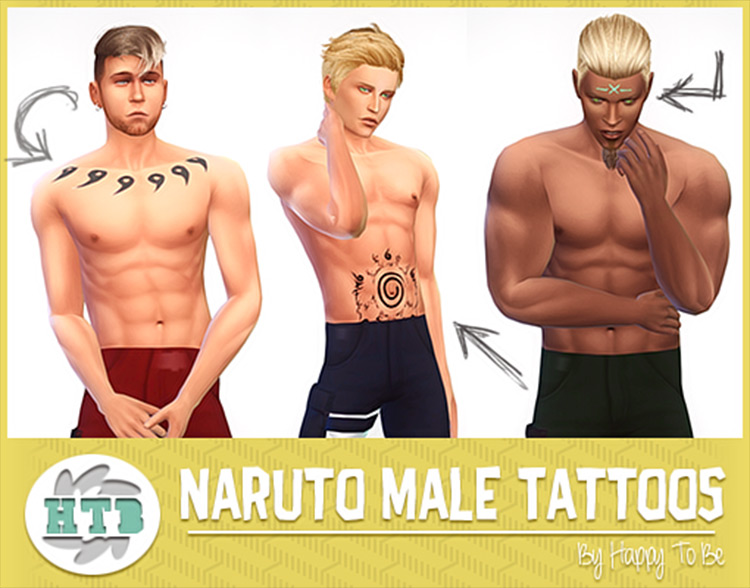 Alright, this mod is actually pretty darn cool.
It's a compilation of 10 different Naruto tattoos that resemble the marks that many characters have in the series.
You'll be able to rock that cool Anbu symbol, or the forehead mark of the Hyuuga (this goes well with the Byakugan eyes mod listed here too).
You'll also be able to rock those cursed marks that Naruto has, as well as the Sennin marks that he gets after training with Jiraiya.
A pretty cool and very complete TS4 mod!
7.

Naruto ANBU Black Ops Career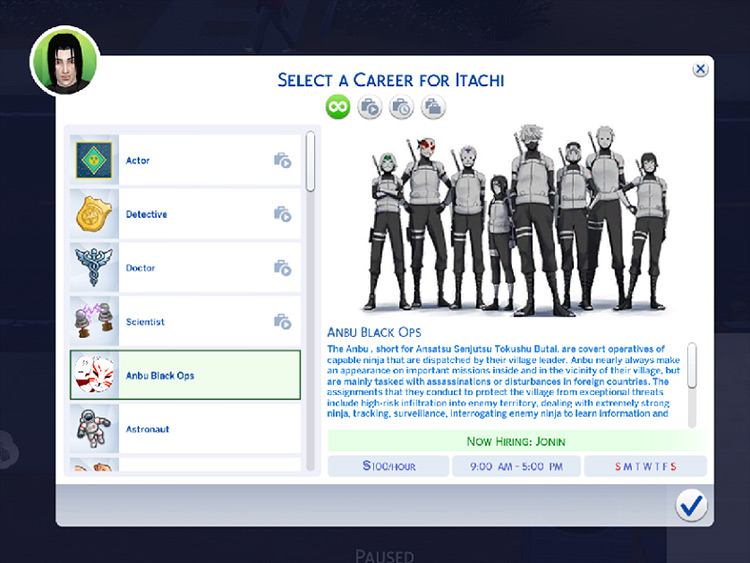 When it comes to career mods, this is probably one that really doesn't suit the game at all.
I mean, you're living in the middle of a city… but all of a sudden you leave for work and you're performing stealth assassinations for the Hokage? Yeah, I'm not buying it. But my Sim is!
This career is really well-made and adapts to the needs of anyone looking to feel more immersed in the Naruto universe.
The payouts are awesome too, starting at $100 per hour on the first level.
6.

Naruto Chibi Wall Sticker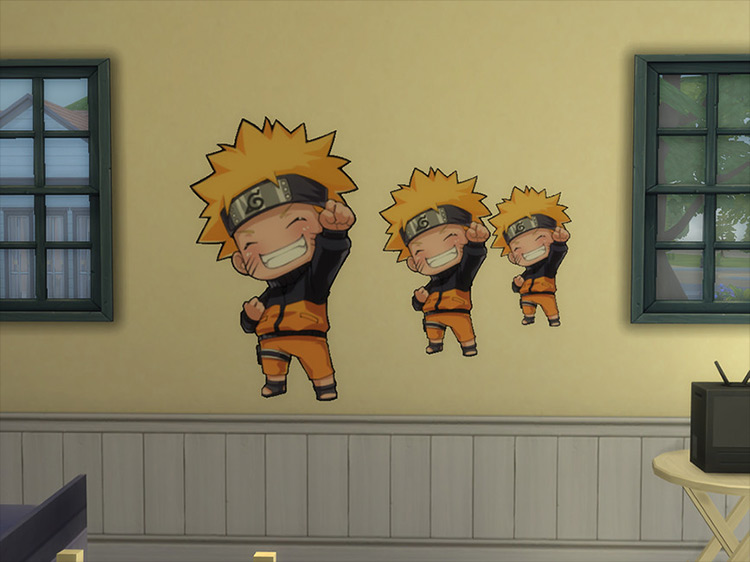 Look, there are dozens of Naruto wall stickers for The Sims 4.
In fact, there are so many CC sets that I decided to add one here, but if you're picky then hit Google and keep searching. Trust me, there's a lot.
Regardless, I decided to add this Naruto Chibi sticker CC to my list because it just seems to suit the game. I know, call me crazy.
I just think the chibi drawing is really Sim-friendly. And it should go well in any of your children's rooms. More than a picture of Itachi or Kakashi (you'll find those stickers on the interwebs too, though).
5.

Naruto T-Shirt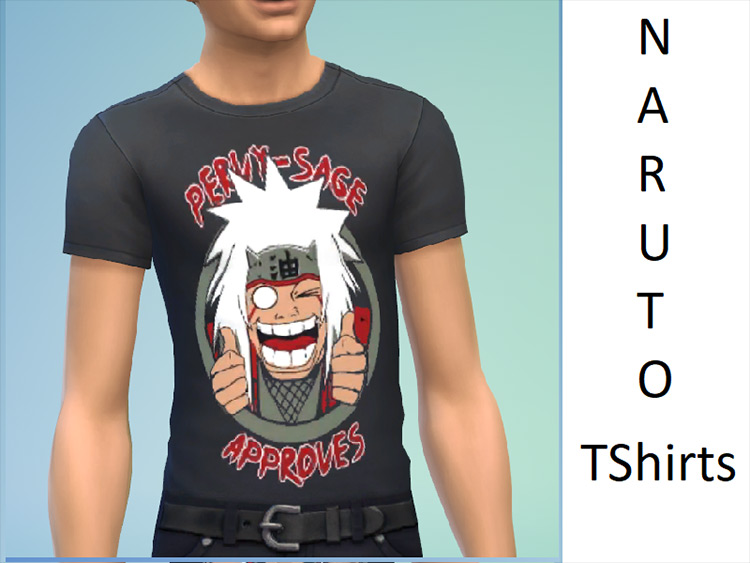 I think it's fair to say that every Naruto fan loves Jiraiya. And watching him drop was one of the most painful events to happen in any anime that I've ever seen.
Good old Ero-Senin was always a source of joy. And one of the most remarkable characters in the franchise.
And with this mod, your Sim will be able to wear a funny kickass shirt with his drawing printed on it!
Just keep in mind that this shirt comes with actual, non-simlish letters. So a bit of immersion loss here.
It would be perfect if it was adapted to the world of Sims, but one can't have it all in this life.
4.

Uchiha Tank Top (Male & Female)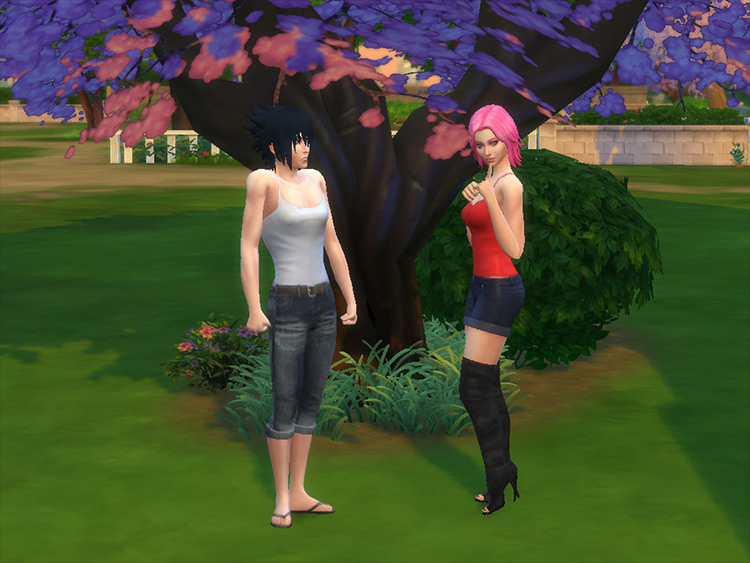 The Uchiha Clan might've gone through an unforeseen tragedy after Itachi murdered everyone belonging to the clan (bar his little brother, Sasuke).
However, as dark as Uchiha's history might be, that doesn't mean they don't rock one of the coolest symbols in the world of Naruto.
Get this tank top on any of your sims. Then enjoy the fashion perks of belonging to the Uchiha clan, minus the whole "your family will die" ordeal.
3.

Classic Anime Posters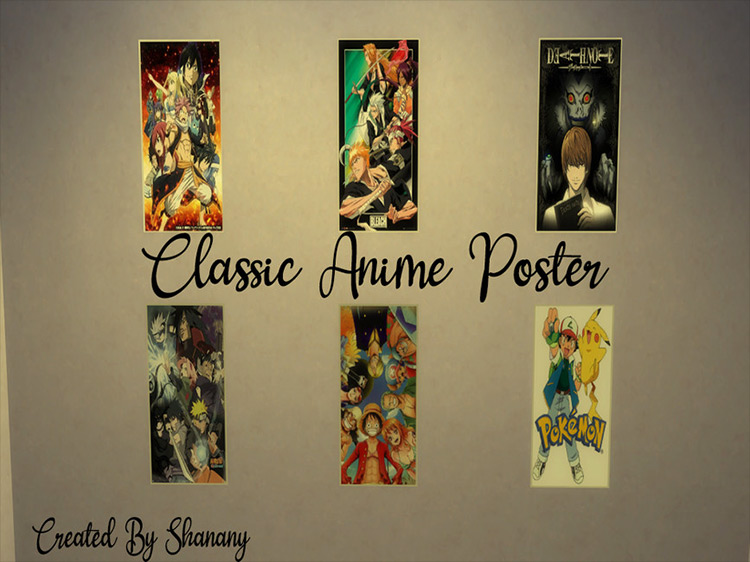 Fairy Tail, Bleach, Naruto, Pokémon, Death Note, and One Piece posters are here to spice up your Sim's room.
Maybe even to help create the weeb home of your dreams.
It doesn't matter if your Sim is a teenager that loves anime, or you have an adult fan of everything related to the world of Japanese animation. This mod should let them express their fandom love in the best way possible.
Spam your Sim's bedroom walls with anime posters. That oughta do… something.
2.

Sharingan Eyes
Arguably my favorite mod on this list, this beauty includes all of the Sharingan eyes that appeared from the start of Naruto to the end of Shippuden.
I mean, this mod could've included the Mangekyo Sharingan alone and I would've probably rated it very highly anyways.
But seeing so many of the series' Sharingan eyes here makes me absolutely love it.
Feel like a true Uchiha, or give your Sim a weird background story where he stole both of Obito's eyes– it doesn't matter what type of strange fanfiction you want to inject into your game, this is the mod to do it with.
1.

Byakugan
And here we are: this amazing mod allows you to feel like a true Hyuuga with the Byakugan, which your Sim will can have activated all the time. Even if you don't want it.
As a small disclaimer, though, this mod doesn't include the actual Byakugan powers.
But I'm including it as the #1 pick of my list because it's one of those eye mods that does seem to fit the game quite well – even if you're not a hardcore Naruto fan.
I mean, these eyes could easily pass as some regular CC (and some weird content) that one often appears in TS4 CC sites. So if you're a fan of anime at all, these eyes are worth a try.
Browse:
Lists
Naruto
The Sims 4
Video Games