Sims 4 Nicki Minaj CC: Hair, Clothes & More
This post may contain affiliate links. If you buy something we may get a small commission at no extra cost to you. (Learn more).
Unless you've been living under a rock, you probably know that Nicki Minaj is one of the biggest stars on the planet.
From churning out mixtape after mixtape, to becoming one of the best-selling female artists in history, there's no denying that the Queen has dominated not only the rap game but the world itself.
That, of course, includes the world of The Sims 4!
So here's a bunch of awesome Nicki Minaj CCs to help you bring her right into your Sims neighborhood.
Nicki Minaj Tattoo
If you want your TS4 Nicki to be accurate, you can't miss her famous tattoo.
Inked on her left upper arm is a Chinese phrase that translates to "God is always with you."
She got it when she was 16, and her parents threatened to disown her when they first saw it.
Seeing that it has become a part of her iconic look (so much so that the tat even got a shout out in the song "Chun-Li") it's safe to say it was all worth it.
Chun-Li Fendi Fur Bomber
Speaking of "Chun-Li," that single blew me away when I first heard it.
Its cold-blooded beat, catchy flow, and nerd culture references were everything I wanted and more.
The song was made even better with its cover art, which features Nicki in a gorgeous Fendi Fur Bomber… and nothing else.
Most of us might not rock this piece the same way she did. But at least our Sims have a fighting chance with this CC by Alecseycool!
And you can even pair this with some other Fendi CC if your Sims are into designer fashion.
Kandy Hair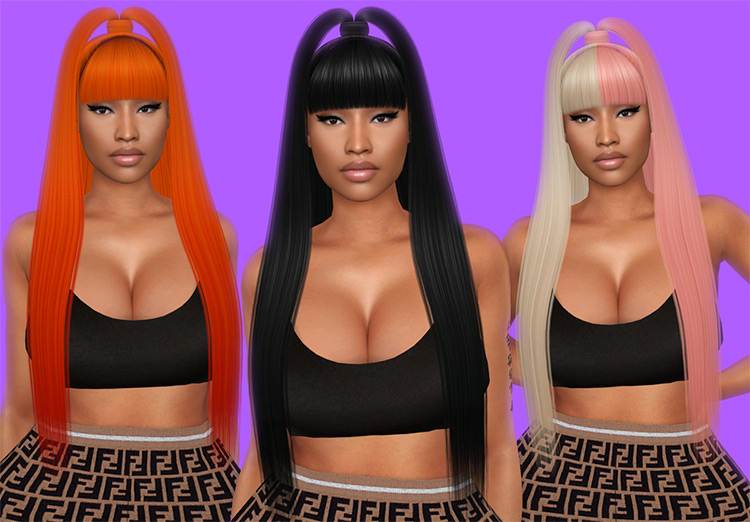 The argument about the greatest female MC in history may never end.
Even though Nicki may not be everyone's pick, there's at least one contest that she undoubtedly wins, and that's the female rapper with the best hair.
You don't have to look any further than this Kandy Hair CC to see why. And it comes with 36 colors to pick from!
Hot Girl Summer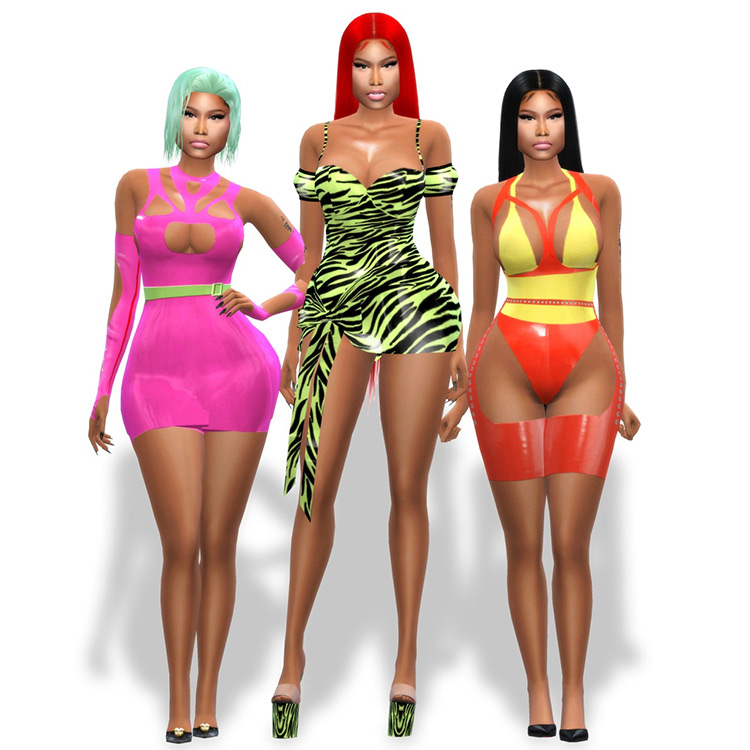 Despite being just a feature on Megan Thee Stallion's "Hot Girl Summer," you can't deny that Nicki stole the show.
Megan can kill it on the mic.
But her bars were no match for the looks that Nicki was serving up in the music video.
Get your Sim their own hot girl summer with this custom attire!
"Wobble Up" Music Video Swimsuits
"Wobble Up" is a banger.
But I just can't look past the fact that it was made by the abuser who beat up Rihanna and Halsey's corny ex.
Good thing Nicki's also featured to save this song from being a complete pile of crap.
Not only does she rap circles around those two clowns, but she does all of it while wearing some incredible swimsuits – and they're perfectly replicated in this CC set by Alecseycool!
Alexis Hair
Ever since "Super Bass," we've known that Nicki isn't afraid to get weird in both her music and her style.
But in "Pills N Potions," we learn that she's just as compelling in a stripped-down setting.
The same goes for her look.
As evident in a hairdo that your Sims can now wear too. Just snag this CC and try it on – your Sim may never want to take it off.
Dreamy Hair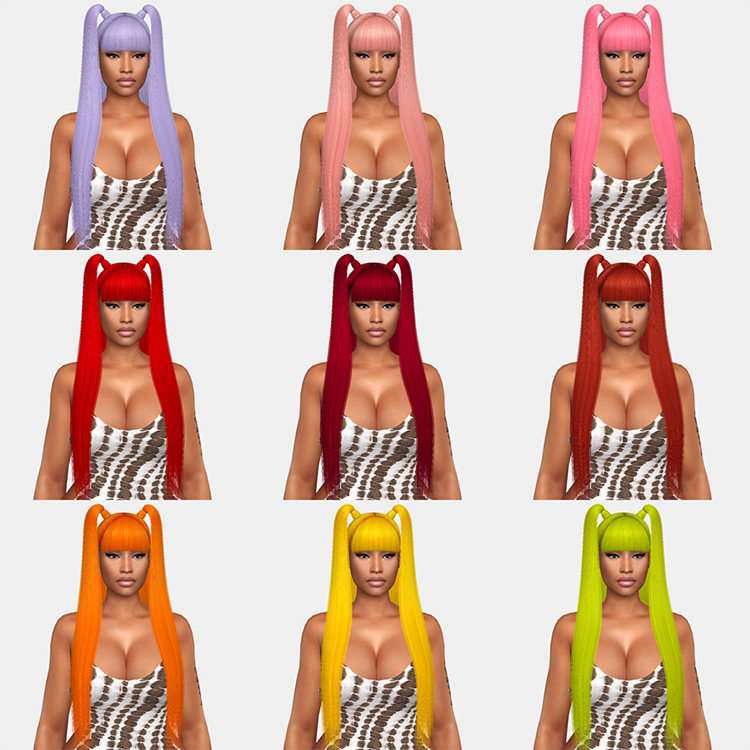 One of my favorite things about Nicki is that she genuinely does not care about what anybody thinks.
She's got the guts to do whatever she wants, whenever she wants – one of them is looking like some psychedelic Barbie doll!
Not all of us can pull off such a crazy look. So let's just live out our Barbie dreams through our Sims.
And this CC is sure to help – especially with all these wacky color options.
Nicki Minaj Skin Overlay
Has anyone ever noticed that Nicki looks like she hasn't aged a day?
While writing this, I just googled her age and learned that she's already 38… which is impossible because I'm 24, and I look closer to 38 than she does.
I don't know how she does it.
But at least I can bless my Sim with Nicki's beautiful skin, all thanks to this custom skintone CC made to match Nicki's glorious look.
Burberry Bra and Leggings
When Nicki wore that Burberry Bra and leggings outfit in 2018 at a Tidal interview, fashion critics worldwide lost their sh*t.
She posted it on IG, dubbed herself the "Burberry Barbie" in the caption, and the world was never the same again.
Our Sims may not be some of the best-selling artists of all time…
But at least they can dress like one with this CC set, perfectly designed to match Nicki's exact look.
Nicki Minaj CC Set
Now it's time for the motherload.
Give your Sim the total Nicki makeover with this CC set that includes everything from lashes and eyebrows, to custom matching jewelry.
Sadly, insane flows and versatile musical talents are not included.
Browse:
Lists
The Sims 4
Video Games