Sims 4 Nike CC: Shoes, Slides, Leggings & More
This post may contain affiliate links. If you buy something we may get a small commission at no extra cost to you. (Learn more).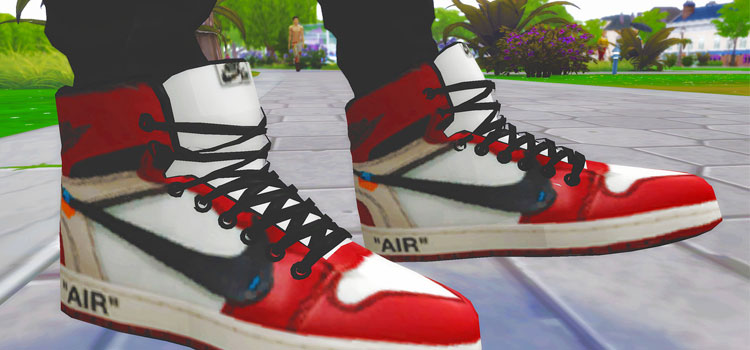 From streetwear to athleisure, Nike is one of the top dogs when it comes to what's hot in fashion.
Everyone from celebs to children love to sport their Nike gear. That's the way it has been for decades. But in recent years, the craze seems to have exploded in new ways.
No matter where you look, you're pretty likely to someone wearing at least one item with that signature Swoosh.
It's a brand that has become synonymous with quality and style. So of course everyone wants their Sims in on the latest trends too, and we can do just that with some awesome Nike CC.
1.

Nike Elite Socks
Before we get into all the kicks, your Sim is gonna need socks.
This is a pretty simple accessory, and one that's often overlooked, in my opinion.
You don't want your Sim wearing tube socks with the cool shoes on this list, do you?
Of course not. And these Swoosh'd socks from plumbelles are a lot nicer anyway.
2.

Nike Air Force One Sneakers
With a name like 'Air Force Ones', you've got to expect the shoe to be impressive, and these truly are just as cool as their real-life counterparts.
There are 24 awesome color swatches for both masculine and feminine styles.
This is actually my favorite shoe here. They're just so fashionable, sure to work for every Sim.
3.

Nike Tanjun Sneakers
Here we have one of those rare CC CAS items that's available for all ages!
That's right: thanks to onyxsims, every Sim in your family (from toddlers to children to adults) can all rock these sneakers.
And I'm pretty sure I've seen that exact thing many times in real life. Which makes sense because I believe this is one of the most iconic styles out there.
Casual, stylish, classic. What's not to love?
4.

Nike Slides
Sliiide to the left! Sliiide to the right!
Can anyone else not really remember when slides came along? It seems like they just came out of nowhere a few years ago, and they came to stay.
Another gem from onyxsims, these sandals are another sure way to get your Sim toddlers and children matching the latest styles.
Yes, oddly enough I could only find working links to slides for the kiddos.
This is one of those things that, as I mentioned, everybody seems to either already have, or wants to have. And that includes kids.
Don't let your Sims be left out, they need slides too!
5.

Nike Power Leggings
Almost everyone loves leggings.
They have to be one of the most comfortable pants out there, with the most versatility both in terms of style and flexibility.
And it's no wonder why there are many, many CC options out there.
The leggings in-game often leave something to be desired. And tragically are considered as accessories, not as pants.
But these leggings from Pinkzombiecupcakes are the best of the best, available in really nice shades of blues, pinks, and gray. The texture is also really good, giving a semi-realistic look.
6.

Nike Athletic Pants with Side Rainbow Stripe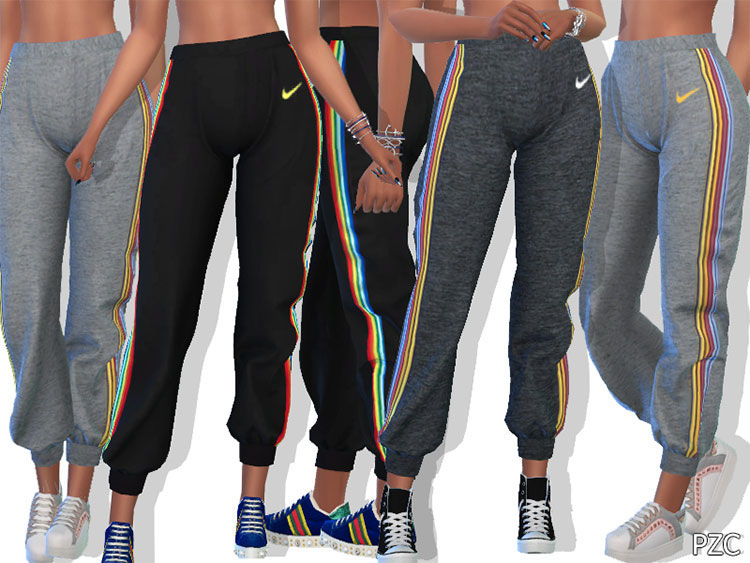 Creator Pinkzombiecupcakes has blessed us again, this time with Nike sweatpants.
No matter which color you choose from here, they all come with a rainbow stripe down each leg, which I think is a very cool and unique touch.
Your Sim will look impossibly cute in these, with an underlying tough vibe. Or at least that's what I get from them.
Whether your Sim is hitting the gym – or the couch – these pants will work just fine.
7.

Nike T-Shirts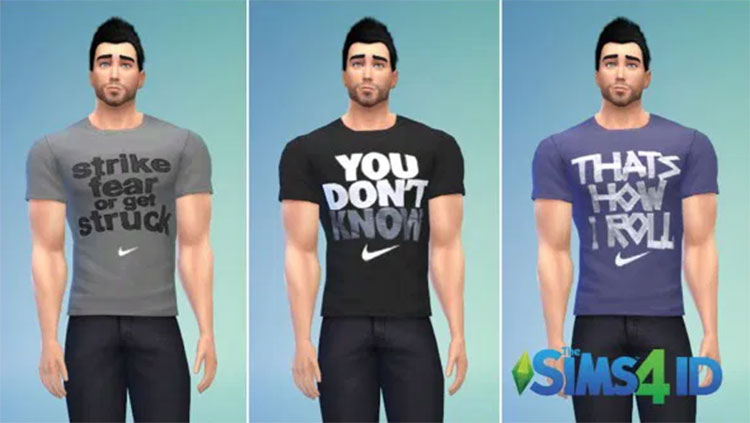 Get your Sims repping the can-do attitude of Nike with these graphic tees. JUST DO IT.
Ironically enough, that isn't one of the slogans available here.
But the phrases that are on the shirts are still great for your confident and athletic Sims.
Or even for your insecure, lazy Sims. There's no law saying you've gotta live by the tee.
8.

Nike Top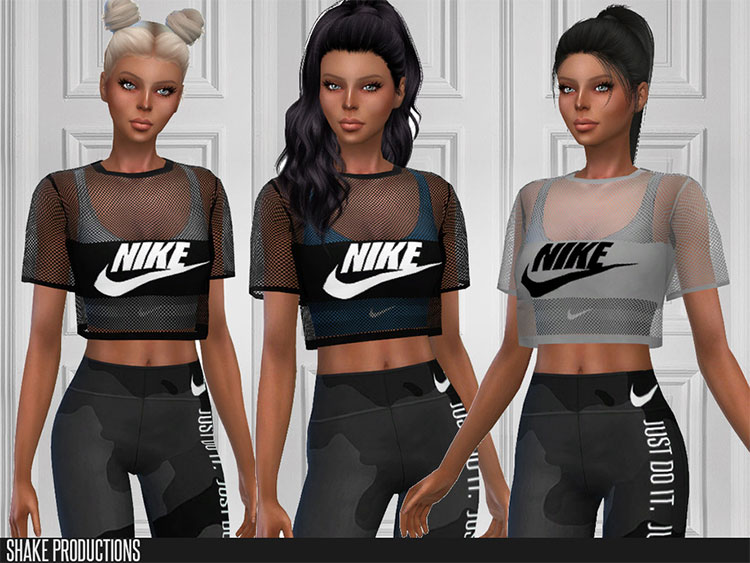 You can't have cool shoes and leggings without some snazzy tops to go with them.
And if you're a fan of both crop tops and Nike, you're gonna love this.
With a mesh crop top overlaying a sports bra, ShakeProductions has created one of the trendiest items on this list.
The logo is also on both articles of clothing. There's no missing it!
9.

Hades Shoes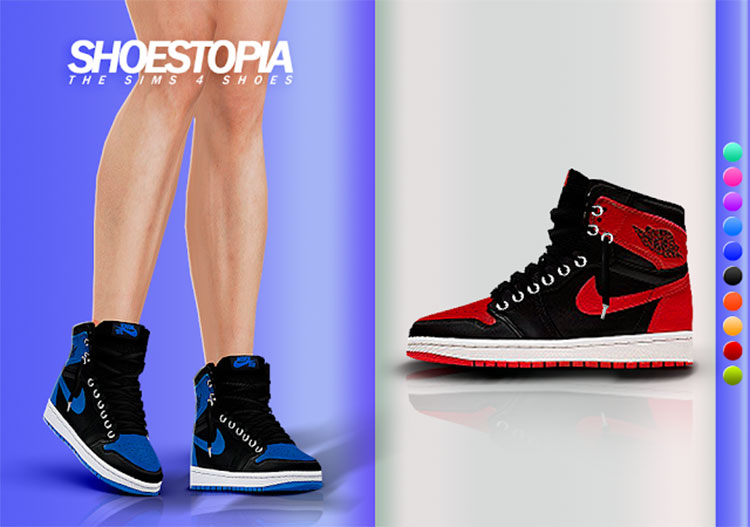 I'm personally a big fan of high-top shoes. So I couldn't leave these out.
Always say yes to ankle support!
Uh… let's just pretend that didn't make me sound elderly and just appreciate the shoe.
First off, the colors look great. The CC's preview pictures show blue and black options, but creator Shoestopia made ten swatches. And I'm sure they're all equally bold and beautiful.
Then there's the texture.
These legit look better and more crisp than some pairs of actual shoes I've had. They even have a tread design near the bottom.
Until now, I hadn't realized that most Sim's shoes don't really have treads. No wonder they're always slipping and falling.
10.

Nike Sporty Bra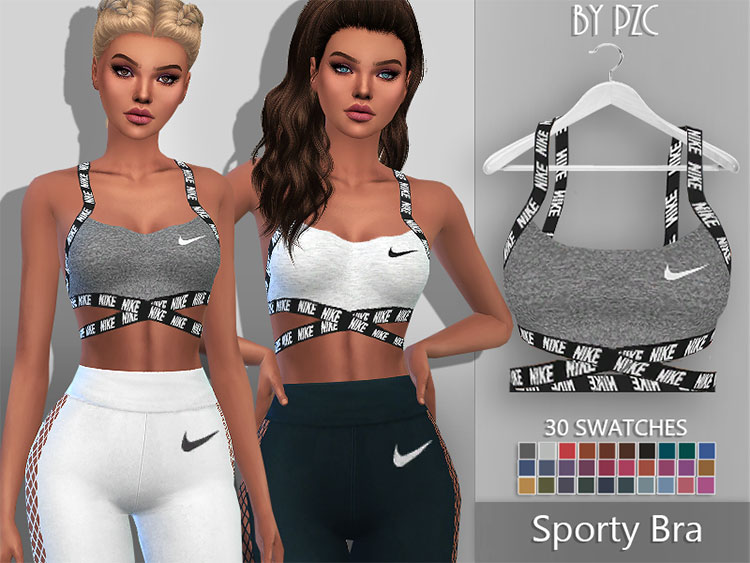 To finish off this list, I present a third Nike item from Pinkzombiecupcake: a sports bra.
Not any ordinary sports bra, though.
This one is branded with the Nike name and logo across the front, and all over the stylish criss-crossing straps.
And since we can always count on CC-makers to come through in place of a color wheel, this top comes in thirty solid swatches too.
Browse:
Lists
The Sims 4
Video Games