Sims 4 Nintendo-Themed CC & Mods (All Free)
This post may contain affiliate links. If you buy something we may get a small commission at no extra cost to you. (Learn more).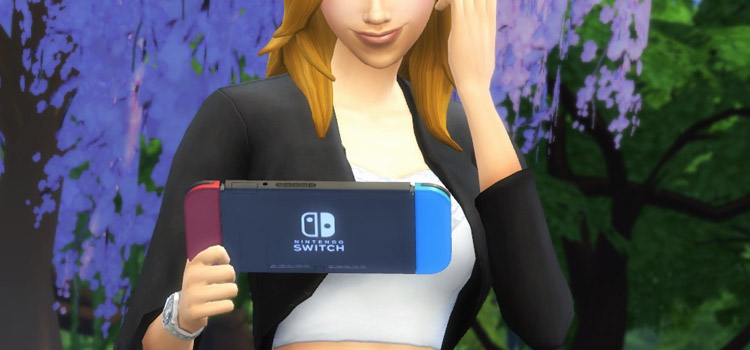 When it comes to packing nostalgia in pretty graphics, no one can compare to Nintendo.
The company has been around since 1889, releasing video game consoles since 1977, and entertaining generations of players since Donkey Kong first stomped on screen.
From there, Nintendo was pretty much on its way to becoming a permanent presence in Christmas and birthday wish lists – every kid wanted a NES, Game Boy, Nintendo DS, and now a Nintendo Switch.
So it's only fair to share some of the fun into the world of The Sims 4!
Revisit some iconic hits and share your Nintendo passion with this incredible fan-made CC.
Gaming Pillows Set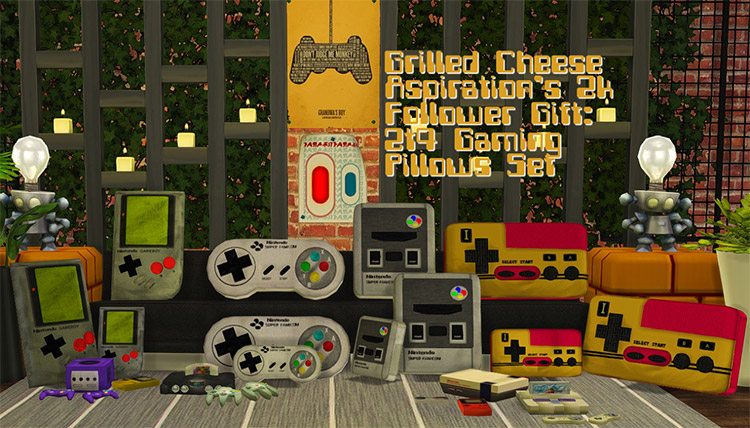 Back in the '80s, 8-bit and 16-bit gaming were all the rage and considered revolutionary.
Kids, teens, and even stubborn adults were wowed by the innovation of shooting ducks and aliens in a pixelated space.
Those were good times. And seeing this pillow set inspired by Nintendo's groundbreaking consoles makes me feel like I've aged decades.
Your Sims should be honored to even have these vintage pieces of video gaming history – in the form of pillows, that is.
SC#126 Nintendo Console Accessory
The NES controller was originally designed to be held by two hands, but I guess it could work as an accessory too – whatever floats your boat!
Drape this retro CC on your Sim's neck as a reminder that not all gamers wear headphones – they wear controllers too.
Pair this up with cartridge earrings and you're good to go for your next streaming appearance.
Functional Nintendo 3DS XL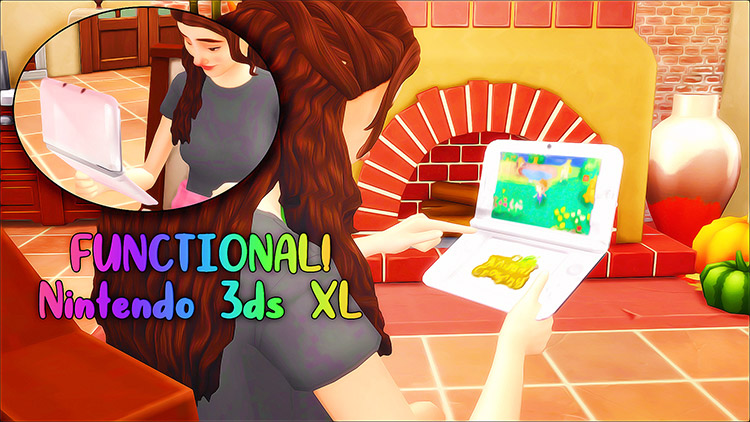 When the Nintendo 3DS was released in 2010, almost everyone in my grade who was rich enough to dump their Game Boy Advance SP got one.
Soon everyone was obsessed with their first taste of a touch screen.
It was cool to have two screens when playing Pokémon and Fire Emblem, creating an entirely different experience that only Nintendo could pull off.
If you're missing recess breaks and sneaking a play every chance you get then gift your Sim this Functional Nintendo 3DS CC – which now comes in an extra-large size!
Usable Nintendo Game Boy Advance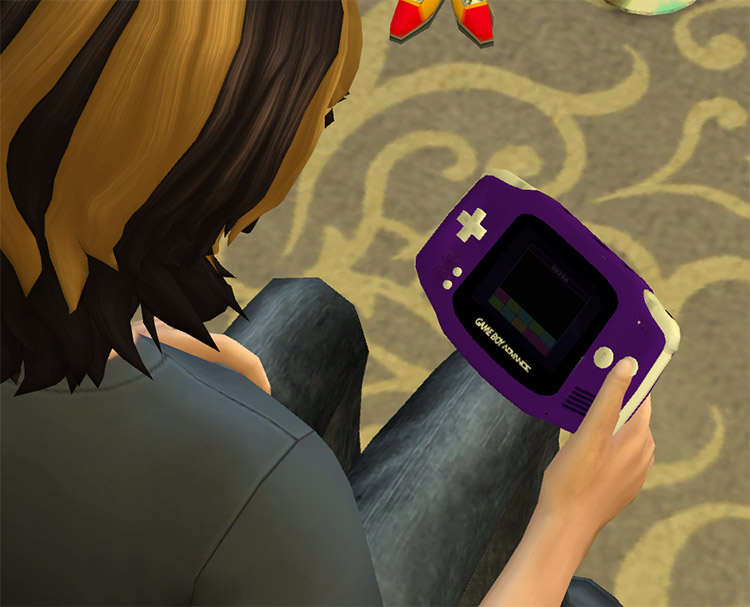 Do you remember when it was possible to play 1000 games in 1 cartridge?
Yeah, the Game Boy Advance did its job well to keep us preoccupied from doing homework.
I could still remember the familiar melody it played when starting it up, how it comfortably fit in my hands, and how it got me into so much trouble for playing way beyond curfew.
The Game Boy Advance might be considered prehistoric now – but it still has some juice to entertain bored Sims.
Get this CC now and you can have your Sims owning multiple GBAs, all in different colors and styles.
Nintendo Switch (Functional, Accessory, and Deco)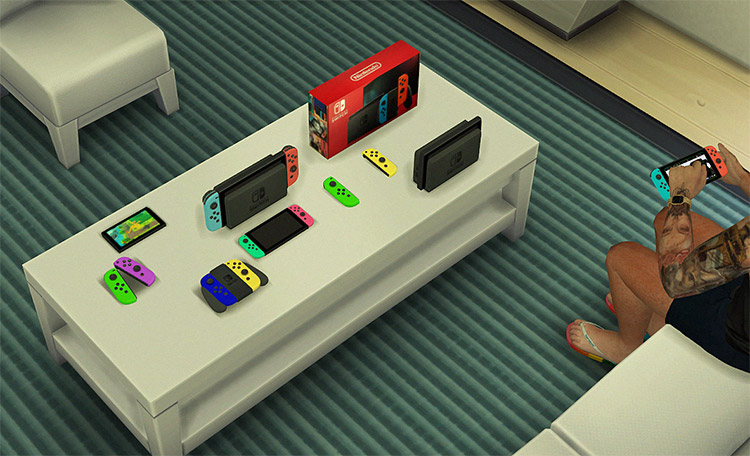 Where do I even start with the Nintendo Switch?
This bad boy has been on the market since 2017, and is still racking up sales like a BTS concert.
It's the fastest-selling console in Nintendo's history, beating records held by the PS4, and is well on its way to possibly becoming the best-selling console of all time.
All because Nintendo stuck to what it knows best:
Making games more accessible, portable, and more fun with every release.
Hop on the bandwagon and get this functional Nintendo Switch for your Sims' living rooms. I'm sure they'll love it.
Legend of Zelda Series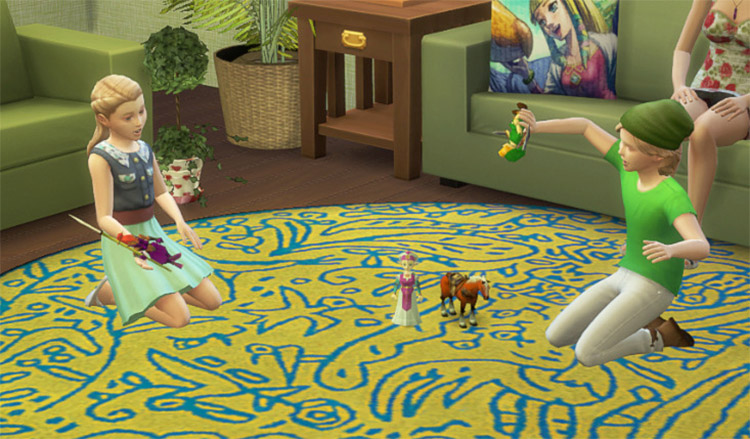 Any average gamer would know about The Legend of Zelda, a series so old and iconic that it's a bit insane to meet someone that hasn't heard about it.
The legacy of this high-fantasy game spans decades. And it has ingrained within me a fear for chickens and Link's sanity in having to constantly save one place.
Even so, I would gladly save Princess Zelda over and over if it meant diving into the lush world of Hyrule again.
Decorate your Sim's space in the greens and yellows of this beloved franchise with this CC pack, which includes customized pillows, paintings, and cute clutter.
Plus if you want even more LoZ CC for The Sims 4, we've got a whole separate list for that.
Halloween Mario Set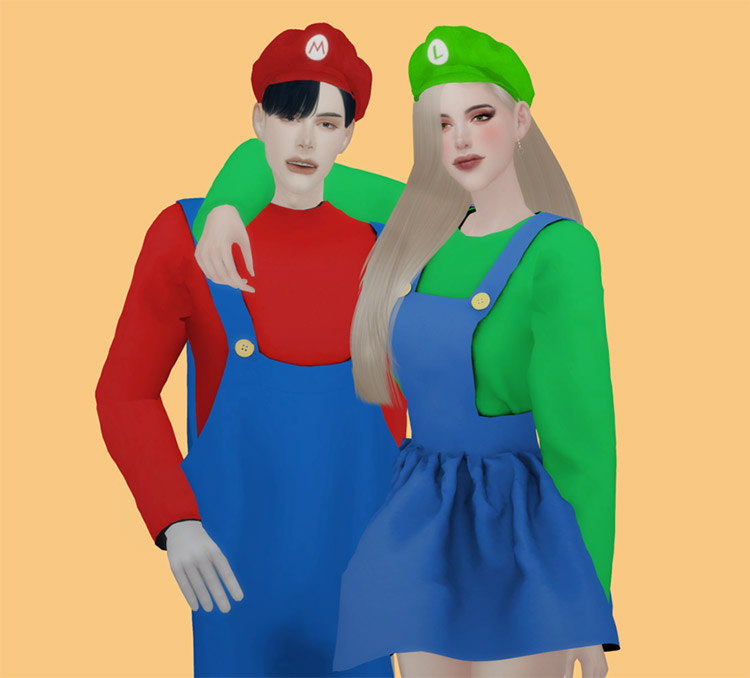 Who would've thought that two Italian plumbers jumping over turtles would turn out to be an all-time video game classic?
Even in 8-bit form, the world of Super Mario is vibrant and bright, full of eye-catching elements and catchy tunes.
It also features a lovable bunch of characters (yes, even Bowser), but none as popular as Mario and Luigi.
The twins have been jumping to new heights with every media release in the Mario franchise.
So it's only natural to wear their colors and costumes with pride.
Get this matching Mario CC Set for your Sims' next Halloween celebration, and choose from 3 costume colors.
Super Mario Kids' Bedroom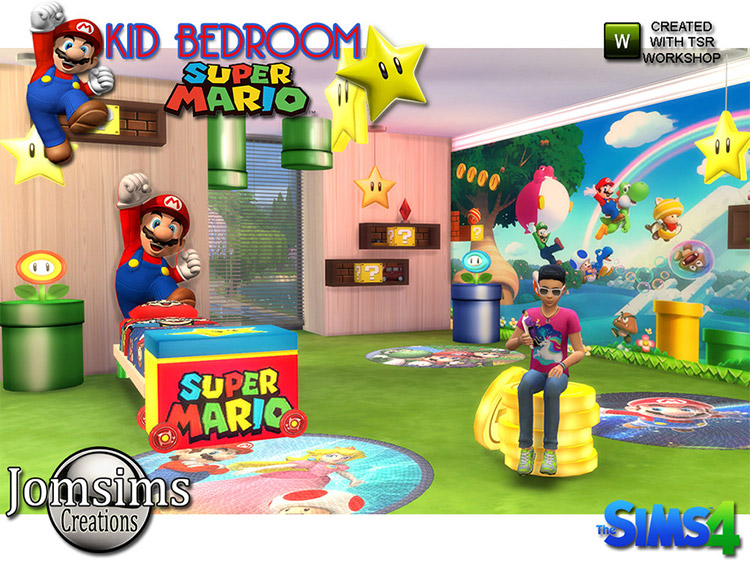 The aesthetic of Super Mario is very PG – but will that stop you from remodeling your Sim's bedroom?
Only a fake fan would think so.
This CC pack by Jomsims contains all the essential decor in creating a shrine for the beloved video game.
You've got a Mario-themed bed, wallpaper, lamp, chair, rugs, and plenty more!
Indulge yourself a little and give your Sim kids the childhood they deserve.
Pokémon Kids' Study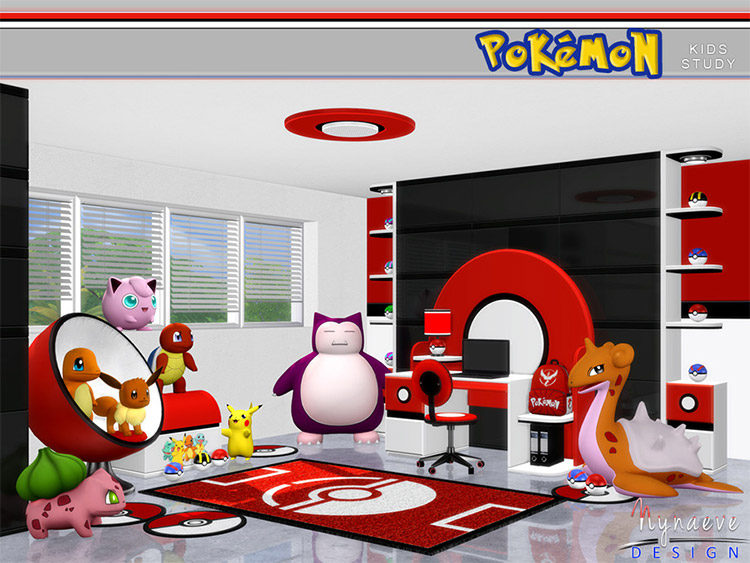 I would be lying if I said I've never wanted a Pokémon-themed bedroom.
The "catch 'em all" fever was at an all-time high back in the early 2000s due to the steady releases of films, games, and animated series.
Then it happened again in 2016 when Pokémon Go forced players to go outside and chase rare Pokémon around the area.
I mean, this series' popularity is no joke. And its fanbase is as loyal as ever, even decades after it was first introduced to the world.
And now your Sims can get the same treatment with this awesome study-styled Pokémon décor set.
If your Sim wants to catch them all, then start with this CC by NynaeveDesign.
Animal Crossing Challenge Mod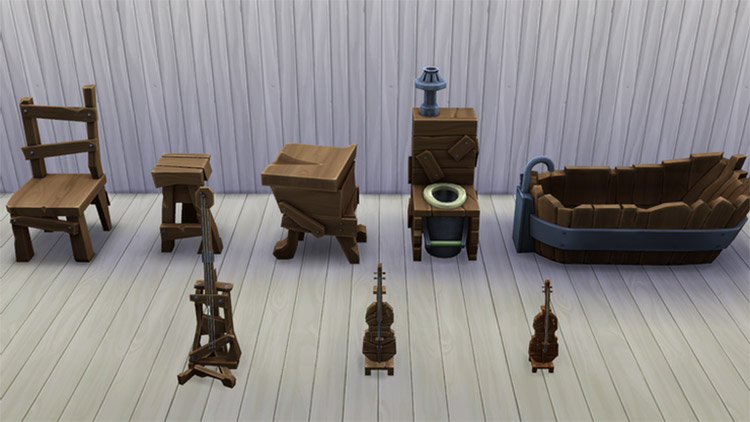 Many players would agree that Nintendo has stayed true to its roots: delivering games that are – at their core – enjoyable across all ages for years to come.
That's why it's no surprise that Animal Crossing: New Horizons became a hit when it did.
It's a kid's game that's also loved by teens and adults, who find it as a form of escapism from the less fun reality of the world.
And while we've already covered some great Animal Crossing-themed CC for The Sims 4, this mod takes things to a whole new level.
The Sims can be repetitive at times. But with this Animal Crossing Challenge mod, you'll get to find another reason to spend hours accomplishing every goal and unlocking every feature.
Browse:
Lists
Nintendo
The Sims 4
Video Games