The Sims 4: Best Not So Berry CC To Download
This post may contain affiliate links. If you buy something we may get a small commission at no extra cost to you. (Learn more).
If you're as deep into the TS4 community as I am, you probably know of lilsimsie (aka Kayla).
A Sims streamer, YouTuber, and Custom Content creator, lilsimsie has (in the past) started a handful of Sims 4 challenges (particularly shell challenges) that have gone completely viral.
One of my personal favorites by her is the #justiceforcowplants build challenge.
In 2017, she and alwaysimming (Zoë) started the Not So Berry Legacy Challenge:
A fun little color-themed concept that encourages players to delve into parts of Sims 4 gameplay that they might never have tried before (i.e., mastering the Mischief skill, leaving some poor Sim at the altar, living in three different worlds before death, etc.)
And it seems to have blown up recently (despite it being years old) so the demand for specifically-colored CAS items is high.
So with that said, I present to you some awesome CC to download for your Not So Berry Sims!
(P.S. Full rules for Not So Berry challenge can be found on lilsimsie's Tumblr!)
---
Generation 1: Mint
---
Hair: Silver Hair by Simandy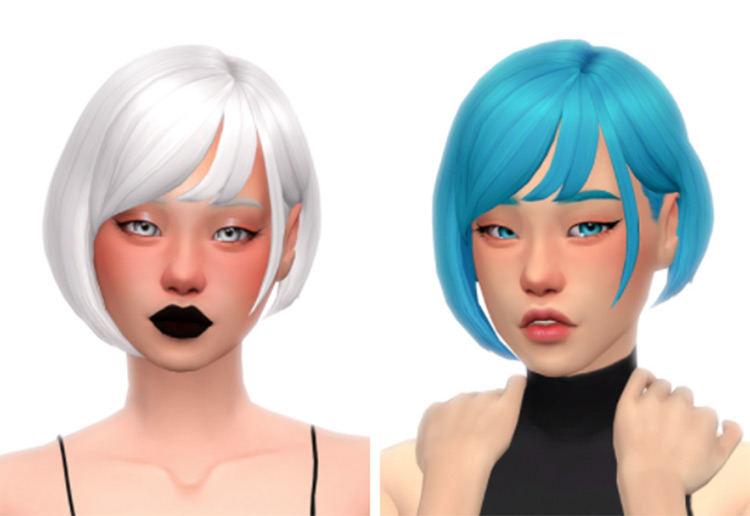 Because EA is sticking to their guns and refusing to give us more than 18 hair colors (plus the 5 new ones they added with the latest patch), colors like mint, rose, and plum are pretty difficult to source.
So, spoiler alert: a lot of the CC I'm recommending is hair.
Because I think a Sim's hair just really completes the look, you know?
Do note that you'll need to download both the mesh file and the Puppy Crow file if you want that nice, eye-catching mint shade (and 39 other awesome colors in the Puppy Crows palette).
Jeans: Jellybean Jeans by Saurus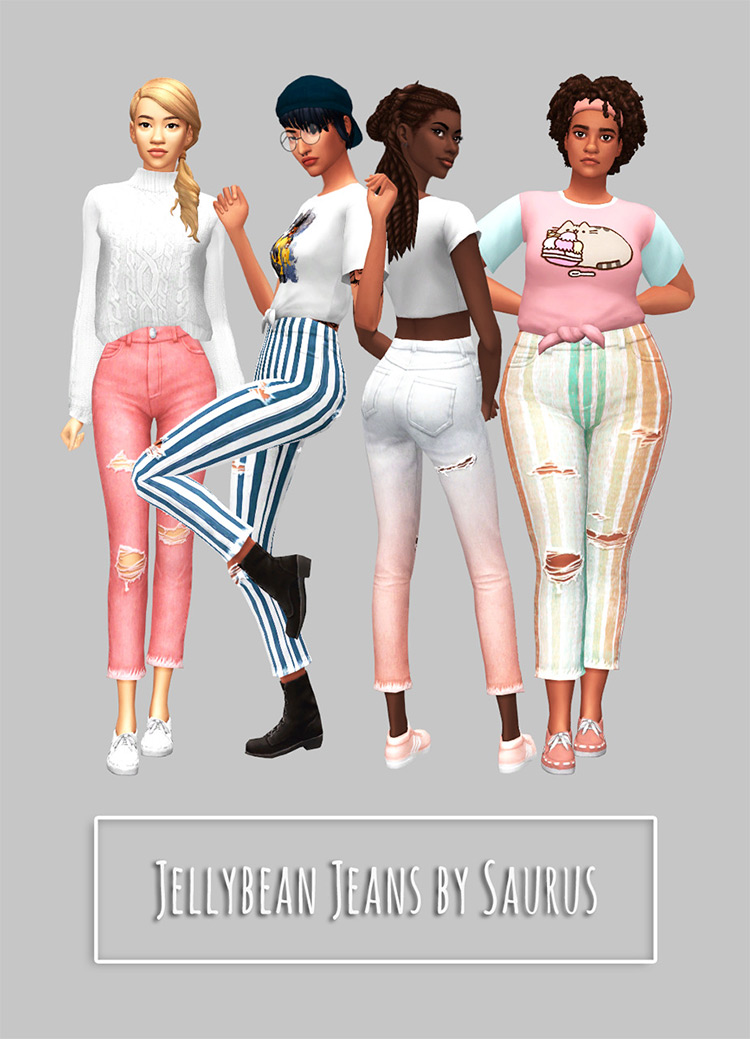 If the name alone doesn't sell you (because how cute??), then maybe the versatility—and the multiple rips—will.
The download page contains a swatch collage of all available colors.
The slightly darker color (that I used) can be found in the second row, second from the left. But if you're tired of solids, try the striped dusky mint patterned one (bottom row, fifth from the right) for some fun contrast.
---
Generation 2: Rose
---
Hair: Rose Gold Hair Recolor by sophiescrapbook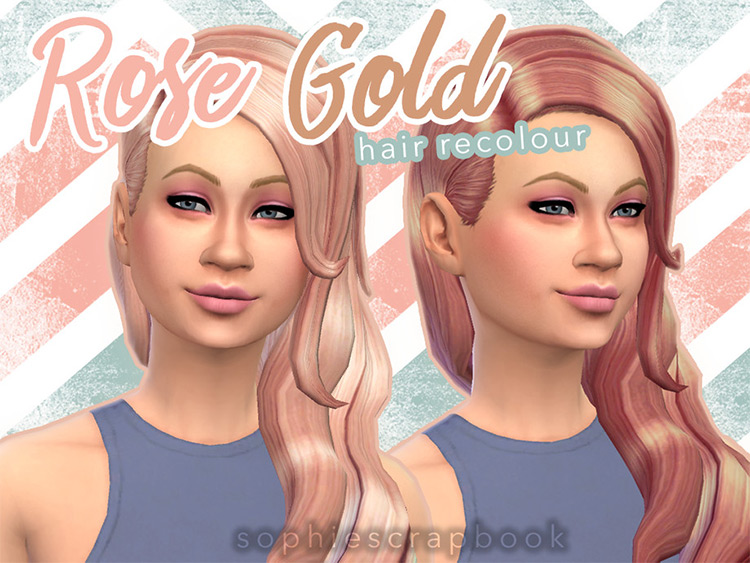 Fun fact:
Rose was pretty tough for me to figure out, as I wasn't sure how different it was from pink (aka Generation 7).
So I opted for a rose gold hair recolor of an existing Sims 4 BG hairstyle to keep things simple.
This download simply adds two new swatches onto the base game item, so you don't have to worry about potential thumbnail duplicates.
One swatch is for rose gold on blonde hair, and another is for rose gold on dirty blonde. Both look great, so it's totally up to personal choice.
(P. S. The creator also made rose gold swatches for this base game hairstyle, in case you're interested)
Lipstick: December Lipstick Trio by Pralinesims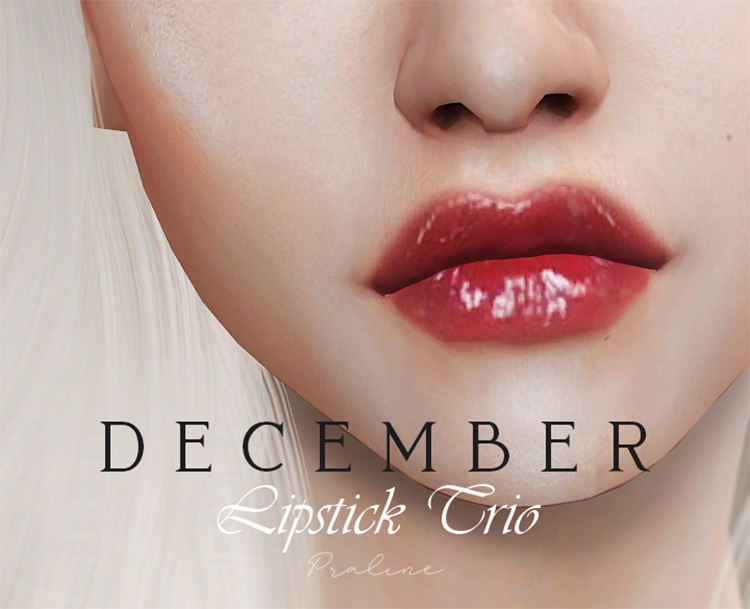 Top off the look with some pretty dusky rose lipstick from Pralinesims.
It's part of a bundle of three sets (all lipsticks and glosses): Snow Doll, Night Fairy, and Twilight Rose.
I chose one of the swatches from the Snow Doll collection, but both Night Fairy and Twilight Rose have plenty of rose-colored variations to choose from, too.
---
Generation 3: Yellow
---
Dress: Grace Wrap Dress by hezzasims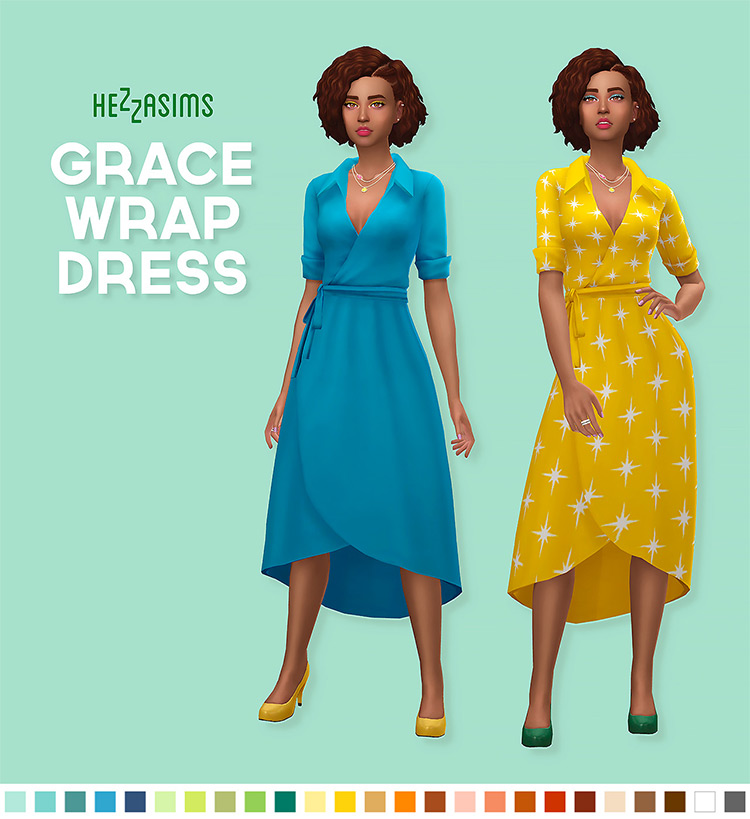 I saved myself (and you) the trouble of finding a yellow top and some yellow candy bottoms by opting for a stylish wrap dress instead.
This CC comes in three yellow color options, too: dark yellow, pale yellow, and warm yellow with white starbursts.
Great option for those who like variation!
I kept the hair from the Mint Generation but changed it to a nice, clean blonde.
---
Generation 4: Grey
---
Turtleneck: Turtleneck by lazyeyelids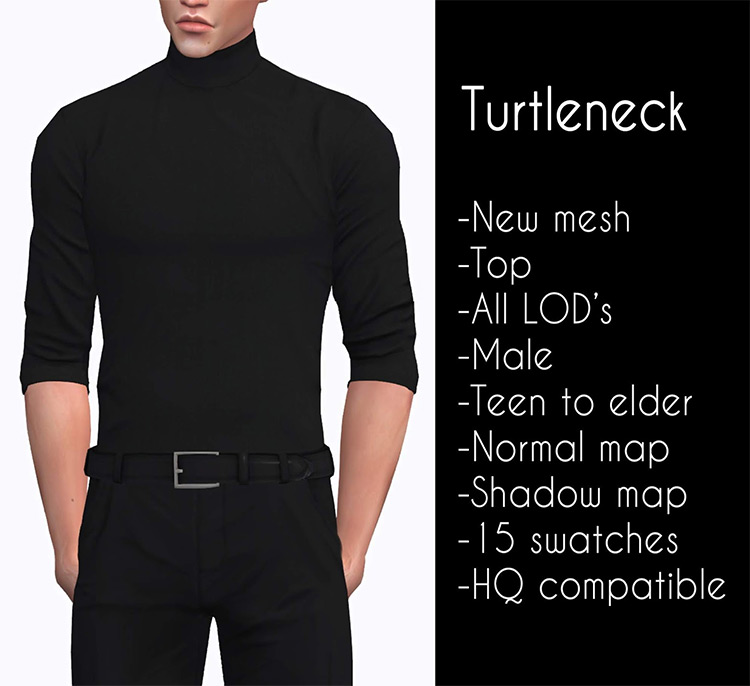 Turtlenecks look sexy on everyone.
Don't let anyone tell you otherwise.
They're simple, they're classy, and they make "casually distinguished" look so effortless. This custom turtleneck by lazyeyelids comes in 15 color options, and three of those swatches are varying shades of grey: charcoal, slate, and light.
It also seems to automatically get tucked into any high-waisted pair of pants. You know, for that extra-sleek street look.
Roll-Up Jeans: Male Roll-Ups by Sims4 Marigold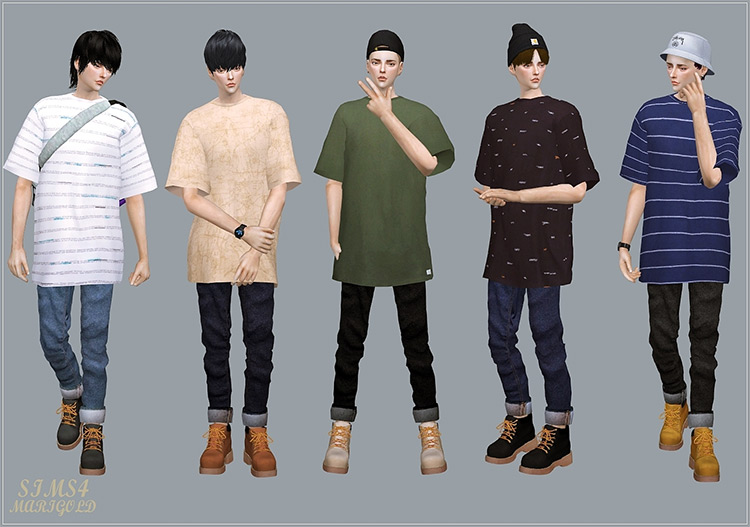 Sims4 Marigold creates some of the most unique alpha CC pieces I've seen, and many of the staples in my Downloads folder come from her.
That being said, these slouchy men's denim jeans with the rolled-up cuffs are no different.
They look excellent paired with most styles—slouchy, grungy, smart, smart-casual… you name it.
Total of 2 styles (short and long version) in 11 colors each.
Like the turtleneck from lazyeyelids, there are three swatches that are varying shades of grey for you to mix, match, and swap out as you please.
---
Generation 5: Plum
---
Hair: Bloom Hair v1 by Simandy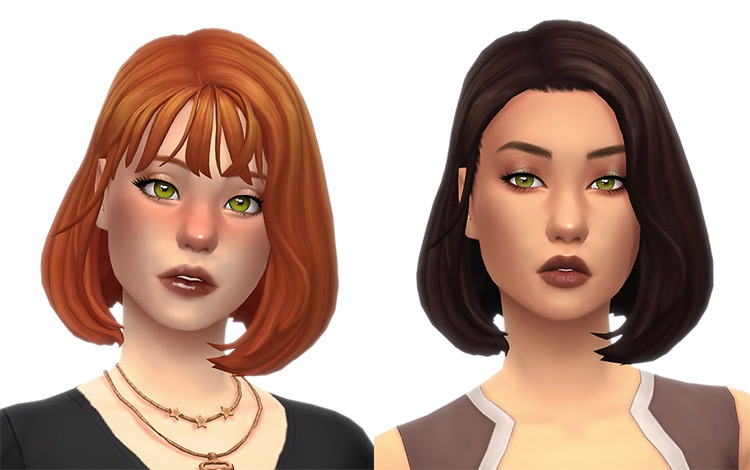 Big fan of Simandy's hairs.
Have been ever since I started downloading Sims 4 CC.
This is a fairly recent piece that comes in 18 EA colors and 40 Puppy Crow colors—which is the palette that contains that deep, jewel-toned plum.
I chose the version with bangs for my Sim (just because it seemed to suit her face better), but the download page also contains the Bloom Hair v2 version, which is the same wavy bob but without bangs. Choose whichever strikes your fancy!
Romper: Bow-ho Jumpsuit by LeeLeeSims1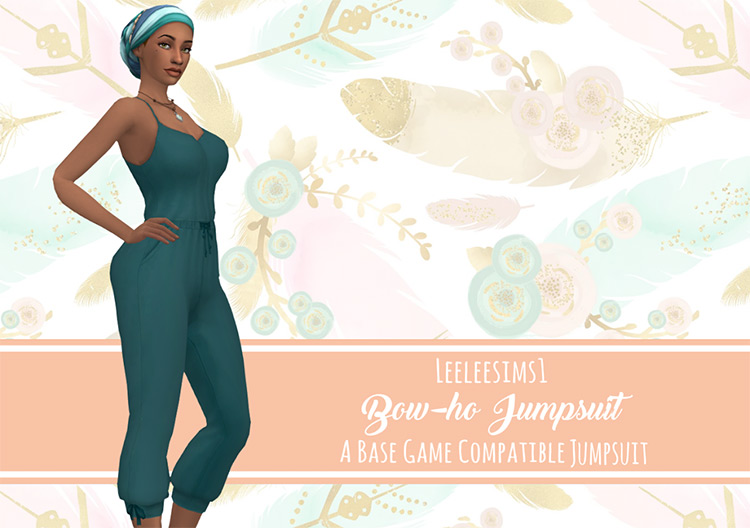 Honestly, one-piece clothing items are (in my opinion) the easiest way to cheat an outfit.
As someone who's pretty terrible at matching tops to bottoms, things like dresses, jumpsuits, and rompers are a godsend.
LeeLeeSims1's Bow-Ho Jumpsuit is an honest-to-goodness vision in rich, deep plum.
It also comes in light orange and forest green if you're looking to use this for different generations.
---
Generation 6: Orange
---
Hair: Helia Hair by Natalia-Auditore
Orange is another color that's pretty impossible to get without mods.
The closest with EA's standard 18-color palette are probably the three shades of reddish-brown on the top row (between the black, brown, and yellow swatches), but they're simply not vibrant enough.
For your Not So Berry Sim, might I recommend Natalia-Auditore's Helia hair?
Cute curled clumps of bright (I'm talking vivid) orange, all pulled back into a stylishly messy 'do.
And the front shoulder-length curlicues frame most any face ever so nicely.
Shoes: Madlen's Novara Sandals (Recolored) by Aveira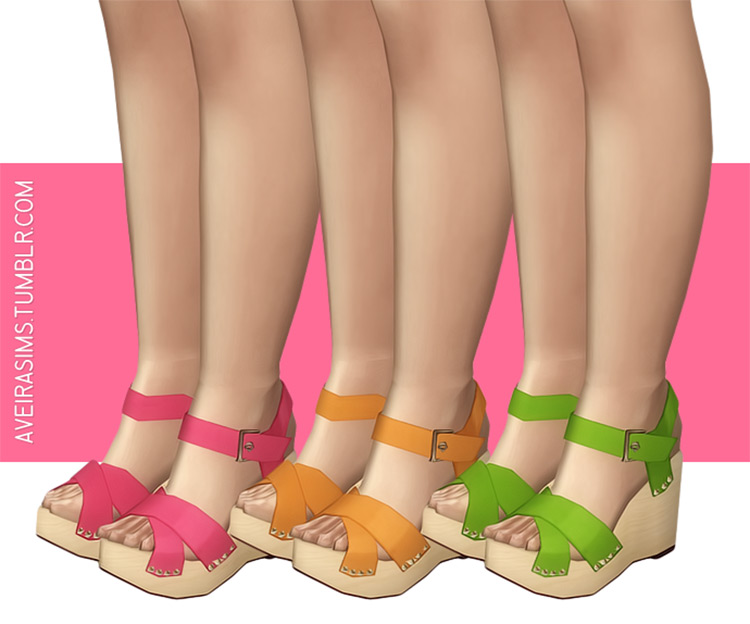 Madlen's original Novara sandals are chunky wedges (probably a good three inches) with thick glossy straps.
Beautiful and available in six staple colors.
Aveira's recolor adds about 58 more color options for a total of 64 swatches and, yep, orange shades are there too!
The recolor also makes the straps look more vibrant and matte.
Have fun with these—they're vibrantly pretty!
---
Generation 7: Pink
---
Pants: Skin-Tight Skinny Jeans by Simple Simmer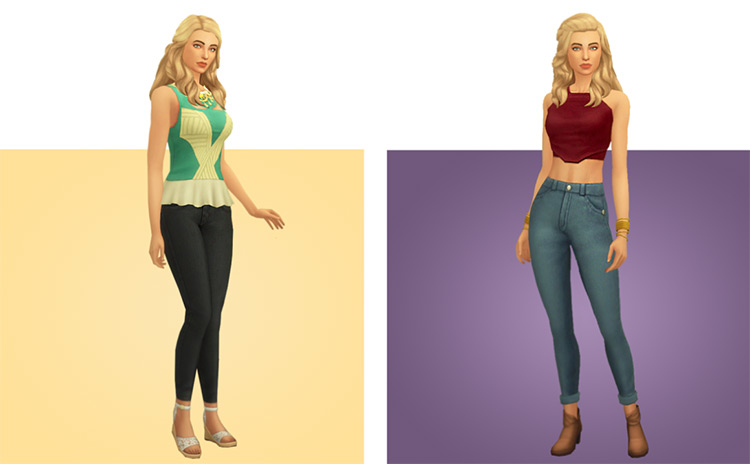 I appreciate custom skin-tight jeans that don't look like they were painted on to my Sim's body.
Hence why Simple Simmer's highly detailed CC item appealed to me.
I know that wide-legged pants and mom jeans are more of the rage these days (unless I've just been brainwashed by TikTok), but what Sim doesn't appreciate a nice, dependable pair of skinny jeans?
There are several options, but the high-rise variation (with front pockets) is the one you want.
It comes in 9 colors, and one color is a pretty shade of pale pink.
---
Generation 8: Peach
---
Hair: Peach, Peach Puff, and Curly Stars recolor by berrybbbies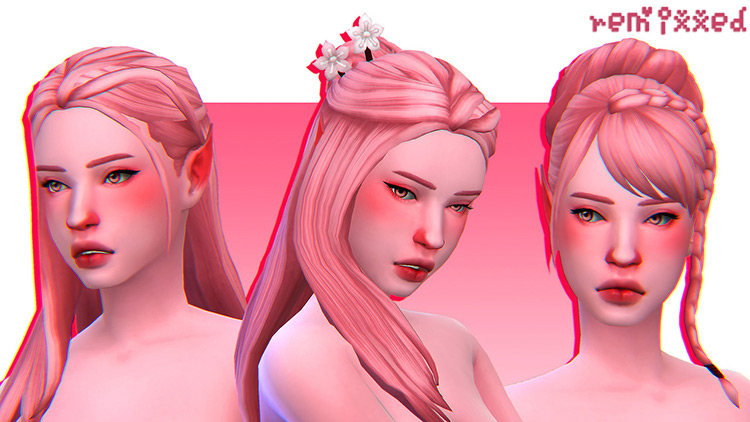 Original mesh credits go to CC creator pinkpatchy for these incredibly gorgeous hairstyles.
The download link leads to pretty much what is a 3-for-1 kinda deal, with berrybbbies recolors of these aptly named Peach hairs (and Curly Stars, if you want a full up 'do) adding 76 new color swatches to each individual hairstyle.
These 76 colors are the Sorbets Remix palette, so you know several gorgeous shades of peach and pale pink are in there somewhere.
I used Peach Puff for my Not So Berry Sim, and I was not disappointed.
The original CC creator (pinkpatchy) has also a downloadable Peach Puff hairstyle without the flower accessory!
Shorts: Summer Breeze Shorts by simlaughlove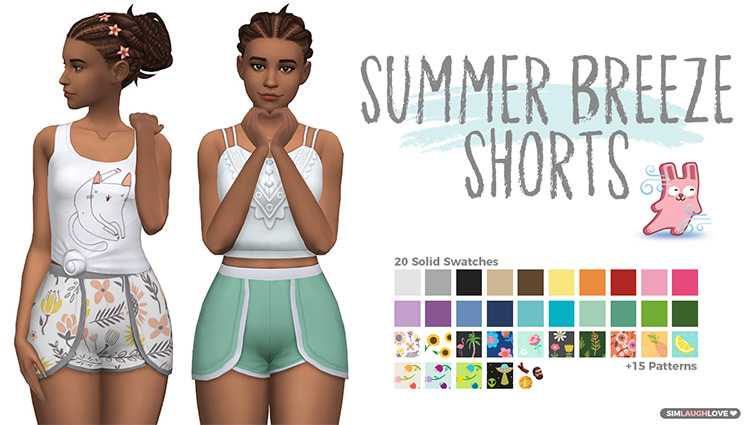 Fed up with solids, looking for some prints?
Simlaughlove's got you.
They turned the TS4 Season's romper into a pair of really cute, quasi-sporty lounge shorts, and they're hella cute.
A high-thigh, high-rise number that comes in 16 EA swatches, 20 original solid swatches, and 15 fun summery patterns.
They don't have a peach shade for any of the solids, but one of the patterns features soft pink blossoms on a peach background. And it looks excellent paired with the base game tank top.
10/10 would recommend.
---
Generation 9: Green
---
Overcoat: Men's Autumn Collection Overcoats by Saurus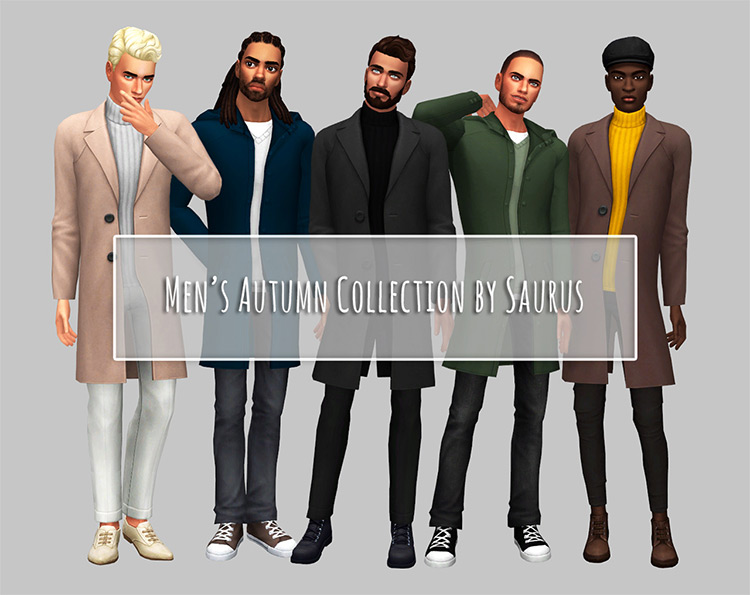 If you're in a fancy, fashionable, and/or jovial sort of mood, gotta recommend these uber-uppity coats by Saurus.
Seriously, I love the style.
And there are two design options:
(1) long overcoats over ribbed turtlenecks (20 colors), and
(2) hooded overcoats thrown over casual layers (18 colors).
I chose the second look, opting for the combat-fatigue-green and desaturated-green combo.
If it's not to your taste, however, there are about two other green swatches in the same style.
One is a pale green number over a mustard-yellow top (great contrast), and the other is a deep forest green shade complemented by a deep blue undershirt (bit too dark a combination, but no less striking).
---
Generation 10: Blue
---
Turtleneck: Turtleneck Bodysuit (Recolor) by Noodles Sorbets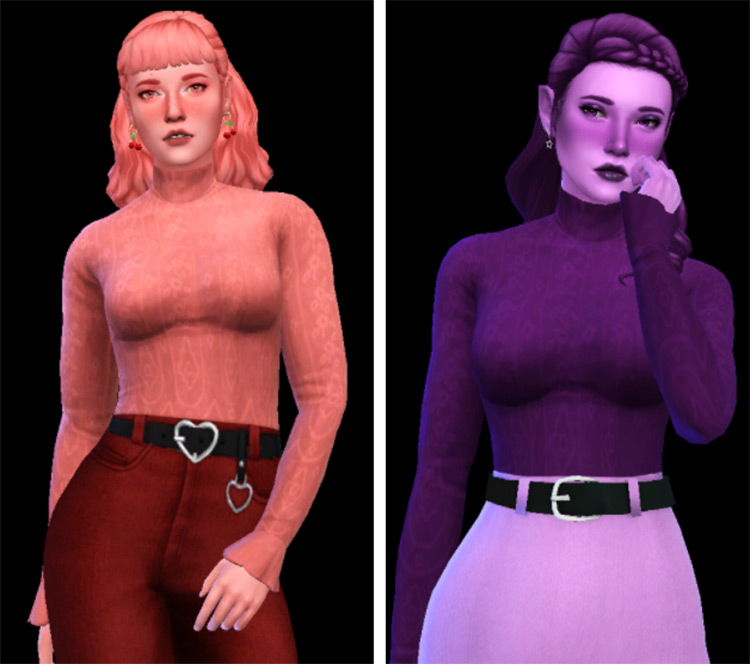 The original mesh for this cute, embroidered, turtleneck bodysuit—made by CC creator okruee— comes in 16 colors (and an add-on accessory).
Noodles Sorbets recolor brings the grand total of color options up to 76 swatches (aka the Sorbets Remix palette), adding roughly four to six beautiful shades of blue. I wasn't sure if light blue, sky blue, or cerulean counted for this generation, so I stuck to a pretty basic deep blue.
Blue, just like green and yellow, isn't too hard a color to come by in a vanilla TS4 game – since it's part of EA's 18 color palette.
However, I'm a firm believer that you can never have too many clothing options.
Browse:
Lists
The Sims 4
Video Games