Best Sims 4 Nurse CC: Outfits, Costumes & More
This post may contain affiliate links. If you buy something we may get a small commission at no extra cost to you. (Learn more).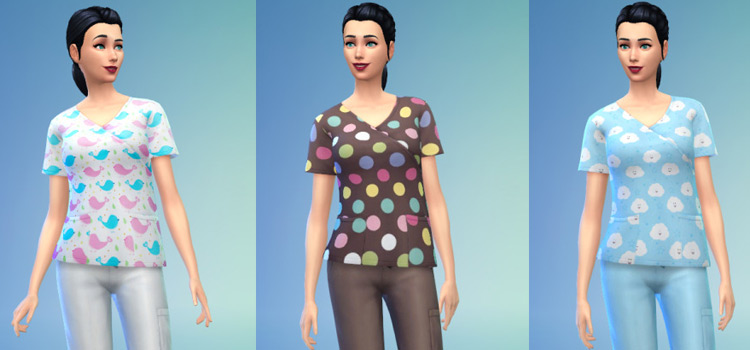 Whether in real life or The Sims, nurses are the backbone of medical professionals.
They work hard to take care of us while assisting doctors with a plethora of tasks.
So it's only right that we organize a collection of nurse CC for all you players looking for more options.
If you own Get to Work and use the nursing career a lot, here's a great way to inject some new life into your game.
From scrubs and other work uniforms, to careers and clutter. This list has everything your nurse Sim needs to succeed.
Nurse Uniform Recolors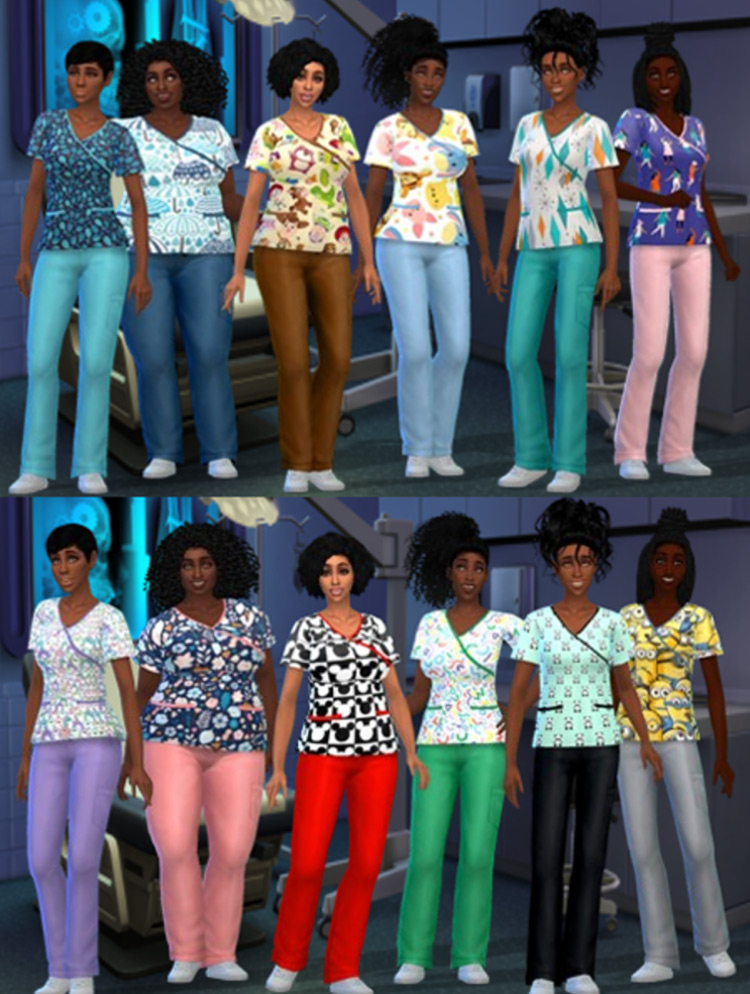 We love when creators make something old look new again.
These nurse uniforms from AvenaLove are recolors of the scrubs from Get to Work. It includes male and female sets with 12 swatches of really cute, colorful designs.
There's even a chance your Sim's coworkers will come to work in these new threads.
And it's not set for random, either. So no worries about your town being flooded with people in nurse uniforms.
(Unless you'd want that, of course!)
Nurse Scrubs for Men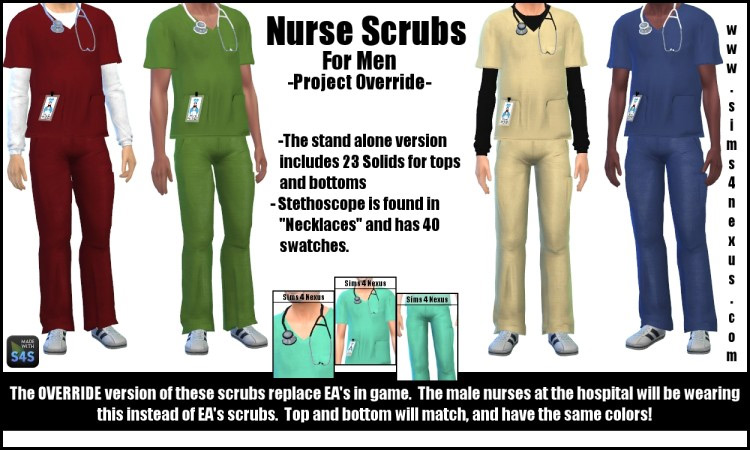 Time to show the male nurses a little love!
Sims4Nexus has done just that with these colorful and detailed scrubs.
We love the immersion from the name tag clipped on the shirt and stethoscope around the neck.
Both the top and bottom come in 23 swatches, and the stethoscope is an accessory found in the necklace category.
But be warned that these override the EA scrubs. So make sure you like these before downloading.
Nurse Uniform Top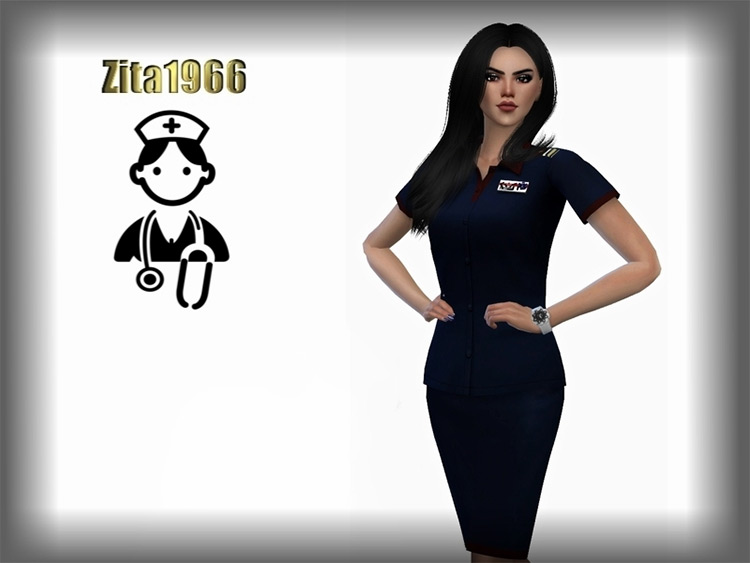 No bells and whistles here.
Just a professional and comfortable top for your female nurse Sims.
ZitaRossouw's creation is actually a recolor of a top from Dine Out (which you'll need to use this). The design has short sleeves and features what looks to be a name tag and brooch on the shoulder.
We could see a nurse's aide wearing this for sure.
It's also part of a set including another shirt and doctor's coat. Check it out if you own both Dine Out and Get to Work.
Nursing Career Mod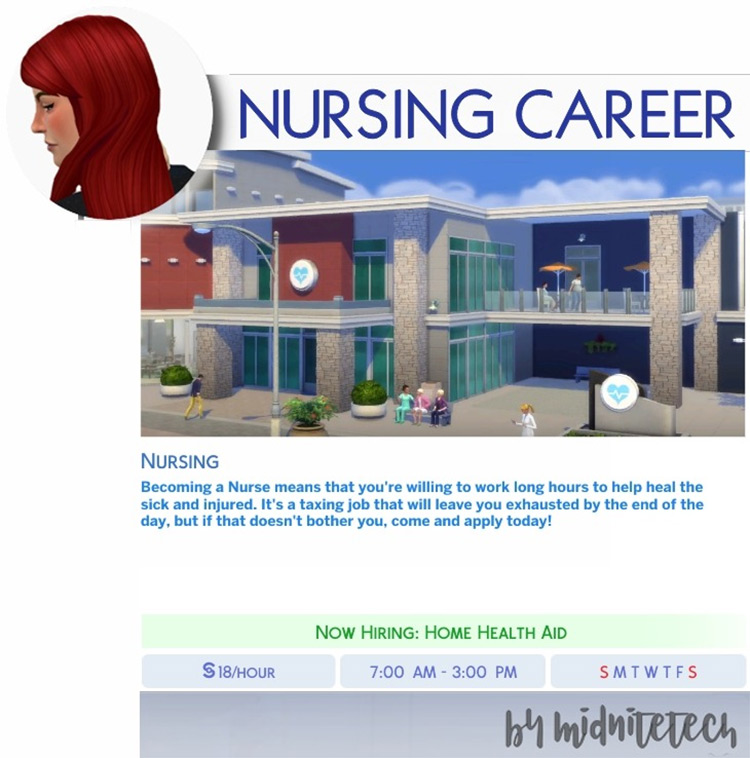 Did you know there's no dedicated nursing career in The Sims 4?
Yep, it's just a single level in the Doctor career track introduced in Get to Work.
But you're out of luck if you don't own that pack, or if you don't want your Sim to be a doctor.
Noted TS4 custom career maker Midnitetech saves the day again with the Nursing Career mod.
Sims can experience a realistic climb from humble Home Health Aid to Advanced RN Practitioner. Best of all is that you only need the base game to enjoy!
WW1 Vad Nurse Outfit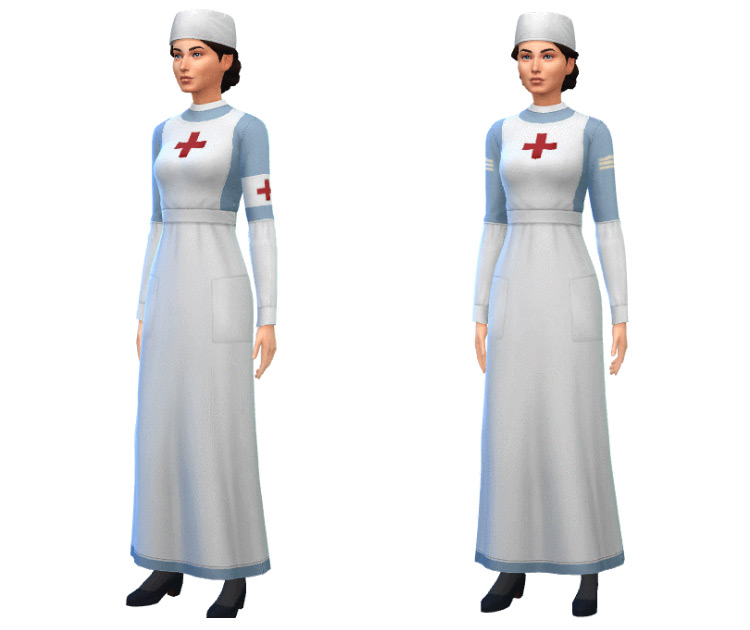 Historical simmers are very passionate about accuracy when it comes to their saves.
So we're super excited to share this lore-friendly nurse outfit from DanceMachineTrait.
The ankle-length dress resembles what nurses during World War I donned while treating patients. It's tagged for wear in all kinds of weather, and can be worn by occult Sims as well.
There are three swatches total, including the blue and white dress in the photo.
And this one's disallowed for random as well, which we know historical simmers will appreciate. Don't want that immersion broken by some tragically dressed townies!
And maybe try matching this up with some other CC from this time period.
Male & Female Scrubs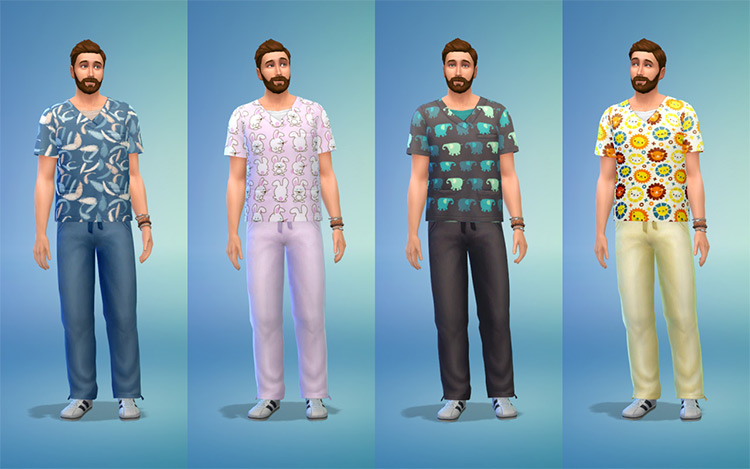 Do the EA scrubs make you want to scream?
If recolors can't save them, well then you'll definitely want this CC to freshen things up.
Creator Peach's scrubs are for male and female Sims, and they're so cute that I can't take it!
Some of the patterns included in this 12 swatch set are smiling bears, happy clouds, and bunnies.
They're sure to bring a smile to any child Sims visiting the hospital for a cold.
Med School Scrubs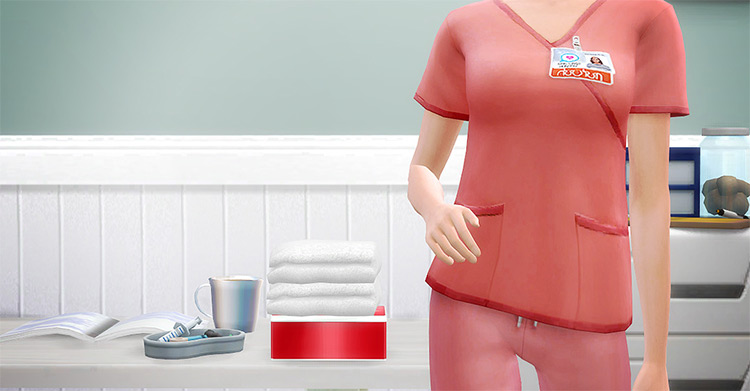 University doesn't offer a dedicated medical school track (the closest is biology).
But that doesn't mean your Sims can't at least look the part.
Enter these med school scrubs from SimmiesGalore!
These loose scrubs are recolors of the vet outfit from Cats and Dogs. The name tags are re-designed to look like student ID's.
And they're even in Simlish so yay for lore-friendliness.
Medical Clutter

The hospitals in The Sims 4 are so clean that it's honestly distracting.
All I can notice during visits is how little clutter there is.
That's why we love this set from AroundTheSims 4 so much.
It includes the medical tools you'd expect to see at a hospital like scales, stethoscopes, blood pressure monitors, and more.
There's also a 20-piece poster set, and two deco objects that were converted from The Sims 2.
So anyone wanting a little nostalgia with their hospital makeover should definitely check this out.
Doctor's Orders Medication Set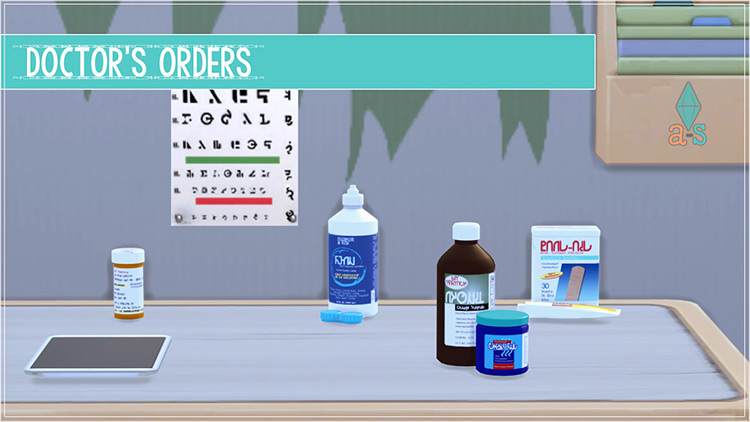 What's a hospital without medical supplies?
Best not to think about it too much. Just download this décor medical supply set and feel so much better.
A prescription bottle, band-aids, peroxide, vapor rub, and ointment round out this CC set for The Sims 4.
And everything except the bottle is designed to look like real-life brands. The labels are even in Simlish so it won't clash in your game.
Creator ajOya doesn't appear to be active anymore, but you can still download this set here.
Browse:
Lists
The Sims 4
Video Games