20 Must-Have Nursery Room CC & Mods For The Sims 4 (All Free)
This post may contain affiliate links. If you buy something we may get a small commission at no extra cost to you. (Learn more).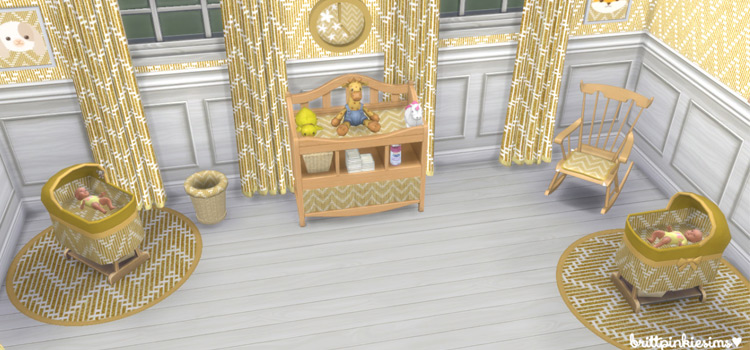 If you're reading this, congratulations! It means you have a little bundle of joy on the way.
Whether this is your Sim's first kid or not, there are lots of preparation to be done before the little one arrives. Your Sim has to read pregnancy and parenting books she has to go get a relaxing massage for her back pains, and of course the nursery room must be readied with all the best stuff.
The first step to being the greatest parent for your kid is to make sure they have all they can ever need.
But let me guess, you're not sure where to start and what to look for?
Don't stress, because for this list I'm bringing you must-have CC items for your Sims 4 nursery room.
There's no need to panic buy some more stuff for your house, because now all you need to do is to simply click the links and download at your own pleasure. And yes my friends, I definitely encourage hoarding. Especially if it's for your virtual little one.
20.

Awesims Broyhill Nursery by Loree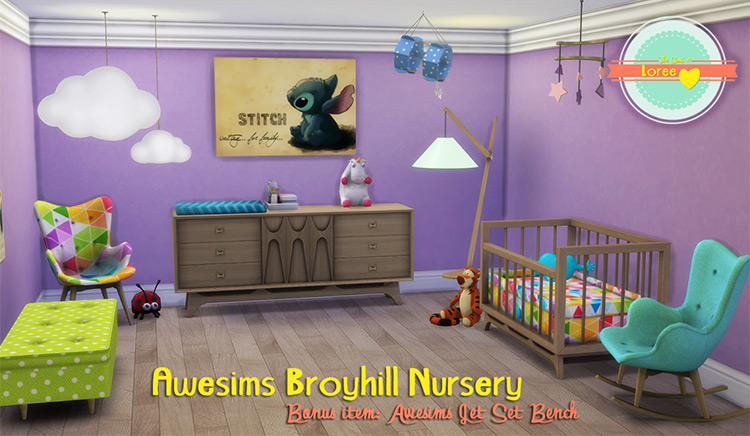 This Awesims Broyhill Nursery pack by Loree just captures the fun of childhood with its technicolor cribs, chairs, and toys.
If you're opting for a gender-neutral choice but don't like the usual drab colors, this pack is a good idea for you to download.
There are 22 swatches for the crib, 50 for the chairs, and so many more for the rest included in this pack.
You won't go wrong with this as a starter pack!
19.

Candy Covered by SIMcredible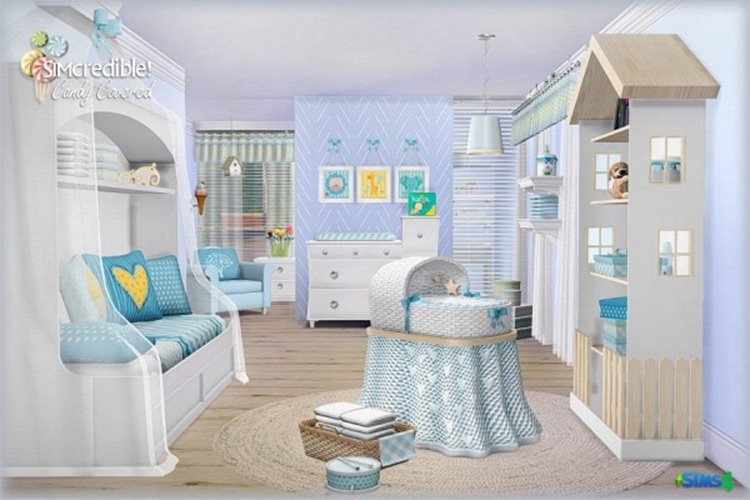 SIMcredible's Candy Covered mini stuff pack is full of adorable knick-knacks that will really bring your nursery to the next level.
Because what's a nursery without the clutter of linens, diaper boxes, and color pencils, gift boxes, and toys?
Just a room for a baby, that's all.
18.

Spinning Joy Toys by SIMcredible!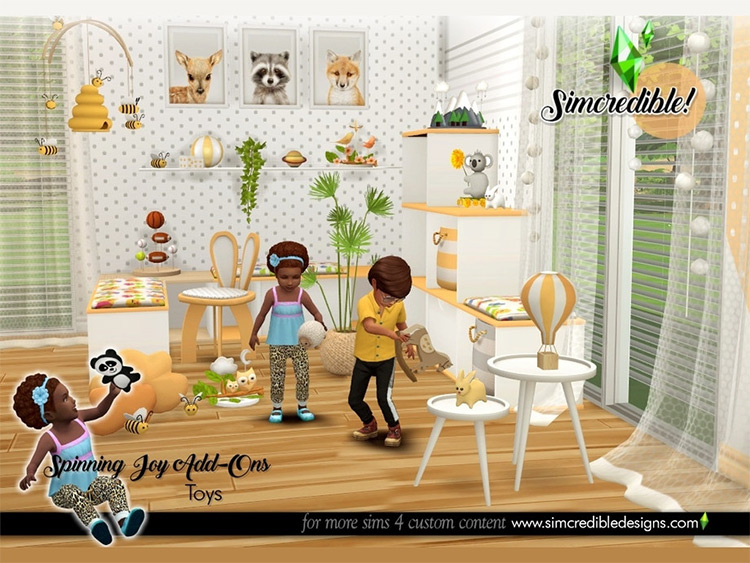 This pack is truly all joy.
The Spinning Joy Toys set by SIMcredible includes 13 different and interactive toy designs, from owls to hot air balloons to planets.
This set is more suitable for your toddler than for your baby.
But the toys will add a fun vibe should you display them in your nursery!
Because what's a nursery without colorful toys? Plus, it's only a matter of time before your little baby becomes a toddler anyways. They grow up so fast!
17.

Susanna by Soloriya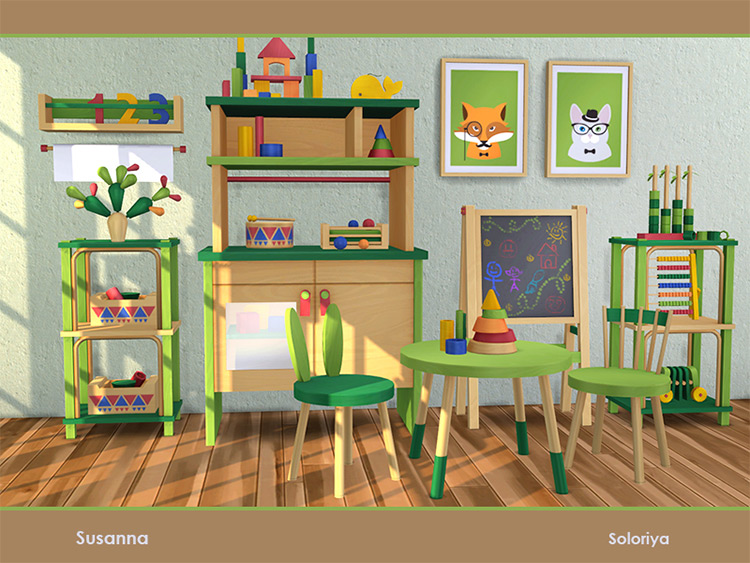 The Susanna set by Soloriya has fun and bright greens, yellows, pinks, and blues that will surely make your nursery look like a cheerful place fit for a happily growing child.
Beyond the colors though, what makes this set so pretty are the educational toy decors such as toy blocks, pyramids, a chalkboard, and even a multi-colored abacus!
With this pack, you're not simply building a nursery. You're building a fully equipped preschool.
You know what they say, the home is the first school.
16.

Heart Kids Room by Severinka_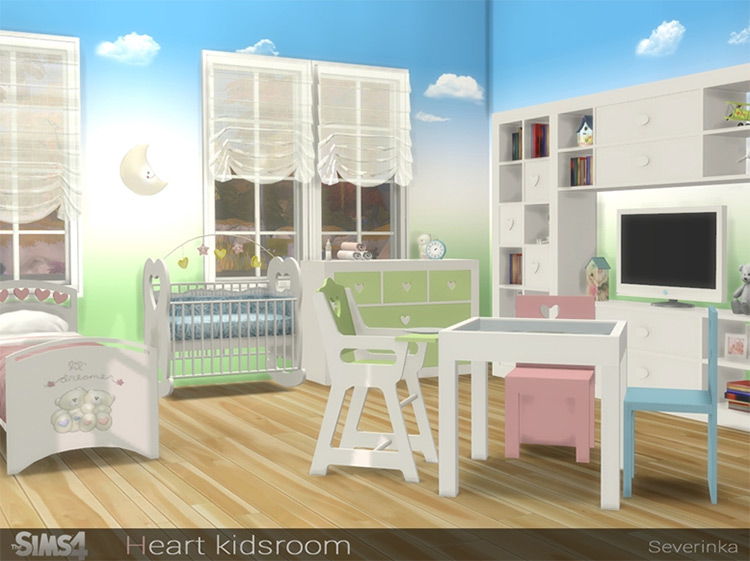 The Heart Kids Room set is for the Sim family juggling more than just one kiddo.
There's a crib, a toddler bed, and toys, of course!
While the crib is originally just for décor, you can opt to download a crib mod too which can turn the crib into a functional bed.
There's even a dining table and chairs for four – great for instant bonding with your big, happy family!
Your Sim can eat, play, and rest with the whole family with this CC pack.
15.

Nursery Set by Brittpinkiesims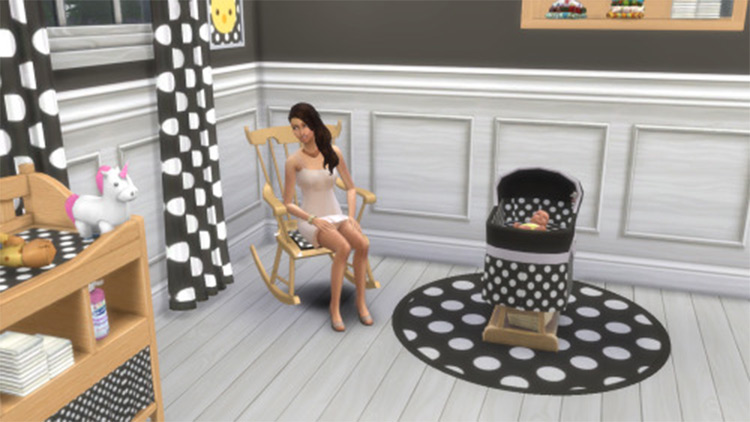 Now if your Sim is the type of mom or dad that would just spoil their child rotten and give them only the fanciest stuff, this CC set by Brittpinkiesims is a perfect choice.
Why?
It has everything: adorable bassinets in 16 recolors, animal print paintings, rocking chairs for your Sim while you wait for your baby to fall asleep, shelves, multi-colored curtains, rugs, and even clocks.
Literally, you only need four walls, some wallpaper, flooring, and this CC pack.
Your nursery is as good as done!
14.

Baby Decor – Mini Outfitters + Bebé Orgánicos by Dreamteamsims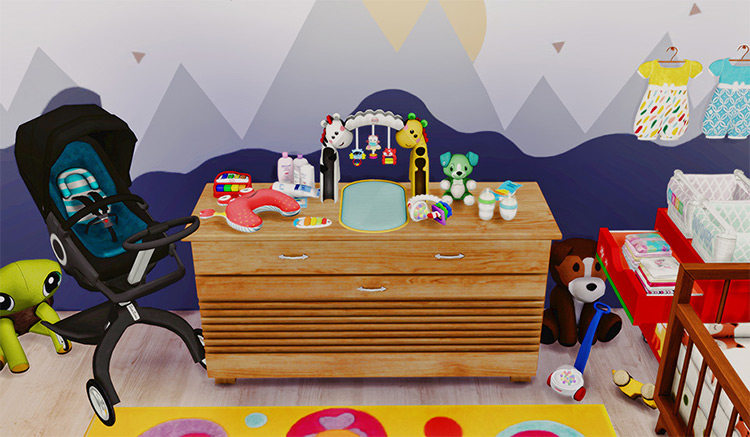 This baby décor pack by dreamteamsims has everything that your Sims needs to be an awesome parent.
Included in this pack are baby bottles, rattles, play gyms and mats, and even a xylophone.
With this, your kid will never run out of cute and cool stuff to laugh and coo at.
And of course, this is a boon for your Sim too: they can catch a rest while the little one is occupied with the colorful knick-knacks from this incredible CC pack.
Your nursery will definitely be a wonderland of colors and toys with the items included here!
13.

Kids Camping Toddlers by SIMcredible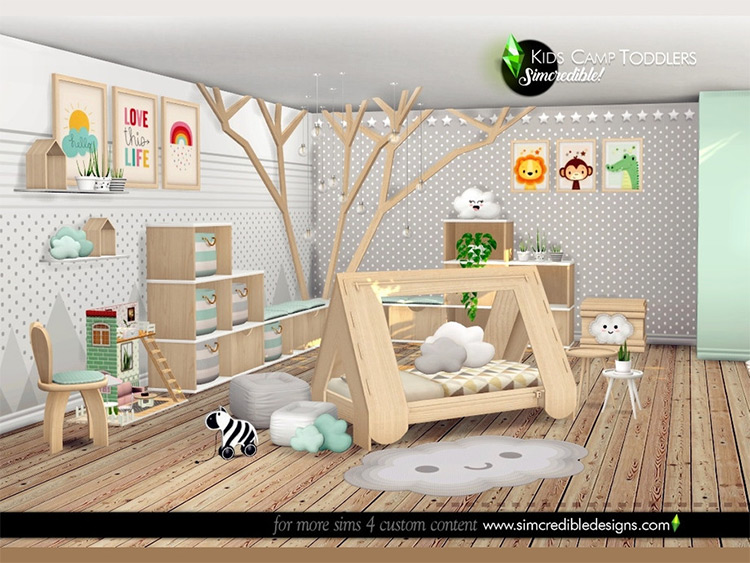 I'm sure this room CC is the dream room for most of us when we were younger.
A camping-themed bedroom? If I were a kid I would never want to leave!
Beyond the cool and quirky theme, this SIMcredible set is a CC pack you don't want miss. Because it has so much pretty decor and furniture you'll love to death, especially if you're a fan of wood or rustic furnishings.
And it includes this huge cardboard tree which adds such a lively, adventurous feel to the room. So your toddler will never feel bored (or keep out of trouble).
While this is a toddler bedroom and not a nursery, you can download this and just add a bassinet. Easy switcheroo!
12.

Kalehouse Baby Stuff Set by Novvvas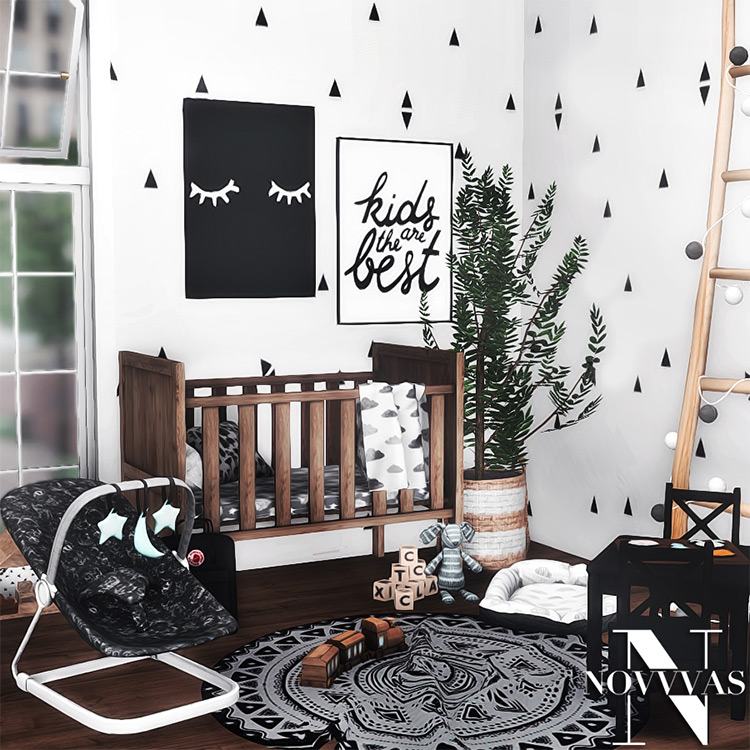 Black is not the usual go-to color for a nursery, or for baby items.
But I'm sure a lot of you love darker shades when it comes to furniture, so I've included Novvvas' Kalehouse baby stuff set for y'all.
This is a unique set because it merges the edginess of black with fun baby stuff, and it definitely works!
Black, grey, and white shades do give such a new perspective to nurseries.
11.

TS4 Kalehouse Nursery Recolor by Riekus13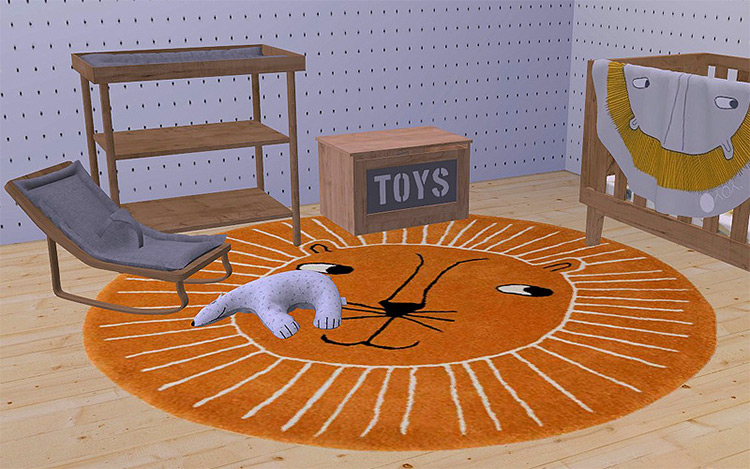 If you're not a fan of black colors for your baby, then I have for you a recolor of the previous set by Riekus13!
For this, our beloved pinks and yellows have been introduced into the original fantastic furniture and stuff such as pillows, animal rugs, and fluffy toys.
It's going to be a cheerful and bright nursery with these recolored items.
10.

Nana Nursery by Severinka_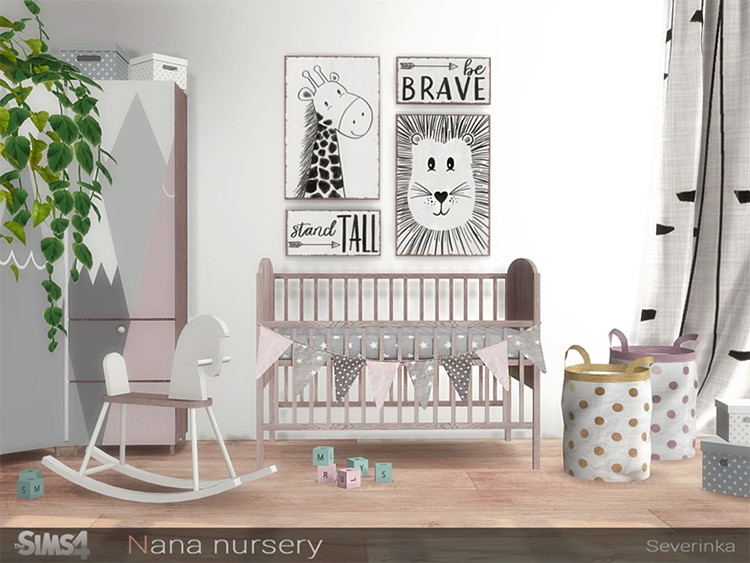 Severinka's Nana nursery is set in the Scandinavian style.
But this particular set has soft hues and tones that are perfect if you're aiming for a relaxing and comfortable nursery.
The set mixes the minimalism of the Scandinavian style with the quirkiness of nursery items, too, so it's a great option for a delicate but cute nursery.
The crib here again only originally meant for décor… but a simple mod will be able to transform the crib in a jiffy! If you need more details check out this video.
9.

Complete Nursery Sets by 13pumpkin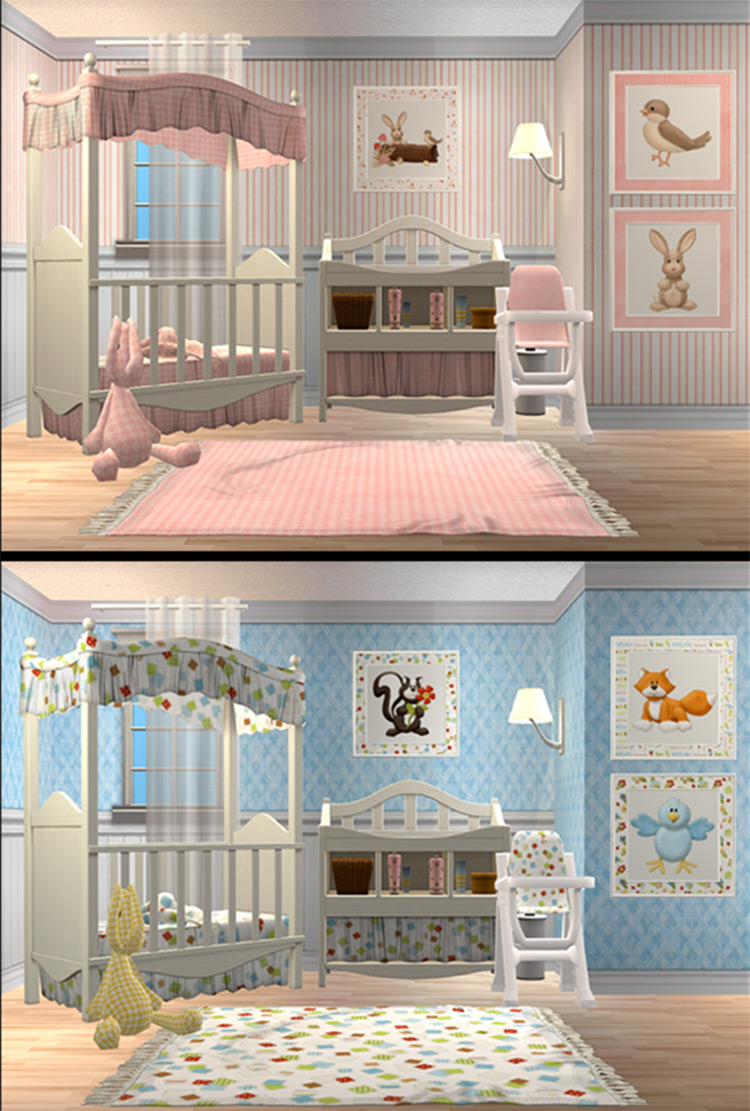 This nursery CC pack by 13pumpkin will transform your usual drab room into a top-notch nursery, complete with the essentials and also with fun decorations.
It has a beautiful and elegant crib with a canopy, which matches the cushions of the feeding chair and the rug.
A stocked changing station is also included, so you can change your newborn's nappies with ease, comfort, and style.
The furniture in this pack has two different color themes—one pink and the other blue—so no matter the gender of your baby, this has you covered.
8.

Royal Nursery by Severinka_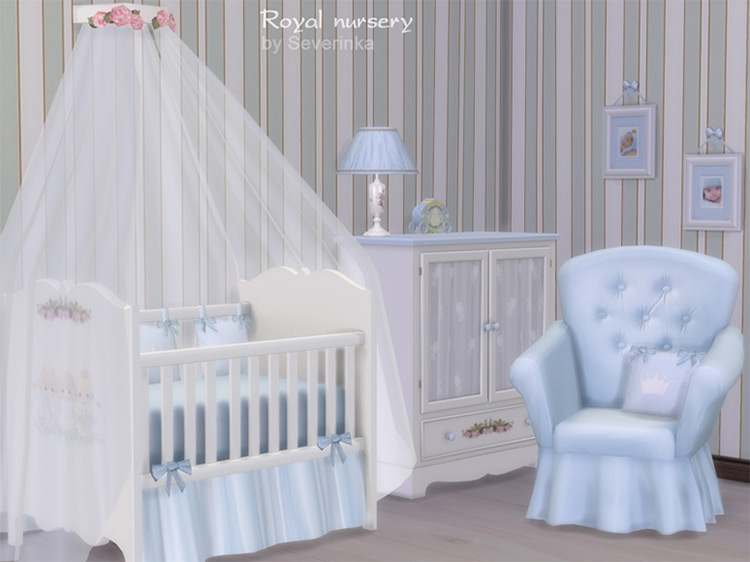 The name says it all.
Severinka's Royal Nursery CC set definitely lives up to its name.
It's available in yellow, pink, and blue, so it's perfect for either your baby prince or princess.
The crib and dresser are painted white for an extra regal flair, and the lamp is made out of porcelain.
Of course, nothing less for your precious one. Beyond the necessities, the set also includes some décor such as a mini toy carriage, two veils with ribbons, and four paintings to complete the royal theme.
7.

Sleepi Nursery by Onyxium
This Onyxium nursery set doesn't just think of the baby. It considers the (hardworking and most possibly tired) comfort of the parents as well!
Besides the pretty crib, feeding chair, and bears, there's also a bergère and a pouf for the moms and dads – fancy words, but basically a comfy chair and stool.
With the aesthetics of this set, there really is a need for fancy words.
This set gives you more than just the basics of a nursery; it gives you interior design.
6.

Sweet Dreams Nursery Furniture Set by Sanjana Tasnim Rahman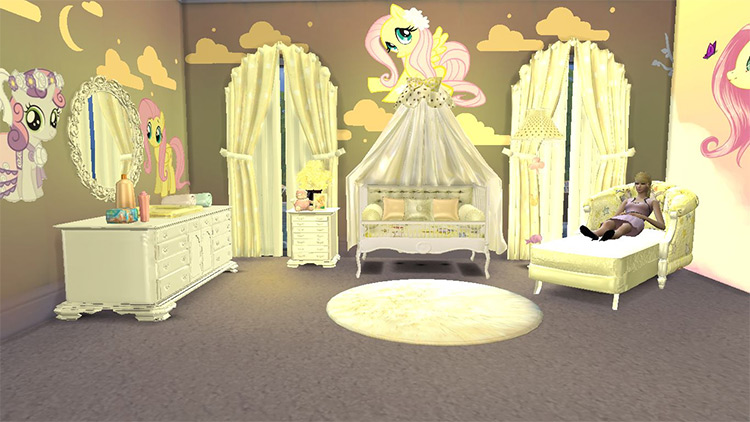 Relive your own childhood memories with this Sweet Dreams Nursery set by Sanjana.
It features our beloved character favorites such Princess Ariel, Pooh Bear, and My Little Pony. Yup, definitely nostalgia galore!
On top of that, the furniture included here is fit for a modern day princess.
There's a huge crib with a satin canopy and extra fluffy pillows, and the changing table can become functional when added the 'baby without crib' mod.
Oh, even mommy can feel like a queen with this set, since it also includes a chaise lounge for her to daydream or for her to rest on while waiting for the baby to fall asleep.
5.

Acnassy Nursery by Jomsims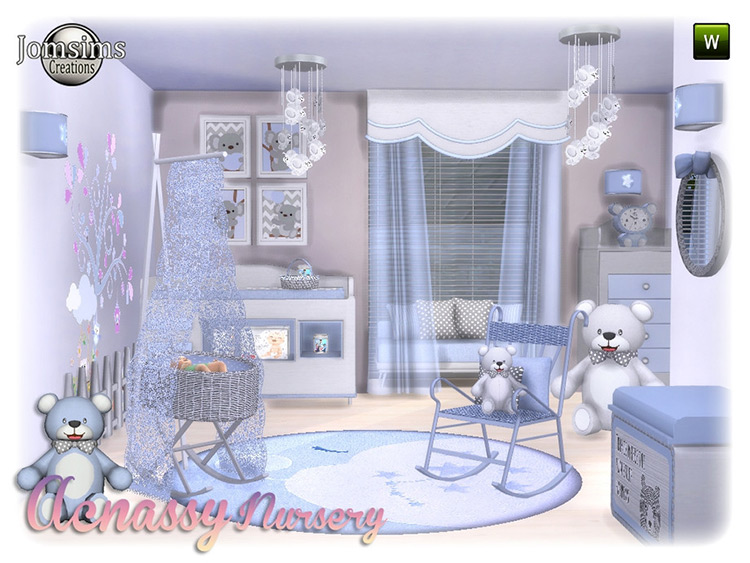 Another pretty and complete nursery set to download, this one from Jomsims.
It has a unique rocking crib for your precious one's little naps, as well as a flower lace canopy that just adds a level of elegance to the whole room.
Apart from these, you also get some loveseats, toyboxes, rocking chairs, and even curtains!
A definite one-stop download for any nursery.
But the best part? It comes in three super pretty colors, so you can mix and match to get the nursery of your dreams.
4.

Victoria Nursery by Severinka_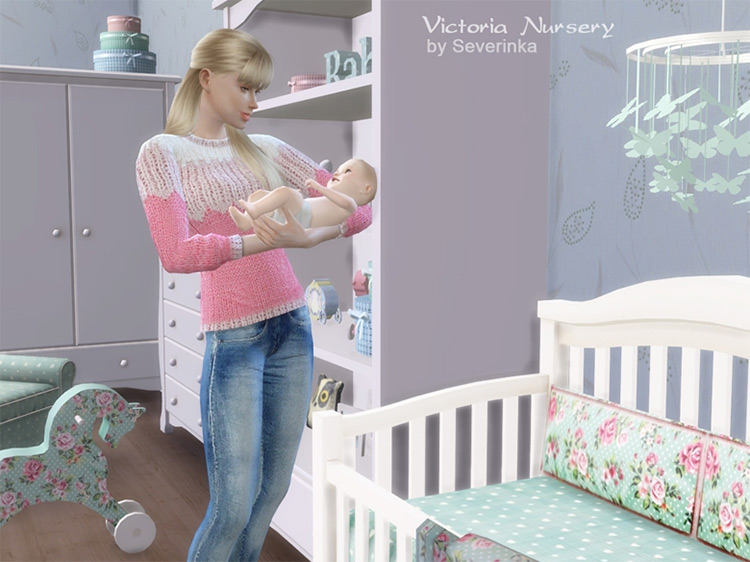 If your Sim's house has a cottage-y, vintage style, this Victoria Nursery CC is the ideal pack to snag.
The crib cushions have a pretty, rustic flower pattern, as well as the wooden pony, which will definitely match well with your other rustic furniture.
The dainty butterfly wall dangles and mirror too!
The furniture, décor, and patterns come in three lovely pastel colors, perfect for your little girl.
3.

Aura Nursery by NynaeveDesign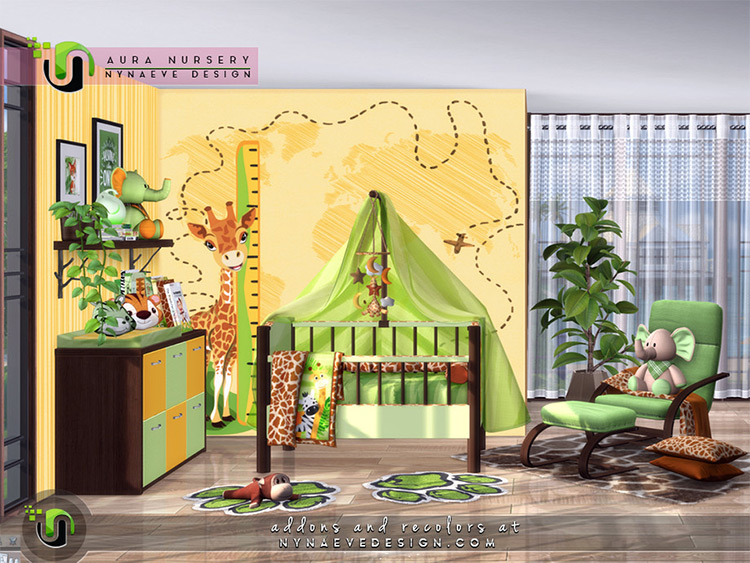 This set has so many bold and fun mixes of colors, and I love it a lot.
Especially since it's safari themed.
As you can expect with the theme, the set includes super cute plushies of elephants and tigers.
And of course, animal print!
There are four different color themes, and each one is as adorable as the other.
Plus it has everything your Sim and the child could need: a changing pad, a nursing chair, a baby mobile, and more!
2.

Evelina Nursery by Severinka_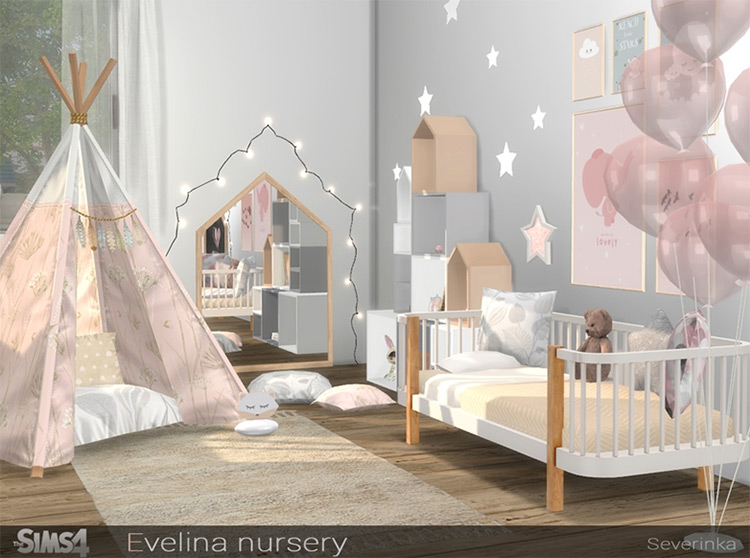 Severinka's soft pastel Evelina Nursery is everything your little girl could ever want or need.
It has dreamy décor that's fit for only most precious babies and toddlers. And there's so much fun to be had in any room containing the tent, pillows, balloons, and fairy lights included in this set.
This is perfect for sleepovers, or even just for mother-daughter bonding time.
1.

Tiny Twavellers by Harrie-CC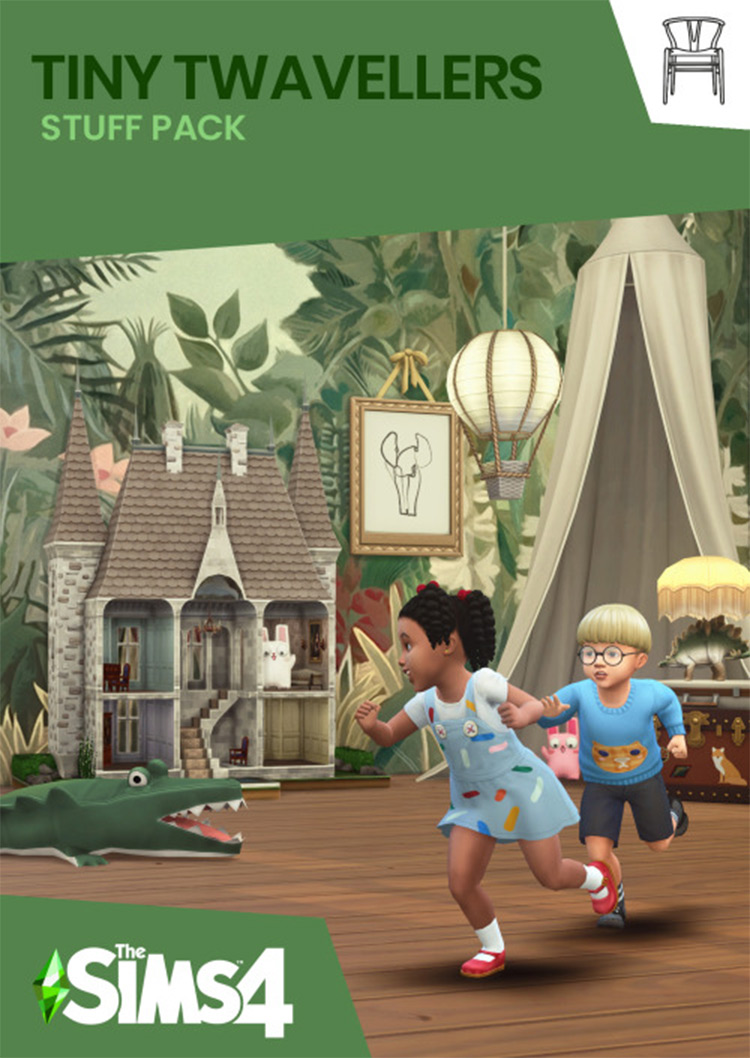 If you're still not satisfied with the hauls from other entries in this list, don't worry, it's not too late.
We really did save the best for last… and it's the Tiny Twavellers CC set by Felixandresims and Harrie-CC.
Why is it the best?
Well, it's a staggering 67-piece custom content pack made especially for little ones to play.
It's complete with bassinets, toys, tents, canopies, swings…it doesn't get much better (or more complete) than this.
This CC pack will be your best friend as your child ages from baby to toddler to teen, and then offers fond memories once they finally fly the nest.
Browse:
Lists
The Sims 4
Video Games