Sims 4 CC: Best Off The Shoulder Tops & Dresses
This post may contain affiliate links. If you buy something we may get a small commission at no extra cost to you. (Learn more).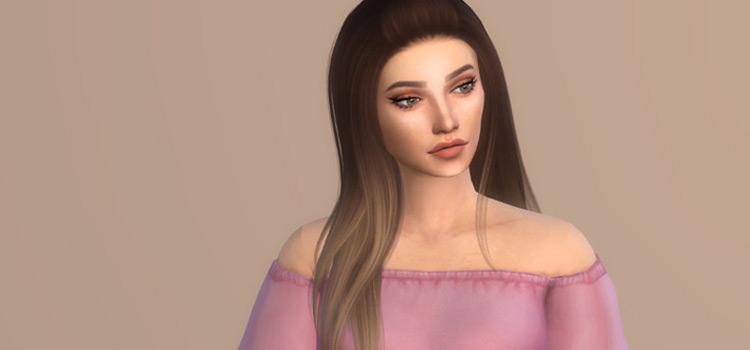 Whenever I think of anything with an off the shoulder style, it instantly reminds me of being out in the sun, taking long walks with friends, getting a cold treat, and most importantly: looking cute while doing all those things!
An off the shoulder top instantly adds something extra to your outfit, without having to worry about adding a bunch of accessories.
Or even an elaborate hairstyle to complete the look.
Nothing too over the top, nothing too underdressed- the perfect balance!
Here we'll be taking a look at some of the best off the shoulder tops and dresses for your Sims that you can use to keep everything cute, stylish, and cool. Plenty of Custom Content to go around!
15.

Off The Shoulder Top by ChloeMMM
A top that has a lot of summer vibes for me, when I first saw this piece I thought of a nice day with some friends on the lake, a nice boat, and then wished that the Motherlode cheat could be used in real life.
But as I like to say, if you can't do it in real life – do it in The Sims!
Simple and refreshing, this top is perfect for any casual outfit for outings with friends, going on a casual date, or maybe even a backyard party with the neighbors.
Paired with a simple skirt or a wide-legged pant, this shirt is sure to complete whatever look you can think of while staying cute and comfy.
14.

Temptress Top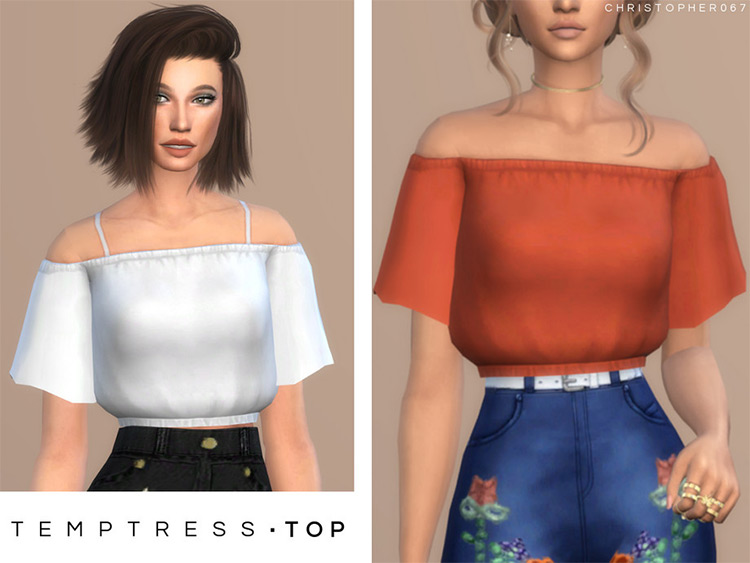 Have you ever struggled with finding something really cute you wanted to add to your collection of custom content, but can't find the color you want?
Struggle no more!
What's great about this CC pack is not only that it's a great staple piece for looking cute and casual, but with over 60 different colors, textures, and patterns, there's something here for everyone.
13.

Magia Top
Now this simple button-down top is perfect for just about any outfit.
Not only does it look like a more casual modern-day spin to your classic work attire button down, but also adds for even more modernity with the last couple of buttons on this top left undone.
Perfect for weekdays or weekends on your favorite Sim gal.
12.

X-Neckline Dress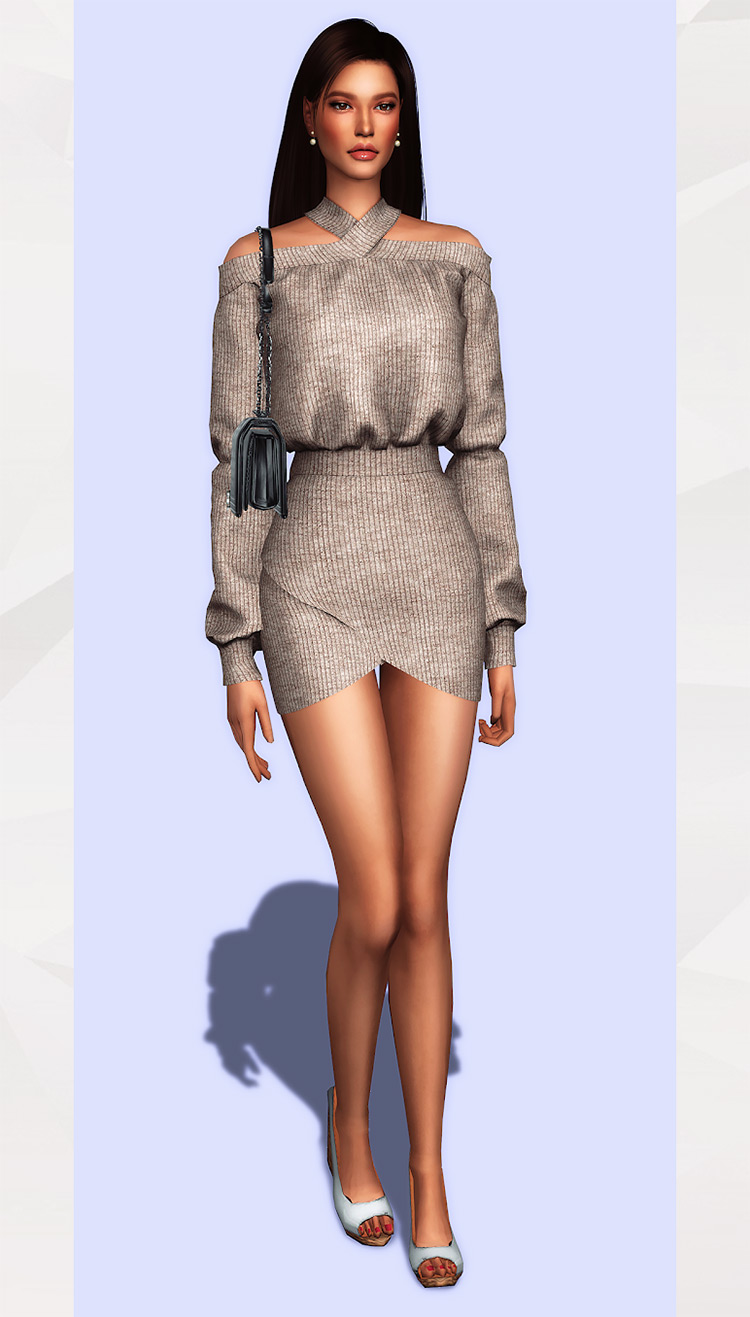 One of my favorite times of the year is the summer to fall transition.
It's not too cold, the air is crisp, you start to smell cinnamon and apples in the air.
This dress reminds me of that feeling entirely. With the texture of your favorite fall sweater paired with the length of a fun summer dress, make sure to boil up a hot cup of tea and find a new book to read.
Because that's what your Sim will want to do dressed up in this top.
11.

Off Shoulder Crop Top
One of my favorite things about finding good custom content is that you can find real life styles and apply them to the world that you've created.
This off the shoulder crop top from elliesimple is arguably one of the most popular styles for the season, easy to nab and totally free (of course!).
As pictured in her thumbnail, this piece would look amazing with a pair of mom jeans, and makes any casual outfit look stunning without having to put in too much effort.
Plus, look at that yellow one!
10.

Goddess Dress
Have you ever found yourself trying to get the attention of someone cute across the street?
Maybe it's just me, but if I move into the right neighborhood and we're having the welcoming party, someone cute happens to show up and I think to myself "Yeah, this needs to happen".
Just me? Oh, ok.
Anyways this flirty goddess dress is just what you would need if you wanted to make the right impression before you spam your queue with flirt commands.
The high-low skirt adds to the romantic aspect to the dress, while keeping it simple with little details – all while making you feel like the goddess that you know you are.
9.

Smocked Tube Top
So here we have a top where a throwback classic meets a modern twist.
Smocked pieces are everywhere, they create texture and fun to an otherwise boring outfit, while making us think about the early 2000s where cropped tops and low rise jeans were what could make or break an outfit.
What could be better?
Instead of jacking up your Sim's electric bill turning up the air conditioning, try cooling off in this cute tube top. They'll thank you for it!
8.

Asha Off The Shoulder Blouse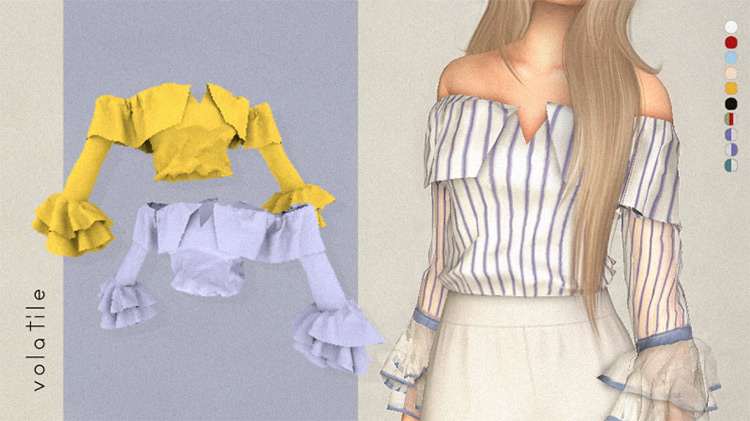 This top reminded me of something cute you would find in the window of a boutique downtown.
I love the uniqueness of the piece; the intricate folds of the collar, the ruffling of the sleeves, and the different use of texture makes this a win for me.
And if you didn't think it could get any better, there's 10 designs to choose from!
It even comes in a cherry print, which I'll admit causes a slight bias in choosing this CC.
7.

Off Shoulder Shirts & Tops
Looking for something cute and girly?
This off the shoulder top offers exactly that, with cute detailing like the buttons featured on the front, and the ribbons on the sleeves.
What sets this piece apart from the rest is not only the intricate detailing, but also the fact that the 20 swatches offered by this creator come in patterns, not just colors!
There's sure to be a style in here to match exactly what you're going for.
6.

Floral Bridal Gown Off The Shoulder
Summer weddings are all the rage for simmers. I mean, who wouldn't want to get married while the weather is beautiful?
An outdoorsy set up, a sunny day, and a stunning dress to pull the whole picture together.
What better than this chic wedding/bride's maid dress that looks like it's straight out of a fairytale?
The pastel colors on the dresses themselves are paired with the botanical patterns that really pull this look together. All you need are some nice floral arrangements and you've got yourself the perfect recipe for a wedding that will make your Sims scream "I do!"
5.

Ribbed Knit Lounge Set
Sometimes when we think of comfy clothes, we think about t-shirts with holes in the collar from wearing them too much.
Or a pair of way baggy sweatpants, and hair that hasn't been brushed all day.
I'm one of those people that strongly believes we should change that narrative. And your sims should too!
Snag this loungy CC pack to make sure they're comfy while they're lounging around all day writing children's books or managing their influencer careers.
This is definitely the CC they need…plus it has matching pants!
4.

Puff Sleeves, Off The Shoulder Top
Peasant tops are beautiful and reminiscent of fairy tales, princes, princesses, and long, long ago in a land far, far away.
Why not capture that look with the addition of this top into your wardrobe?
Not to mention with the Eco Lifestyle Pack that everyone's been raving about, this makes the perfect boho statement while you're living off grid.
3.

Reagan Top
One of my favorite styles is a nice bell-sleeve.
Not only is summer good for clothing that keeps you cool (and maybe for showing a bit of skin), but this style always says to me "light, airy, breezy".
Which is exactly why this top makes it into the top three of my list!
This a fun option for an off the shoulder top because of the style of the shirt itself, and with fun patterns to match, this CC is a tough one to beat.
2.

Off The Shoulder Shirt Recolored
Nothing says "classy" quite like an off the shoulder v-neckline.
With 18 sleek color/pattern options, this top helps your Sim dress up, but not seem too obvious about it.
Perfect for a date night at Chez Llama to make sure your Sim looks as cute as possible while waiting hours just for the waiter to bring you your glass of water.
1.

Off The Shoulder Lace Trim Boho Dress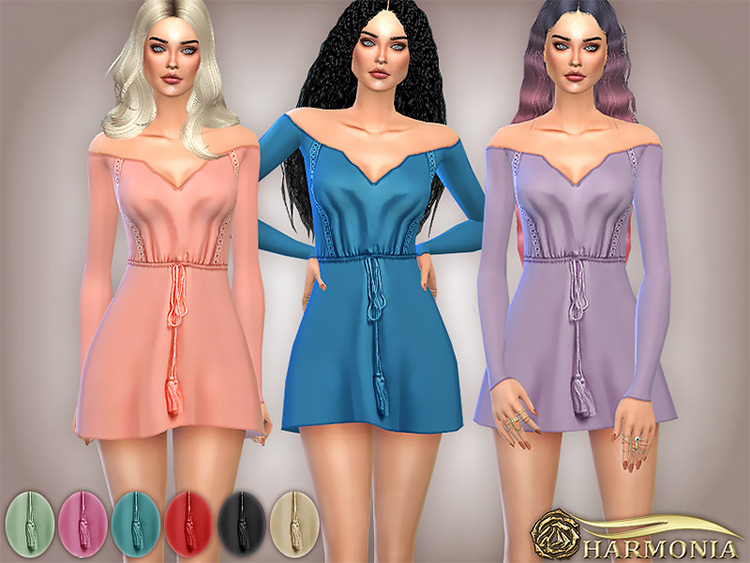 And the winner for what may be one of the best off the shoulder pieces in TS4, we have this cute boho dress!
Where to begin.
The lace detailing on the bodice of the dress is gorgeous, as is the tassel at the waist, or maybe even the color options.
This dress is cute and simple, beautifully textured, and it's a piece that when I stumbled upon it, I thought "I have to have it!"
And I think your Sim will feel the same way.
Browse:
Lists
The Sims 4
Video Games