Sims 4 CC: Best Office Chairs & Desk Chairs
This post may contain affiliate links. If you buy something we may get a small commission at no extra cost to you. (Learn more).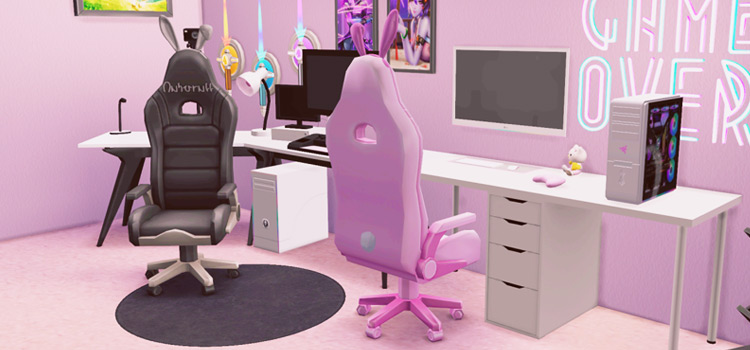 As a dedicated Simmer, you know to never underestimate the power of a good desk chair.
If you're lucky, you'll have a great gaming chair and can survive a day at the desk with minimal stiffness.
If not, you probably know the back pain associated with running through multiple generations of your sim world in one sitting.
Your sims might not feel the same pain as you do, but they deserve the best of the best when it comes to chairs!
I'm here to help with this list of fantastic CC – and with this much to choose from, there can be no limit to the cubicle madness.
1.

Executive Desk Chair Recolor
The perfect way to start this list off is with a recolor of one of the Maxis-Match desk chairs from the base game.
The Executive Desk Chair has always looked fit for a king, what with the high chair back and all of that plush texture.
But just because it's for top dogs doesn't mean it has to only have dark & broody colors!
That's something that EA didn't seem to understand.
To remedy that, this CC adds three lighter (albeit still classy) colors.
2.

Rover Desk Chair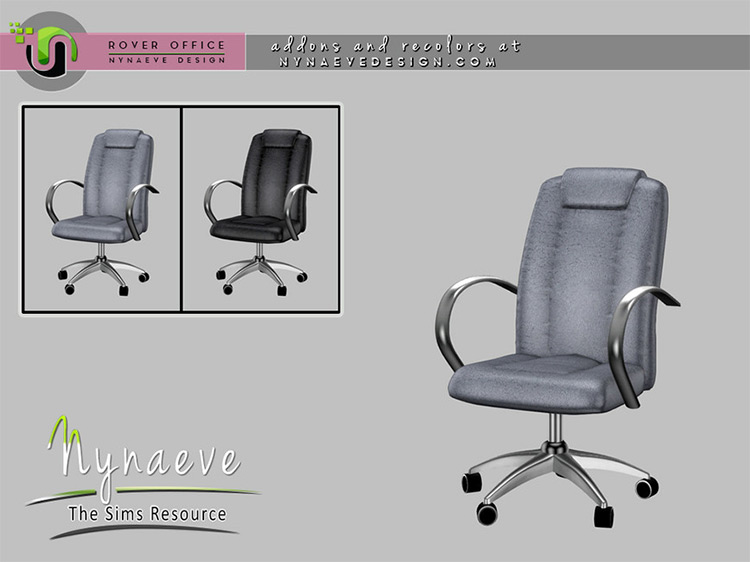 It may not be the most unique desk chair around.
But this Rover Desk Chair CC is still deserving of attention.
The texturing leans towards the Alpha side of the spectrum, but because of the simplistic design, it might not stick out too much in a Maxis-match game. And despite the simplicity, this CC is impressively detailed.
It only comes in 2 swatches (black and grey), but those are the two most important for an office setting.
If you're looking for a minimalist and utilitarian chair for your office build (or even for a home office) then this is definitely the one.
3.

Swivel Desk Chair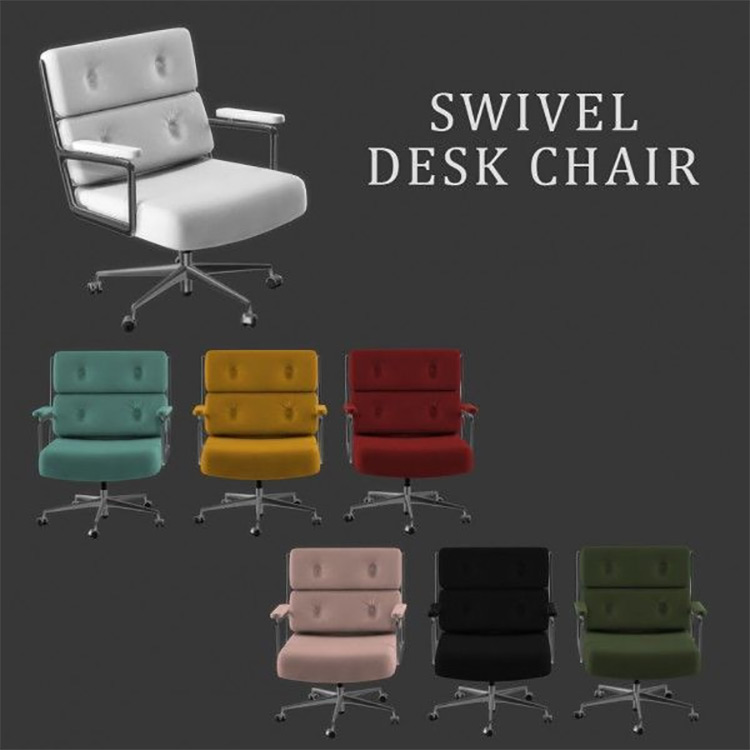 This extra-cushiony desk chair will make all of your sim's stress melt away.
Unfortunately, it can't do the same for you… but it sure looks plush!
While it would work great in home office scenarios, it would still look good in a more typical office setting.
It may be softer than your usual office chair. But the silhouette is exactly the same as many other desk chairs.
And to top it all off, this CC offers 8 color swatches that are muted & safe for work.
No matter the work environment, this should fit right in.
4.

Fraxinus Desk Chair
Mesh-back desk chairs are either the comfiest thing ever, or the exact opposite. And there's not much room in between.
Thankfully, how comfortable CC chairs look won't have any real impact on your sims.
They'll probably be too busy doing their usual sim tasks to notice, anyway – not that there's anything wrong with that!
In this set you'll find 6 swatches that change the chair's backing, seat, and wheels.
The seat is always the most colorful part, while the rest of the chair stays neutral (generally with black, grey, and white shades).
5.

Stannum Desk Chair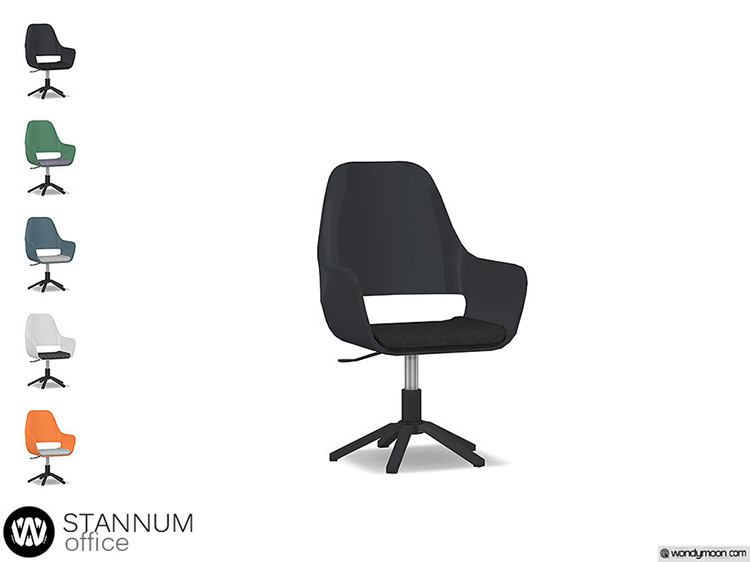 Like many of the chairs on this list, the Stannum Desk Chair gives off some serious feelings of deja vu.
I've seen this desk chair design more times than I can count, both in homes and in office settings.
Frankly, I understand the appeal.
As far as desk chairs go I'd say this is the one to beat. Especially if you're looking for a cheaper option.
In the case of The Sims, it can be fun to use furnishings that look "normal" even if you could technically afford fancy furniture using simoleons.
This CC has 5 colors in total, which changes both the cushion color and the chair color.
6.

Fashion Chair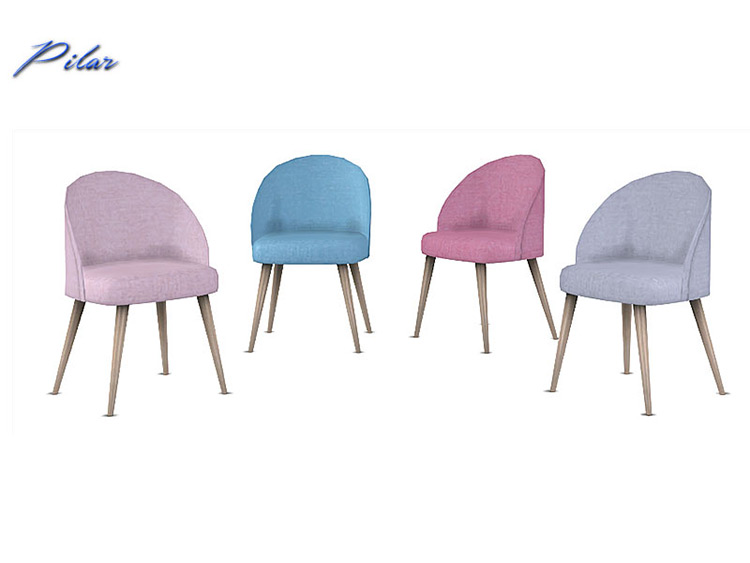 This fashionable CC is exactly what you need to jazz up your sim's home.
Instead of all of those other boring office chairs, this offers you a cuter (and way more interesting) option.
Since the design isn't quite as office-y, it could even have plenty of uses beyond being an office chair. It could work as a reading chair, for example, or a piano chair.
It could even be a dining chair if you're imaginative.
And it's easy to get this to blend with your interiors, thanks to the 4 colorful swatches (meaning no blacks, whites, or greys).
7.

Alisha Bedroom Swan Desk Chair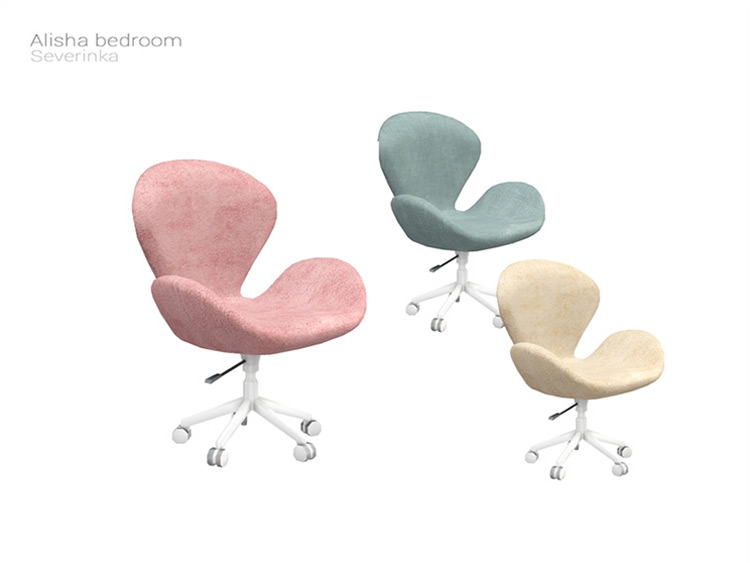 In the same vein as the Fashion Chair before, this Swan Desk Chair looks to bring a splash of color and interest into a room, rather than simply blending in.
This chair would be great for sims who spend a lot of time sitting down because of its ergonomic shape and soft texturing.
The model even includes a little lever so that your sims could (hypothetically) alter the height of the chair.
It comes in pink, grey-green, and pale yellow. And I know that might not seem like a lot, but those swatches are perfect for blending in with the bedroom set that it's made for.
8.

Fur Blanket Chair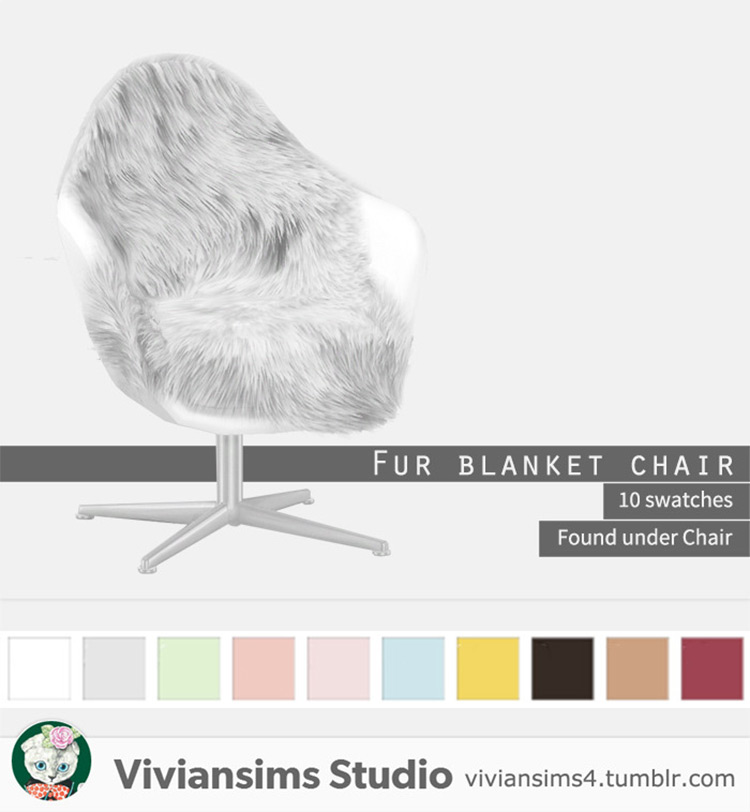 Particularly in winter, we're often faced with the choice between sitting at our desk and staying cuddled up in bed.
Ideally, the solution is simply to bring a blanket to our chair.
It's the best of both worlds!
But what if you didn't even have to do that? This CC combines fur blanket and desk chair, to the benefit of all of your sims.
Even though this chair would be way more beneficial to your real self than it is to your sim-self, it's a truly unique piece to put in your bedroom or living room – especially since it has 10 swatches!
9.

Nordic Reading Chair
Reading is a beloved part of Nordic culture – so much so that there's an entire holiday dedicated to it in Iceland.
Why not let your sims in on the reading fun?
You may not have heard of it before now, but this reading chair will let your sims celebrate Jolabokaflod and have a comfy place to read for every other day of the year.
Of course, it's a great (not to mention distinctive) option for a desk or office chair too.
This CC has 4 swatches, mostly in natural colors – quite the difference from all of the cool greyscales and artificial pinks and blues that most desk chairs are colored.
10.

Pacific Heights Chair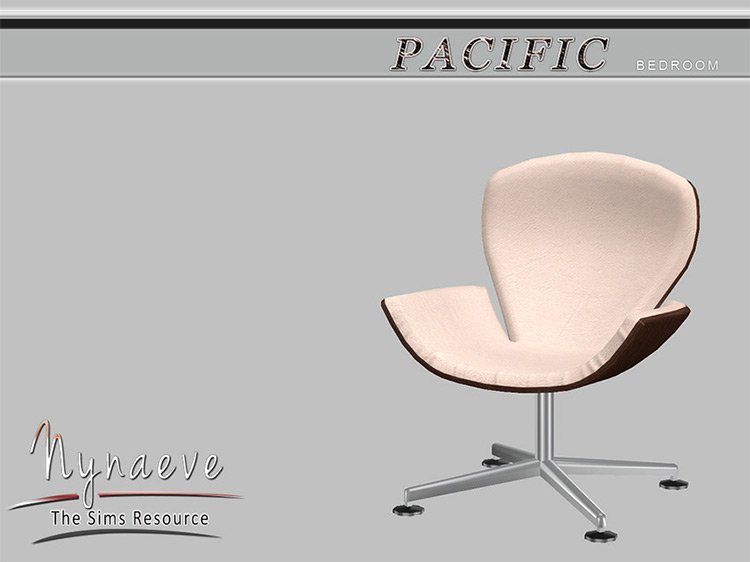 If you've always dreamed of living in Pacific Heights, then this chair is for you.
If not, it might still be for you.
The modern minimalist design has pretty universal appeal (and there's plenty of minimalist furniture to go around!)
Either way, this CC will let you live out your high-rise California dreams vicariously through your sims.
That's what they're there for, after all!
Desk, office, or otherwise, this chair can get the job done – which makes up for the fact that it only has 2 swatches in white and cream.
11.

Anel Desk Chair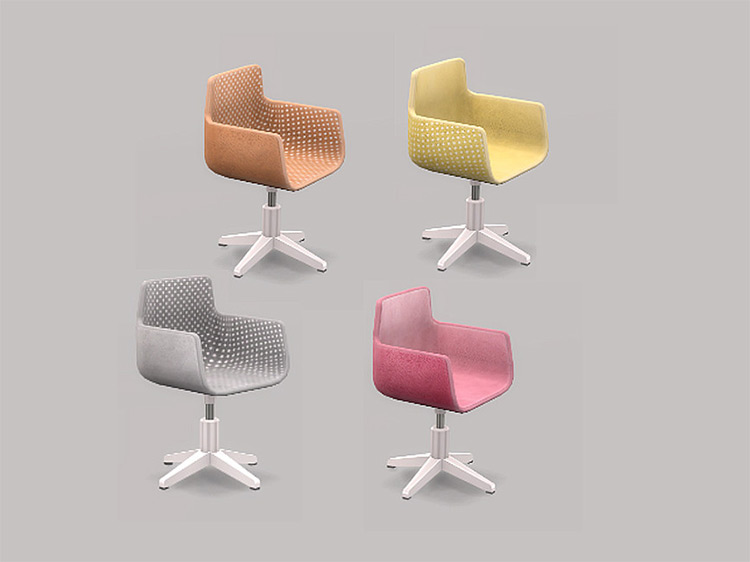 The shape of this desk chair, while great in its own way, isn't the special part of this chair.
The subtle pattern, on the other hand, is worth taking home.
I know what you're thinking: but they're just dots! What's so great about that?
Well, in the realm of office chairs, simple is often better.
Usually that means no patterns at all. But this chair manages to combine plain simplicity with a cute design. That's a win in my book!
This CC has 4 swatches in total, all of which are different colors and have the dots oriented in different ways.
The only thing I'm left wanting from this set is for the dots to be animated. It would be super cool to see them glow and pulse!
12.

Mid-Century Desk Chairs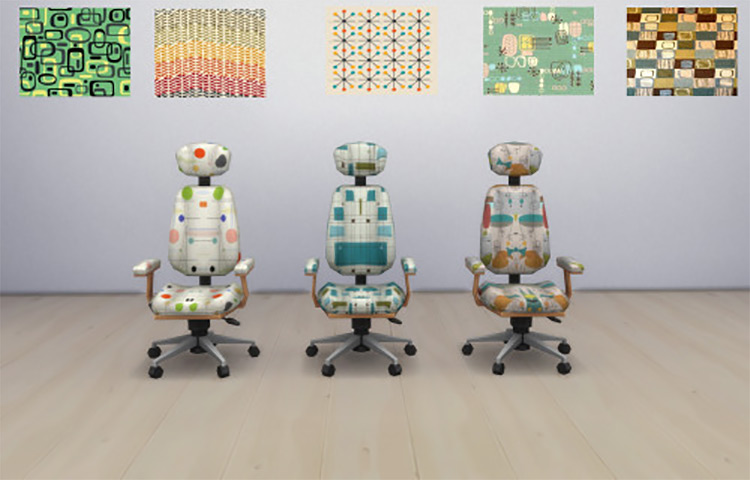 No list of CC is complete without at least one funky mid-century item.
Well, here it is!
These Mid-Century Desk Chairs are simply a recolor of TS4's 'The Professional' desk chair. But they do a great job of giving a plain item a fun facelift.
Abstract mod patterns will do that to just about anything you put them on, really.
There are 8 designs to choose from, each one wildly different from the others (but still totally mod). With all of that variety you could use plenty of these desk chairs in your sim's home without feeling redundant.
13.

Bunny Gaming Chair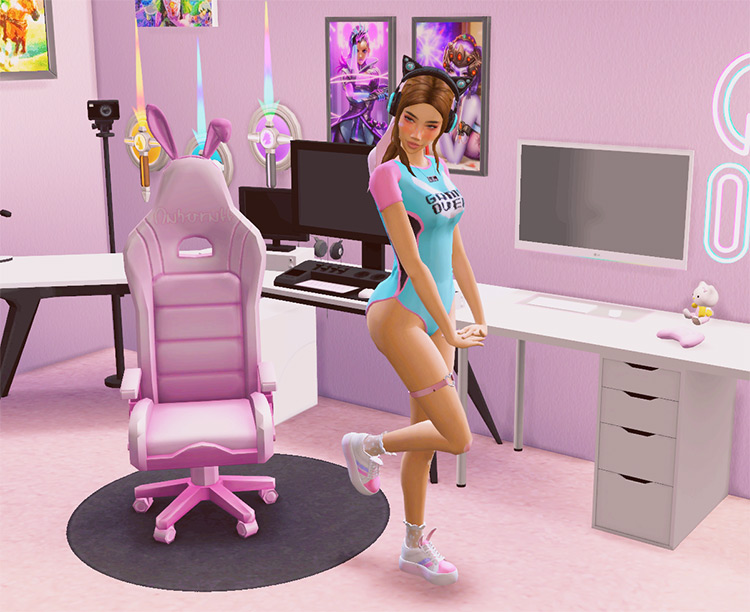 Out of all of the desk chairs we've looked at, there are many that could be used as a gaming chair.
Yet none of them feel as perfect for the role as this one.
Content creator Desimmy made this Bunny Gaming Chair CC as a digital copycat of their real-world Autofull chair, resulting in a gaming chair that's detailed and realistic – while still fitting the Maxis-match style.
So this chair is ideal in more ways than one!
It comes in shades of black, pink, and blue, and has options with and without the original Autofull logo, for a total of 11 swatches.
If you're creating a custom streaming room for any Sim, then this chair deserves a spot.
14.

Egg Chair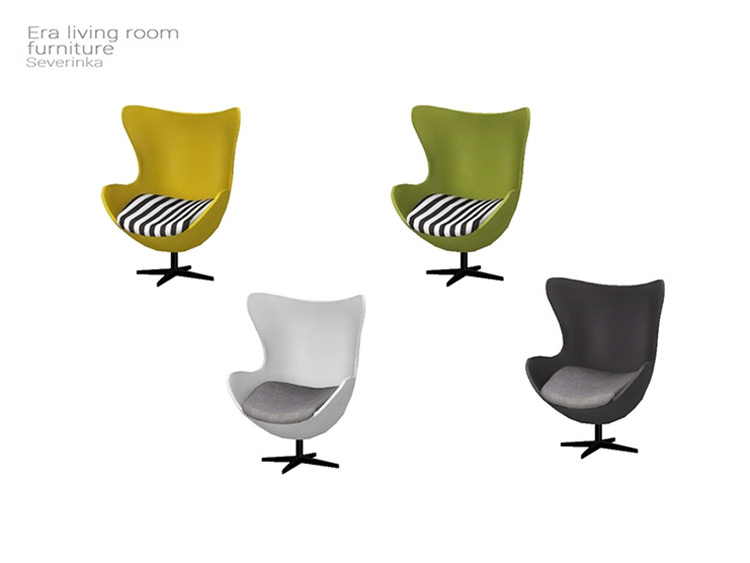 Egg chairs are my favorite types – and I swear it's not just because I like eggs.
The eggshell shape of egg chairs just feels great to sit in. Especially if you're like me and you sit in an upright fetal position while gaming.
As far as I'm aware, there aren't any Sims 4 mods to change the way your sims sit in chairs. But egg chairs are still as charming as always.
This eggless egg chair comes with 4 swatches, two of which have fun black and white striped pillows.
Browse:
Lists
The Sims 4
Video Games