Sims 4 Open Toe Heels CC (All Free To Download)
This post may contain affiliate links. If you buy something we may get a small commission at no extra cost to you. (Learn more).
Open-toe heels are great.
They're definitely ideal for summer. You know, when it's so hot even your toes get too warm. Ok, I'm joking. But seriously – they are really cool.
They're still elegant, like closed-toe heels, but they have this fun, flirty side to them.
Plus they're also breathable, and often come in many extravagant patterns and flashy colors.
Everyone enjoys an open-toe heel every now and then – including your Sims!
And with this CC you can get them dressed up for any occasion.
1.

Madlen Esperia Shoes by MJ95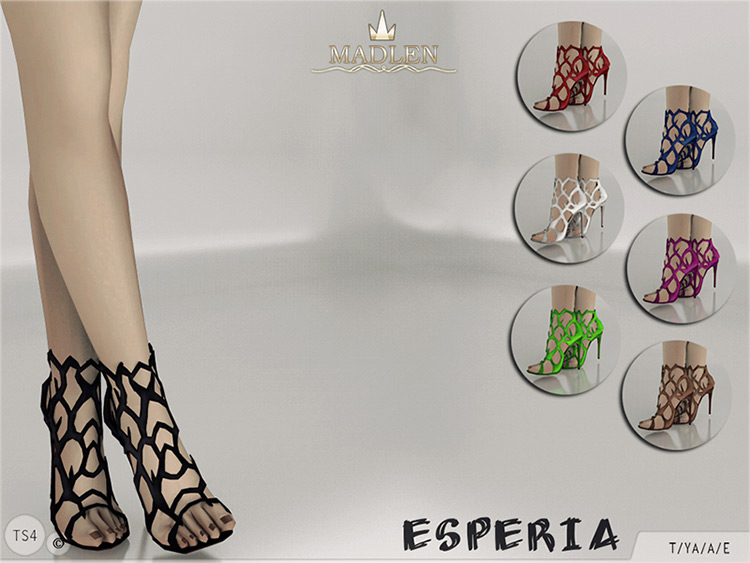 You know how I said that open-toe heels are fun?
Well, here's the proof!
These shoes are giving major fashionista vibes – especially the black version.
They also come in other colors: purple, red, brown, you name it.
The green ones, in particular, make me think that they would look amazing with a fairy-inspired outfit.
Or even a full-blown Halloween costume!
Anyone from teens up can wear these, so you could even throw a fashion show to decide which member of the family can style them the best!
2.

Saint Laurent Tribute Sandals by MASIMS4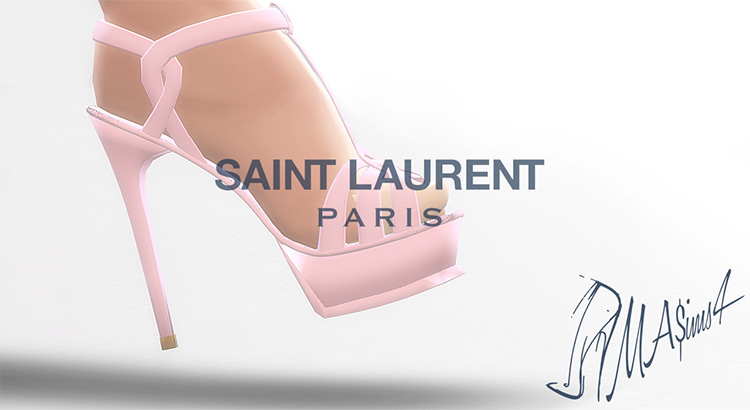 There's no place in the world more fashionable than Paris. Everyone knows that.
And these Saint Laurent Tribute Sandals are simply iconic.
They come in different colors and would be a great addition to the closet of that Sim of yours that likes to splurge on luxurious items.
With these on, your Sim is surely going to be the talk of the evening at their next formal event.
Just pair them with a nice expensive dress and you're good to go.
3.

Sophia Webster Strass Sandals by MASIMS4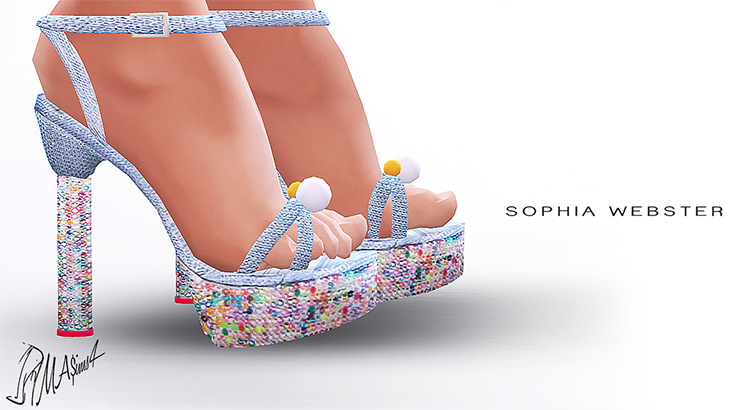 Sophia Webster shoes are famously statement pieces.
You get butterflies, you get glitter, you get leopard print… If you want to stand out, this brand is where you go.
These shoes would be ideal for your artist Sim who just sold their hundredth masterpiece and wants to reward themselves.
Sure, they're living the dream life already.
But these lovely heels would be the perfect cherry on the top.
4.

Tobi Sandals Collection by dallasgirl79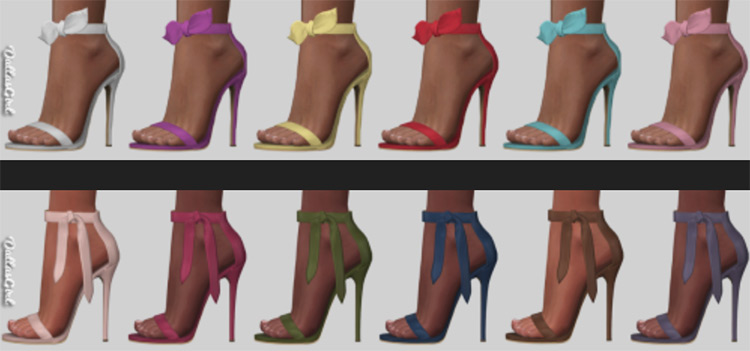 These shoes are a bit on the simpler side, but are still interesting enough to capture one's eye.
They come in 5 different variations and many, many colors – actually 48+ swatches in total.
The bow and tied versions especially stick out, and are the reason why these sandals made it on the list.
If your Sim is getting ready for a cute summer date, these will definitely come in handy.
5.

ROXANA Heels by Plumbobs n Fries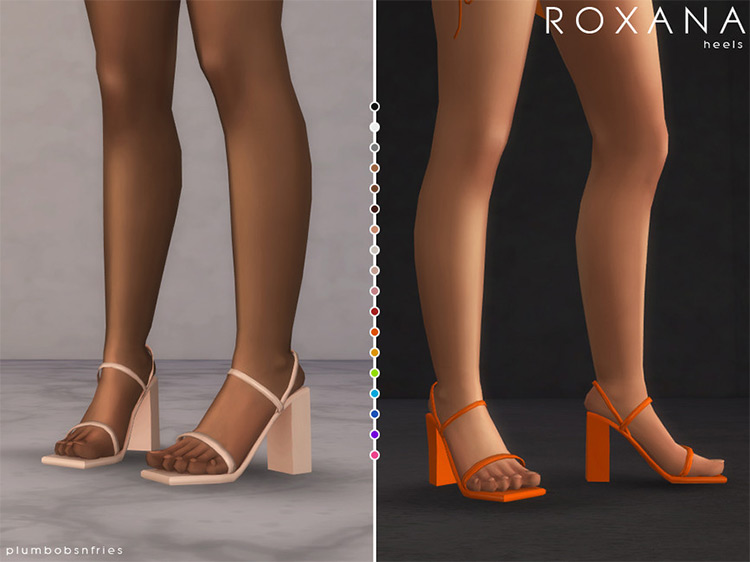 Not all heels have to be on the thin and tall side.
These chunky heels are a more comfortable option for your Sims that like to impress, but still want to be able to walk around without their feet hurting.
This pair would go well with an everyday outfit.
The heel and the toe both have this square geometric design to them, making these shoes a fabulous way to be comfy and fashionable at the same time.
6.

Bohemian Wedding High Heels by ShakeProductions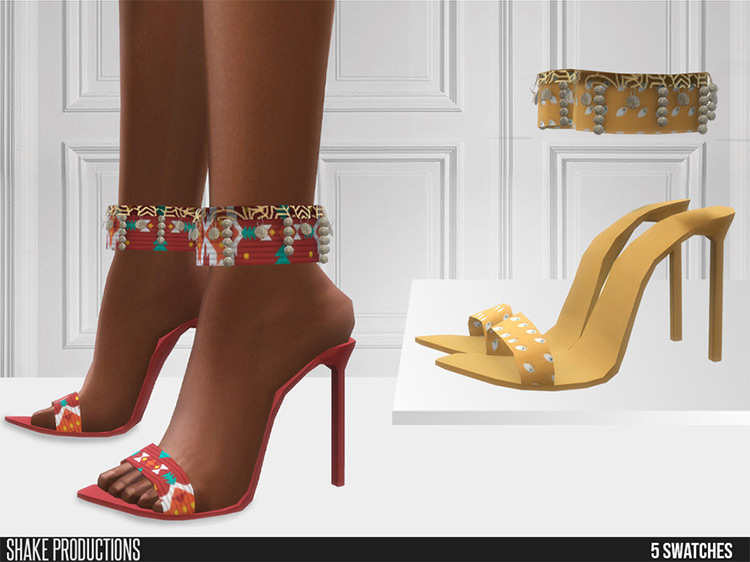 Now we have something for those of you who like a bit of pattern with their shoes.
These Boho-style heels are an absolute must for that Sim of yours who grows their own fruits and veggies in the back garden, while still somehow looking well put together.
Or maybe they're the perfect pair for the indie singer-songwriter Sim you love to play with?
Or how about that cooky geography professor? She could pull them off, too.
Clearly, these shoes are more versatile than you'd think.
7.

Lilith Boots by Sentate
It's not often that you find an open toe boot.
These are my absolute favorite of the bunch.
They're undoubtedly more on the edgy side and would go well with a grungy look. Plus the red soles and the lace together are just a killer combo.
Maybe your rebellious teenager could wear them in an attempt to get a rise out of their parents?
These also come in two versions, and 8 different swatches.
8.

Heels #1 by NativeSims4
When we think of an elegant heel, we tend to imagine a closed-toe shoe.
Open toes are seen as the more informal type of footwear.
But this pair is here to show you that this doesn't always have to be the case.
They're glossy, extremely chic, and would look simply divine with a tasteful evening gown.
Plus, who doesn't like a bit of a platform with their heels?
They come in many different colors too, so you can pick if you want to go more toned down or bright and bold. It's all up to you and your Sim.
9.

Velvet Platform Sandals by Jius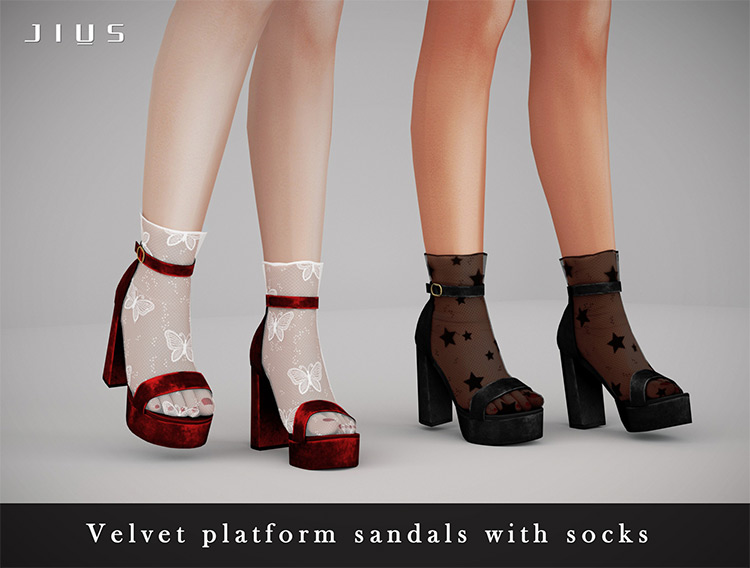 This pair is something you'd see the next prom queen of your school wear.
I love this pair because of how realistic the velvet shoes look, especially the red version.
The see-through socks are a lovely touch that compliments the shoes well. They truly transform the pair from looking good to looking brilliant.
They come in 2 swatches with 8 different socks, so you can figure out which combo works the best with your dress.
10.

Stiletto Heel Ruffle Sandals by redheadsims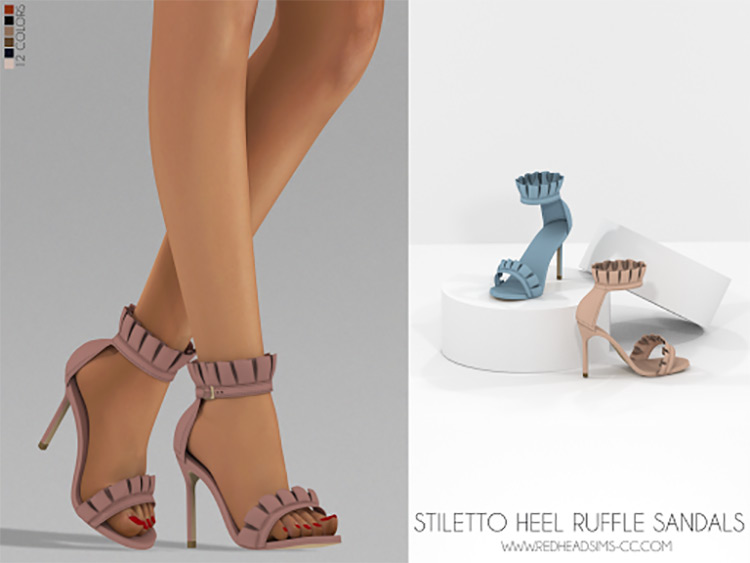 These stilettos are adorable.
Really, these are the ultimate example of fun and flirty but still elegant.
The ruffles provide the party, while the leather and buckle detailing make the shoes still seem high-end and expensive.
The color choices are wonderful too – my favorite is the matte blue.
In my head, my Sim is wearing these to go on a proper shopping spree with her best gal pals.
Sure, stilettos might not be the most practical for lots of walking. But the right Sim will make it work.
As the saying goes: beauty is pain.
And these shoes are both beautiful and worth the pain.
Browse:
Lists
The Sims 4
Video Games