Best Sims 4 Pallet Bed CC (All Free To Download)
This post may contain affiliate links. If you buy something we may get a small commission at no extra cost to you. (Learn more).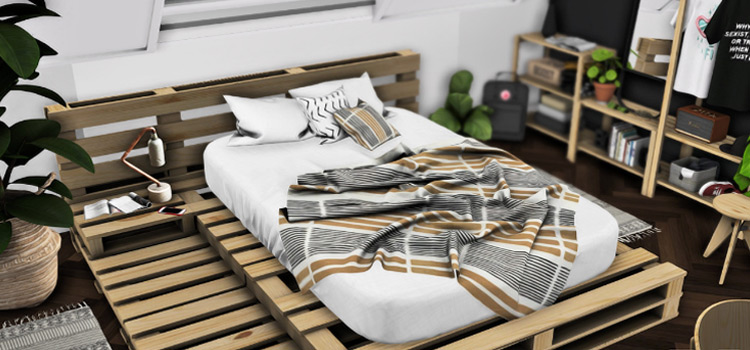 Your Sims need their rest.
And while some have the luxury of sleeping on King Sized mattresses, other sims are just thankful to have a couch to snooze on.
Today we find the middle ground with pallet beds, all easy to add into your TS4 game with a bit of CC.
My college bed was a pallet bed, and honestly it did the job just fine.
Sure, sometimes a pallet might crack or fall out of place. But that's what you sign up for with these beds.
8.

Pallet Bedframe and Mattress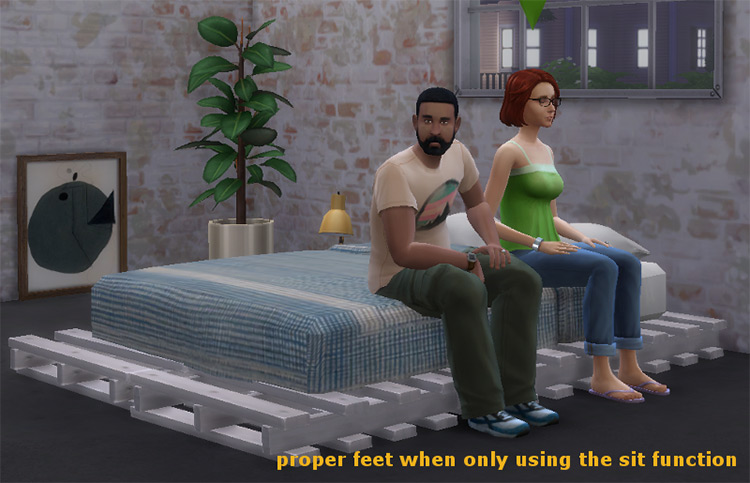 This pallet bed design covers all the basics.
A generic mattress held up by two plies of wood. What more do you need?
If it wasn't for the pallet elevation, this bed would end up being on the floor.
An excellent choice for Sims in smaller homes looking to place a bed in the tiny space they have.
7.

Ghuri's Woodern Pallet Bed
Now this one's a step above our last pallet bed, and comes from creator Ghuri.
This design features a headrest in the frame, and still follows the trend of being perfect for smaller homes.
You'll find 6 different blanket and pillow colors to match your Sim's preference, and a dark oak brown finish across the entire bedframe.
Not too shabby for a simple night's rest.
6.

Double Bed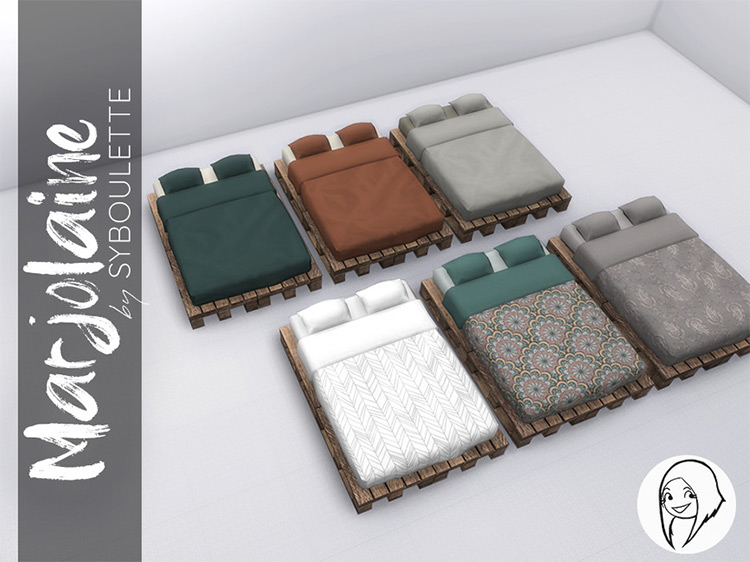 Now this next pallet bed looks a little roomier and certainly a bit comfier.
It's a classic double bed design plastered over the pallet, coming in 6 unique swatches for the covers.
The worn-out teal with floral blankets definitely fits the vibe of someone's grandma's house.
Certainly a little more detail than our previous entries, but still missing a bedframe with more than just layered pallets.
5.

Nordic Modern Bed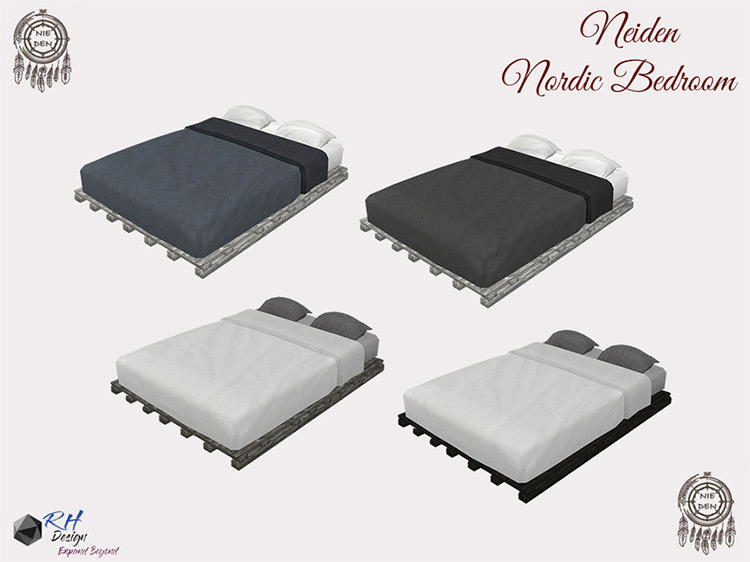 Just look at this thing. What a sleek design, cleanly placed over those pallets.
The incredible design is what makes this pallet bed CC stand out.
Creator RightHearted also changes the swatches of the pallets through 4 variations, not just the pillows and blankets.
It's fair to say that a modern look for a pallet bed could be hard to pull off, but this bed in particular is exceptionally sleek. And the overall look is quite bold.
Definitely the snobby cousin of the pallet bed family.
4.

Alachie & Bricks Wooden Pallets Bed
This CC doesn't have too much different than what we've discussed to this point; however, the render is what makes it standout.
The design and detailing are insane on this piece by Alachie & Brick Sims.
The pallets actually look wooden, and the bedsheets have ripples that would make you look twice to make sure it's not a real picture.
The mattress actually sits tight on a slightly oversized pallet, too. A perfect bed for any high-quality bedrooms in your Sim neighborhood.
3.

Lighted Palette Bed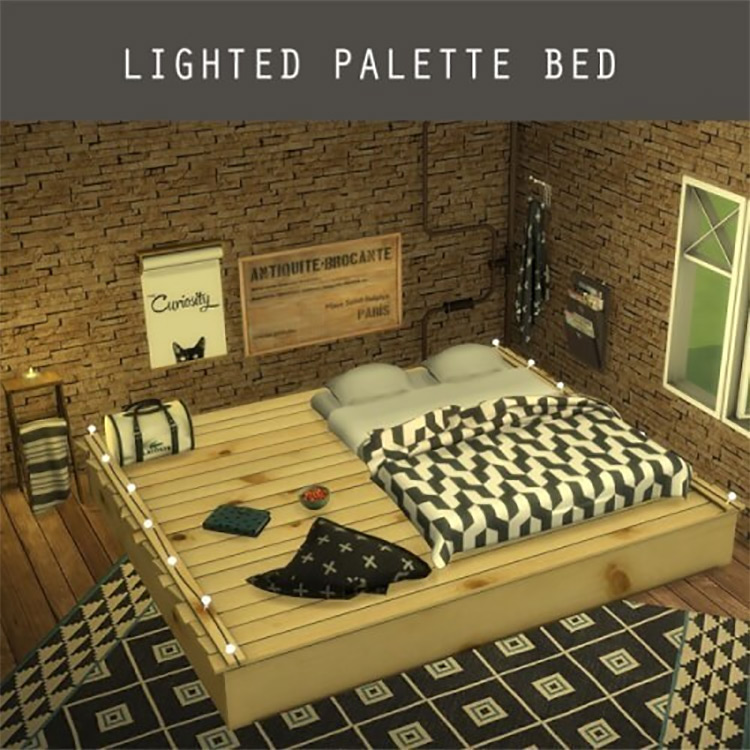 Here's a unique pallet bed that can function for more than just sleeping.
The bed only makes up half of the pallet, giving space for other items and clutter to add to this pallet.
If your Sim is in a crammed apartment and doesn't have room for side tables or dressers, this bed can act as a place for your alarm clock or books.
Definitely a unique idea to give some expanded space to Sims that can use this 2-for-1 item.
A perfect choice for those hustle and bustle Sims living in the big city.
2.

Light Loft Set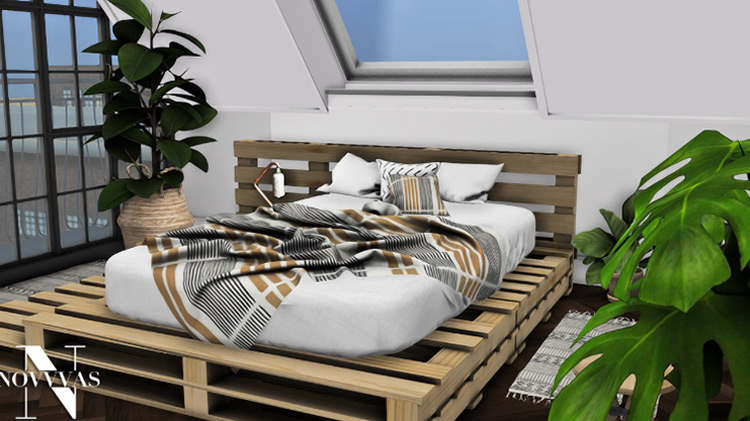 While this is a full-set from creator novvvas, we'll be focusing on the pallet bed attached to this CC set.
It's yet another bed with even higher quality details, plus a double stack pallet which features a smaller pallet just for the bed.
You'll find crispy gold and grey blankets for a modern touch, with a nook on the pallet to place your phone or lamp.
To summarize this whole design: an all-purpose pallet bed designed to perfection.
It doesn't get better than this if you're looking for detail and regular usage.
1.

Disastrous Bed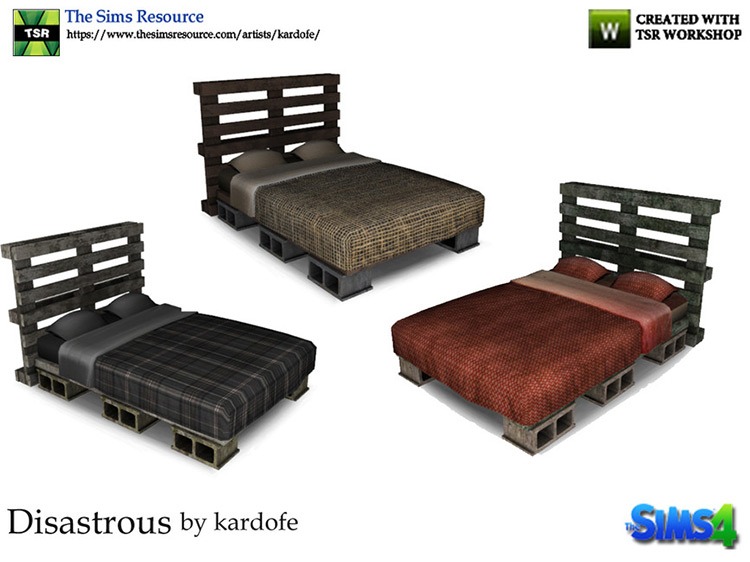 Who would've thought our top item on this list would be a disaster?
Honestly though, it's a beautiful disaster.
Popular creator kardofe_ gives us this bed that's literally layered with bricks.
The bottom pallet shows a brick layered pattern across the base of the bed, and additionally we see a traditional pallet used as a bedframe headrest.
It's yet another unique piece coming in 3 swatches, my favorite being the burnt orange which gives off a rustic feel with surrounding grey wood.
It might not be the most comfortable sleep of your life. But it will definitely get the job done.
And I have to say that this feels like the most creative pallet bed CC I could find, making it stand out above the rest.
Browse:
Lists
The Sims 4
Video Games