Sims 4 CC: Best Papasan Chairs & Bean Bag Chairs
This post may contain affiliate links. If you buy something we may get a small commission at no extra cost to you. (Learn more).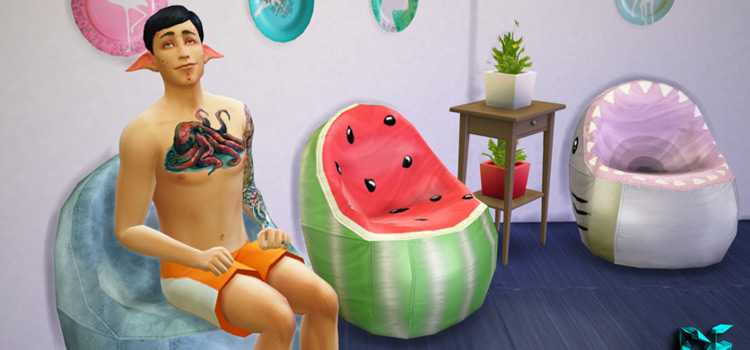 The rules of what makes a chair a "chair" are pretty loose, which has made for a lot of creative designs both in The Sims and real life.
Bean bags and papasan chairs are just two of the wild inventions that have come out in the past few decades.
They are both fun designs that really freshen up any room, especially in The Sims 4, where we have almost nothing but armchairs.
Almost.
We'll always have custom content, and that weird "ottoman but technically a chair" thing that came with Cats & Dogs. But for new furniture, I like to stick to CC.
You always know exactly what you're gonna get, and it's usually pretty great!
Silicon Bean Bag Chair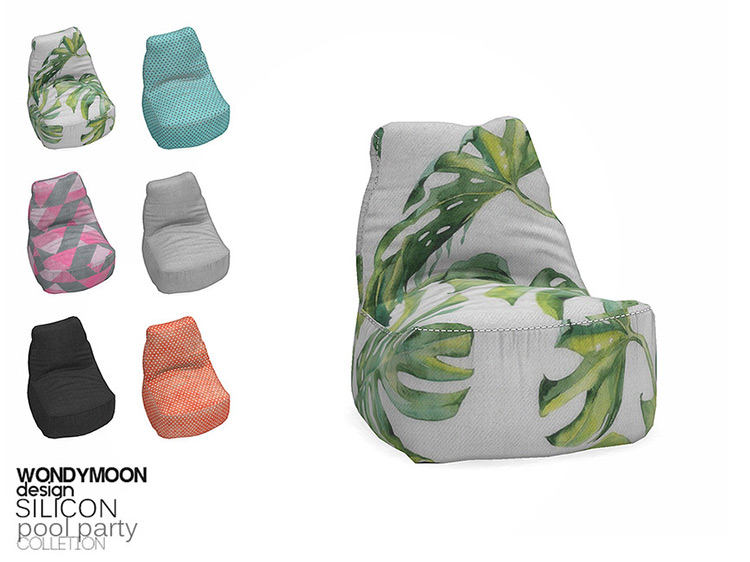 It's a tragedy that bean bags are generally regarded as juvenile.
It's not exactly socially acceptable to use them in your living room as an adult, but it should be.
They're both comfy and highly customizable.
I mean, this is one piece of furniture that's quite literally… it's just a bag of beans.
You can get plenty of different covers fitting for your own personal taste, rather than being stuck with one design forever like with fancy chairs.
That same freedom is represented here, with six great swatches.
There's a leafy swatch, one with dots, and a pink and gray geometric pattern, as well as some nice solid swatches of black and gray.
My Essay Chair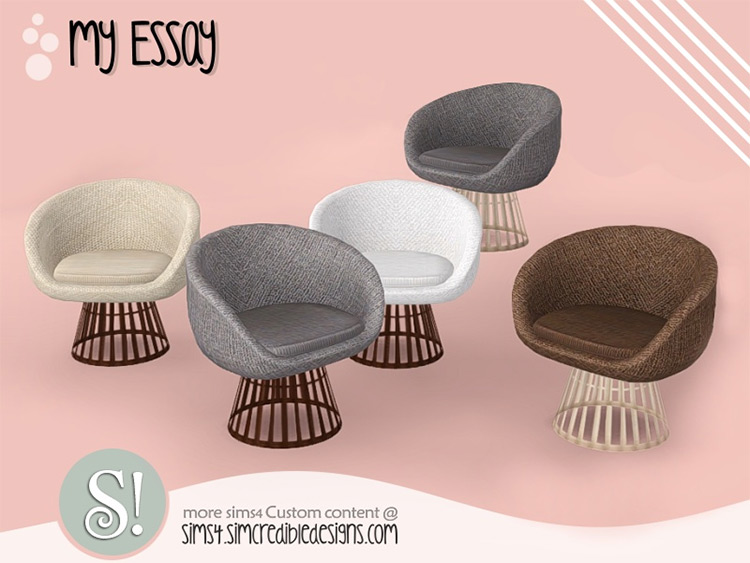 A papasan chair will always be there for you.
That cozy, round shape offers support in a way nothing else does – and it looks darn good, too.
Most traditional chairs have four legs, whether they are long or hardly visible. But these types of chairs completely switch things up by going for a more circular base.
Here, it's a slatted design available in shades of brown and off-white that really compliment the fabric part of the chair well.
It has a high quality textured appearance that is just realistic enough to still fit in with the rest of your furniture and decor.
Kinder10000's Bean Bag Chair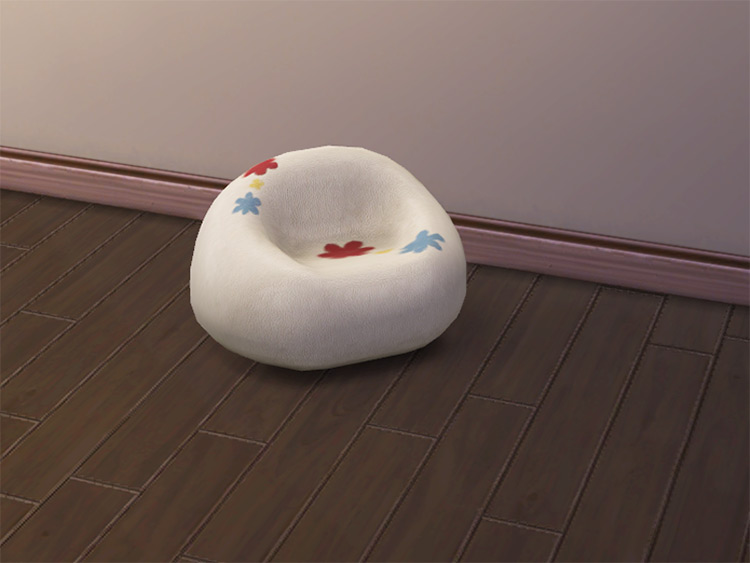 With this bean bag chair, you can see why so many people love them.
Just look at that dip. It's like this is already sculpted for your Sim's butt.
In a way, I guess that's true.
This one has a more defined seat design than many bean bags, but it works. They don't stay shapeless blobs forever, of course.
The flowers add a nice, cheerful touch, and the white main color will make it easy to integrate into any room.
Everything goes with white, and a bean bag goes with everything!
Wait, what? I don't even know. The point is, there's never a bad time to have a bean bag chair.
Whether you're young or old or somewhere inbetween, a soft and squishy seat is always the best place to be.
Sims 3 Bean Bag Conversion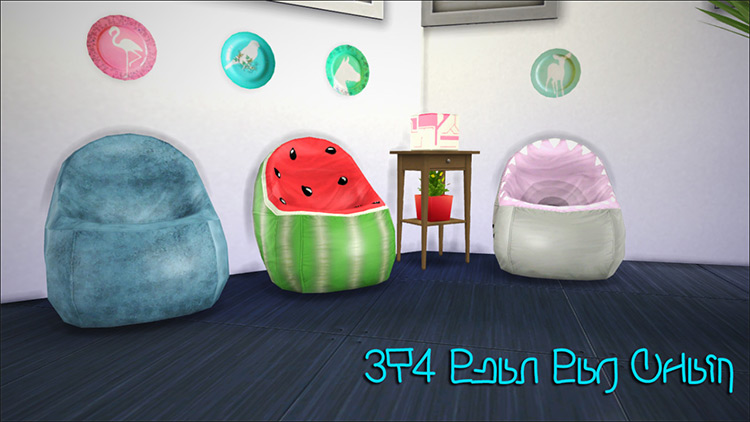 Ah, who could forget bean bag chairs in The Sims 3?
They were fairly large and lumped in with some of the gross DIY furniture that came with University, so they got a bit of a negative introduction.
I mean, no one wants their home to look like a cheap college dorm… ever.
But bean bag chairs deserve better than that, honestly.
These have always looked great, and they still do now that they have been converted to The Sims 4.
It has plenty of fun swatches, including watermelon and a shark, so your Sim will have a lot of choices.
And remember, no one ever has just one bean bag chair. You'll also need one for guests, so place two or three!
Rustiko Chair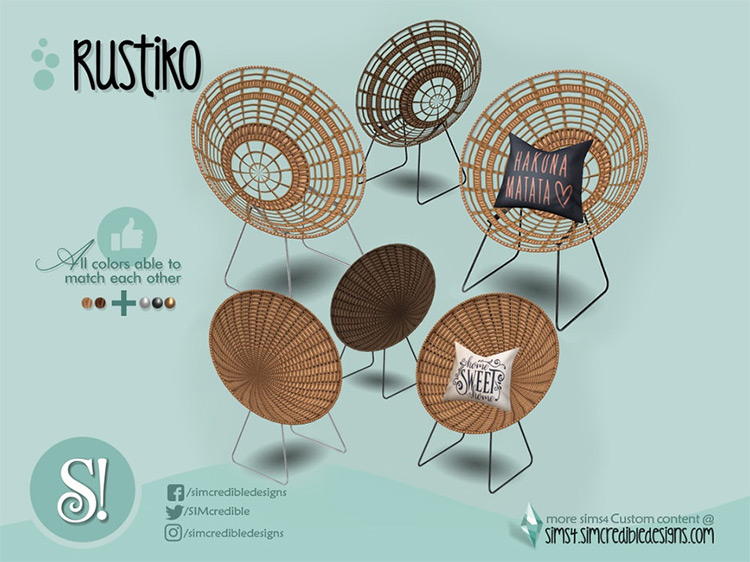 These unique papasan style chairs have wicker disk-like seats. There are a few different styles as well.
Some are solid, like baskets, while some others have intricate designs.
Your Sim's home is sure to benefit from these chic, original chairs either way.
They also have some very slender metallic legs that almost make it look like it's floating.
I just love furniture that will work for any house or color scheme, and this chair is definitely one of them.
It'll compliment everything from contemporary furnishings, to midcentury modern, and the wicker will even work for country homes, too.
Plus, all the swatches are some shade of brown. And brown is neutral enough to go with anything.
Island Chair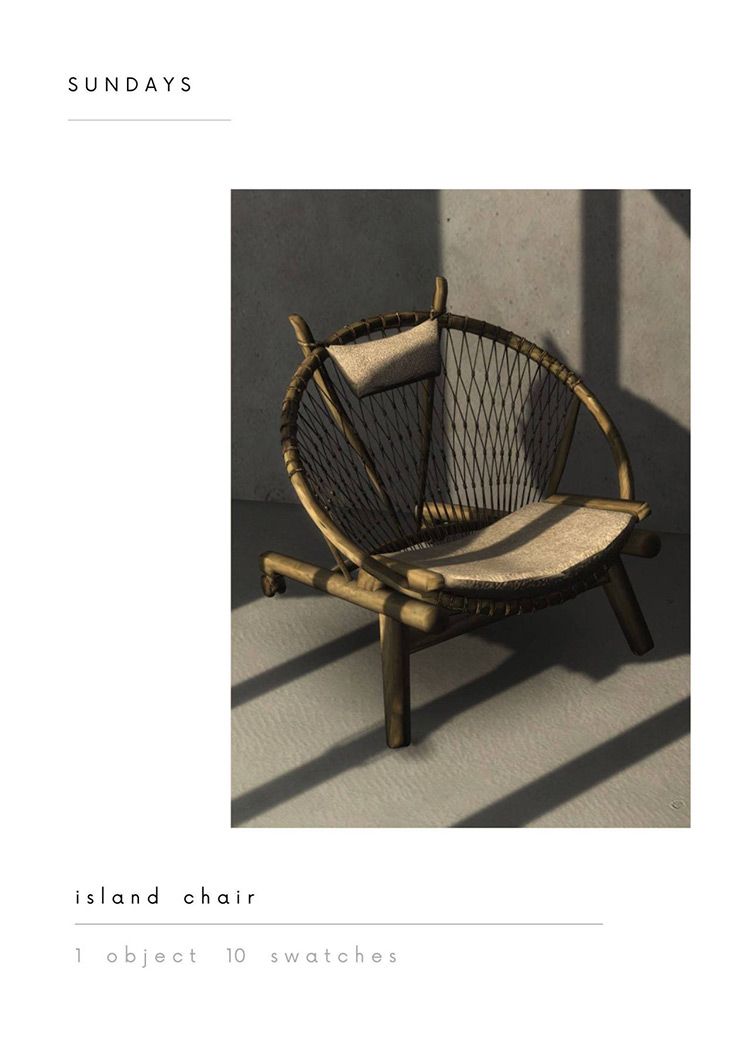 Papasan chairs have a bit of a tropical vibe, don't then?
They're kind of like hammocks.
Laidback, relaxing, a good place for a nap.
This creator incorporated some things here to really boost those island vibes. The wooden frame is presented in a few ways, with thick legs and a thinner, geometric backing.
For the seat, there's a thin cushion with a mild straw design and a matching little pillow on the back as a headrest.
When your Sim decides to take a well-deserved break, they'll be fully supported from head to toe!
Bean Bag Recolors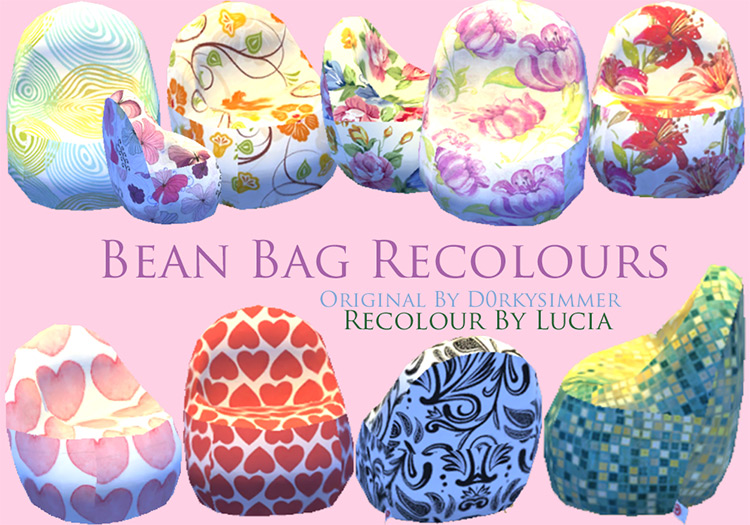 Remember way back at the beginning of this list when I mentioned how easy it is to find bean bag chairs catering to your own personal tastes?
Well, if there had ever been any doubt about the creative personalization possibilities, there won't after these recolors.
You'll never have to settle for boring designs as long as Sims 4 CC exists.
Here, there are several bright new swatches, including floral patterns, abstract designs, hearts, and a pixel design, amongst others.
The details are great, nothing looks blurry or out of place, and the colors are vivid.
Browse:
Lists
The Sims 4
Video Games