Best Sims 4 Paranormal Recolors (All Free)
This post may contain affiliate links. If you buy something we may get a small commission at no extra cost to you. (Learn more).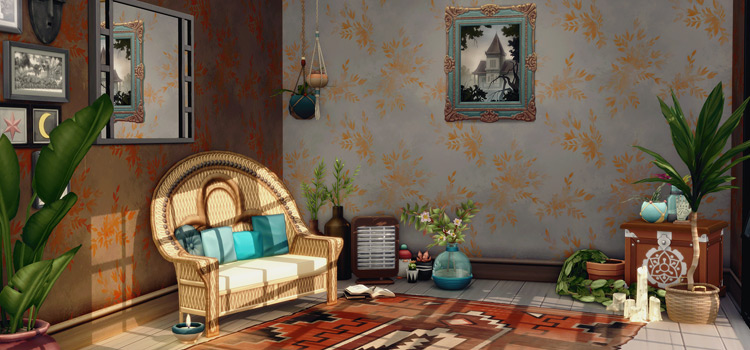 This may be a bold statement, but Paranormal may just be the best stuff pack we've gotten.
It's the most expansive one for sure, with a ton of new gameplay, beautiful furniture, and an original CAS catalog.
But… you know what we need.
What we ALWAYS need: more recolors!
1.

Paranormal Hairs in Sorbet Remix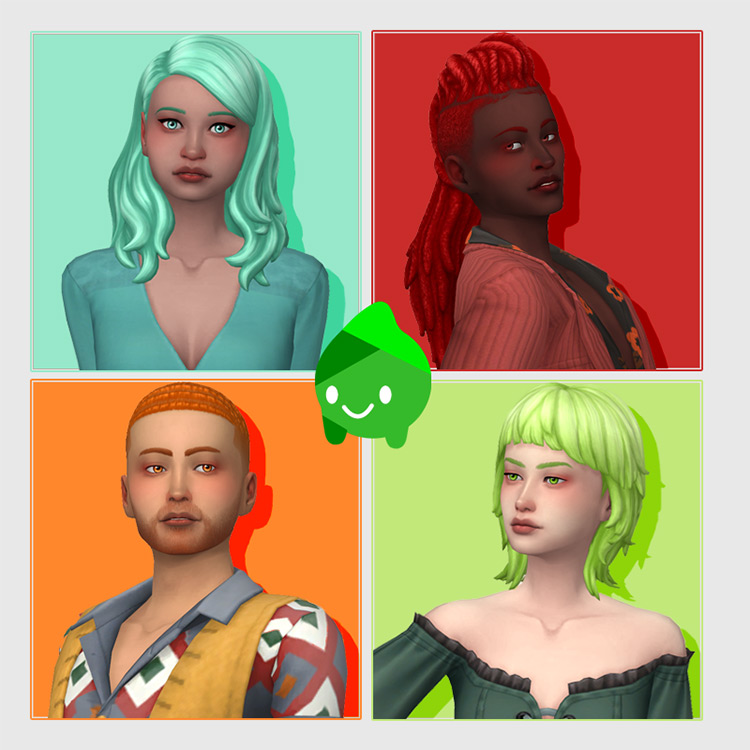 Dyed hair in TS4 doesn't bring nearly as many hues as real life.
But with added swatches like these, you can get close!
For every color you can think of, multiple different shades are included. Your Sim's paranormal 'dos can be light and subtle, or impossible to miss.
2.

Paranormal Stuff Wall Recolors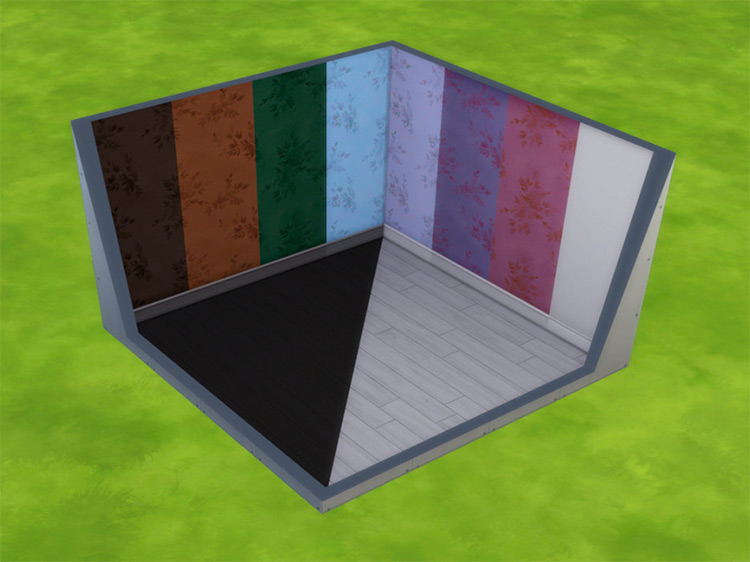 This vintage floral wallpaper is one of my own personal favorites.
It's one of the best wall coverings for older builds and looks really cute in newer ones as well.
These new swatches make this look even more old-timey, in the best way possible.
3.

Paranormal Stuff Clothes Recolors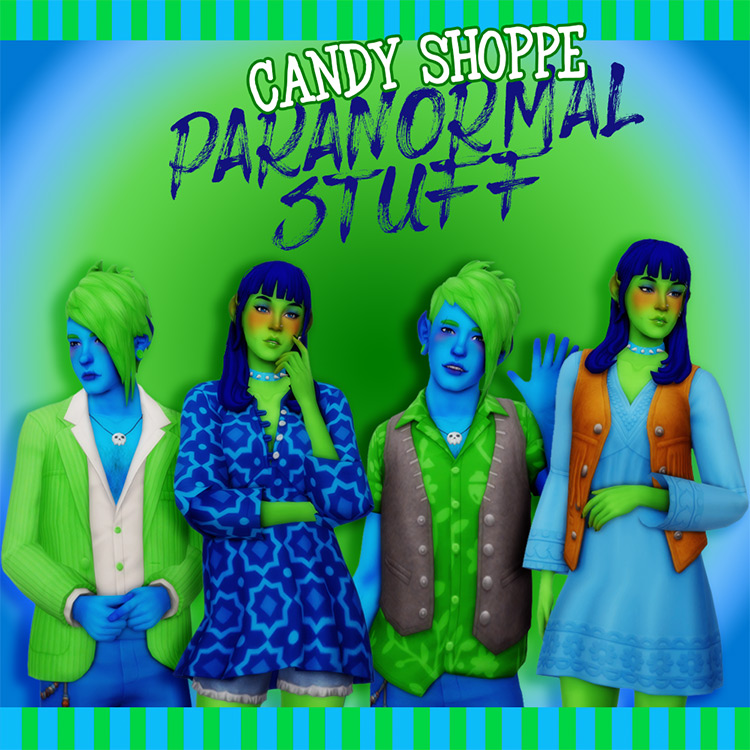 I can't decide if the Candy Shoppe Palette made these clothes more modern, or very '60s.
Either way, these clothes were already pretty unique in TS4, and now it's like we have even more fun new options.
Much of the pack's CAS has been touched by this palette, from shirts to dresses.
4.

Antique Escritoire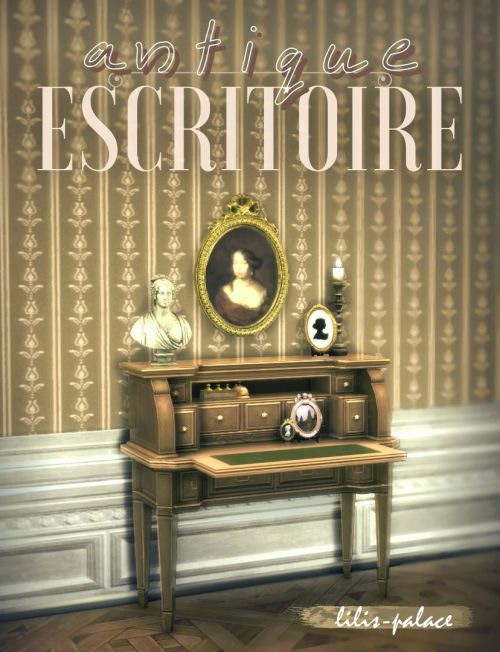 As adventurous as the items in this pack may be, sometimes regular vintage vibes is all you want, and that's what the new styles for this desk delivers.
The creator also removed the deco books so you have even more slots to add your own clutter.
5.

Paranormal Hair Recolors
Paranormal Stuff has some of the most killer CAS of any pack.
And this hairstyle is definitely one of the coolest.
The thick dreaders were just begging for some recolors, and this creator obliged!
You'll find no shortage of color here, with new options for pastels, neons, and everything in between.
6.

Paranormal Shirt & Vest Edit/Recolor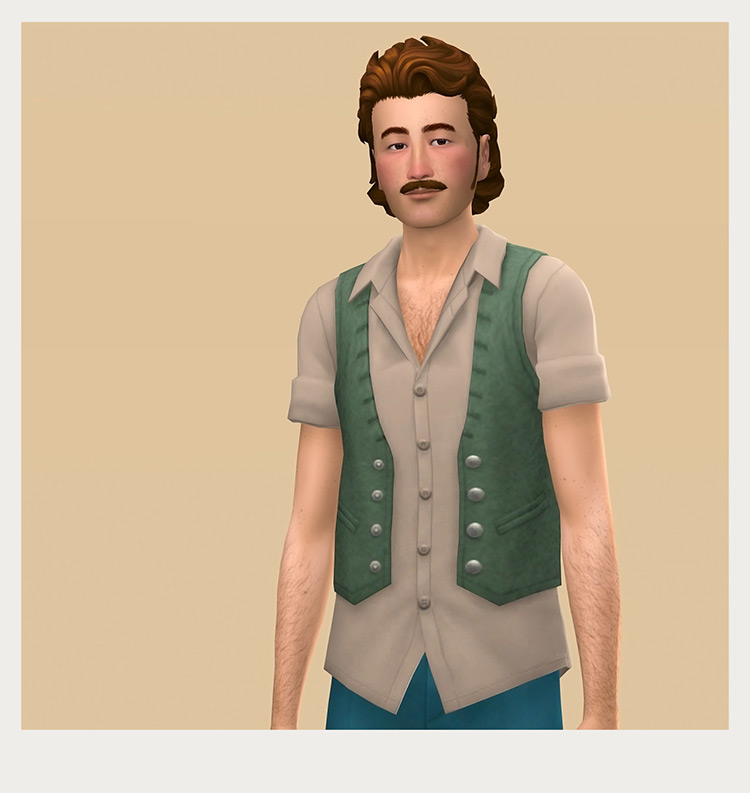 In this minor edit, no part of this shirt and vest combo will be tucked. Everything is free and loose, for a more classic spin on this rather retro top.
AlbumenPlumbob's 36 added swatches breathe new life into it, so there's surely something for every Sim.
7.

Haunted Paranormal Set Recolors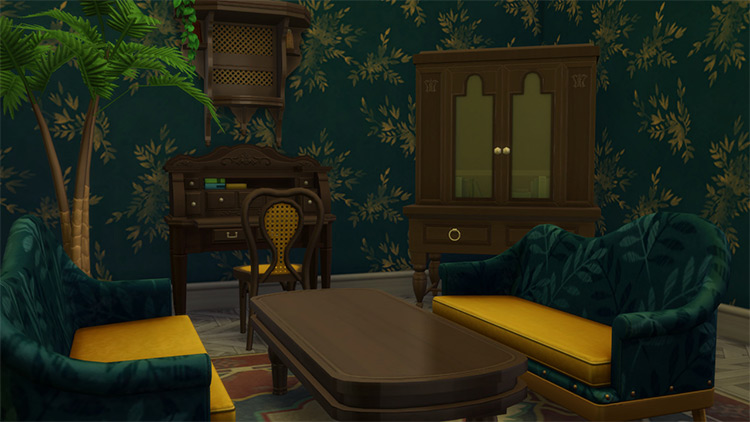 If you wish the furniture of this pack had a little more of a minimalistic look, then this is the set for you.
Nolvenn's recolors make most of the furniture a bit more chill, with simple wood swatches. Now these 8 items will match, and fit right into just about any build.
8.

Dress Shirt Recolor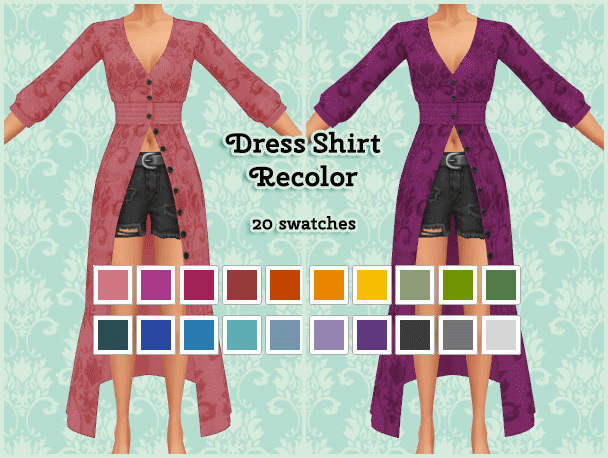 Many Simmers love this elegant, flowing shirt dress. It's such a unique look, perfect for warm weather, and easy to accessorize!
MadSeance's 20 new swatches make this outfit feel brand new. The lighter hues really bring out that floral print like never before!
9.

Guidry's Sumptuous Seats Recolors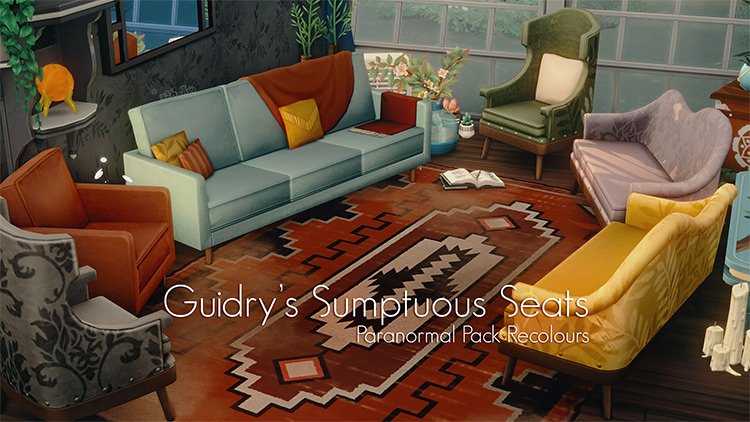 Clearly I'm not the only one who thinks the Paranormal seating is some of the best in the game.
Of course… some of the patterns are a little much.
With these recolors, the furniture set will have a much more contemporary look, with softer colors and tamer versions of the patterns.
10.

Helping Hand Recolors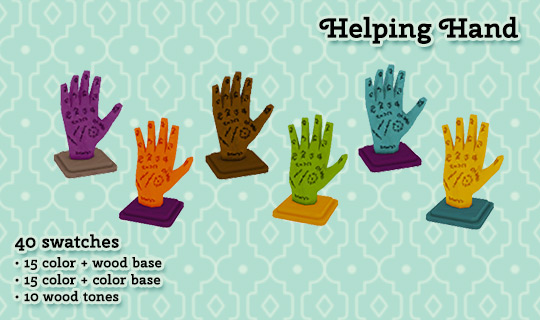 It's questionable how helpful the Helping Hand truly is when your Sim's life is in shambles due to a haunted house.
Regardless, it's a cool decorative piece! Over three dozen new colors round out this palette, and you can easily match it to other furniture.
11.

Perfectly Ordinary Coffee Table Recolors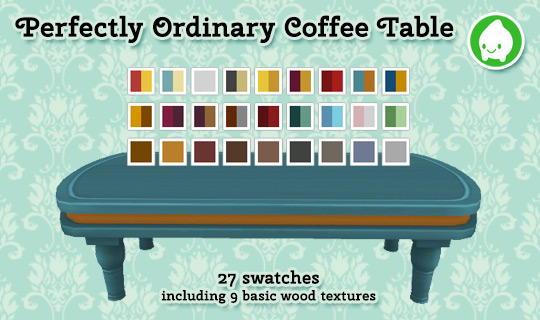 The Paranormal Stuff coffee table is no doubt a good one.
It's not too big or too kooky, and has a great look to it overall.
All of these new swatches really take it to the next level, however! Some fun colors are included, like blue, pink, and purple, just to name a few.
12.

Curiously Constructed Fireplace Recolors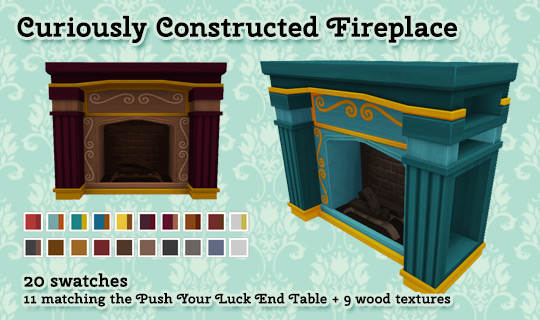 Who doesn't love this fireplace?!
It's one of the most unique ones in the game, with ornate embellishments and added slots for decor.
You'll have even more space for clutter thanks to the minor edits by MadSeance, and all of these new wood tones are stunning.
13.

Paranormal Sofa Recolors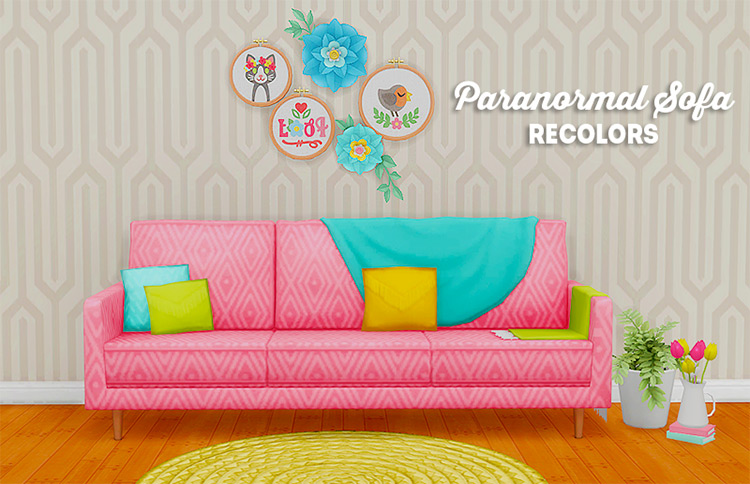 Here we have four more swatches for the lovely sofa. This CC creator is all about making super cute custom content, and these vibrant recolors are stunning.
Somehow, these shades of pink, white, yellow, and green are perfect. This sofa wears them so well.
14.

Seance Table & Chairs Recolors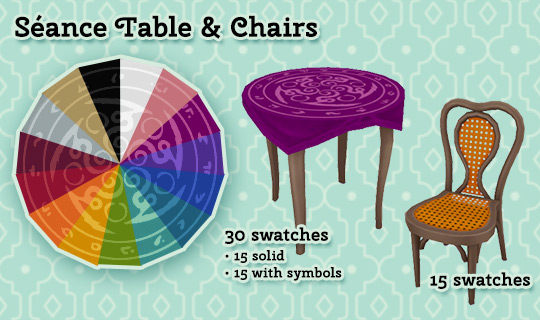 I'm sure to many Simmers, what stands out about the seance table is that it's got a tablecloth.
We're totally deprived of table dressings in this game!
Now that it has gotten a little makeover, you can enjoy this table with or without the seance markings, and enjoy 30 recolors.
15.

Divinity Leaf Wallpaper Recolors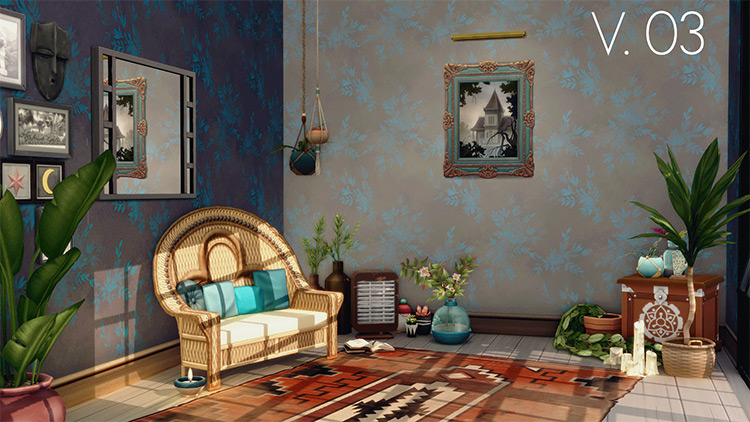 Can you ever have too many floral wallpaper options? No, of course not!
Amoebae did something really interesting here and not only added additional swatches, but new versions of the wallpaper as well. Rather than just a straight wall covering, you can also choose options with baseboards or paneling.
16.

Great Auntie's Desk Recolors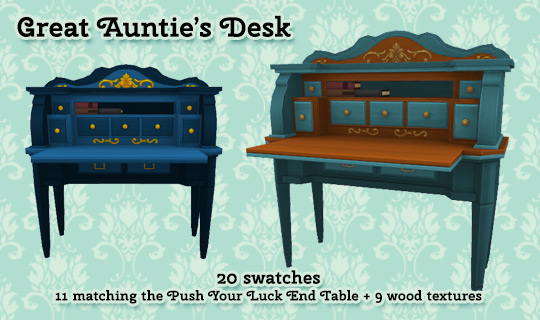 In case you like to keep your Paranormal furniture maximalist, that iconic desk is back again!
These colorful swatches will also match much of the other furniture that has been listed in this collection, so you can really make the perfect room, whether it's a living room, study, bedroom, or whatever else you can conjure up!
17.

Paranormal Dress Recolors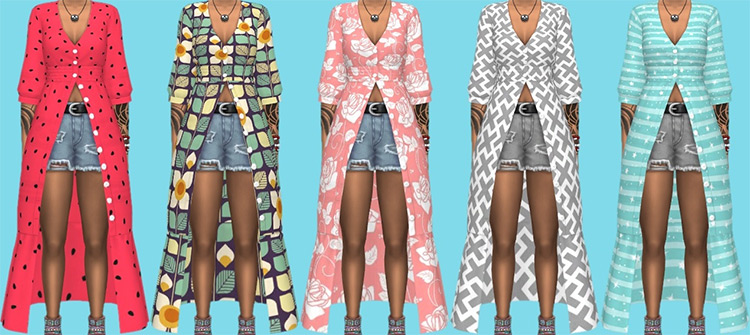 If you'd like a totally new look for the shirt dress, you're in luck.
Here are 40 recolors that change the look of the shirt as well as the shorts.
Some of these swatches really pop! The outfit is definitely modernized by this palette.
18.

Crystal Ball Recolors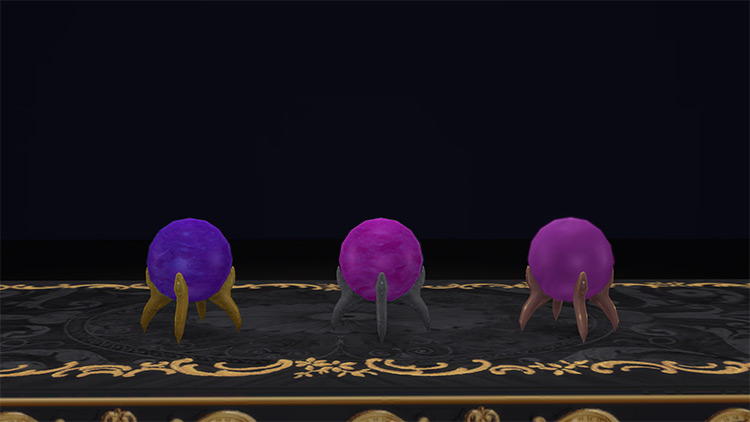 I think the crystal ball is one of the most unique items to come in this pack. It's not something you see every day, so it's a nice way to fill space on mantles or shelves.
These new colors will help give it a fresh look, if you're used to the original swatches by now.
19.

Undersea Seance Table Recolors
If you download this, you'll want to be careful going forward! Mixing up the original base game table and this seance one could be pretty catastrophic.
There are ever a few swatches without the symbols, so it'll be even less obvious this table was made for more than mealtime!
20.

Separated Dress Shirt + Recolors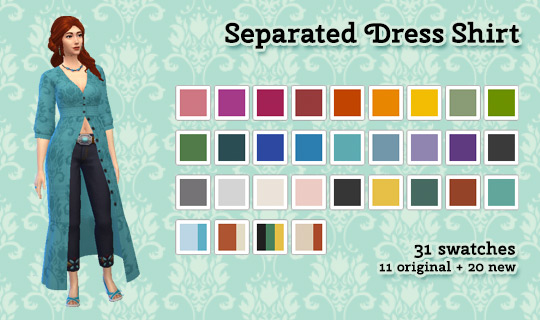 We're back to that glorious shirt dress, with 20 added swatches.
Something really cool about this is that it's no longer an outfit and permanently stuck with the shorts, like before. This creator has made it into a top, so your Sims can wear it however you want them to!
21.

Paranormal Hair Puppy Crow Recolors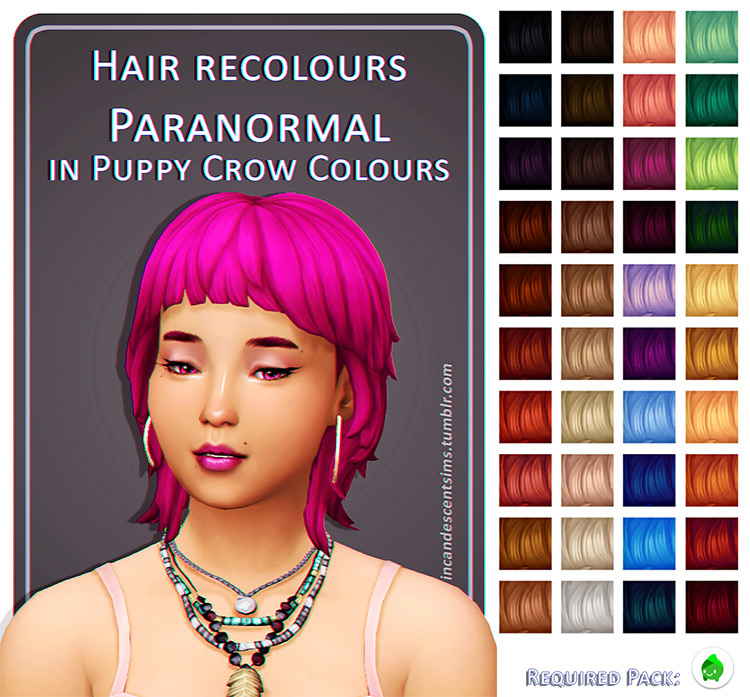 You'll have your own personal salon in CAS with these 40 new colors, available for all of the Paranormal Stuff hairstyles.
A lot of new shades are here for brunettes, blondes, and redheads, plus plenty of dyed options. Pink, green, blue, purple… you can have the whole rainbow, and then some!
22.

Guidry's Vampire Chair Recolors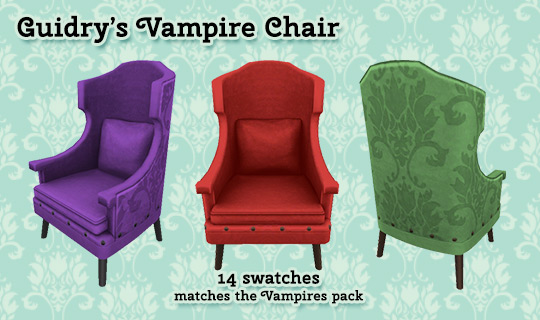 Regardless of your Sim's relationship with Guidry, this high back chair named for him is incredibly vintage.
The elegant design of this chair just isn't something you see much these days!
The 14 swatches add a little more of a contemporary spin, and will even match some items in the Vampires pack.
23.

Paranormal Tops & Bottoms Recolors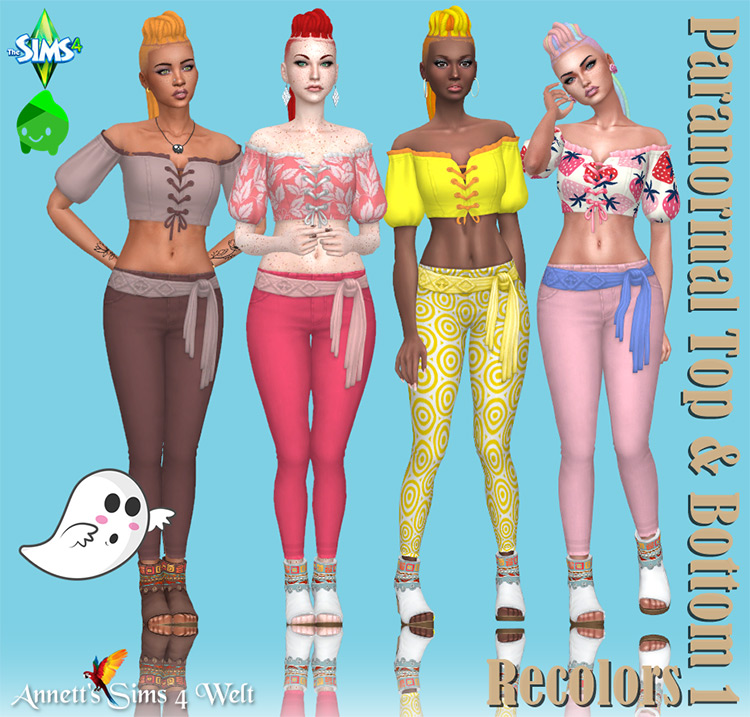 The Paranormal pack contains a masterful blend of modern and vintage attire, and this CC creator has done the same thing with their 50 recolors.
You can make some really epic outfits by matching these skinny jeans and cropped tops, but mixing them up might be fun, too!
24.

Bewitching Bohemian Shelf Recolors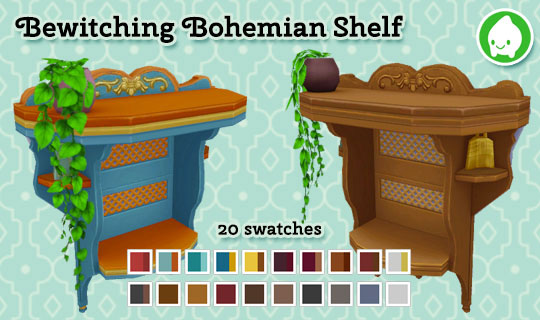 The cute little potted plant made this shelf one of the most iconic items as soon as the pack dropped.
But the original swatches just might not be enough, depending on the feel of your Sim's home.
Here are 20 new options, including some solid wood versions.
25.

Paranormal Long Open Shirt Recolors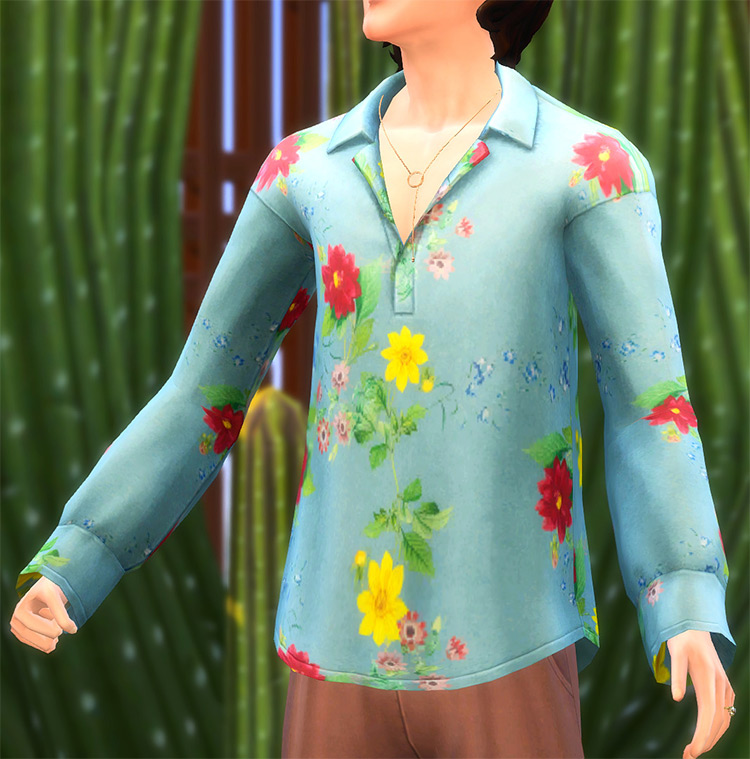 As far as men's attire goes, this very boho top is among the best they've got.
GlamMoose's new 38 swatches span a huge range of styles and colors. In addition to your standard solids, we've got some interesting new patterns like spiders, flowers, and geometric shapes.
26.

The Veil Beaded Curtain Recolors
If you want these funky beaded curtains to be even funkier, you're in luck! MadSeance's 16 swatch recolor palette is loaded with bold colors that really pop.
You'll find a great array of colors here, including multiple shades of blue, green, and gray.
27.

SP18 Desk Recolors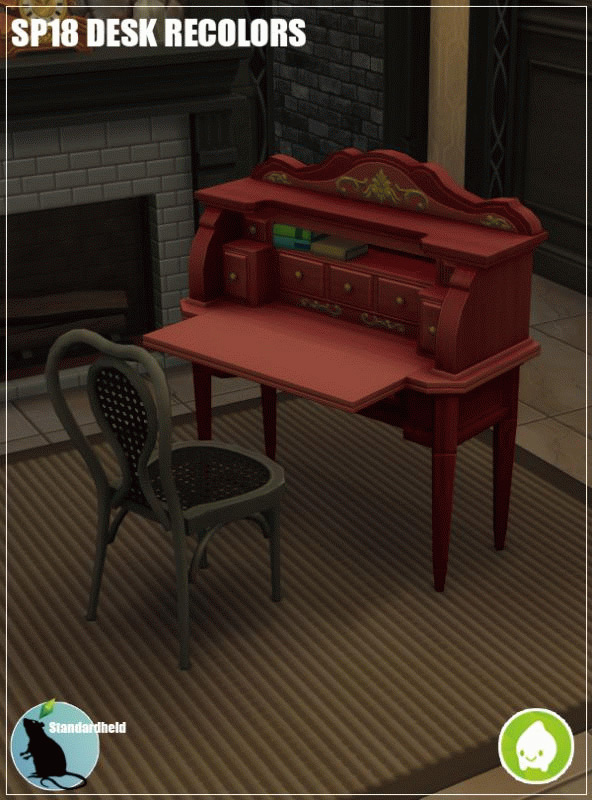 Here are some more options for the Paranormal Stuff vintage desk. Chances are, if you love old fashioned furniture like this, then you probably prefer solid wood tones.
There's no shortage of them here. Most options are some shade of brown, and there are a few red, green, blue, and black swatches to choose from as well.
28.

Layered Necklace Recolors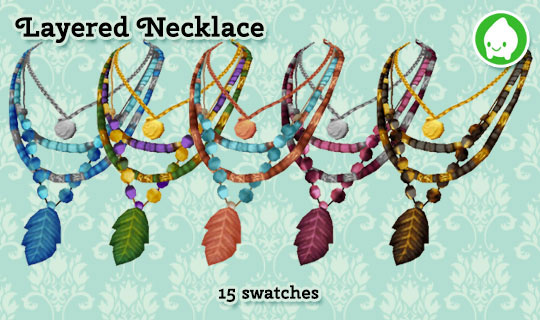 Anyone who loves to get their Sims all dolled up with accessories will understand how few The Sims 4 offers, in the grand scheme of things.
Stuff Packs bring some lovely necklaces and earrings to the game, and this layered boho necklace is among the best. Add 15 new color combos and even some metallic shades with these recolors.
29.

Bonehilda Shoes Recolors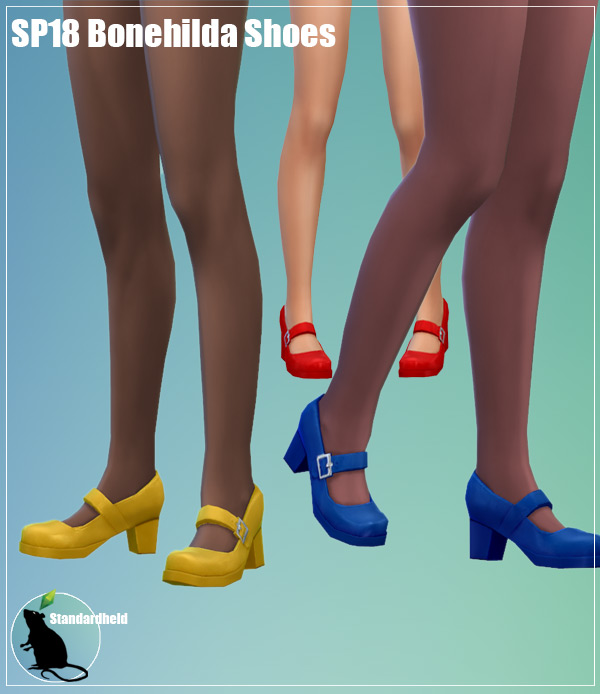 These chunky heels have always been great, like modern Mary Janes. But the lack of swatches make them feel somewhat limiting.
That's certainly a concern of the past!
With all of these additional swatches, you'll now have 56 solid colors to choose from.
30.

SP18 Jacket and Shirt Solid Recolors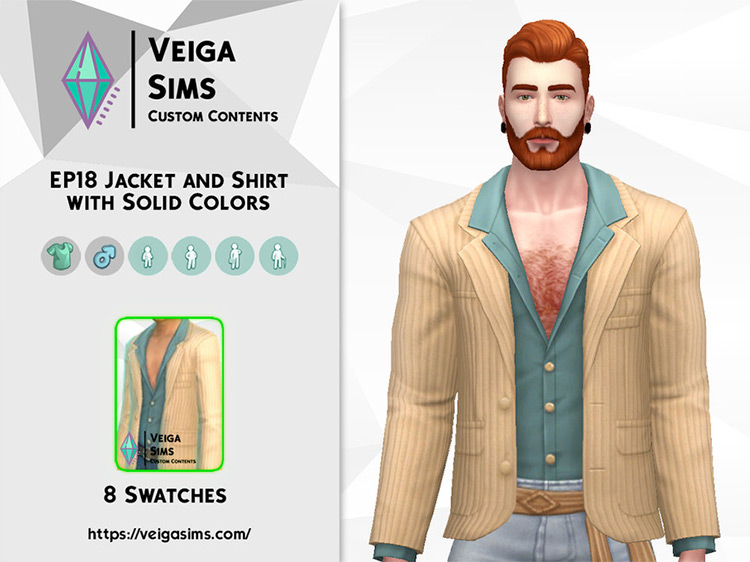 The original wacky prints and color combinations of this top are great, but these new, mellow swatches make it a little more practical.
Now that it's not so loud, this is a pretty typical suit jacket for everyday wear and parties.
Browse:
Lists
The Sims 4
Video Games