The Sims 4 Party Decorations: CC & Clutter Packs
This post may contain affiliate links. If you buy something we may get a small commission at no extra cost to you. (Learn more).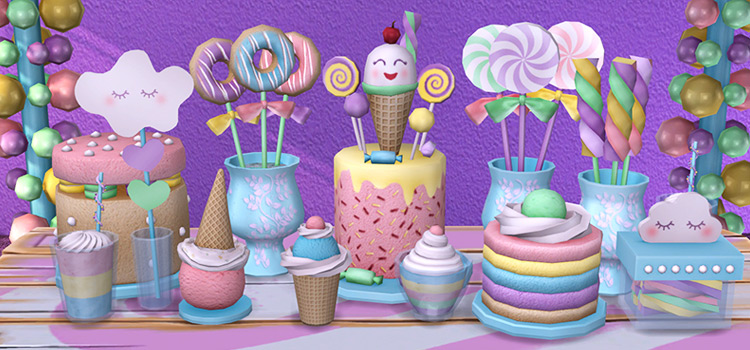 There are but a few occasions that don't warrant a party.
You can use anything as a reason to get everyone together for some fun, good food, and good times.
But what separates just "hanging out" from an actual party?
Decorations, of course!
If you're going to go through the trouble of having multiple guest Sims on one lot, you might as well put the extra effort into the event's visual appearance. When the only elder Sim attending dies and your Sim's sister randomly flirts with her husband, at least you can look at some pretty decorations and take a deep breath.
Most of the stuff you'll find in build/buy is themed for a certain holiday. But there are plenty of reasons you may want to have a party outside of those days.
So all these decoration CC packs are suited for a variety of fun-filled events that you're free to use as you please.
1.

Space Party Stuff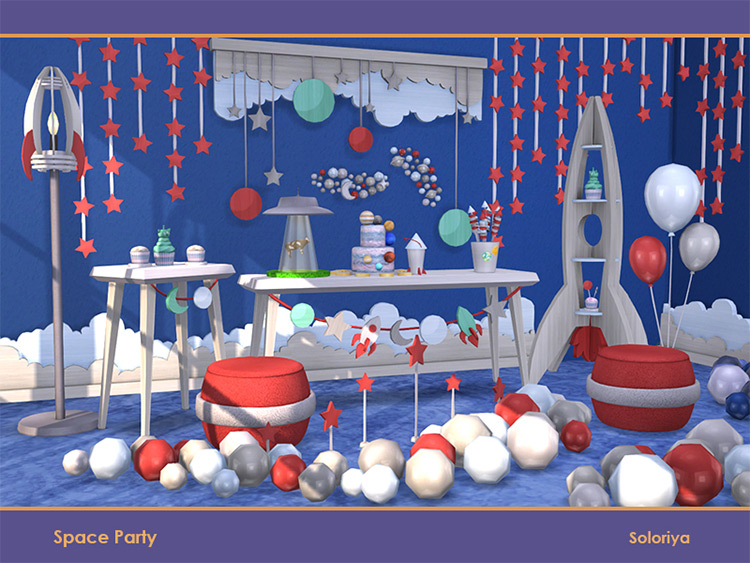 What lies beyond our own atmosphere has been a source of fascination for people both young and old.
Looking up at the night sky certainly evokes a sense of wonder.
From man being on the moon to the Hubble Telescope's incredible photos, each generation has their own source of amazement.
This set has plenty for you to create a space-themed party, whether that's for a kid, or just for the heck of it.
Stars and planets are mostly what make the galaxy such an exciting place – and now the same can be said for your Sim's party.
There are decorative stars here for both the wall and floor, as well as some rocket-shaped lights.
There's even a lamp that looks like a cow getting abducted by a flying saucer.
And it's amazing.
The awesome solar system cake and other deco food can be downloaded as well, found under the Recommended tab.
2.

Great Gatsby Theme Party Decor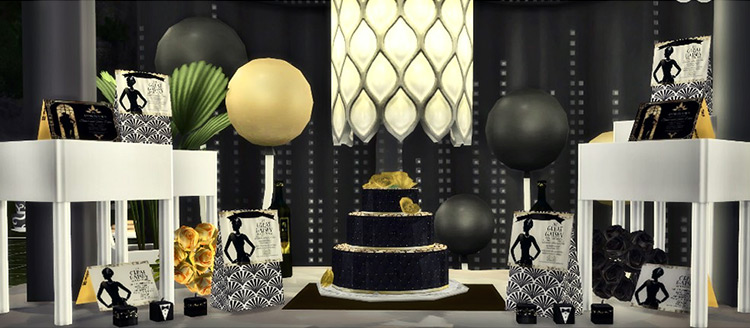 The 1920s were a brief time between two terrible eras in American history.
And even a century later, it's still a decade people think of fondly.
We're talking about the Jazz Age, a time characterized by snappy music and iconic dances, as well as the budding Art Deco style.
Since that's the bread and butter of The Great Gatsby story, it's easy to see why everything associated with the time has become beloved to many.
This creator turned that very story into a party theme – and you can definitely see the influences.
Black and gold, elaborate designs, and Champaign make for some fancy decorations.
If you've got a classy Sim, or at least want it to seem like they're classy, then these definitely have the right vibe.
3.

Outdoor Party Lanterns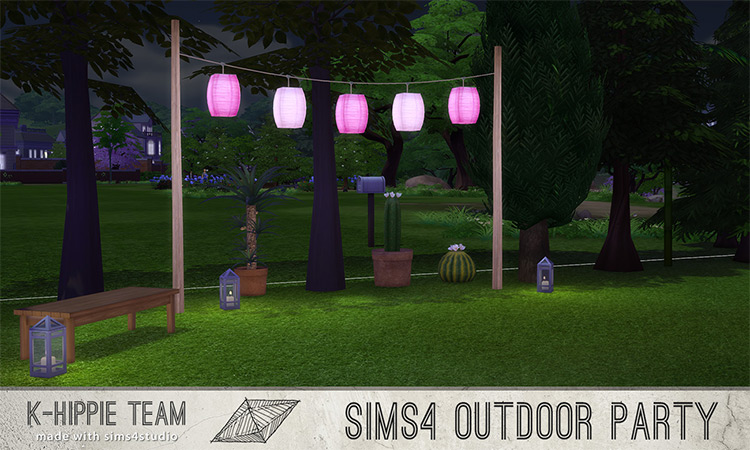 Indoor and outdoor parties are two totally different things.
You might think there's not that big of a difference because they both still involve guests, food, and decorations, but that's not the case.
Outdoor decor needs to be more durable. Able to withstand the sun and possible unexpected variables like wind or squirrels climbing on them.
Yes, these are things you must consider!
Besides, no one in their right mind uses indoor dishes for a backyard bash. That's how the dishes wound up bashed on the concrete, and why paper plates are practically the face of outdoor events.
But nevermind, getting those things ironed out for your Sims really requires some legwork.
These simple outdoor lanterns are festive and will allow the party to keep going even after the sun goes down.
There are five lights strung between two poles, so you can place these to have as many as you need.
And they come in a variety of swatches including beige tones and alternating purples or blues.
4.

Watermelon Party Décor
I just can't trust people who don't love watermelon.
The juicy delicious fruit is like happiness in physical form.
Interestingly enough, I have never known anyone who claimed to not like it!
And these fruits also have a long history in The Sims.
You're a real one if you remember sending your pregnant Sim go to the store to buy watermelon, and then stand outside on the sidewalk eating piece after piece so she'd have a girl.
Good times, Sims 3.
Nowadays, though, the connection to watermelon isn't nearly as bizarre.
People just recognize it almost as a symbol of spring and summer, as well as a bit of an aesthetically pleasing thing.
Pink and green sure are nice, and not a color combo you see often.
But in this CC set, it's everywhere.
All the typical party decor you'll need is here, including balloons and wall banners, all of which have a watermelon theme.
As with Soloriya's last set listed above (the Space Party Stuff), the incredible decorative food you see here is in a separate download in the recommended tab.
5.

Áurea Party Set
The game has buffet tables, sure.
But what about when you want an event to be a little more organized than one big spread?
Well, you're crap out of luck unless you use CC.
Thankfully this Simmer created just the type of platters we're missing.
These fancy raised trays come in two choices: a three-tiered version, and a single, typical platter.
They also come in 15 vibrant swatches, making them perfect for any type of party.
The vibe all depends on what kind of food you place on them.
Cookies for casual events, main courses for formal parties, a Grand Meal for the holidays… anything goes on the Áurea Party Set!
6.

Donut Birthday Stuff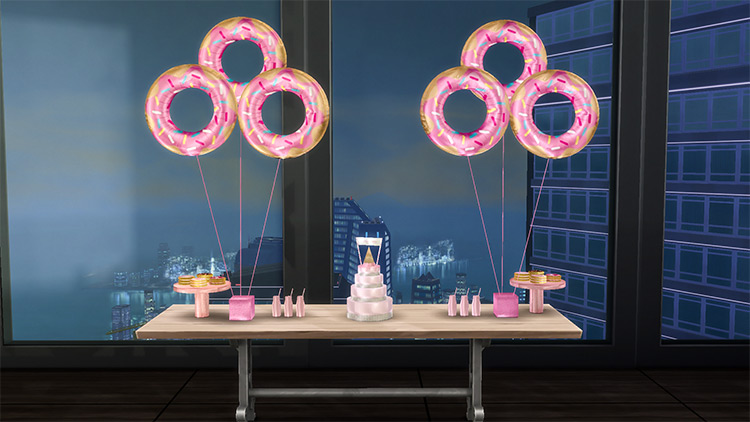 Birthdays don't look much like they used to.
Before the 2000s, they tended to be simpler with "birthday" being a theme all of its own.
Today, however, another full rotation around the sun since you exited the womb warrants some personalization.
People have come up with really creative ideas to make birthday parties more special and memorable than ever.
And all the while, people continued to love donuts as much as they always did.
This set features some of the most fun designs, all dedicated to everyone's favorite pastry with an underlying birthday theme.
The donut balloons are just gorgeous, honestly, with their realistic texture and coloring.
You'll also have some decorative donuts on a sparkly stand, a three-tiered beautiful birthday cake, and mini milk bottles to work with.
7.

Festive String Wall Lights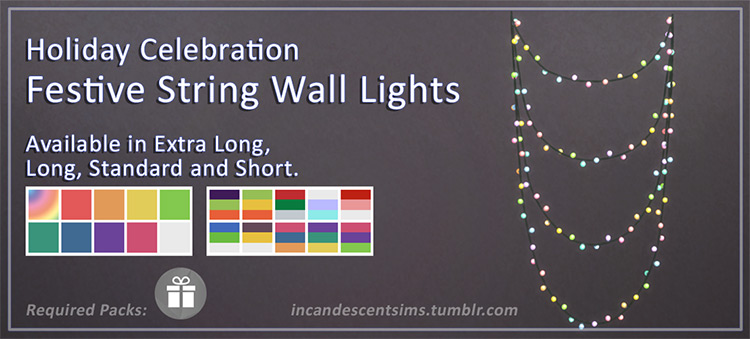 Fairy lights are an improvement to any room or occasion, that's just common knowledge.
Those twinkly little bits of color and illumination can make the difference between a party looking dreary, and being a lighthearted get-together to remember.
And these are available in four separate lengths ranging from short to extra-long.
They come in short strands too, so you can use them as you need to, placing as many or as few as a space requires.
The swatches will really allow you a lot of freedom as well, with one rainbow option, plus 9 single color choices and 10 different multicolored strings.
8.

Sweets Décor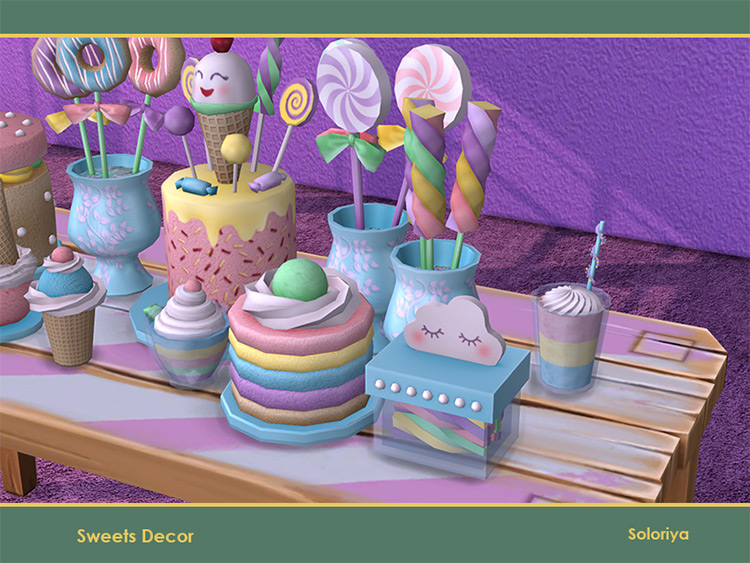 Sweets are bound to make anyone happy.
So how about an entire set of decorations based on them?
Ice cream, sprinkles, candy, cakes, all in gorgeous multicolored pastel designs, will be fantastic additions to any party.
They'll really brighten the room – and the feelings of joy are impossible to succumb to, just like with real life sweets!
Just looking at this stuff may induce a sugar rush.
In fact, there are so many little items here that no party will ever have to look plain or boring again.
Whether you use these things all at once or pick and choose, they'll help a lot if you have ever felt the tables were a little too bare during your Sim's shindigs.
And yes, I just used that term in total seriousness.
It's time to bring it back, baby!
9.

Birthday CC Set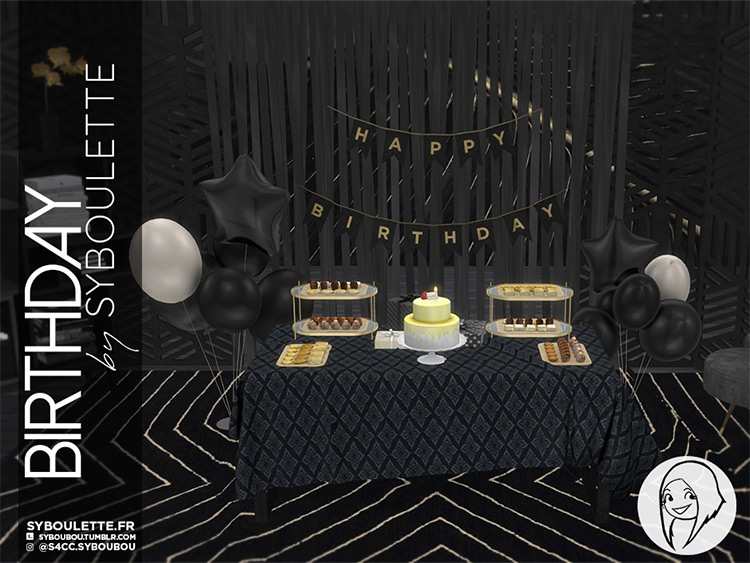 Birthdays are certainly a special occasion in this game, maybe even more so than in real life.
It's not every single birthday that thrusts us into a totally different stage of life.
The leaps from toddler to child and adult to elder are quite extreme, and usher in new tasks, possibilities, and worries.
So you might as well make it a good day for them, complete with good decor.
If you don't, they'll guilt you with that sad moodlet because everyone "forgot" their birthday.
Psh. No one forgot, you just didn't have time to celebrate it because you were working, silly Sim. But sure, cry in bed about it, that's normal.
…yeah.
You could say I haven't been doing my Sim's birthdays justice – and that's a shame when sets like these exist.
Everything is included here to make your next bash a truly classy & elaborate adult birthday party.
With plenty of snacks on proper platters, a cake, banners, and balloons, giving your Sims the party they want will be easier than ever.
10.

Unicorn Party Set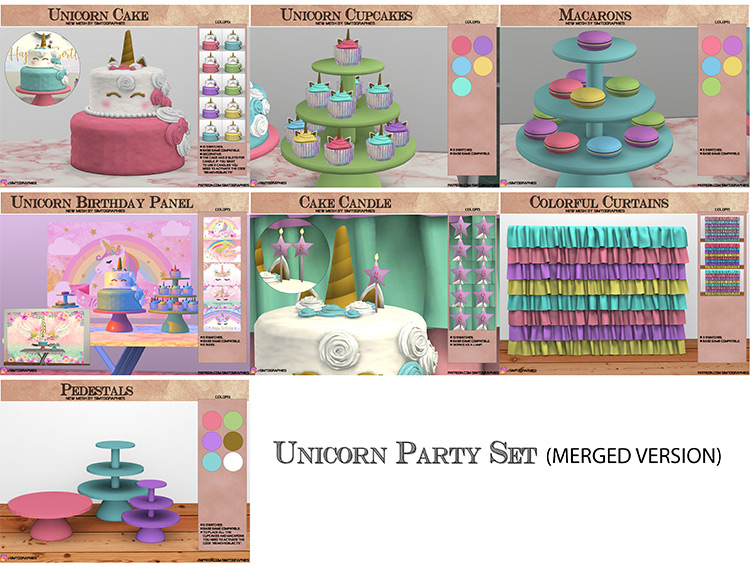 Unicorns are the purest and most wonderful mythological creature that's ever existed.
It's like a regular horse, which is already cool, but with pretty colors and sparkly parts.
Legend says these beautiful creatures avoid humans, so who knows, maybe they're out there somewhere.
In the Strangerville desert, perhaps. You can't put anything past that place.
Well this CC set is all about color and cuteness, as you'd expect.
The decorative cupcakes have the horn and ears of a unicorn, as well as some brightly colored frosting.
It may be hard to see macarons you can't eat – but they're lovely as well, coming in four colors.
The curtains, which are very textured and ruffled with stripes of blue, pink, purple, and yellow, serve as a unique decoration accent.
And just like many other sets on this list, this one comes with a gorgeous decorative cake – now with ornate roses and a unicorn motif similar to the cupcakes.
Browse:
Lists
The Sims 4
Video Games