Cool Sims 4 Pastel-Themed CC (All Free)
This post may contain affiliate links. If you buy something we may get a small commission at no extra cost to you. (Learn more).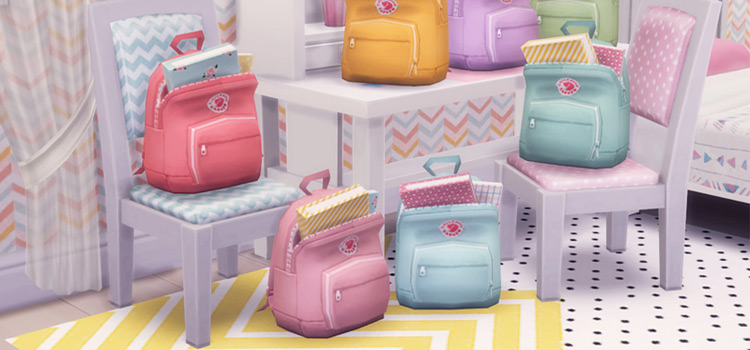 Pastel is love.
Pastel is life.
What would we do without those super bright, colorful hues?
Clothes, wallpaper, furniture — it doesn't matter. For me, the brighter, the better. If vibrant color makes you happy then so will this list of pastel-themed CC.
And there's something here for everyone, so don't hesitate to download these eye-catching items.
Cute Pastel Shirts v1.0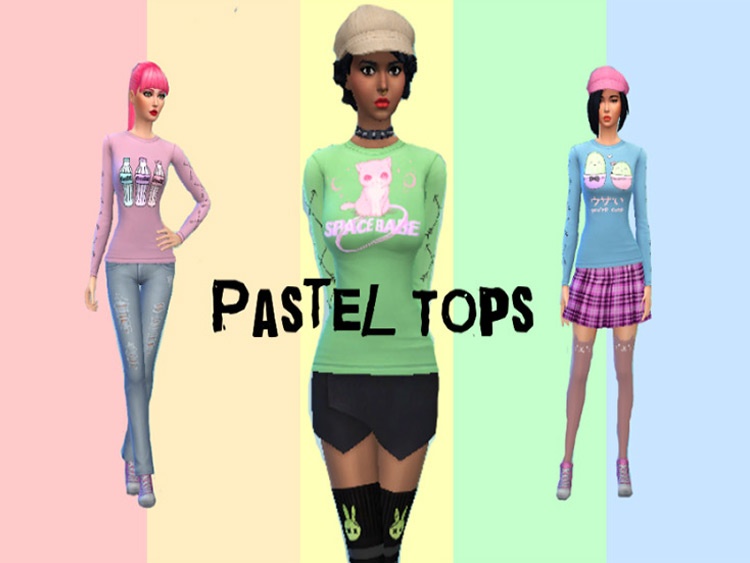 Pastel and graphic tees go together like peas and carrots.
And this three shirt set from CupcakexSimxyUnicornwentz features some adorable designs:
Coke bottles, a cat apparently named Space Babe and two cute egg friends.
They're long-sleeved and available in pink, blue, and green. No pack requirements or CC listed for download, so it's a great option for base-game players.
Moku Set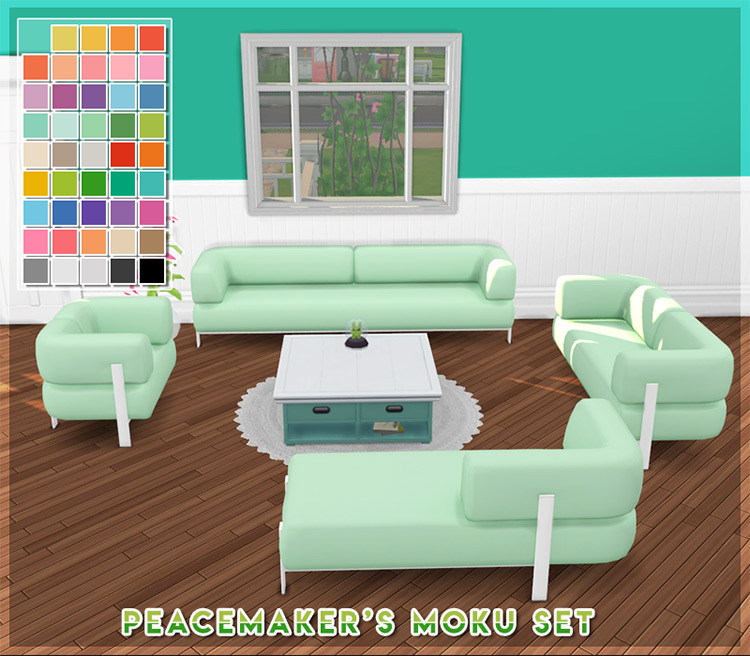 I love pastel furniture, though it isn't the most practical kind to own (especially with kids or pets!)
Thankfully, we don't have to worry about such mundane things in The Sims. MissChaii's pastel recolor of a Peacemaker furniture set brings me great joy.
The light green hue is as colorful as it is soothing. It includes a sofa, loveseat, chair, and a couch.
Make sure to download Peacemaker's mesh before grabbing the recolor.
Simple Pastel Wall Color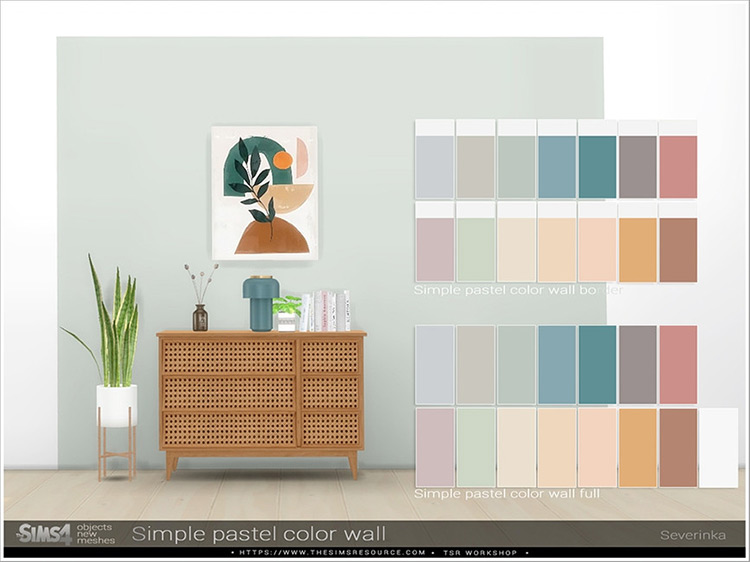 Who needs colorful furnishings when you have pastel walls? Severinka's pastel wall colors set come with 29 options for all your decorating needs:
15 solid colors and 14 border colors.
It makes the earth tones or any monochromatic colors in a room stand out even more.
And the Dayana living room set by Severinka is an awesome example of how pastel walls can make a living room pop.
If you're interested, you can download it here.
Pastel Trash Bins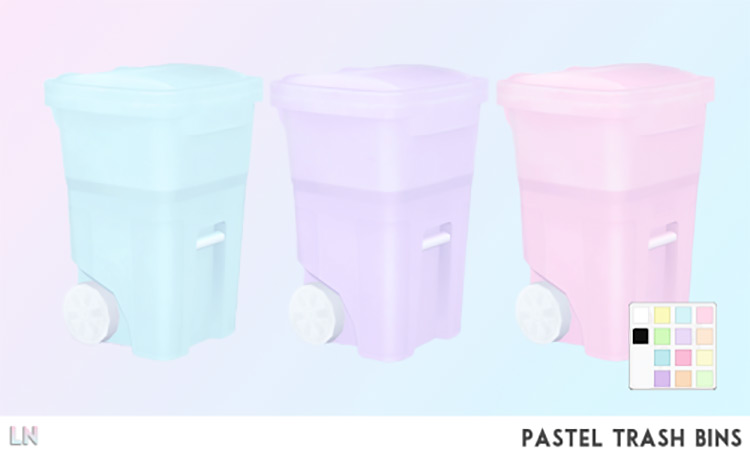 You might be asking, "pastel trash bins… why?"
And our answer to that question is why not?
Honestly, the trash bins in-game are so ho-hum and boring. And yes there is trash can CC out there, but we know it's hard to make something like trash exciting, per se… but these pastel trash bins from LittleNox come mighty close.
This 12-swatch bin has a variety of pastel colors that will brighten up the plainest of homes.
Best of all, it's just a recolor of one of the base game trans bins, so it's base-game compatible.
Backpacks in Pastel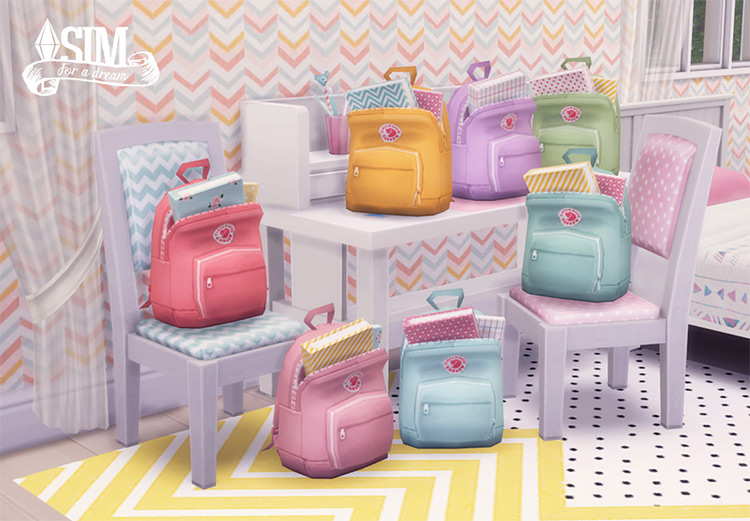 EA's deco-only backpack is a great accent for school aged sims.
We just have one little complaint:
They aren't colorful enough.
The EA-swatches are nice for older Sims (think high school and college) who want something subtle and more mature. But for elementary-aged Sims or those who want more color or personality, the options are sorely lacking.
Simforadream's recolors give 7 pastel swatches that make these backpacks feel fun and child-friendly.
Choose from green, red, orange, purple, pink, and two shades of blue.
Pastel Beach Home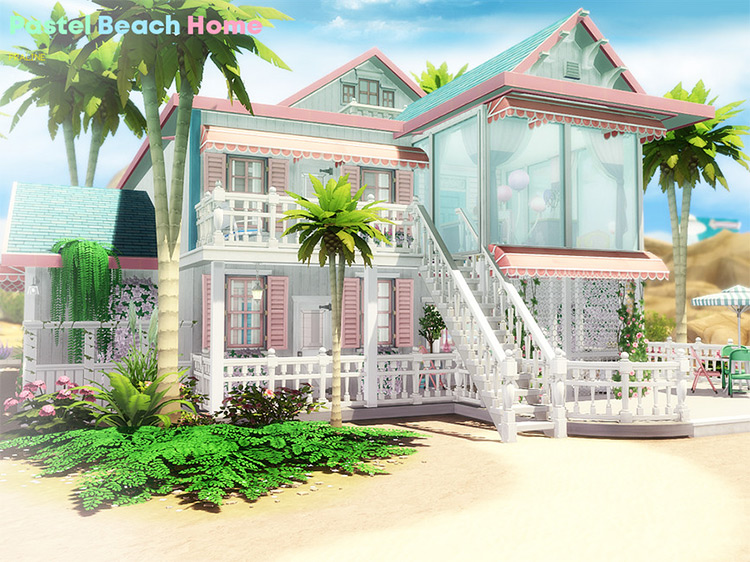 A whole pastel-themed beach home?
I'm in heaven.
And your Sim will be too, once they move into PralineSim's fully furnished home.
Built on a 30×20 lot, this custom house features four bedrooms and bathrooms split between two stories. Just check the creator notes to cross-reference what packs you'll need and currently own.
And remember to pick a Sim that can afford this, since it's gonna cost 150,000 simoleons.
Or use freerealestate like the rest of us!
Wallpapers Pastel Set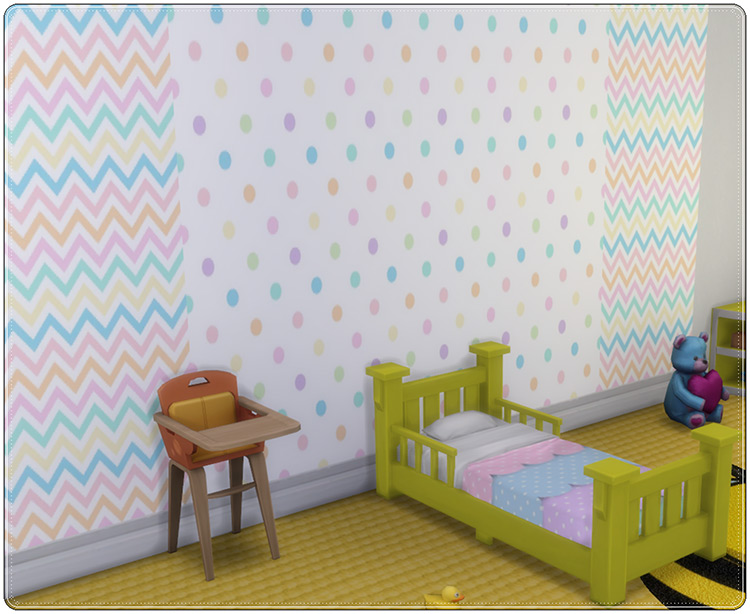 Pastel stripes and polka dots!
I've found a great set that will look amazing in a nursery or children's bedroom/rec room.
Annette's pastel wallpapers have 8 variations that will make any room feel more fun and airy. And best of all, many of them are complimentary so you can mix and match.
It's a recolor of an EA wallpaper, so no extra CC or meshes are necessary to use any of these.
Britney Pastel Rainbow Hair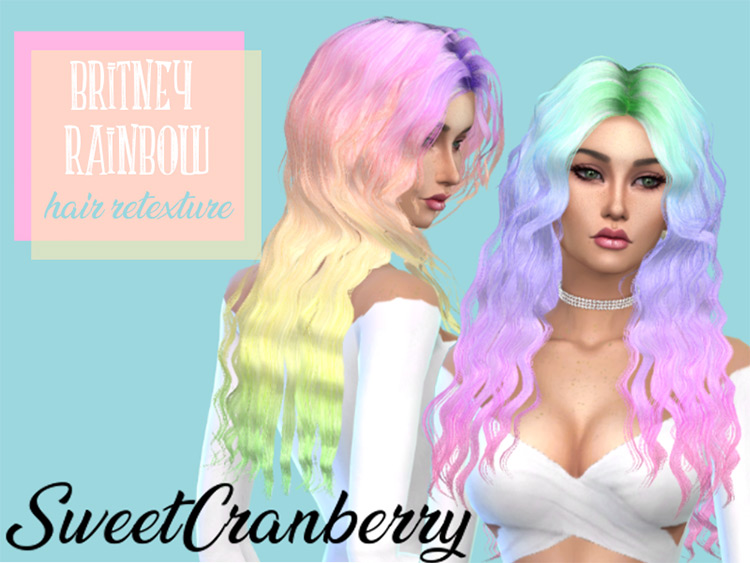 We couldn't finish this list without including at least one CAS item.
So with that said, we really like SweetCranberry's pastel rainbow hair – and we think you will, too.
This long, wavy 'do is a recolor of SintikliaSim's Britney Hair (required mesh here) with a pastel twist. It comes with four swatches, which all have a pastel and rainbow ombre effect.
Sims with bold fashion tastes like models, social media influencers, or those who just like a lot of color will look amazing in this.
And even though it's colorful, it's not an eyesore thanks to the more subtle shades of pastel coloring.
Laundry CC Set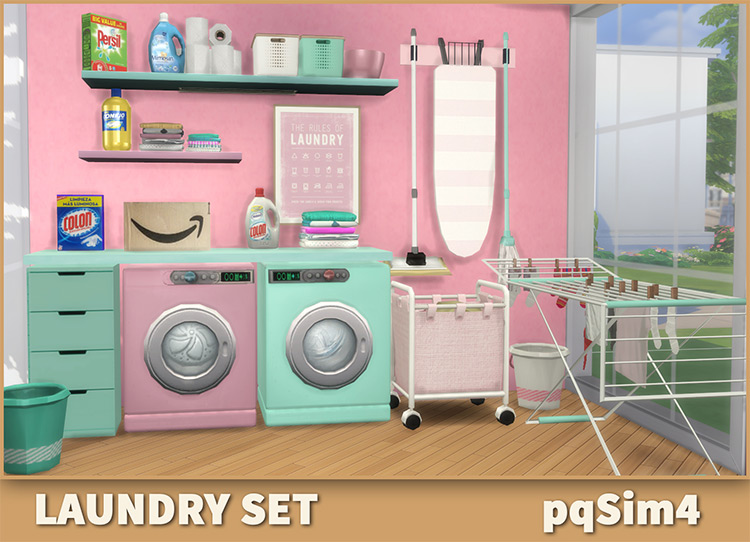 The washer and dryer set from the Laundry Day stuff pack is cute, but not colorful.
Even the colors that should stand out, like pink and blue, are somewhat muted.
Well this laundry set from PQSims4 changes all of that with these bright & bold colors that will make your laundry room feel cheerful.
Beyond the appliances themselves, it also comes with shelves, a hamper, drying rack and more. Most of them have the same swatches for coordination, too.
The description says it's fully functional, but we're not sure if that's only with Laundry Day. So to be safe, we'd suggest owning that pack first before downloading this set.
Fireplace 4 Pastel Recolors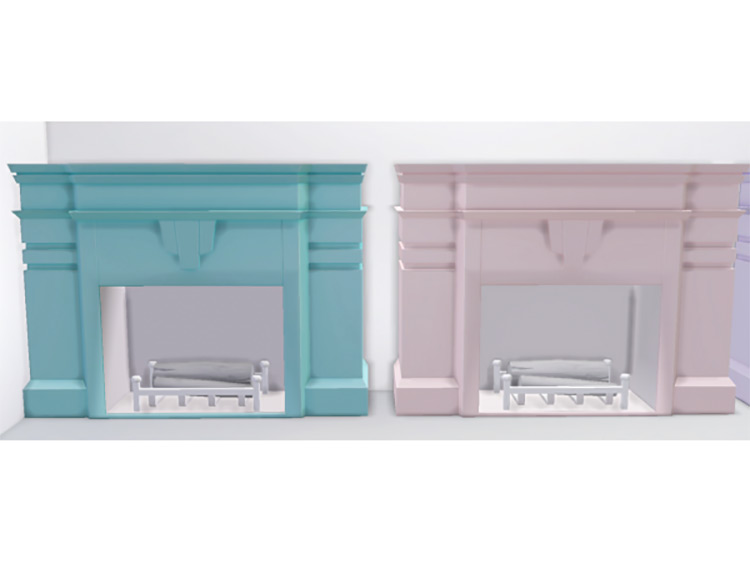 Pastel fireplaces would probably not work well in real life…
The smoke alone would turn the light shades a smoky brown or black.
But again, who cares about real life when we're playing The Sims? CC maker ByMarideSims was awesome enough to create a set of pastel fireplaces for all of our Sims' warming needs.
Available in blue, pink, purple, or white, they're sure to be the standout piece of any living room.
Note it does use a fireplace mesh from Vintage Glamour Stuff so make sure you own that before adding these fireplaces to your collection.
Browse:
Lists
The Sims 4
Video Games