Sims 4 Patio Furniture CC: The Ultimate Collection
This post may contain affiliate links. If you buy something we may get a small commission at no extra cost to you. (Learn more).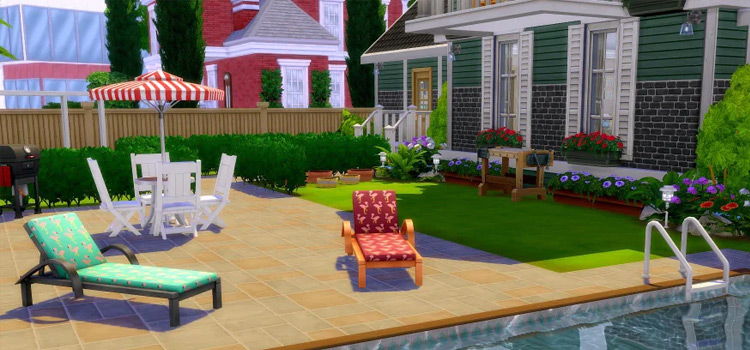 So you've decked out every square inch of your Sim's dream house with the greatest furniture Simoleons can buy.
And yet, your patio is embarrassingly empty.
If you're anything like me, your kitchen, living room, bedrooms, and even the bathrooms are all fully furnished before you start considering porch decorations.
After all, your sims could live out their entire lives without stepping foot in a backyard, right?
Well, sure.
But they'd be missing out big time! If you're a devoted fan (or even your average enjoyer) of house decorating, then you know how impactful a fabulous patio can be.
Besides, nothing screams "living the dream" like a comfortable, leisurely patio space. Luckily I've put together this little compendium of patio furniture CC to make things easy.
1.

Novella Outdoor Living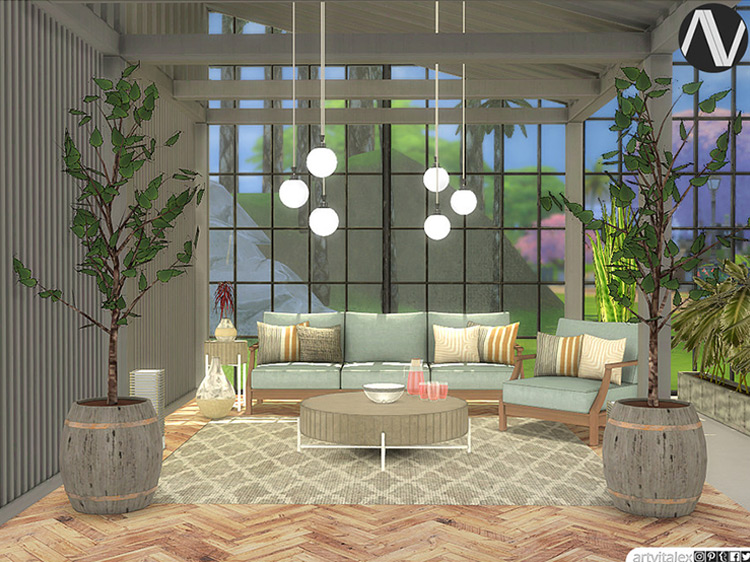 The first item on our list is probably the most classic in terms of furniture style, and that's not a bad thing.
When in doubt, a sprinkle of modern chic is just the thing to brighten up a space while still keeping your home décor coherent.
Most modern styles of furniture will fit right in with the Novella Outdoor Living set, and that includes many of the default furniture options in The Sims 4.
Basically, this set will let you have a beautiful porch without sacrificing brain cells trying to find something that will match perfectly with the other furniture you've picked out.
And if you do decide to lean hard into the modern chic style, the set will really shine.
2.

Autumn Garden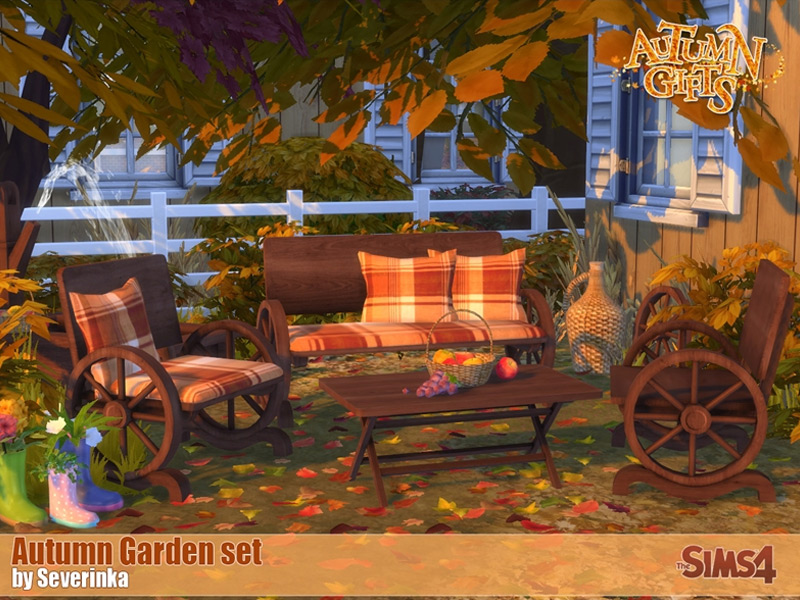 Severinka_ is known for putting out content that's creative, colorful, and somewhat nostalgic.
Her Autumn Garden porch set ticks all of those boxes, but with a zany twist- wagon wheels.
Wagon wheels everywhere.
Each chair has two big, round wheels incorporated into the design.
And honestly? I'm not mad at it.
The Sims is a place where you can live out your wildest dreams and experience life to the fullest. Who's to say putting wagon wheels on all your furniture isn't a part of that?
I definitely won't be the one to stop you!
PS: There are also flowers in boots.
3.

Breezy Set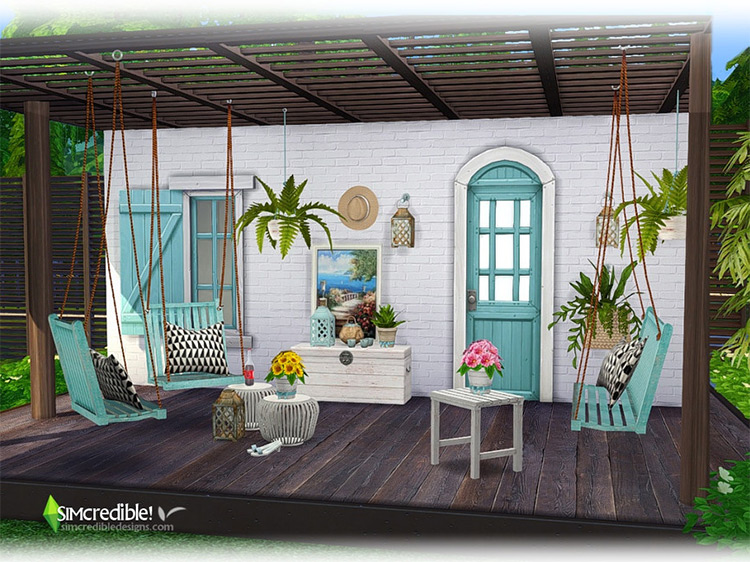 You can't have a Sims porch furniture list without at least one porch swing.
And this set features not one, but two (!) different swing chairs.
I'm always on the lookout for patio CC that includes a swing set.
They're an iconic piece of furniture and yet completely excluded from the base game, which is a real tragedy if you ask me (thankfully we have CC for this!)
In addition to the much-needed swing sets, there are also several decorative pieces added into this set, including a pair of sandals, some straw hats, potted plants, lanterns, and a wooden chest.
And it comes with extra color options, too!
4.

Seilva Garden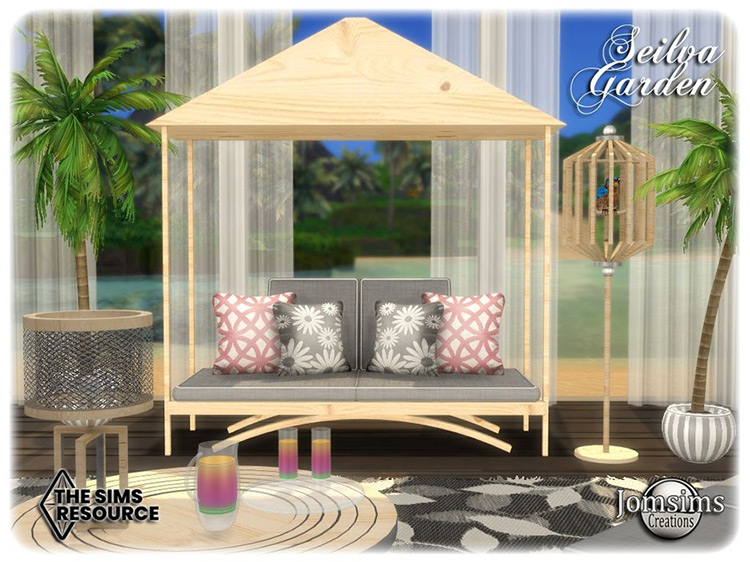 Pools are easily one of the most attractive backyard installments.
But after you've finalized your super-cool pool design, (infinity pool, anyone?) you need your porch to be able to stand with your pool as equals.
Seilva Garden is just the thing.
It looks like it was nabbed straight from a super pricey but super aesthetic beach resort.
Thankfully, you don't have to pay for it!
If you want a break from the ever popular suburban mom cyan, this CC actually comes with three other color options: pink, orange, and violet.
5.

Adagio Outdoor Furniture Set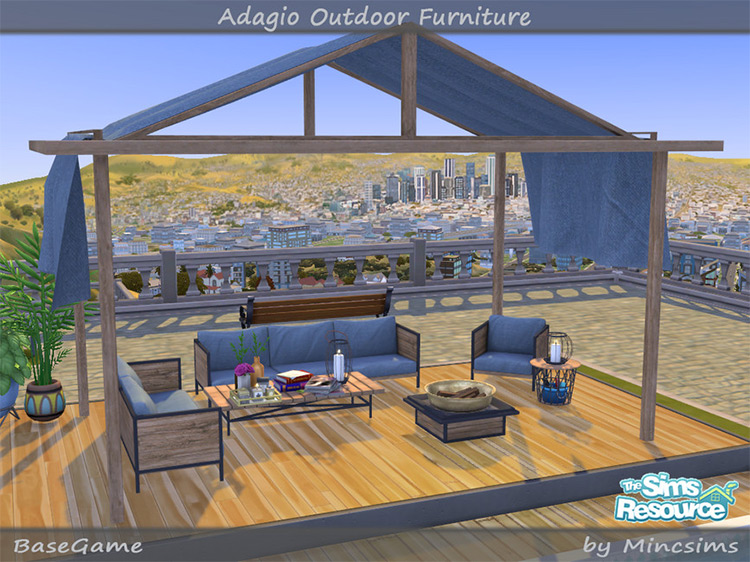 There's nothing like a tall open gazebo to make you feel comfy and Vogue at the same time.
Lanterns and a brazier imply that this set is for any Sims that simply adore evening get-togethers with their friends (and maybe the occasional outdoor cocktail party).
It even has a second pergola design just to drive home how extremely stylish you are.
Interestingly, Adagio is the name of a real furniture brand.
I'm not sure if the creator of this patio set based it on a real world one, but it definitely looks like it could've been.
6.

Kardofe Sunny Garden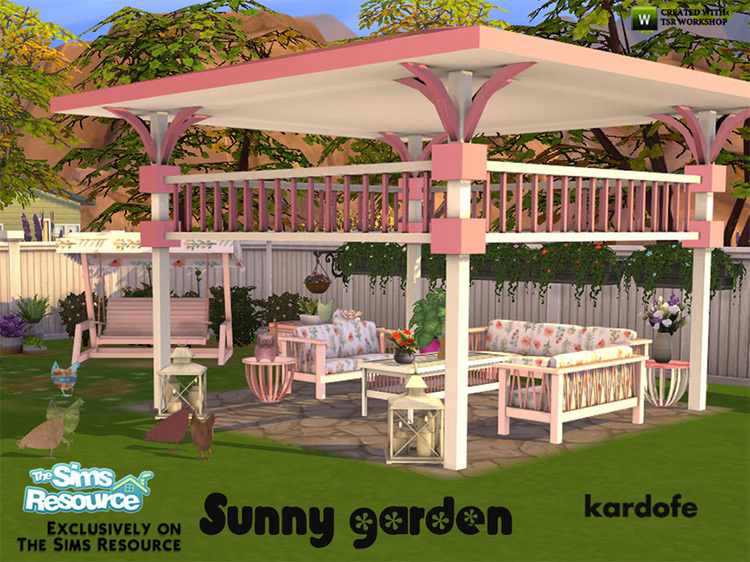 On the other end of the gazebo spectrum is Kardofe's Sunny Garden.
Instead of spacious and casually glamorous, the floral prints and petite nature of this set feel perfect for a friendly afternoon tea.
It really looks like it was custom-made for my grandmother – and I mean that in the best way possible.
There are actually five extra color options for this set, but my favorite part is how the print changes in each one!
And yes, it's equally adorable in every option.
7.

Before Decay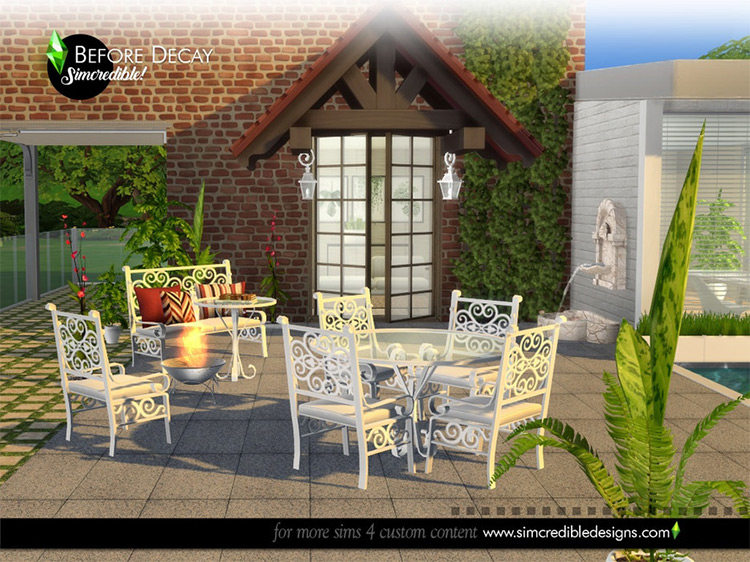 Sensible Victorian aesthetics meet modern-day with SIMcredible!'s Before Decay patio set.
The iron chairs, table, and lanterns give off a sturdy but wistful feel, while the blooming flowers and carved stone water fountain make the atmosphere feel fresh and breathable.
There's actually an apocalyptic version of Before Decay that's worn down and rusted (it's called Erebus if you want to check it out).
But seeing as this set is in perfect condition (at least for now) I don't see any reason not to enjoy it!
8.

Mingi Garden Set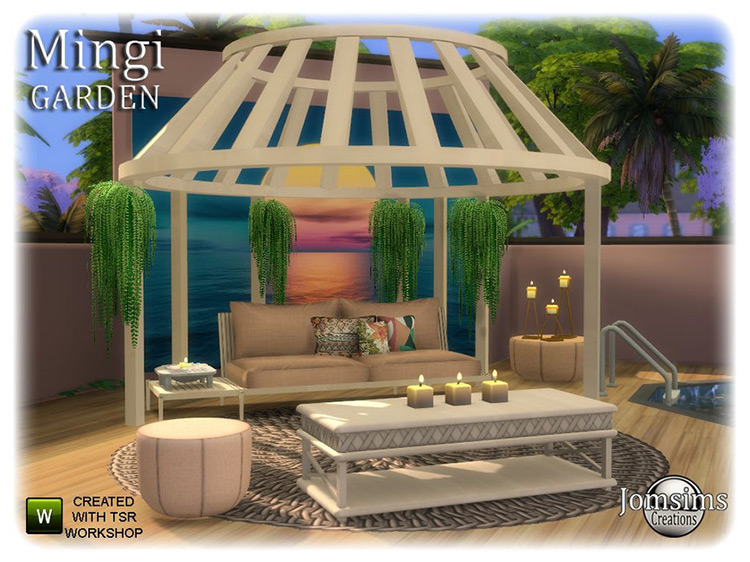 Ever wanted to turn your Sim's back patio into a miniature paradise?
Well you can do just that with the Mingi Garden CC set.
There are four color options for you to pick from here, all of which are as tropical as it gets.
The gazebo consists of two pieces: wooden pillars and the roof.
That means you'll be able to set it up in whatever way you want!
And the massive sunset painting is actually included in this set, so you can pretend that it's always the most romantic time of day.
You may call it delusion, but I call it fervent optimism.
9.

Cast Iron Garden Set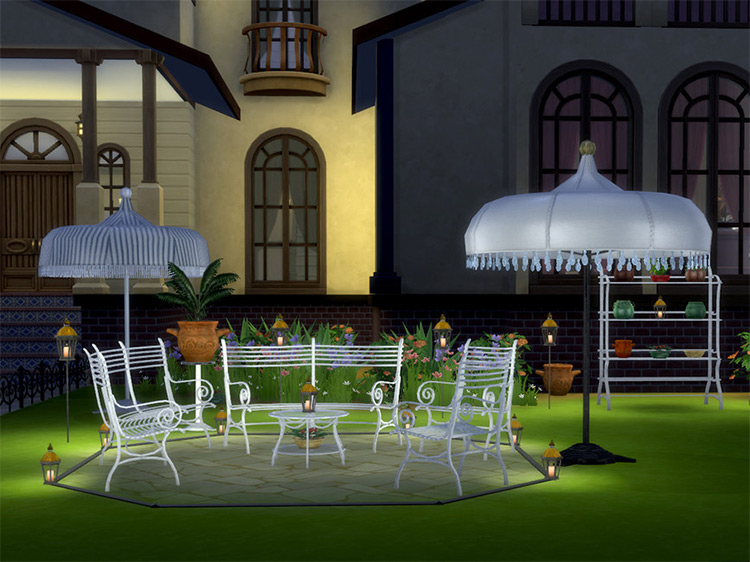 ShinoKCR's cast iron garden set is exactly what it says on the tin:
A typical cast iron garden set, complete with spindly, spiral-armed chairs.
What makes it stand out is the regal umbrella overseeing it all.
It's classy enough to be featured in a Sims mansion, while still somehow being quaint enough to fit into your wildest cottagecore dreams.
With an impressive number of furniture and decoration options, you can deck out your patio using just this set no matter the occasion.
I doubt it would mind sharing the stage with other CC or base game content, though.
10.

Naturalis Plants II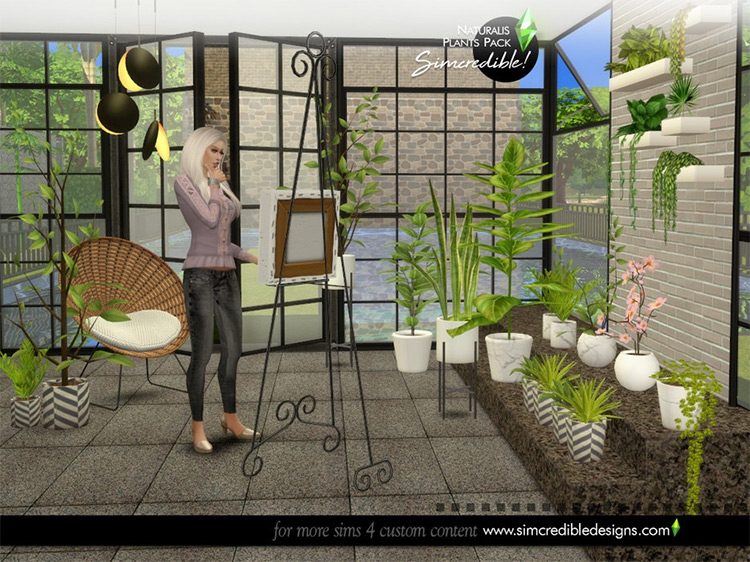 Naturalis Plants II (it's a series!) is a unique entry on this list – because it's literally all potted plants.
Turning your patio into a tropical getaway is one thing.
But with this set, you can essentially have a manicured forest on your Sim's porch.
Who doesn't want that?
There are 10+ different plants to choose from here, not counting the pot customization options. Which means you'll never run out of ways to use them.
Seriously – there will always be an excuse to add a plant (or five) to your patio design.
Browse:
Lists
The Sims 4
Video Games