Sims 4 Peasant CC (Clothes + Clutter Packs)
This post may contain affiliate links. If you buy something we may get a small commission at no extra cost to you. (Learn more).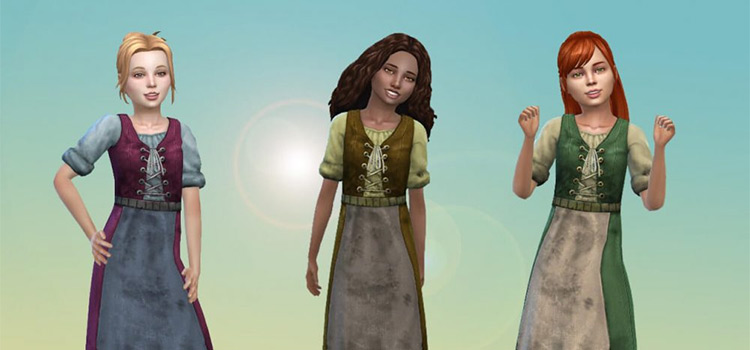 When building a medieval or medieval fantasy setting, a large chunk of the populace is made up of commoners and peasants.
You could always use deco Sims to populate the background if you're ever taking photos, but for actual gameplay? Gotta make those random townies look the part, am I right?
So here's a handful of peasant-related CC items to dress up your NPCs — and they're surroundings. Mostly CAS stuff, but I did throw in a couple Buy items towards the end of the list!
CAS Peasant CC
1.

Dragon Age: Inquisition – Common Dresses by satterlly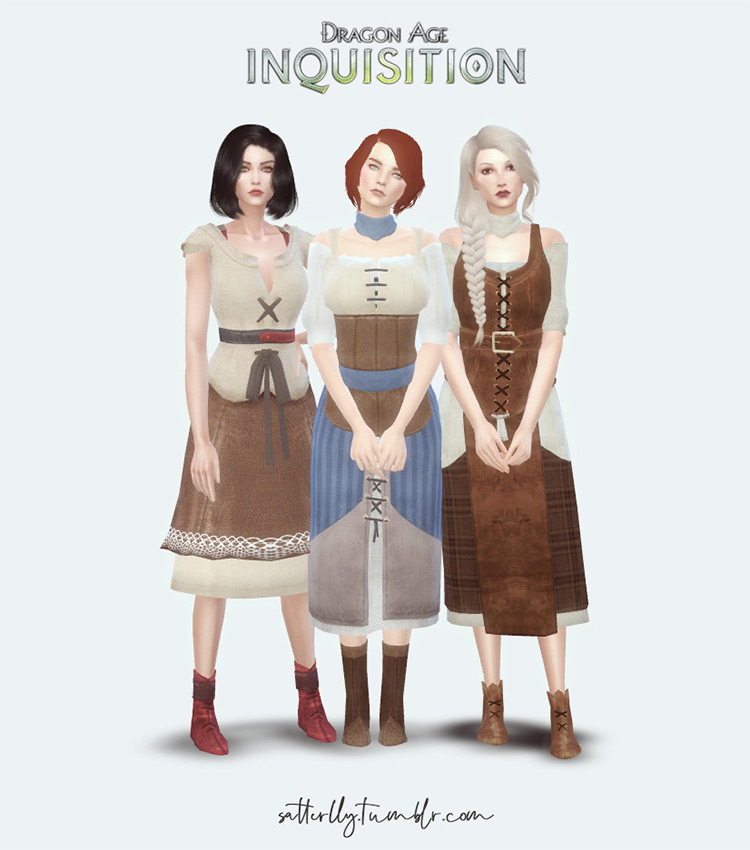 These custom Common Dresses – originally from Dragon Age: Inquisition – are a visually pleasing blend of simple and tasteful.
They're understated, a bit basic, and look like they were designed more for function rather than fashion. Their wholesome homey appeal would work well for the general, non-noble population.
2.

Commoner Dress Corset by zx-ta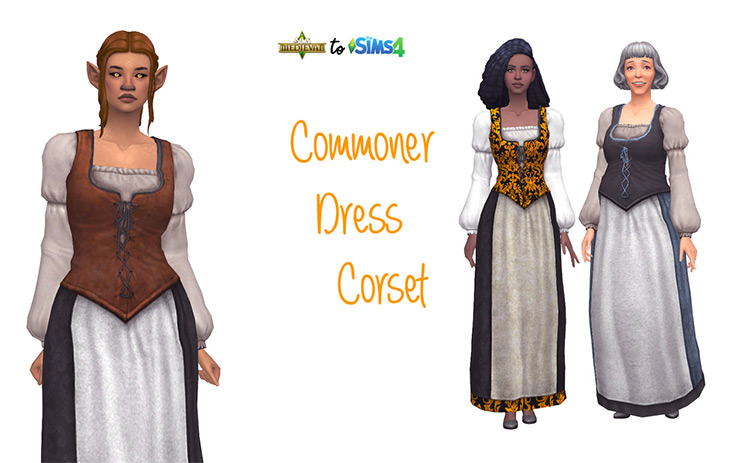 The dresses here have the same vibe as satterlly's Dragon Age: Inquisition – Common Dresses. The long skirt, the corseted bodice, the apron… it's basically the same silhouette.
I don't know if 'commoner' can historically be used interchangeably with 'peasant' (I should probably do some research) but in the grand Medieval fantasy scheme, there's no mistaking these clothes as noble or upper-class garb, so. I think it counts!
3.

Tattered Dress Conversion by KiaraZurk
There's no mistaking these dresses.
The tattered edges, dirt smudges, and grimy colors speak volumes.
This is peasant's children attire through and through. It comes in ten swatches, and some swatches (aka color schemes) will make the dirt stand out more than others.
4.

Farm Fresh Folk Set by HistoricalSimsLife
This sweet little dress may not be covered in dirt and grime, but it is still plain and functional.
A short-ish apron, a structured shawl, and sleeves that can easily be rolled to the elbows if needed. I also love the swatch options; a mix of muted pastels and softly saturated colors.
Also, according to a quick Google search, peasants were typically farmers owning or renting small pieces of land for cultivation.
So the "Farm Fresh" aspect of this set is totally on-point.
5.

Peasant Dress by kennetha_v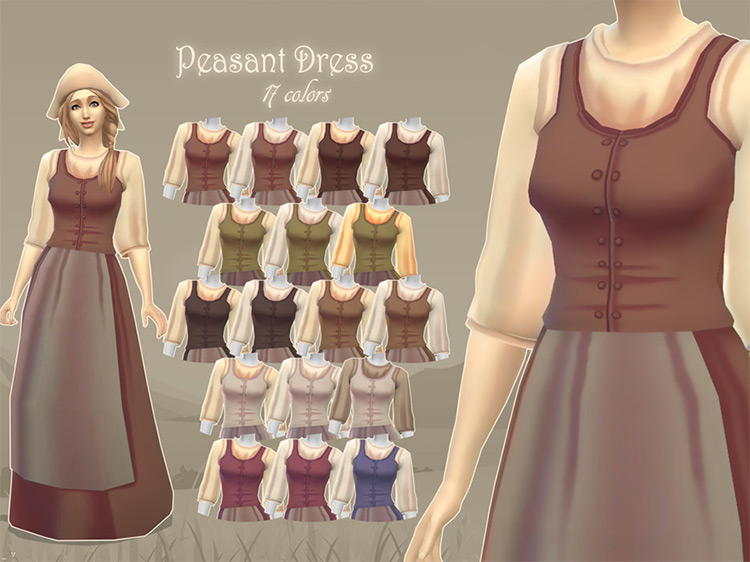 Here's a dress that's specifically marketed as a "peasant" dress (finally).
This cute custom ensemble by kennetha_v's got a beautiful, hand-painted look. It also has this tastefully plain appeal that suits the theme of this list to a T!
The dress comes in seventeen neutral, earthy colors; lots of browns, and beiges, with a couple greens thrown in.
6.

Peasant Headdress by kennetha_v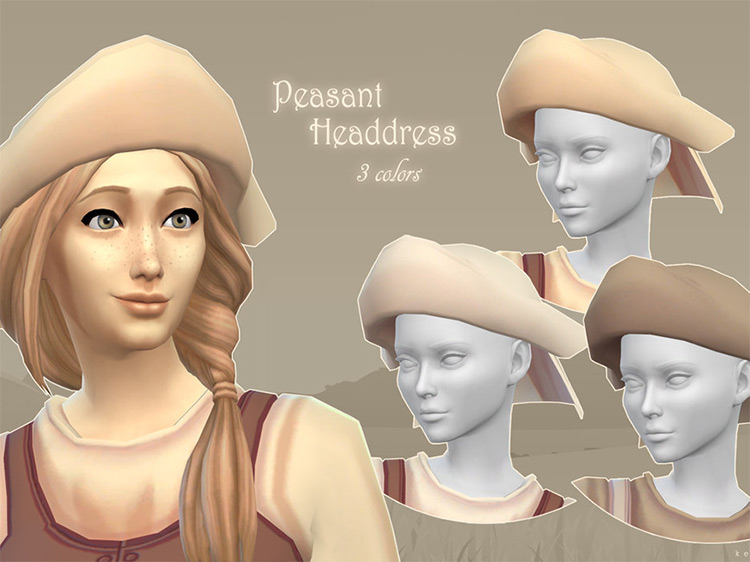 Kennetha_v's Peasant Dress also comes with a headdress!
It comes in three varying colors of beige and only works for Female frames (like the dress). Of course, you can pair it with different peasant dresses and costumes from other creators.
7.

Viola Dress by Sifix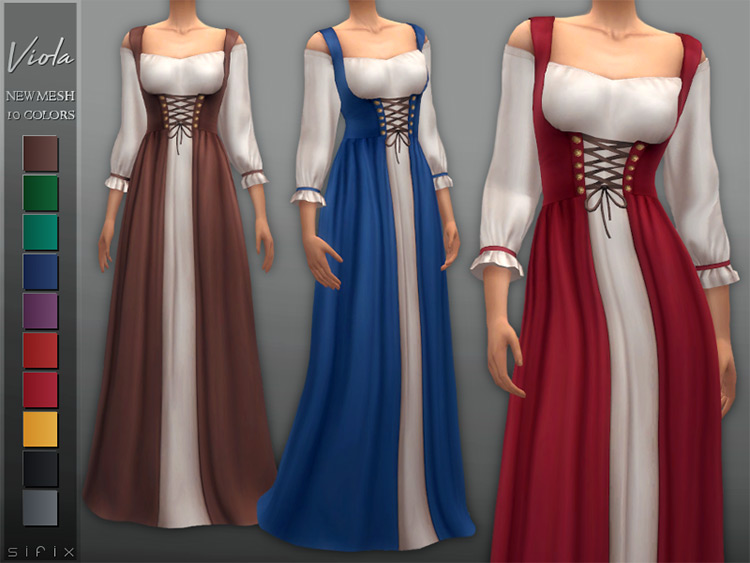 This Viola Dress by Sifix is actually what I picture whenever I think of 'peasant' or 'commoner' garb in a medieval/medieval fantasy setting.
There's just something about the plain off-shoulder dress and loose corset strings that make me think of barmaids, teachers, seamstresses, and other typical old-timey working women.
8.

TSM to TS4: Crowns & Hats & Helmets by HistoricalSimsLife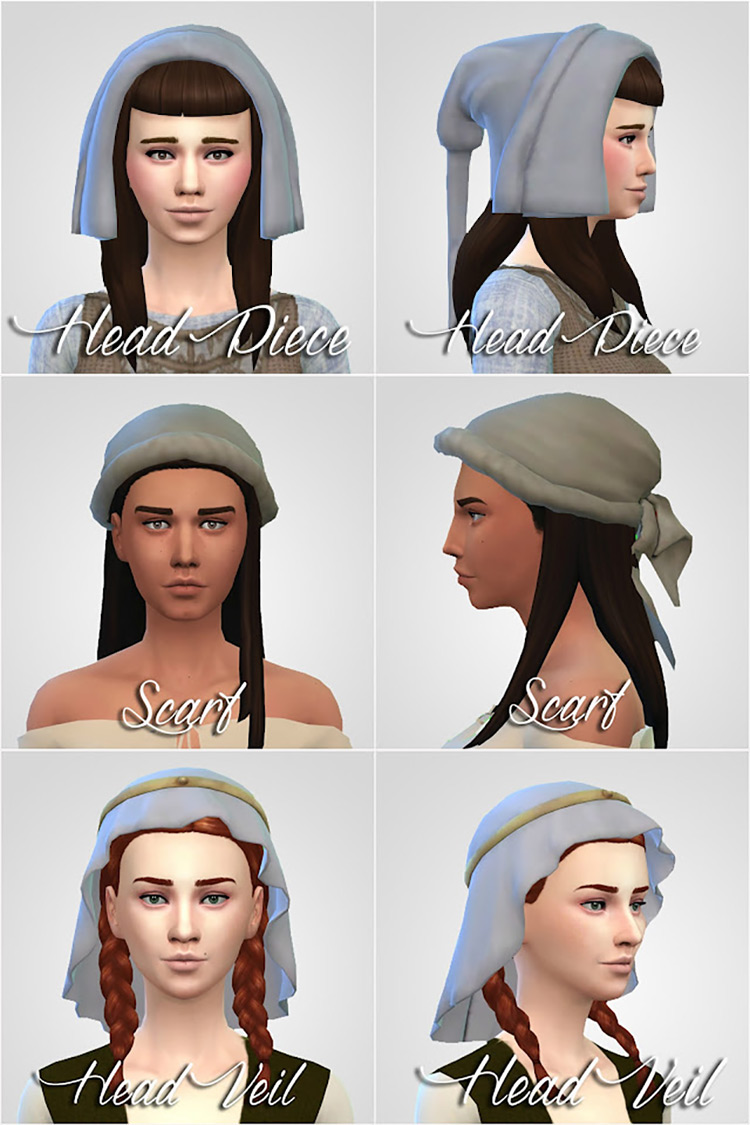 This CAS set by HistoricalSimsLife contains all manner of medieval headwear. But obviously, we're not here for the crowns.
The Head Piece, Scarf, and Head Veil in this set definitely fall under the 'Peasant Garb' category, so they're more our speed.
If kennetha_v's Peasant Headdress doesn't go with your chosen commoner outfit, you've got three other options!
9.

Slave Dress by Natalia-Auditore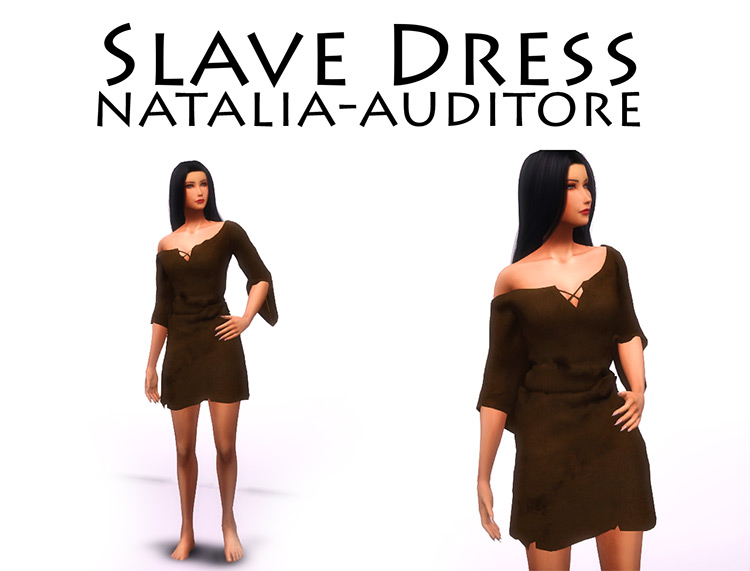 The name of this CC doesn't really sit well with me. But the design undeniably fits the theme.
The general looseness, the baggy, slipping-off-the-shoulder neckline, the slightly tattered edges, and the overall plainness? Not gonna lie; as peasant wear, it's pretty perfect.
10.

Medieval Peasant Dress & Bandana by sims4nexus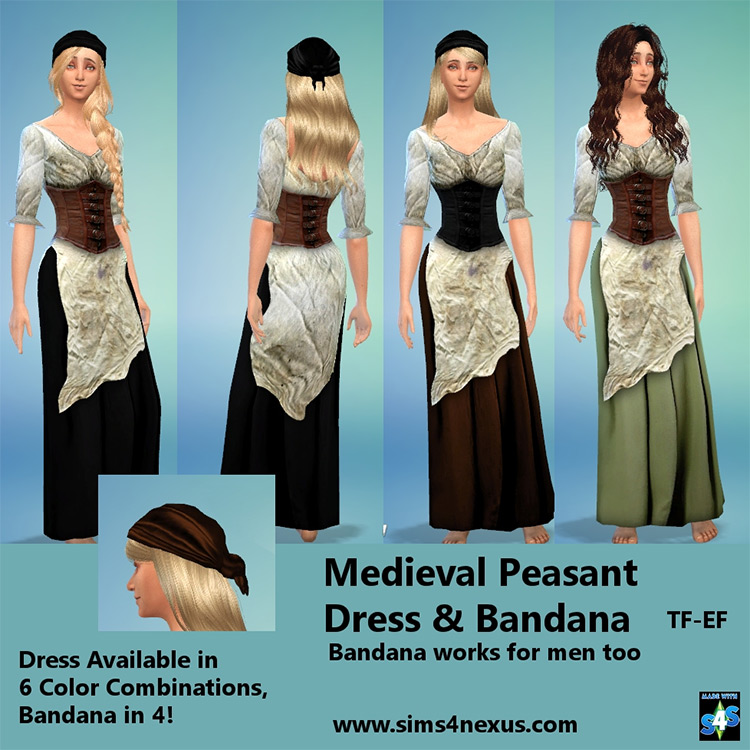 This custom dress and bandana set by sims4nexus is basically KiaraZurk's Tattered Dress Conversion, only for Teens to Elders.
It's got the dirty, wrinkled, hasn't-been-properly-laundered-yet vibe that fits the theme beautifully.
And if you really want to sell this "lowly commoner" concept, I highly recommend you download sims4nexus' Dirty Feet accessory. It completes the look like you wouldn't believe! Link is in the creator's description.
11.

Karl: A Sims Medieval Conversion by valhallan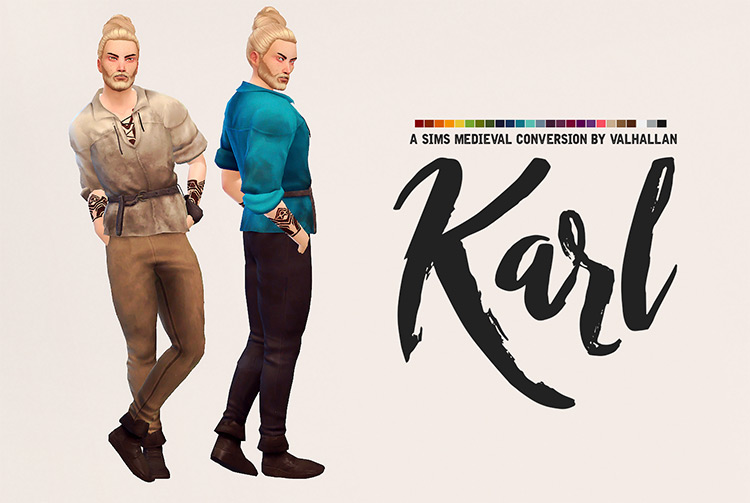 Here's something for our Male Sims! No idea why it's named 'Karl,' but this full-body outfit has the same dirty, dingy, and grimy charm that sims4nexus' Medieval Peasant Dress has.
It's a little more put-together and a lot less wrinkled, but the dirt smudges and overall shabbiness are unmistakable. And undeniably peasant-y.
12.

Blacksmith Outfit by zx-ta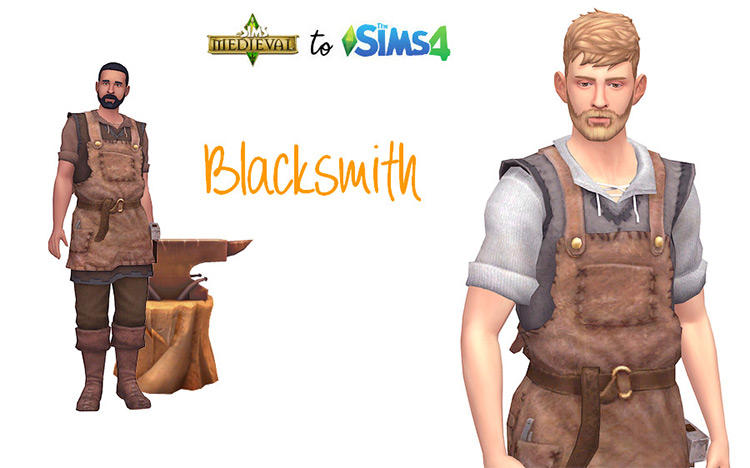 According to my (very quick and last-minute) research, blacksmiths were considered part of the peasant, tradesmen, and/or merchant classes.
So this Blacksmith outfit totally counts!
It's got the shabby, well-worn, designed-purely-for-function vibe that's been a pretty common motif with all the CAS pieces so far.
13.

Baker's Wife Dress by Cepzid Sims Studio | Recolor by HistoricalSimsLife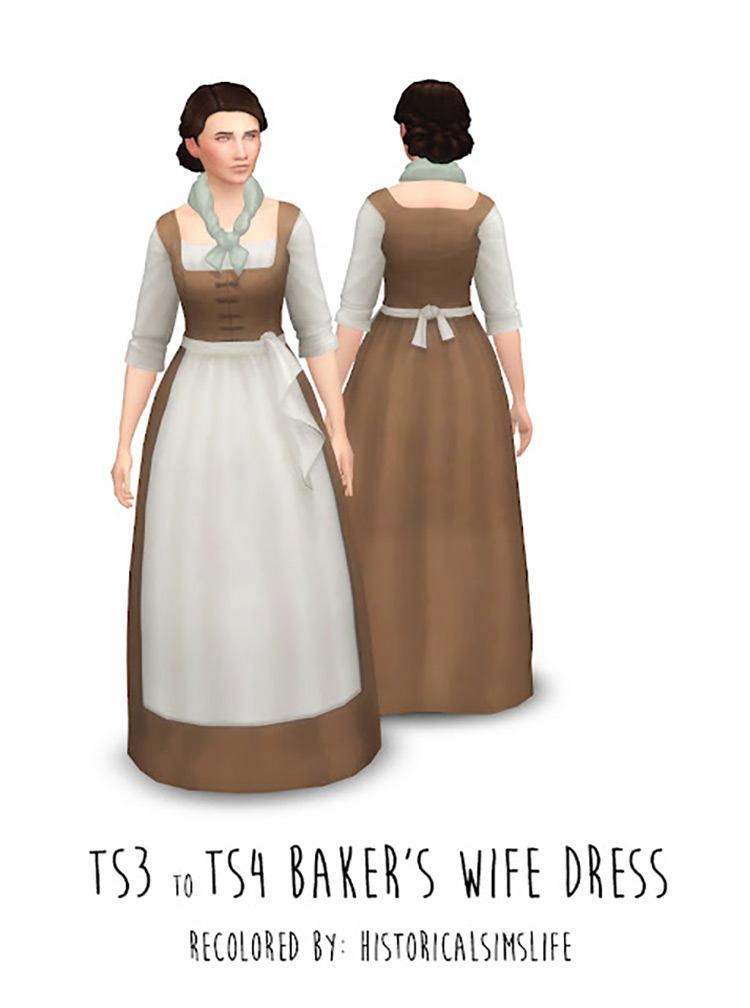 This is probably one of my favorite peasant dresses on this list.
I like the bodice with the simple clasps and the cute, twisty scarf thing 'round the neck.
It uses this TS3 to TS4 conversion by Cepzid Sims Studio as the mesh, but I find HistoricalSimsLife's edit looks smoother. I also prefer their palette recolor because of all the muted, low-saturation neutrals.
Simply search "bakers" in the SFS folder to get the right .package file!
14.

Happily Ever After Converted to Sims 4 by Cepzid Sims Studio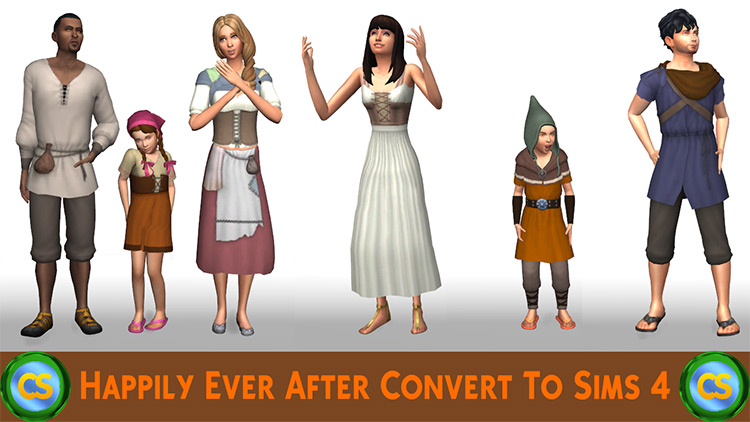 Cepzid Sims Studio gives us a whole bunch of medieval outfits for TS4, and there are a handful in this set that caught my eye.
The Pauper Hides a Prince option is a viable peasant outfit for Male frames, as is the Woodsman's Jacket and the more obvious Original Peasant Top.
Feel free to scroll through the preview photos of this set. You might find medieval-y peasant garb that you like more!
Medieval Clutter/Décor CC
15.

Skyrim Conversion CC by Sim4Fun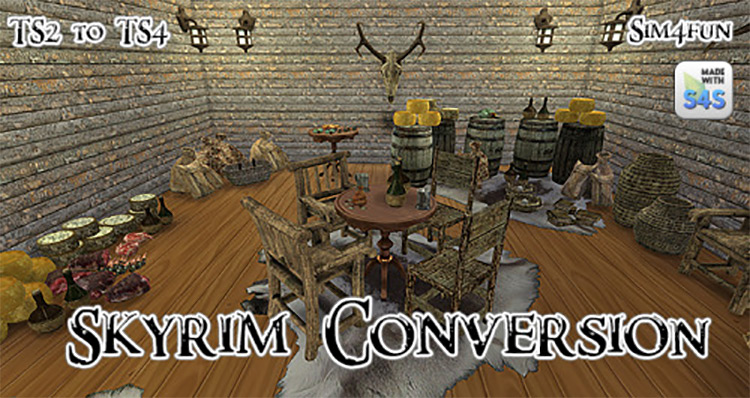 Not marketed as "peasant clutter", but do you really see these rough, worn, and wooden items in the presence of nobility?
Nope!
Taken from The Elder Scrolls: Skyrim video game, there's a whole mishmash of odds n' ends here that'd suit a peasant's house or local medieval pub.
Lone cheese wedges, freshly-harvested carrots, decorative barrels, baskets, brooms, and wooden cups… it's quite a list.
16.

Podchacha's Peasant Life Set Conversion by HistoricalSimsLife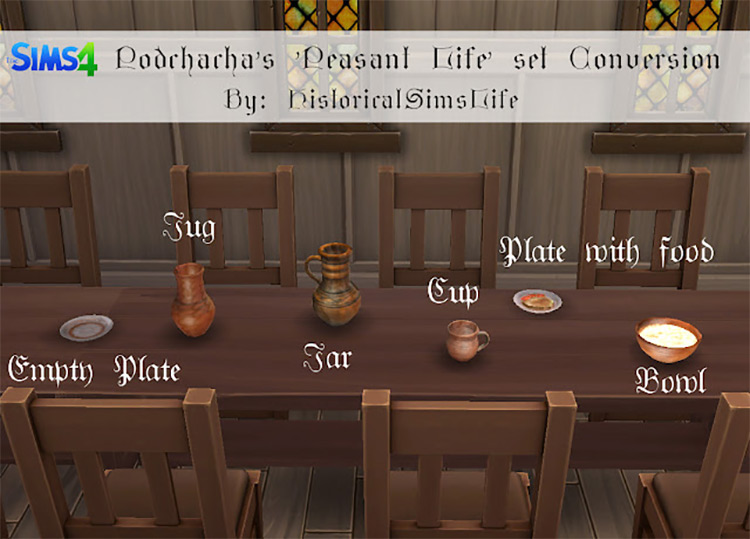 Pair Sim4Fun's Skyrim Conversion with this Peasant Life Set, and you've got yourself (or, more accurately, your Sims) a humble abode!
Converted to TS4 by HistoricalSimsLife, this decorative set (originally by Podchacha) contains stuff you could use to clutter a kitchen, dining table, or local tavern.
17.

TSM Peasant Dining by Medieval Sim Tailor & Carpenter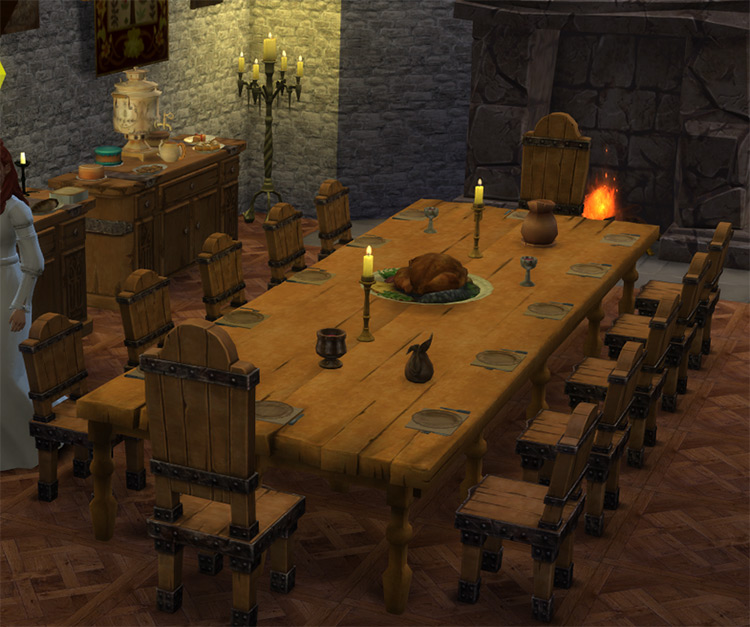 This TSM Peasant Dining set can provide the furniture for the local tavern I mentioned earlier.
Whereas the Podchacha's Peasant Life Set Conversion and the Skyrim Conversion set were all decorative odds n' ends, this CC pack is full of dining tables.
Medieval dining tables, to be exact. Huge 5×1 and 5×2 options.
It also contains historical-looking buffet cupboards — I guess for when the peasants feast.
18.

Peasant's Crib by HistoricalSimsLife
This Peasant's Crib by HistoricalSimsLife was converted from The Sims Medieval, and I think the look does the name justice.
The off-white cloth coupled with the plain worn wood texture is as functional and no-nonsense as peasant clothes tend to be.
Do note, however, that this item is purely decorative. It'll only work if you install Sims Studio's Baby Without Crib mod (which is linked in the description on the CC page).
Browse:
Lists
The Sims 4
Video Games