The Best Sims 4 Penthouse Lots To Download (All Free)
This post may contain affiliate links. If you buy something we may get a small commission at no extra cost to you. (Learn more).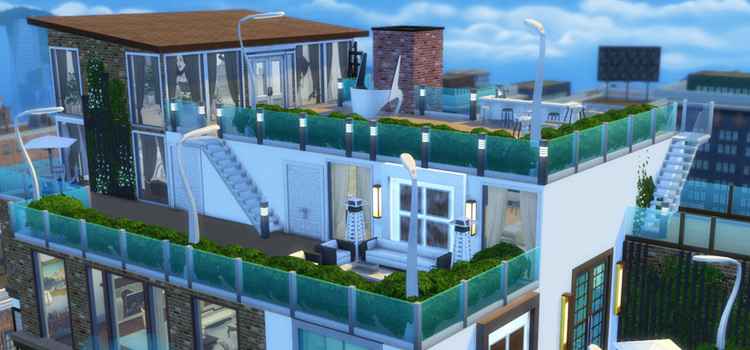 A penthouse is the ultimate dream home for a lot of people.
Just the word itself evokes imagery of luxurious apartments and breathtaking views.
In the real world, it's a steep climb up the social ladder to find yourself at the top. But things are quite a bit easier in The Sims 4.
Your Sims can have the best penthouse in the world with a little hard work – or one good money cheat.
However, unless you're accustomed to building, getting something like this to look just right can be quite difficult.
There's a certain aesthetic and feeling that comes with penthouse life. And all in all, building and furnishing the place will take some work.
Good thing there are plenty of pre-made ones out there to choose from, right?
Other players have already gone all out to create the most incredibly grand penthouses you could ever want, in a great selection of styles too.
1.

Camilla Penthouse
This is a prime example of how distinct penthouse architecture is.
Every inch of this three-floor structure is filled with the most luxurious, modern amenities and décor that Simoleons can buy.
There's something for every Sim in the household here, even the pets.
You & your Sims will never get bored as long as this is their home.
It's complete with spacious living areas that provide plenty of entertainment, including a bar and entertainment center. The kitchen is equally roomy so your Sims, or their staff, will have ample opportunity to prepare meals without running out of counters.
Oh, and bathrooms?
Forget ever being frustrated that multiple Sims need to use the toilet if there's only one available.
And then they have to meander over to the sink and wash their hands, and then probably stand there and daydream, while their housemates are standing in the hall as their bladder need plummets…
Ugh. That has to be one of the most irritating parts in this game.
But like I said, forget about it!
This build has five bathrooms so bathing and hygiene will be as easy to keep up with as sleeping.
2.

Atelier Artist's Penthouse
Artists have a bit of a stereotype following them.
Everyone has heard about the struggling artist who is committed to their work, consumed by it even, to the point they're obsessed.
It's a tough career, born of passion.
Not everybody makes it.
But those that do can go to amazing places.
A successful artist may just find themselves in a penthouse one day, just like this lot.
This two-level home has a mostly open floor plan that you can customize and furnish as you wish. Most of the CC here is focused on the structure itself, giving this build its amazing exterior.
The main floor features a roomy, combined living and dining area, plus a massive kitchen and artist studio.
On the second floor, your Sims will be able to enjoy a big bedroom with an attached terrace.
And as awesome as all of the stuff inside is, there are nice outdoor areas too, with room for your Sims to cook, dine, and entertain.
3.

Industrial Penthouse
With the new Industrial Loft Kit, this style is more popular and sought after than ever.
It has been rising for years, rooted in making the best of basic old apartments.
That description doesn't do it justice, to be fair.
It's a unique style and part of modern interior design for a reason. And that's because of how much it's dependent on the decorator's personal style and efforts.
The industrial style is usually really easy to spot. Lots of metals and metal tones, brick work, and worn wood.
Well that's exactly what you'll get here – with some twists.
The lighting is really special, consisting of strung light bulbs throughout the metal rafters of the open floor plan.
In the kitchen, the color scheme is dominated by recycled wood cabinets and stony gray countertops and walls.
The master bedroom has a slight reprieve from the harshness of the industrial style, and takes a more subtle approach with a four-poster canopied bed and an entire wall of windows.
Both of the other bedrooms have a similar collision of comfort and style, featuring some softer tones and more pops of bright colors.
This build does require a handful of packs as well as plenty of CC, so check the description for details.
But it all adds to this remarkable place for your Sims to call home.
4.

The Height Penthouse
As great as the massive penthouses are, if you just have one or two Sims, they definitely may be more than you need.
What we have here is a smaller and more humble layout, which still manages to be as stunning and visually powerful as the big ones.
It only requires two packs: Vintage Glamour Stuff and Dine Out.
The rest of the look is accomplished with readily-accessible CC and items from the base game.
This build has just one bedroom and one bathroom, too. So it will be a prime space for a single Sim or newlywed couple.
Each room is furnished and decorated in an undeniably stylish and modern way.
From the combination of darker colors and straightforward patterns like stripes, to the mix of black and wooden furniture, every inch is gorgeous.
5.

Dalton Penthouse
This is close to what most people who aren't experts on the subject think of when they hear the word "penthouse."
It's a compact build, prioritizing height for space rather than square footage.
Not that that's a thing in this game, but you know what I mean.
It utilizes its three floors as opposed to floor space itself.
The result is a very fun home.
Most of the rooms rock a contrasting black and white color palette. Brick and paint wall coverings reign and look fantastic, except the bathroom, which has an equally impressive tile motif.
As with many builds, you'll need to activate the bb.moveobjects cheat before placing this lot to avoid everything getting all janky. And yes, that's the clinical term.
If you put the lot down before doing that and find it's a bit messed up, don't worry, just remove it and try again after entering the cheat.
6.

Waldorf Penthouse
Just the name of this lot sounds fancy – and it does not disappoint.
What I like about this one is how the creator, Jazminaldana, incorporated so much greenery.
The epic outdoor areas, which are bursting with party and entertainment possibilities, have bushes lining the railings, plus some leafy ivy climbing along the exterior walls.
Inside there's less nature, but some really breathtaking furnishings.
These stately sitting and dining spaces are very high class and fancy.
They would look just as at home in Buckingham Palace, they're so elegant.
It may look familiar if you're a fan of Gossip Girl too – since that's what the builder based it on. But if you aren't a fan, it's just a great penthouse!
The bedrooms are more toned down here – with typical feminine décor and color themes.
And always remember to check the requirements when downloading CC lots. For this you'll see that a total of 16 packs are required to get this penthouse exactly as you see it, in addition to some custom content sets.
7.

Banana's Penthouse
Your Sims will be the rulers of the rooftop with this one.
It's another tri-level layout with a very sleek appearance both with the exterior and interior.
There's a definite coastal vibe with the small palm trees, loungers by the pool, and tropical plants.
Not many people who live on the top floor can say they still have a spacious backyard – but it'll be true for your Sims.
The grass is luscious and beautiful, plus there are ample outdoor areas outside for you to take advantage of.
But let's head inside and talk about the great things in there. Because there are a lot of things.
First of all, almost all penthouses boast having great views. But this one is the real deal.
The windows are massive and plentiful, and the lot this is intended to be placed on (right in the fashion district) offers amazing city scenery.
Each room has an abundance of character, with trendy décor, up to date furniture, and a lot of dark wall coverings offset by nice bright furniture.
8.

Liana Penthouse
Penthouses and city life go hand in hand.
That's presumably why they're only available in their truest form if you have the City Living expansion pack.
You've never seen a penthouse in a rural village, have you?
Of course not.
Penthouses are for those with a fast-paced lifestyle, and interests that can only be properly cultivated in the concrete jungle. Stuff like social media influencing, acting, or making a living from styling others.
And this place is fully designed for Sims to live out their dreams, whatever they may be.
The first floor is super homey with comfy-looking furniture and entertainment areas decked out with a bar, television, smart speaker, numerous bookcases, and much more.
The second floor is where the magic happens.
And by magic, I mean sleep and more television.
It has a lovely look overall, though, with neat paint and exposed brick really driving home the "city" vibe.
And then, all the way at the tippy top, your Sim can get some work done on the third floor with the studio and office.
9.

Royal Penthouse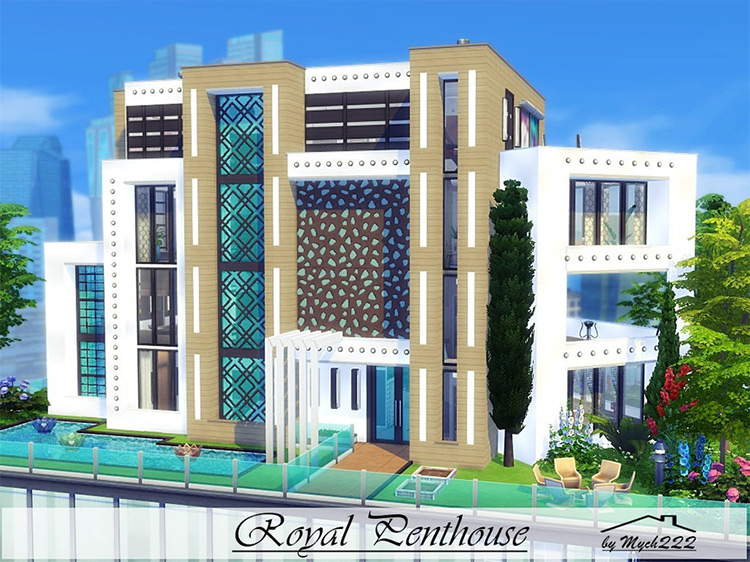 Nothing says "royalty" like literally being above everyone else and being able to look down at those peasants as they walk along the street.
I'm only kidding, and going off of a stereotype… I'm sure the monarchies of the world are lovely but as a lowly American, I wouldn't really know.
Anyways, creator MychQQQ had good reason to dub this the Royal Penthouse.
It's one of the largest builds on this list, basically like a modern urban castle.
There are a whopping 8 bedrooms and 10 bathrooms on this lot.
Yes, you're reading that right. TEN bathrooms. So glorious.
As elaborate and complex as the exterior looks, every inch of this penthouse has been carefully decorated and furnished inside.
No room is any less than a masterpiece of modern interior design.
10.

Luxury Family Penthouse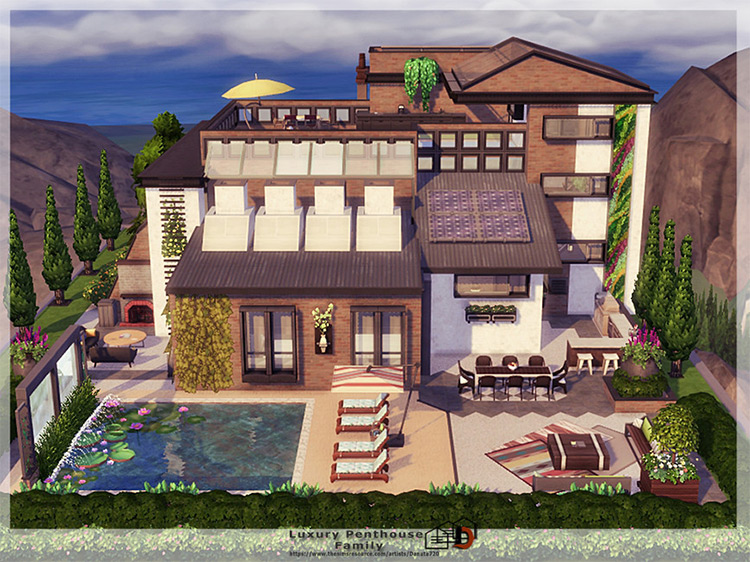 Different people have different ideas on where the best place to raise a family is.
Country folks will say kids are meant to be out in nature and exploring, while people who have been born and raised in the city will say it's a great place for kids to be exposed to culture and diversity.
There's no right and wrong in this matter. But The Sims 4 can make it kind of difficult to have a family in the city.
San Myshuno is meant for apartments, and kids can definitely live in those.
But they're not necessarily built with them in mind.
That's not the case for this one from Danuta720.
It's a luxury family home to its core, with functional living spaces to suit domestic needs.
The kitchen is compact, but still has everything your Sims will need for packing lunches and cooking dinner – including an abundance of counter space and a breakfast bar.
With the floor plan being so open, the kitchen, dining room, and living room are all a stone's throw away from each other – which makes it perfect for the parents to keep an eye on their kids at all times.
If you happen to have Parenthood… open floor plans are a lifesaver.
In total, there are 3 bedrooms and 2 bathrooms. Just the right amount to support an average-sized family.
Browse:
Lists
The Sims 4
Video Games