The Best Sims 4 Pet Bed CC (All Free)
This post may contain affiliate links. If you buy something we may get a small commission at no extra cost to you. (Learn more).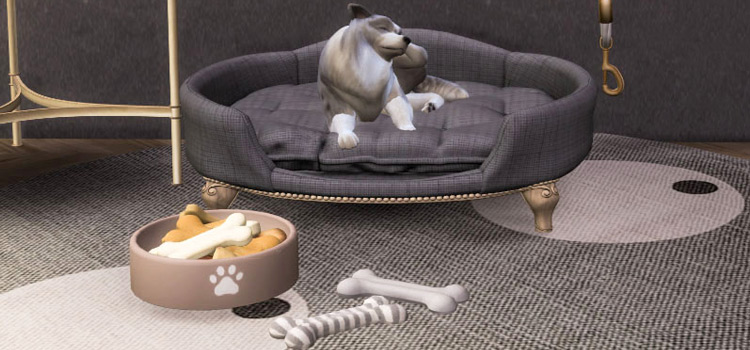 Your Sims' furbabies deserve the best bed money can buy, right? Comfort, ergonomics, cuteness… there are a lot of factors to consider when choosing the ideal sleeping space.
I personally love the fried-egg bed from The Sims 4: My First Pet Stuff but, other than that? We didn't really get a lot of options.
TS4 CC community to the rescue! Check out all of these novel little pet beds.
1.

Modern Pet Bed with Lights by bellassims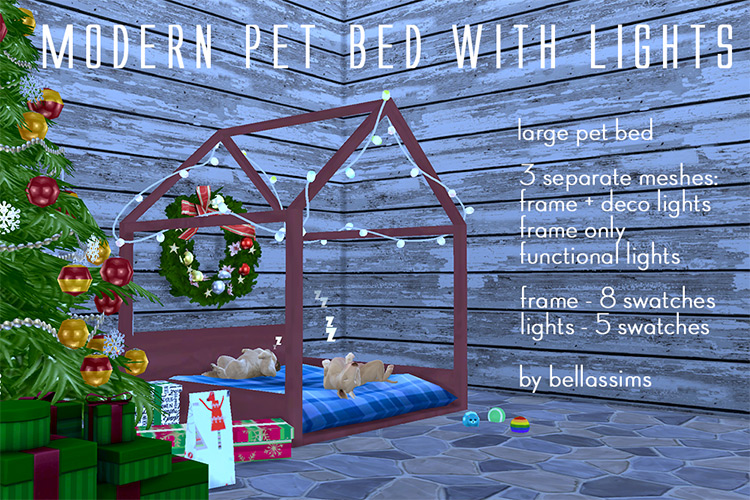 It's not specifically marketed as a festive pet bed, but who cares when it's this cute?
Your Sim's precious pets never have to sleep in the dark again—not when they've got twinkly faerie lights wrapped around their bed.
It's even got decent customization; you can choose between functional and purely decorative lights.
2.

Pet Tent by ONI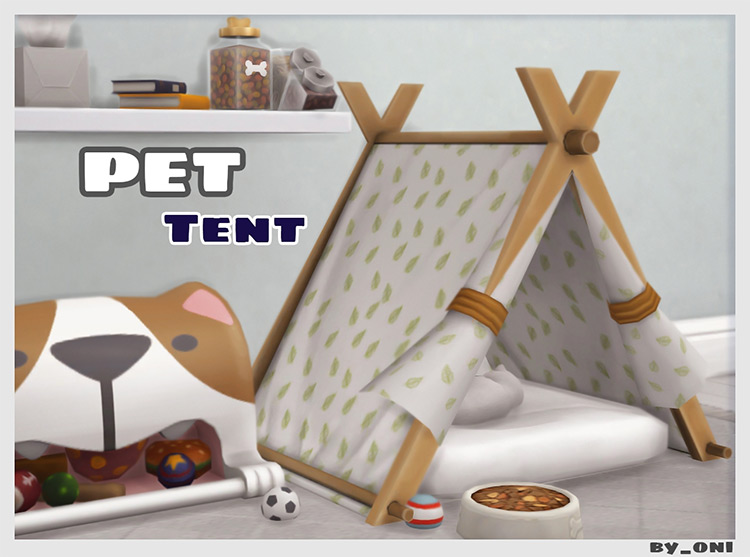 Well-rested pets are happy campers, and no domesticated critter's getting anything but a full eight hours in a bed this cozy.
Some pets sleep better when they're in small, enclosed spaces (still with light and plenty of ventilation, of course).
This teeny pet tent checks all the boxes.
3.

Comfortable Pets_Small Pet Bed by kardofe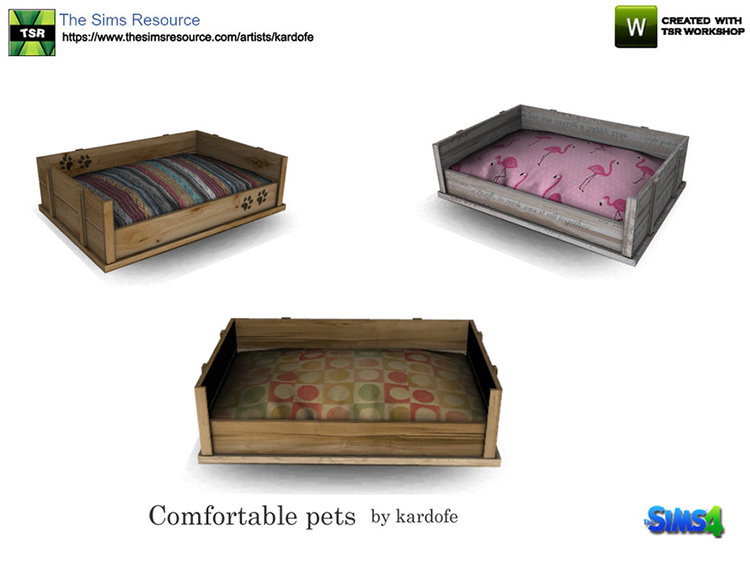 A simple yet comfy bed for small pets with simple tastes. Sometimes our woofers and meowers don't need the extra fluff and frills of a million-Simoleon pet pillow.
And that's okay.
Kardofe's Comfortable Pets pet bed looks soft and charmingly rustic, which is more than enough for most.
4.

Muttropolitan Large Bed by RAVASHEEN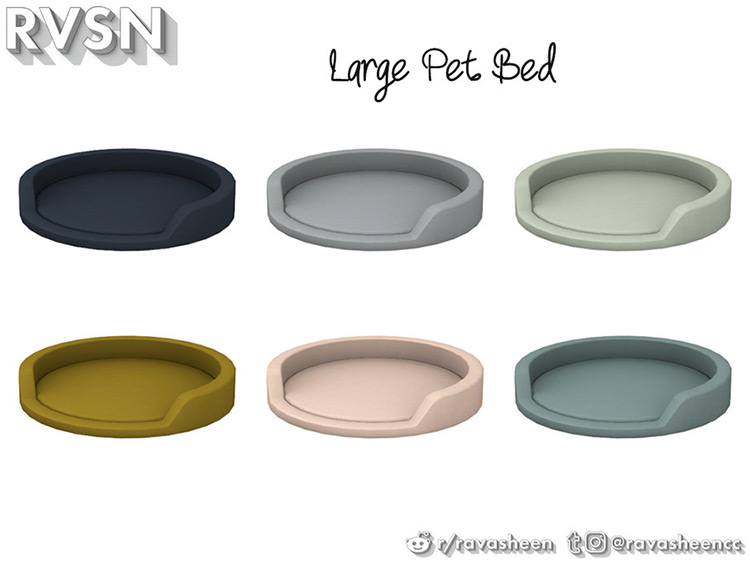 For the big puppers who think they're still yay tiny, RAVASHEEN's Large Bed (from their Muttropolitan set) should provide a sufficient sleeping space with plenty of extra room to kick around.
Sometimes doggos dream of chasing rabbits, and those paws have a mind of their own.
5.

Better Pet Bed by coraborra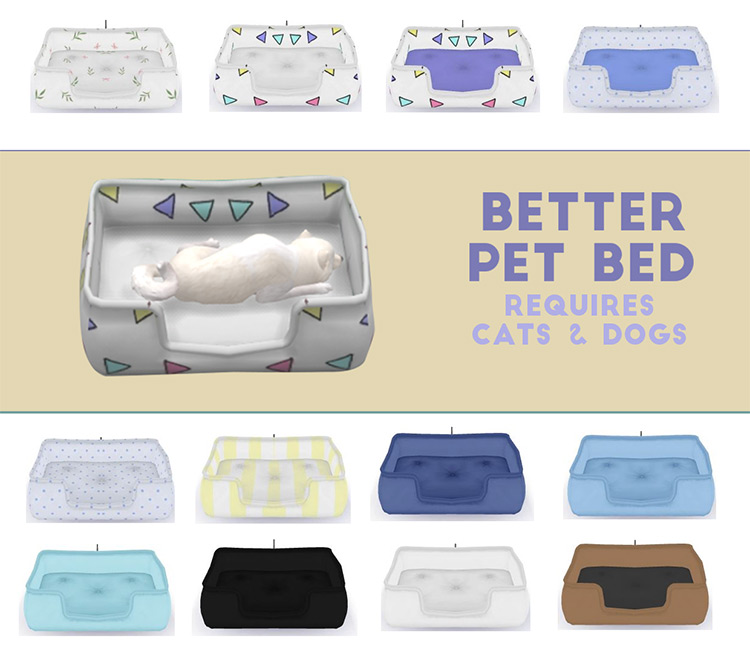 Are these pet beds really better?
My Sim's Pomeranian offered no discernable feedback other than a couple adorable barks, but I think the designs are significantly more appealing.
6.

Pet House [Small Set] by pyszny design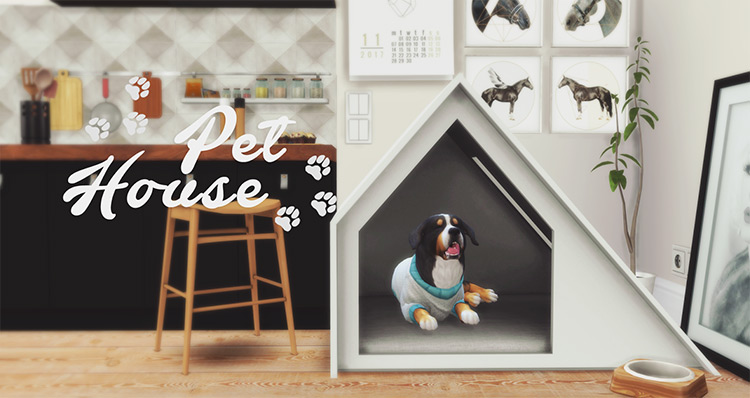 Looking for an unusual silhouette to suit your Sim's contemporary-slash-Scandinavian-styled apartment? Utilize the sharp corners and asymmetrical shape of this pet house.
It is literally unlike anything I've encountered, and the more I stare at it, the more it grows on me.
It sort of looks like it was meant to be a bedroom-under-the-stairs situation for pets, and the concept is a lot more appealing than expected.
P.S. If the download links don't work for you, the creator posted the direct Mediafire and Mega links in the comments!
7.

Meow & Woof – Cat & Dog Bed by Syboubou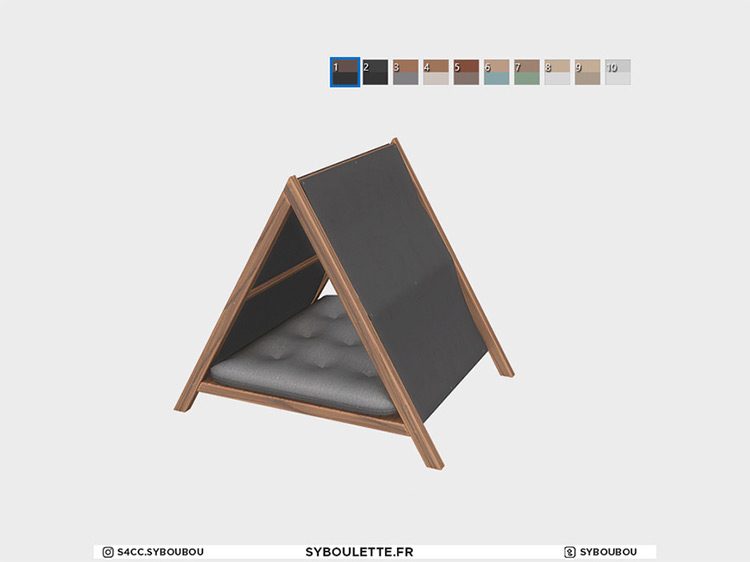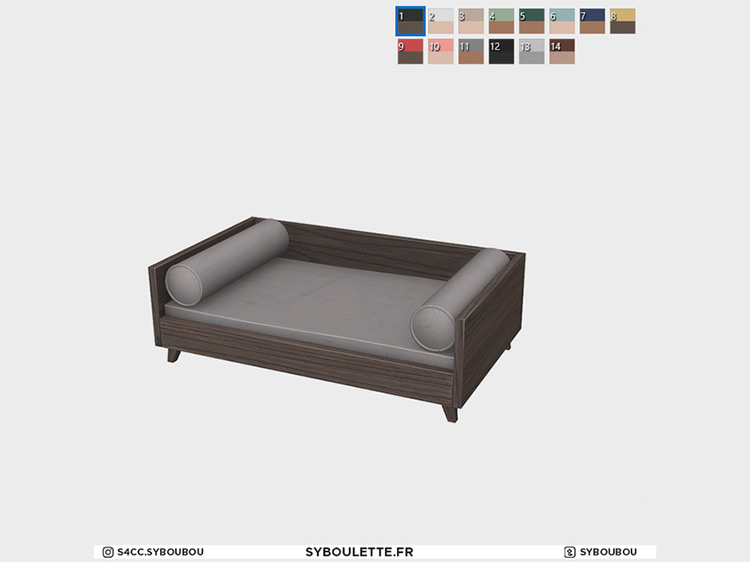 Syboubou's Meow and Woof set contains a bunch of beautifully designed pet stuff that seem specially tailored to meet the needs of different furbabies.
In the case of the pet beds, cats get this modern-minimalist, tent-like piece because they're catty (heh) and need their space.
Dogs get pretty much an open floor plan, because they're typically claustrophobic.
All the items feel like they're made-to-order from some luxe pet boutique, which is a pretty cool testament to the creator's talent.
8.

Kotatsu for Small Pet by imadako

This is another pet bed concept that makes me coo.
For those wintry days when it's cold and nippy, your Sims can keep their furbabies warm with their very own, pet-sized kotatsu.
Seriously; the visual of a tiny kitten or pupper falling asleep under a small table amidst thick, heated blankets is almost too cute to compute.
9.

Wedgewood Pumpkin Pet Bed by sim_man123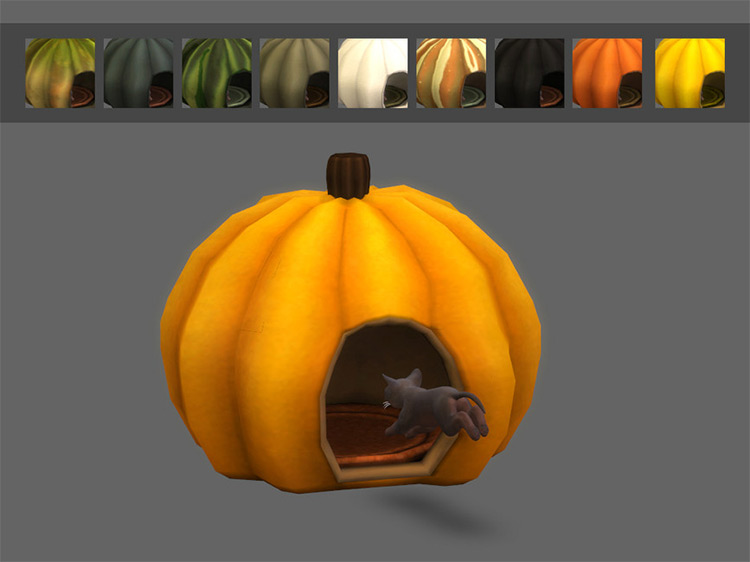 Your Sim's pet can sleep in a giant pumpkin. Literally all other arguments are invalid, because the visuals this bed can bring forth are precious.
Imagine a tiny black kitten with big, green eyes curled up in a bed of bright orange. The mental picture alone makes me soft.
(You can get the pumpkin in other colors, too!)
10.

Perfection Pet Beds by kliekie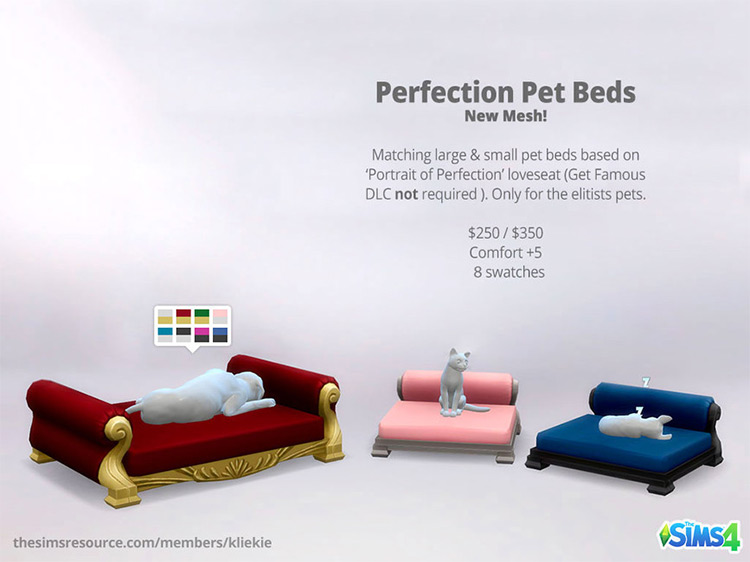 "Only for the elitists pets," indeed!
These hoity-toity pet beds are based on the Portrait of Perfection loveseat from The Sims 4: Get Famous pack, and lemme tell you; there's something about the designs – like the carvings, the backrest, and the color combos – that scream needless luxury.
But, hey. If your Sims have a couple hundred bucks to splurge on their furbabies, these beds do look mighty comfy!
11.

Holiday Pet Bed by redheadsims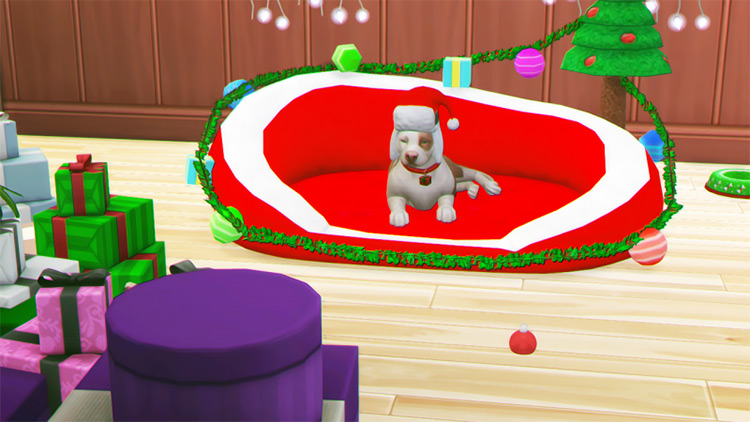 Now your furry friends can join the festivities with this jolly red Santa Bed.
Festooned with lights, garlands, white trim, and even a tiny tree, this squishy bed for little buddies would fit in perfectly with a living room or foyer decorated for Christmas.
In fact, if you feel like your room's lacking a little holiday cheer, you can move this bed into it. Voila!
You get a seasonal decoration and your dog gets a new roommate.
12.

More Two Pets Bed by coupure electrique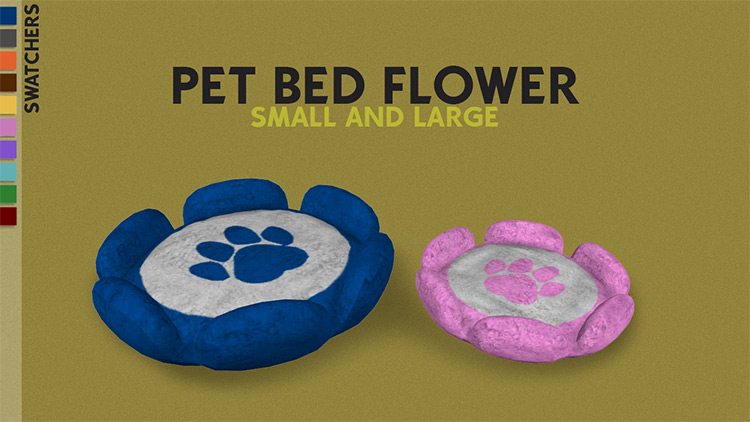 This CC set contains four pet beds total; two for cats, two for dogs.
Each bed has two variations: the Pet Bed Flower and the Prairie Pet Bed.
The former is shaped to look like a flower (with a cute pawprint design in the middle) while the latter is sort of shaped like a canopy bed.
They both look comfortable – and would decorate any room quite nicely – so it ultimately comes down to preference.
13.

Pets Corner Expensive Bed by coupure electrique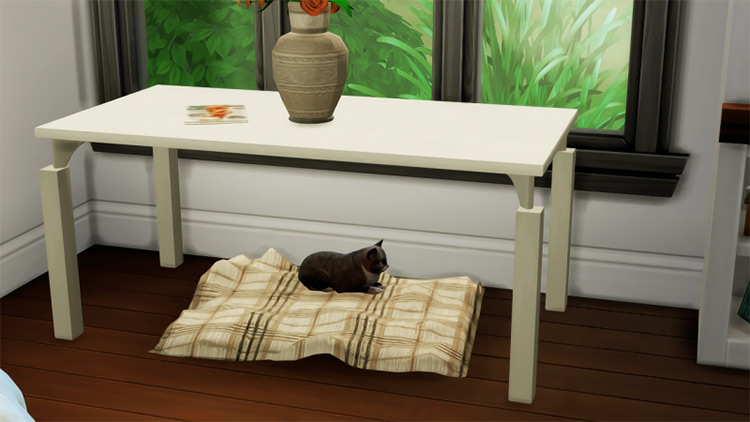 And for those pampered refined pets that refuse to sleep without a roof over their heads (even if said roof is just a particularly nice wooden table), here's an alternative to the Prairie Pet Bed.
This Pets Corner Expensive Bed (by the same creator) is a pretty solid option for unconventional pet quarters.
It doesn't look obnoxiously pricey, thank goodness, but the special setup does suggest that the kitten or pooch sleeping there is a just a teeny bit spoiled.
14.

Fantastic Pet Pillow Bed by coupure electrique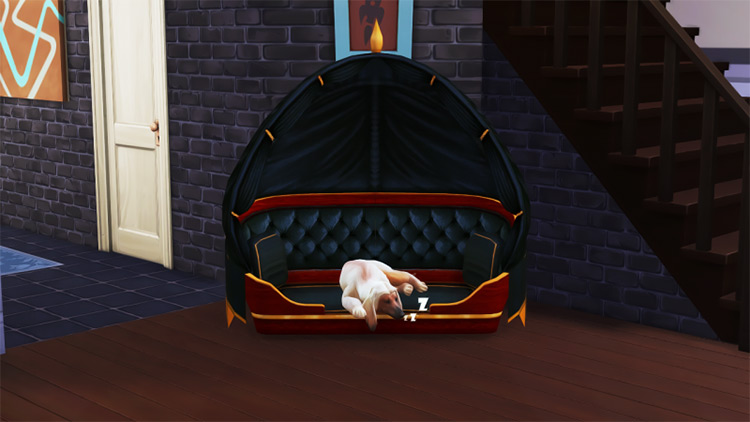 For large doggos who want to sleep in style, this Fantastic Pet Pillow Bed looks like the kind of fancy, overpriced tent you'd find at a glamping site.
The extra frills are a little unnecessary, but it fulfills its function – and photographs really well – so you don't mind too much.
It's perfect for cosseted cats and dogs!
15.

Simple Wood Steffor Pets Bed by coupure electrique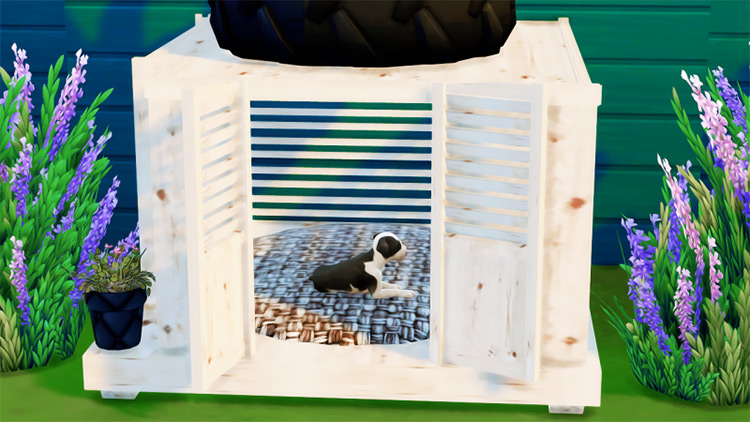 This is such a novel concept, and I'm glad we have a TS4-compatible version of it.
As you can see from the preview photos, it's essentially a hollow wooden cabinet decorated with potted plants and flowers. Inside is a soft round cushion for pets to sleep on.
Overall, this is an awesome two-for-one décor item that's both pretty and functional.
Browse:
The Sims 4
Video Games