Best Pet Clutter Packs for The Sims 4 (All Free)
This post may contain affiliate links. If you buy something we may get a small commission at no extra cost to you. (Learn more).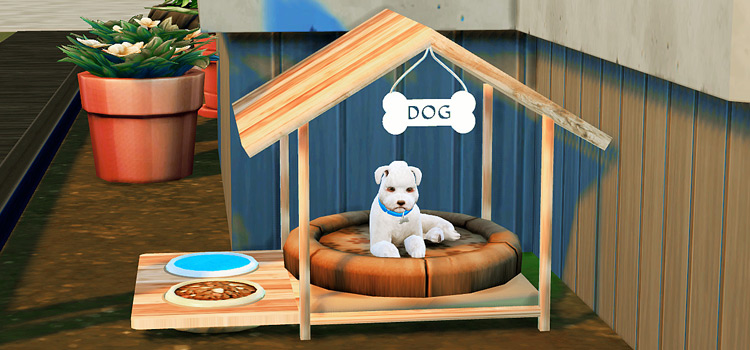 If you're an animal lover and you know it, clap your hands.
Or, you know. Decorate your house accordingly.
The Sims 4: Cats & Dogs EP gave us a lot in terms of gameplay (plus cute critters to own) and CAS. I actually really enjoyed the new hair and the new outfits they added. The paw-print crop top sweater is a personal fave. The Build n' Buy items weren't too shabby, either!
I'd say it was a healthy mix of decorative objects and functional furniture.
But, hey; we could always do with a little more, right?
So here's a collection of cute pet clutter items to scatter around your Sim's home.
1.

Misc. Cats & Dogs Clutter: The Leash Wrangler by brazenlotus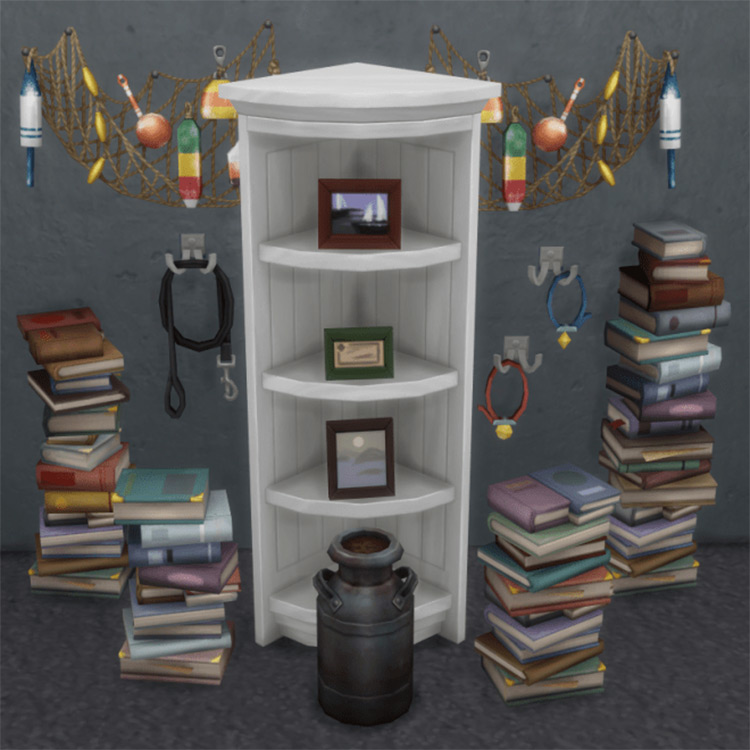 Here's what always got me about taking your dog on a walk in The Sims 4.
The leash just comes out of nowhere, and it disappears when your Sim doesn't need it anymore. Where does it go? No idea.
But at least brazeonlotus's The Leash Wrangler helps give the illusion that the leash exists.
And like all good pet owners, your Sim just hangs it up when not in use.
There are other interesting clutter items in this set, but you have the option to download The Leash Wrangler (comes in three colors!) separately.
2.

Muttropolitan Dog Set by Ravasheen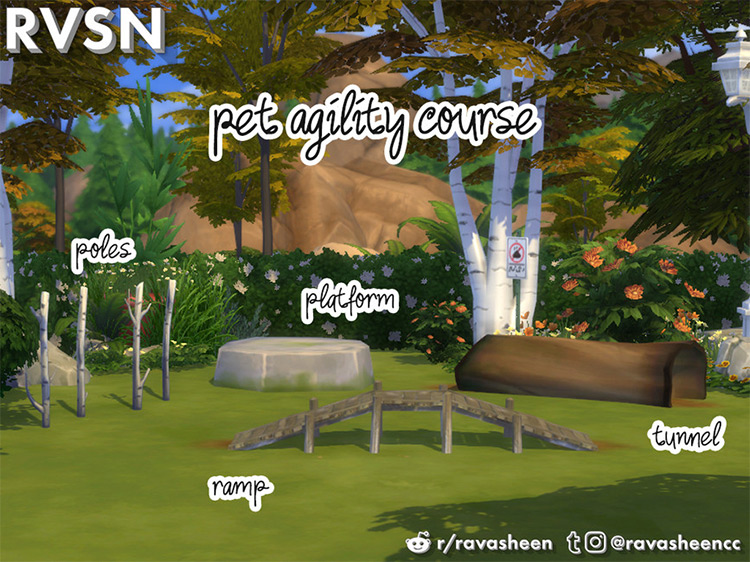 Get used to the pet puns. You're going to see a couple scattered throughout this article.
But wordplay aside, this set by Ravasheen really is a great find!
There are all sorts of fun (and functional!) stuff in here that you can use for your Sim's furry companion(s). Such as a:
Pet wash tub
Pet agility pole (that looks sort of like a naked tree)
Squeaker toy shaped like a newspaper
And a plastic toy bin full of colorful little nom agents
There's even a functional squeaker toy shaped like the Freezer Bunny.
3.

Dog Food & Care Set Part 1 by coati sims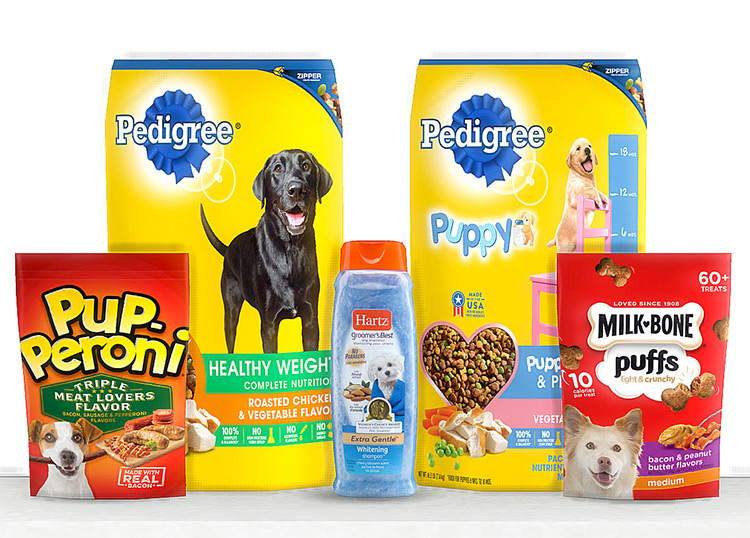 Let people know your Sim takes care of their canine companion with this clutter pack of realistic dog food, dog treats, and dog soap/shampoo.
They're all original meshes so you just need the base game to get these to work.
You don't even need the TS4 Cats & Dogs expansion pack!
4.

Comfortable Wooden Bed House w/ Waterpot Texture by redheadsims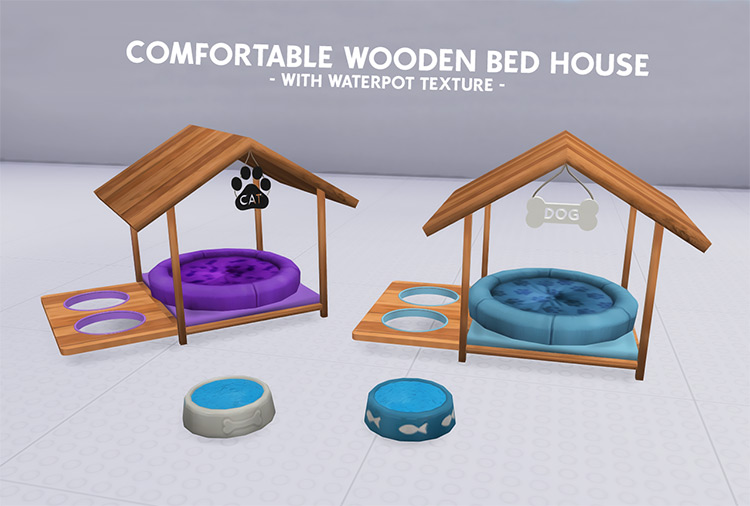 I know this is technically a furniture item – and not a decorative/clutter item – since it's functional.
However, the design is really cute and really unique.
If it's tucked away into the corner of a room or used with strategic décor pieces, this pet bed could fit into an aesthetically pleasing picture.
I will say that the navigation on the creator's website is a little confusing. So if the original download page doesn't work, you can always try their alternate links on Sims Finds. Here's the one for dogs and this is the one for cats.
5.

Emoji Ball by Kliekie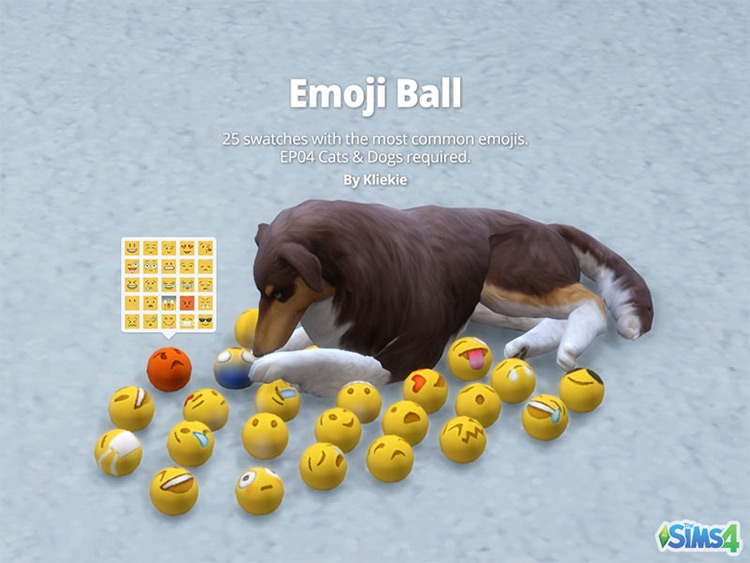 Pick a mood. Any mood.
This adorable little dog toy comes in 25 swatches, and each swatch is a common chat app emoji.
From the standard Smiling Face to the appreciative LOL Face, the designs are hella cute.
And they look so good lying around. Didn't get to test if they were functional squeaker toys or just cute clutter, but I highly recommend either way.
By the way, you're going to need The Sims 4: Cats & Dogs pack for the meshes!
6.

Functional Cubby Bed Insert by Ravasheen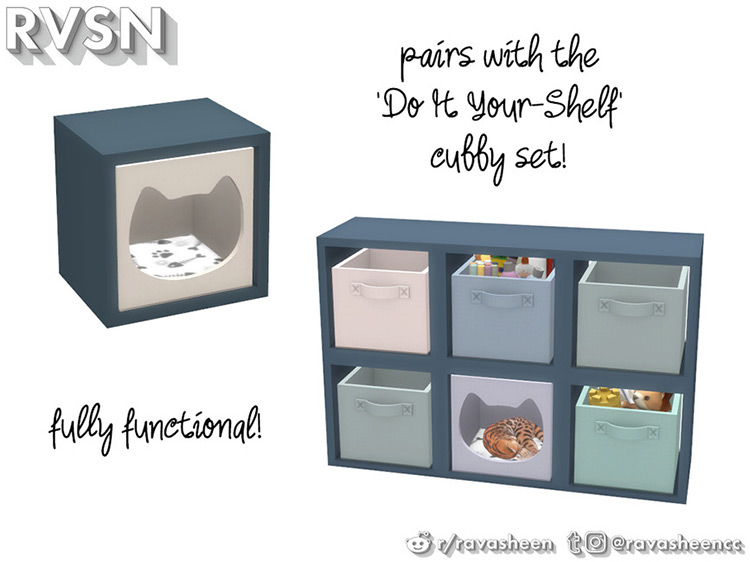 What's that thing they say cats do? "If I fits, I sits?"
This cute (and functional!) cat-themed cubby is computer-graphically-generated proof of that statement.
And this functional insert-able cat bed is a spin-off of Ravasheen's "Do It Your-shelf" cubbies.
It's a little difficult to explain how they work exactly, so make sure to drop by the original download page on Ravesheen's site to get the full deets!
All you need to know is that these are cute cat beds you can insert into shelves alongside regular item drawers. The insert beds are part of a set (that I'll be covering later), but you can download them individually here.
7.

Naturalis Pets Décor by SIMcredible!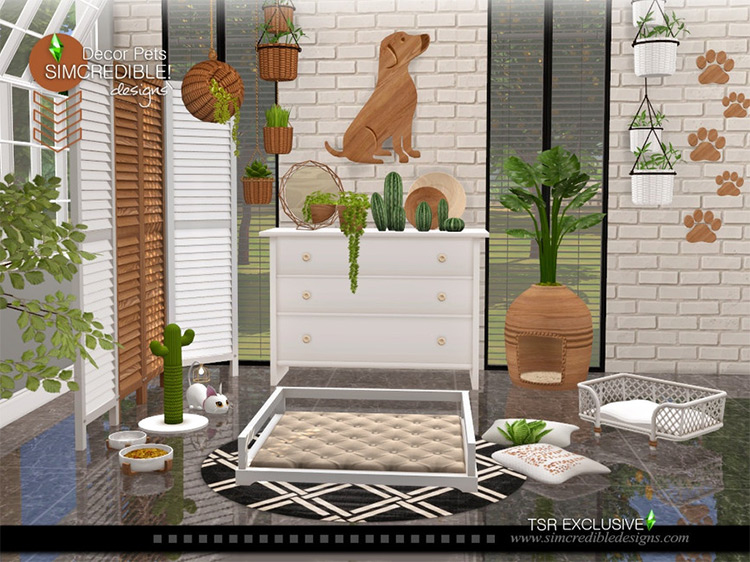 SIMcredible!'s creations are always a treat.
They're either really clever, really aesthetically pleasing, super functional, or all of the above.
This set of 13 pet-themed decorations falls under the last category.
The wooden dog and cat wall art, the cute pawprint décor, the hanging rack shaped like a dog bone treat… seriously. All cute concepts executed beautifully.
Only the cactus-shaped cat scratching post requires The Sims 4: Cats & Dogs EP. Everything else is – you guessed it! – base game compatible.
8.

TS4 Pet Bed "Maple Leaf" by helen-sims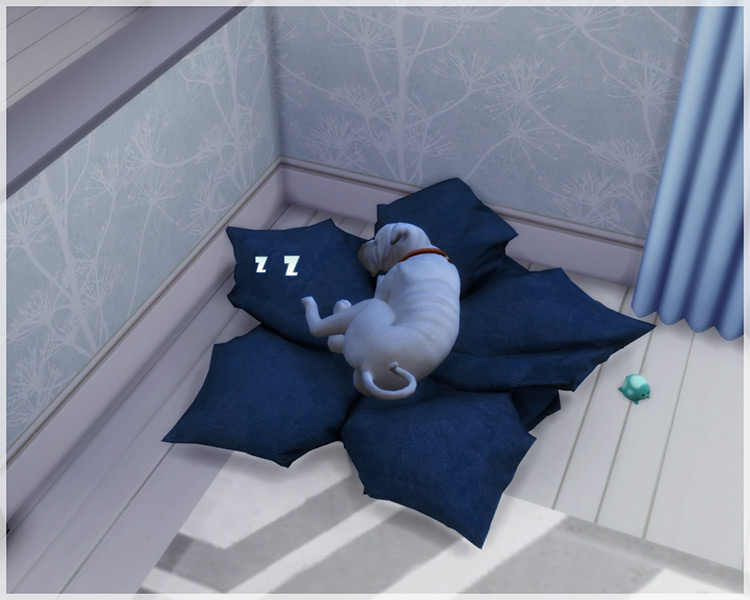 If there's no doggo or pupper peacefully napping on it, this cleverly-shaped dog bed could pass as a beautiful maple leaf-shaped rug. Or cushion.
Seriously, try placing any of the solid-colored beds on a light wooden floor. The contrast is stunning.
Move over, decorative rugs.
Functional maple leaf pet beds are here for your wig.
9.

Holiday Pets by evi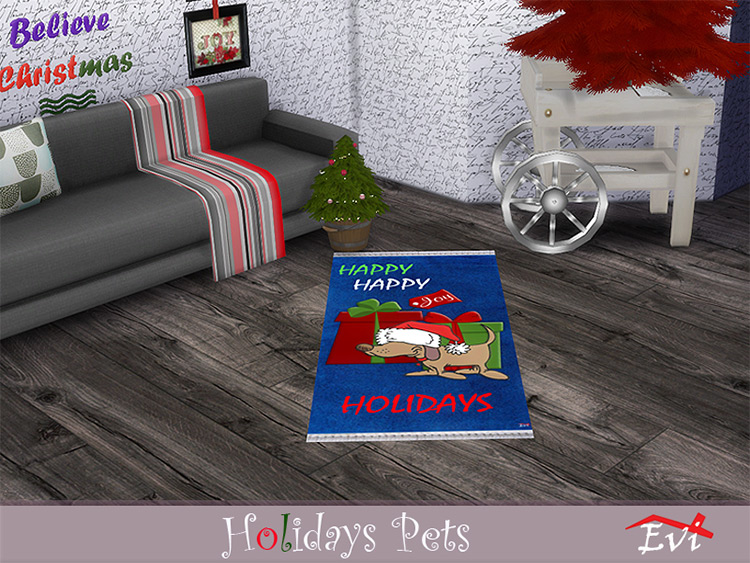 If your dog or cat can't stand wearing a Santa hat, here's an alternate way to keep the festive Holiday Vibes going:
Seasonal decorative rugs with holiday-happy pet themes!
How about a welcome mat with a sausage dog in a holiday sweater?
Or a bedroom mat featuring a cat and dog guarding a pile presents?
Seriously; so cute!
10.

Veterinary Vet Clinic CC Sims 4 by syboulette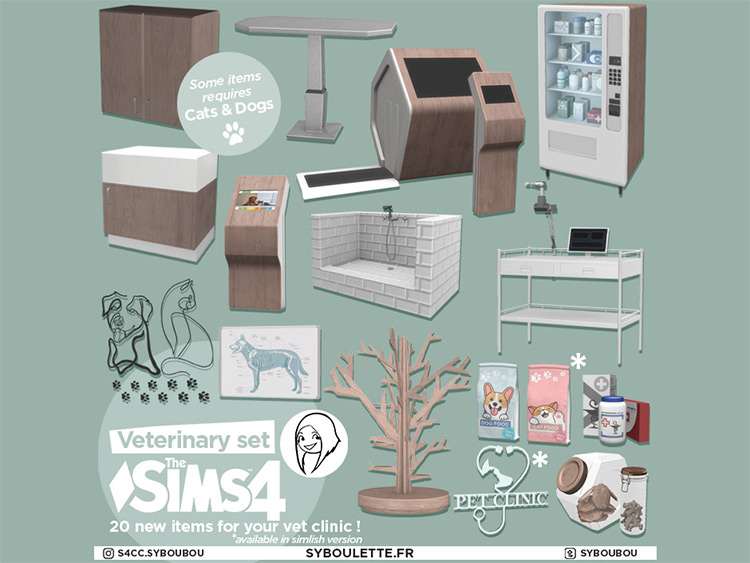 Hear me out on this one:
I am aware that we have perfectly fine (and furnished!) pet clinics thanks to the Cats & Dogs expansion pack.
But what if your Sim wants to build a portable pet care center? Or what if they decided to convert the unused guest bedroom into an at-home clinic so they can answer emergencies 24/7?
It happens!
With that being said, here you go: a set of 17 custom items perfect for building and designing a space that is one hundred percent cat-and-dog friendly.
It contains a mix of functional furniture and cute, pet-themed décor/clutter items!
11.

Meow and Woof Pets CC Sims 4 by syboulette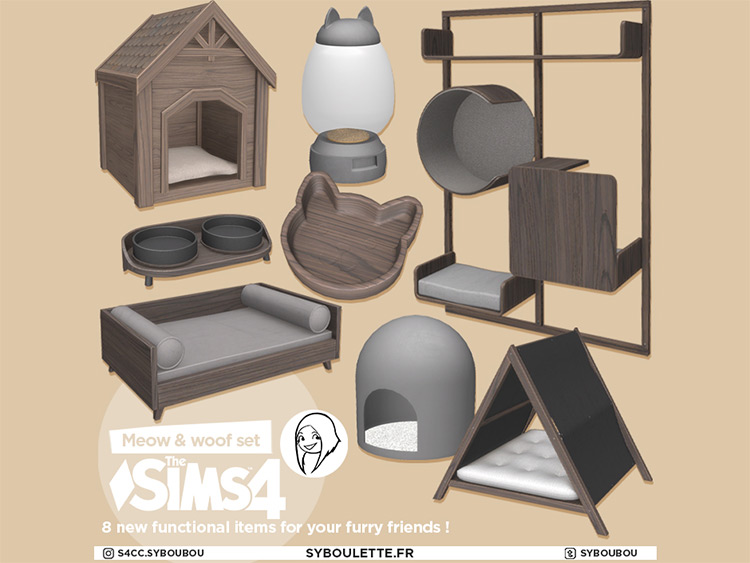 From the same creator as the Veterinary Vet Clinic CC pack comes this Meow and Woof Pets CC set.
It's a little less jam-packed compared to their other bundle, but the custom objects in here are just as cute and clever.
Take the cat-shaped cat bowl, the storage-unit cat climbing shelves, and the cat-shaped automatic food dispenser.
12.

Meow-dern Cat Set by Ravasheen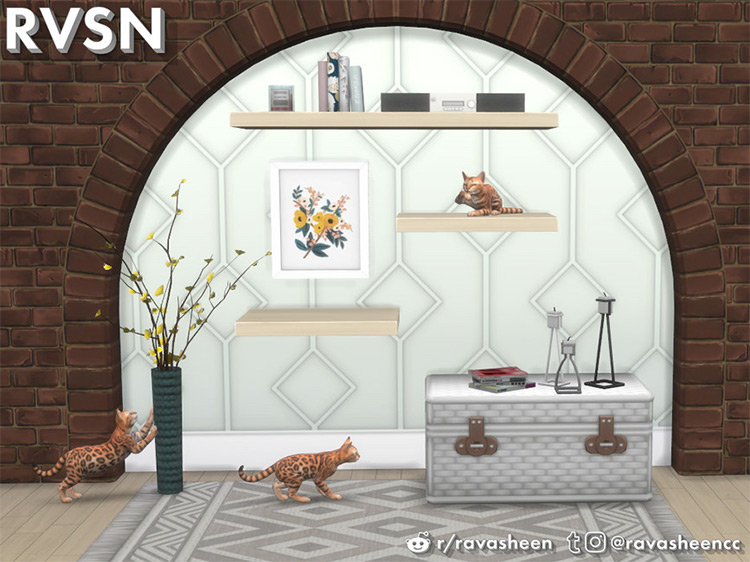 Told you there were more puns.
Anyway, this is the CC set I briefly mentioned before in Ravasheen's Functional Cubby (Cat) Bed Insert.
It's a grab bag of 12 cat-themed and cat-friendly creations, all looking beautiful and aesthetic as heck.
Seriously; even if your Sim doesn't own a cat, the furniture and décor in this pack would not look out of place in their living space. I can guarantee this.
All the objects in this set are clever and beautifully constructed, but the ones that caught my eye the most have to be the:
Floating-shelves cat tree
Functional cat bed cubby insert
And the fuzzy floor jar of flowers (that doubles as a cat scratch post)
13.

Set Pet Bed Biscuit by Cappus Sims 4 You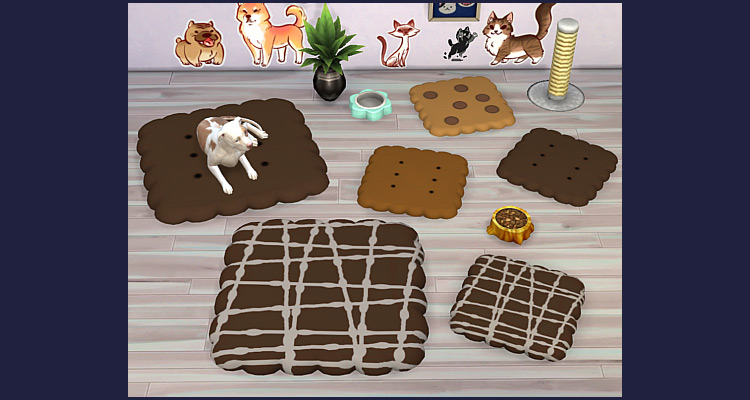 Say that name five times fast; I dare you.
This biscuit-shaped (and themed!) pet bed is in the same vein as the Pet Bed "Maple Leaf" by helen-sims. It's a functional furniture item that could, if left to its own devices look and feel like particularly decorative rug!
Especially since the shape and design of it is so distinctive!
I recommend placing on floors with contrasting colors to really make the ginger-brown of the biscuits pop!
14.

Animal Lovers – Nov 2021 Set (2) by Cowbuild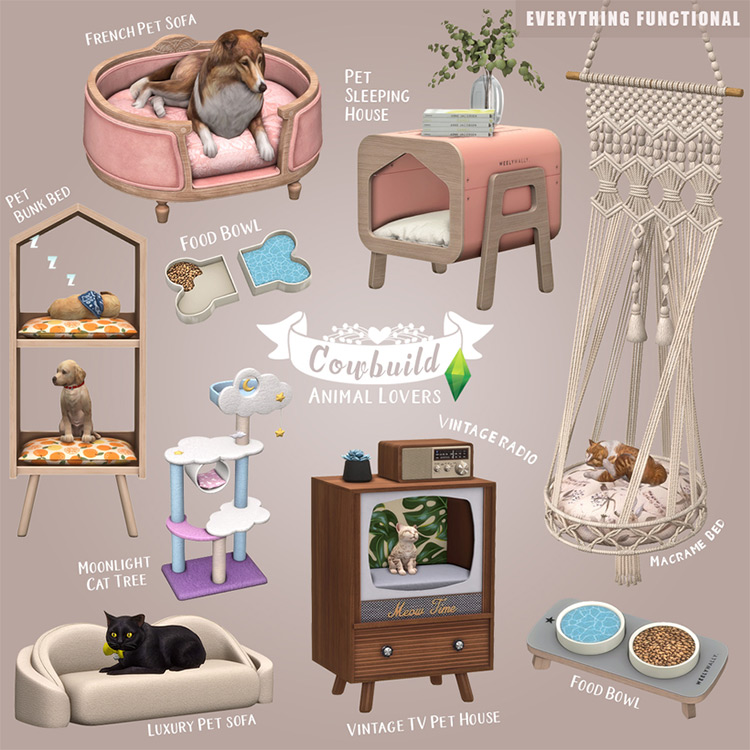 I am so freaking happy I stumbled across this gem.
These items are pet-slash-animal themed items that are beyond aesthetic.
Light-washed wood? Soft, muted pastels? Intricate woven designs? Clean, minimalist blends of round edges and solid lines?
I think I'm in love.
The quality of this set is off the charts. I mean, the pet bunk bed is genius enough, as is the food-and-water-bowl combo. But add the giraffe hanging lights, the macramé cat bed, and the beautiful dusky rose-colored French pet sofa?
Words literally cannot describe how much I love the objects here.
Feel free to download and enjoy (like I did!).
15.

Realistic Bags of Dog Chow by xSarahsShadyx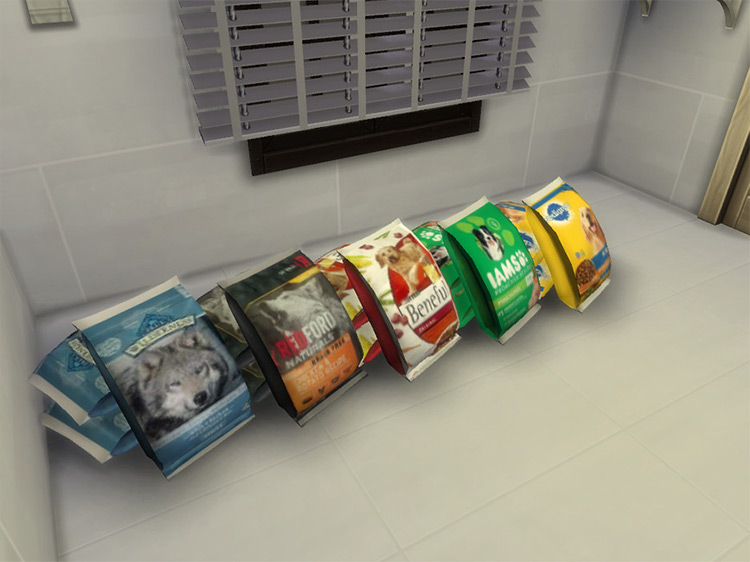 Exactly what the name says it is: some decorative piles of 20lb bags of dog food.
Now featuring popular and beloved pet care brands like Pedigree, Redford, and Beneful.
These don't have the fun, clayified texture of Maxis Match clutter – nor do they feature any fun, made-up Sims brands.
But they can definitely add a touch of realism to your Sims' home!
Plus if your Sim owns a lot of dogs (or just one very gluttonous woofer), having piles of these lying around would make a lot of sense.
Browse:
Lists
The Sims 4
Video Games