Sims 4 Pet Food & Pet Bowl CC (All Free)
This post may contain affiliate links. If you buy something we may get a small commission at no extra cost to you. (Learn more).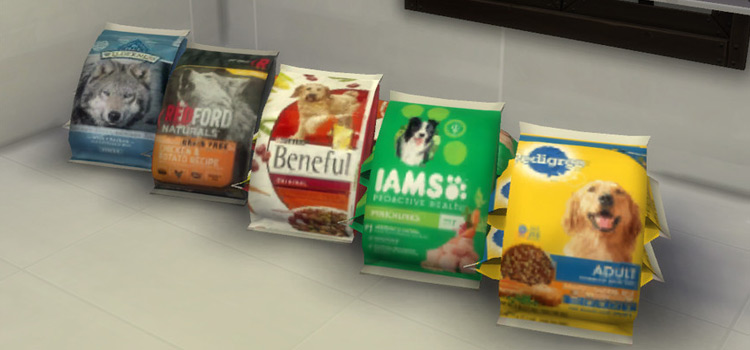 The Sims 4: Cats & Dogs pack adds plenty of cute, customizable critters to the game—and some adorable pet-themed objects to go with them!
But why stop with what we can get from the base game and packs?
Because Sims 4 CC creators are incredibly creative and endlessly talented (as we all know).
So here are some custom pet food bowls and decorative pet food options to spice up your Build & Buy catalog a little.
1.

Piwi – Pet Bowl by Syboubou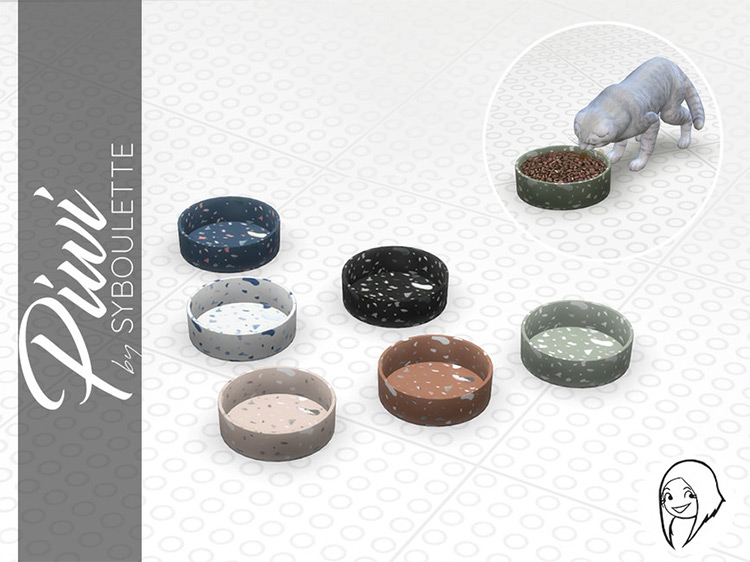 Want to make your Sim's pooch feel like a pampered, pedigreed pet?
Get them the Piwi pet bowl: a handmade porcelain bowl in a stunning "trendy Terrazzo" pattern.
It's all the rage amongst well-to-do kittens and puppers, and far be it for your Sim's furbaby to feel left out!
Plastic dog dishes and cheap cat bowls? A thing of the past.
2.

Muttropolitan Food Bowl by Ravasheen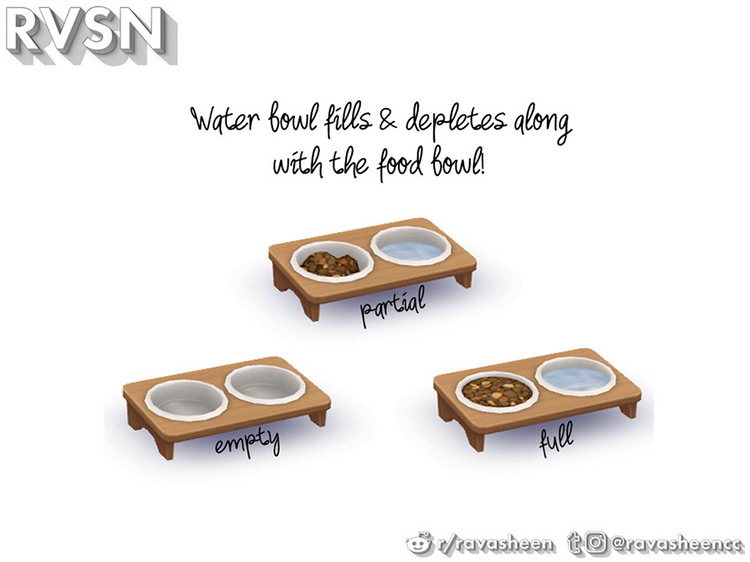 Ravasheen's Muttropolitan remains one of my favorite custom pet sets in Sims 4 history.
It's got a cute name, a cute concept, and twelve new (not to mention actually creative) items.
Come on; an agility ramp? Talk about fully furnished!
This Food & Water Bowl happens to be part of the set, and it'd make an awesome replacement doggie dish. You get food in one bowl, water in the other, and a handy little tray to keep them together.
It's proper and practical, as all pet things should be.
3.

MissChaii's Pet Pack by MissChaii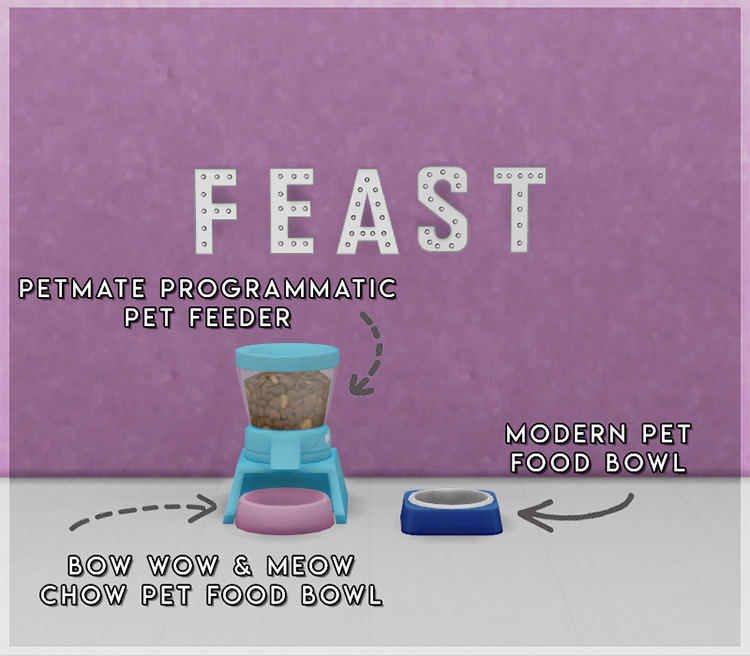 MissChaii's Pet Pack is basically a massive recolor set of most of the pet items from The Sims 4: Cats & Dogs.
It doesn't introduce new mesh to the game, but it certainly introduces a butt-load of new colors in smoother textures!
Check out the preview photos. The finish is gorgeous.
If you're looking for new color combos for the Petmate Programmatic Pet Feeder, the Bow Wow & Meow Chow Pet Food Bowl, and the Modern Pet Food Bowl, this CC pack definitely delivers.
4.

IAMS Proactive Health Cat Food by CoatiSims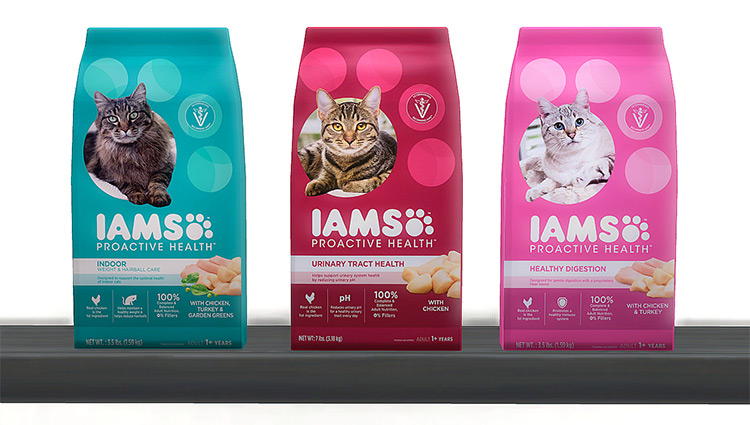 Keep your Sims' kitties safe and healthy with CoatiSims' custom kitty food from IAMS—a trusted American brand!
Seriously, this may only be a decorative thing, but it builds the narrative of a protective furparent. I think that's sweet!
Plus, the true-to-life print for all the flavors (i.e., swatches) is crazy accurate.
5.

Canned & Dry Food for Cats & Dogs + Litter Bags by Around the Sims 4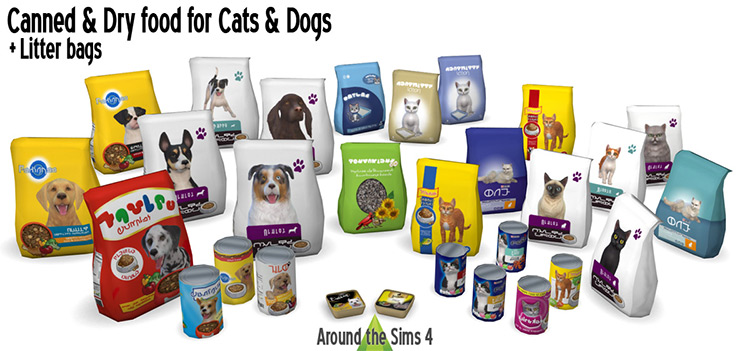 Some Sims prefer the convenience of canned pet food.
Others like the reusability and longevity of bagged puppy/kitty treats.
Around the Sims 4's neat little décor set now gives you the option for both!
Plus the decorative food packages actually have Simlish labels! Each item has different design variations – like Dry Food for Cats with 9 and Deluxe Can with 2 – and all the designs seem to be based on actual pet food brand labels, just Simmified.
It's pretty neat!
6.

Cats & Dogs – Pet Food Bowl by sim.saurus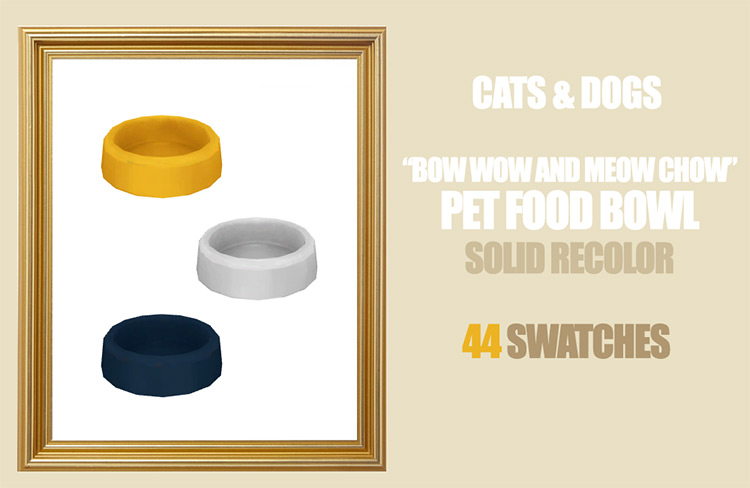 So I never realized there were no solid-colored pet food bowls until sim.saurus pointed it out.
Maybe not a big deal for some, but the option to have something simpler and more subdued is always appreciated! Plus if your Sim is a hardcore minimalist radically against patterns, this should fit right in to their interior design.
This custom pet food bowl comes in 44 unique (and solid) colors.
7.

Old Food Bowl by TheKalino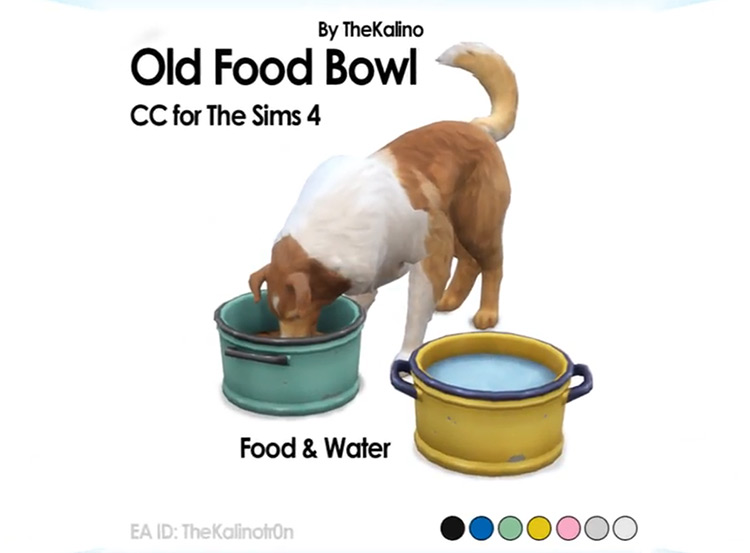 Is your Sim's doggo a big eater?
Are they fun, carefree, and not at all picky about where they eat, as long as they're fed?
Then check TheKalino's Old Food Bowl out.
It's a veritable metal bucket that can hold a hearty handful of doggy kibble. It's also hands-down the most sensible, no-nonsense pet item to ever exist.
Because once your canine companion is done with their chow, your Sims can then use it as a water bowl.
8.

Meow & Woof – Cat Food Dispenser by Syboubou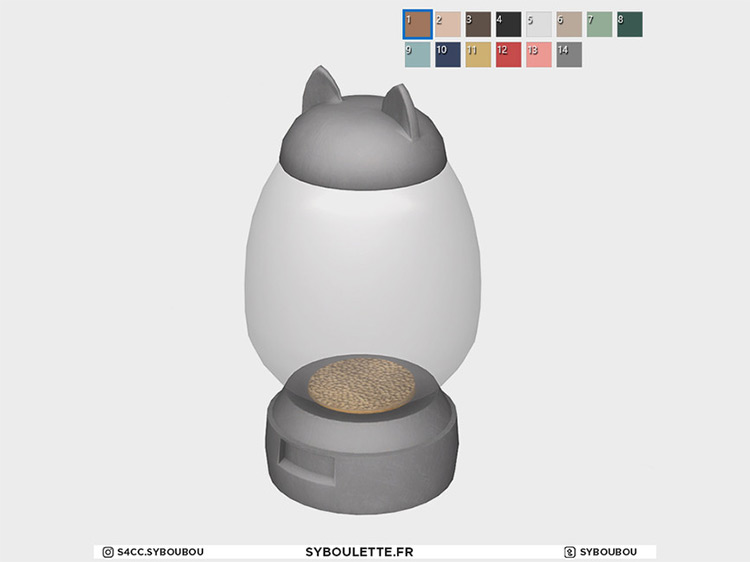 OK cool, a cat food bowl. But does it actually dispense food?
Yes, it does!
Your Sim still has to manually fill, of course, but who cares?
When your kitty treats dispense is looking this cute, what's another step or two in the feeding process?
It's compatible with any food bowl (even the EA ones from the Cats and Dogs pack) and comes in 14 soft color swatches.
9.

Meow & Woof – Cat Bowl by Syboubou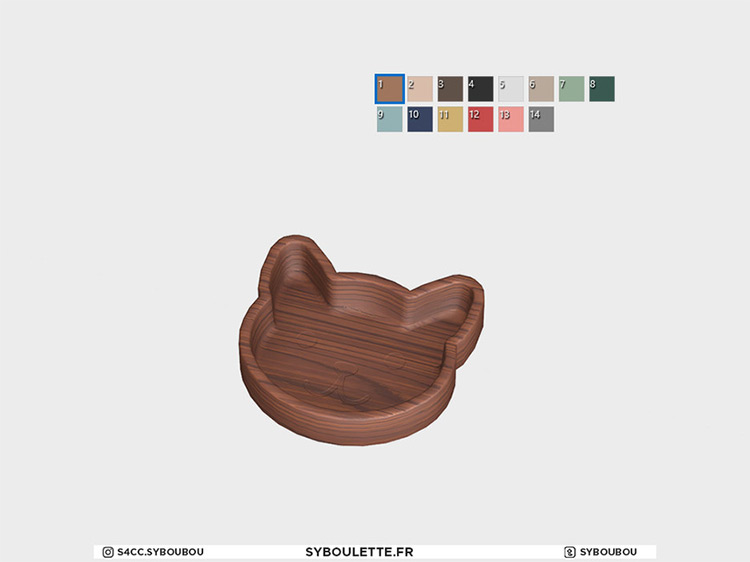 If you want to keep the cat theme going for your Sim's feline friend, match Syboubou's Meow & Woof – Cat Food Dispenser with this adorable cat-head-shaped food bowl.
It's small, it's nicely textured, and it makes for the cutest chow dish ever.
And yes, the dispenser and bowl are part of the same set. The kitten ears, as you can see, are a prominent, defining feature.
10.

Meow & Woof – Food & Water Bowl by Syboubou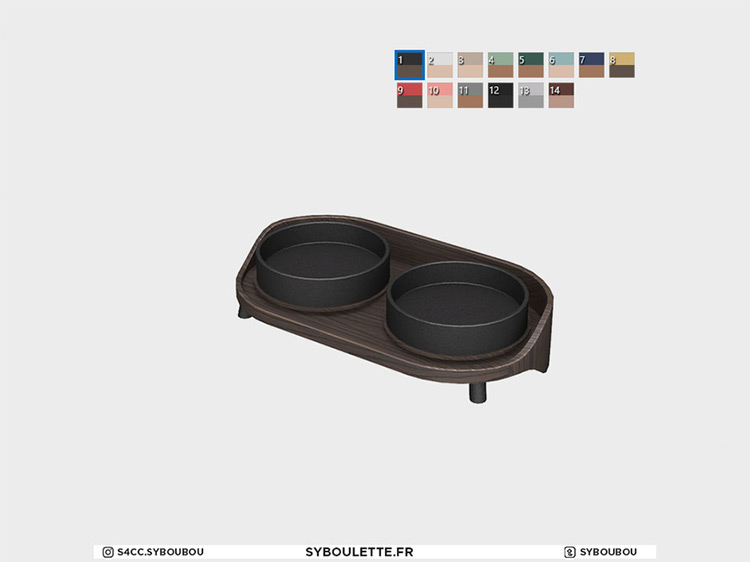 Simple, sleek, and innovative, this two-dish combo (still by Syboubou) keeps your Sim's pets' feeding area and watering area in one place!
Filling one bowl with food automatically fills the other bowl with water.
It's cool, it's convenient, and the available designs are hella cute.
I do love the dark wood texture in the preview photo, but I promise; the other thirteen color combo options are just as aesthetic.
11.

Realistic Bags of Dog Chow (Requires Cats & Dogs) by xSarahsSadyx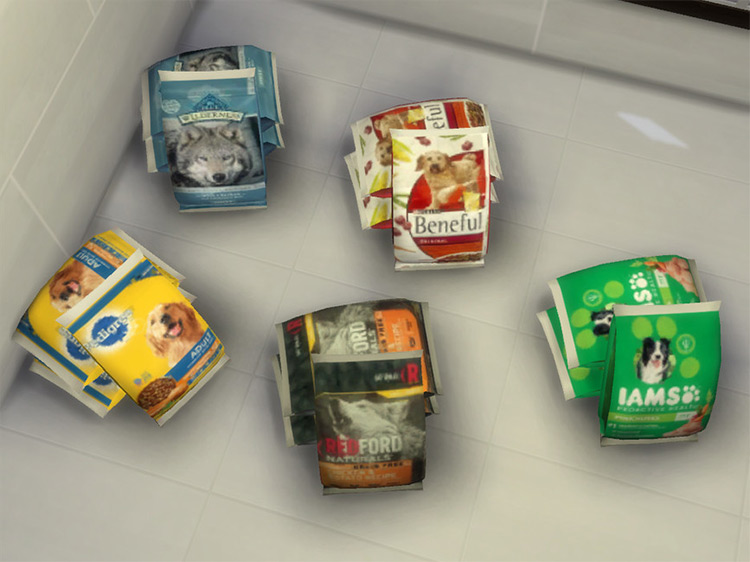 IAMS, Beneful, Redford, Pedigree… only the best for your Sim's furbaby!
If you don't mind IRL non-Simmified brands popping up in your game, these decorative dog food bags make a good addition to your Buy catalog.
And if a big part of your Sim's personality is "dedicated furparent," having piles of twenty-pound Pedigree and IAMS sacks scattered around their living space makes perfect sense.
12.

Décor Pet Food by pinofurude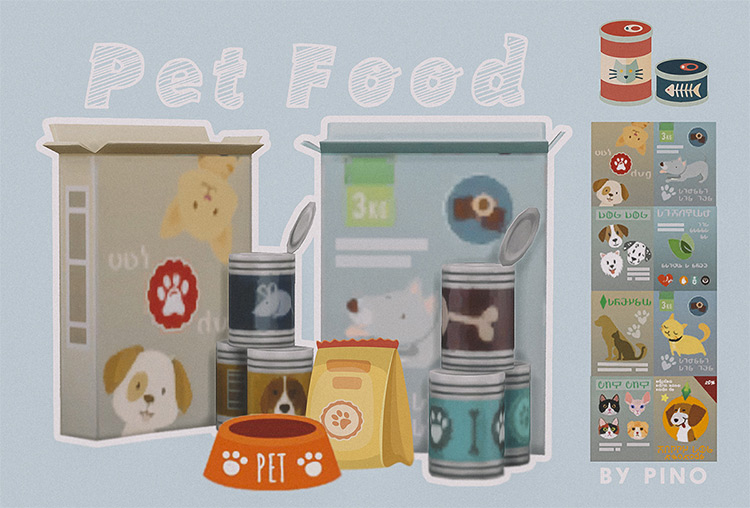 How adorable is this set?
Seriously, I can't be the only one squealing over the graphics.
Teeny cartoon puppies, kittens, and paw prints, oh my!
It may be a tad too cartoony for some. But I personally don't mind. In fact, I'm keeping it installed.
I like spoiling my Sim's pets with cute, non-usable goodies.
13.

Naturalis Pets Bowl by SIMcredible!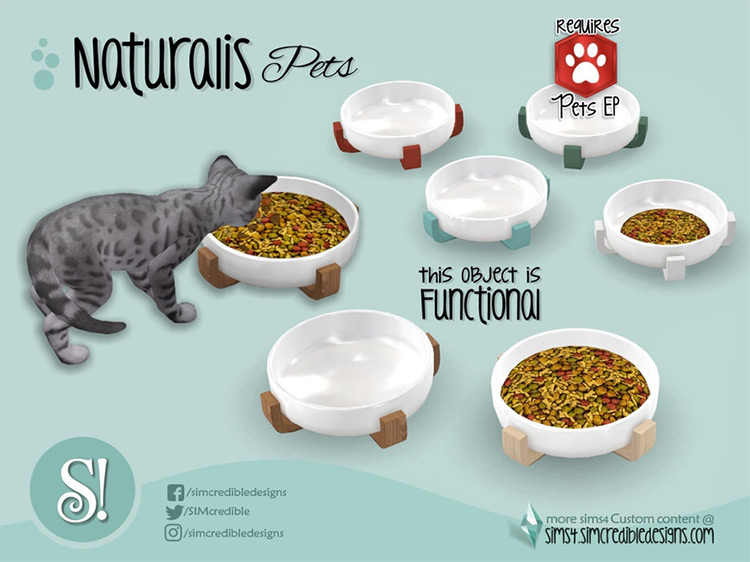 A functional little food bowl from SIMcredible!'s Naturalis Pets set, it certainly lives up to the description of the décor pack!
According to the creator, all the items are meant to have a "natural touch." The glass bowl, wooden supports, and simple, straightforward design definitely check the boxes.
It being fully functional is an awesome bonus, but I honestly wouldn't mind if it was solely decorative, either. It's just so pretty!
14.

Cats and Dogs Deco Set by asteria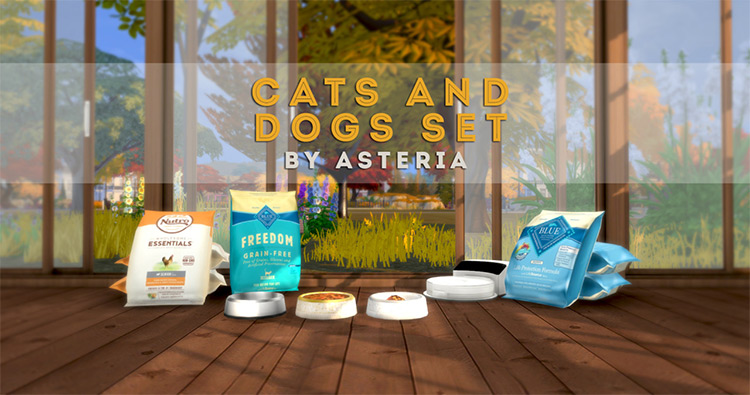 This pet set is a mix of decorative and functional objects, and it's both novel and fancy.
I mean, okay; sleek domed robot vacuum cleaners aren't as futuristic now as they were a couple years ago, but they're still fun to watch (both in life and in-game).
On the pets' side of the pack, there's a gold-rimmed Versace Pets Bowl. Yup, you read that right! (No idea if Versace actually has a pet supplies line but, nevertheless; talk about glitzy).
The other pet bowl in this pack is your standard stainless steel.
Not as jaw-dropping, but still pretty sleek.
Plus you get bonus dry pet food bags!
15.

Waiting for Pets by Around the Sims 4

For aspiring pet store owners and pet owners who like to stock up on supplies (just in case), there's a decorative stack of bowls in this pack — just for you!
They're not functional, sadly.
But they're bright, colorful, and help tell a story.
You can place 'em next to xSarahsSadyx's Realistic Bags of Dog Chow décor to really sell the "uber-committed fur parent" narrative.
Browse:
Lists
The Sims 4
Video Games