Custom Piano CC & Mods For The Sims 4 (All Free)
This post may contain affiliate links. If you buy something we may get a small commission at no extra cost to you. (Learn more).
Pianos have a long history in The Sims, which is fitting since they're loved around the world, and have been for hundreds of years.
Some are born to play. Others have to work at it for years. And some just can never get the hang of it.
No matter where you Sim falls on that spectrum, having an instrument in their house is always a great choice.
Well even if you've never had a Sim explore the piano skill before, you won't be able to resist after the awesome CC options in this list!
1.

DigiRad Recolor
You know, I recently tried to recolor something for the first time.
As someone who has been content to just use other's creations for years and never really thought about how much work goes into it, I just figured it can't be that hard.
I am a foolish, foolish girl.
It's quite a process, involving far more knowledge and effort than I will probably ever be willing to develop.
If just recoloring a sweater, as I tried to do, is that difficult… I can't imagine what it's like giving a makeover to objects like this, or even creating new meshes.
I already knew there are a lot of talented folks in the Sims community. But I definitely wasn't aware just how much skill creating CC really takes.
My journey just makes me appreciate things like these piano recolors from msfrankenstein910 much more. These 24 colorful new swatches for the City Living keyboard are really exciting, turning it into something that will be a beautiful part of any room as well as an instrument.
There's a sort of ombre/color gradient thing going on with some of them that I absolutely love, as well as plenty of bright, solid swatches.
I never knew a piano could look happy, but this one somehow does.
2.

Simpler Parlour Organ
Vintage pianos just have such a unique feeling to them.
Maybe it's the history they come with, the generations that have passed before us who touched those same keys, whose lives and energies were absorbed by that weathered wood.
Or maybe it's just the ghosts.
Yeah, it's probably the ghosts.
Look up any piano more than a hundred years old and try to convince me it doesn't come free with a new otherworldly companion. It'll never happen.
For the record, that's not even a downside. I'd love that.
Well this piano really is beautiful and looks old, which are two things I was really hoping to find when I was looking for CC to go in my Decades Challenge build the other day. MeadowSims certainly nailed that look with this creation.
And best of all, it's not humongous like the base game pianos. This one will fit into any reasonably sized home.
3.

Simple Upright Piano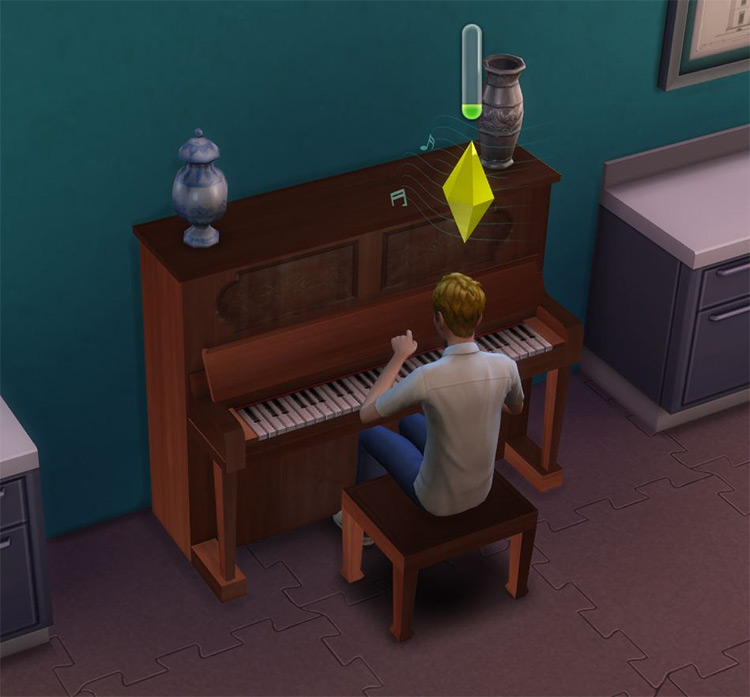 Here we have another option for a space-conscious piano, this time from creator Shredded.
Of course those grand pianos are beautiful, and you'll find many variations on this list, but an upright piano is just too good to pass up sometimes.
They sit flush with the wall and have slots on the top for deco items like plants or photos. I think these flow with the furniture a little better than the larger ones, so you can include this in a living or dining room without it being the center of attention.
You have two styles to choose from here: a more worn-looking wood swatch, or a modern black one.
4.

Fisherprice Piano
Get your toddlers interested in tickling the ivories young with this toy piano from Miguel Creations.
Isn't this just the cutest idea ever?
Fisher-Price items always make me feel at peace. Not that I myself want to play with them, but those bright colors and big animal faces remind me of happier, more carefree days.
I think it's great that same thing is available for our Sim's little ones through a piano held by a lion or elephant, depending on which you choose.
This also comes with a pose you can use to actually get your toddler 'playing' with it too!
5.

Dollhouse Piano
This game's CC makers never cease to amaze me with their bizarre creations.
Just look at this Dollhouse Piano.
It was created for The Sims 2 by sadepaivas, then converted for use in The Sims 4 by BigUglyHag. That's quite the journey for a battered, pink piano with big hands coming out the top.
I never knew I needed this until I saw it.
It is beauty, it is grace, it will be the weirdest thing in your place.
6.

Elegant Piano Pink
Now we're going to totally change tracks and check out this elegant pink piano from Venncat.
There's no doubt it was aptly named.
This is one that's truly fit for a princess. I really love everything about it, from the floral seat, to the pink and white color scheme, and even the sophisticated woman's image.
It's a very different piano from pretty much anything else out there, but I can see so much potential here in many different builds and challenges, and even just for your Sims who are simply dignified.
7.

Wild West Piano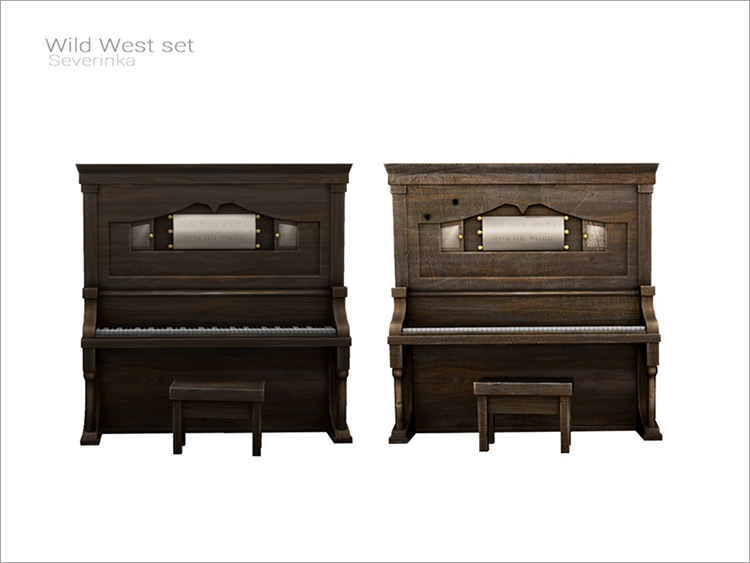 When I look at this, I don't hear piano music.
I hear boots on a wood floor, whiskey glasses sliding across the bar, and cards being shuffled.
But when your Sim plays it, I'm pretty sure it'll sound like a piano.
Just because it looks like it belongs in a 19th century saloon, doesn't mean it comes built in with the ambiance.
This Wild West Piano CC has really nice wood textures. There's one that has a very smooth appearance, like it has been refurbished, and the other looks a little more beat up.
Either one will still be a great choice for an upright piano if your Sim's house has a more rustic theme.
8.

Pastel Piano
If you don't want a simple wood piano, lazerly has got the answer to your prayers.
Well, I doubt you were actually praying for prettier pianos for your Sims, but I digress.
These five pastel swatches offer a modern, more charming new look.
As much as I usually love wood furniture wall to wall in my Sim's homes, I must admit these colors are rather soothing. I'd even use the word 'dreamy'.
9.

Elegant Buyable Classic Piano
I know I'm not the only one who gets really frustrated by having to unlock items in Sims 4 (or any game, honestly).
The audacity they have, expecting me to actually wait for my Sim to earn something.
It's also not cool that in many categories, the locked item is actually the best looking one. That is exactly the case with the Classical Genius Piano, and doubly so now that it has also been totally reworked by this talented Simmer.
The texture has been completely overhauled, removing the choppy, grayish exterior. A sleek black is in its place, along with much more vibrant gold trim.
10.

Piano Pose Pack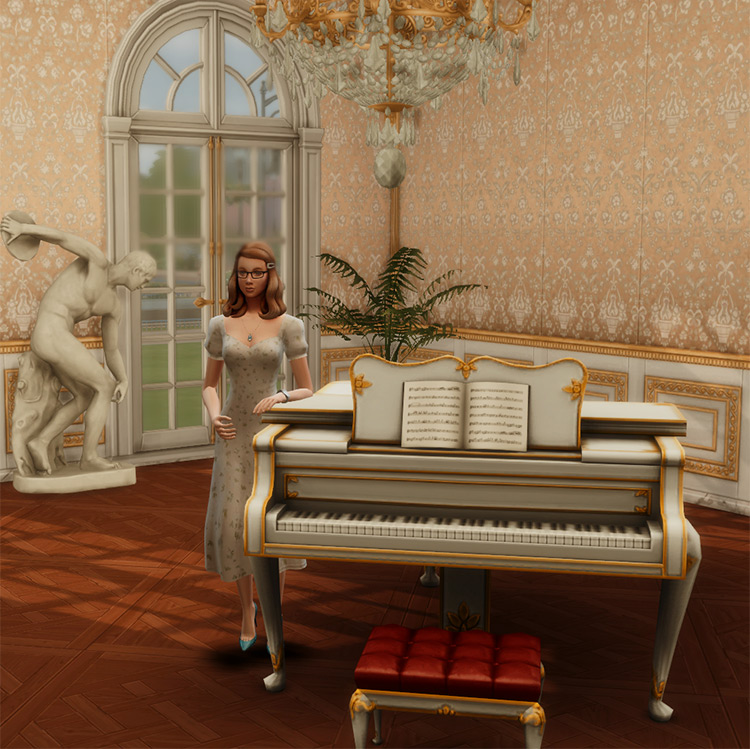 And lastly, once you've picked out the coolest new piano that CC can provide, you can snap some pics of your virtuoso Sim with their beloved instrument.
GlitterberrySims has created a variety of lovely poses here.
One option is to have your Sim standing beside the piano, arm resting on it.
There are multiple poses with your Sim sitting down playing or looking at sheet music as well, and he or she will have perfect posture (of course).
I think that's a really nice detail, since it's definitely a different stance than sitting on the couch or in a chair.
It really makes your Sim look like a musician.
Browse:
Lists
The Sims 4
Video Games