Sims 4 Picnic CC, Mods & Poses (All Free)
This post may contain affiliate links. If you buy something we may get a small commission at no extra cost to you. (Learn more).
If there's a better way to spend a day than going on a picnic, humanity hasn't found it yet.
It brings together the best of everything. Food, company, and fresh air, maybe a little music or games when everyone is finished eating.
Tragically, it's nearly impossible for your Sims to experience this wonderful time. There's no picnic basket or blanket, very little suitable food, no decor.
Unless you get some CC, of course.
The Simmers of the world have filled in all the blanks already. So be sure to send your Sims out for a bit of relaxation and eating food on the ground… weather permitting.
Functional Picnic Basket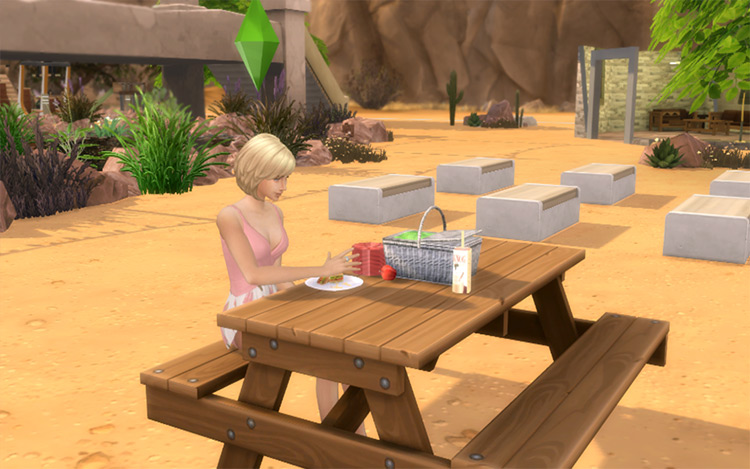 First things first, you've got to have a picnic basket.
The whole thing is kind of moot if you don't.
Incredibly, fire2icewitch has actually created a functional one. It's converted from The Sims 3, and I love that the charming wicker basket is back.
While it may look the same, it's actually better than ever, since now it's functional.
Your Sims can actually store food inside and carry it! That means you get to decide what they eat at their picnic, and have them prepare it.
Larix Picnic Set
You can fully embrace the picnic aesthetic with this set.
If you've ever tried to have a picnic or cookout in The Sims 4, you know a lot of it is left up to your imagination. There aren't a whole lot of typical decorations available.
That's no longer the case. Everything is included here.
There are multicolored, triangular pendants just like you'll find at any community picnic, classic checkered picnic tablecloth, and a decorative picnic basket, amongst many other things.
There's also a new barbecue that comes with this set that I like a lot.
There's just something about a circular wheeled grill that says 'picnic'.
Picnic Set CC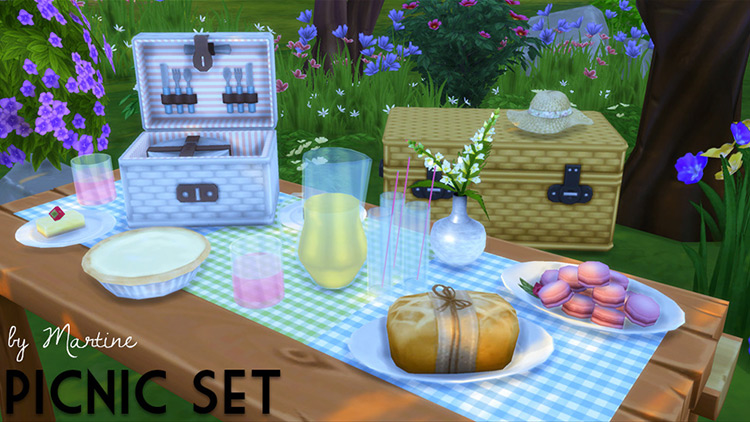 Here we have some lovely new options for the pillars of picnics, table cloths and baskets.
This Simmer has created an edited version of the baskets from Outdoor Retreat, not only tweaking the mesh to make it look a little bit better, but shrinking it as well.
Isn't that brilliant?
I don't know why so many official items are so massive. Cute, great decor, but just way too big to ever actually use.
Clearly it isn't just me who thinks so, since I see downsized items all the time.
The table cloth here still has that iconic gingham pattern in soothing colors. Just the fact that there is a table cloth makes me happy – I've been lamenting over their absence for years.
Picnic Food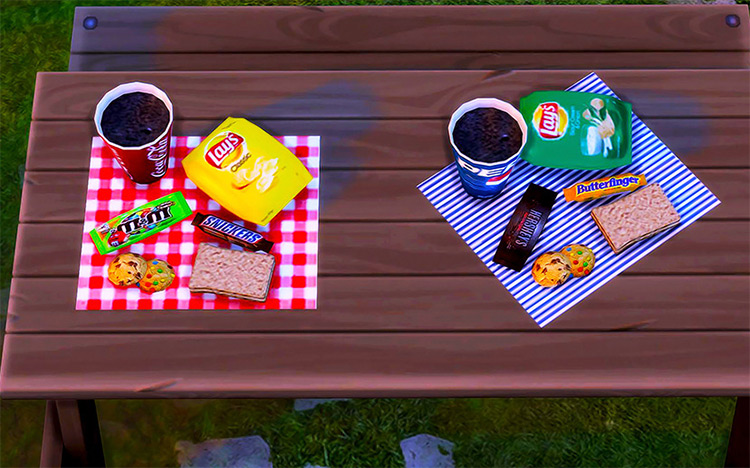 Now this is some true American picnic grub.
Soda, potato chips, and sweet treats – the trifecta of joy 'round these parts.
These are the perfect little kits to set out for each Sim, no matter the age, to really get that 'summer day' feel going.
Whether it's in the backyard or at the park, everyone loves to circle around the picnic table for some Coca-Cola and cookies.
Picnic for Two Pose Pack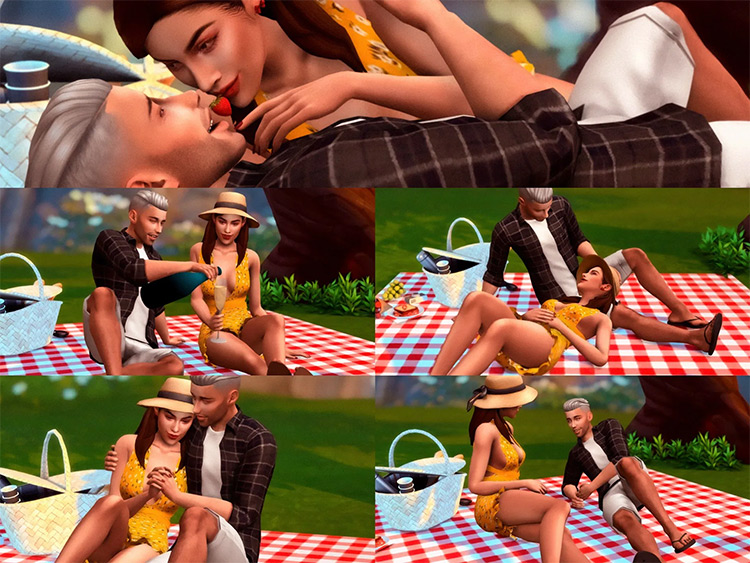 Like anything else in this game, if you want a picture perfect picnic, you're gonna have to use poses.
And then take a picture.
This pack from Katverse will produce some of the cutest pics you could ever hope for. A picnic date is honestly all anybody could ever want, right?
Some people might shoot for more. But it's still a wonderful way for a couple to spend some time together, and a great idea for a Sim date.
There are five poses here to really see your lovebirds being, well…lovey.
Couple Picnic Pose Pack
Clearly the idea of a picnic date is alluring to many people, especially Simmers, since there are multiple pose packs dedicated to the idea.
You can never have too much of a good thing, right?
Your Sims can cuddle, feed each other strawberries, and serenade each other with guitar.
Now that's a good day.
Sims really don't utilize ground space enough. Aside from occasionally plopping down on their knees to watch television, they never rest anywhere but the furniture. That's comfortable, sure, but people use the ground or floor all of the time in real life.
Poses like this definitely will make your Sims seem realer than ever.
Custom Picnic Set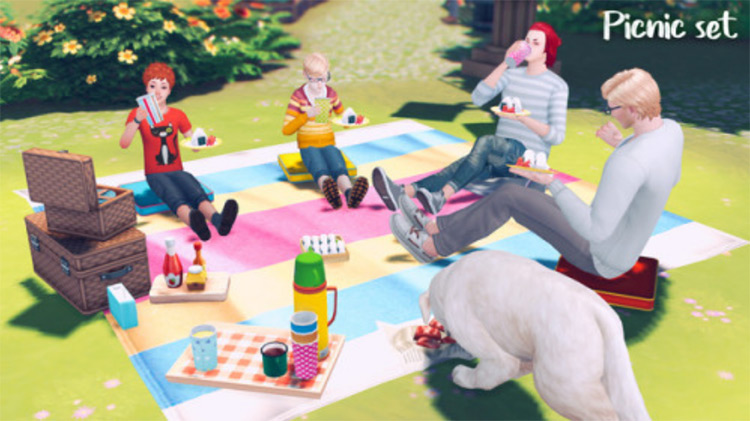 Now this custom set gives you a few more ways to branch out and decorate your picnic space.
For an impromptu 'sit and dine' vibe, you can place the shirts on the ground for your Sims to sit on. They're even portable!
And if you think your Sims are the type who'd want something a little more comfortable, there's even some cushions for them as well.
But if it's just the regular 'ol picnic look you're after, don't worry. There are several swatches of blankets available here too, again in those classic gingham patterns as well as many new designs.
Kawaii Picnic Outdoor Dining Collection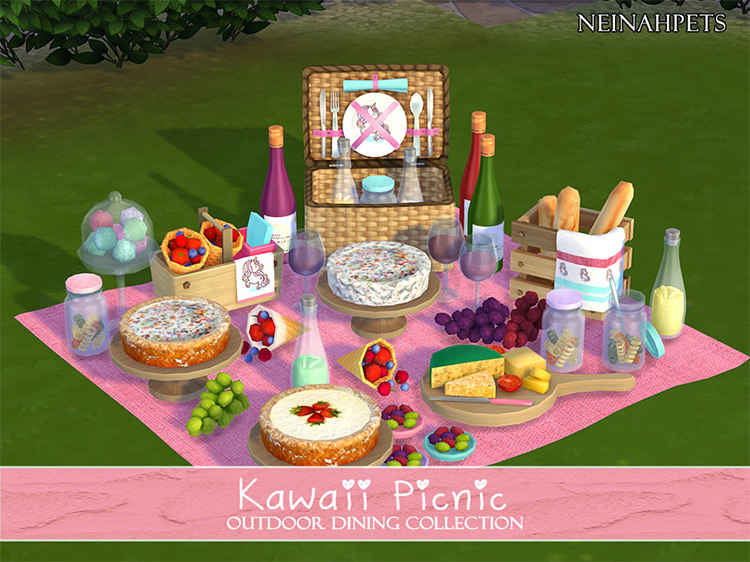 Fresh fruit and baguettes, real sliced cheese and beautiful cakes… this is a step up from most picnics, I must admit.
The decorative items available here will really take your Sim's day to the next level. Such a fancy spread is not otherwise available to us.
And I know there's someone out there who is gonna laugh at me for referring to fresh fruit and cheese on a platter as fancy, but hey – some of us are from a soda and potato chip budget, okay?
But at least this is one way to vary the food at your Sim's picnic.
We all get tired of seeing Pan de Muerto and franks & beans on the table, do we not?
Picnic Basket Poses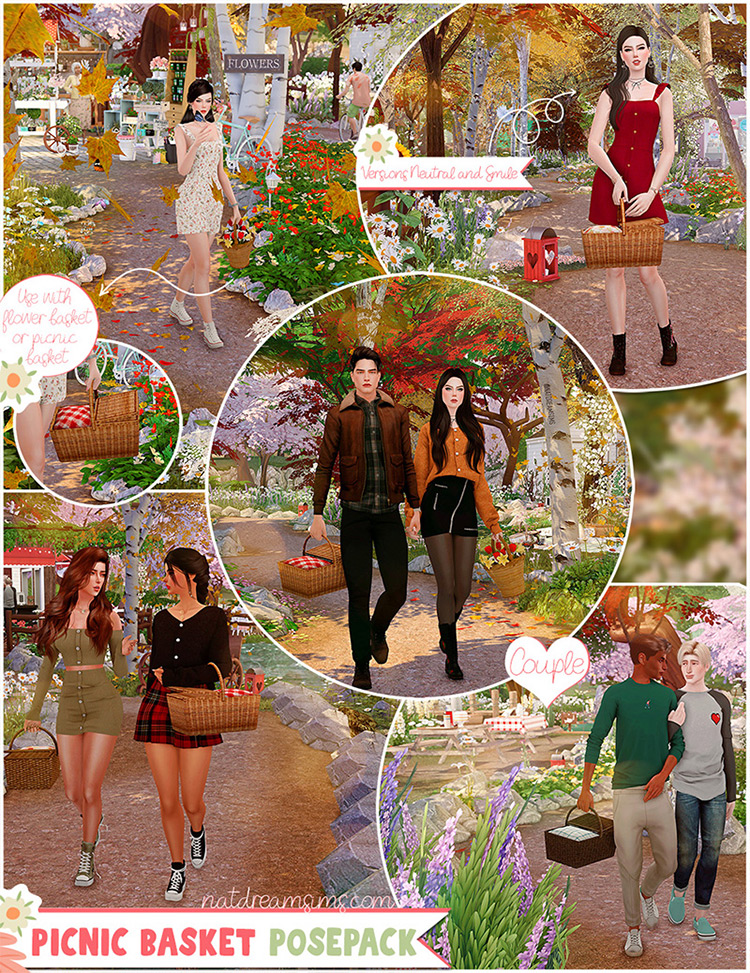 With this pose set, you can actually see your Sims holding the picnic basket!
This is a really great idea, since so many parts of the picnic itself have to be manufactured in this game. You have to set up every little thing yourself and all but force your Sims to participate. So getting them to hold the basket is a nice little detail.
You can even have a Sim couple walking arm and arm as well as hand in hand, with the basket on whichever side is free.
Aw, isn't it romantic?
Picnic Poses #1
Now these poses really encapsulate the precious memories you can create on a picnic.
You can snap some pics with food or drinks in their hands, and they'll look like they're truly enjoying living in the moment.
And who wouldn't, eating strawberries and drinking champagne on a beautiful beach?
Well, the beach part isn't included.
But I'll admit, looking at these pictures from the creator definitely makes me want to opt for a beach picnic over the park.
Wherever your Sims choose is really up to you, of course.
And whether you place your decorations and poses in Sulani or Newcrest, it'll be a great day for them.
Browse:
Lists
The Sims 4
Video Games