Sims 4: Best Pigtails Hair CC To Try (All Free)
This post may contain affiliate links. If you buy something we may get a small commission at no extra cost to you. (Learn more).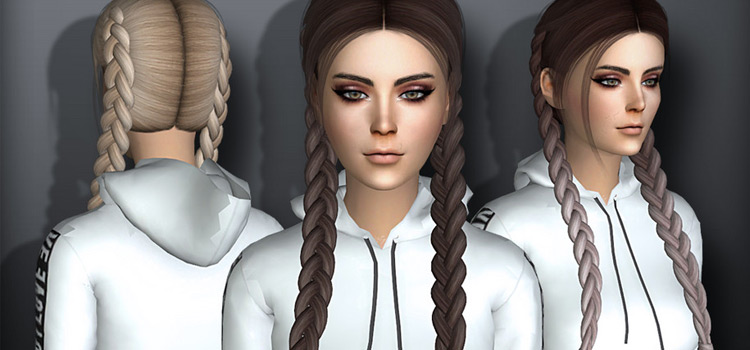 Age shouldn't limit what hairstyle your sim rocks. Clearly, some hairstyles are easier to rock than others… but at the end of the day it's all about personal style.
But let's cover one of the more fun hair styles: pigtails! Characteristically Wednesday Addams madness and the innocence of Boo.
And although pigtails may seem childish, they're not just for children. Even a grown woman can make these part of her style and look astonishingly younger, beautiful, and straight-up amazing.
And really, what's as cute and sexy as an elaborate pair of pigtails, right?
Well all the custom content creators for TS4 seem to agree. So let's dive into my list of the best CC for pig tails hairdos that can fit any style!
10.

Short Pigtails
We can all agree on one thing: the hair growth phase after a pixie is the worst.
It's a messy, uneven mane that can last for months.
But when you want your Sims experience to be as realistic as possible, maybe some untidiness can be the solution.
That's the definition of this Biscuit hair CC by Nightcrawler, a perfect mix between really short and not-so-short, all while keeping things naturally held down with cute pigtails.
Available in 22 different finishes, this hairstyle is fit for anyone from teenagers to their elders.
9.

Jeana Hairstyle
Is your Sim sweet and innocent, yet also fierce? Maybe even a little bit naïve?
If you ever want your bubbly Sim to portray their character, this Jeana Pigtails CC by JavaSims is your best choice!
Sounds like a certain blue girl I know… Adult Bubbles in Sims 4, anyone?
With side swept bangs and long hair, how is this not the dream of any pastel/emo girl in high school?
Available in 18 different colors and compatible with hats to boot, this hairstyle goes well with any outfit at any age.
8.

Rosie Hair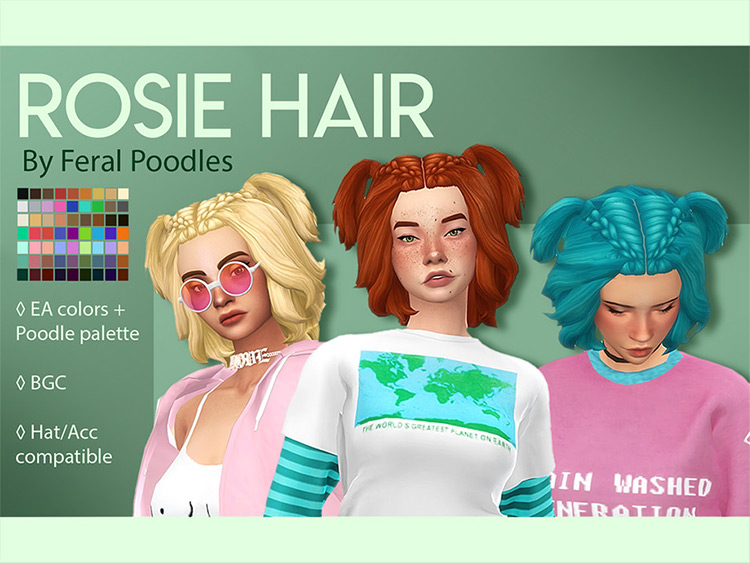 Layers? Uneven piggies?
Not a problem!
Rosie Hair CC by Feral Poodles has your back.
This layered long bob would make it a hard task to take on the classical pigtail look. But mix it up with some braids and your Sim is good to go.
These french braids collect hair from all of your sim's top layers to set them on the top of your Sim's head, while keeping bangs out of the face, making it perfect for matching them with big sunglasses.
Available in the original EA colors(18 originals) plus 45 additional options, it sums up to 63 possible swatches! Now that's a lot of braided pigtails.
7.

Nightcrawler – Bunny Pigtails
Pigtails are usually thought to be thick and long, or short and funky. But there are other options out there!
What about those moments where you feel like dressing your Sim with a half & half hair do, but want something a little more… common?
Enter this fun CC that'll let you have your hair half-way up, half-way down, or with a twist.
A complete makeover to enhance the best features on your Sim's face.
This Bunny hairstyle by Nightcrawler gives us the opportunity of being in style, while being subtle about it.
Cute and sweet, these pigtails keep hair out of your face making them perfect for some hoop earrings, as well as easier accessorizing all around. I mean, we don't always need attention right?
Who said discreet pigtails weren't back in business?
6.

Loren – Braided Pigtails CC
We girls tend to have a hard time choosing with fashion, and that applies to hairstyles.
You want pigtails for your Sim, but don't want that Wendy's look.
The perfect mid-point between pigtails and braids is this custom CC: two french braids that function as pigtails!
This all comes in the Loren hair CC pack by creator Ade_Darma.
These look tidy, professional, and well put together. All while giving your sim a certain type of innocence.
And gosh darnit, I love the long hair look.
Now this hairstyle may look innocent at first. But pair it up with a casual flirty look and you'll quickly become the catch of the town!
Available in 27 colors plus 9 ombres, this CC allows for easy mixing between the perfect hair color, the perfect makeup, and the perfect outfit.
5.

Katie
Dirty hair day is the worst in real life. And luckily our Sims don't have to experience it.
Even so, picking a decent hairstyle is no easy feat… And that's where the Katie hairstyle by TekriSims comes in.
All ages, might I add!
With its Dutch braids that end in pig tails, this CC portrays the perfect office look for any no-poo day attitude. It's dressy, but still feels like pigtails.
Available for toddlers and up, this pack comes in the 18 EA colors while also being hat compatible. Never been so easy to look so good!
4.

AITA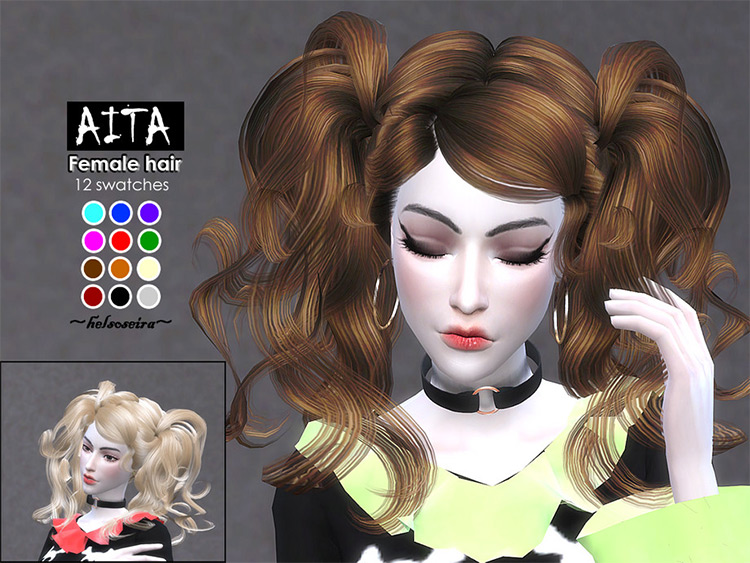 The beauty of perfectly unruly anime hair… how many of us have relentlessly tried to achieve that look?
Elizabeth Middleford, Diane, Junko Enoshima, Celestia Ludenberg… the list is endless!
And thanks to CC makers, our Sims can always have what we mostly can only dream of.
This AITA by Helsoseira is a perfect finish that could make you look either cute, or flirty, or both! And you don't have to be an anime fan to appreciate this look.
Grab this CC available in 12 different swatches, 6 vivid color stripes, and 6 natural colors. It's a veritable hodgepodge of pig tail styles! And it's fully wearable for teens and up.
3.

Pigtails x Buns
Okay hear me out, you may not love the idea of buns, but this hairdo mixes two really adorable designs together.
And what's better than two little buns?
It portrays the same child-like innocence as any pigtail hairdo, with less hair hanging off your head.
There's an option for each hair style, available for ethnic hair thanks to MiMi Hairstyle by -KaiSims-, and available in 14 colors in total.
But if you want the straight hair look you can thank SintikliaSims with their Hair s34 Dayana, which includes 42 colors in its own pack of hairbun/pigtails combo styles.
2.

Long Pigtails (Curly or Straight)
Long pigtails just awaken our inner doll, don't they?
Be the innocent doll, or the flirty-looking Bratz, you can achieve this look with or without bangs. Curly or straight. All up to you!
If you want something more child-like then the Martinez hair by Ade_Darma might be your best choice with its 27 colors & 9 two-toned colors.
You and your lady Sim will be looking like any number of famous pop star singers we've all come to love.
For a more flirty, dangerous look you can add in a choker or even some hair scrunchies with your pigtails, which gives any Sim the cute yet flirty look worthy of an Ariana Grande concert.
Available in 16 ombre combinations and 32 solid colors, this CC allows for a realistic feel to pigtails that will get you compliments left and right!
1.

Lala Curly Pigtails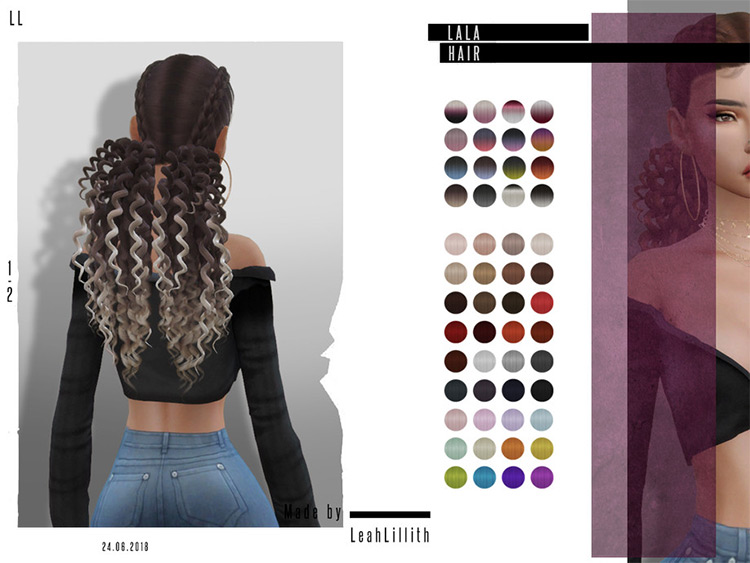 The default options for ethnic hair in the Sims 4 bares little similarity to the real thing.
But bless our dear content creators, always taking it into their hands to deliver to the community.
This Lala Hair pack by Leah Lillith does not disappoint.
It looks real, and can give any TS4 player the experience that they've been missing.
Like previous works by Leah Lillith, this CC set comes in 16 ombre combinations and 32 solid colors. All of which look gorgeous!
On the other hand, creators like drteekaycee have provided options for toddlers and children with their cute Senegalese twist!
Dig in and give these a try, I think you'll really like the look.
Browse:
Lists
The Sims 4
Video Games