Best Sims 4 Pillows CC: The Ultimate Collection
This post may contain affiliate links. If you buy something we may get a small commission at no extra cost to you. (Learn more).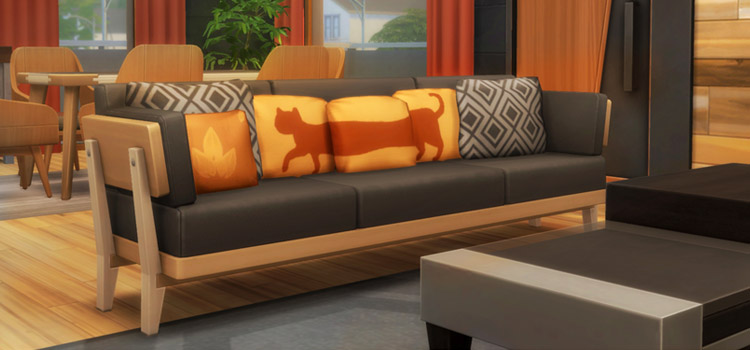 If there's one thing you're guaranteed to find in everyone's house, it's a pillow.
Our Sims may have a few on their couches or beds. But you can only scratch the surface of decor and self-expression options unless you start getting into CC.
In real life, there's a throw pillow to match anything you might be into, from floral designs to fictional characters.
And much of those custom pillows have now been brought to our Sims games.
I'd say Simmers have covered every style imaginable ever better than you'll find in most stores. So add that to the list of ways our Sims are really living their best lives, without even realizing it.
1.

Pillow Galore Collection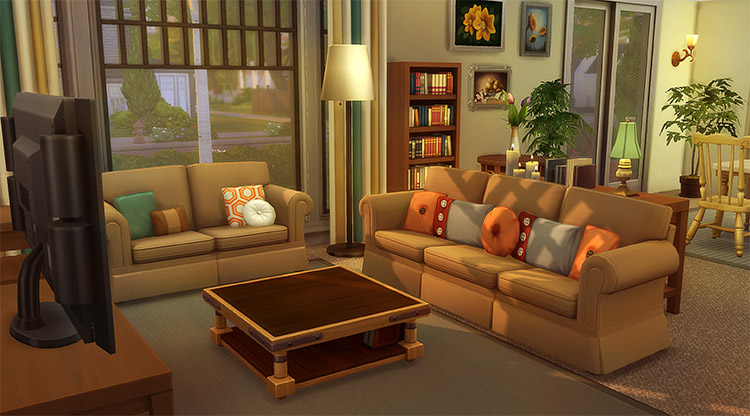 There really is something for everyone in this collection.
You'll probably never run out of options, at least not for several Sim generations.
These 42 pillows come in a huge array of sizes and designs, and rather than them being attached to the couch as all of the ones in game are, you yourself get to decide where they're placed – and how many.
Go ahead and fill that couch with way more than are necessary or comfortable. No one's standing in your way.
My favorite part of this CC collection is the pillow trio that consists of a cat's head, middle, and booty, but I'm a crazy cat lady.
I love that all of these are available in so many different ways; stripes, plain, polka dotted, covered in flowers.
This might also be the largest range of colors I've seen for any CC. I'm pretty sure every shade known to man is here.
2.

ScandiFever Cushions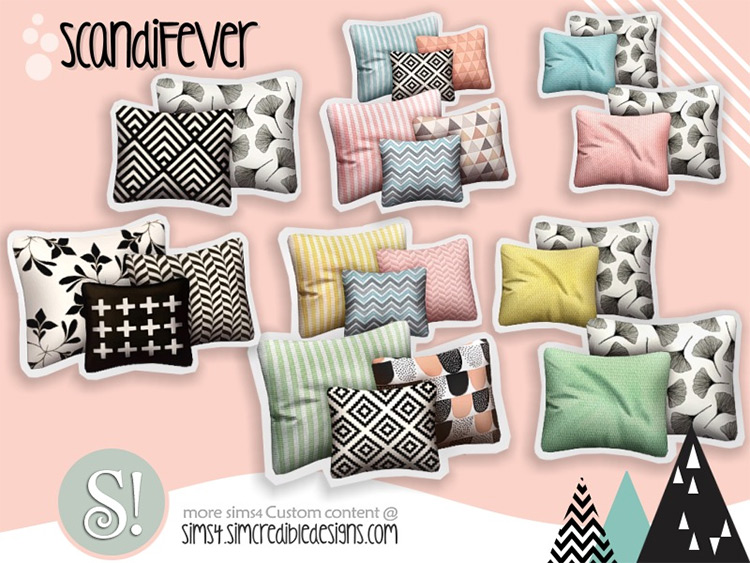 SIMcredible! is one of those creators who you can rest assured will always have some awesome CC to fit your tastes.
And that's proven again here with these ScandiFever cushions.
The designs on these are very hip and modern, like chevron, geometric shapes, and those fan-like things that I see on everything… If they have a name, I don't think anyone has ever said it. They just are, existing to make a nice neutral design.
There's a slight 'stitch' texture to these as well, really giving them the look of fabric.
3.

Couch Pixels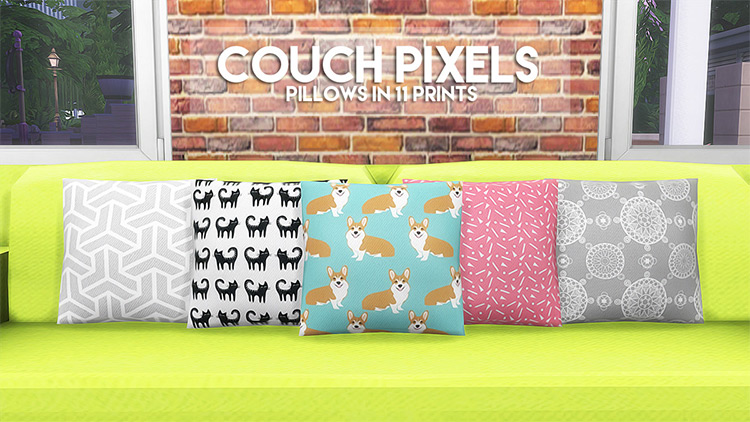 Who in their right mind can say no to kitties and Corgis on their couch pillows?!
These went straight into my game.
See, this is what's so great about pillows.
They're basically just small, comforting bags of stuffing. The outside can be anything you want, and the function remains the same.
There are more geometric shapes available here as well, all in nice, smooth colors.
4.

Pillow Queen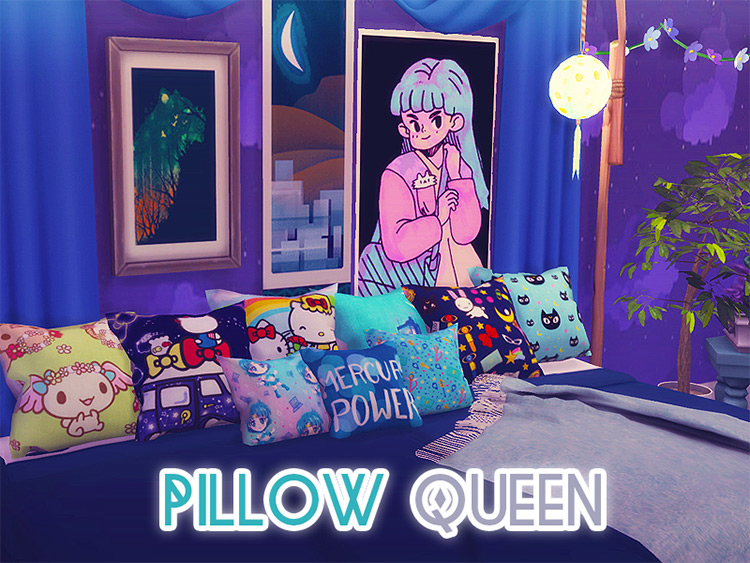 For fans of anime, I don't think you'll find cooler pillows than this.
I honestly know nothing about Sailor Moon or any of the other characters featured here (except Hello Kitty), but I imagine this is a really exciting find for many people.
I still love the cute critters and bright colors on these.
These would work really well in the bedroom of any anime-loving Sims!
5.

Zara Pillows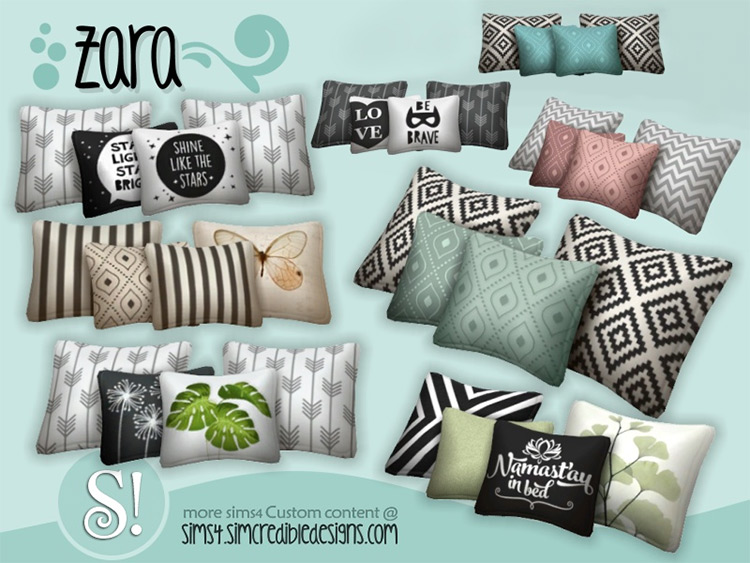 Now here are some more pillows from SIMcredible!
These feature more intricate designs and even a few sayings. The one that says "Namast'ay in bed" is one of the most brilliant things I've ever seen, honestly.
There are some more earthly swatches as well, like the pretty green leaves or big moth pillows.
Or is it a butterfly? I never have known the difference. And now that I'm really looking at it, I think it might even be a dragonfly.
My ignorance aside, it's a really cool picture that will compliment any couch in your Sim's home, especially for those with the Outdoorsy Trait!
6.

Golden Pillows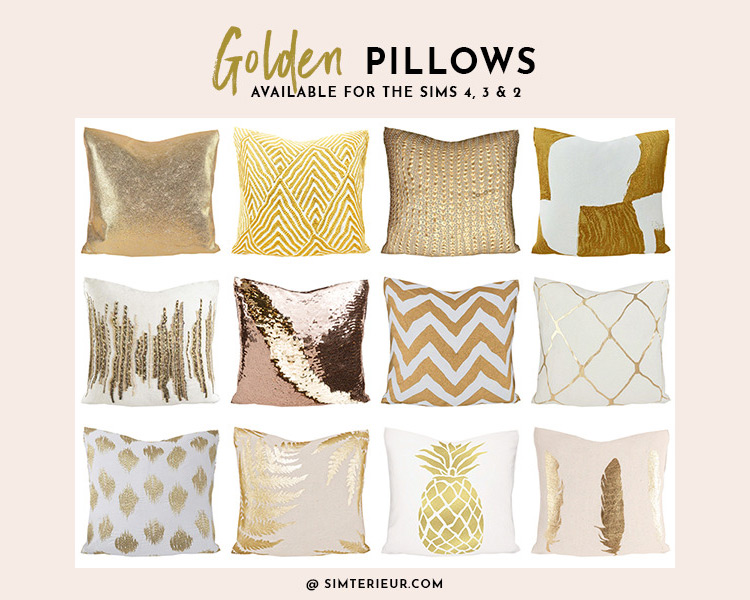 Gold is a color that really doesn't get the attention it deserves when it comes to interior design.
So many things simply look a lot cooler when they have this yellowy, metallic look.
For example, pineapples, leaves, and feathers!
Those are pretty popular pillow covers nowadays and the gold really makes them pop. These will fit right in with any modern decor.
7.

Christmas Pillows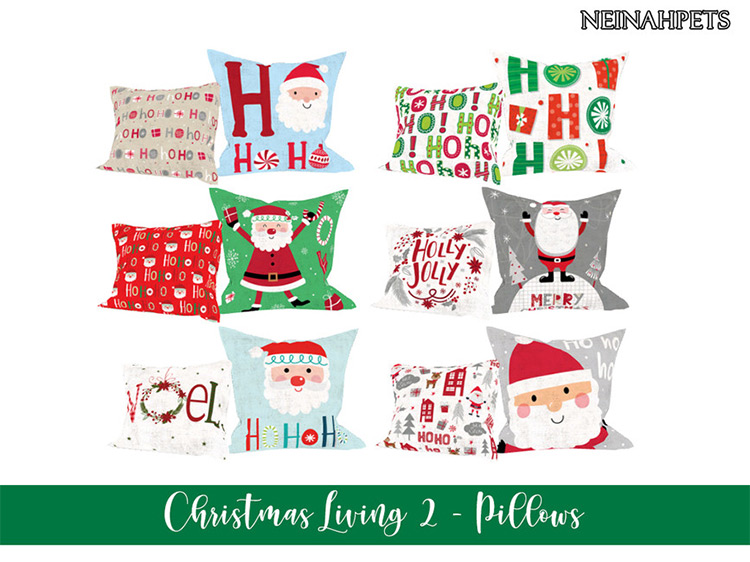 Seasonal pillows are such a fun way to decorate.
I'm so glad there are a plethora of holiday designs available to us Simmers!
You'll probably get more use out of these Christmas pillows from neinahpets than you'll get out of actual ones, since the holiday comes a lot more frequently for Sims.
Maybe it's technically less since they only have about two Christmases in their lives, but you as the player will get more enjoyment out of them.
Dear old Santa Claus is all over these pillows, as well as lots of beloved holiday phrases such as "Ho Ho Ho, Holly Jolly Christmas, and Noel.
8.

Watercolor Boho Pillows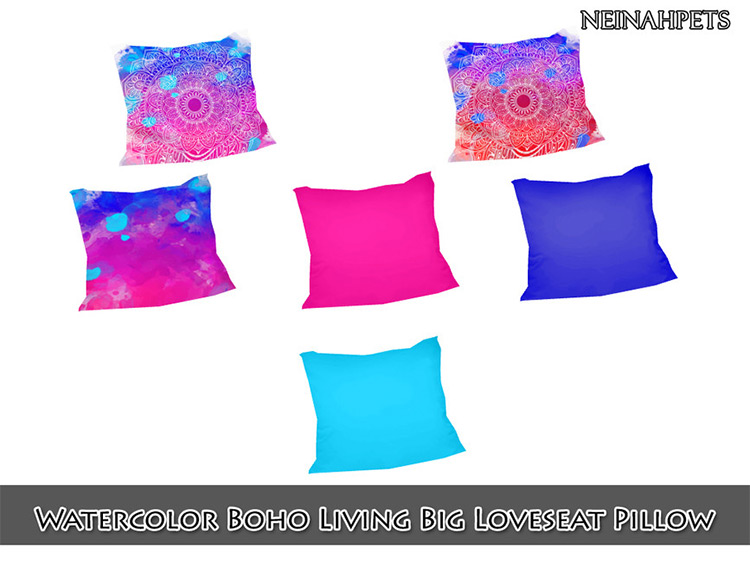 'Boho' is one of my favorite words when it comes to decorating.
And these pillows from neinahpets do not disappoint.
These are, for sure, the most vibrant ones on this list, coming in truly impressive shades of pink, teal, and blue.
The mandala pillows with all of those colors are just gorgeous.
I can't wait to place these in my Sim's homes, brightening every space with these little squares of joy.
9.

Scandinavian Pillow Set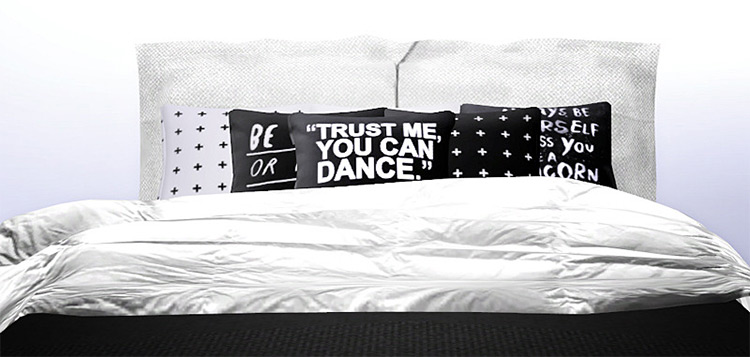 There are so many pillows in this CC set, it's a little crazy.
In a good way, of course.
Since there are a whopping 120 available in this set, it's impossible to detail them all. So I'll enlighten you on some of the best!
For animal lovers, there are cute and fuzzy (or feathery) things galore. You can deck your Sim's home out with the whole animal kingdom since there are pillows showcasing various birds, deer, cats, and bears!
Then for the more artsy types, the creator also included a variety of simple images such as maps, landscapes, plants, and abstract designs.
Again, this is only scratching the surface. I'm pretty sure it's impossible to not find something you like here.
And all of the textures are just so perfect, with smooth images and vibrant designs.
10.

Kawaii Pillows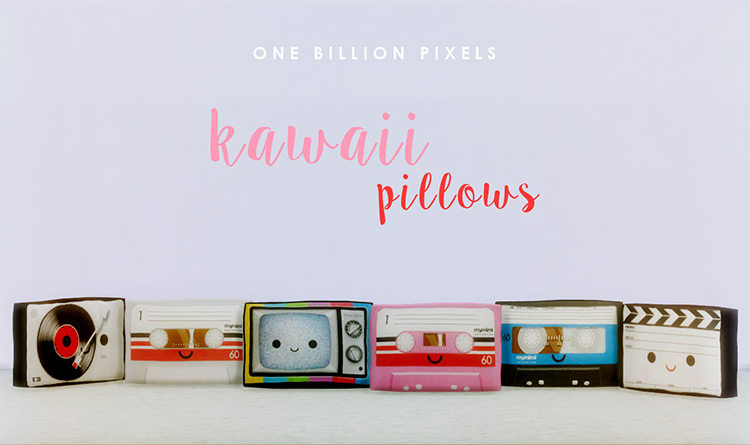 'Kawaii' is a Japanese term meaning cute, and these pillows certainly live up to their name.
CC Creator One Billion Pixels includes six of them here – one with a record, three cassettes, an old school television, and a movie clapboard.
The little smiles on all of them are indeed pretty adorable.
I did say there are pillows out there for all desires and tastes, right? And these will be a great fit for any music or entertainment loving Sim!
11.

Candy Color Pillows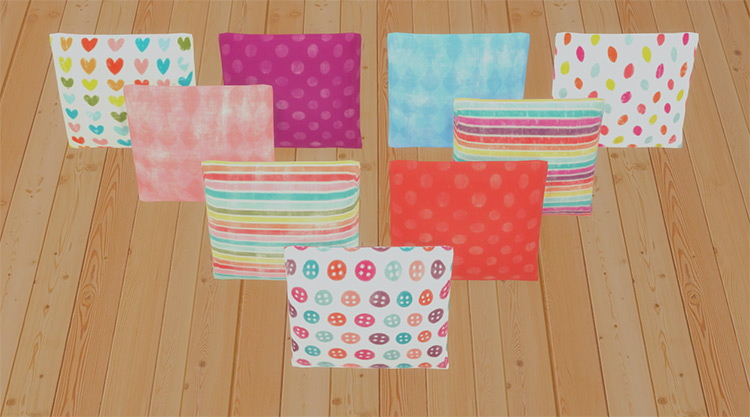 You won't find pillows much more cheerful or bright than this.
These will add a nice welcoming flair to any room, whether you pair it with dark or light furniture.
That's the great thing about multi-colored polka dots or stripes – they really work with everything.
They can contrast against a black couch, or add even more to an already colorful room by pairing them with warmer colored chairs.
If you ever want to have some throw pillows as decor in a teen's room, these are perfect for that, too.
I mean, I'm not trying to pin age on a pillow, but I think these have some youthful vibes.
12.

Southwestern Pillows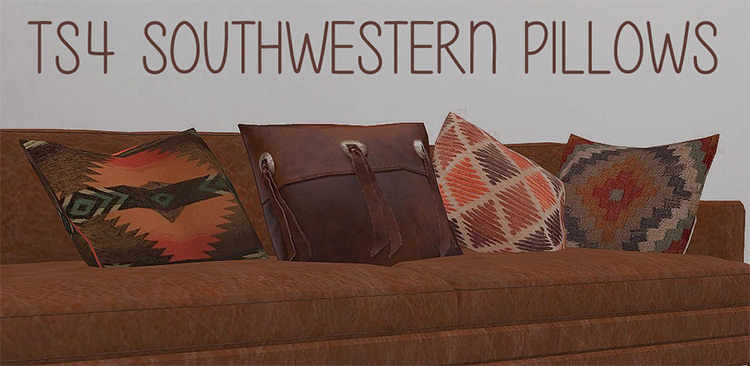 Even though Oasis Springs is supposed to be set in the Southwestern United States (or at least that's the vibe I've always gotten) the game is seriously lacking in fitting decor.
If you agree, then these pillows from Riekus13 are here to help with that.
All of these swatches are satisfyingly southwestern, coming in cow prints, leathers, and geometric motifs of turquoise, red, orange, brown, and white.
This is a southwestern starter kit, basically. At least as far as pillows go.
13.

Heroes and Villains Pillows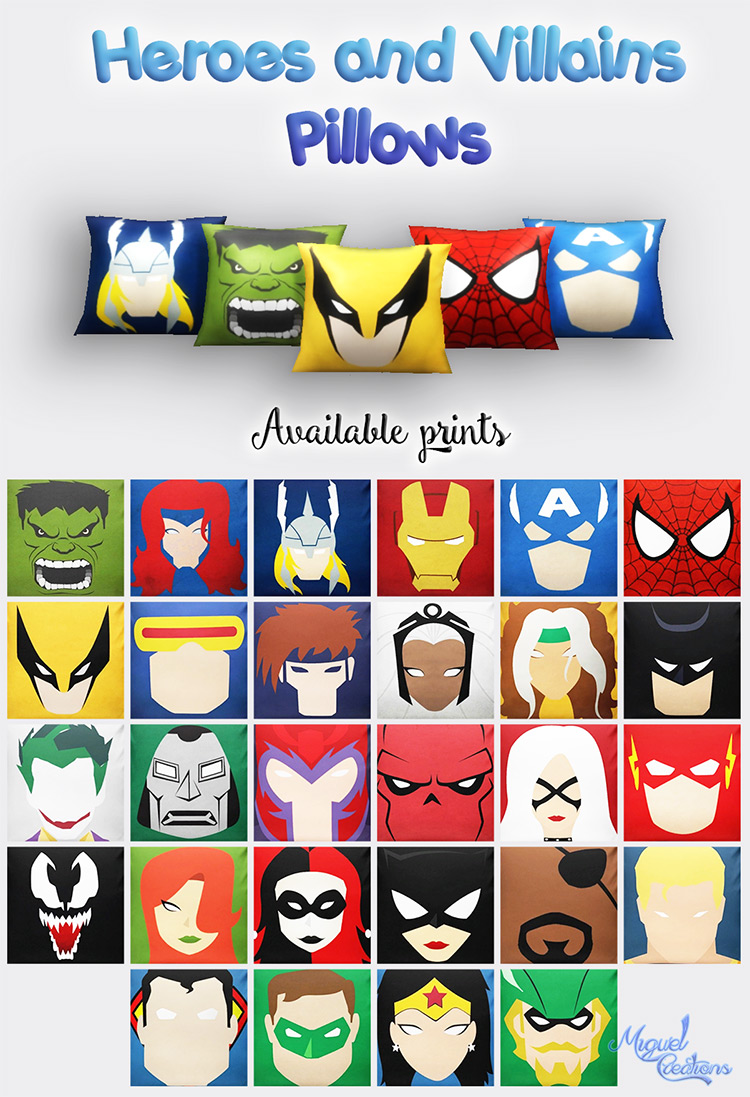 Do you like superhero stuff?
Nerd!
Nah, I'm just kidding – I like superhero stuff, too!
I think pretty much everyone is fond of at least one character, whether they're a hero or a villain.
And both are available in these super cool pillows. See what I did there?
All the DC and Marvel characters everyone loves (or loves to hate) can now decorate your Sim's home.
Spiderman, Batman, and The Flash are just a few examples.
Every one of these pillows is made really beautifully – probably more so than you could hope for any real superhero pillow.
14.

Cute Pillows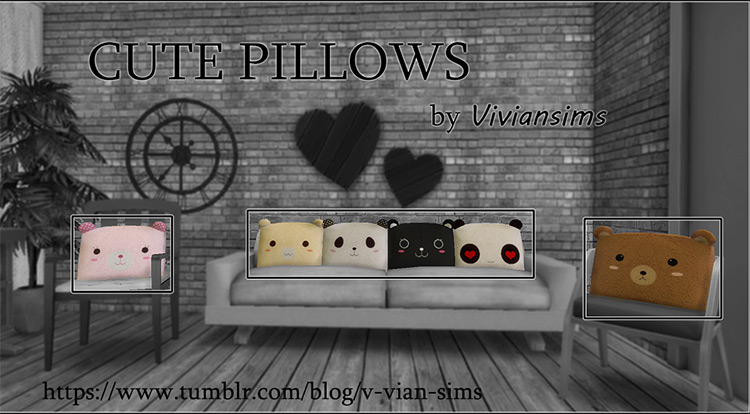 We just can't end this list without more critters.
Each of these six pillows made by v-vian-sims is a different adorable bear.
And there's quite the variety to choose from, including the classic brown bear, panda, black bear, one with heart eyes, or pink and yellow bears.
I really want one, or maybe all six, for my own real-life bedroom now.
15.

Autumn Vibe Set
Nothing makes me feel fuzzier than autumn decor.
I have to force myself to move beyond it every year.
Our Sims are blessed to be able to stay in fall forever, if you just never let the year progress.
And now you'll never run out of fitting pillows, either.
There are 112 swatches of fall goodness here, so you can keep that aesthetic going strong.
The pumpkin one on a checkered background in particular is so beautiful, it nearly brought a tear to my eye.
Okay, so maybe I'm being a little extra… but I really love this decor!
The color palette of autumn – yellows, oranges, reds, browns – it's all just so comforting and relaxing.
And there isn't much to decorate with for fall in The Sims 4, not even with the Seasons pack, so I love seeing any CC like this.
Browse:
Lists
The Sims 4
Video Games