Best Sims 4 Pirate-Themed CC & Mods: All Aboard To Treasure Island
This post may contain affiliate links. If you buy something we may get a small commission at no extra cost to you. (Learn more).
Give your best Arrrrg and pull up the anchor! We're setting sail to find some of the coolest Sims 4 Pirate-themed custom content.
From eyepatches to pirate hats, cups to bedframes, and even getting your hands on your very own boat.
I mean, come on. Who doesn't want their own boat?
Follow this treasure map down this list and you'll have some of the best Sims 4 riches you could imagine.
10.

Multi-coloured Eyepatches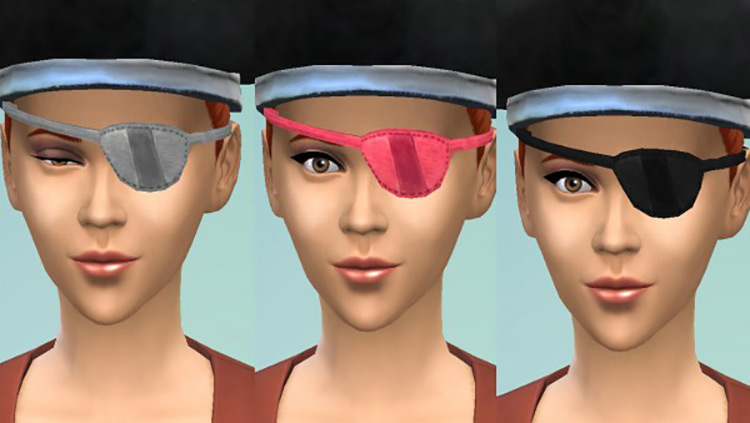 What's a pirate without an eyepatch? You're telling me you can spend a lifetime on the seas and not develop poor eyesight?
Not this pirate!
But we don't just want any old eyepatch.
There are a lot of pirate eyepatches out there, but our favorite CC is this one by NecroDog.
Coming in three distinct colors, this stylish addition will go with any outfit, while also giving you definite "I'm coming to steal your treasure" vibes.
9.

Skull and Cross Bones Cups
Even pirates get thirsty.
After a long day all you want to do is dock the boat, head home, and pour out a stiff one.
Where better to stash your finest booze than in one of Kardofe's skull and cross bones mug!
Drinking in The Sims has never been more on brand.
If you're one of those rare pirates that knows how to read, a book of the same design is included.
8.

No Trespassing Sign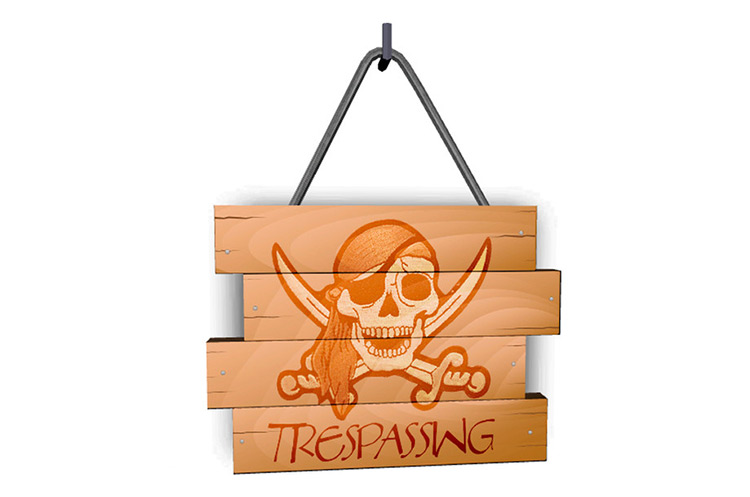 There's no better to warn a neighbour that your plunder is not for sharing than with a 'Keep Out' sign.
Another design coming in by Kardofe, this creator is a certified sea dog.
The classic pirate skull is artfully backed by two crossed swords. Bottom line: this Sim pirate is not to be messed with.
7.

Parrot Perch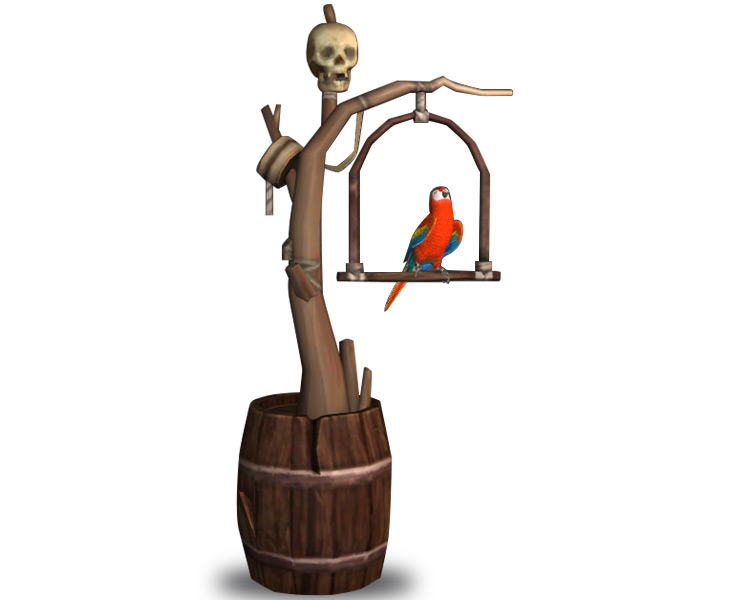 If dogs are a man's best friend, then the same goes for parrots and pirates.
Think spooky tree CC is just plain awesome, occupied by a blue, green, and orange parrot. The smooth design by BigUglyHag will bring any space to life!
Just be careful what you say around him, I think he might be listening…
I love the addition of another skull on top, combined with the barrel that looks like it was just rescued from the bottom of the ocean. Really staying true to the pirate brand.
Don't leave your furry friend out in the cold here. You're gonna adopt him… right?
6.

Bedroom Pirate Pack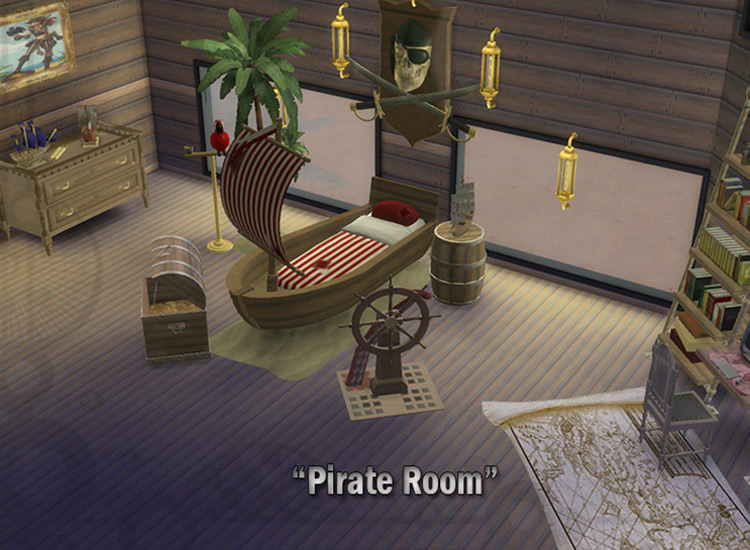 Everyone wanted to be a pirate at some point in their childhood.
Don't let that dream fade away.
This full room design by Gazoul will bring your little Sim tyke's fantasy to life.
With a whopping 19 objects total, most coming in 5+ colors, this is an ultimate CC download for a pirate-themed room.
Do you fancy a treasure chest of gold? How about a bed made into a boat?
Or if you're more of the floor decorating type, it even comes with an ocean map carpet. Gazoul really has thought of everything.
If you want to bring a pirate-themed rooms to life, this CC has got you covered.
5.

Set Sail Wallpaper
Where there's a wall, there's a way!
This Higgledy Piggledy wallpaper by Matomibotaki is a beautiful sea theme. With a pirate boat, island, and plenty of ocean creatures, this wallpaper will light up any room.
Nothing screams "I'm a pirate" like anchors all over your room.
Matomibotaki has also created this wallpaper in three unique colors!
Take a sail on this great blue sea. Or green. Or orange… you get the point!
4.

Pirate Sweetheart Costume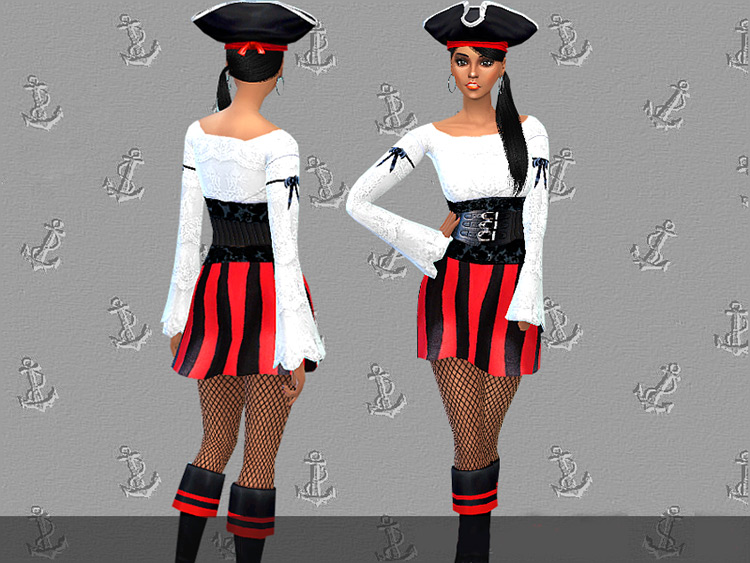 Pirate – but make it fashion!
Renowned in The Sims world, CC artist Zuckerschnute20 does it again, bringing us this cute Pirate's Sweetheart CC Set.
With a pirate's hat, white top, black courses, and black and red shirt, this girl is ready to board.
You'll even have boots to match. Walking the plank has never looked so good.
Just make sure to hold your nose before you hit the water!
3.

Captain's Hat to end All Captain's Hats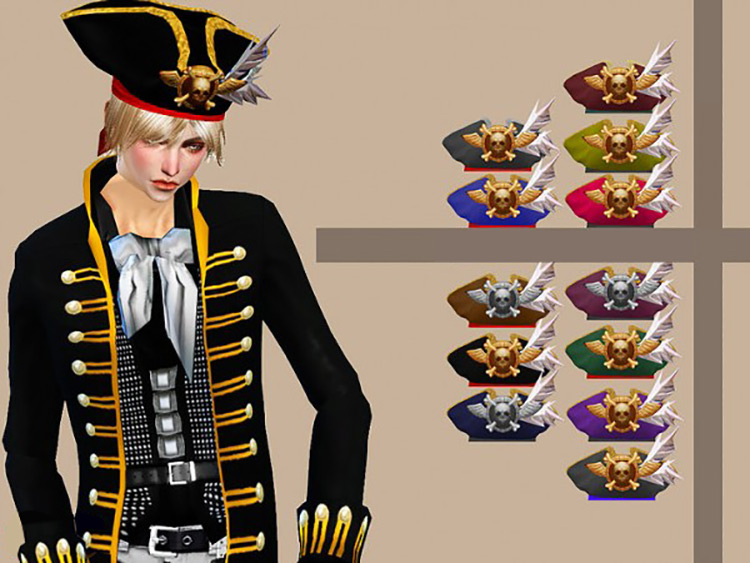 You've heard of a pirate hat.
I mean, if you haven't you probably wouldn't be reading this list. It's pretty much the first rule of pirate 101.
But no one does pirate hats quite like user Studio K Creation. With a skull and crossbones buckle and a feather to boot, this hat is fit for a captain.
Coming in 12 different colors, Studio K Creation has made sure you'll be the most stylish pirate on the seven seas.
2.

Santa Maria Pirate Ship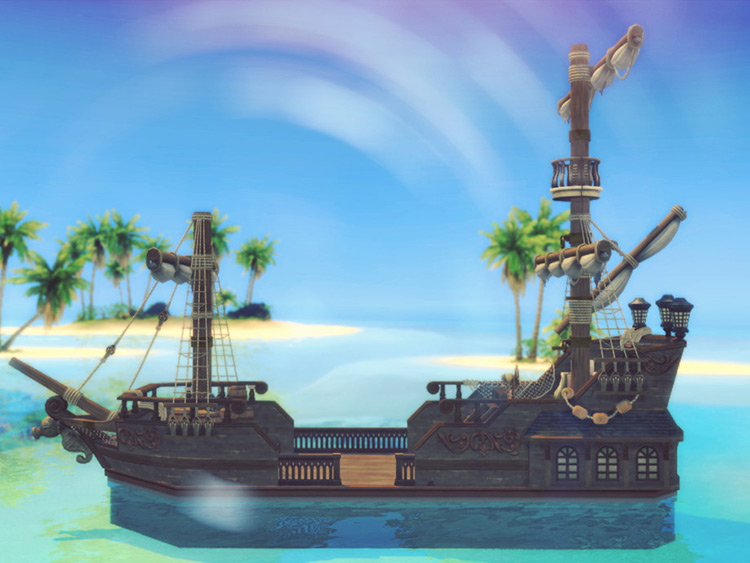 Coming in as runner up, Summerr Plays' Santa Maria is coming into port.
What's a pirate without a ship?
On land you'd just be a person with a peg leg!
You've got the gear, you've got the matching pirate bedframes, now it's time to set sail.
A beautiful dark wood ship with arching windows and billowing sails, creator Summerr Plays has created a pirate's dream mod right here.
Pack your swimmers, head to Sand Simolean beach, and climb aboard.
1.

Pirate King and Queen Outfits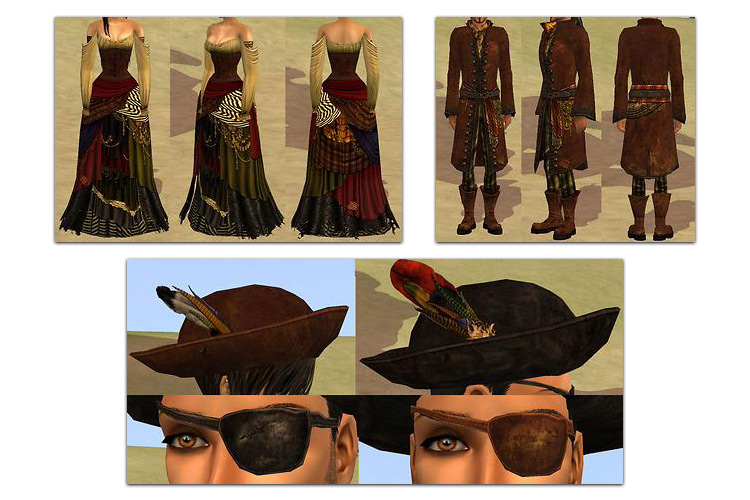 Throw down the anchor, we've reached the treasure!
Coming in first place is pirate royalty we've got this clothing CC set. Of course, there can only be one pirate King or Queen.
Will it be your Sim?
Content creator Sherahbim walked right off the ship and into our hearts. These costumes, fit for any sim, are decked from head to toe. With over 16,000 downloads in total, the community response has been fantastic.
Coming with hats, eyepatches, outfits, and feathers, Sherahbim ticks all the boxes. From individual buttons and multi-fabric patches to undershirts and stripy leggings, this look screams pirate.
The detail is incredible, individual seams and bits of rope integrated into the design of the clothes really stand out.
And tiny tears and patches in the clothes give a real rough and rugged feel. You can tell Sherahbim put so much work into creating the perfect pirate costumes.
You wouldn't want to come across these sims on the high seas.
It's hard deciding between so many talented creators, but it's only right that royalty takes the crown!
Browse:
Lists
The Sims 4
Video Games