The Sims 4: Best Pixie Haircut CC To Try Out (All Free)
This post may contain affiliate links. If you buy something we may get a small commission at no extra cost to you. (Learn more).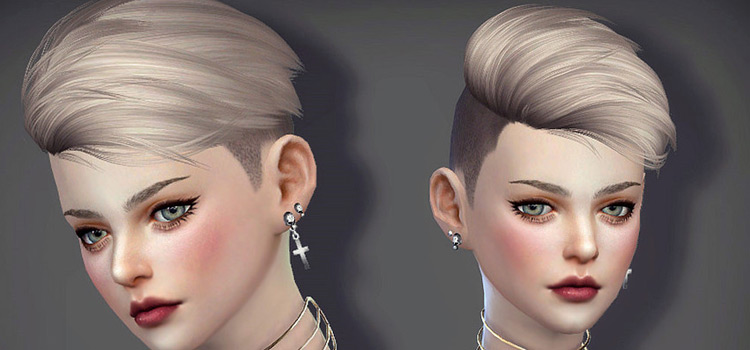 Welcome to our definitive collection of the best pixie haircuts for TS4!
The first step to owning these looks starts with embracing the tagline "short hair, don't care."
The second step is choking any regrets that may come afterwards.
Getting an extreme trim could be the best thing you've ever done, or the worst decision you've ever made for your Sim.
Nevertheless, it all boils down to your determination to try something new and exciting for once in your Sim's life. So let's see what we can find out there.
We Can't Stop Hairdo
The release of "We Can't Stop" was the catalyst to Miley Cyrus' hedonistic rampage back in 2013.
From twerking at the MTV Video Music Awards to riding a wrecking ball naked, Miley proved that she couldn't be tamed.
And during this whirlwind of events, her platinum blonde pixie cut became the symbol of this iconic era.
If your Sims are also transitioning from beloved child popstar to wild starlet then this CC would help solidify their rebellious persona.
Eric N22
One of the things I love about the pixie hairstyle is how versatile it is.
You can be sophisticated, cute, feminine, androgynous, even handsome if you consider getting this undercut pixie!
Flex that gender-fluid look with a low-maintenance do courtesy of this Eric N22 CC, which comes in 18 colors.
EA Bombshell Hair
I have no hate for long hair.
But as shown by Rapunzel in Tangled, it could be a pain to manage.
Sure, you may not have 70-feet long hair. But compare that with a pixie cut?
There's no competition.
Take this EA Bombshell Hair, for example – with this hairstyle, you would be able to save up on your shampoo and conditioner usage.
Plus you won't even have to bother combing or brushing your hair because it'll still look that good right after stepping out of the shower.
Don't believe me? Try it out and see what you think!
Paris Hair
Trying to pull a Michelle Williams on your Sims?
Say no more – this CC has got their scalps covered.
Highlight your Sim's facial features with okruee's Paris Hair CC, which comes in 24 colors in total.
With side-swept bangs and a layered trim, your Sim can enjoy a quick transformation from simple girl-next-door to elegant A-lister.
Oxygen Hair
Ever since Karens started terrorizing the world, asymmetrical pixie bobs have become an off-limits hairstyle.
As much as others want to try it out, they risk inviting trolls to hound them online just for having the same look as the entitled and ignorant population of the world.
However, there is a workaround for this in the form of Nightcrawler Sims' custom Oxygen pixie hairdo.
Turn that cringey Karen look into a Charlize Theron-inspired hairstyle suitable for any gender – and available in 22 colors.
Magic Curly
If there was an era where this hair was all the rave, then it'd have to be the 2010s.
Back then, the hipster trend was at its peak, with Tumblr being its main cheerleader.
People were suddenly growing out beards, getting tunnel piercings, and spending way too much time at cafés drinking flat white.
During one of those coffee runs, you've probably also seen a local barista sporting this Magic Curly hairstyle at some point.
Admit it, you found yourself thinking those hipsters looked cute once upon a time.
Alex Hair
At some point in our lives, there will come a time when boredom takes over. And suddenly, you're at the salon demanding a pixie cut.
While you wait for your hairdresser to work their magic, you hope against hope that the impulsive decision might work in your favor.
But we simple humans sometimes get the short end of the stick and end up looking like Katy Perry circa 2017 rather than Scarlett Jo.
On a positive note, Sims don't experience these unnecessary beauty roadblocks – as long as they have the perfect CC on hand, like this custom hair from Simduction.
Lyra Hair
Sometimes, the biggest beauty statement you can make is chopping those locks as short as you possibly can.
Trust me, nothing feels more liberating than cutting burdensome hair that only ends up with split ends.
So let's help your Sims embrace freedom in style by getting this Lyra Hair, available for your female or male Sims!
Andy Hair
Not everyone can pull off short hair.
But this CC is literally made to have your Sims look damn good in it.
Get that Hollywood-quality hairstyle for all ages and genders with this CC made by SonyaSimsCC.
Now you can just have your Sims wear some hoops and makeup, and they're good to go for the red carpet any day.
WINGS-OE0912 Pixie Hairdo
A Sim who looks like Ruby Rose?
What is this, heaven?
Now you can easily nail a girl crush concept for your Sims by getting this CC from wingssims.
And with 20 different colors available, there's no shortage of options to try out.
Browse:
Lists
The Sims 4
Video Games