Pizzeria Restaurant CC For The Sims 4 (All Free)
This post may contain affiliate links. If you buy something we may get a small commission at no extra cost to you. (Learn more).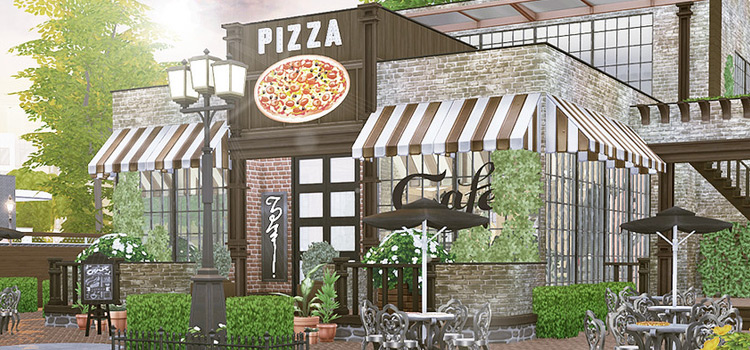 Who wants pizza?!
Your Sims can easily build their own old-fashioned pizza restaurant in your favorite neighborhood in TS4. Perfect for fun family outings, awkward first dates, or a big birthday blow-out bash. This can be a great place for Sims to hang out in any season.
And to stock up on the best additions to your new pizza restaurant, you'll need the best pizza-related CC from across the Internet.
That's what we've collected right here.
So grab a slice of this custom content and start building your own pizza parlor.
1.

Mini Pizzas For Restaurants (15)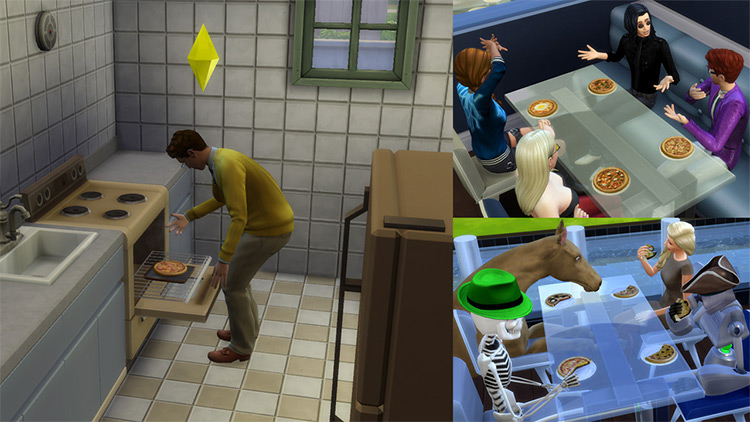 What's a pizza restaurant without… well, pizza!
This amazing mod from necrodog allows Sims to create a variety of 15 brand new mini pizza flavors for dinner guests to enjoy.
Flavors range from Mini Pepperoni to Mini Vegan Margherita pizzas for the vegetarians (plus plenty more).
And best of all? This mod is perfectly functional in neighborhood lots, so you can even use this to create your own mini pizzas at home.
2.

Pizzeria Conversion Set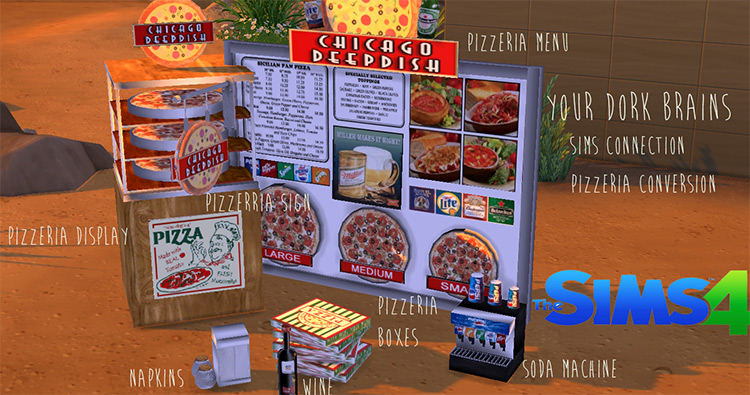 Here's a custom CC set that's actually a conversion from TS3 to TS4 by YourDorkBrains.
You'll basically get a bunch of cool pizzeria stuff like signs and menus and whatnot.
It's ideal for any downtown pizzeria in the city, and this set really includes everything you'd need. From the pizzeria displays, signs, and menus, to pizza boxes, wine, napkins, and even a soda machine – a staple for any self-respecting pizza restaurant.
You can find this new stuff under the Clutter and Miscellaneous Décor sections of the Buy Mode menu to deck out your pizza restaurant in style.
3.

Funny Kitchen: Time To Pasta And Pizza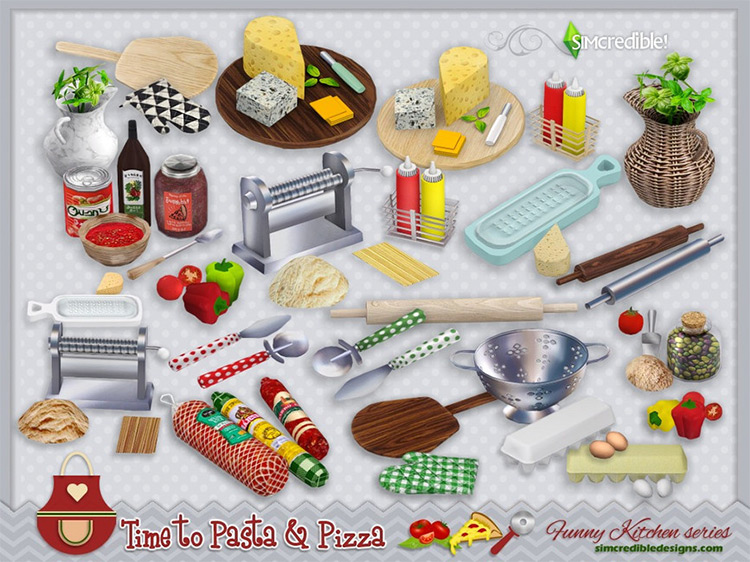 This clutter deco set from SIMcredible! adds a huge variety of pizza-themed décor to the game.
From tomato sauces and pasta makers, to utensils and pizza cutters, and even some custom condiments and ingredients like eggs, cheese, and peppers… it's all here to make your delicious TS4 pizzas.
There are 14 different creations to choose from, and they'll all help deck out your pizzeria in style.
(Note that these ingredients are only for decoration, so they won't be usable as actual ingredients in your Sim's cooking)
4.

Rustic Clay Oven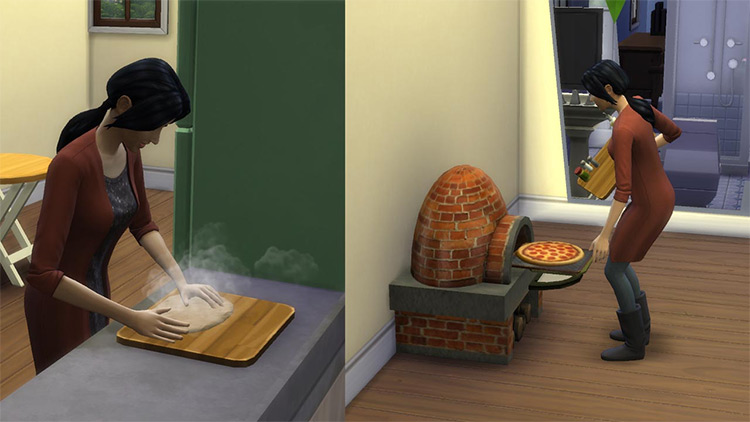 Yep, a classic rustic clay pizza oven made by CC creator necrodog. This is a brilliant addition to any pizzeria kitchen (or heck, even to your Sim's house).
Coming in 5 different color swatches from brick red to yellow-green stucco, there's plenty of textures to suit your restaurant's interior design.
The CC also includes visual fire animations for the most realistic cooking experience yet.
And naturally, you can also purchase this for use at home (assuming your Sims are rich enough to own a pizza oven).
It could be great for al-fresco dining, where anyone in the household from toddlers and up can use this thing for delicious homemade pizzas whenever they want. Granted, maybe it's a good idea to keep toddlers away…
5.

Pizza With A Sauce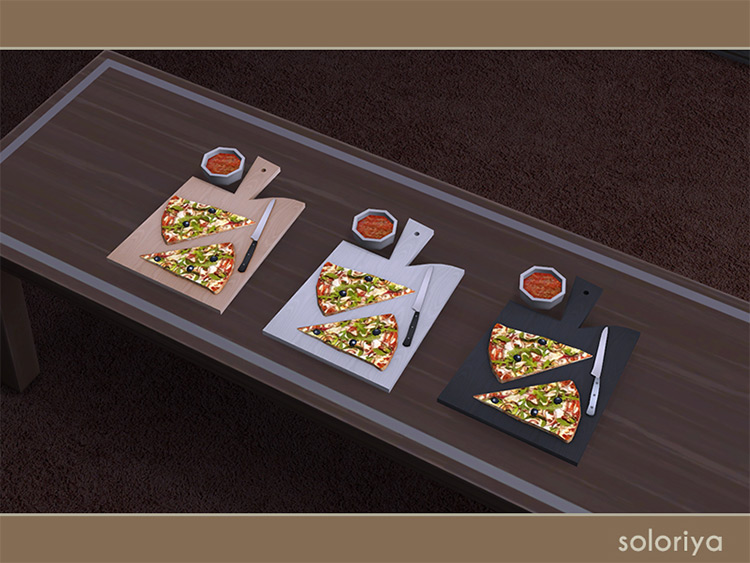 This simple design from soloriya allows you to place separate pizza slices, complete with a sauce and a knife, on a cutting board. All as a part of the decorative clutter section of TS4's Buy Mode.
And since it's only decorative, Sims can look at this tantalizing piece, but can't touch!
Although sometimes that's all you really need.
Coming as part of a Snack Time design set, this set includes 3 different color variations for 3 different pizza toppings to mix and match.
6.

Maya Tablecloth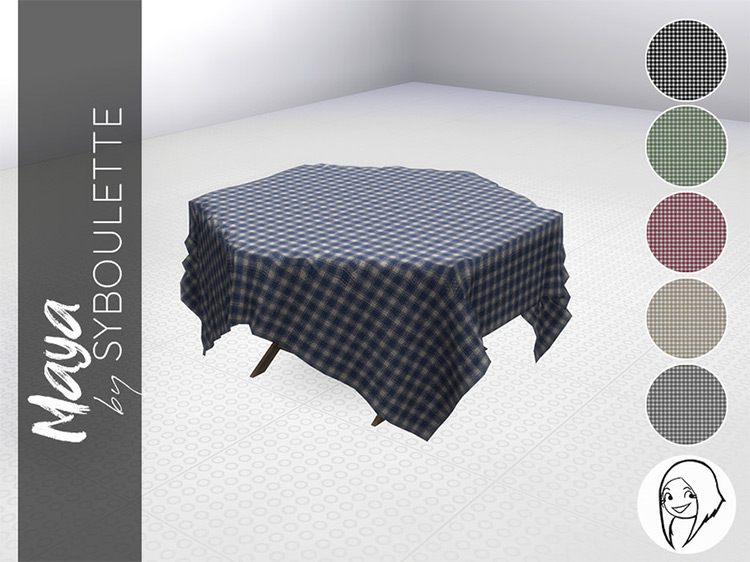 Nothing screams "pizzeria" quite like the classic red-and-white plaid tablecloth.
You know the one.
And this cute design from Syboubou is a simple fabric textured tablecloth with a rustic Vichy pattern, and it's designed to fit the Maya outdoor hexagonal table as part of the Maya Outdoor set.
This tablecloth will look great for indoor dining with a single candle and rose à la Lady and the Tramp, or it can work for romantic outdoor dining under the moonlight.
7.

Food Wall Decals Set
This collection of eye-catching wall decals from Pralinesims is the best way to showcase your pizzeria to the neighborhood.
This CC set comes with 2 different pizza design swatches, and they're pretty big.
Plus this set also comes with some sushi swatches (in case your pizza restaurant ever decides to branch out!)
And honestly, how else would Sims know that you're serving pizza without a giant vinyl pizza graphic slapped onto your restaurant's front window?
We're running a restaurant here, this is no time for subtlety.
8.

Chalkboard Variations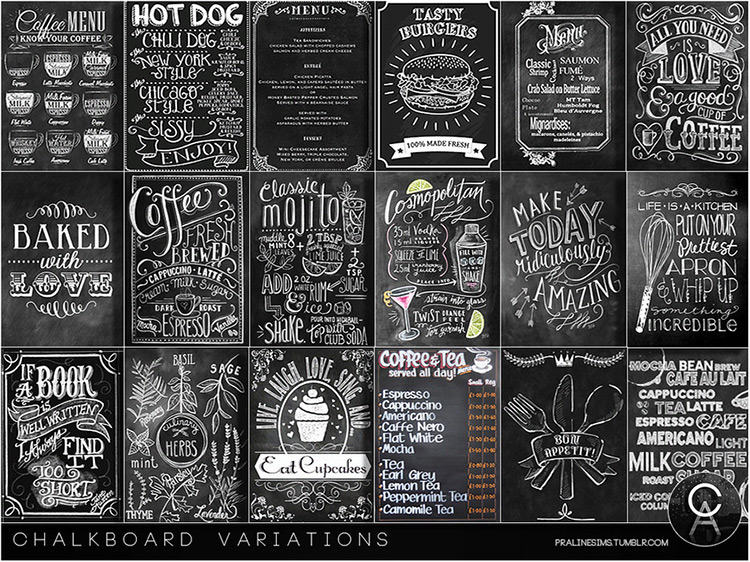 Just like a brick oven goes well in a pizzeria, so does a restaurant-style chalkboard.
This decorative variation of chalkboard designs from Pralinesims offers a cute way to add cocktail menus, the daily specials, or even a sweet affirmative message to your pizzeria's interior.
The CC comes with 18 different design swatches to choose from, and you can apply these chalkboards anywhere in your lot – all without ever worrying about using the same design twice.
9.

Pizzeria CC Set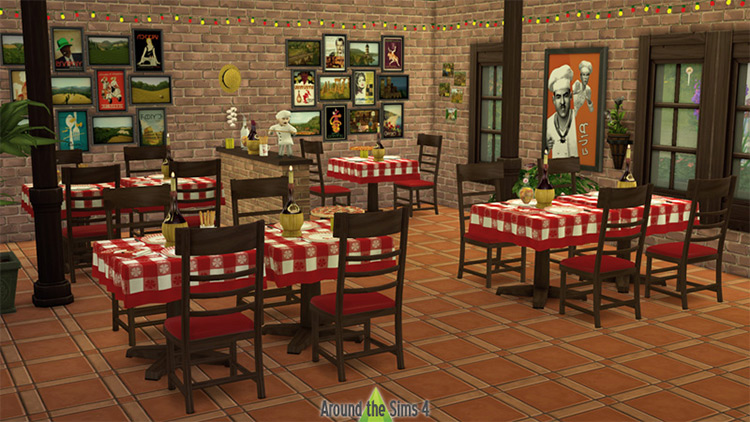 Yes, there really is an entire CC set dedicated to building a pizza restaurant.
And this custom Pizzeria Set is a mesh conversion from TS3 to TS4, so some of this stuff might look familiar.
But it's a fantastic all-encompassing CC pack to incorporate into your Sim's pizza restaurant.
This has everything from basic necessities like tables and chairs, to décor and clutter like twinkly lights, bottle candles, and even a mini pizza chef figurine for the countertop.
Anyone who needs a full pack of custom pizza-themed stuff should look no further than this set.
Browse:
Lists
The Sims 4
Video Games