Sims 4 Plaid Shirt CC: The Ultimate List (Guys + Girls)
This post may contain affiliate links. If you buy something we may get a small commission at no extra cost to you. (Learn more).
The plaid pattern has experienced lots of ups and downs.
I'm no historian, but I watch a lot of television and that's pretty much the same thing – but even folks in the '50s occasionally wore plaid.
Usually it was the simple red and black checker pattern, and it was almost always connected to doing something outdoorsy like camping or hunting. But we've come a long way since then.
Back in the '70s, folks wore plaid suits and shockingly busy pants. By the '90s, it was all about shirts and that's the way it has been ever since.
Plaid attire comes in all sorts of shapes, sizes, cuts, and even the pattern itself has gone through a bit of a revolution.
But some will always stand out more than others. And in this collection, you'll find the best custom-made plaid shirts that The Sims 4 fandom has produced.
1.

Accessory Tied Shirt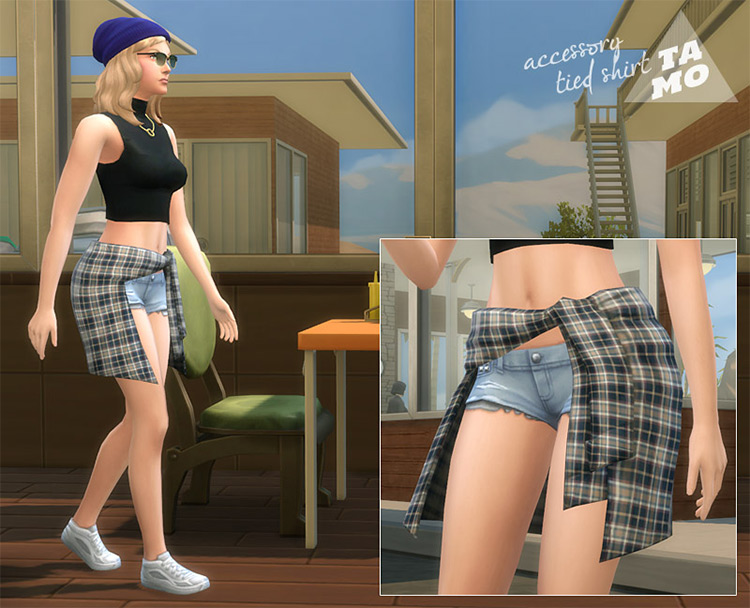 To kick things off, we've got a plaid shirt in its natural habitat: tied around someone's waist.
They're great when worn normally but all too often, the weather takes a shift and they're a little too warm or maybe an unexpected task comes up – and the last thing anyone wants is stains on that lovely pattern.
And of course, there are those who intentionally start off using a shirt as an accessory, because it just looks cool.
This Simmer has made it super versatile, since this version is categorized as a ring! So your Sims can still wear glasses and hats and whatnot.
Twelve(12) of these swatches are plaid, and they really look fantastic.
They're totally Maxis Match too, so you can easily pair them with any content already in the game.
But best of all, they aren't limited to the ladies (unlike the original which was part of a female outfit from Outdoor Retreat).
Nope, this CC is a totally standalone base game item for both men and women.
2.

Plaid Rolled Sleeve Shirt (Unisex)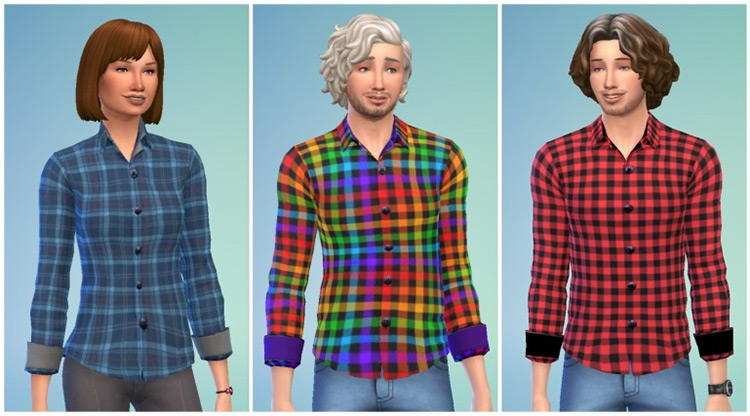 Here's another unisex option.
And this time, it's a regular button-up.
This is such an epic recolor that I didn't even realize that's what it was at first, I assumed it was a new mesh.
It just so happens this creator gave the base game top the makeover it was apparently so in need of.
There wasn't anything wrong with original per se, but these colorful plaid options sure are a fresh take.
And these will work for a diverse range of Sims. Plaid transcends the boundaries of label.
Some of the designs feature smaller and more compact patterns, while a lot of others have the typical big, boxy squares. A couple of multicolored variations are included too – as well as a lot of simpler but equally beautiful color schemes.
3.

Buttoned Flannels
It's never been clear to me whether plaid and flannel was the same thing… and evidently flannel refers to the fabric, while plaid is a print.
Makes sense
Well this shirt has been among my most used CC for years.
The rugged, rustic, cozy feels just can't be beat.
MarvinSims included mostly masculine plaid prints and color schemes, and each one honestly is special.
With 10 patterned swatches and 6 solids, the worst part about this creation is having to choose just one while dressing your Sim!
But to get the full effect, you can even download the undershirt accessories for an extra element of realism (check the description). They'll still look great without another layer, but somehow, that small patch makes a big difference in the vibe.
There are two dozen options for the undershirts so you'll have even more freedom with your Sim's appearance.
They can be mixed and matched with the flannels in all sorts of ways.
4.

Elaine Shirts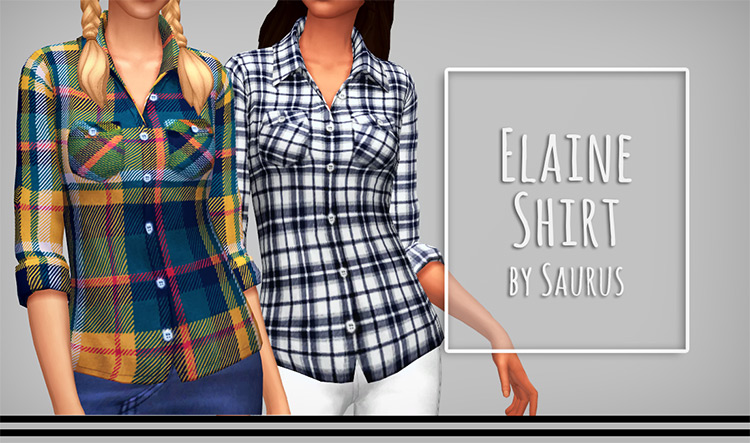 The plaid is plentiful here, with two separate shirts available in tons of swatches.
First, we have a typical buttoned blouse.
The rolled sleeves will sit near your Sim's elbows and it'll taper to her figure. It's truly amazing how this Simmer managed to get the texture so realistic, while maintaining that Maxis Match look.
Without skilled creators like SaurusSims, we'd still be lacking so many feminine tops (like these!)
And as for the second version, well, it's kind of a game changer.
In terms of fashion capabilities, anyway.
Your Sim will look better than ever before with the tied tops that are just the right height to line up with most jeans, skirts, and shorts.
5.

Men's Open Checkers Shirt
Perhaps the enduring nature of plaid shirts is due to their flexible design.
We've already seen them as an accessory, buttoned up, and tied.
Now another staple is available to your Sims, in the form of an open shirt!
This is about as cool and casual as it gets for guys.
Shirts like these go with literally all bottoms, from shorts to jeans and khakis, whether they're bootcut or rolled at the ankle.
It's a free-for-all.
This look has been popular for a long time – and it's suitable for Sims from all walks of life. An artist from San Myshuno will look just as good in any one of these as a farmer in Henford-On-Bagley!
The end result is really all about what you pair them with.
For a youthful look, ball caps and sneakers are the answer. While if it's a more old school masculine feel you're after, faded jeans and boots are what you'll need.
6.

Oversized Shirt For Females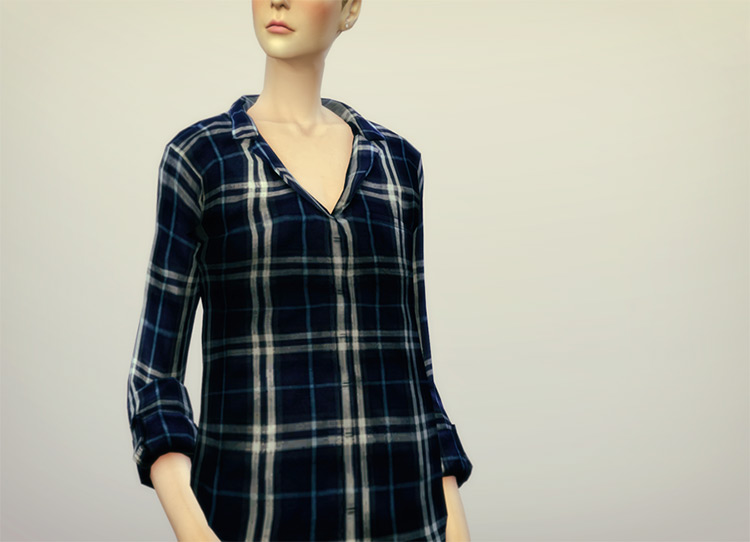 Plaid shirts are a lot like sweaters: they were practically made to be worn baggy.
It's hard to top that comfy feel.
A lot of folks worry that oversized clothes look frumpy, but the thing about plaid is that it's almost impossible to look bad. They stand really well on their own, not as boring as a plain tee nor as complicated as a fancy blouse.
It can be really frustrating how Sims clothes are basically all tailored to fit them. In some ways that's great, because the clothes can be worn by any Sim regardless of their size.
When you want a fashionably oversized top, on the other hand, you're mostly out of luck.
And then there are a few gems out there like this, right from the players themselves. These are really high quality and exactly what I personally have always wanted out of an oversized plaid shirt.
For country girls and alternative girls alike, this is just what they've been missing!
7.

Pretty In Plaid Shirt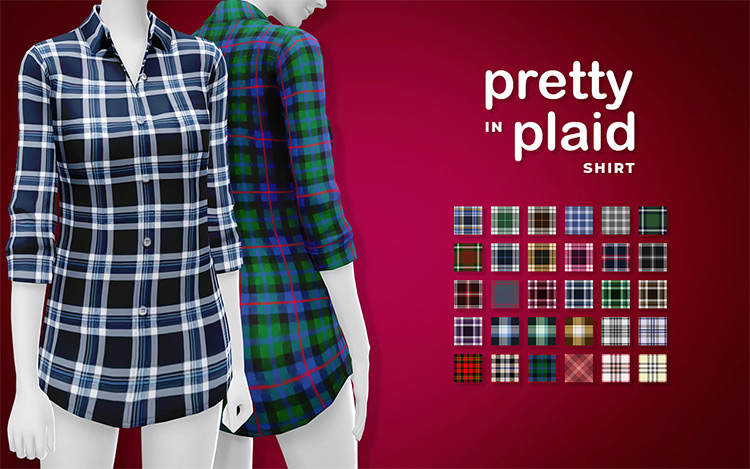 Truthfully, this CC is any plaid lover's dream.
All 30 swatches incorporate that print, in different sizes, shapes, and colors. They suit this oversized top really well, which is actually based off of the base game shirtdress.
I've always thought that it needed a little more. If you're unfamiliar with the original, it's the one with a few striped swatches.
Well, clearly what's been missing were over two dozen additional options with plaid!
Since this is still categorized as an outfit rather than a shirt, you'll have to improvise a bit with leggings or other accessory bottoms.
Unless you're cool with your Sim wearing this, and only this. That's always an option, of course.
8.

Riptide Tops
Here are some more stylish tied tops.
These have a modern cut and the sleeves of the plaid shirt are rolled up by the elbows. A form-fitting long sleeve shirt is layered beneath each of the tied tops.
This makes things a little simpler if you aren't into accessory tops or get overwhelmed by them. Plus the work is done for you here, and each swatch has a clean look.
And not one of the buttons here is fastened. So it has a pretty laid back vibe.
Maybe it's just me, but whenever I see a gap exposing part of the chest like that, I'm eager to pick out some necklaces.
9.

Open Flannel Shirts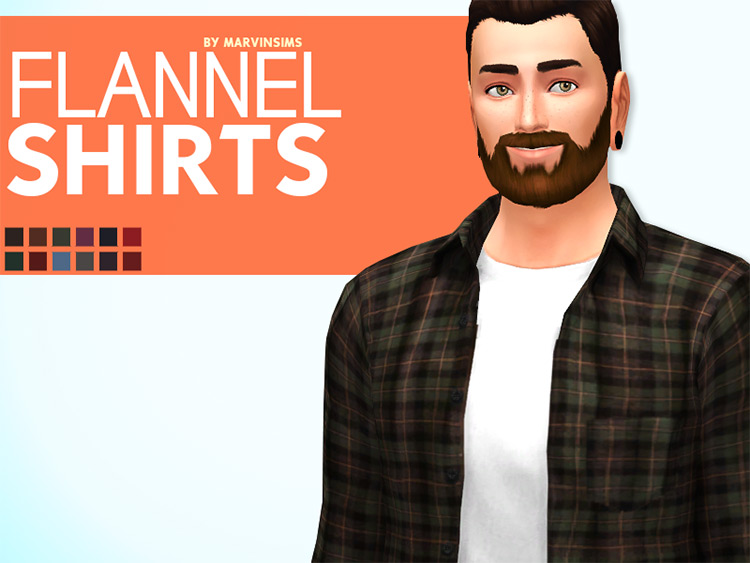 We're all blessed that MarvinSims made multiple types of flannel shirts for us.
Some of his work has already been seen here, with those awesome buttoned shirts above.
Well those buttons are just decorative here.
But these shirts are fully open – and each one has a simple white tee beneath.
The plaid patterns are rightfully the star.
They're as casual as the creator himself says they are, and will be a perfect addition to your CAS wardrobe. Basic but stylish clothes are always good to have plenty of!
10.

Fall Flannels
It's always kind of a bummer when summer ends.
No more trips to the beach, barbecues, or afternoons spent in the pool.
All around, the changing seasons can be a somber affair. But you know what makes that transition easier?
At last, the great clothes that would've been a health hazard back in July can be enjoyed again!
Cozy sweaters, cardigans, and of course flannels are all autumn staples that many people can't wait to pull out once the temps drop.
This creator made some custom autumn flannels in several variations, so you as the player have ultimate control and can choose exactly which package fits what you want.
There are overlay and accessory options too. So you can pair these with other accessory tops, as well as tucked and untucked versions.
11.

Rachel Amber Flannel Recolors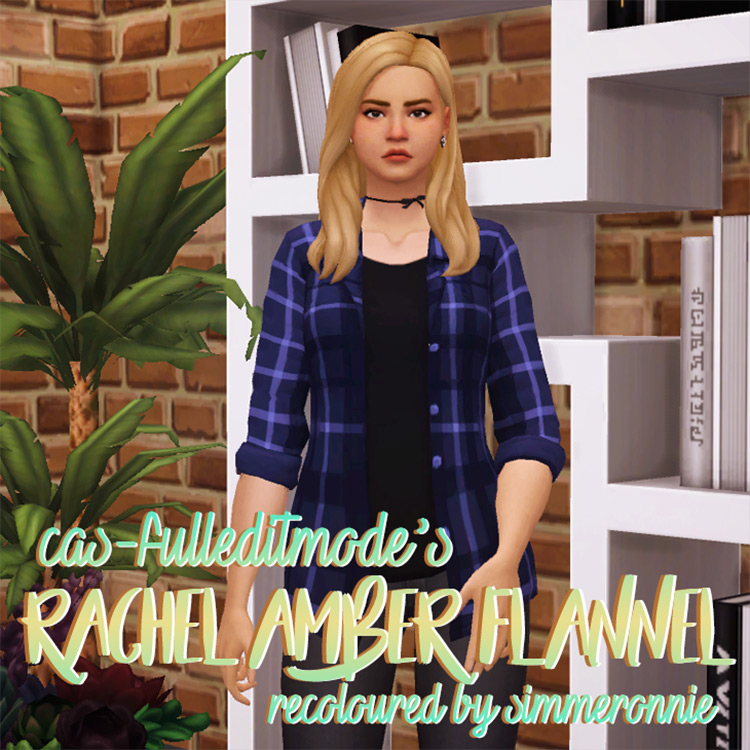 At first I thought this was an attempt to start a Sim fashion line, like how in real life we have Kate Spade and Liz Claiborne.
But no, I'm just out of the loop – and these shirts were inspired by (and named after) a character from the game Life is Strange.
In any case, these shirts offer some awesome flannels for women.
The original version from creator Cas-fulleditmode is fantastic. They're loose, open, and have a general faded look that's really authentic.
However, Simmeronnie gave them some lovely recolors in this CC.
These new swatches are a little bolder, brighter, and with 20 of them total, there's certainly no shortage of colors to try out.
12.

Perfect Patio Open Layered Shirt In Plaid
As just the second stuff pack released for The Sims 4, Perfect Patio is a little lighter on content than we're used to seeing now.
For that reason, it gets a little overlooked now, over six years later.
But it still has some good additions, particularly in CAS.
The overall concept of the pack is focused on patios, and the fun that can be had right in a Sim's own backyard. So the clothes are appropriate for chilling with friends outside.
This short-sleeved open button up definitely needed a plaid makeover.
And MonoChaos executed it flawlessly.
All 10 swatches have a black tee beneath, but the plaid pattern is available in lots of bright tones.
13.

Layered Flannels
Here's some more plaid-patterned shirts with a fall theme.
These have the most lovely cable knit sweater beneath. It's becoming clear that a big part of why this print is so widely adored is thanks to the color capabilities, and what SimmieV has done is some of the best.
All of the colors incorporated into these shirts complement each other so well, and will really make your Sims both look and feel ready for autumn.
Whatever the HarvestFest season brings, only good things can come from using these flannels.
Even when those violent pyromaniac gnomes invade your Sim's home in the middle of their Grand Meal, at least they can stay calm and collected and handsome in their flannel.
That's what really matters.
14.

Classic Plaid – Rolled Sleeves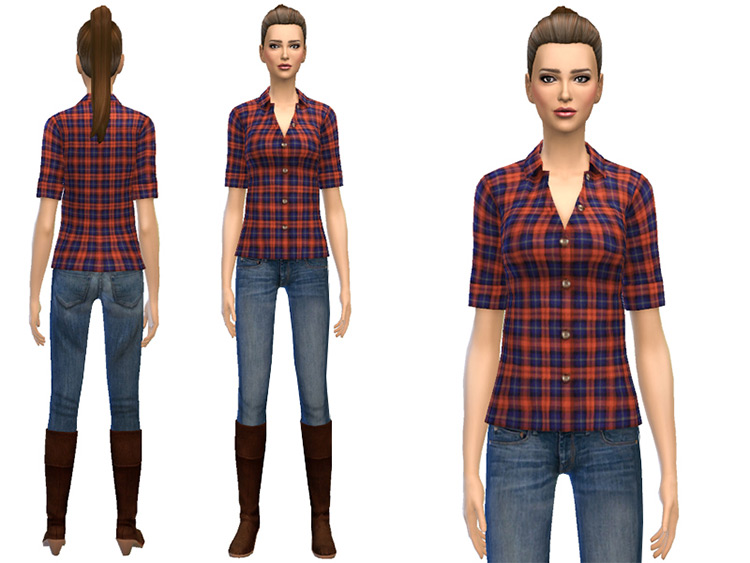 Further proving that most base game clothes look strangely right with a plaid print, creator SimDetails did a lovely job updating this blouse.
It's a timeless look through and through.
Sims from all walks of life can pull this off with little to no effort from you.
Since it's as much of a wardrobe staple these days as t-shirts, there are plenty of pants, shorts, and maybe even some skirts in CAS that'll go well with it.
You'll get a lot of use out of it if you like plaid in general. With such a simple style, it's definitely among the most versatile tops for female Sims.
15.

Laid-back Shirts For Men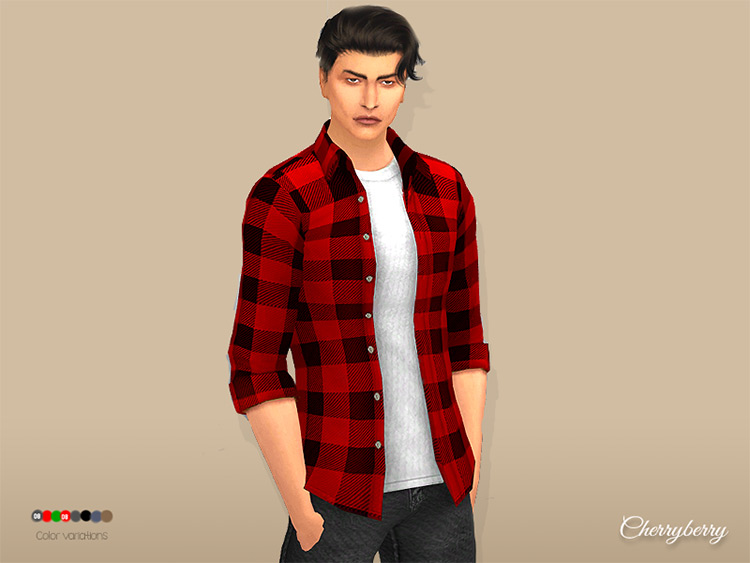 CherryBerrySim gets straight to the point with this top.
We've pretty much established that plaid does the trick for most casual ensembles, and this is a perfect low key option just for the guys.
The classic red flannel design is featured here but there's green, blue, gray, brown, and black as well.
Basically it's the most masculine color palette one could ask for!
For a rugged touch, these shirts are a great candidate.
You also get a relaxed fit with this design. The rolled sleeves will serve your Sim well through most of the year, while the knit-textured undershirt can add some warmth in the colder months.
Browse:
Lists
The Sims 4
Video Games