Sims 4 Platform Shoes CC: The Ultimate Collection
This post may contain affiliate links. If you buy something we may get a small commission at no extra cost to you. (Learn more).
In this world you're either tall or short.
Luckily, humanity found a way to make everyone taller for as long as their ankles could tolerate it.
Enter the platform shoes: a kind of footwear so steep it could literally level you up to heights you never thought you could reach before.
The trend has come and gone over the years, but it's here to stay in TS4.
Elevate your look with the ultimate collection of platform shoes available online!
Platform Slippers
Relieving insecurities about one's height can be a long journey, but it all starts at home.
From waking up, taking a dump, and cooking meals, you can use these platform slippers to build a perfect illusion.
Before you know it, your Sims will be confident enough to strut around the neighborhood with their head held higher than usual.
Madlen Markiz Shoes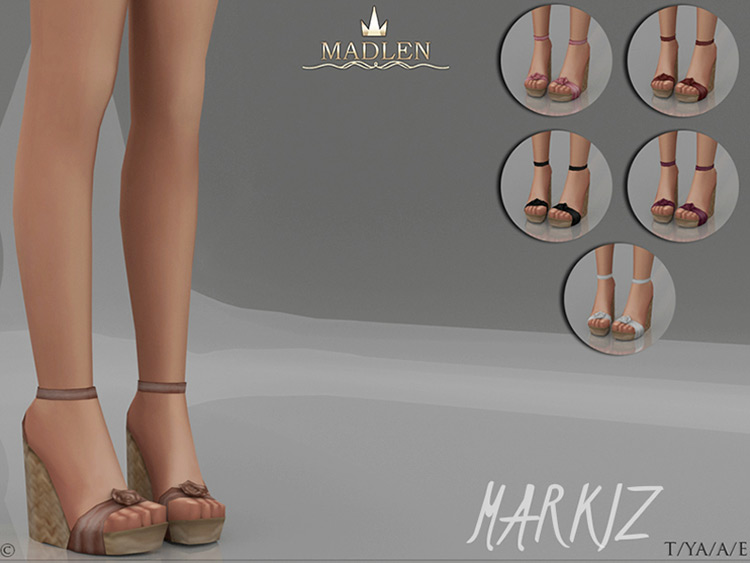 Ah, the wedge shoe – a nostalgic piece of footwear that recently came back from its fashion grave.
This shoe style has long been a summer favorite and a practical alternative to killer kitten heels.
Fashionista moms would probably know about it, and now your Sims will too.
Well, once you get these Madlen Markiz shoes CC from creator MJ95.
Converse Platform
Want to look stylishly tall in the most comfortable way possible?
Say hello to the Converse Platform.
These babies combine your love for canvas sneakers and obsession with height, transforming casual Converse shoes into luxe products.
You've got 35 swatches to choose from in this brilliant CC set.
And if you're looking for even more Converse ideas, we've got you covered.
Madlen Molle Boots
Who says your Sims can't survive the wild with high fashion equipment?
Gear up with these Madlen Molle Boots and hike hills, mountains, even secret worlds in style!
Download the CC and get a pair for each & every one of your Sim family members, choosing from 7 different colors.
Platform Chelsea Boots
Whenever I see someone in platform boots on a typical day, I can't help but think "Damn, that's hot."
Like sweaty-feet hot, but also attractively hot.
Only a few could pull off wearing this kind of footwear on a day-to-day basis.
However, these ankle-length platform boots are simple enough to match a wide variety of outfits.
Try it out and enjoy 16 swatches in all!
No Mercy Boots
Here's a pair of gorgeous boots that would definitely get Lady Gaga's seal of approval.
Emulate the "Chromatica" aesthetic with these strappy boots in mid-calf and high-top lengths.
With 20 vibrant swatches available, your Sims have enough color power to make their presence known around the neighborhood.
Vortex Bootie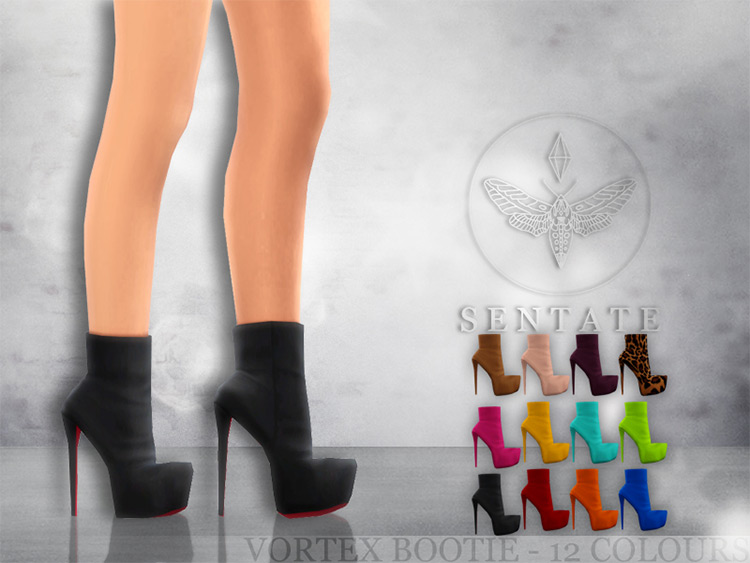 If the devil wears Prada, this would probably be it.
With a stiletto this slim and tall, I don't have any doubts that this Vortex Bootie CC was made in the lowest circle of hell.
Break your Sim's feet into a 90-degree angle and look dangerously seductive with this CC from creator Sentate.
Texture Leather Ankle Boots
There's nothing like chunky-soled boots that could make anyone stop and stare at you from head to toe.
The appeal of Dr. Martens boots have been enduring for decades, and it seems it'll last for decades more.
Especially if you can keep forcing your Sims to dress however you want.
Add this fashion essential to your Sim's collection and become a street style pro in no time.
Jelly Platform Sandals
The shark teeth soles of flatforms look ugly at first.
But there's a purpose to it – trust me.
Flatforms were made to combine the height of heels and the ease of flats, but not everyone from the fashion industry fell in love with it at first sight.
It's not the best-looking shoe in the market. But sacrifices have to be made in the name of comfort.
Your Sims wouldn't know the difference, but at least these Jelly Platform Sandals are cute enough to make the cut.
Velvet Platform Sandals with Socks
Now here's a pair of heels you could trust to keep your Sims steady for more than five minutes.
Have the world of The Sims as your runway with these Velvet Platform Sandals made by Jius-sims.
This CC also comes with matching lace socks, available in 2 swatches for teens to elders.
Madlen Xilia Boots
In the world of fashion there are high-heel boots that could lift you off the ground.
And then there are ultra-high-heel boots that could boost you to outer space.
Madlen's Xilia Boots fall into the latter category, with a stiletto so high it's giving me vertigo.
Have your Sim grow a head taller in less than a minute by slipping into this sleek pair of over-the-knee leather boots.
Mary Jane Platforms
There are many different ways to style the classic Mary Janes.
And with this CC by DallasGirl, the possibilities are endless.
Whether your Sims are wearing a plaid skirt, slacks, or shorts, these Mary Jane Platforms can put a dainty twist to their overall look.
If Harry Styles could rock this, then so can your Sims.
Tread Slick Platform High Sneakers
The concept of platform sneakers was simple:
What if we have 4-inch platforms glued at the bottom of stylish sneakers?
With the craziness of the '90s, the public accepted the idea.
And more than two decades later these iconic shoes are making a comeback on the runway.
Be an early adopter of the trend and snag this CC from creator DarkNighTt Sims.
Platform High Heel Boots
While platform sandals provide comfort, platform boots were made to intimidate others for not wearing their own.
Sleek, charismatic, and flashy, platform boots do their job well in catching the attention of others – because it unmistakably screams big dick energy.
Do you want your Sim to look glamorous with platforms?
Well you've found the easiest way to achieve that.
Caprice Heels
Platform shoes have been around since 220 B.C., and now they've evolved from stilt-like death traps to still looking like death traps but prettier.
Take these Caprice Heels for example.
One slip-up and you could have your Sims suffering from more than a concussion.
But once they perfect walking in this monstrosity of a shoe, it would be an easy task to tower over almost anyone who's not an NBA giant.
Score these heels from CC creator benevolence and enjoy 13 colors in all.
Browse:
Lists
The Sims 4
Video Games