Best Sims 4 Playground CC: Swingsets, Jungle Gyms & More
This post may contain affiliate links. If you buy something we may get a small commission at no extra cost to you. (Learn more).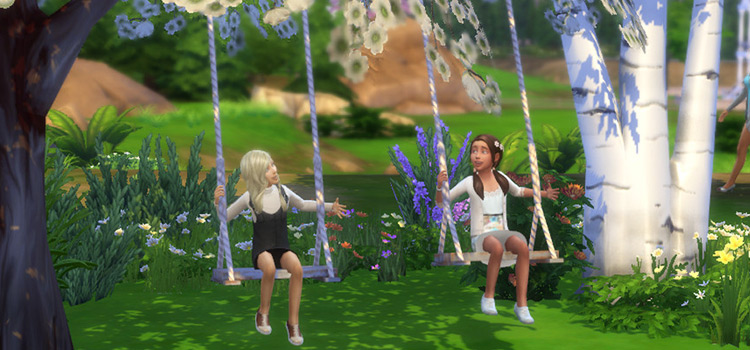 Our Sim kids need a place to unwind.
And while the parents prefer the couch or dinner table, kids need their playground.
From climbing on monkey bars to playing tag or simply going down the slide, the playground lets every kid's imagination run wild.
So if you're looking to build an incredible playground in your TS4 game, maybe a bit of custom content could help.
Let's break down the top playground CC for The Sims 4 and see how you can turn any lot into a kid's funzone.
10.

Kids Sandbox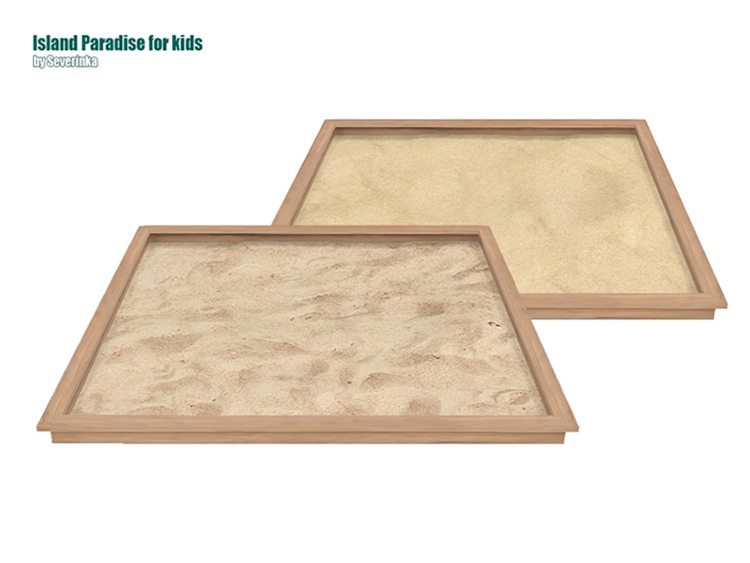 We'll kick it off with the good ol' sandbox.
This item is perfect for artsy kids, and allows a bit of the beach to be a part of your local playground (or your backyard!)
And this CC is exactly what it sounds like: a squared box filled with sand for your little Sim to build their best sandcastles.
Definitely an awesome addition with 2 swatches, with one featuring sand that's already been stepped in.
9.

Classic Double Swing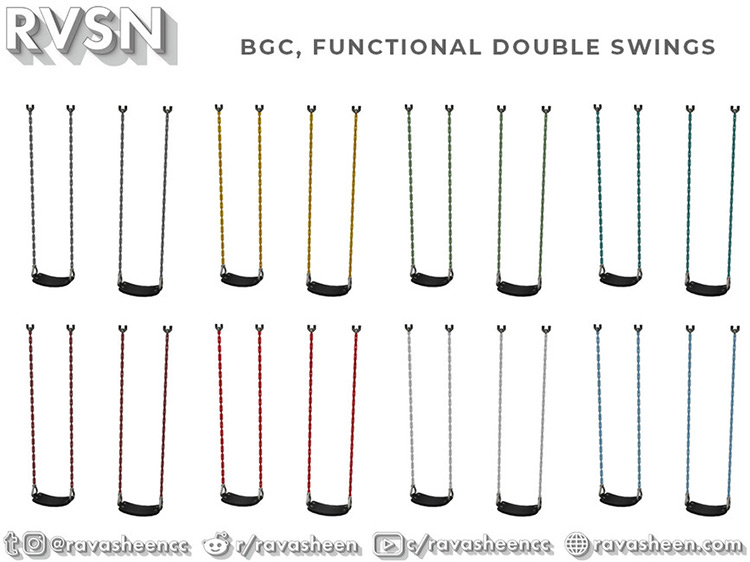 Creator RAVASHEEN brings us our next item with the classic swing.
This CC features the traditional leather swing seat, which would start hurting our bums from extended periods of swinging.
I guess the kiddos don't care so much.
With this you'll get 8 awesome variations, and the swings come as a pair – so you're never swinging alone.
8.

Alex Slide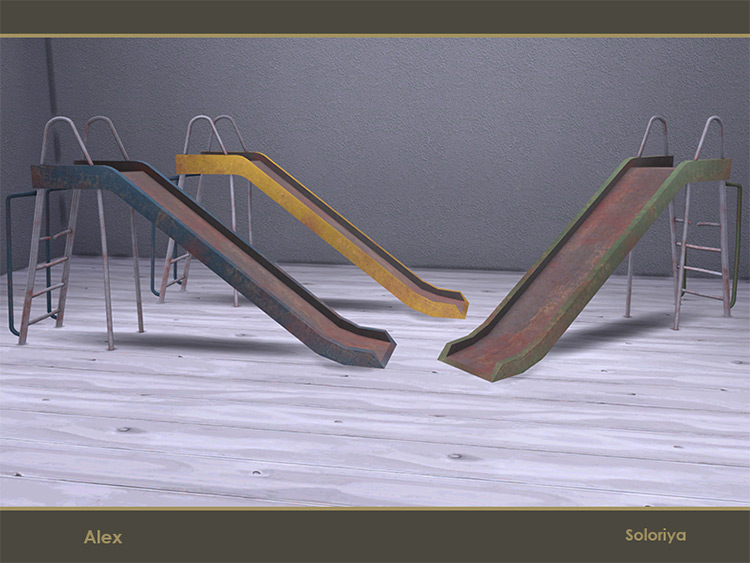 We slide into our next item with a…
Well, a slide.
This CC by soloriya is pretty rusty, and could be good for a playground that's been around for a long time. Or just an older run-down backyard area.
Having it in Strangerville could be good option, as it's a strange slide to choose for a playground, but still fits in with a park or backyard.
No matter where you place it, your Sim kids are bound to love this thing.
7.

Toddler Slide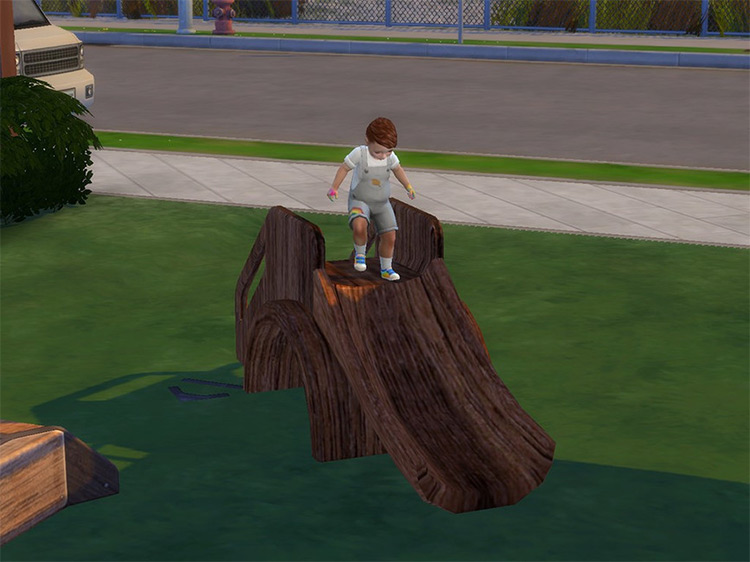 Is your Sim too young to hit the slide or the swing yet?
No worries, because this small toddler slide by Captain Elsa should do the trick.
It's made out of tree logs and looks beautiful. So this baby slide is perfect for any toddlers to have some fun, while staying safe.
A solid choice for any play park lot, or your backyard. It's all good.
6.

Happy Childhood Seesaw Swing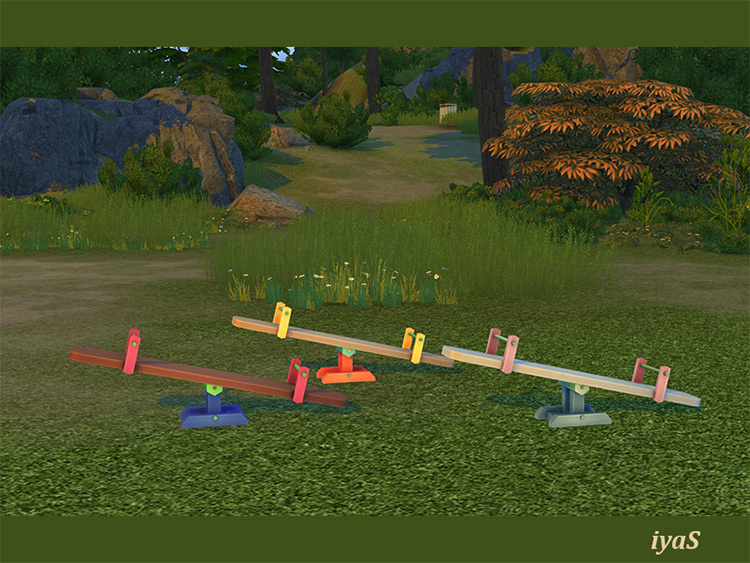 Here's yet another childhood favourite: the see-saw.
The larger kids always got a kick out of this playground equipment.
Well this see-saw comes in 3 colorful swatches, including a cherry red finish.
Definitely a great item for parents showing up to the playground with more than one kid, and also a great place to make new friends.
5.

Kids House with Slide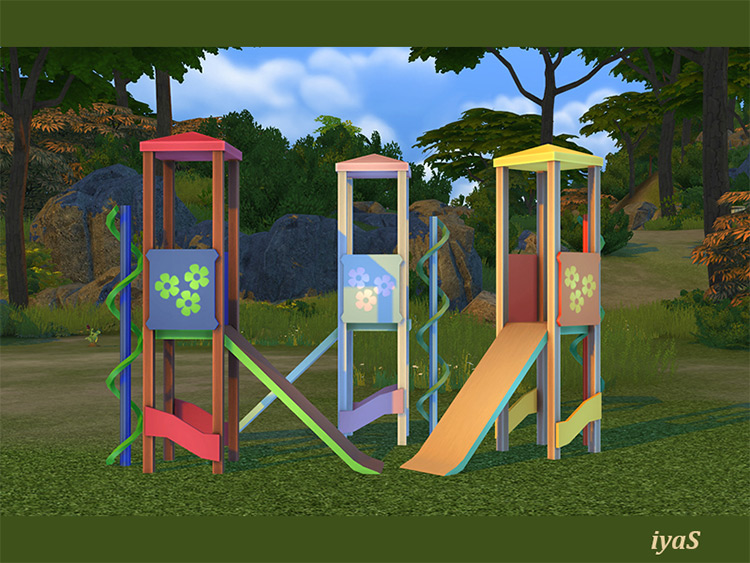 Coming from the same CC set as the see-saw above, we have this kids playhouse with a slide.
This jungle gym-esque item gives kids a place to run up and down. Essentially it's the glue that keeps all playgrounds from just being random activities.
Play tag, grounders, or even just slide away after adding this to your park.
The CC comes in the same color scheme swatches as the see-saw, too.
4.

Mood Swings Wooden Swing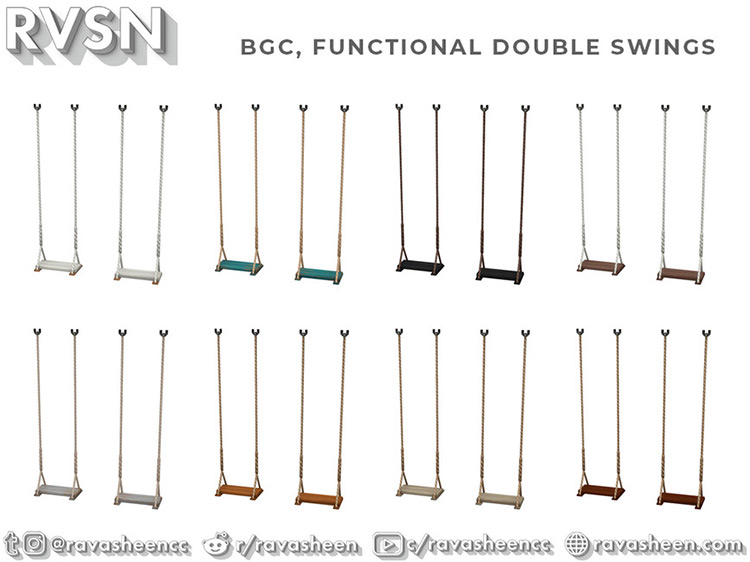 Now here's a swing made mostly for kids who just want to enjoy the experience.
With this CC you get a roped swing with a large wooden seat to sit on – you can usually find these swings attached to trees most of the time.
And if you know your way around the TS4 console, you could probably make that happen here too!
And I'd say this CC is something you might find in a higher-end neighbourhood, making all other kids jealous.
3.

Happy Childhood Jungle Gym Attachment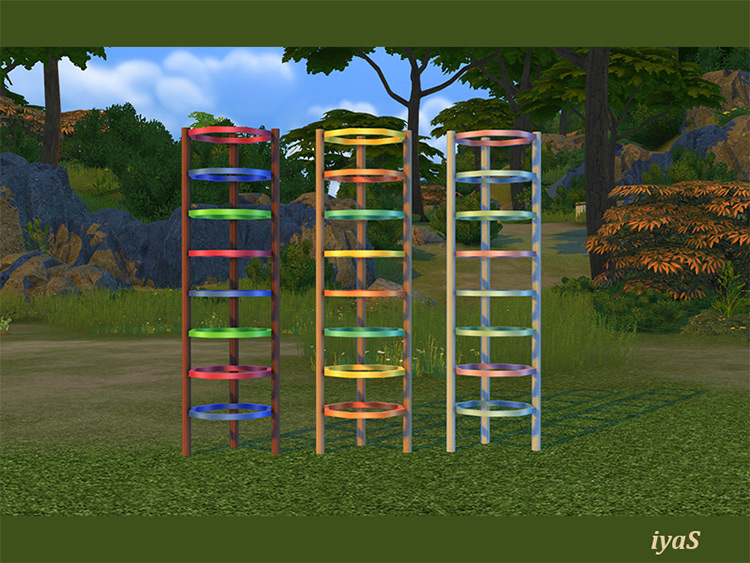 If you've never had to climb through (or climb on) some weird set of bars to get around the playground, well, you've never been a child.
Okay maybe that's a little harsh.
But this jungle gym attachment is exactly what I'm talking about.
It's pretty much sideways monkey bars. You use the rings to climb to another area of the jungle gym and keep the fun going.
Another standard for every modern day playground.
2.

Kids Playground – Full Set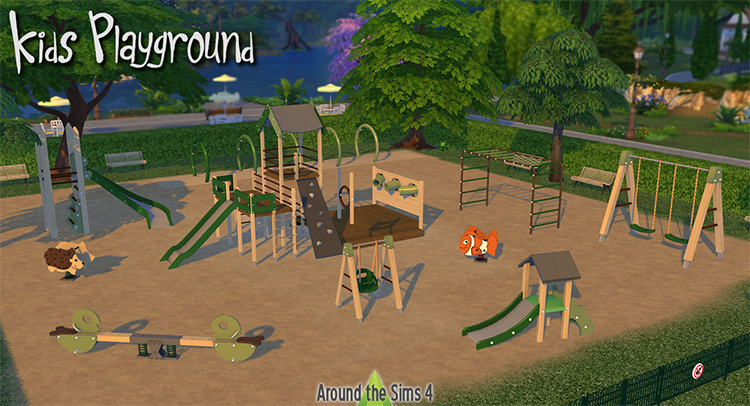 Here's our first full set on this list. And it features a large number of items we've already discussed, including swings, jungle gym and slides.
But now you get them all in one big pack.
This set is extremely cohesive, featuring a happy-go-lucky green and brown color scheme.
Plus there's a Finding Nemo fish swing, real monkey bars, and a dino climbing wall – just some additions that really tie this whole playground CC set together.
1.

Joyful Kids Playground Set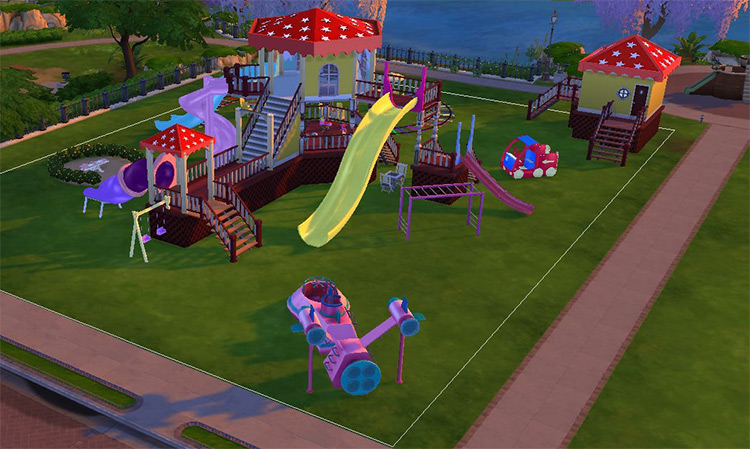 Now I've gotta say, this playground CC is taking it up a notch.
The vibrant colors and huge slides make it look like a mini Six Flags.
And to your little Sim kids, it probably feels like one too!
There's a small train station, three separate jungle gym areas, and giant slides all make this every kid's dream hangout on a nice day.
And the set also includes a little area of tables for parents to sit and watch their kids play.
If you want a big all-in-one pack, you can't go wrong with this CC set.
Browse:
Lists
The Sims 4
Video Games