Best Pokémon Mods & CC For The Sims 4
This post may contain affiliate links. If you buy something we may get a small commission at no extra cost to you. (Learn more).
Pretty much anything is possible in the Sims 4, especially with the game allowing a whole lot of custom content (CC for short).
I'm pretty sure your love of The Sims 4 brought you here, but are you a fan of Pokémon as well?
If you're reading this, then yeah probably.
And that's great! Let's dig into some of the best Pokémon mods ever made for TS4.
12.

Pokémon Trainer's Clothes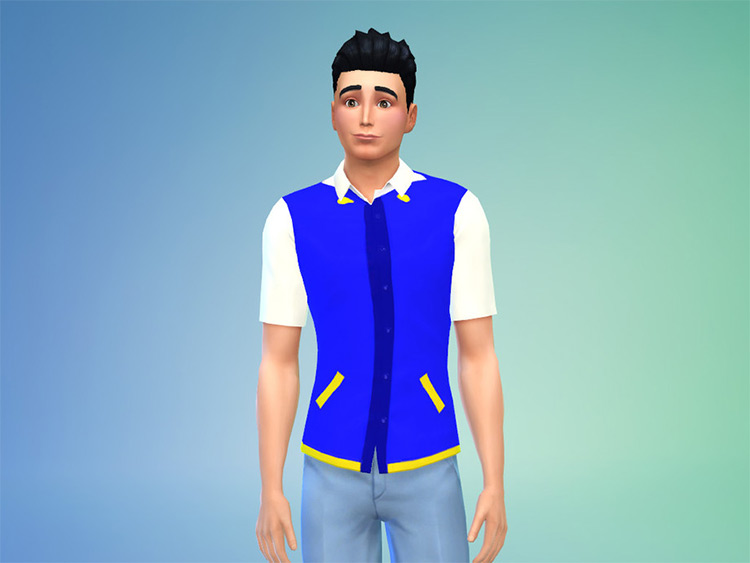 Pokémon plus The Sims 4?
The first thing most people think is making Ash their sim. Or making their sim look like Ash? Same difference.
Thanks to this clothing set by ForeverBaby, you can do exactly that!
The set includes both Ash's trainer hat and vest, so all you'll have to do is put some jeans on and you'll be good to go.
11.

Striaton Trio Vests
Well maybe not everyone is a fan of Ash. We each have our own favorite characters, yes?
Lucky for us, there are other options.
This CC set lets you dress as the Striaton Gym Leaders Cilan, Chili, and Cress from Pokémon Black and White.
The vests even come with their signature blue, red, and green bowties to signify their specializations in water, fire, and grass.
Time to get started on getting that Trio Badge!
10.

Cute Pikachu Top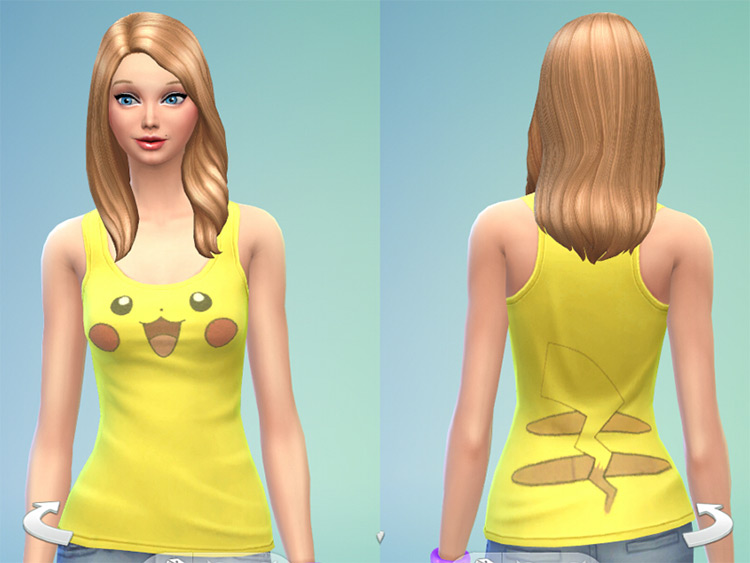 For those of you who still want your sims to be you, there are more conservative ways to show off your love for the fandom.
You'll be ready for any occasion with some more basic Pokémon clothing options, starting with this Pikachu top.
For when you're going for a more casual look, this is the perfect Pokémon outfit. Pikachu actually covers the entire tank top, unlike most tops with simpler designs out there.
The name definitely fits the item as this is by far the cutest Pikachu top you're going to find.
9.

Sylveon Dress
If you ladies need something a bit less casual, you might be looking for a short dress.
For when your sim feels more like going out to someplace fancier instead of just bumming around the house, this Sylveon dress may be the perfect fit.
Or just out to Comic Con, not my call!
Not only does this feature a large Sylveon design, the color pattern on the rest of the dress matches Sylveon's palette as well.
8.

Volcarona Dress
For when you need something more formal – there's a Pokémon gown available as well!
Sims 4 content creators really go all out, huh?
This CC features the fifth-generation fire Pokémon Volcarona, and the dress comes in a red shade with elegant flower designs.
Throw on some firey accessories to complete your Pokémon outfit for whatever occasion.
7.

Pokémon Tattoo Arm Set
If you're looking for a more hardcore means of professing your undying love for Pokémon, why not get a tattoo?
I'm not just talking any tattoo here; you can actually give your Sim full Pokémon-themed tattoo sleeves!
With the Pokémon Tattoo Arm CC Set by Ivara, you have the option of placing the tattoos on your left or right arm, or even both.
Now you can walk around with a permanent declaration of your ultimate devotion to the Pokémon fandom so everyone recognizes it. No matter what you're wearing.
6.

Pokémon Wallpaper
Some prefer to keep their interests private, and there's absolutely nothing wrong with that.
But thanks to these next few mods, we have tons of decoration options to make for the best Pokémon-themed homes possible.
Starting off we have some Pokémon Wallpaper by JDawgLivin. The set comes in three different designs including Poke Balls, Mew, and Pikachu.
They also come in four different colors so you can pick and choose what best fits each room of the house.
Now you have your wallpaper done (or if you don't, try some other options) so let's see what else we can decorate with.
5.

Art Collection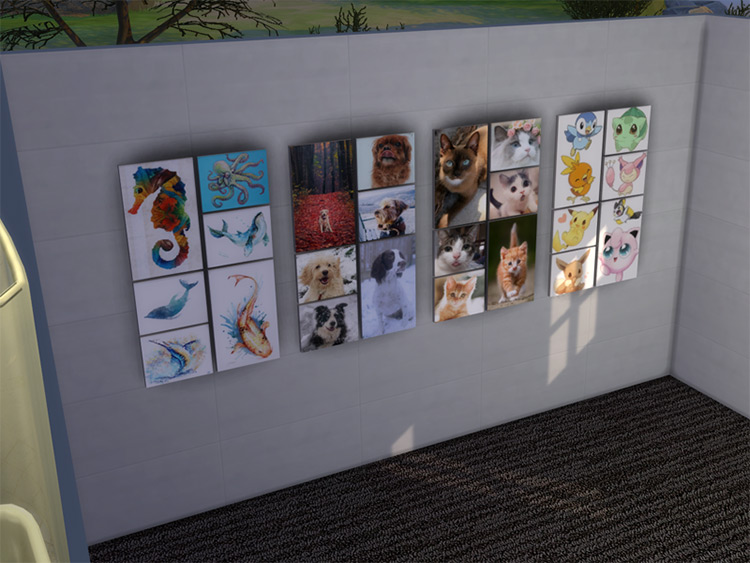 For fans who want to take it a step further, you can get Pokémon wall art to match your wallpapers.
This art collection includes four different layouts, but only the last one is Pokémon-themed.
Even if the rest are not relevant here, it was too hard to leave out as that last layout would be a great addition to any Pokémon-themed home.
The layout features a collage of some of the cutest Pokémon including Eevee, Piplup, Jigglypuff, and of course our beloved Pikachu.
4.

Pikachu Pop Art
If you're looking for something a bit classier, this Pikachu PopArt might do the trick.
Based on Andy Warhol's famous painting – this takes the instantly recognizable pop-art style and features who else but Pikachu instead of Marilyn Monroe.
Not only is it cool because it's Pokémon, but it's also incredible because it's Pokémon by Warhol.
What kind of alternate universe is this?
3.

Pokémon Circle Rugs
That's right, you can even have Pokémon rugs in your pad!
This CC set includes five unique rugs of the original starting Pokémon Squirtle, Bulbasaur, Charmander, and Pikachu.
As an added bonus you get a Jigglypuff rug along with it as well!
Scatter these around the house and not only will your rugs match, but there will be Pokémon everywhere you look.
You could even place one right outside the front door so it's one of the first things your visitors see. I'm not sure if that's a good thing or bad thing… but there's only one way to find out.
2.

Pokémon Kids Room
If you want to take it even further, this Pokémon Kids' Room set actually combines different Pokémon-themed furniture, décor, and toys to make for a complete room.
The CC set includes a single bed, headboard, nightstand, lamp, ceiling light, dresser, sideboard – you name it!
Everything you will ever need in a bedroom is basically in here, and everything is Pokémon themed.
There are red and blue color options to choose from so it's completely up to you for your baby boy or baby girl.
And I know the title says that it's a kids' room, but really who cares?
You can make it the main bedroom for your adult sims as well, no one's going to stop you. I might even applaud you.
1.

Poké ball House
Last on this list we have the biggest of the Pokémon mods out there.
That's right, you can actually have an entire Pokémon-themed house!
The Poke Ball shape along with the red and white color scheme will be recognizable from miles away.
Not to mention the exterior is beautiful as well, with lots of greenery, benches, and even a pond making for a great spot to sit and enjoy some peace and quiet. Or to whip out your Switch and have some outdoor gaming fun.
The house features two bedrooms, a bathroom, and a living space, so you should be all set to install this and dive right in.
Although it does come fully furnished, you could easily replace the furniture with some other entries on this list to make for a completely Pokémon-themed interior as well.
No limits here when it comes to a true Poke master!
Browse:
Lists
Pokémon
The Sims 4
Video Games