Best Ponytail CC Hair For The Sims 4 (All Free)
This post may contain affiliate links. If you buy something we may get a small commission at no extra cost to you. (Learn more).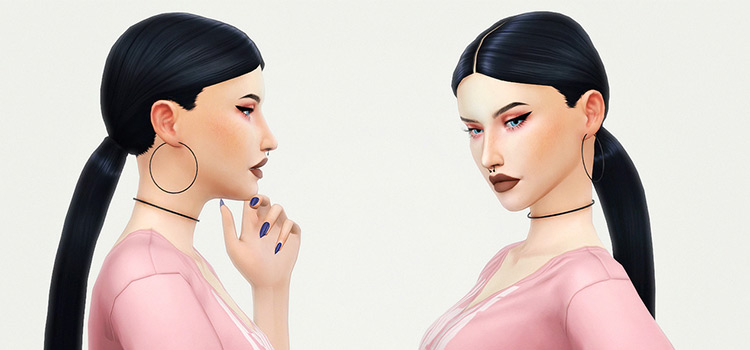 I know I'm not the only one who has a hard time finding the perfect hair for my sims.
I mean, all the CC out there feels perfect. And most of the time I want them all, but my computer will certainly overload if I push it.
The sheer number of CC hair out there is amazing and looking for the perfect 'do can prove to be quite difficult.
In my case, when I'm stuck in Create-a-Sim and drowning in the sea of CC, I tend to just keep it simple and go for a ponytail.
It's a classic look that will never go out of style, whether you choose a high one or a side pony or some kinda combo.
Well in this list I'm sharing the absolute best ponytail CC your Sims will love to wear.
Stephany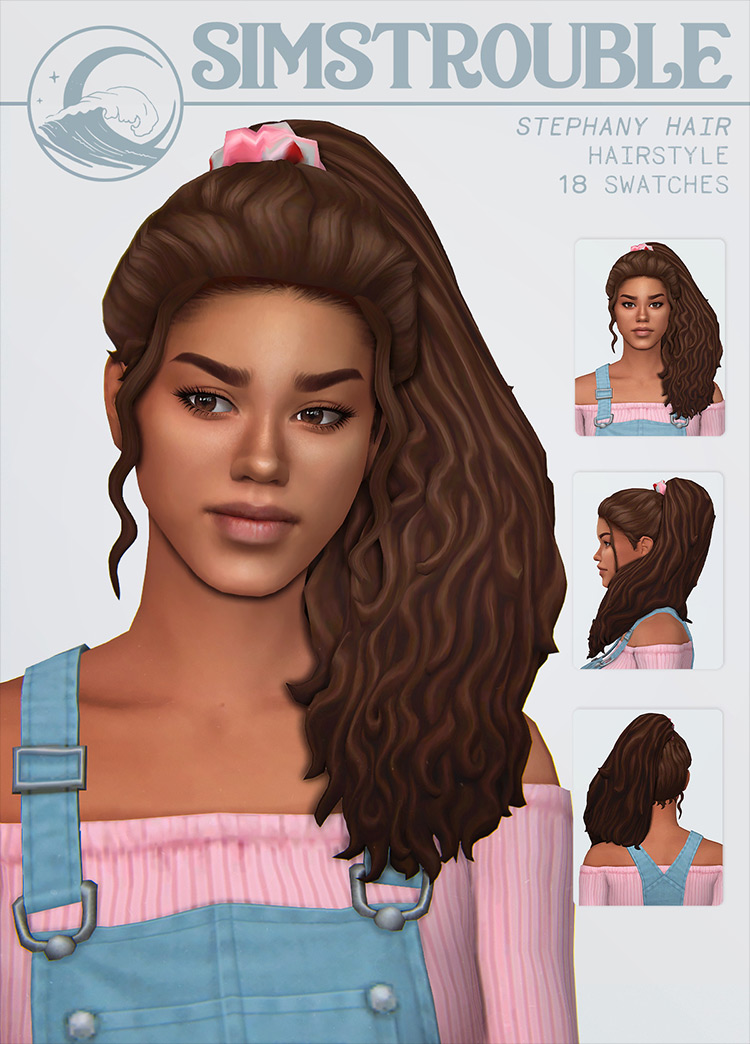 Here we've got Stephany hair CC from simstrouble.
The creator birthed this amazing hair by combining two of their favorite hairs from Island Living. Cool idea right?
Or maybe you don't have Island Living, but still want this hair in your game? Well you don't have anything to worry because this hair is Base Game Compatible.
It also comes with an accessory scrunchie that has 36 swatches, so all you scrunchie fans and VSCO girls can go crazy.
Dress your sims in your favorite 80s-inspired outfit and complete the look with this hairstyle!
Fleur
This hair is a simple one. It comes with the 18 original EA swatches so it's easy to blend in.
What I love to do with hair like this is to partner it up with cozy home wear or pajamas.
Low ponytails are also very chic, so this hairstyle is perfect for office wear or smart casual outfits as well.
Lexi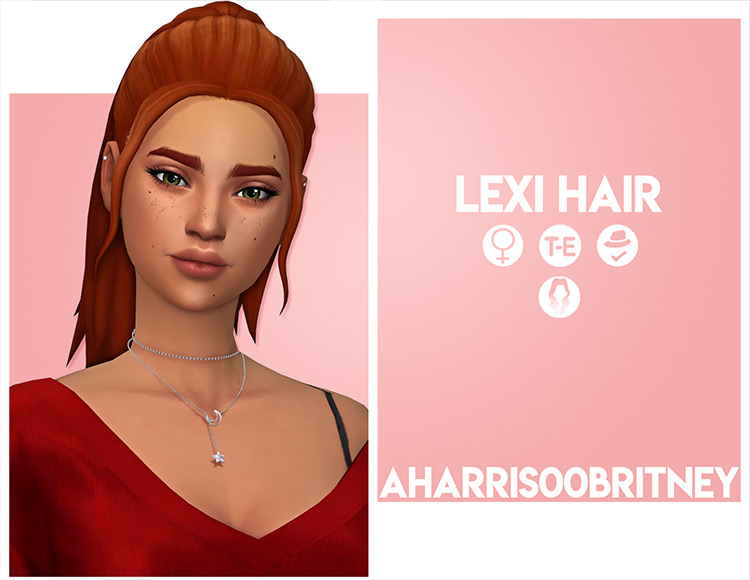 The Lexi hair by AHarris00Britney is the quintessential ponytail.
This CC comes in two versions: one with bangs and one with strands.
But whether you prefer rocking bangs or simple strands, I'm sure you'll love the ombre accessory.
This baby comes in the Tropical Punch palette that has 20 swatches, as well as the 18 original EA ones.
Whether you like your pony straight and simple, or if you're more on the adventurous side, I'm sure you'll love Lexi by AHarris00Britney.
Callie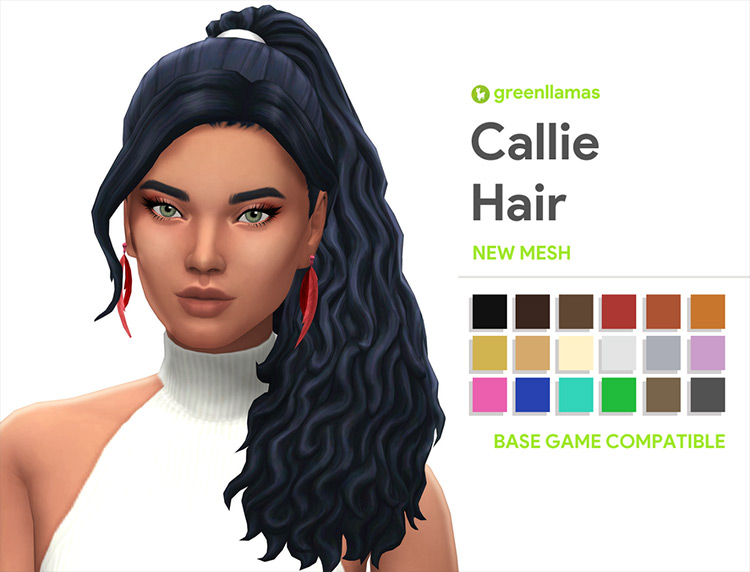 Another entry from greenllamas. But this time we have a high ponytail.
You may be thinking that maybe you've seen this hair before.
Well Callie looks a lot like the Stephany CC mention earlier.
The main difference that I see is that Callie provides a more polished look. With simple bangs and simple hair tie, this high and curly hair CC is perfect for a sleek fashionista.
Iris
Iris is the second entry here from creator AHarris00Britney. Just released somewhat recently, the Iris hair has a simplicity that will never go out of style.
I'm totally loving the side bangs too.
It adds a lot of personality to a rather plain hairstyle.
What I love about hairstyles like this is it's perfect for every kind of outfit.
Whether you go crazy on the town or keep it simple, this hair CC will complete your outfits no matter what.
Maeve
Another entry from AHarris00Britney, is it that obvious that he's one of my favorite creators?
Maeve is special.
Sure, this pack only has the 18 original EA colors. But she's both Base Game and hat compatible.
So what makes this lovely lady so special? She comes with two accessories!
The elastic overlay comes in two swatches, while the flower has 7 swatches.
If you're looking for an elegant yet simple island hairstyle, grab this hair for your Sims and bask in the sun in style.
Jasmine Ponytail
Yet another high pony because I can't get enough of them!
The Jasmine hair from greenllamas is part of his 24k Followers gift set, and it's glorious.
I can't get enough of how sleek this hair looks! You can tell that any Sim rocking this hairstyle is not fooling around. The silver hair tie is to die for!
Truly, this is the epitome of high ponytails.
I'm out of words, except for this one: perfection.
Callie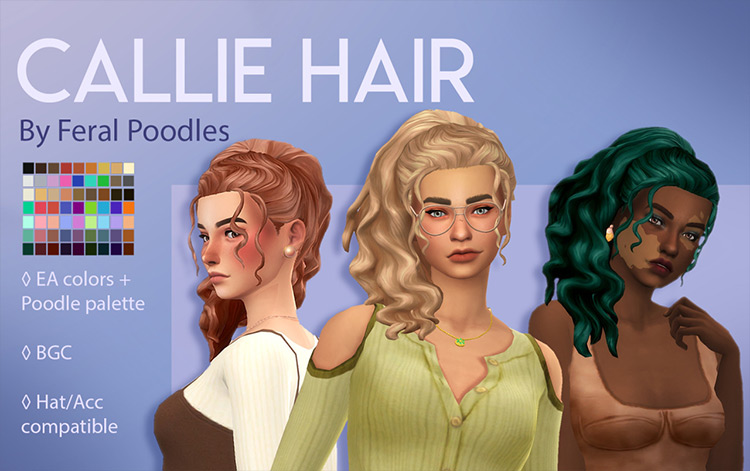 It seems that greenllamas' Callie has a twin.
The Callie hair by Feral Poodles comes with a whopping 63 swatches! Yes, 63.
18 colors from EA and 45 colors from the creator's own palette.
When you download this hair, you have the option to download just the EA colors, just the Poodles colors, or both.
I suggest you get both for maximum freedom. That's what The Sims is about, right?
Feral Poodles was one of the first creators that I checked out when I was new to CC, which is why her creations have a special place in my heart.
Plus, who doesn't love a wide range of colors to choose from?
Dahlia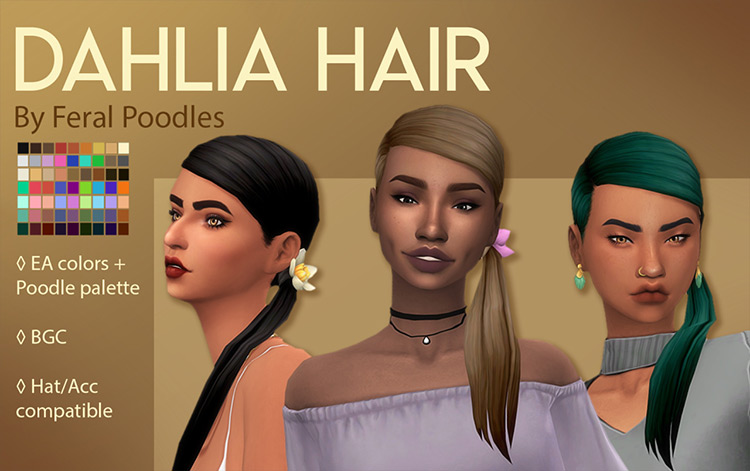 Another entry from Feral Poodles!
The Dahlia hair is a sleek and simple side pony with a very cute flower accessory.
Of course, it won't be a Feral Poodles' hair if we don't have the amazing 63 swatches. Which we obviously do.
This CC is a perfect no nonsense hairdo, with an optional flower for a bit of added personality.
Anaya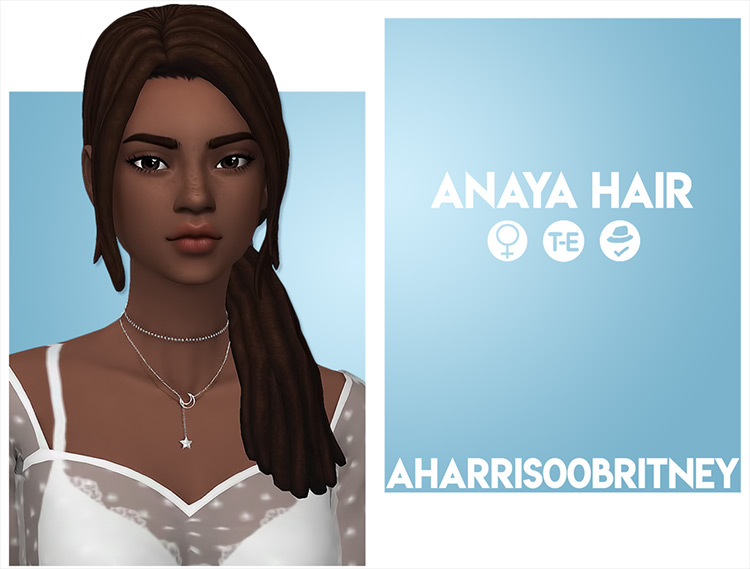 This time around have a simple afro textured side pony.
Definitely a unique look.
I love the simplicity of this hairstyle. I think the game seriously needs more simple and basic natural hairs.
Grab this CC and improve the diversity of your lively Sim neighborhood.
Krista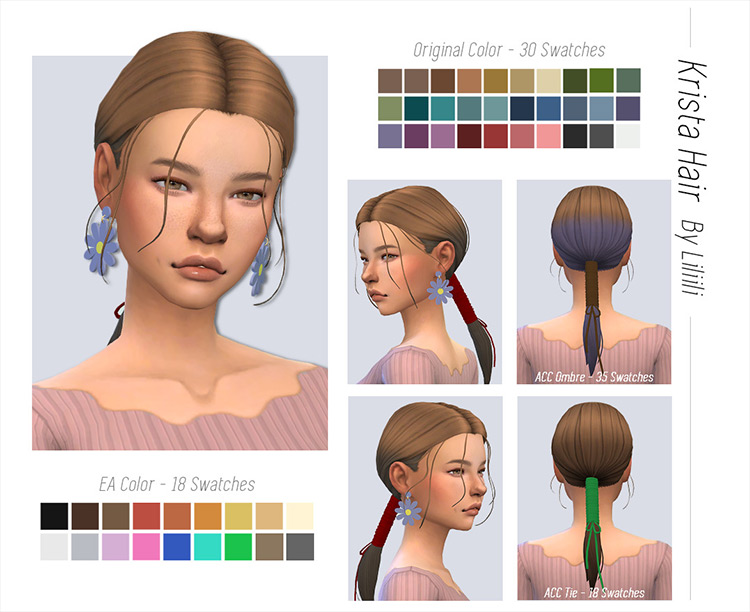 This Krista hair from creator Liliili sports a middle part, low pony, and a one-of-a-kind hair tie.
Included in this pack is 18 original colors from EA, and 30 original colors from the creator. The accessory tie comes in 18 swatches too.
As if that isn't enough, it also comes with an ombre accessory that has 35 swatches to browse through.
The wispy strands at the front add another element to this rather polished look.
With the Krista hair CC, gone are the days of low ponytails with boring hair ties.
Elli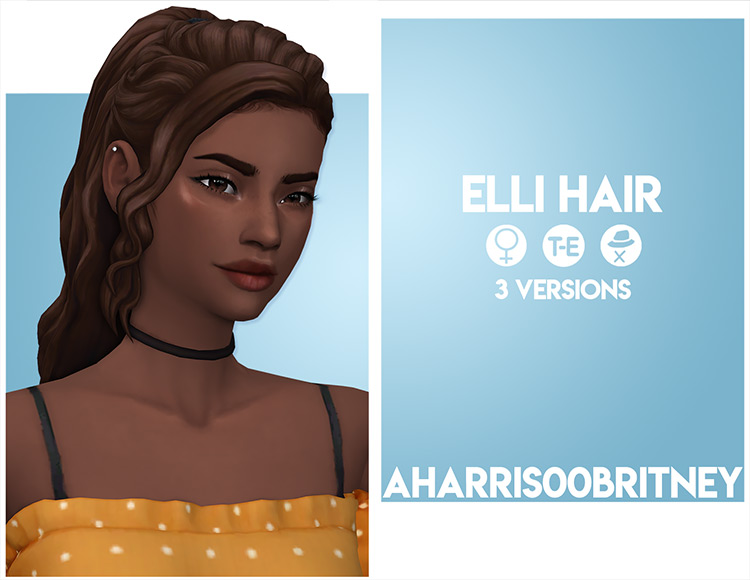 This is what I imagine that curly hair from Discover University looks like when it's tied up.
The Elli hair is another entry from AHarris00Britney. It's no surprise that he made it pretty high up in this list.
The overall look of this CC is quite simple. But what I love about it is that it has three versions: one with no bangs, one with just a side bangs, and one with bangs that frame the face.
Whatever your style may be, I'm sure you'll find an Elli hair that will suit your needs.
Coco
Coming in at number nine is a Mean Girls inspired hairdo.
The Coco hair offers a high ponytail with a headband accessory.
Despite its inspiration, I can assure you that nothing is mean about this hair.
Sadly, it's not Base Game compatible as it requires City Living to work. But if you've got the expansion already then you're good to go!
I tend to use hairs like this for workout/gym outfits, especially for yoga. The headband and high pony just ties the look together.
Zadie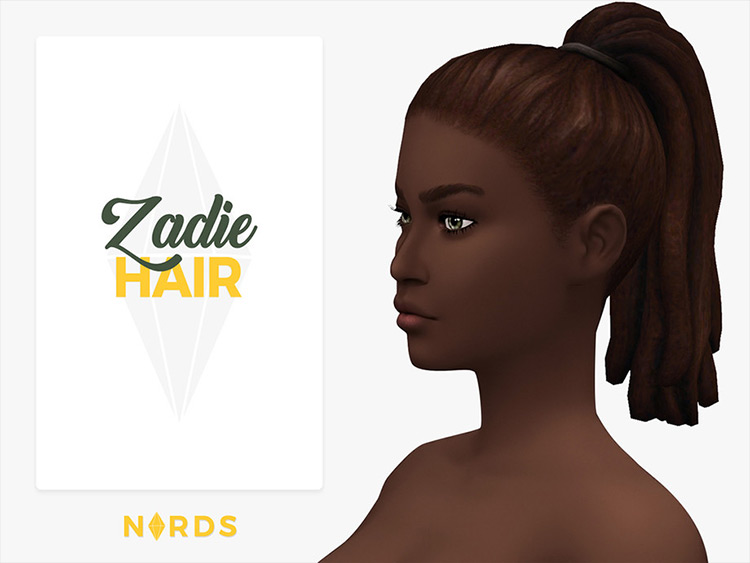 The Zadie hair from Nords is an afro-textured hair in a high pony.
It comes with the 18 original EA colors and is also Base Game and hat compatible.
What I absolutely love about this hair is its texture.
It's amazing how CC creators bring life to a video game.
Especially in a game that lacks diversity, we're thankful for creators like Nords who take time to create such detailed CC like this.
Aaliyah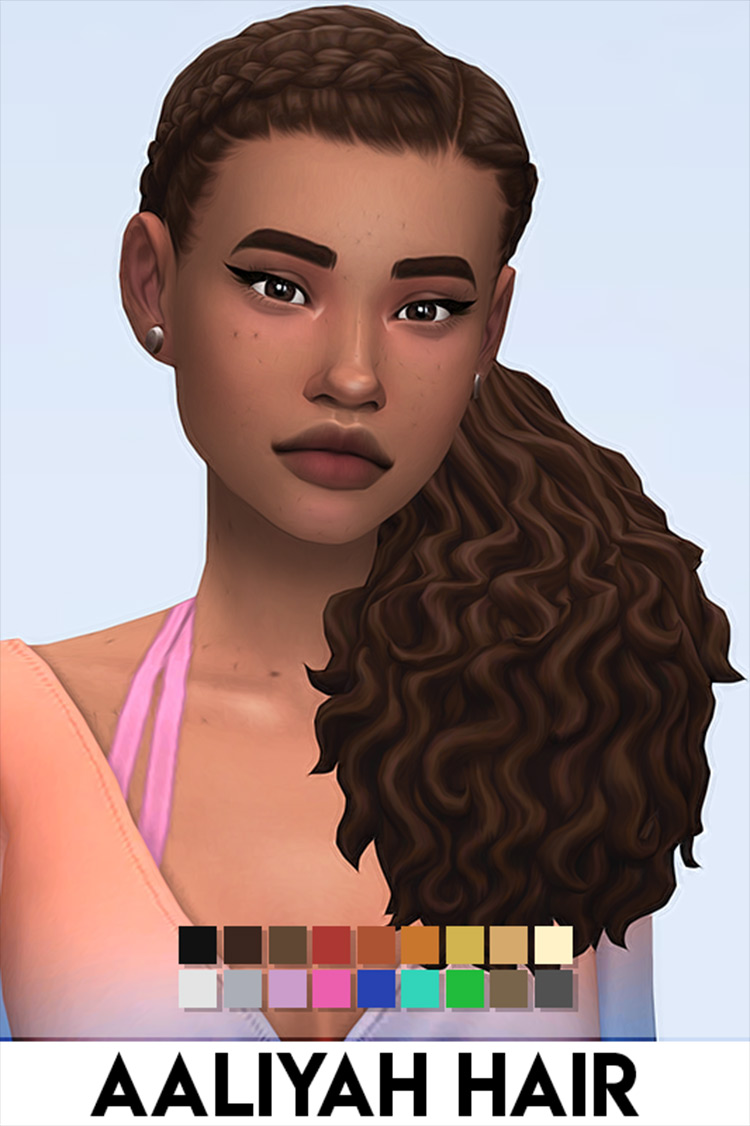 To be honest, I'm not surprised to see ImVikai's creations pop up multiple times.
For example, take a look at this amazing hair.
The braids meeting at the base of the head and spilling into a low ponytail is pure perfection that makes me say ahhhhhhhhh. Yes, out loud.
Arianna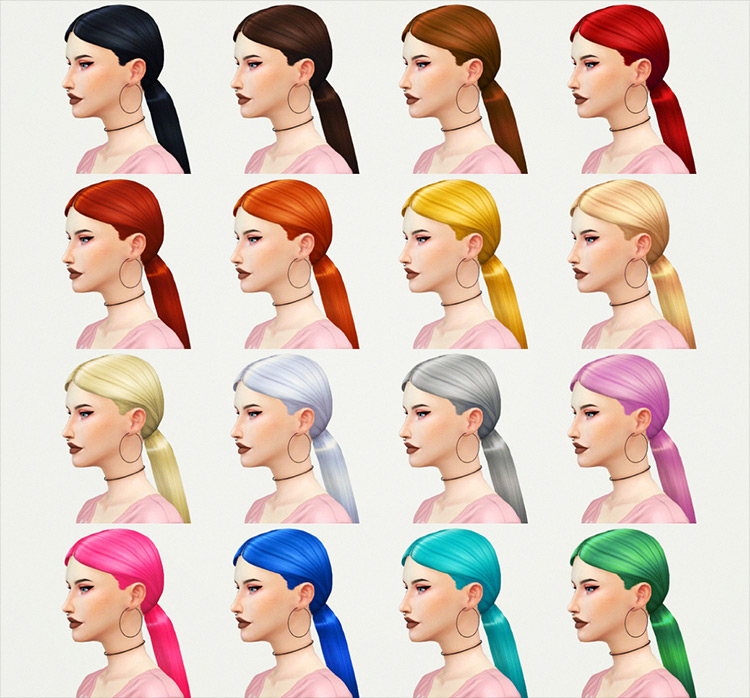 Arianna is serving Dua Lipa's New Rules look.
This hair from Kotcatmeow is blowing my mind.
The look itself has been done countless times already. But the interpretation of the creator is what sets this CC hair apart from the rest.
I tend to stay away from shiny hair, but in this case, it's the shine that captivated me.
It's sleek, it's shiny, and it totally stole my heart.
Cristina
I don't know why, but this hair feels like something that an artsy sim would wear.
The Cristina hair by Simminginchi is a simple ponytail with a few loose strands framing the face.
It comes with the original 18 EA colors and 36 colors from the Sundance palette from the creator Faded Springs. It's base game compatible which is always good news too!
This hair provides a simple and elegant look that will surely fit any Sim, artsy or not.
Eliana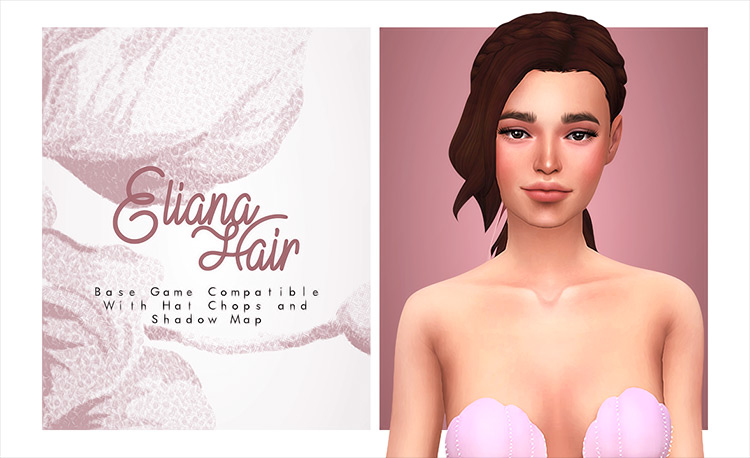 It definitely feels like summer with the Eliana hair CC by isjao.
A low ponytail with bangs and braids all around, this hair is ready to hit the beaches of Sulani.
It comes with all of the original EA colors and is compatible with hats too (not sure why you'd wear one over these locks!)
The little bow on the back is an add-on accessory that has 16 colors to match.
We may not be able to visit our Sims' beaches ourselves.
But our Sims surely can, and they can do it in style with the Eliana hair.
Groovy
Fashionable and exciting!
Here we have the Groovy hair, another creation from ImVikai.
It's part of her Retro Love Collection which is a collaboration with creator EnriqueS4.
And just look at it, this is marvelous!
Don't you just love the look of this hair? A long and low ponytail is definitely up my alley.
Sherri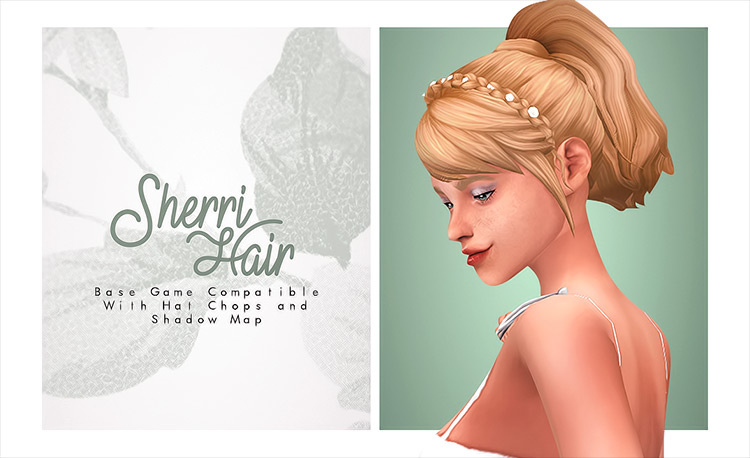 The Sherri CC by isjao will certainly grab your attention, especially if you're into braids!
There's so much you could do with this style, from casual to not-so-casual.
I'm totally in love with the headband braid and the accompanying flower accessory too.
It makes a simple high ponytail feel so ethereal. I might just use this hair for my Sims' wedding. As long as it matches my dress!
Julie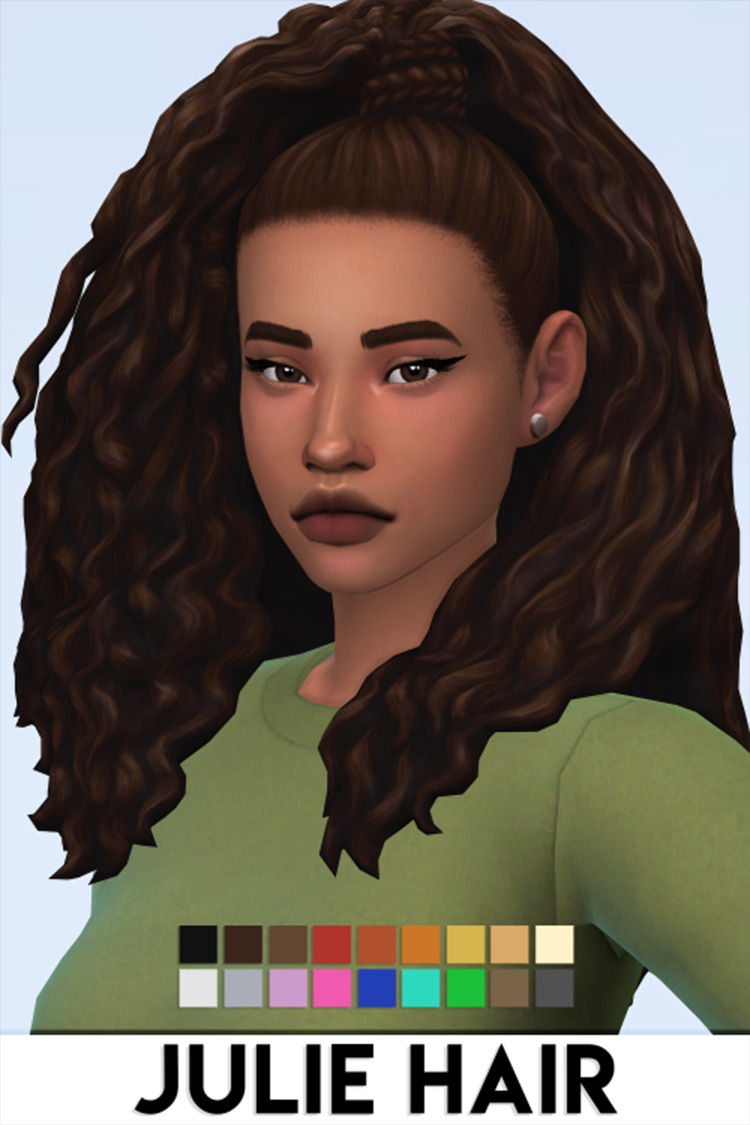 Ranking here at the top is the Julie hair by ImVikai.
This CC checks all of my boxes for amazing custom content.
Curly hair? Check.
High ponytail? Check.
Braids? Big check!
Aside from those, I just really love how big and poofy this haistyle is.
The quality, of course, is also amazing.
Sadly, it is not hat compatible. But that's fine for me because who would hide this gorgeous mane under a hat?
This Julie CC will certainly be part of my personal collection for ponytail styles, and I hope you'd add it to yours too.
Browse:
Lists
The Sims 4
Video Games