Best Sims 4 Pool Party Stuff: Free CC, Mods & Poses
This post may contain affiliate links. If you buy something we may get a small commission at no extra cost to you. (Learn more).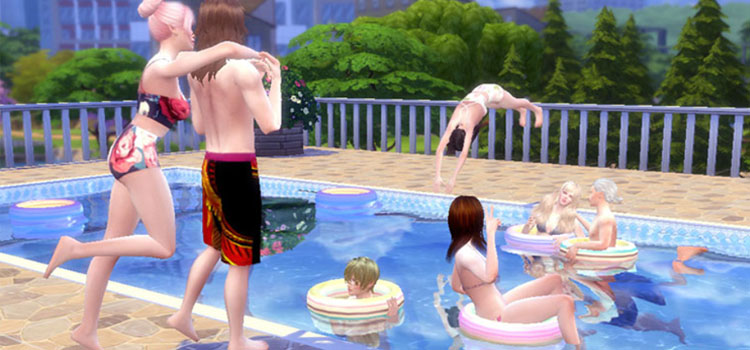 Pools, and in turn pool parties, are two things that have become iconic within The Sims franchise.
In Sims 1 and 2, things were pretty simple. You had a rectangle of blue, with a ladder and perhaps a diving board.
Sims 3 gave us pool slides and bars, along with the option to throw a pool party.
And now with Sims 4, there are about a million ways to maximize your Sim's pool fun, only made better by all of the incredibly talented content creators out there.
So let's warm up and explore some of the best pool party CC The Sims 4 has to offer, from floats to swimsuits to clutter.
10.

Donut Pool Float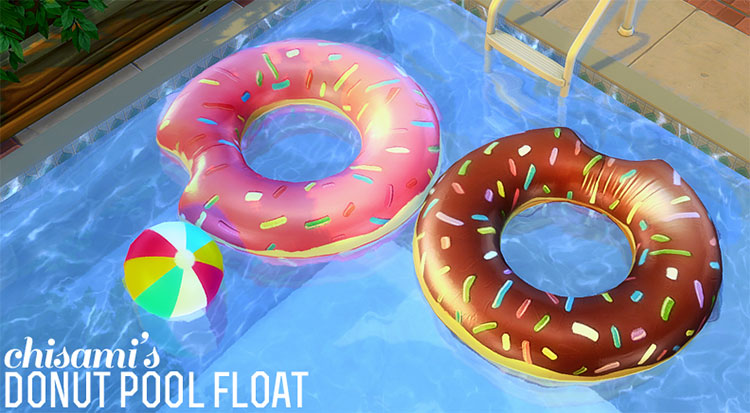 Food-themed floats are an absolute must nowadays.
And these giant donuts are a sure way to get your Sims taking a bite out of summer.
Was that cheesy? Maybe a little. But you know what's pretty sweet? Donut floats!
With two color options and a mesh that looks so real I half expect to be able to jump through the screen and float around the pool myself, I'd say creator Chisa had the right idea.
9.

Tempting Teak Lounge Chair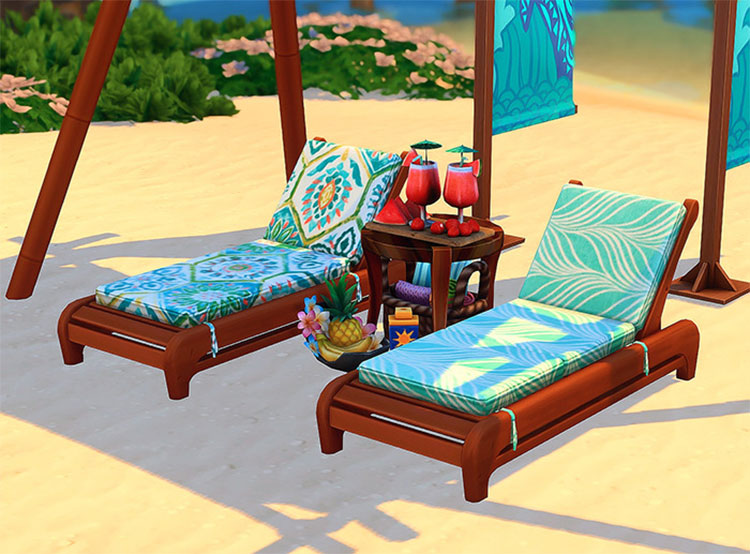 There's always someone who would rather watch others swim than get in the water themselves.
And these gorgeous recolors of the Island Living lounge chair are perfect for your sideline Sims.
I'm a sucker for vibrant colors against wood. And this piece really stands out.
Mayusimsie has given us so many different shades and patterns, there's something for every style.
Real talk – a lounge chair beats a lawn chair any day.
8.

Woven to You Swimsuit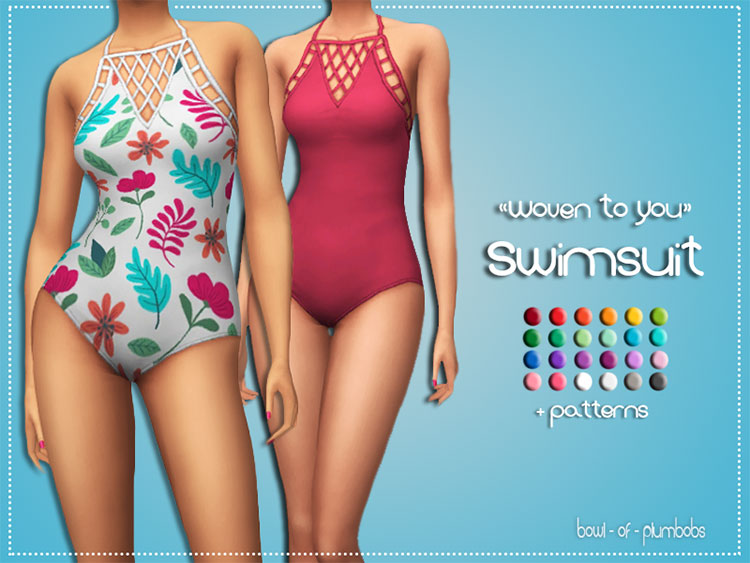 While The Sims 4 base game & expansion packs already offer many cute swimsuits (in my opinion), I think this creation by Bowl of Plumbobs is a must-have for your swimming Sims.
As someone who's pretty big into making aesthetically-pleasing Sims whose outfits must always be on point, my mind is already racing with the possibilities here.
It's things like this that really make me appreciate all the custom content creators out there.
They seem to always go the extra mile to give you every variation you could possibly desire, and Bowl of Plumbobs is no different.
This swimsuit has thirty swatches. Thirty!
7.

Pool Day with Babies Pose Pack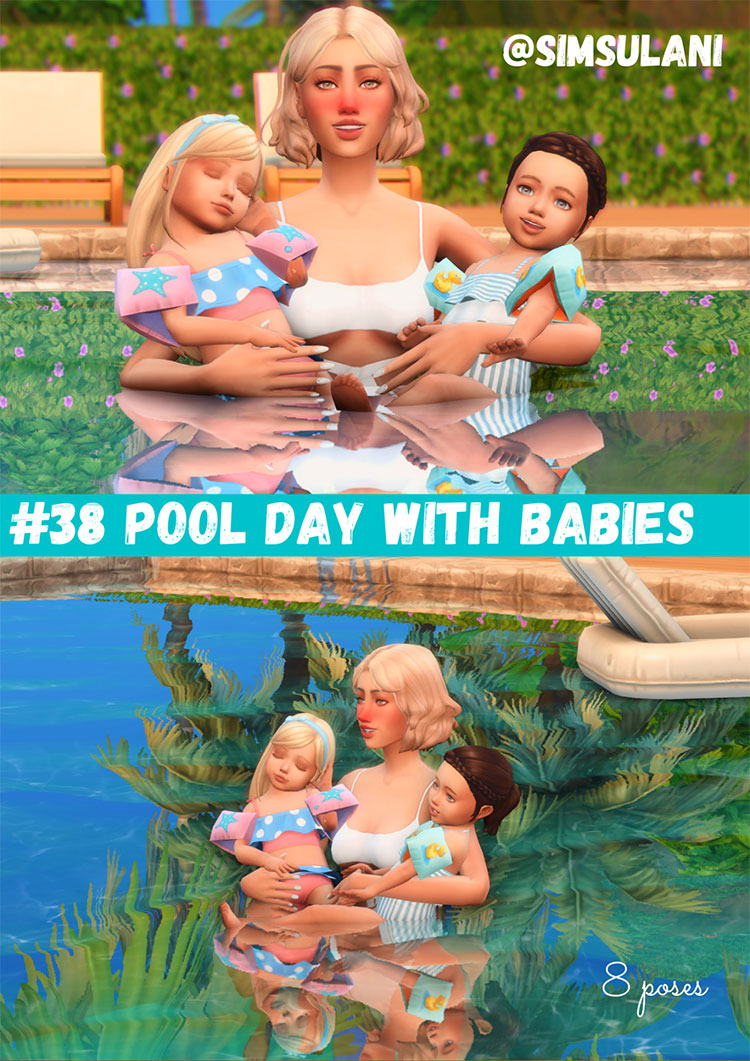 I'm absolutely obsessed with poses, and yet I never even thought about having my Sims pose in the pool before. My mind is kinda blown here.
If you're like me and get all sentimental about capturing your Sims through the generations, you're gonna love this.
These eight poses from Simsulani are downright adorable, made for an adult and 1-2 toddlers.
After all, using poses in TS4 is as close as you will come to creating a photo album for your Sims. And who doesn't have a childhood pic of someone holding them up in a pool?
6.

Pool Lounge Float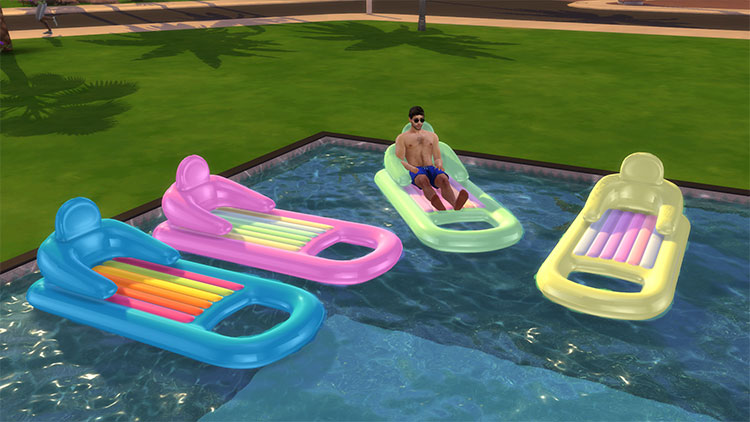 The summer vibes are strong with this one.
Another Island Living mesh edit gives us more floats, and these ones are practically neon!
I don't know if anyone else is as excited about that as I am, but here we are.
Nothing says 'party' more than neon, and you can cover your pool in these if you want.
5.

Hot Goth Summer Pool Float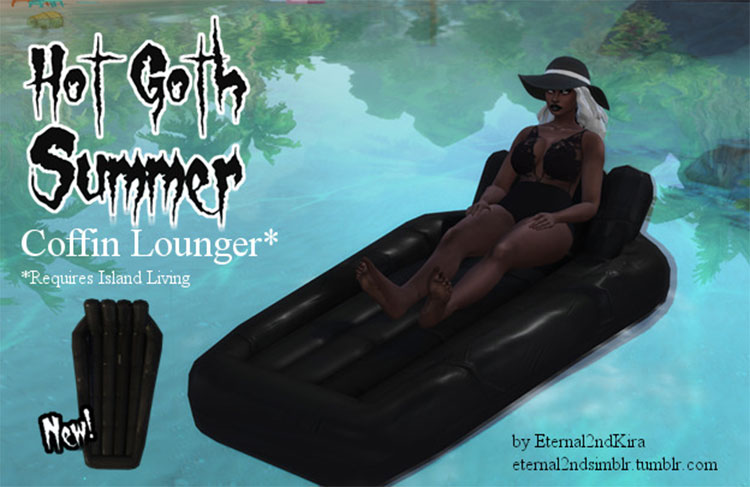 Here's something a little different for those of you who aren't fond of so much color… a coffin lounger!
Not every Sim is cut out for bright, fun-filled summer days, right?
Perhaps it's a little macabre, but I'm actually really digging this.
It's now a personal goal of mine to get the Grim Reaper on this float.
4.

Pool Party Posepack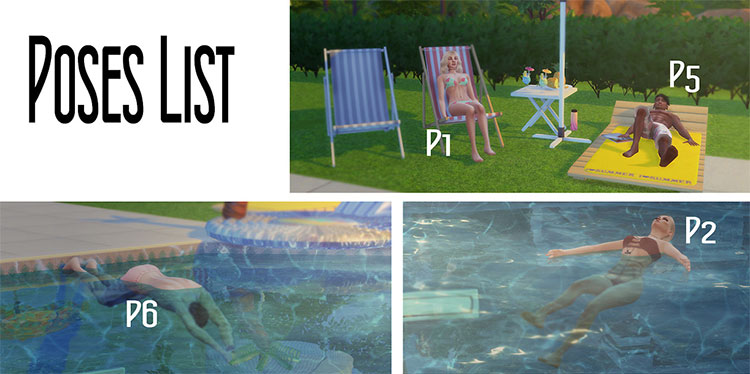 Now we must circle back to my pose addiction. This one is really cool, though, I swear!
Mrs.Nobody has created some very active poses for your Sims here, including diving and one Sim pushing another towards the pool.
Let's be honest: chances are if you've ever thrown a pool party for your Sims, it didn't turn out quite like you expected.
Every time I've ever tried, it's been rather chaotic, because that's just how things are when you get more than about six Sims together at one time.
This is where poses come in.
The beauty of this mod is that while the reality might include everyone sitting in lounge chairs instead of swimming, or half your guests are inside fighting over who gets to use the computer, you can force them a little closer to what you had in mind with poses like Mrs.Nobody's.
3.

Fun Beach Towels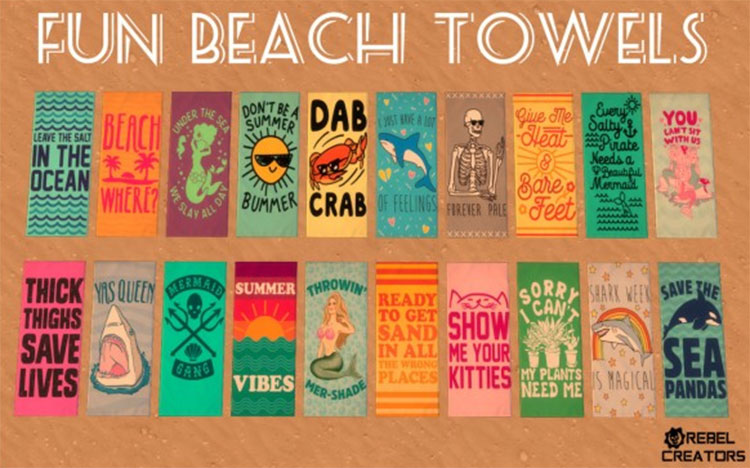 Usually I go for CC that matches the game's Simlish style.
But these sassy and meme-based towels from sims-and-rebellion are too good to pass up.
I seriously wish I could find towels this awesome in my actual life, but once again my Sims will get to have all the fun.
At least in The Sims it won't end up grass stained!
2.

'80s Bathing Suits
If you want your Sims to look cool while they're trying to stay cool, it doesn't get much better than this.
These retro patterns are like, totally rad.
While I may not have been around in the '80s, and my knowledge of the vernacular may come exclusively from television, I love the clothing and styles from that era as much as the next person.
These bathing suits actually match pretty well with the neon Pool Lounge Float listed above, too.
I see an all-out '80s themed pool party in my Sim's future…
1.

Dreams of the Beach Clutter Collection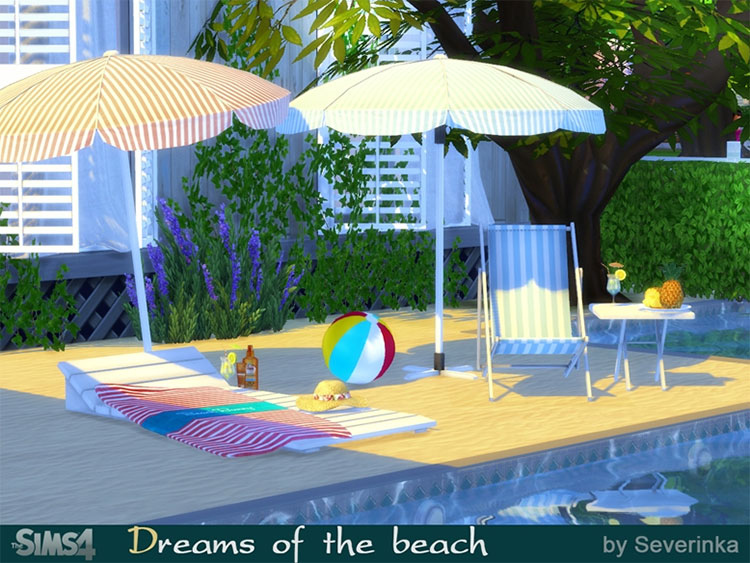 Topping off this list is a clutter collection that has everything you need to set the mood for your Sim's pool party.
I don't know about you, but I for one am always on the hunt for more clutter.
Our Sim's homes and yards often just look too blank and empty, making it hard to remember we're supposed to be playing with life.
Well when it comes to pool days, CC creator Severinka has got you covered.
Umbrellas, beach chairs, and my favorite part: a beach ball. All just a few of the many items making up this set.
She also includes sunscreen bottles, drinks in elegant glasses, and a sliced pineapple to complete this lavish collection.
Browse:
Lists
The Sims 4
Video Games