Pop Culture CC For The Sims 4 (All Free)
This post may contain affiliate links. If you buy something we may get a small commission at no extra cost to you. (Learn more).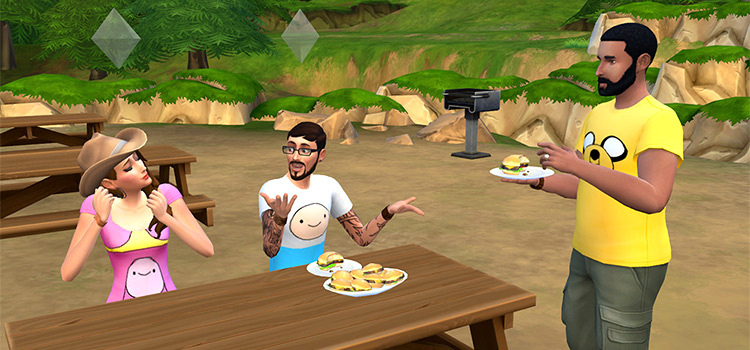 Looking for the ultimate crossover between The Sims' universe and our own?
Well your search is over!
Whether you're a big gaming fan, a Potterhead, or if you've watched Lord of the Rings more times than you can count… either way you can bring your Sims along for the action with tons of pop culture CC – all created lovingly by the TS4 modding community.
And here's our collection of the greatest pop culture references to add into your TS4 neighborhoods, to bring your Sims slap bang into the 21st Century in style.
1.

Rick & Morty T-Shirts (Girls)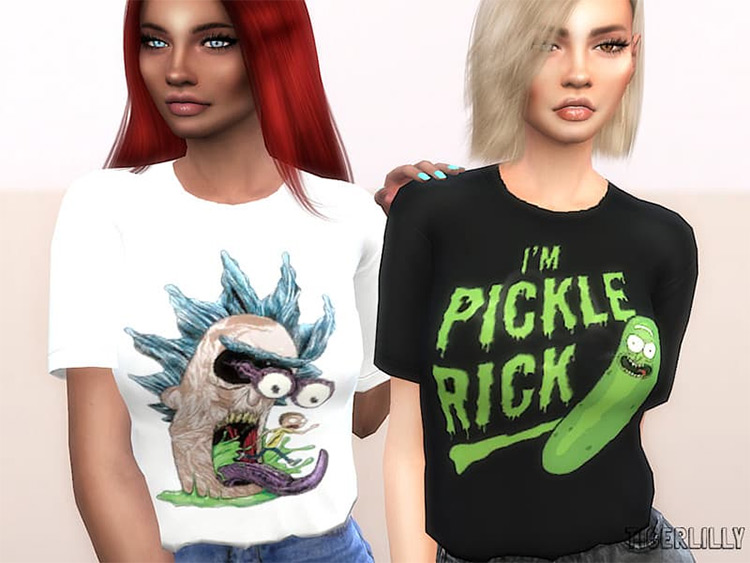 Wubba Lubba-dub-dub!
Get your hands on these incredible Rick and Morty tees by tigerlilly and get your Sims prepped for the new season.
These oversized slouchy-fit designs look perfect when paired with skinny jeans and casual trainers, and they're suitable for female Sims from teenagers all the way up to elders (aka. really hip grandmas!)
2.

Disney Princess Wall Art
No Simlish-themed little girl's room is complete without a collection of posters of her favorite Disney princesses.
And this wall art set by juanni84 contains a selection of 10 different princess posters from the most popular Disney movies. You get Ariel, Pochahontas, Mulan, Tianna from The Princess And The Frog, and quite a few more.
Let her be a princess and enjoy those younger years – they go by quick!
3.

Cartoon Leggings
It's not only little girls that love great cartoons.
Because really, have any of us actually grown up that much?
This leggings set from creator Birba32 is available for both female child Sims, and female adult Sims. So both moms and daughters can wear matching cartoon leggings featuring characters from SpongeBob and Corpse Bride, or even the Minions in Despicable Me.
So many adorable outfits, so littlee time.
4.

Game of Thrones Houses Logos
Are your Sims Lannisters who always pays their debts?
Or are they budding Kings or Queens of the North?
Bend the knee to this fantastic House banner logo set by xhemmosguitar.
Each poster serves as an exciting wall art decoration for any Game of Thrones nerd, whether or not you liked that season finale.
5.

Lord of the Rings Paintings
Let's say you're more of a Lord of the Rings fan (and hopefully your Sims are too?)
Then check out these highly-detailed movie posters based on artwork from the original film releases.
Any of these would make a perfect addition to any Sim's film room – of if they're rich enough, throw them into your Sim's home theater room.
Then you can watch your favorite TV show in comfort knowing that Aragorn, Frodo, and Gandalf are right behind you. Literally.
6.

Pokémon Kids Room Set
For a kid's room that we all wish we had growing up, check out this incredible child's bedroom set by Mini Simmer.
Your Sim children will be the envy of all the other kids in the neighborhood with this bedroom design – which includes two children's beds decked out in Pokémon themed bedspreads, plus Pokémon stuffed plushie toys, and a huge Pokémon trainer themed wall mural.
And if you want even more Poké cuteness, how about these custom Pikachu slippers?
Your Sims can never have enough Pokémon merch.
7.

Harry Potter Sweater For Women
Harry Potter fans will want to cast Accio on these female sweaters right away.
This sweatshirt design by remaron includes 9 different swatches, all available with optional logos for Hogwarts, Quidditch, the Deathly Hallows, and more.
Teenagers, adults, and even elders can enjoy this comfy casual off-shoulder jumper. But note that the Parenthood expansion is required to get this CC installed & working.
8.

Gaming Posters
CC creator juianni84 blesses us with even more of their wall art sets, this time with a collection of gaming posters.
You know these would easily complete the look for any messy teen Sims' bedroom.
Or they could even work well on the walls of your Sim's streaming room.
This set features artwork from many popular gaming franchises including Assassin's Creed, Portal, Super Mario, and Destiny. So there's something to suit every gamer in this CC pack.
9.

Super Mario Kids Bedroom Set
This iconic room design from jomsims will have Mario fans shouting "Wa-hoooo!"
It's touted as a kids' bedroom, but it's certainly doable for Sims of any age…
We think this bedroom set is well-suited to young kids and children at heart alike.
With a complete Super Mario overhaul for tables, beds, and bedspreads, plus giant Mario posters, some table lamps, custom rugs, and even a gold star ceiling light…
Yeah, this is the bedroom of every Super Mario fan's dreams.
And it'll go perfect with some other Mario CC too.
10.

Adventure Time Tops (Male+Female)
Help your Sims show off their love for Jake The Dog, Finn The Human, BMO, and all your favorite Adventure Time characters.
This custom clothing set by AvenidaSims offers tops for guys and gals, so nobody is left out of the fun here.
And just from looking at them, you can tell they're suitable as a unisex t-shirt design. Plus they're wearable on any Sims aged teens to elders.
In CAS you'll find these designs as recolored swatches under the original EA t-shirt mesh for easy access – and they're completely compatible with the base game onwards. No expansions needed!
Browse:
Lists
The Sims 4
Video Games