Best Sims 4 Pregnancy Poses (All Free To Download)
This post may contain affiliate links. If you buy something we may get a small commission at no extra cost to you. (Learn more).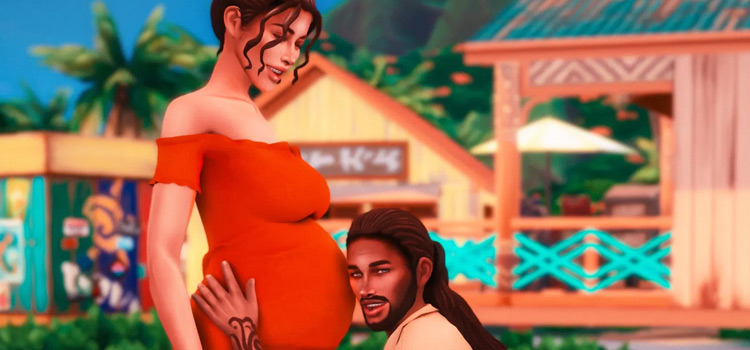 Pregnancy looks good on anyone – even computer-generated 3D simulation models.
Whether you're creating a story using your Sims, or if you're heavily dedicated to Sims photography, or if you're a Sims 4 CC creator and you need some pregnant Sims to show off your latest custom maternity clothes, either way good ol' pregnancy poses will always be in high demand.
So, here you go; I've scoured the Internet for you and organized some of the best custom pregnancy poses for expectant TS4 mothers and fathers.
Note: you'll need Andrew's Pose Player and Scumbumbo's Teleport Any Sim mod to make these poses work. And if you've already got both installed, make sure that:
Script Mods are enabled (you can do this via the Settings menu in-game)
Your Teleport Any Sim mod is up-to-date.
1.

Incoming! A Pregnancy Test Pose Pack by Kouukie
Look; I love the standard "cradling my tummy lovingly" pose that most expecting mothers strike. It's raw, it's beautiful, and in the hands of a good photographer it can look elegant as heck.
I wouldn't mind looking at five thousand photos of five thousand different mums striking the exact same pose.
But in The Sims, I prefer a bit of variety.
So I can appreciate Kouukie's pregnancy pose pack for the simple fact that it beautifully depicts the pre-pregnancy waiting phase and all the possible emotions moms-to-be could go through.
As someone who's played (and completed, thank you very much) the 100 Baby Challenge, I will say that the "Take Pregnancy Test" animation is pretty flat and leaves much to be desired.
This TS4 pose pack brings more character to the game with at least five different emotions.
Take Note! You'll need the Pregnancy Test accessory for the poses to make sense. It's made by CC creator inabadromance and is linked on the original download page (and below). The accessory comes part and parcel with inabadromance's own pose pack, but you can opt to install it as a separate .package file.
Additional Files Needed: Pregnancy Test Accessory (Head Accessories > Hats)
2.

Pregnancy Selfies Pose Pack by Katverse
Given how social media is pretty much a non-negotiable for all of us – as are smartphones – this pose pack is very true-to-life.
What happy expectant mother wouldn't take gorgeous photos for the 'gram?
Most of the poses work best with second or third trimester. But your Sim can still strike awesome poses with their barely-visible baby bump if they want to.
In fact, some of the poses in this pack look like regular side-selfies. You could spin the narrative that your Sim is showing off their outfit or something and it would totally work!
Take Note: You'll need the iPhone accessory for the poses to make sense here – specifically the one for the left hand. This CC is also made by inabadromance. Katverse links it in the pose pack description. You can download all versions if you wish, but the one you'll need for the poses is the Left Version.
I also recommend using the one found in the hats category, as that one's of a higher quality.
Additional Files Needed: iPhone Accessory (Head Accessories > Hats)
3.

The Other Side of Pregnancy Pose Pack by Katverse
Here's another pack that I highly recommend.
Again, I love variations in my poses. Sims 4 pose packs that can tell the same story from different perspectives are an automatic win for me, and this The Other Side of Pregnancy pose pack by Katverse fits the bill perfectly.
To quote the creator, "pregnancy isn't always so picture perfect."
These poses showcase that statement beautifully. Getting a foot rub from the doting father-to-be, eating tubs of ice cream because those cravings just won't quit, leaning against the kitchen counter in pain because baby decided to start tap-dancing … it's all very realistic.
And we love realism, do we not?
Also, the couple poses are so domestically wholesome, they appeal to the buried hopeless rom-com fanatic in me.
Additional Files Needed:
4.

Hello 3D Trimester Poses by Katverse
Remember that "cradling my tummy lovingly" pregnancy pose I mentioned earlier?
Here it is!
As expected, a lot of Sims content creators have variations of this pose for their custom pregnancy pose packs.
If you Google phrases like "Sims 4 pregnancy poses", I guarantee this pose is going to litter the Images results page. So, yeah; as far as concepts go, this pack from Katverse isn't exactly one-of-a-kind.
But it's still so freaking beautiful that I can't complain.
Seriously, let your Sim show off their pregnancy glow with these poses. The custom expressions for the momma Sim in this pack are so soft and fond, it's borderline ridiculous.
5.

Pregnancy Portrait and Studio Poses by joannebernice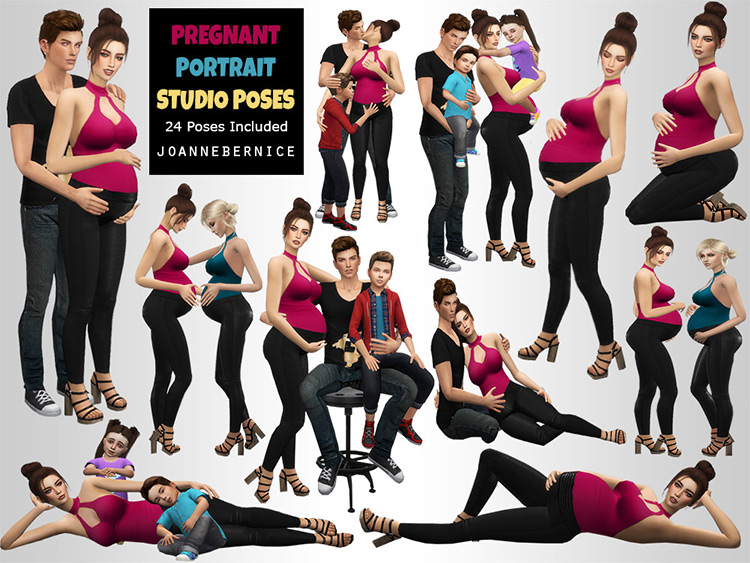 If any of you old hats were around for The Sims 3 custom poses, then you probably remember how easy it was to pull off couple and group shots.
To keep a (potentially) long story short, there were TS3 cheats that allowed you to move your Sim around like they were furniture. So you could put them in their custom pose and then just position them as easily as you would a table or chair.
I genuinely miss that freedom.
Let me tell you: The Sims 4 custom poses for couples is a prime example of organized chaos. You need to do several takes with the Teleport Any Sim mod before you can make your Sims look exactly like the pose previews.
So just know something: this entire pose pack by joannebernice is gorgeous and varied. There are plenty of solo shots and twosome poses (especially the "Pregnant Friends!" poses) that you can easily pull off in seconds.
But the cuddly couple shots and the family portraits?
Fair warning: it's going to take several takes – and a whole lot of Teleport Any Sim placeholders – before you get your Sims looking like they should.
But if you've got the time and energy to invest in this? Go for it. Because the couple and family poses genuinely look amazing.
6.

Pregnant Yoga Poses by joannebernice
This pose pack is definitely a one-of-a-kind concept that was executed flawlessly.
Again, it's another perspective of the whole IRL pregnancy journey that I didn't even consider. But here you go: poses for the expectant mommy, just following doctor's orders to strengthen her core and hips.
Judging by the preview pictures, the poses were probably made specifically for Sims in their first and second trimester (where the pain and extra weight are still manageable). However, there's just enough space between the limbs that clipping probably won't be an issue with Sims in their third trimester, either.
In real life, most women would probably feel too heavy at around the seventh or eighth month to comfortably pull off half of the poses here. But hey, I won't tell if you won't.
7.

Oh Baby, We're Expecting! Pose Pack by lilalmondsim
As far as couple's poses go, this pack's probably my favorite for TS4 custom pregnancy poses.
There are only three poses in the pack, but they're all adorable and wholesome. And I've got to hand it to the creator; the concept would make for a very cute pregnancy announcement IRL. If I saw this while scrolling through Facebook or Instagram, I would heart it a million times.
Again, actually lining up the Sims to match the intended poses will be tricky. Best advice I can give you is to place the Teleport Any Sim placeholders as close as physically possible without letting them occupy the same space.
Yes, let them overlap. It'll take several tries, but you'll get there!
The pose pack comes with the ultrasound as an accessory (which you can find in Hats), but you'll still need the original polaroid mesh by alhenassimblr. Don't worry; everything's linked in the download page.
Additional Files Needed: Polaroid Accessory by alhenassimblr (Head Accessories > Hats)
8.

Pregnancy Test Poses by Atashi77
This pose pack sort of combines the concepts of Kouukie's Incoming! pose pack and Katverse's The Other Side of Pregnancy pose pack.
It contains 12 single poses (specifically the Sim taking the pregnancy test) and 8 couple poses.
And let me tell you, the couple poses can tell one heck of a story!
I love the variation in this pack, honestly. There's the stereotypical "yay we're pregnant!" pose that features two ecstatic Sims. Then you've got the hilariously honest "cool we're pregnant now what?" pose that features two Sims that look happy but also slightly overwhelmed.
This one's my favorite.
And for those that want a bit of drama? Worry not; there's an incredibly heartbreaking couple's pose where the pregnant Sim is crying on the floor while their partner walks away.
Y'know, just to keep things interesting.
Additional Files Needed: Pregnancy Test Accessory (Head Accessories > Hats)
9.

Us 3 Pose Pack by Katverse
This one's just a simple – but wholesome – pregnancy pose pack for couples.
Again, not that unique of a concept. But I personally think this pack features the best expressions for couples.
There are a lot of fond looks and contented smiles in here, which is a pretty sweet breather from the typical "overly happy" and "grossly in-love" expressions that are featured in a dozen other packs.
This one just gives off a warm, soft, and subtle sort of pregnancy glow that I found beautifully genuine.
As genuine as a life simulation game can get, anyway.
10.

Pregnancy Pose (10+1) by Isims1357
I'm wrapping this list up with a fairly standard and straightforward pregnancy pose pack.
It's basically what the name says it is; 11 poses – 10 solo shots and 1 couple's pose – for expectant Sims.
The creator says they specifically made this pack for Sims in the second trimester, so they aren't sure how well they would look with smaller or bigger bellies.
Regardless, I still find the poses in this pack particularly beautiful because of how simple and raw they are.
It has that legit "pregnancy photoshoot" feel to it. Simple variations between poses, not a lot of exaggerated expressions, and heavy focus (no pun intended) on the baby bump.
I like that there are some seated poses here, too. Artistic, but not over-the-top.
If you prefer single-Sim shoots, this is a great pack to have in your mods folder.
Browse:
Lists
The Sims 4
Video Games