Sims 4 Princess Dress CC (Children + Adults)
This post may contain affiliate links. If you buy something we may get a small commission at no extra cost to you. (Learn more).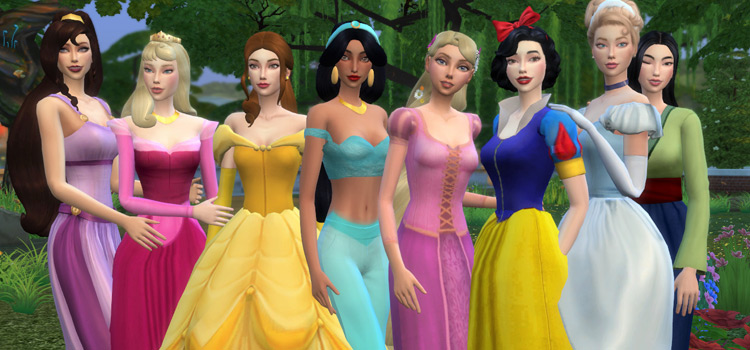 There was a time where I imagined myself having a Princess Diary moment:
A scenario where I'm supposedly adopted and was the missing heir to the throne of some small unknown country in Europe.
But the chances of being whisked away to a castle and having an arranged marriage to a handsome duke are close to impossible.
Although being a royal has many ups and downs, it doesn't take away the fact that it remains a status to be desired.
After all, who wouldn't want a walk-in closet filled with pretty dresses, glittering tiaras, and enough jewels that could attract even dwarves and dragons?
Let's get that princess fever in The Sims 4 by checking out these custom princess dresses made for royalty!
15.

Princess Sleepwear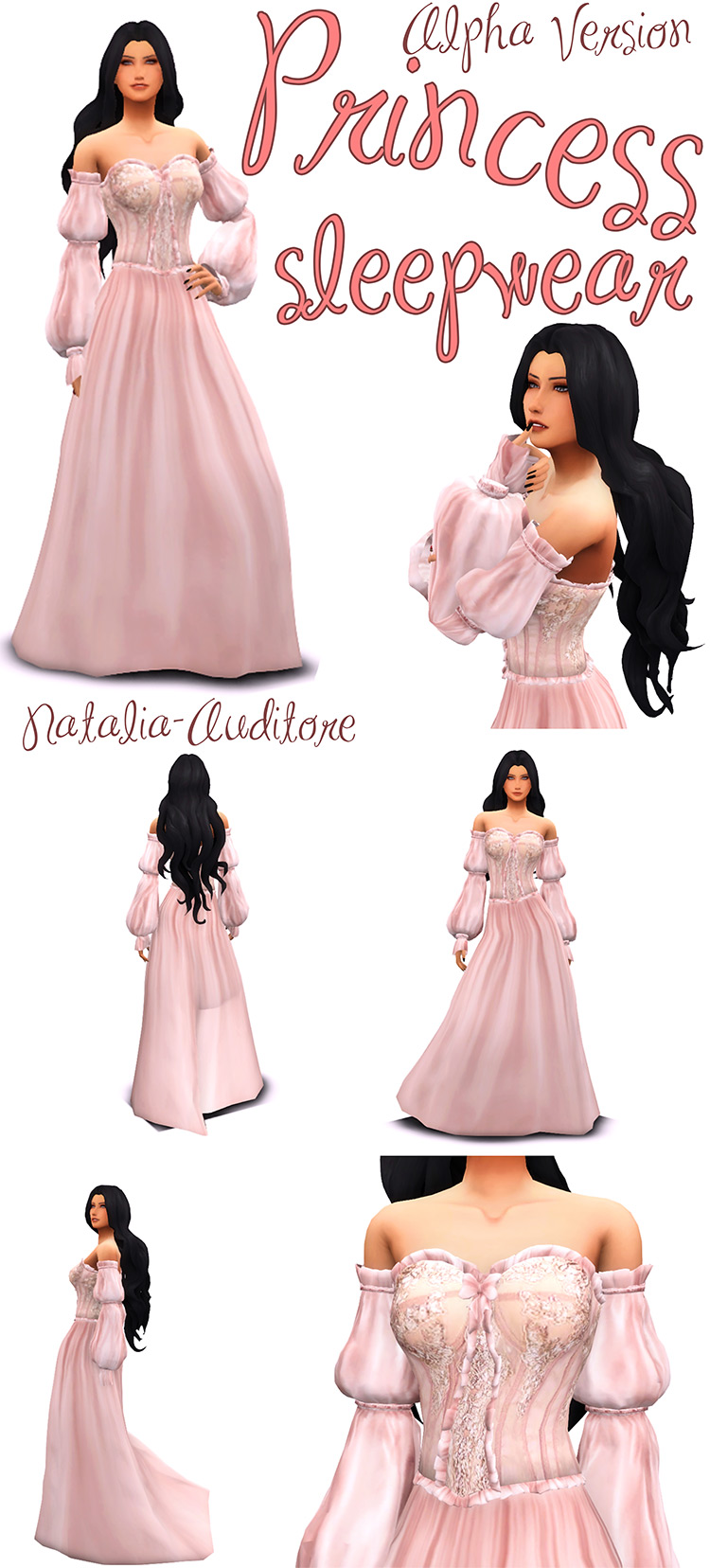 Princesses take their beauty sleep very seriously.
You'll just never know when a stray prince would visit your room and sneak a kiss, you know?
Now your Sims can always look their best under the sheets with this Princess Sleepwear CC set from Natalia-Auditore, which comes in 22 swatches.
14.

Elegant Princess Dress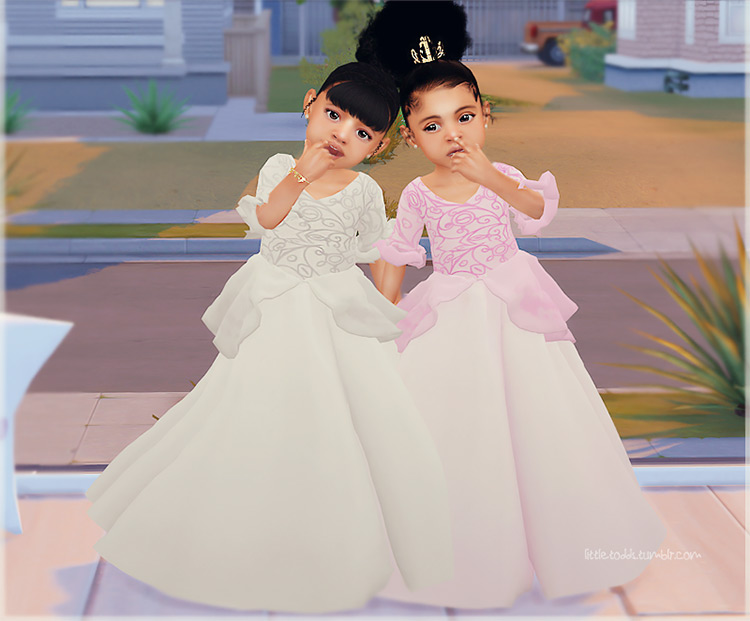 Being a princess at birth sounds like every kid's dream.
You can play dress-up with the finest clothes a kingdom could offer, and tea parties would probably be a social affair for royal toddlers.
Of course, there's the prospect of getting married to someone you may never learn to love – but other than that, being a young princess is a privilege.
I mean, just look at this custom dress from Littletodds. Isn't it cute?!
13.

The Little Angel Dress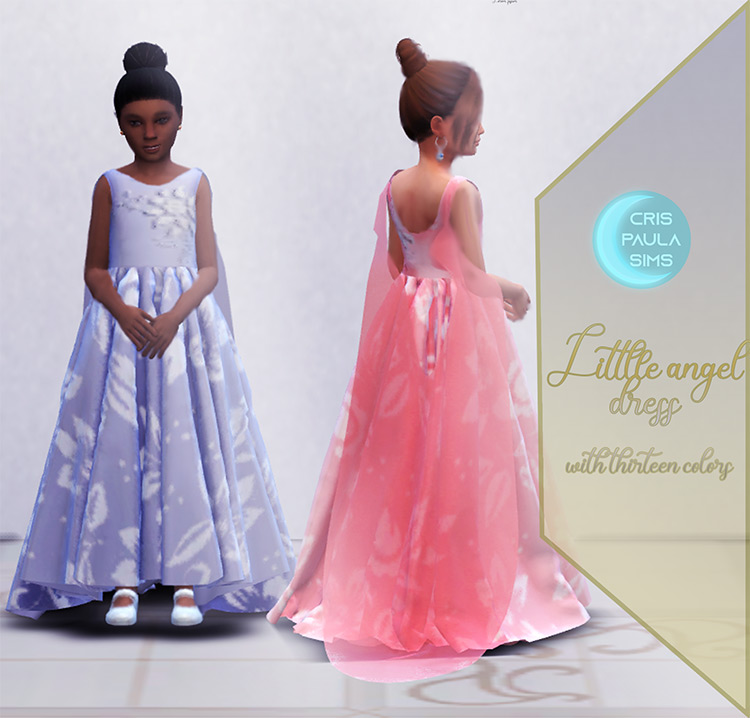 Here's another princess outfit for kids that beats every dress worn at my high school prom (and most Sims prom dresses too).
The Little Angel Dress has a typical A-line cut with a transparent cape at the back that screams "you're a rich girl, and you've gone too far."
Spoil your Sim child with a finely-tailored dress from Cris Paula Sims, available in 13 colors in all!
12.

Fairytale Dress

In The Sims, being a mermaid princess isn't an unusual title – nor is it an impossibility.
You could pretty much create your own batch of underwater royals and other Sims wouldn't even bat an eye.
Problem is, there aren't many underwater-themed ball gowns for them to wear.
Which is useful when attending to earthly matters (like simping over a human).
But once you find rare gems like this custom fairytale dress, then seducing another Sim wouldn't be as difficult as it was for Ariel back in the day.
11.

Aurora Dress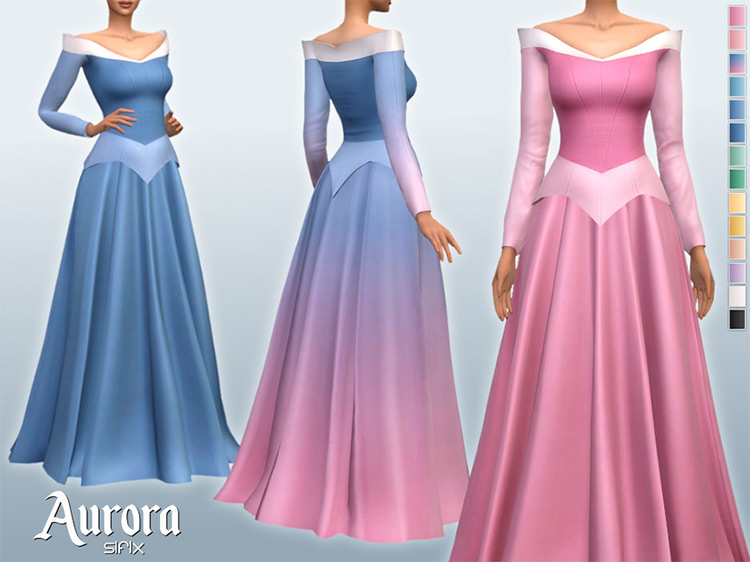 Princess Aurora was once my favorite Disney princess – before I realized that she slept through half of the movie and continued sleeping until some guy she met in a forest kissed her.
Yeah, what a role model you created there, Disney.
Aurora may not be the ideal sixteen-year-old to look up to. But with three fairies on her side, she lucked out in life.
How do you even get to have three magical beings create a gorgeous dress for you out of thin air? Like, how?
Get nostalgic and feel the magic of this Aurora Dress CC, which comes in plain and ombre swatches.
10.

Roses Dress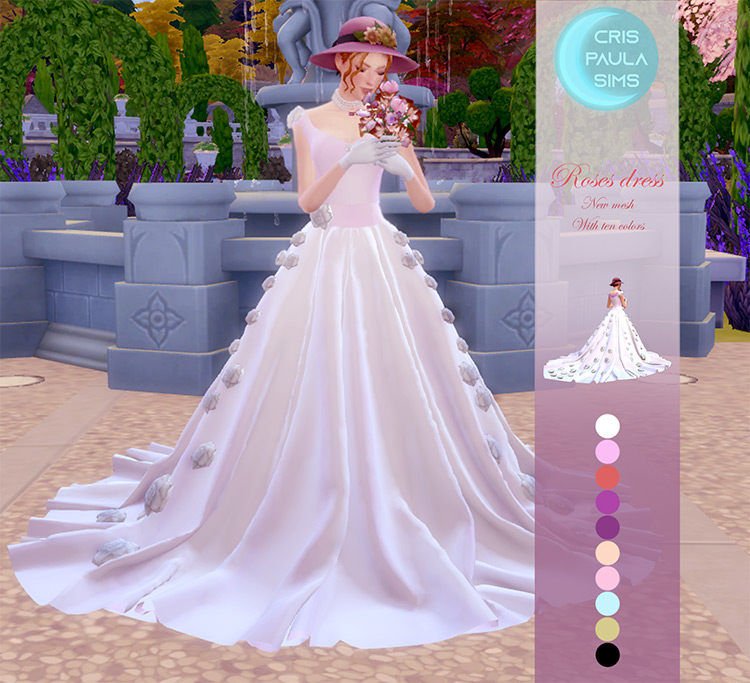 When you're a princess, inheritor of royal blood, a descendant of ancient kings and queens, garden gowns are a thing.
You don't just pick roses while wearing a day dress.
A proper princess would wear a floor-length dress that comes in 10 colors to match whatever flora's growing around.
It sounds over the top – but so does living in a castle with 70 rooms and 100 toilets.
9.

Hungarian Court Dress & Pearls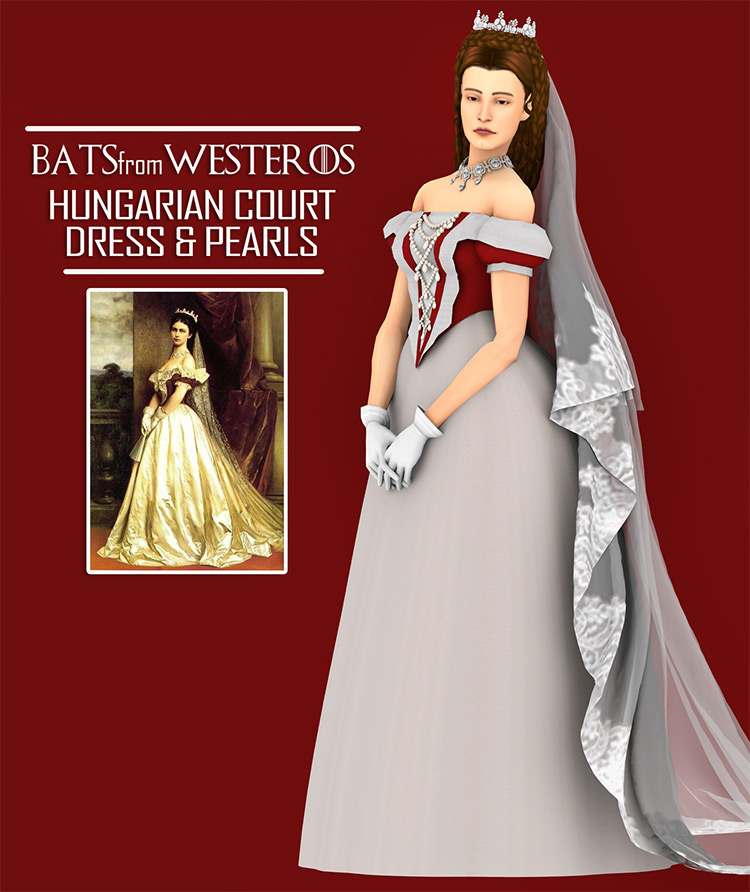 For days when your royal Sim just wants to look pretty, this Hungarian Court Dress CC would be an elegant ensemble to behold.
Featuring an A-line cut skirt, off-shoulder top, and pearl embellishments, this dress from BatsFromWesteros puts on a simple but unmistakable visage of royalty.
Hungarian princess or not, your royal Sims can get whatever they want, all starting with this CC!
8.

Cinderella Dress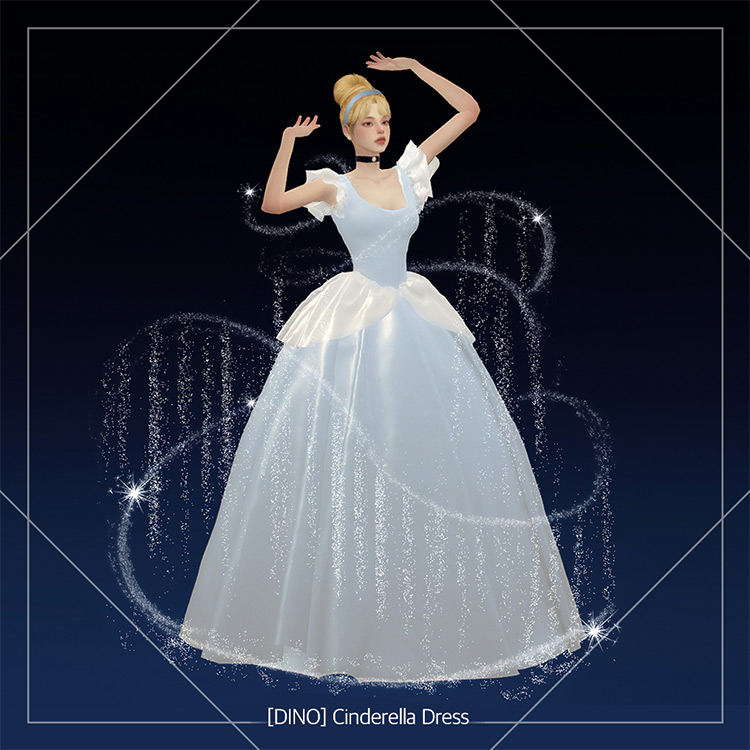 Even if you didn't grow up watching Disney, you'd know who Cinderella is.
But to recap:
She's the chick who's got a wickedly abusive stepmother and stepsisters, and by some twist of fate, met her Fairy Godmother who gave her the ride of her life by transforming a magic pumpkin into a ride which lead her to meet the most generic prince I've ever seen.
Oh, and she got other freebies too.
Like glass slippers and this gorgeous blue dress made out of bibbidi bobbidi boo.
As one of the OG princesses of our childhood, consider this CC as a starter pack for your Sim princess-to-be!
7.

Princess Margaret Pack 2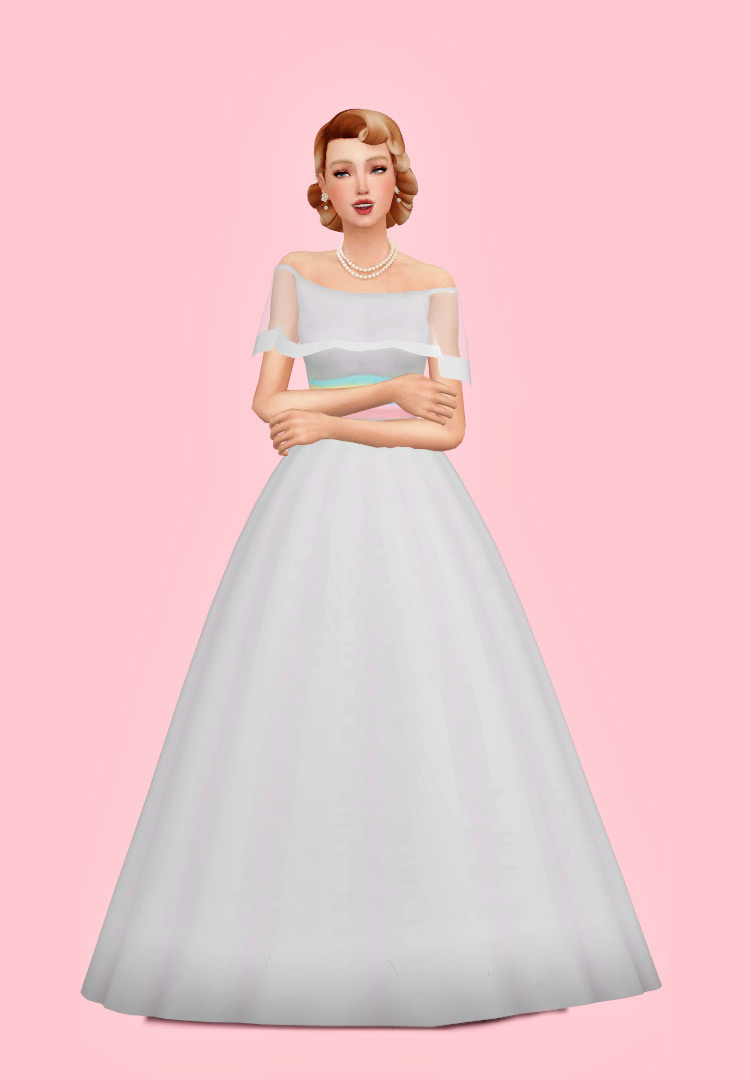 Princess Margaret, the younger sister of Queen Elizabeth II, was more than just her title as the Royal Rebel.
She was a fashion icon whose lavish lifestyle consisted of having access to the crown jewels, a collection of Dior and YSL outfits, morning vodka, and some of the prettiest dresses ever worn by a monarch.
If you're looking for tips on how to dress in something players won't bash, then take notes from Princess Margaret and download these 3 dresses inspired by Her Royal Highness.
6.

A "Roman Holiday" Set – Part 2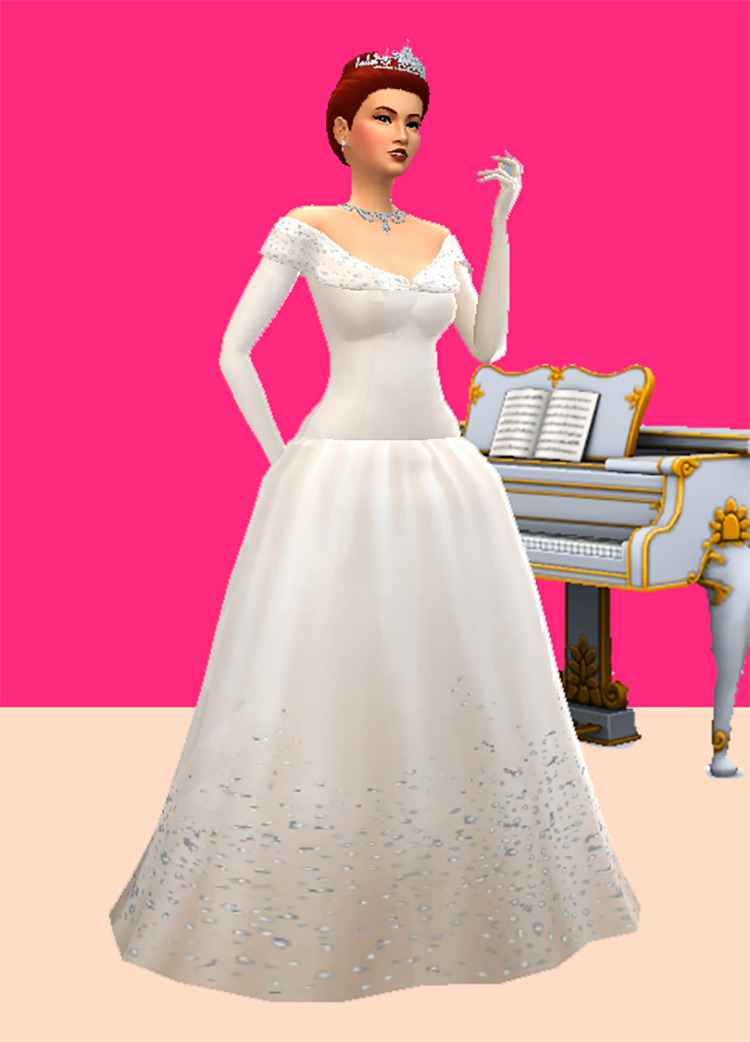 When you have Audrey Hepburn starring as a princess who suddenly meets a dashing man in Rome, you'd expect a modern fairytale.
But, *SPOILER ALERT* not all royal encounters end up with a happily ever after – and that's certainly the case in 1953's Roman Holiday.
Bittersweet as it may be, this movie wasn't a classic for nothing, having won 3 Academy Awards including Best Costume Design.
And seeing the CC above, it was a well-deserved win.
5.

Princess of Wales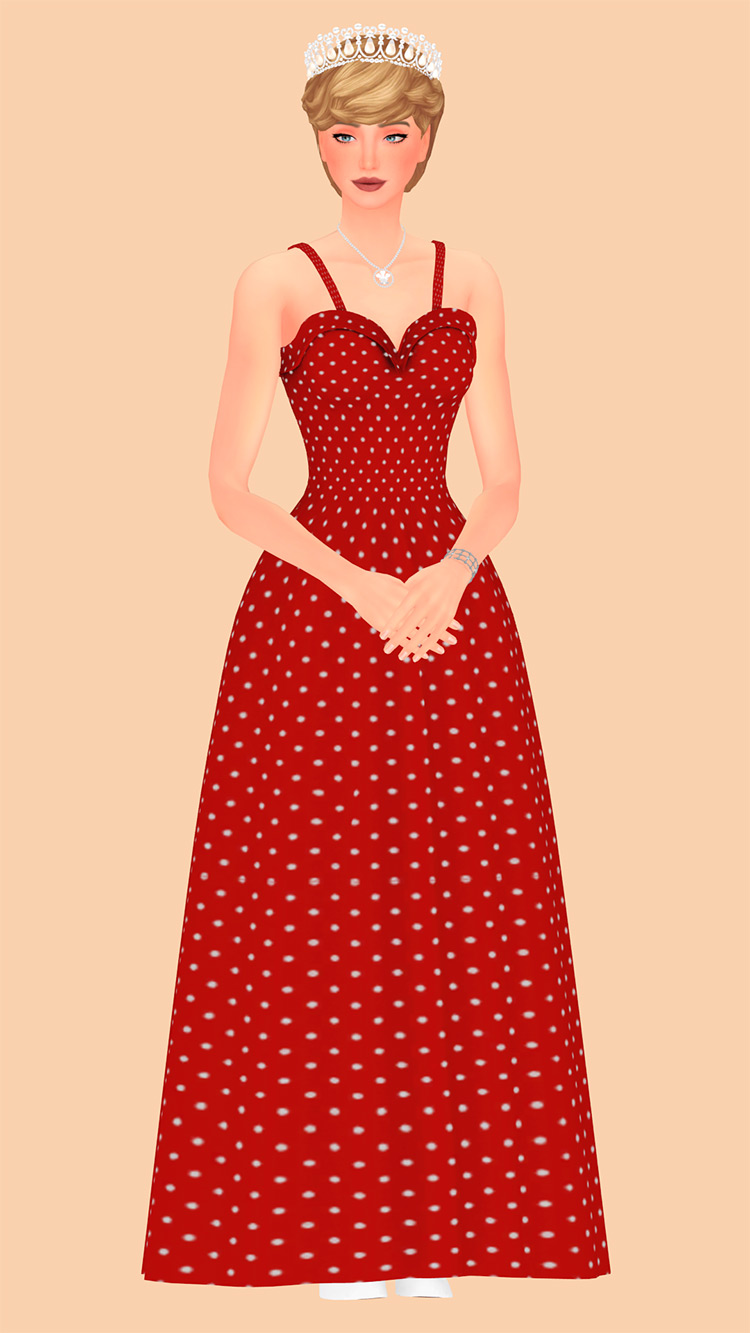 This list wouldn't even exist without having at least one Princess Diana-inspired dress.
The People's Princess was a fashion legend who had the power to look good in anything she wears.
Of course, she had bigger legacies than being a fashion icon of the 20th century.
But her exquisite style is still being remembered to this day.
Check out her sparkly red number above, worn in 1981 and converted for The Sims 4.
Try this on and tell me it's not a fitting look for a modern-day Sim princess.
4.

Royal Gown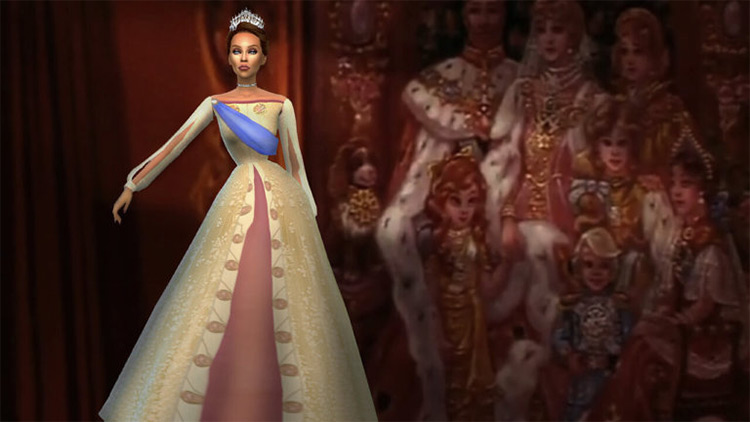 If there's one character who's a cut above the rest, it's mah gurl Anastasia.
Although not a princess, the Grand Duchess Anastasia Nikolaevna of Russia is a force to be reckoned with:
She fought a sorcerer, managed to find her long-lost grandma, and survived falling off a bridge, which is beyond the paygrade of your regular royal.
Plus she has one of the most gorgeous transformation dresses as seen in this CC.
If being a grand duchess would give me an ensemble as beautiful as this, then I wouldn't mind being demoted.
3.

Princess & The Pauper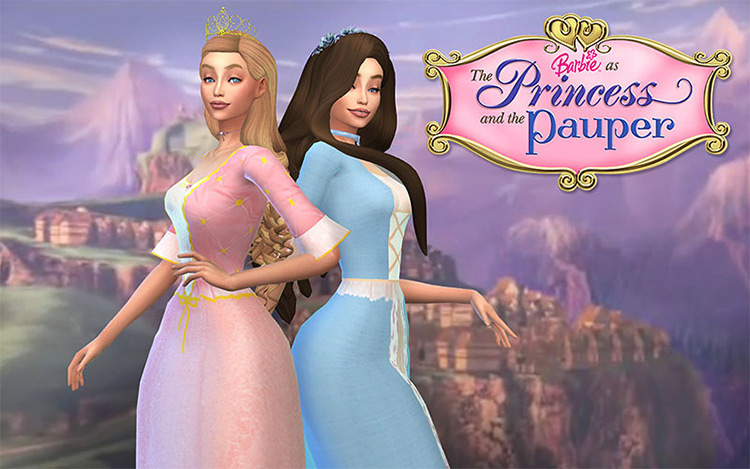 Disney princesses may be at the top of the monarchical food chain right now.
But before the trainwreck that is Barbie as the Island Princess, Barbie movie princesses were god-tier.
The Barbie film series had its golden years in the 2000s, loosely adapting classic tales into the usual fluff of love triumphing over evil.
But it was when Barbie as the Princess and the Pauper released that the series really took off.
The songs were iconic, Preminger was a viral meme in the making, and we got two princesses instead of one!
If you can't decide between having a Sim princess or Sim pauper, then you can be both with this 2-in-1 CC set.
2.

Belle Dress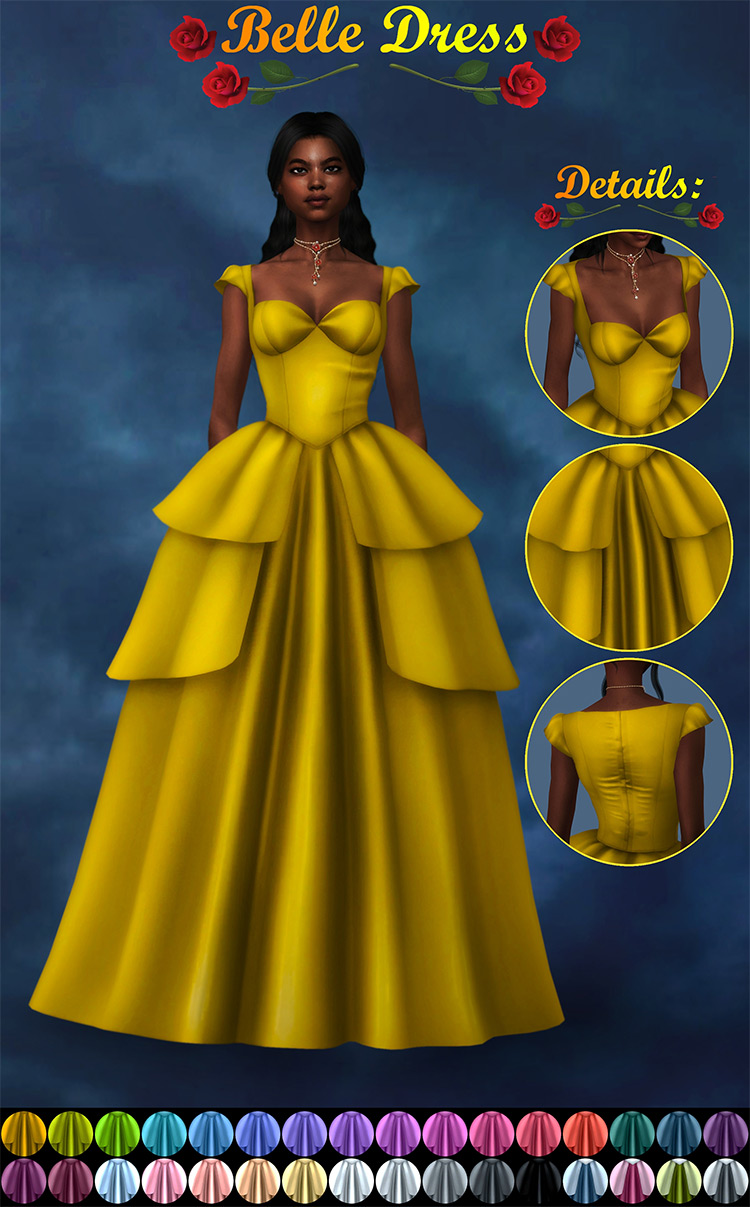 Daring to become the belle of the ball?
Here's a custom dress to help your Sim become the most beautiful one of all!
Belle's yellow ball gown from Beauty and the Beast is the ultimate party dress to wear when your Sim's on the prowl for a Prince Charming.
But in case your Sim doesn't manage to snag a human partner, well, there's always the beastly alternative.
1.

Diana Wedding Dress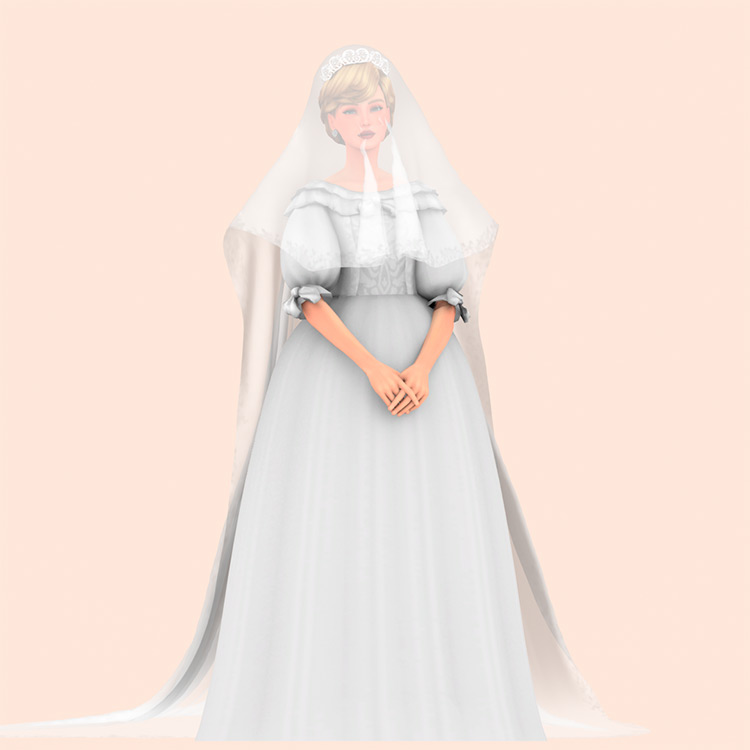 Despite the overly puffy sleeves, Princess Di's wedding dress was as iconic as the woman herself.
Over 750 million people watched as Princess Diana emerged from her carriage in a mass of white silk and a 25-foot train.
That same amount of people also watched her walk down the aisle to the prince waiting at the end of it.
It was a fairytale wedding at first glance – and Princess Di was the star throughout it all.
When your Sims finds their own happily ever after, give this Diana Dress a try for their wedding. I promise it won't disappoint.
Browse:
Lists
The Sims 4
Video Games