Best Sims 4 Prom Dresses: Free CC & Mods To Download
This post may contain affiliate links. If you buy something we may get a small commission at no extra cost to you. (Learn more).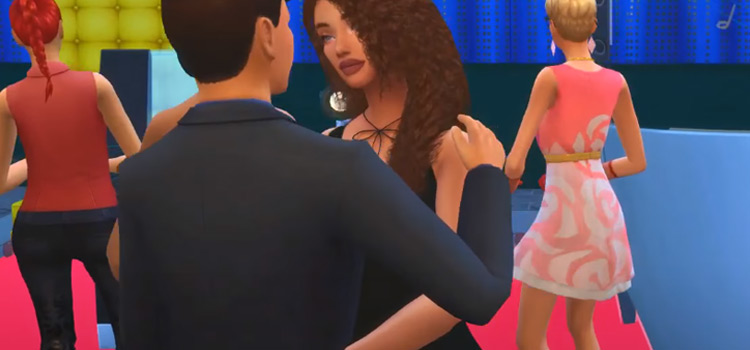 Every teenager has high hopes for prom.
For others, the once-in-a-lifetime event is a real-life fairytale of slow dances and first kisses. For most, it's a nightmare of promposal rejects, dateless realities, and highly expensive dresses pricey enough to pay off a months' rent.
If others got their Cinderella moment with Prince Charming, most will be survivors of Carrie-like disasters more emotionally humiliating than being doused with pig's blood.
But in the simulated world of The Sims, there can only be a perfect night that you can control.
And it starts by choosing the perfect prom dress to finally get the night you deserve!
15.

Amaryllis Dress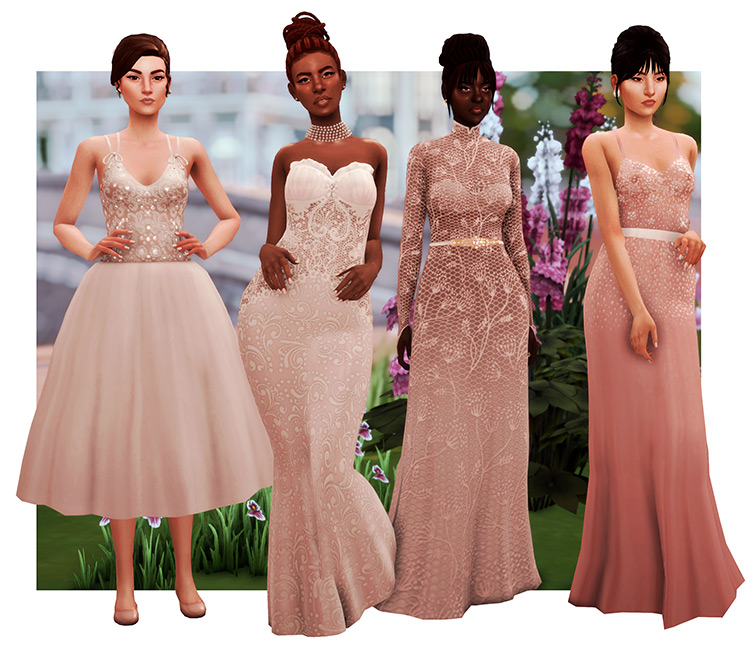 Molly Ringwald might have popularized pink prom dresses from the classic teen flick "Pretty in Pink", but Zeussim's Amaryllis Dress is a far cry from Andie's homemade statement.
The simple column dress with a daring open back and embroidered flowers is stunning enough to make anyone blush – even your pre-determined Sim prom date!
The prom dress code might have shifted to sequin-blinding design.
But nothing beats bare beauty when I see it.
14.

Mercurio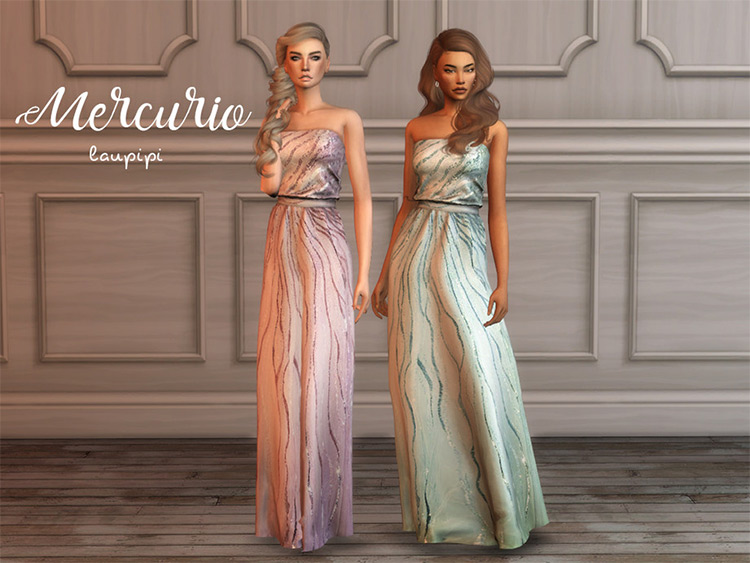 Now here's a dress you can wear to prom. And dinner parties, and more formal events after that…
Because let's face it: prom is meant to happen only once.
And your Sim will eventually outgrow her high school dreams in favor of chill house parties.
But if she ever gets invited to a wedding or debutante ball, then you can trust this Mercurio dress to keep her posh and dazzling as you did on prom night.
13.

Tulle Illusion Ball Gown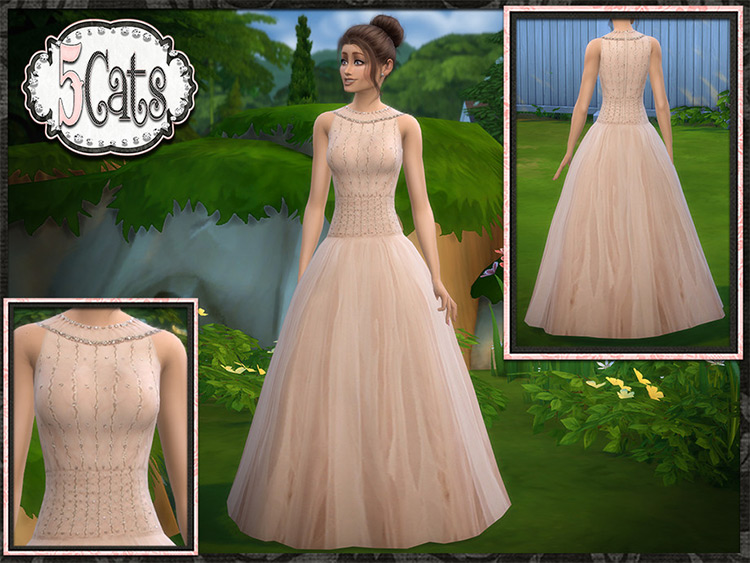 For your reference, there's a basic princess gown checklist which must include the following: an A-line dress cut, baby pink color, and tulle – lots and lots of tulle.
The dreamy fabric has the fine, delicate features worthy of prom royalty.
Add on a jewel neckline, corset-like waistline, and some shiny embellishments, and you got your Sim a dress for the royal coronation.
No teenager in her right mind would refuse a pink ball gown.
It's like hanging the green scarf in front of Rebecca Bloomwood.
So if I were you, just give in to the temptation.
12.

Reem Arca Off-Shoulder Ball Gown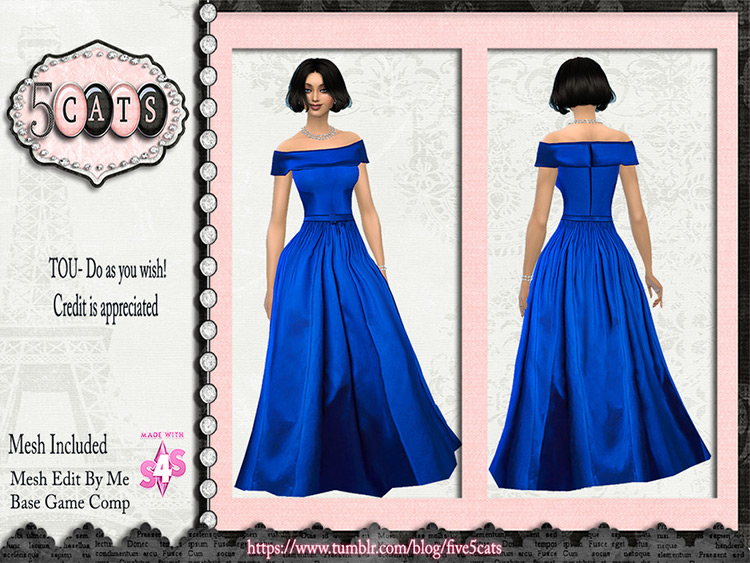 Sharply veering away from my pink favorites is Reem Arca's Off-Shoulder Ball Gown rendered by 5Cats for TS4.
The royal blue color is as gorgeous as the Heart of the Ocean necklace Rose recklessly threw overboard in "Titanic."
It also gives the illusion of being dressed by an internationally-renowned designer just for prom.
Imagine the thousands of dollars you'd have saved with this free CC!
11.

Aimara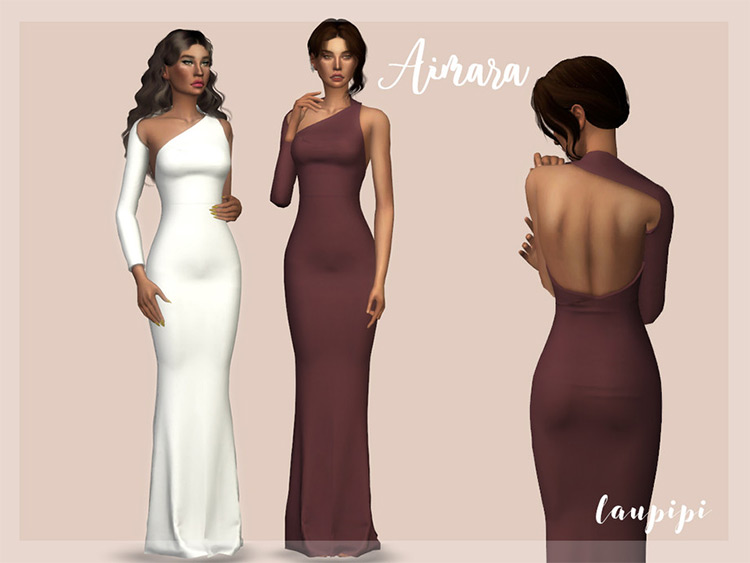 Ball gowns and A-line dresses might be the norm for a typical prom, but you're not searching for prom dress CCs to look like any other high schooler. I hope.
If you've customized your Sim to have envious curves, then there's no other silhouette that could work better than a sheath.
But the winning feature of the Aimara is not its form-hugging mesh but the asymmetrical style that finishes with a sexy open back.
When the big night comes, you can trust this dress to set you apart from the crowd.
10.

Violet Ombre Gown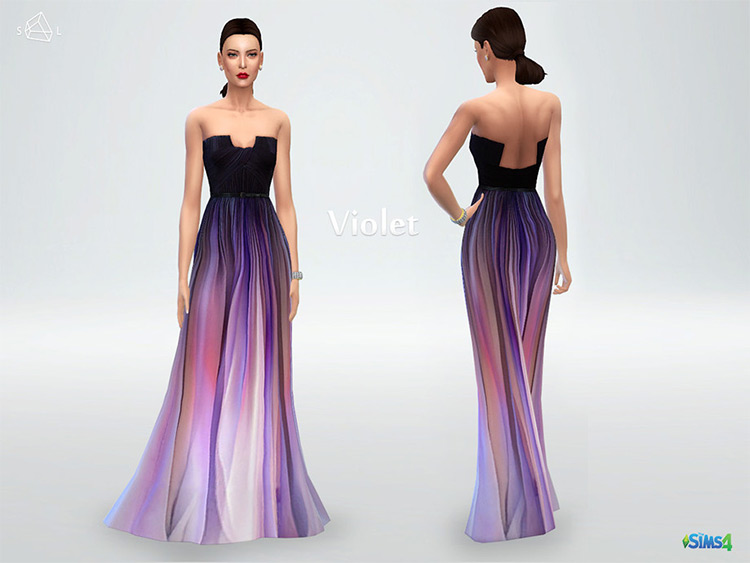 One of my favorite CC creators, Slyd, designed this violet ombre gown to satisfy our prom fantasies for years to come.
Downloaded for over 211,000 times, this CC is one of the most popular and well-favored long dresses available online.
And why wouldn't it be? With its plunging back and prism-like skirt, this violet vision is made to amaze.
9.

Prom Dress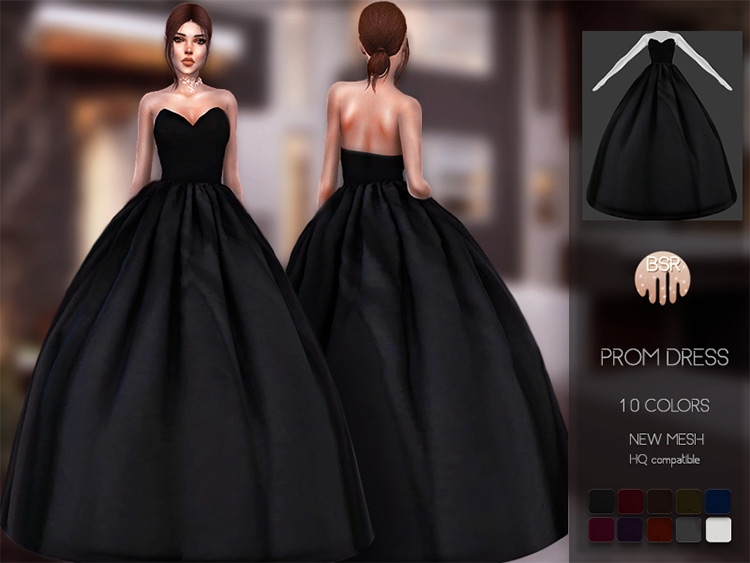 It's a no brainer to have a CC called "Prom Dress" in this list.
This might be a predictable choice, but admit it: if you had a fairy godmother, you would wish to have a ball gown bigger and better than any Disney princess.
Although a black gown is timeless, it might not be prom-appropriate. But consider yourself lucky there's 9 more colors to choose from in this CC!
8.

Selena Gomez's 2016 Grammy Awards Dress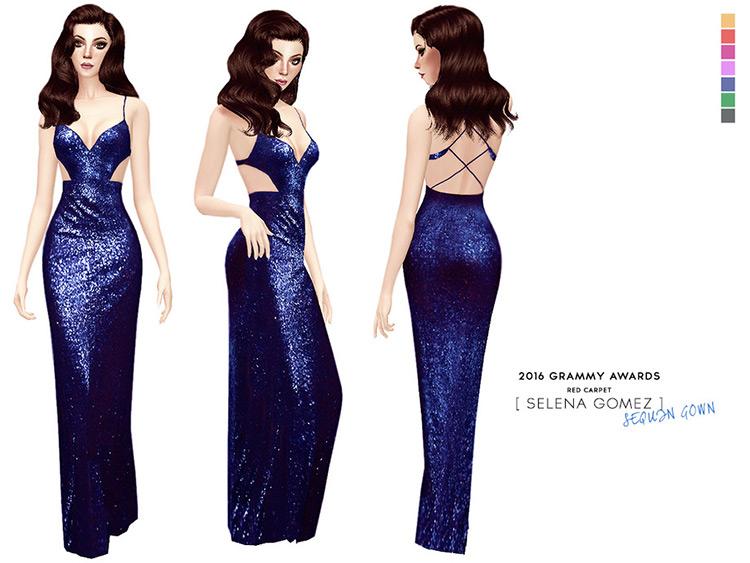 Selena might not have the best singing voice, but she definitely has a great fashion sense.
This blue-sequined Calvin Klein dress she wore in the 2016 Grammy Awards was once the talk of the town.
Now, it's your Sim's turn to become the most famous teen in the neighborhood.
Even though high school prom is understandably PG, a little bit of skin here and there won't hurt anybody (just, maybe your competition for Prom Queen).
7.

Platina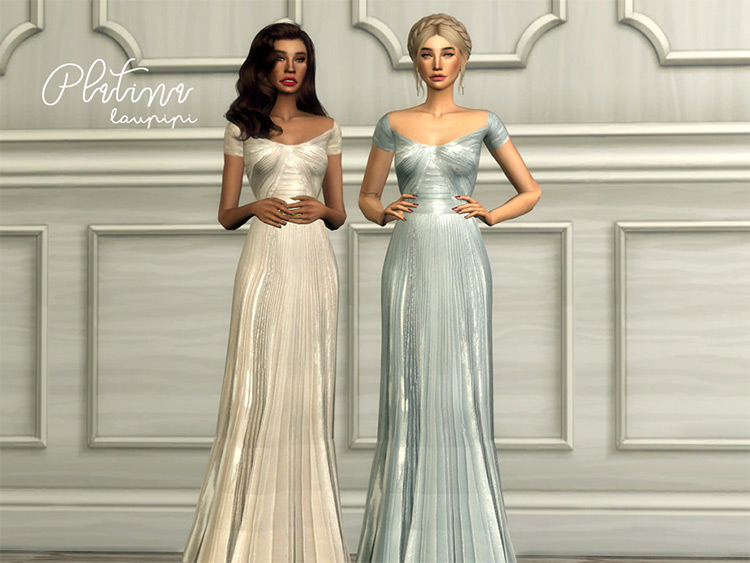 CC creator Laupipi has mastered the art of creating long dresses and it shows with this Platina ensemble.
Compared to the other CCs in this list, this piece comfortably sits in covering-up the body in shining glory.
If you're looking for a dress that flows like silk, sparkles like champagne, and looks exquisite at first sight, then I've just described what you're currently looking at.
Give it a try and you'll love the way you look!
6.

Jil Sander Dress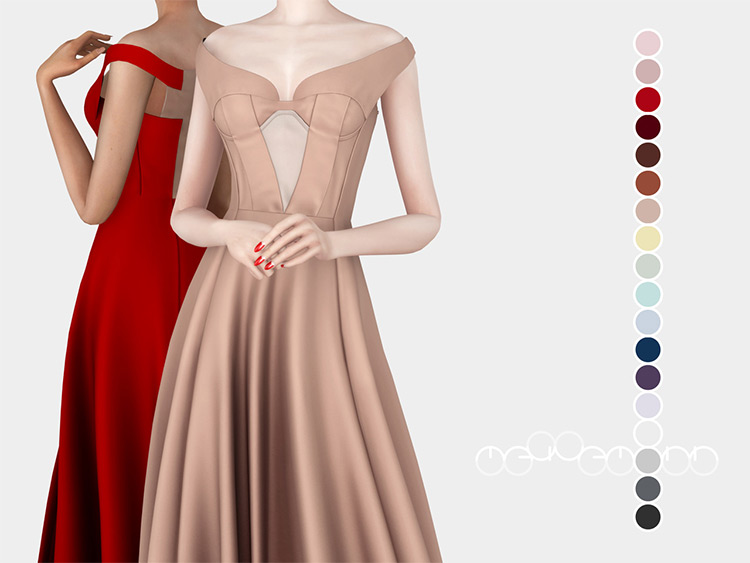 When searching for prom dress inspirations, the idea floats toward a gown that would make you look as close as a princess as possible.
And that means floor-length skirts and plenty of glittering decoration.
But that kind of thinking just means that you haven't seen this Jil Sander Dress yet.
If you want my professional advice: add-on black opera gloves, a little tiara, and an updo hairstyle to channel a classic Audrey Hepburn look.
Trust me, it never fails to make anyone look glamorous – even your Sim.
5.

Stephane Dress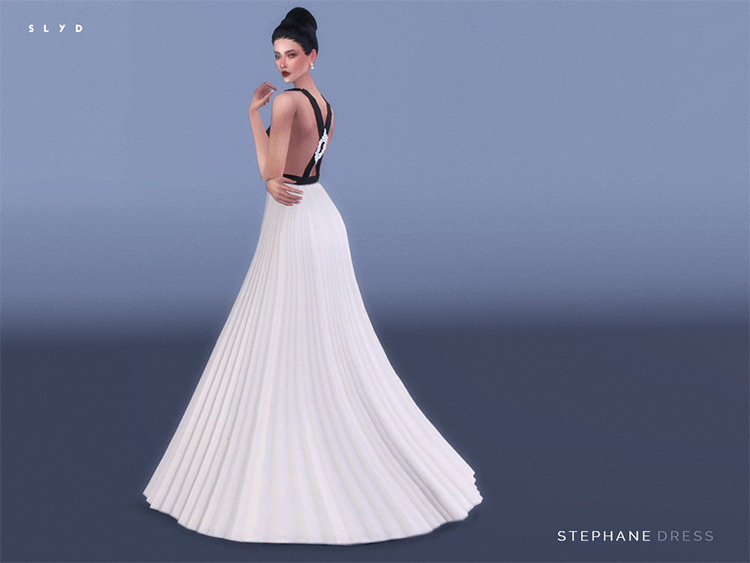 This Stephane Dress might not be Slyd's original design. But I'm glad he was inspired to recreate Li Bingbing's red carpet dress at the 2016 Cannes Film Festival for Sims 4 players.
The A-line gown is a simple stunner in the front, but it's the racerback finish that crosses it off from the top ten and into the top five.
It doesn't have the glitz and glamor of a thousand Swarovski crystals but no one would doubt your Sim's status as queen of the night with this CC on.
4.

Desirée Dresses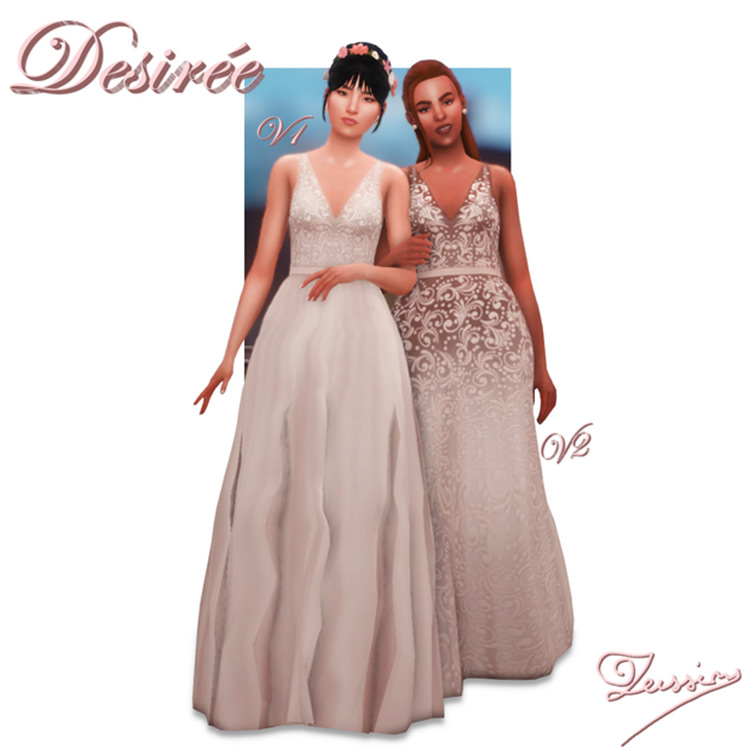 As toxic as prom can be with the amount of drama, stress, and tears involved, no one can deny how enjoyable it is to indulge in choosing "The One" – dates included.
There's a sort of thrill felt during every fitting, and every iteration given during the designing process.
That's how I felt when I found the Desirée Dresses CC.
It felt like it was made for me! But sadly, I'm not a bunch of pixels.
This CC has two versions with 40 different colors each, giving you eighty more reasons to love prom night as a Sim.
3.

Kate Dress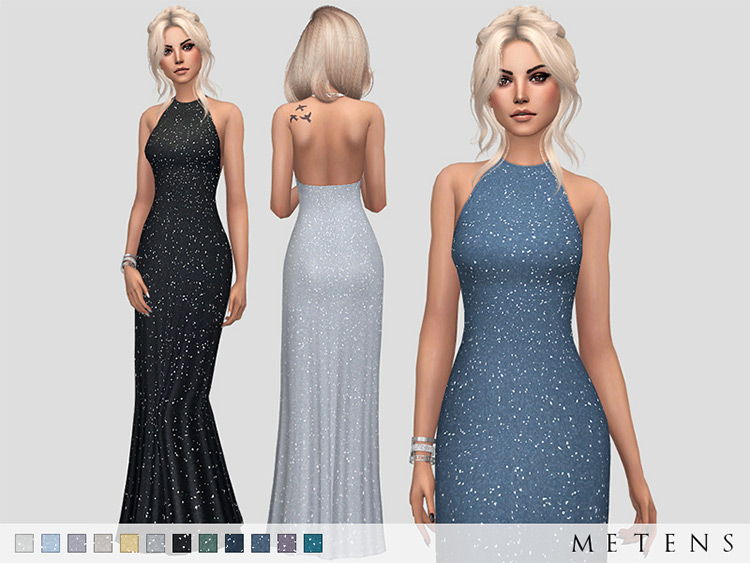 When you thought of making your Sim the star of prom night, you didn't actually expect to find a dress made from actual stars, did you?
I would guess not.
This Kate dress from Metens is a sparkly masterpiece, taking the spotlight of the sky to be embroidered in a lovely fitting sheath and column dress.
If you haven't downloaded any prom mod yet, then I have a promposal for you: try this dress on and let me know if you'd still need a date.
2.

Luna Dress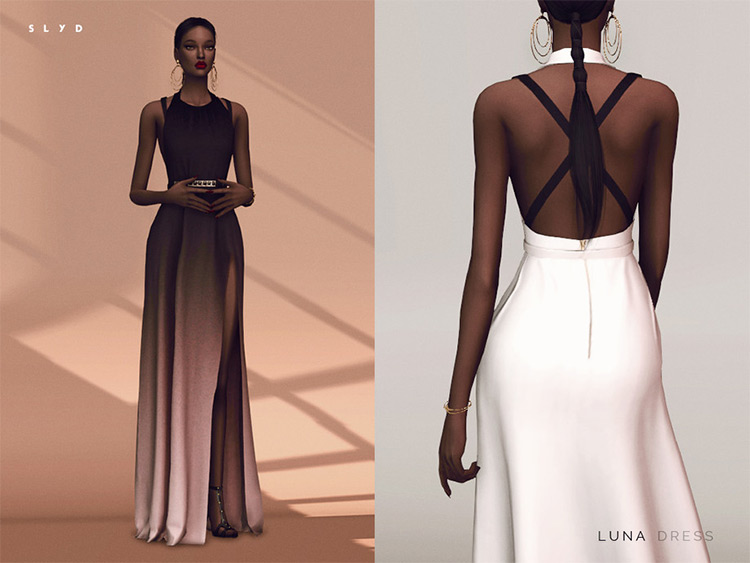 A thigh-high slit and a racerback might be a scandalous combo for a ball gown-dominated event like prom, but it's the ultimate revenge outfit.
With 8 colors all rendered in stunning gradient styles, the Luna Dress will have your bitter rivals swooning and doubting their ready-made gowns for the night.
If there's one more thing to love about this CC, it's the fact that it'll outshine anything and anyone, so watch out for any mean girls-style revenge.
1.

Armas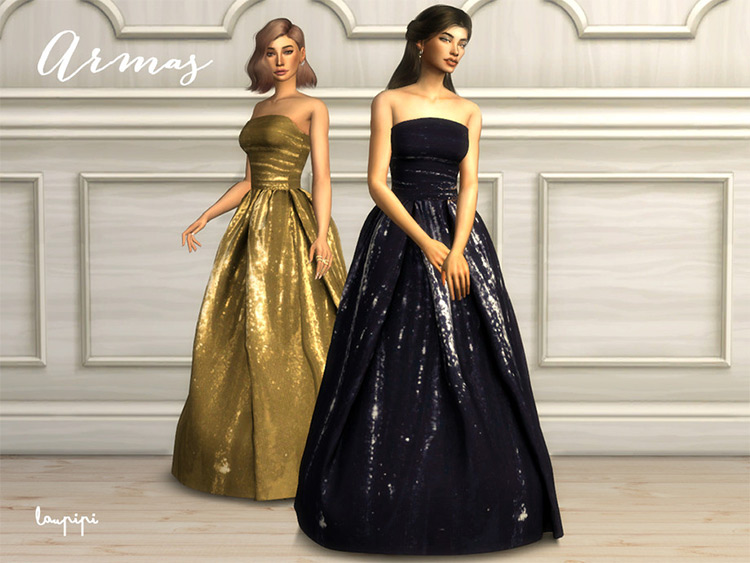 Let's skip the drum roll: I give you the best prom dress CC suited for a Sim Prom Queen!
In the end, this strapless A-line dress proves itself as a timeless choice.
Armas CC feels perfectly applicable to unknowing Sims who have yet to experience a decent prom.
So what are you waiting for? Host a prom night and make sure to slow dance the night away with the perfect dress & date.
Because in The Sims, dreams really do come true – to some extent.
Browse:
Lists
The Sims 4
Video Games